February 5, 2020 at 10:38 am PST | by Roman Randall
"Gay Like Me" is a guidebook for the LGBTQIA journey
When I think of my childhood growing up in a small town near Fresno, CA as a young Gay Latino and son of a cop, I can't help but think of how easier it would have been, especially in the 80's, if someone had handed me a "Gay Bible" to help me navigate becoming an adult as a young Gay man. Something to warn me about rough times ahead but also about the beauty that lied ahead and the exciting adventures that were in my future as part of this special and loving LGBTQ+ community.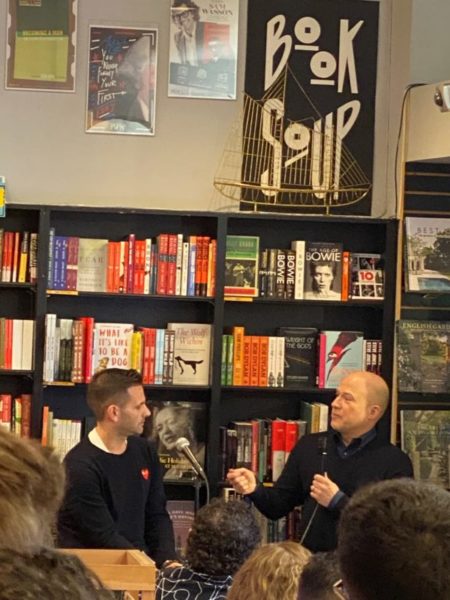 Richie Jackson has provided his son, Jackson, just that – a short book of advice, Gay Like Me, that every Gay man should read at any age and also our straight allies, some of whom are now parents to Gay adolescents about to embark on the world and find their own special place within the LGBTQ+ community.
When I first stumbled onto this book about to be published, the notion of a father providing this to his son seemed so foreign to me, especially being the son of a macho Latino cop who had his own struggle of raising his youngest son, a feminine young boy who was constantly teased thru out his childhood. I was constantly told, "run like a boy", "don't always hang out with the girls" and "be a man".  My first thought after learning of this book was how lucky Richie's son was to have this "Gay" light steering him at such a young age.
Speaking with Richie the other day, it is clear why it was so important for him to provide his son with this unique tool, having realizing those crucial experiences in his own young adult life that shaped who he has become. " Everything in my own life has led me to write the book I so desperately needed when I was young, that our son now needs and that so many of us are hungry for," he expressed.
All you have to do is listen to Richie for a few minutes and you can feel the immense love he has for his son. It fuels him. It's part of his purpose in life that is not lost on him.
In fact, he almost lost him and did lose Jackson's twin brother at birth, something I have a little insight on as I too was a twin, who died when we were born, as we were also premature like Richie's twin boys. It's evident that his love for Jackson and need to protect him started on that fateful day in which Jackson "came out" early the day he was born.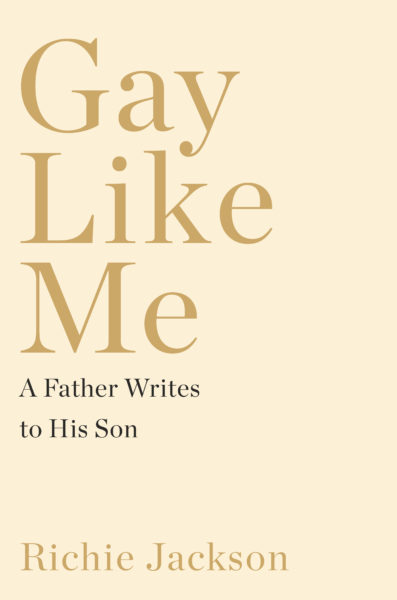 Only a few years apart, I enjoyed reading these all too familiar experiences Richie details in the book such as living in a world before dating apps when we had to go to bars or cruise-y places in order to meet someone and hook up or engage in that "3 second" stare as you are walking down the street and turning around to see if there was mutual interest and then if you were lucky could find yourself in a more compromising position in the middle of the day – something today's youth can easily miss as they are glued to their mobile devices walking down the street and fueled by technology.
I pointed out to Richie that I see so many young Gay men now who don't feel compelled to break away from their straight friends after high school as being Gay is so much more accepted now, so a typical Friday night can include them hanging out in a straight bar, something I never really enjoyed. I embraced the Gay spaces. I embraced a sense of community and creating a "tribe" of other young Gay men who I could learn from, swap stories with and have each other's backs no matter what. This book reminds you of why these things are important in discovering your identity and place in the world and within the LGBTQ+ community.
Richie has seen his book explode onto the scene being embraced from all sub- communities within the LGBTQ+ community and notable figures and celebs like Arianna Huffington and Queer Eye's Antoni Porowski., both of whom recently hosted events celebrating the release. While that he enjoys all of the praise and support within the community there is another sector who's love for the book is giving him particularly great pleasure – parents of young Gay males.
" I have been getting a lot of great reactions from parents, who thank me for helping them understand the Gay experience, and who almost see it as a contemporary parenting book", explained Jackson.
And while the praise from adults is greatly appreciated, it is most clear that the feedback he loves the most is that from young Gay men who were his targeted audience as he strived to illustrate their importance to society and promote self love and confidence within themselves. " I've enjoyed hearing from young Gay men who see this book as almost a permission slip to be who they are. Part of why I wrote this was to put out something for young Gay men to hear that they are a marvel, to hear that they have been chosen to live this extraordinary life and that being Gay is truly a gift," expressed Jackson.
We certainly agreed on this. We both love the fact that we were born Gay and that we've been given this "gift" in life. Another great gift? Gay Like Me – order your copy now.