February 7, 2020 at 1:14 pm PST | by Staff reports
Recognizing National Black HIV/AIDS Awareness Day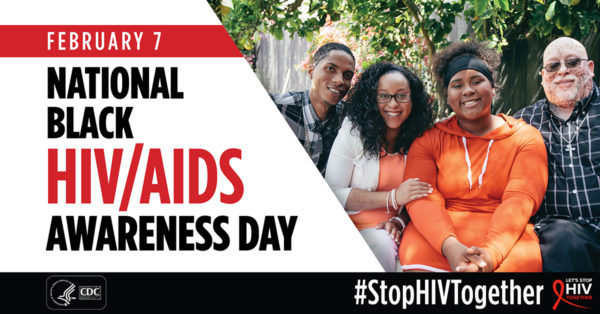 Nearly 1.1 million people in the nation are living with HIV today, according to the Centers for Disease Control. However, federal health experts say approximately 14 percent of that statistic (1 in 7) aren't aware of that fact and need to be tested for HIV.
For Black Americans, HIV continues to have a disproportionate impact, especially among Black gay men.
"Black communities continue to be disproportionately impacted by HIV/AIDS, not because we are more sexually active, but because our communities continue to lack access to healthcare and other preventive measures like PrEP," David Johns, executive director of the National Black Justice Coalition, noted Friday in recognition of February 7 as National Black HIV/AIDS Awareness Day.
"Our communities have also long been targeted by anti-Black systems like mass incarceration, economic disenfranchisement, and school-to-prison pipelines. Stigma against LGBTQ and same gender loving people compounds the struggles of those most at risk and stifles necessary conversation and action," Johns wrote in an emailed statement.
"The fight to end HIV/AIDS does not stop with drug development and laboratory research. We must also invest in more HIV testing, more prevention services, more health services and deliberate policy change," Johns added.
In Los Angeles, The Black AIDS Institute, in partnership with St. John's Well Child and Family, launched "A Clinic for Us" on National Black HIV/AIDS Awareness Day in 2017. The clinic, located at 1833 W 8th St Suite 200 in LA's Westlake District, provides access to primary and specialty HIV testing, biomedical prevention and clinic services, as stated on their web-page, "from an unapologetically Black point of view."
LA-based In The Meantime Men's group  is also working to raise greater awareness in the Black community launching the group's "Know Your Status" campaign Friday, which includes strategically place billboards in South LA, two on Crenshaw and one on La Brea.  in observance of National Black HIV/AIDS Awareness Day, February 2020! On his Facebook page, ITMTM executive director Jeffrey King says: Call us today for your free test. 323-733-4868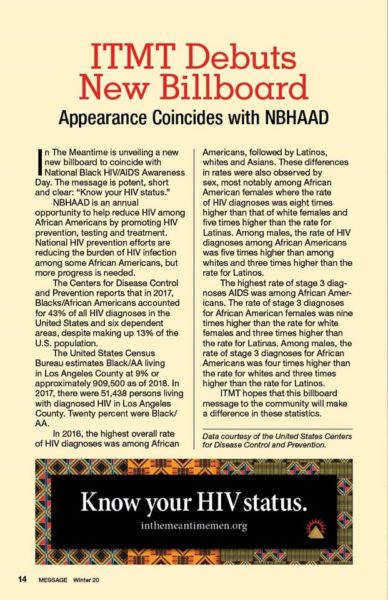 The CDC reported that Blacks/African Americans are disproportionately affected by HIV. In 2018 for example, Blacks/African Americans accounted for 42% (16,067) of HIV diagnoses and 13% of the population.
HIV.gov notes: "For African Americans, HIV awareness is not about one day; it is about putting our health first and our willingness to address hard issues and have tough conversations."