February 19, 2020 at 5:57 pm PST | by Karen Ocamb
Gay conservatives defend Buttigieg; Bloomberg slams Bernie Bros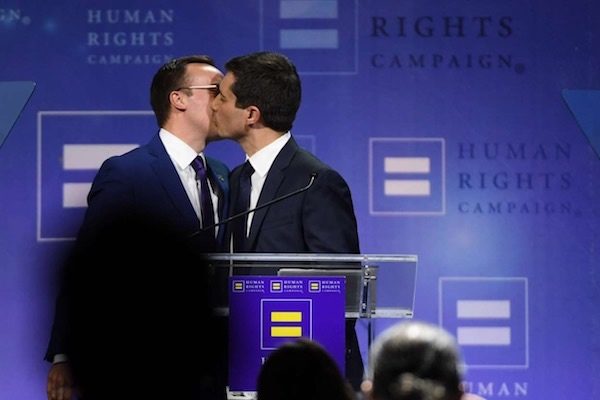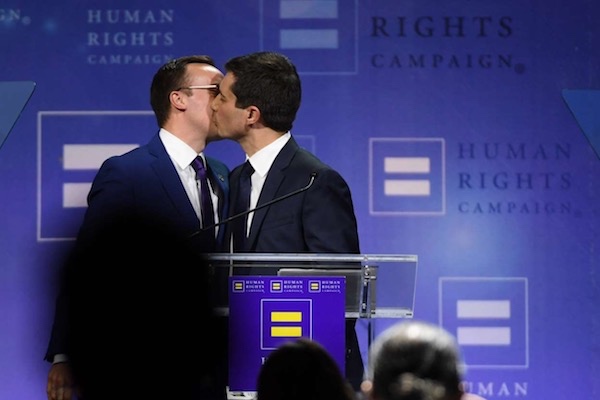 If you're not a super fan of MSNBC anchor Nicolle Wallace, you might have missed it. But mid-afternoon the day after the New Hampshire primary, gay "Never Trumper" Republican strategist Tim Miller told fans of "Deadline White House" one of the most significant missed points of the previous night after former South Bend, Ind. Mayor Pete Buttigieg pulled ahead of Vermont Sen. Bernie Sanders in the all-important delegate count.
"I think that a lot of times people here in New York don't maybe give the appreciation that is deserved for how ridiculously amazing and astounding it is that an out, married, gay man is leading the delegate race," Miller said.
Emblematic of the American divide, the day after that, on Feb. 12, recent Medal of Freedom recipient and longtime anti-LGBTQ conservative radio host Rush Limbaugh posited a spiteful scenario using the same image.
Chumming up crude and rude stereotypes during his commentary on the Democratic presidential candidates, Limbaugh concocted a scenario of voters looking at Buttigieg on a debate stage going toe-to-toe with his fantasy macho man, Donald Trump.
"You've got Fauxcahontas way back there in the background barely out of the tepee bringing up the tail end," Limbaugh said, referring to Massachusetts Sen. Elizabeth Warren. "Biden's gone. So you're faced with a dyed-in-the-wool socialist who's not even a Democrat [and] a gay guy, 37 years old, loves kissing his husband on debate stages," Limbaugh said, referring to former Vice President Joe Biden, Sen. Bernie Sanders (I-Vt.) and Buttigieg, respectively, while getting Mayor Pete's age wrong – he's 38. "Can you see Trump have fun with that?"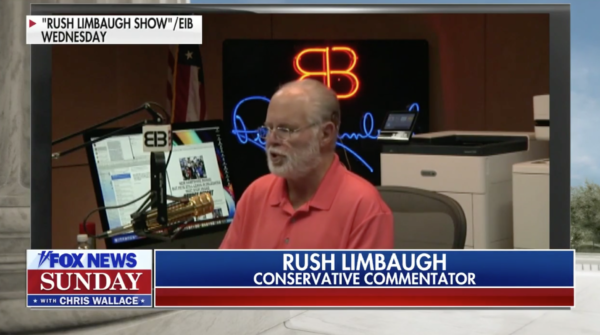 Limbaugh was having too much fun to let Buttigieg go. "Then they're sitting there, and they're looking at Mayor Pete, a 37-year-old gay guy, mayor of South Bend, loves to kiss his husband on the debate stage. And they're saying, 'OK, how's this gonna look, a 37-year-old gay guy kissing his husband onstage next to Mr. Man Donald Trump? What's gonna happen there?'"
"They gotta be looking at that," Limbaugh continued, "They've gotta be saying that despite all the great progress and despite all the great 'wokeness' and despite all the great ground that's been covered, America's still not ready to elect a gay guy kissing his husband on the debate stage president. They have to be saying this, don't they?"
Gay conservative Guy Benson also chimed in.
And on Valentine's Day, Benson posted a love tweet to his husband.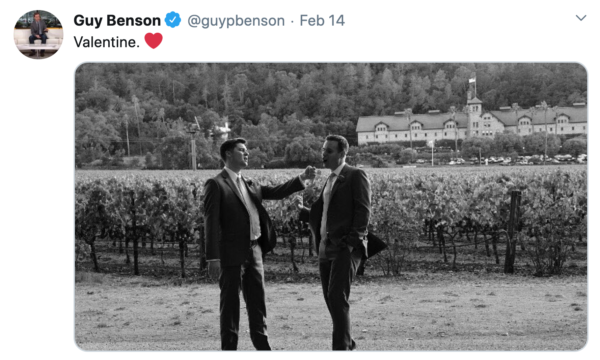 Actually, gay Republican Tim Miller addressed the Buttigieg point after the Iowa debacle. "The Iowa Democrats' epic fail robbed not only Mayor Pete, but all of us, of a rare moment of progress and shared joy in a political era that almost seems like it's designed to deny us those things," he wrote in The Bulwark. "Buttigieg's success in the lead-off caucus wasn't just about Mayor Pete or his supporters—it was a moment for gay and lesbian Americans across America. And they deserved a moment to revel in it. Mayor Pete was poised to be the first gay person to ever win a delegate for a major party presidential nomination and he was about to do it in startlingly strong fashion."
And as Mayor Pete closed his speech that night in Iowa, the crowd chanted "Chasten! Chasten!"— a point missed by vaunted anchors more interested in whether Buttigieg had declared victory.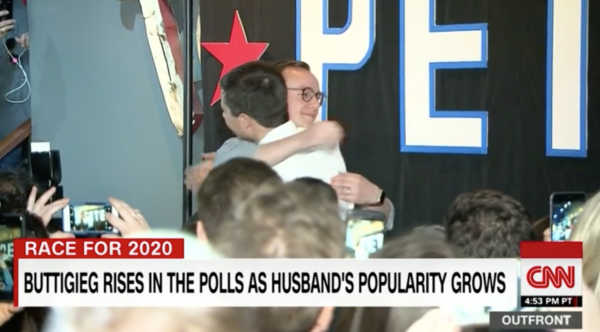 "But while our jaded political class missed the significance of Mayor Pete's moment, Iowans got it. Say what you will about the state being unrepresentative, white, and bland—but the same voters who horsetraded in high school gyms Monday night were the catalysts for Barack Obama's campaign and among the first activists to fight for gay marriage in their state," Miller wrote. "Many of them saw this as another opportunity to be on the front end of a something."
Something they dare not dream. "The idea of a married gay man winning the Iowa caucuses? Absurd," Miller wrote.  "As it turns out, it wasn't absurd at all, the absurdity was the caucus process itself."
On Sunday, Buttigieg made the rounds dissing Limbaugh.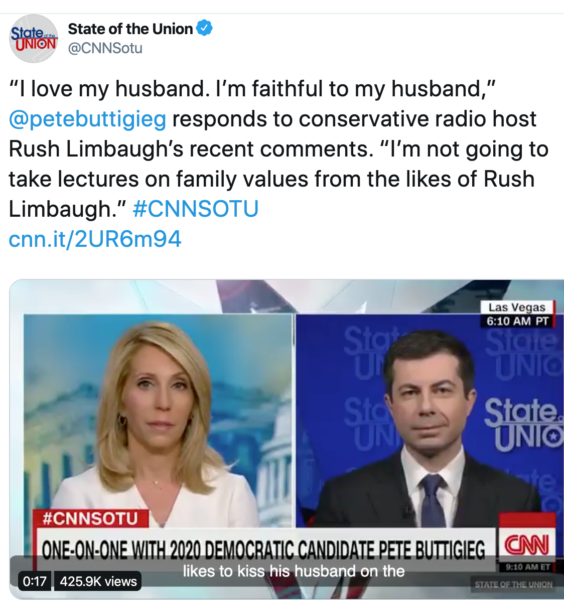 And now Nevada – another debate stage; another caucus on Saturday. Will Buttigieg and his husband kiss? Will Limbaugh and others chill now that Trump has named Fox contributor and out gay ambassador Ric Grenell as his Acting Director of National Intelligence? In 2012, Grenell was one of the gay Republicans who came out in support of marriage equality.
Eric Bauman, former out chair of the California Democratic Party, notes that the real surprise about Buttigieg's performance is how well he did in the rural areas. But he also cautions that caucuses are akin to the Electoral College, where one candidates may have more popular votes – but it's the delegate count that matters.
"Some candidate has to get nearly 2000 delegates in order to be nominated at the party's convention in Wisconsin," he tells the Los Angeles Blade. "When you look at Iowa, it is true that Bernie Sanders appears to have won a clear victory — but he won it by 2%. This is a state that he won against Hillary Clinton by 22%, and so he won but he didn't win by the margin that they probably expected they were going to win by. Buttigieg ultimately did better than anybody expected him to."
And while much attention was conferred upon Sen. Amy Klobuchur after her New Hampshire debate performance, former New York Mayor Mike Bloomberg has taken up much of the air time now that he's qualified for the Las Vegas Democratic debate.
"When you look at the exit polls from New Hampshire, the late deciders went to Buttigieg, some went to Klobuchar, a very limited number went to Sanders," Bauman says. "The obvious big losers were my good friend, Uncle Joe [Biden] — I'm heartbroken to see him do so poorly because he's a such a good man. And Elizabeth Warren has got to be devastated that in state that's right next to her state – where senators from Massachusetts usually do so well — she came in fourth."
But, Bauman adds, "the simple fact is that Iowa and New Hampshire have virtually nothing to do with anything that happens in the rest of the race for Democrats because the places that are significant for Democrats are states where the population is diverse."
Former Vice-President Joe Biden, in particular, has to do well in Nevada and South Carolina. "Biden has been, in many, many ways, the biggest loser of the first two states, all the way around," says Bauman.  "There was an air of invincibility about him that caused candidates to not even get in the race and that veneer is gone. Now he looks totally punctured. That does not mean that African American voters in South Carolina and union and Latino voters in Nevada won't come out for him."
He noted that the Las Vegas culinary workers union announced a major campaign against Sanders at the Nevada caucuses because they feel Sander's Medicare for All plan would cost them their health care and the quality of health care that they have now.
"As with so many unionized workers in so many kinds of jobs, when money was short, what did they negotiate for in lieu of raises from their employers was increased benefits. And now, the so- called Cadillac Plans are in the sight of Medicare for All – they will lose that level of plan. There's not an option that allows them to keep it," says Bauman who's also a registered nurse and healthcare expert.
Bloomberg "has a ton of major endorsements in California," ahead of Super Tuesday, Bauman notes. "I think that Nevada and South Carolina will have a bigger impact here than people realize."
And, he says, "Bernie Sanders will have a big reach in California. The thing that is going to be interesting to see is whether or not he can grow his vote. The question is: where are all the other candidates?
Bauman thinks most voters are still candidate-shopping. "Most voters are not paying attention to every twist and turn in the campaigns," he says. "Most voters are following it superficially. They know they want to vote. They know they want to get rid of Trump. They know that there are issues that matter. But their level of engagement in the election is very different than people who are activists, who have an intense interest in it. The Sanders supporters tend to be pretty engaged — they have to be. That's the very nature of how their campaign lives."
And therein lies a hard question: though Sanders has unequivocally said he would support the Democratic nominee, if it's not him – his supporters have not made such a pledge. Additionally, the Bernie Bros appear uncontrollable such as flushing Twitter with nasty comments about Buttigieg after his Iowa delegate victory cause #MayorCheat to trend.
Since 2016, anyone who criticizes Sanders or media professionals who write about his opponents without sufficient praise for Sanders have been attacked and harassed by Bernie Bros. The most recent example is the attacks on highly regarded leaders of the Nevada Culinary Union after the union's refusal to endorse any candidate and criticized Sanders' Medicare For All policy.
"He cannot afford to have another major organization  release a statement like that of the culinary union's secretary treasurer, who wrote on Twitter: 'It's disappointing Senator Sanders' supporters have viciously attacked the Culinary Union & working families in NV simply because we provided facts on proposals that might takeaway what we have built over 8 decades,'" Jessica Tarlov wrote in The Hill. "What's more, it hasn't stopped. The spokeswoman for the culinary union received calls from people telling her that she is a 'f—ing whore,' a 'bitch' and an 'ignorant dumb f–k.' This type of behavior from Sanders's supporters is not the stuff that wins elections."
It's not just public political figures or mainstream journalists who experience the Bernie Bro swarm.
After posting a story on Equality California's endorsement of Buttigieg, the Los Angeles Blade's Facebook page was hit by a deluge of nasty, mocking posts – one of which was very informative.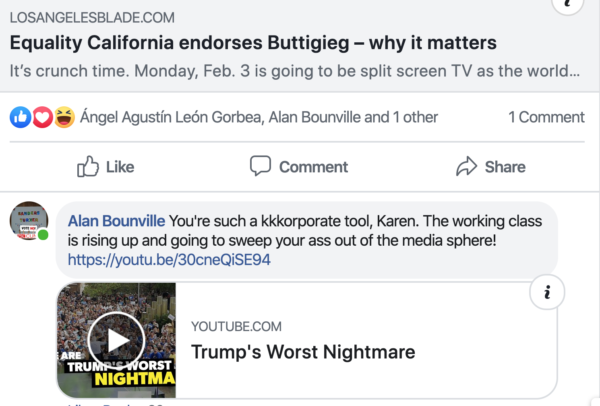 "Just know we have a formidable army of people online now ready to strike at anyone and anything trying to stop this working class movement. Welcome to the revolution. Welcome to your Nightmare on Elm Street."
Sanders deplored the sexist Bernie Bros in 2016  and apologized to women on his 2016 presidential campaign who alleged they were sexually harassed. He also apologized for an op-ed in which a surrogate said Biden has a "big corruption problem."
A Bloomberg ad that premiered on Monday highlights Bernie Bro tweets, memes and hashtags like #BernieOrElse and "Vote Bernie or bad things will happen."
The ad also featured a now-familiar threat: "Libs who are flirting with Bloomberg now should be aware that they are going on lists. Next time they pretend to care about racism or sexual harassment or really anything other than money and power, we will remember what they were doing right now and we will remind everyone."
"Senator Sanders and our senior campaign team have a clear and unambiguous message for all our supporters. We believe in having a dialogue based on respect for all participants and strongly condemn any speech that is demeaning or derogatory," Rep. Ro Khanna (D-CA), a national co-chairman of Sanders' presidential campaign, told The Daily Beast. "What our party and nation need now is less division and polarization and more healing. I implore all of Senator Sanders' supporters to live up to the high principles by which Senator Sanders has conducted his life in public service."
Meanwhile, as politicos tune into Nevada and South Carolina, California politics are looking to Super Tuesday.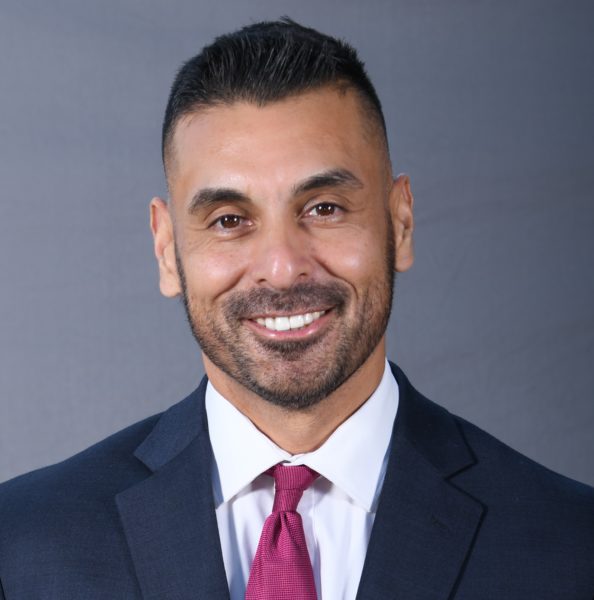 "For LGBTQ people and our allies, the 2020 presidential election will be the most important election of our lives," Eddie Martinez, executive director of the Latino Equality Alliance, tells the Los Angeles Blade. "We've seen Trump's administration repeatedly pushed for policies that would open the door back to discrimination in housing, for trans people, and more under the guise of religious liberty. For queer people of color, the intersectional issues of social, economic and environmental justice will be on the table for all candidates to address in the golden state. To win in California, candidates must address those issues."
"Super Tuesday will tell for Warren. Most people I know in California are voting for her!" political consultant and grassroots organizing strategist Torie Osborn tells the Los Angeles Blade. "No idea how she'll do, but I'm keeping hope alive that she'll kick ass in California and Texas – where the Castro brothers are working hard for her – and she'll surge again in all 12 states March 3 as I think she's the best possible candidate."
Politicos are organizing on the ground, trying to explain the voting process to new voters – independents and people registered in parties other than Democrat or Republican – can vote in the open Democratic primary but they must specifically ask for a Democratic ballot to be able to vote. The Republican primary is for GOP registered voters only.  Early vote-by-mail started on Feb. 3.
"While Stonewall has not yet taken a position on the race for the Democratic presidential nomination, we are watching the process with great interest," Jane Wishon, Political Vice President of the Stonewall Democratic Club, tells the Los Angeles Blade.
"It's difficult to determine what, if any, impact the New Hampshire primary will have on the diverse voters who comprise the California electorate, especially considering that Nevada and South Carolina voters will also weigh in before March 3rd," she continues. "More than 300,000 Californians have already voted in the March 3rd primary. While replacing Donald Trump remains the highest priority, we urge all eligible voters to participate, not just in the presidential election, but on every race up and down the ballot."
"California has always voted on its own terms. As the most progressive and diverse state in the nation, the candidate we have always supported has been reflective of California Values," Mark Gonzalez, the out chair of the Los Angeles County Democratic Party tells the Los Angeles Blade. "California voters are watching, but likely won't be swayed by what's happening in other states. Obviously that changes as candidates suspend their campaigns."
The biggest donkey in the proverbial Democratic room is multi-billionaire Michael Bloomberg.
"Mayor Bloomberg has a great infrastructure here in LA and is spending a lot of money to get his name out there," says Gonzalez. "With the focus on money in politics, he's going to have to work hard to explain to Democratic voters that his money is in the best interest of Democratic Party values and defeating Donald Trump."
There is more and more talk about a brokered convention as Sanders gains momentum but may not have really expanded his base as the moderates collectively assert themselves.
"We'll see what happens," says Gonzales. "With the new DNC Rules on Superdelegates, it's going to have an affect across the board. In the end, Democratic voters will make the best choice to take on the president in November."