February 21, 2020 at 1:47 pm PST | by Brody Levesque
FBI arrests consultant to Katie Hill for cyberattacks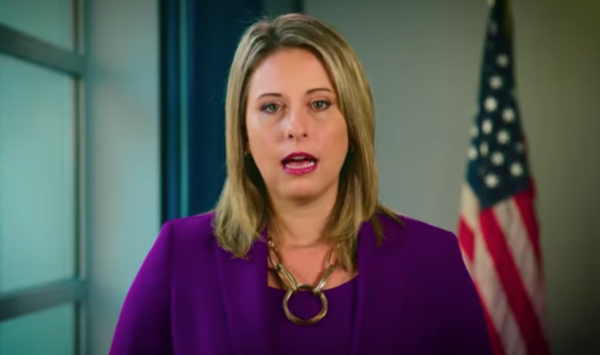 Arthur Jan Dam, 32, a former campaign consultant to Katie Hill, who served as the U.S. Representative for California's 25th congressional district from January to November 2019 before resigning her seat, was arrested Friday by agents from the Federal Bureau of Investigation's Los Angeles Field office.
(Hill resigned in October 2019 amid a controversy over leaked personal photos and a possible relationship with a member of her staff.)
FBI agents served Dam with a criminal arrest complaint charging him with one count of intentionally damaging and attempting to damage a protected computer. According to FBI charging documents, Dam was responsible for staging several cyberattacks on the website of that targeted Bryan Caforio, a Democratic congressional candidate who was running against Hill in the primary process in 2018.
KCBS News Los Angeles reported that FBI agents alleged that "Dam staged four distributed denial-of-service, or DDoS, attacks in April and May of 2018, flooding the unnamed candidate's website with superfluous requests in order to overload systems and prevent legitimate requests from being fulfilled. The attacks took down the candidate's website for a total of 21 hours. According to the Department of Justice, the candidate increased cybersecurity measures and retained a website security company after the third cyberattack, but the website was still knocked offline a week before the primary election."
The criminal complaint specified that the attacks "originated from Amazon Web Services tied to a single AWS account, which was controlled by Dam." "Dam was found to be connected to the cyberattacks through subscriber information, IP addresses, geolocation history, and open sources, including through his employer and his wife, K.O., who worked for one of the victim's opponents."
Katie Hill nor other members of her campaign are suspected of involvement.
Speaking to Rolling Stone Magazine's Washington Bureau Chief Andy Kroll Friday Morning, Caforio commented on the FBI's criminal complaint telling Kroll. "I'm absolutely shocked and saddened to learn today that Katie Hill's campaign associates hacked my campaign in order to help her advance through the primary. This should serve as a somber reminder that Russia is not the only threat to our democracy. There are bad actors on all sides who will do anything for their own personal gain, and we need to come together as Americans to defend our country and hold everyone responsible accountable."
Dam, who had surrendered to FBI agents at the U.S. Courthouse in downtown LA, is expected to make his first court appearance before a federal magistrate Friday afternoon.
If convicted of the one count, he faces a statutory maximum sentence of 10 years in federal prison.
Efforts to reach Hill by the Los Angeles Blade for comment Friday were unsuccessful.