LA celebrates Kobe and Gianna Bryant and women's basketball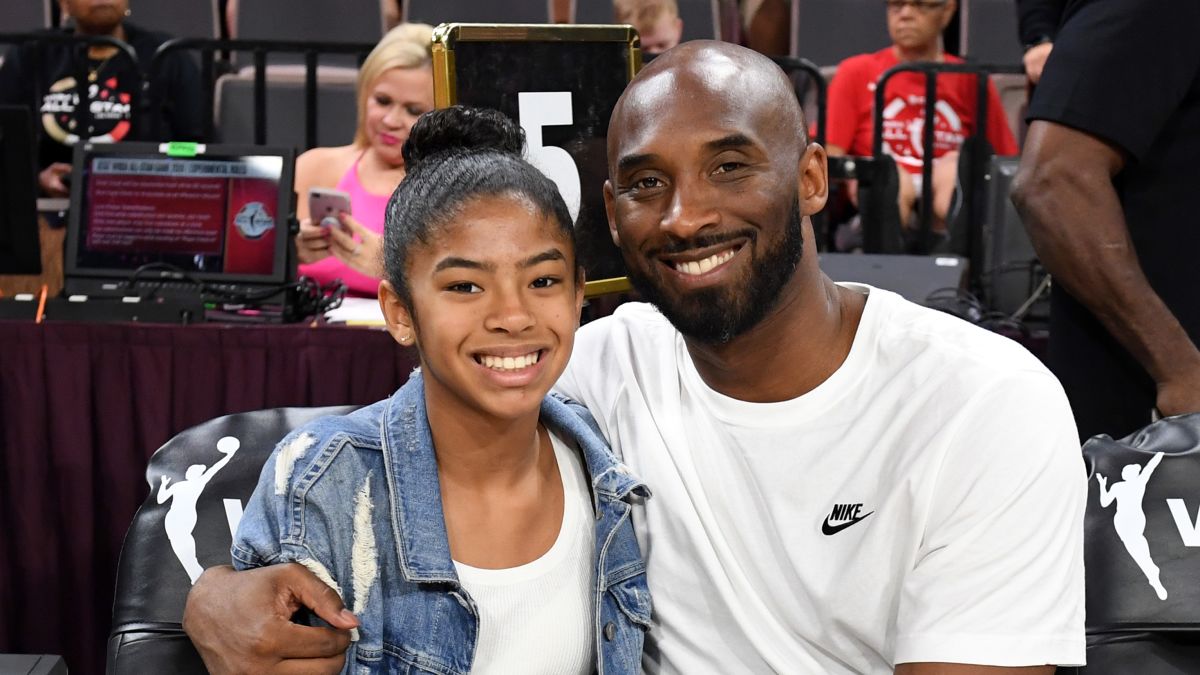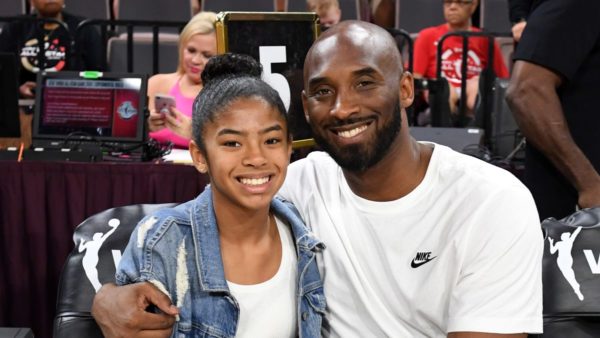 This has only happened a few times in the past four decades: the 1984 Olympics, 9/11, and Monday, Feb. 24 – when the memorial service for Kobe and Gianna Bryant brought the city of Los Angeles to a virtual standstill in a transformative moment of friendly unity. LA loved Lakers basketball star Kobe Bryant, 41, who was killed last month with his beloved daughter Gianna, 13, and seven others when their helicopter pilot apparently became disoriented by the fog and slammed into a hillside in Calabasas.
What many in the LGBTQ community did not know until the memorial at the Staples Center — the house that Kobe built – was just how much Kobe embraced diversity and inclusivity.  The Center was packed with about 20,000 family, friends and fans, as thousands more were glued to their TVs or streaming devices during the powerfully simple morning celebration of Kobe and Gianna, their love for the game and each other.
The Bryants died on the way to their Mamba Academy in Thousand Oaks for a girls basketball game. Unbeknownst to many who lost track of the player after his moving retirement, Kobe prized his role as a proud "girl dad" and celebrated and supported women in basketball. And Kobe's beloved wife Vanessa Bryant, who had been with the basketball star since she was 17 ½ years old, made sure the celebration emphasized family and featured scores of powerful women, not just Kobe's legendary friends such as Michael Jordan and Shaquille O'Neal.
The memorial opened with a nervous Beyoncé — who had to re-start her tribute to Kobe to get her bearings as images of Kobe's two-decade Laker career and family photos flashed above. Alicia Keys played Beethoven's "Moonlight Sonata" and Christina Aquilera sang "Ave Maria" with a string orchestra.
Kobe's friend, late-night TV talk show host Jimmy Kimmel, struggled to serve as emcee, bringing up Vanessa early on. Kobe and Gigi "were so full of joy and adventure," she said. "God knew they couldn't be on this earth without each other. He had to bring them home together."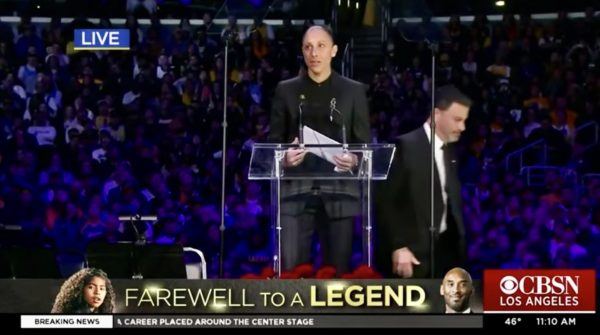 WNBA all-time leading scorer Diana Taurasi, whom Deandre Ayton called "the Michael Jordan of the WNBA" and Kobe dubbed "the White Mamba," spoke next. Taurasi married former teammate Penny Taylor, now Phoenix Mercury Director of Player Development and Performance, in May 2017 and they had their first child on March 1, 2018.
"In 1996, I was a lanky awkward freshman in high school, obsessively shooting night after night in my driveway. On the nights the Lakers played, I wouldn't miss a second of the game. Every timeout, every commercial, I'd run to the front yard to imitate my favorite Laker, Kobe," she said. "Watching Kobe play the Great Western Forum as a rookie made this little girl believe she could be a Laker one day. It was like getting to know myself every single day. He made it okay to play with an edge that borderlined crazy."
Taurasi explained the "Mamba mentality," time spent with Kobe at the 2008 Olympics, and how daughter Gigi had inherited his passion for the game. "Her skill was undeniable at an early age. I mean, who has a turnaround fadeaway jumper at 11? LeBron barely got it today," she said. "Gigi in many ways, represents the future of women's basketball. A future where a young woman aspires to play in the WNBA. The same way I wanted to be a Laker."
https://youtu.be/XS276F36NDc
College basketball great Sabrina Ionescu of the University of Oregon was up next.
"I knew I was different, that my drive was different. I grew up watching Kobe Bryant game after game, ring after ring, living his greatness without apology. I wanted to be just like him, to love every part of the competition, to be the first to show up and the last to leave, to love the grind, to be your best when you don't feel your best and make other people around you the best version of themselves. And to wake up and do it again the next day," she said.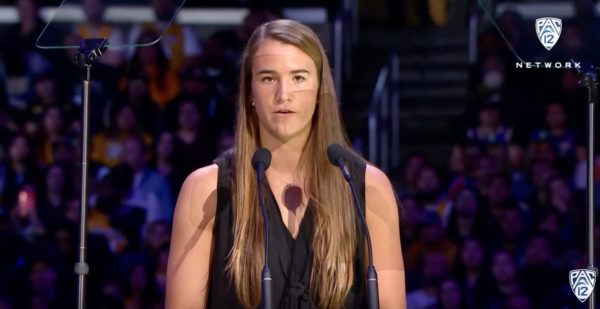 Ionescu talked about how Kobe brought Gigi and her teammates to watch Oregon defeat USC last year. After the game, they went to the locker room where the girls were star struck and Ionescu and Kobe struck up a friendship.
"If I represented the present of the women's game, Gigi was the future, and Kobe knew it," she said. "So we decided to build a future together," with Kobe coaching Ionescu and Ionescu helping coach Gigi.
"I remember one time someone grabbed her jersey, and she sort of just knocked them down and then stepped right over 'em. Me and Kobe looked at each other, smiling, and he goes, 'I don't know where she learned that from.' I laughed and said, 'I do.'"
"He made it so that the outsiders who outworked everyone else, who were driven to be just a little bit different every single day to make those around them, behind them and above them a little bit better every single day. And they weren't the exception. They were the rule," she said. "I wanted to be a part of the generation that changed basketball for Gigi and her teammates. Where being born female didn't mean being born behind, where greatness wasn't divided by gender."
https://youtu.be/0m3KoK-o-Fs
Ionescu said Kobe Bryant's voice is still in her head, which was underscored just hours later when she flew to the Bay Area to rejoin her Oregon team and became the first player in NCAA history, man or woman, to reach 2,000 points, 1,000 assists and 1,000 rebounds in No. 3 Oregon's 74-66 win over No. 4 Stanford.
"That one was for [Kobe]. To do it on 2-24-20 was huge. We talked about it in the preseason. I can't put it into words. He's looking down and proud of me and happy for this moment with my team," she told ESPN.
A subtle note marking how powerfully Kobe Bryant has impacted others – young basketball great Steph Curry, who was also at the memorial, flew up to the Bay Area to watch Ionescu make history.
https://youtu.be/nE-BZBgDjlo
Project Angel Food Thanksgiving, a remarkable group of volunteers
Project Angel Food provides daily meals to 2,500 critically ill individuals & 1.5 mil medically tailored meals annually across Los Angeles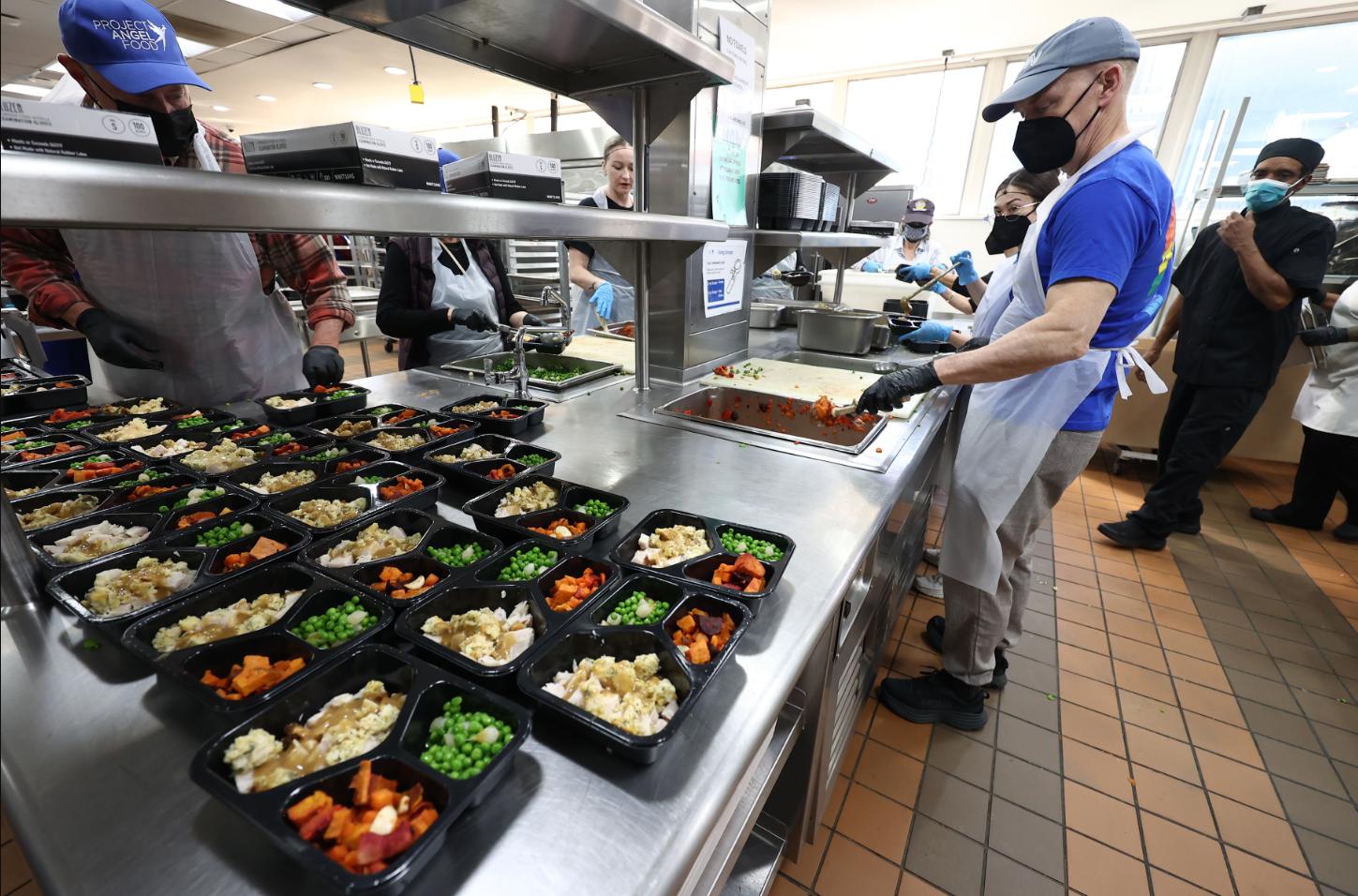 LOS ANGELES — Project Angel Food saw a remarkable gathering of celebrities and 200 dedicated volunteers coming together to prepare and deliver 2,000 traditional turkey meals to critically ill clients on Thanksgiving Day, Thursday, Nov. 23, 2023. The initiative culminated in a total of more than 5,000 meals prepared and delivered throughout Thanksgiving week.
Thanksgiving Day at Project Angel Food was not just about distributing meals but also about the spirit of giving back while cherishing moments with family and friends.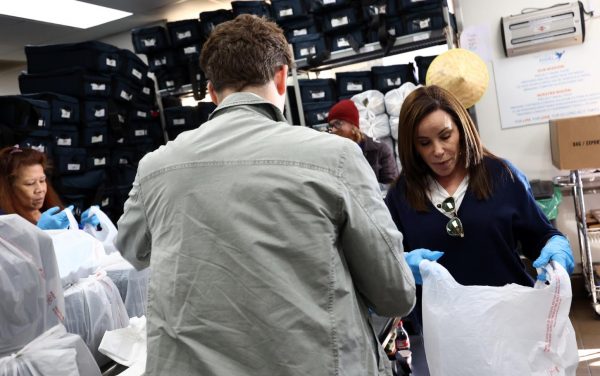 Melissa Rivers, who recently got engaged to lawyer Steve Mitchel on Oct. 13, made a notable appearance — showcasing her stunning 5.6 carat, emerald-cut engagement ring as she volunteered alongside adult son Cooper Endicott. She shared, "Sometime maybe in 2025. It would be my second marriage and his second marriage so if anything, we'll have a party, and a ceremony might break out. But nobody's in any rush."
Amanda Kloots, host of "The Talk", expressed her deep affection for Project Angel Food, stating that she fell in love with the cause while filming a segment for the hit CBS talk show. She returned with Zach Braff and her four-year-old son Elvis, emphasizing, "I think it is so important to show our kids how blessed we are and how we can help one another."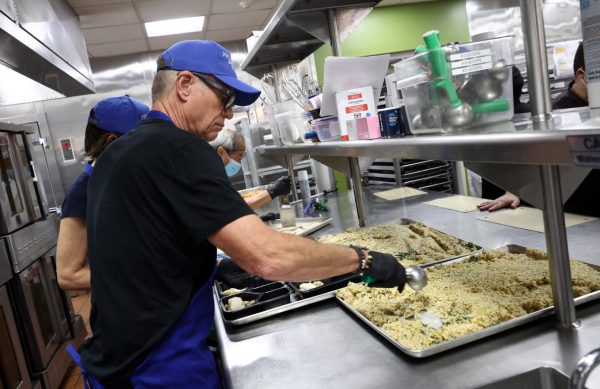 Joining the ranks, Lisa Rinna and her husband Harry Hamlin continued their annual tradition of giving back at Project Angel Food on Thanksgiving. Harry offered, "It goes without saying the people of L.A. need to be fed, and we're here to do it, especially on Thanksgiving." Lisa added, "It makes you feel good to give back, always, and we need to do it more."
Actor and model Sam Asghari, marking his first Thanksgiving after his divorce from Britney Spears, refrained from discussing the split but reflected "I think it is important when you have a platform and a voice, and you have the ability to help others it is important to do."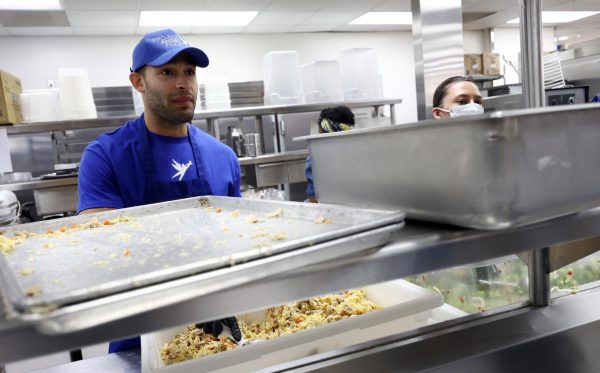 Unlikely friends Charo and Kat Von D were among the initial celebrity arrivals. Von D explained their unique bond, stating, "We're Yin and Yang and complement each other. Since she had heard of Project Angel Food through Charo, she wanted to join." Charo expressed her enthusiasm for volunteering, exclaiming, "I love people. This is my passion!"
The event saw the participation of other notable celebrity volunteers, including Amy Yasbeck, singer Em Beihold, Eve Mauro, Jai Rodriguez, Supervisor Kathryn Barger, Laura Pierson, Lauren Tom, Lawrence Zarian, Lisa Foxx, Loni Love, Mary-Margaret Humes, Michael Hitchcock, Peter Porte, Rachel Lindsay, Sandra Lee, Tamara Brown, and Tim Bagley.
Project Angel Food CEO Richard Ayoub expressed heartfelt gratitude stating, "Every day is like Thanksgiving at Project Angel Food. But on this day, we are especially grateful to our celebrity friends and hundreds of volunteers committed to bringing a little light to the thousands of critically ill men, women and children we serve."
The meals were provided through "drive-by" pick-up for volunteers who then delivered them to Project Angel Food clients. The traditional Thanksgiving dinners included roasted turkey, root vegetables, stuffing, gravy, cranberry sauce, and a slice of pumpkin cheesecake. Additionally, vegetarian meals were also provided. The Thanksgiving Day meals were sponsored by The Stanley & Joyce Black Family Foundation, with additional support from Joybird, which furnished the Joybird VIP Love Lounge, allowing volunteers to take a break during the morning of service.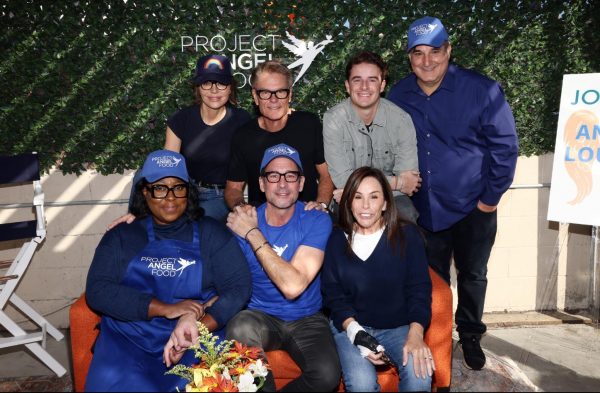 Beyond serving meals to 2,000 critically ill individuals, Project Angel Food extended its support by providing Thanksgiving Day meals for 500 people at PATH. PATH works tirelessly to end homelessness by building affordable housing and offering supportive services. Furthermore, actress and director Joely Fisher sponsored Project Angel Food meals, hosting a SAG/AFTRA "Friendsgiving" at Hollywood United Methodist Church for 200+ union members affected by the 118-day SAG/AFTRA strike on Wednesday, Nov. 22, 2023.
Project Angel Food remains dedicated to providing daily meals to 2,500 critically ill individuals and delivering more than 1.5 million medically tailored meals annually across Los Angeles. Their clients often grapple with serious illnesses compounded by challenges such as poverty, aging, and isolation. Established in 1989 by Marianne Williamson, the organization has prepared and delivered more than 17 million meals in its 34-year history.
Related:
Project Angel Food serves up Thanksgiving meals for Angelenos: