Congressional hearing spotlights use of religious liberty against LGBTQ people
Trump administration's anti-LGBTQ policy highlighted in testimony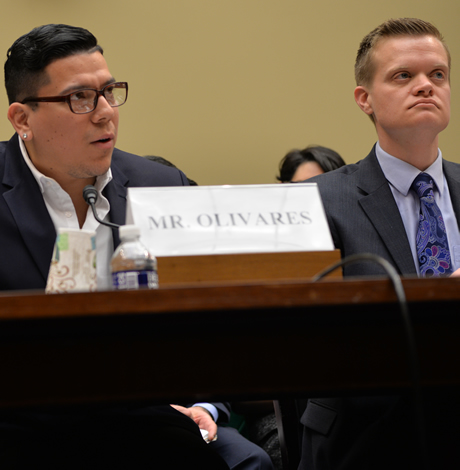 When religious liberty — a right afforded fundamental protection in the United States — is used to assault LGBTQ rights was the focus of a congressional hearing Thursday drawing attention to faith-based adoption agencies denying child placement into LGBTQ homes.
Chairing the three-hour hearing before the House Oversight & Government Reform Committee was Rep. Carolyn Maloney (D-N.Y.), who in her opening statement assailed the Trump administration's use of religious liberty as a weapon to attack LGBTQ rights.
"Let me make something crystal clear: I am a strong supporter of religious liberty," Maloney said. "But it should not be distorted and twisted into a weapon to enable discrimination. Scrubbing the White House website of references to gay people has nothing to do with religious freedom. It has everything to do with the Trump administration's assault on the LGBTQ community."
Among the Trump administration's actions highlighted during the hearing were regulatory moves allowing taxpayer-funded adoption agencies to refuse child placement in LGBTQ homes and a "conscience rule" allowing medical practitioners to decline to offer procedures they find objectionable, including gender reassignment surgery. (Courts have since enjoined the administration from enforcing the "conscience rule.")
Although the title of the hearing was the Trump administration using religious liberty to assault LGBTQ rights, the scope was more expansive and covered anti-LGBTQ discrimination across the board.
Rep. Jamie Raskin (D-Md.) said in his opening statement the "big question" is whether businesses engaged in commerce or federally funded institutions, such as hospitals and adoption agencies, can refuse services to LGBTQ people — and the answer should be easy.
"I am sure there will be a handful of close calls in harmonizing individual religious freedom and equal rights under law, but the vast majority of cases are, in fact, easy," Raskin said. "Yet, alas, the Trump administration has been working zealously to turn the government into an instrument of hostility towards LGBTQ rights across the executive branch."
At times, the hearing seemed more like two distinct conversations taking place, with Democrats asking their witnesses about LGBTQ rights, Republicans asking theirs about religious liberty and no attempt to reach a focus for common ground.
Rep. Jody Hice (R-Ga.) was at the forefront of calls from Republicans to call for protections of religious liberty, even if those protections were at the expense of allowing anti-LGBTQ discrimination, based on language in the First Amendment.
"So we see that Congress cannot mandate a national religion. We get that," Hice said. "But we also understand from this that neither can Congress prevent Americans from practicing their faith in the public square, and fundamentally, the First Amendment protects Americans from an ideological coercion from government. And this is the rub for me."
Disputing the notion the Trump administration was assaulting LGBTQ rights, Hice insisted the United States is still "a world leader in guaranteeing the civil rights of all, including the LGBTQ community," noting the appointment of Richard Grenell, acting Director of National Intelligence and now the highest-ranking openly gay presidential appointee in U.S. history.
Rep. Mark Takano (D-Calif.), one of seven openly gay members of the U.S. House and a witness before the committee, disputed Grenell's appointment as evidence of Trump's support for LGBTQ rights, saying that alone doesn't cut it.
"The appointment of one person who's LGBTQ," Takano said, "does not compensate for the fact that last fall, the Trump administration made legal arguments before the Supreme Court that would limit non-discrimination protections under Title VII, which exists to prevent people from being fired for their sexual orientation. The want to give employers the power to fire you based on who you are or who you love. I say religious liberty does not extend to firing people based on who are they are."
One of the Republican members of the committee asked to have entered into the record a letter from the U.S. Conference of Catholic Bishops expressing displeasure over Congress holding a hearing that has framed religious liberty as an assault.
Sarah Warbelow, legal director of the Human Rights Campaign and one of the witnesses at the hearing, told the Blade afterward the Republican preoccupation with religious liberty and disregard for LGBTQ rights was off-base.
"I think, unfortunately, a number of the Republican Congress members today really misrepresented what religious liberty is," Warbelow said. "Religious liberty, it means an ability for people to hold their sincerely held religious belief, to practice their faith, but it doesn't mean that you get to engage in discrimination."
Among the witnesses were LGBTQ people who had suffered discrimination and came to the congressional hearing to tell their stories.
Evan Minton, a transgender resident of Livermore, Calif., told the story of going to the Mercy San Juan Medical Center in the Dignity Health chain for a hysterectomy, then being told the surgery was cancelled because it was related to gender transition.
"I was fortunate in that I was able to undergo a hysterectomy at a different hospital," Minton said. "But the experience was scarring. I had no idea prior to my hysterectomy that my local community hospital was a Catholic hospital, or that they would argue that religious doctrine permits them to prevent doctors from providing patients with medically necessary care just because those patents are transgender."
The experience was so degrading, Minton said, he refused to return afterward when he had a medical emergency and needed to remove his catheter and needed assistance when his pharmacist accidentally gave him a drug overdose.
"I needed to go to the emergency room," Minton said. "In my drug stupor and even in my inability to talk, I was able to make out the sound, 'No. Not that.' And they took me to an emergency room farther away."
Ernesto Olivares, a gay man who lives in San Antonio, Texas, recounted the bullying and harassment he encountered as a youth growing up in the foster care system.
"I remember one day, we were getting ready to go on a family vacation and I went to grab my bag, the big bright blue one they give us to put all our things in when it's time to move placements," Olivares said. "Someone had scratched out my name and written 'faggot' in its place. I cried and kept it to myself until we got back from vacation."
Olivares said he told his therapist about the incident, and even though he asked her not to tell his foster parents, she told anyway. Even though he showed them the tag as proof, they denied anyone in the house would do that and nothing was ever done about that incident.
A key focus of the hearing was the Every Child Deserves a Family Act, federal legislation introduced by Rep. John Lewis (D-Ga.) that would prohibit adoption agencies from discriminating LGBTQ families in child placement or discrimination against LGBTQ children, such as forcing them to undergo widely discredited conversion therapy.
Championing the legislation was Rev. Stan Sloan, an Episcopal priest and CEO of the pro-LGBT Family Equality Council, who said the bill was needed to ensure children in adoption agencies and foster care have access to families.
"There are currently over 440,000 children in our child welfare system," Sloan said. "Over a quarter of those children are able to be adopted at this moment, and yet over 20,000 of those kids will graduate out of the system this year alone without ever finding parents."
Sloan said LGBTQ people in America are seven times more likely to become foster parents or adopt a child, and yet 11 states, most recently Tennessee, now have laws on books permitting adoption agencies to refuse placement to LGBTQ families.
The Every Child Deserves a Family Act, Sloan said, would "overturn those bad laws nationwide, and if you care about kids in need you will support that act."
Rep. Sean Patrick Maloney (D-N.Y.), another openly gay member of Congress, testified before the committee as a witness in favor of same-sex adoption by telling the story of raising children with his husband.
"When you allow people to discriminate against those couples, you deprive children of good moms, dads, families who are going to love them, and you dress it up as religious liberty, you simply sanction discrimination and deprive those children of a home they deserve," Maloney said.
At the opposite end of that legislation is the Child Welfare Inclusion Act, legislation Rep. Mike Kelly (R-Pa.) promoted as a witness during the hearing that would prohibit adverse action against child welfare agencies for declining to provide services based on religious beliefs, such as declining placement into LGBTQ families.
"The faith community has deeply held religious beliefs," Kelly said. "The LGBTQ community has deeply held beliefs. We do not discriminate against those beliefs, and we say if that's what you choose, that is fine. All we ask is that we don't discriminate against somebody…because they don't hold those same beliefs."
Rep. Alexandria Ocasio-Cortez (D-N.Y.), a member of committee, spoke out against the use religious belief to justify bias against anti-LGBTQ people, saying that offends her as a woman of faith.
"It is very difficult to sit here and listen to arguments in the long history in this country of using scripture and weaponizing it and using scripture to justify bigotry," Ocasio-Cortez said. "White supremacists have done it, those who justified slavery did it, those who fought against integration and we're seeing it today."
The title of the hearing was the Trump's administration using religious liberty to assault LGBTQ rights, but no representative of the White House was present before the hearing. A committee spokesperson didn't respond to the Blade's request to comment on whether the Trump administration was invited to send a witness. The White House didn't respond to a request for comment.
Michigan teacher walks off job & resigns after told to remove Pride flag
"To me, the flag represents love and inclusion for everybody, not just whoever is of the LGBTQIA+ community"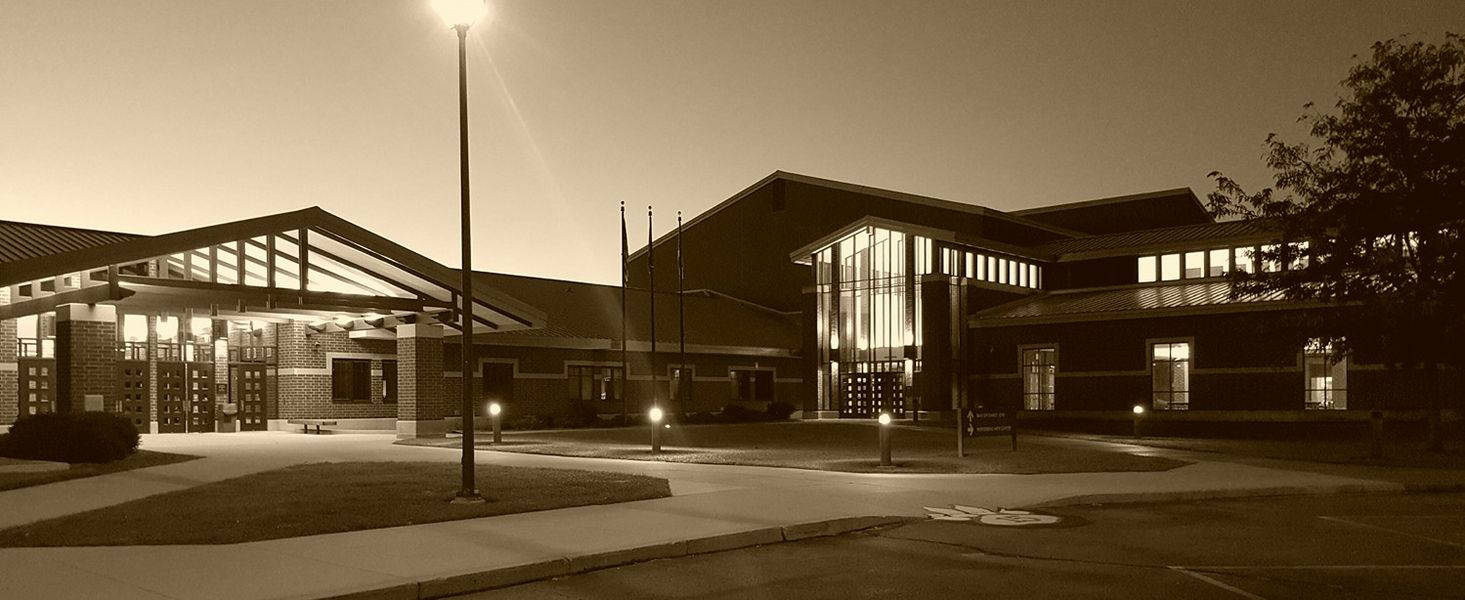 THREE RIVERS, Mi. – A middle school health teacher walked off the job Nov. 22, then resigned after the school district's administration ordered LGBTQ+ Pride flags removed from classrooms.
Russell Ball, who identifies as a member of the LGBTQ+ community, told local media outlets that "The rumors kind of floating around is that one or two parents that complained about the flags being in the classroom."
"To me, the flag represents love and inclusion for everybody, not just whoever is of the LGBTQIA+ community," Ball said during an interview last week with NBC News affiliate WOOD TV 8 on Grand Rapids. "I felt very disheartened and saddened. The students losing that representation throughout the classrooms really hurt, losing my own representation in the classroom really hurt. It was just something I was not prepared to do."
He told NBC 8 that, combined with burnout, caused him to resign from his position as a health teacher.
"It all comes down to having some open communication and building understanding that we're not out to vilify anybody, but we are here and we do exist," he said.
In a statement posted on its website, the school district's Interim Superintendent Nikki Nash said officials were notified by what he referred to as an "an external party," Nov. 18. According to Nash, the person questioned information shared within the school day, which also included an inquiry of the Gay Straight Alliance after-school club and pride flags within Three Rivers Middle School classrooms.
"We continue to work with the district's legal firm and board of education to ensure we are providing a safe learning environment for all students," the statement continued. "There is a board meeting on December 6th."
Attorneys representing the district did not reply Tuesday to multiple requests for comment.
Comments on the school district's Facebook page reflected anger over its decision, with one person writing; "It is disappointing Three Rivers Community Schools has decided to kick protections and support for LGBTQ+ students to the curb for some undisclosed reason. The district claims protection for all students but somehow figured LGBTQ+ students don't fit in that category for all students and are now willing to show the students and their support network of teachers to the door."
Virginia Tech Co. burns LGBTQ poster at company party- then apologizes
"I'm mortified that our event was interpreted in this way," said Nate Reynolds, the founder and partner of Hypershift Technologies LLC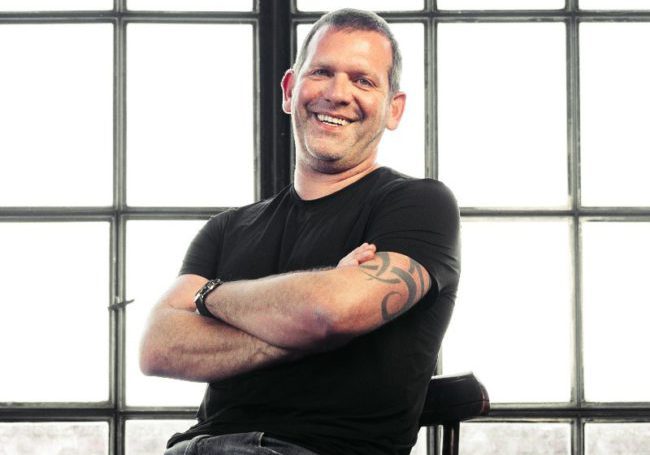 ASHBURN, Va. – The owner of a Virginia technology company that hosted a private Veterans Day party on the grounds of an Ashburn, Va., brewery in which a company employee used a flame-throwing device to ignite a rainbow flag poster said the selection of the poster was a mistake and he and his company have no ill will toward the LGBTQ community.
A customer of the Old Ox Brewery in Ashburn, where the incident took place on its outdoor grounds, made a video of the incident with his cell phone and sent a copy of the video to the Blade.
The video, which includes an audio recording, shows a man using a hand-held flame-throwing device to ignite the rainbow poster, which was hanging from a cable and appeared to be mounted on cardboard or a thin sheet of wood. Bystanders can be heard laughing and cheering as the poster is set on fire.
The poster consisted of a variation of the LGBTQ Pride rainbow flag that included the word "love" configured from an upper white stripe on the rainbow symbol.
The customer who took the video, who has asked not to be identified, thought the decision to set the poster on fire was a sign of disrespect if not hatred toward a longstanding symbol of LGBTQ equality and pride.
Chris Burns, Old Ox Brewery's president, shared that view, telling the Blade he and his staff were "shocked and horrified" when they learned later that a rainbow flag poster had been burned on the brewery's grounds. Burns said Old Ox supports the LGBTQ community and participated in LGBTQ Pride month earlier this year.
He said the company that held the private party paid a fee to hold the event on the brewery's grounds, but the brewery did not know a rainbow poster would be burned.
"I'm mortified that our event was interpreted in this way," said Nate Reynolds, the founder and partner of Hypershift Technologies LLC, the Falls Church, Va.-based technology company that organized the Nov. 11 party at Old Ox Brewery. "I can assure you that ZERO ill-will or offense was meant," Reynolds told the Blade in a Nov. 24 email.
"We held a small private party for a few clients, which included a demonstration of Elon Musk's Boring Company 'Not a Flamethrower,'" he said in his message. He was referring to one of billionaire businessman Elon Musk's companies that specializes in boring through the ground to create tunnels for cars, trains, and other purposes.
"After so many being isolated during COVID, we wanted to have an event that was lighthearted and to some small effect, silly," Reynolds said in his message to the Blade.
According to Reynolds, in thinking about what should be used for "fodder" for the flame-thrower, he went to a Five Below discount store and purchased items such as stuffed animals and posters, including a "Space Jam" movie poster as well as what he thought was a poster of the British rock group The Beatles.
"When I pulled the Beatles poster out of the tube it was instead the 'Love' poster," he said, referring to the rainbow flag poster the Blade asked him about in an earlier email.
"All I focused on was the 'Love' wording and not the rainbow and did not draw the conclusion that the poster was an icon that represents the LGBTQ community," Reynolds said. "It was my own ignorance of not connecting the symbolism of the poster. If I had realized it was a symbol of the LGBTQ community, I would not have used it," he said.
"I feel terrible, and I want to emphasize that I am solely responsible for this mistake – not the Old Ox Brewery," he wrote in his message. "Nobody at Old Ox had anything to do with this activity."
Reynolds added, "Hate has no place in my heart, and I sincerely apologize for any offense that could have been drawn from what I now realize was poor judgement on my part. I simply didn't correlate this poster with the LGBTQ pride symbol."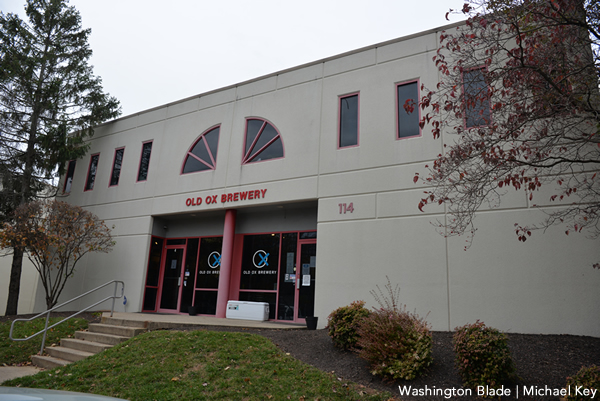 Before Reynolds issued his statement of apology, Burns, the Old Ox Brewery co-owner, told the Blade in an email he was "saddened and upset" over the rainbow poster burning on the grounds of his brewery.
"We do not wish to benefit from this event," he said in his email message. "Therefore, Old Ox is donating 100% of the revenue generated from the private event to GLSEN."
GLSEN is a national LGBTQ advocacy group that focuses on education and support for LGBTQ youth. Burns said Old Ox Brewery also donated proceeds from a Pride month event it organized earlier this year to GLSEN.
LGBTQ activists and organizations contacted by the Blade said they were unfamiliar with the variation of the rainbow flag with the word "love" that was the subject of the poster burning incident. The poster is available for sale at Five Below stores in the D.C. metropolitan area for $5.
Small print writings on the poster show it is produced by Trends International LLC, which describes itself on its website as "the leading publisher and manufacturer of licensed posters, calendars, stickers and social stationery products." The Blade couldn't immediately determine who designed the poster.
The video of the poster burning incident can be viewed here:
New virus variant stokes global alarms, flights banned from South Africa
The variant is classified as a highly transmissible virus of concern, the same category that includes the Delta variant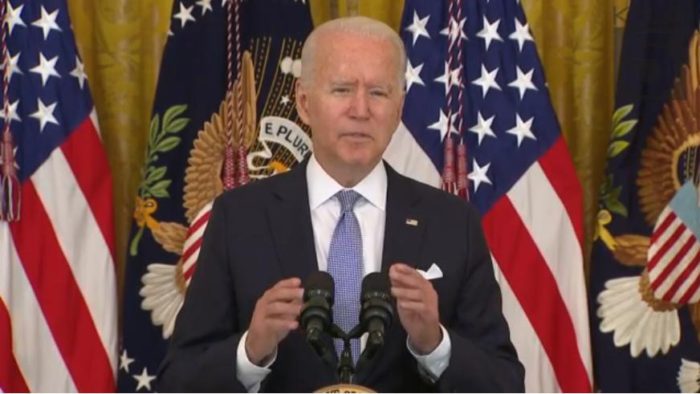 NANTUCKETT, Ma. – The World Health Organization declared a new variant of the mutated coronavirus it named Omicron as a variant of concern Friday. The variant is classified as a highly transmissible virus of concern, the same category that includes the Delta variant, the world's most prevalent.
"This variant has a large number of mutations, some of which are concerning," the WHO said in a statement Friday afternoon.
"Preliminary evidence suggests an increased risk of reinfection with this variant, The number of cases of this variant appears to be increasing in almost all provinces in South Africa. Current SARS-CoV-2 PCR diagnostics continue to detect this variant. Several labs have indicated that for one widely used PCR test, [has shown] this variant has been detected at faster rates than previous surges in infection, suggesting that this variant may have a growth advantage," the WHO noted.
The Omicron variant has already caused countries across Europe and Asia to implement travel restrictions.
President Joe Biden, spending the Thanksgiving Holiday weekend with his family on Nantucket Island, Massachusetts off Cape Cod, on Friday issued a directive ordering additional air travel restrictions from South Africa and seven other countries. These new restrictions will take effect on November 29.
Bloomberg reported that one of Biden's top medical advisers said earlier Friday that officials would act after reviewing scientific data with counterparts in South Africa.
American health officials spoke with their South African counterparts midday New York time on Friday to gather medical and scientific data about the newly discovered variant.
Dr. Anthony Fauci, one of Biden's top health advisers, said they'd use that data in deciding whether to join the European Union, the U.K. and others in restricting travel.
The White House issued the President's statement Friday afternoon:
"This morning I was briefed by my chief medical advisor, Dr. Tony Fauci, and the members of our COVID response team, about the Omicron variant, which is spreading through Southern Africa. As a precautionary measure until we have more information, I am ordering additional air travel restrictions from South Africa and seven other countries. These new restrictions will take effect on November 29. As we move forward, we will continue to be guided by what the science and my medical team advises.

For now, I have two important messages for the American people, and one for the world community.

First, for those Americans who are fully vaccinated against severe COVID illness – fortunately, for the vast majority of our adults — the best way to strengthen your protection is to get a booster shot, as soon as you are eligible. Boosters are approved for all adults over 18, six months past their vaccination and are available at 80,000 locations coast-to-coast. They are safe, free, and convenient. Get your booster shot now, so you can have this additional protection during the holiday season.

Second, for those not yet fully vaccinated: get vaccinated today. This includes both children and adults. America is leading the world in vaccinating children ages 5-11, and has been vaccinating teens for many months now – but we need more Americans in all age groups to get this life-saving protection. If you have not gotten vaccinated, or have not taken your children to get vaccinated, now is the time.

Finally, for the world community: the news about this new variant should make clearer than ever why this pandemic will not end until we have global vaccinations. The United States has already donated more vaccines to other countries than every other country combined. It is time for other countries to match America's speed and generosity.
In addition, I call on the nations gathering next week for the World Trade Organization ministerial meeting to meet the U.S. challenge to waive intellectual property protections for COVID vaccines, so these vaccines can be manufactured globally.  I endorsed this position in April; this news today reiterates the importance of moving on this quickly."
Dr. Fauci Warns Americans To Take New Omicron Variant Seriously