Trump's incompetence goes viral
Nature doesn't take orders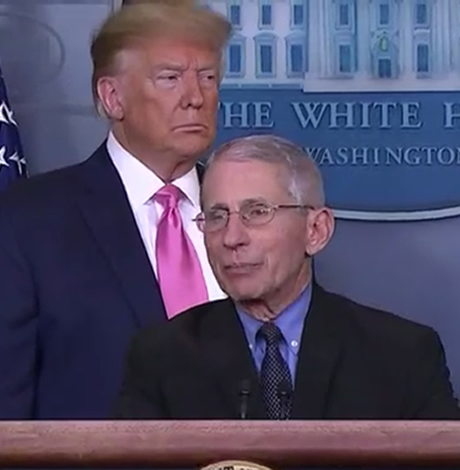 President Trump last week called the coronavirus the Democrats' "new hoax." On the same day, Donald Jr. called its spread a "pandemic" and said that Democrats "seemingly hope that it comes here, and kills millions of people so that they could end Donald Trump's streak of winning."
Setting aside the depravity of accusing one's political opponents of rooting for the deaths of millions of Americans, how can a hoax cause a pandemic? Which is it? And which spreads faster, an actual virus or a wannabe dictator's disinformation?
Back when restaurants and airplanes had "no smoking" sections, some of us used to point out that smoke didn't obey the signs. It floated right over from your smoking table to my no-smoking table. The president's insistence on doubling down in minimizing the number of cases of the virus in the United States, and calling it a Democratic hoax, is like those "no smoking" signs: the virus isn't listening.
Demagogic politicians remind me of Charlton Heston as Moses in The Ten Commandments holding up his staff and commanding the waters of the Red Sea to part: "Behold His mighty hand!" Also Shelley's Ozymandias proclaiming in an inscription on a fragment of an ancient statue in the desert, "Look on my works, ye Mighty, and despair!"
Trump appears to think he has magic incantatory power: one word from him and a virus disappears, or the Constitution alters itself to let him do whatever he wants. What he wants and expects is not to be run out of office for his incompetence and recklessness.
In H. G. Wells's 1897 novel The War of the Worlds, invading Martians wreak havoc, but are ultimately defeated by microbes to which they have no immunity: "slain, after all man's devices had failed, by the humblest things that God, in his wisdom, has put upon this earth."
There are no Martians here. We hardly need an attack of the Pod People with a leader so pathologically self-absorbed that he decreased our preparedness for an outbreak. We could stand less arrogance and more humility, less certitude and more curiosity. If we want those things, we will have to vote for them.
While we're at it, let us avoid false equivalency. In a dispute between, say, President Trump and Anthony Fauci of the National Institute of Allergy and Infectious Diseases, we should keep in mind that one is a lying grifter and the other is a distinguished immunologist. On Feb. 26 in the White House, as Dr. Fauci stood in front of him speaking, Trump (to use a vivid phrase by my friend Ernest Hopkins of the San Francisco AIDS Foundation) "looked like he wanted to smush him like a bug."
Trump put Vice President Pence in charge of leading the administration's response to the virus. He was careful to say, "Mike is not a Czar." As Nicole Wetsman of The Verge puts it, "Pence is not a public health expert, either. Instead, as governor of Indiana, he slashed public health spending and delayed the introduction of needle exchanges, which led to the state's worst outbreak of HIV."
A droll piece at Breaking Burgh titled "Mike Pence Calls For Urgent Research Into Which Sin Coronavirus Is Punishment For" shows the narrowing gap between parody and reality. Trump's war on science and the independent press preys on people's credulity and desire for confirmation of their biases.
Notice how I put that in the third person? It's those gullible people over there who are the problem, not you and I exchanging pearls of wisdom in the coffee shop. Nevertheless, my friend Lauren noted on Friday morning that our Java House gang, once sarcastically dubbed "the brain trust" by former HRC president Joe Solmonese, may have to discontinue its daily gatherings if the virus comes to D.C.
Say a prayer to the god of your understanding, as folks in The Program put it, that we may be well. You know the chatter about our various plans to fly in and out of Reagan National and Dulles? The virus is surely headed our way, as fast as you can say, "Behold His mighty hand!"
Speaking of which, be sure to wash your own hands.
Richard J. Rosendall is a writer and activist at [email protected].
Copyright © 2020 by Richard J. Rosendall. All rights reserved.
Vote like your family's rights are on the line – Because they are
"The most important thing we can do is to share our stories- Intellectual arguments rarely change minds – but empathy changes everything"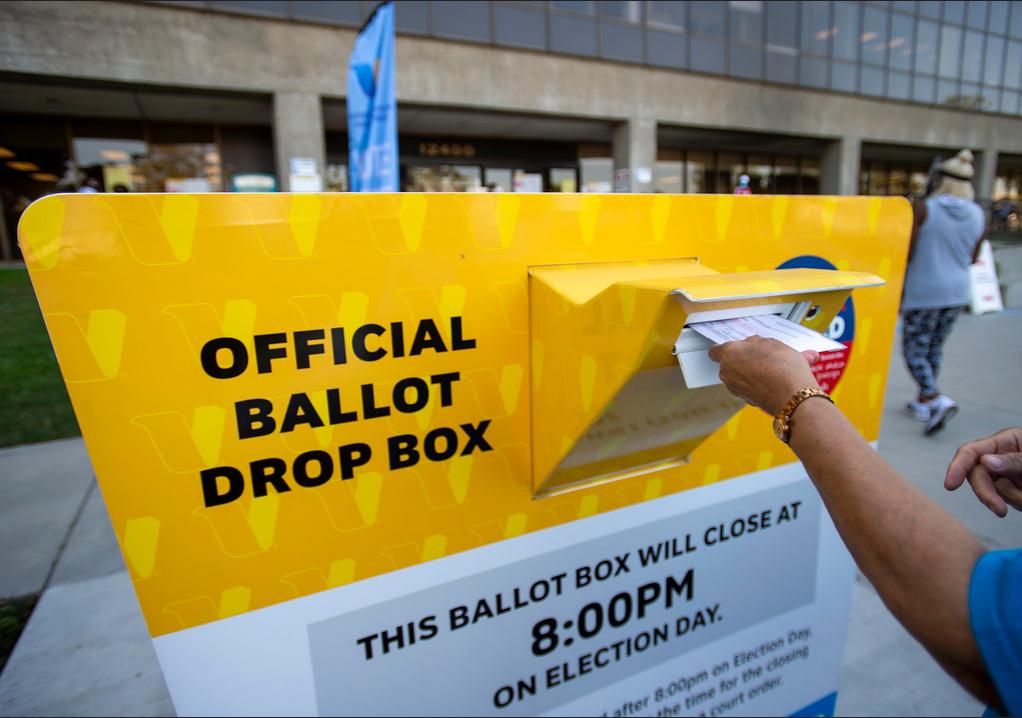 By Nesta Johnson | SAN FRANCISCO – On June 24, 2022, the Supreme Court decided in Dobbs v. Jackson's Women Health Organization that there is no federal constitutional right to abortion.
Justice Thomas all but cackled at the prospect of "reconsidering" other legal cases that established rights based in substantive due process, including our right to privacy in making decisions about our bodies, our relationships, and our families. Justice Alito, writing for the majority, attempted to reassure us that we need not fear the loss of time-honored rights.
We are not reassured.
Across America, people are panicking. LGBTQ+ Americans – frightened for their freedoms and for their families – have flooded NCLR's Legal Helpline.
We at NCLR have done our best to help, including by creating a post-Dobbs FAQ for LGBTQ+ families. We pledge to continue working toward a future in which every person is free to choose how, when, and whether to have children, and remains free to make private decisions about their lives and their bodies.
But lawyers alone cannot win this fight. Americans' right to safe, legal abortion across the country must be restored, not in a courtroom, but at the ballot box. In that sense, the Supreme Court is not, and never has been, the highest court. In a democracy, the true court of last resort is the court of public opinion. And that "court" has seemed hopelessly deadlocked for decades. 
In our increasingly polarized nation, abortion rights have long been an especially divisive issue. According to Gallup, when asked whether they are "pro-life" or "pro-choice," just five percent of Americans described themselves as "mixed" or "unsure." The gradual growth of the pro-choice opinion appears to reflect generational, not individual, shifts.
And yet, after the Dobbs draft leaked in June, fifty-eight percent of Americans described themselves to Gallup as pro-choice – an unprecedented jump of six percentage points in just one year. Minds can change on abortion rights – rapidly.
Anti-abortion rights advocates long enjoyed an advantage in the stories they told. Before Dobbs, pro-choice stories of life without abortion access were less immediate, less compelling, less relatable – Secret networks. Coat hangers. Herbal concoctions. Sinister quacks. Back-alley butchers. Those stories, from faraway times and places, felt like fiction. Abortion is far safer than pregnancy and childbirth; most people suffer no complications, but some do. The vast majority of people who have abortions do not regret their decision, but some do. Children of unwanted or forced pregnancies, and their parents, often suffer – but some live in joy.
While the many whose abortions were uncomplicated, un-regretted, and un-traumatic rarely were heard, anti-abortion rights advocates used the painful stories of some to justify revoking the rights of all. Stories were the ribbon atop a package of lies: that our country has changed so much since Roe that abortion is no longer needed, that because of sonogram imaging everyone believes that personhood begins at conception, that "unwed mothers" are legally protected and socially accepted, that pregnant people have access to medical care and parental leave, and that safe-haven laws and demand for adoptable infants guarantee there will be no such thing as an unwanted child, or an unwilling parent.
Now, the tragic tale of Ohio's ten-year-old rape victim will be the first in an anthology of new American horror stories – unless we elect representatives committed to restoring our reproductive rights.
The history of the LGBTQ+ rights movement illustrates the power of storytelling. When LGBTQ+ Americans began cautiously sharing their stories, many encountered rejection and discrimination. Some still do – but many find acceptance and love. As people realized that LGBTQ+ people were their relatives, friends, colleagues, and neighbors, they discarded the lies they learned – that we were sick, dangerous, predatory; that we could, or should, be "cured"; that allowing same-sex couples to wed would cause the death of marriage, the end of religion, and the collapse of civilization. Surveys have confirmed that personal relationships greatly impacted Americans' views on LGBTQ+ rights.
Until the November midterm elections, the most important thing we can do is to share our stories, and to listen. Intellectual arguments rarely change minds – but empathy changes everything. Our neighbors need to hear stories that challenge common myths about who has abortions, and why. They need to hear stories from people whose views do not fit neatly into political boxes – including the voices of those who believe abortion is immoral, and yet believe that it should be legal. Most importantly, voters need to hear the stories of people they know, respect, and love who have had abortions.
********************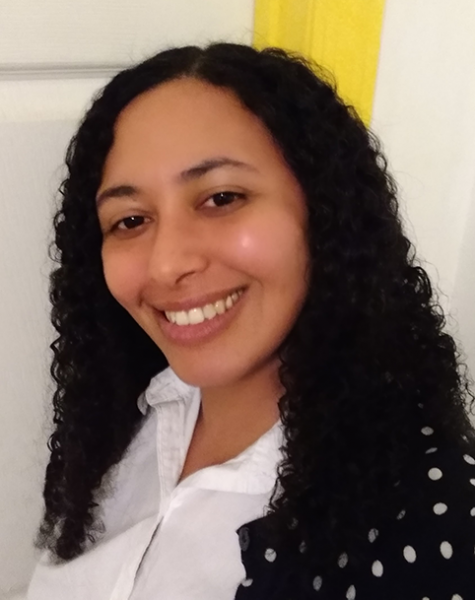 Nesta Johnson is the Family Law Staff Attorney for NCLR, a national legal organization committed to advancing the human and civil rights of LGBTQ community through litigation, public policy advocacy, and public education.
Emergency without Urgency, the Monkeypox outbreak fiasco
We need Monkeypox vaccine TODAY, not next week. We need our community clinics to be covered fully and IMMEDIATELY be reimbursed by Medi-Cal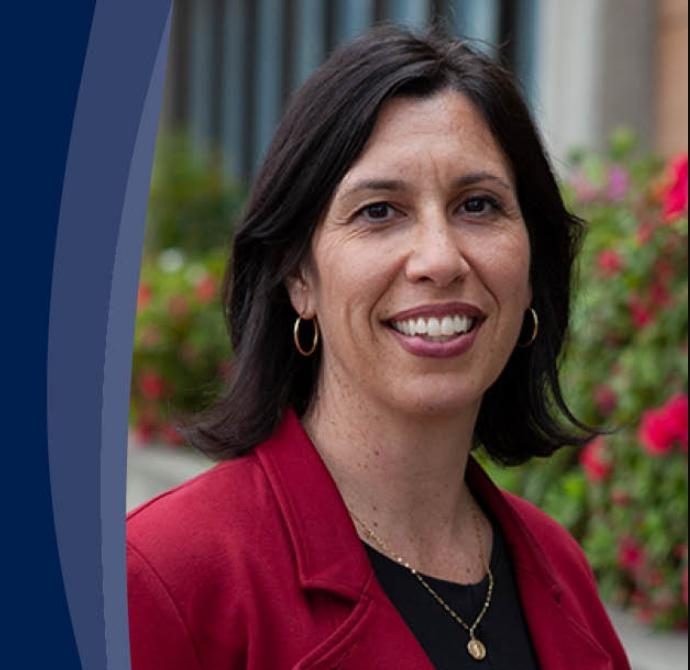 LOS ANGELES – One of the most significant legacies of the HIV and AIDS crisis is the establishment of robust LGBTQ+ community based health organizations that not only advocate for our community but which also provide care.
These clinics are indeed the legacy of generations of community members lost to AIDS and have become the healthcare backbone of our LGBTQ+ community. They play a substantial role in promoting successful HIV and STD prevention and during the vaccination efforts against Covid played a crucial role in ensuring our community was safer.
Los Angeles is particularly blessed with a large number of them. Between the LA LGBT Center, APLA, the AIDS Healthcare Foundation, St. John's Wellness and other AIDS healthcare service providers, there are literally dozens of clinics throughout the County. As the AIDS pandemic evolved, these clinics repurposed, maintaining their role in providing both basic and specialty healthcare for the LGBTQ community. They are comparable in quality to more mainstream community healthcare providers.
For a new scourge faced by our community, Monkeypox, one would think the expertise of these clinics would be immediately called upon and activated as an inoculation center for the vaccine. However, the fact they weren't being engaged was evident early on.
The LA County Department of Public Health, (LACDPH) rightly or wrongly, responded as soon as vaccine was made available to them by opening its own clinics to the community and putting shots into arms. Demand was strong.
It seemed reasonable at first that their locations, though remote from the traditional centers of our community, should begin immediately but, it was hoped, with a plan to engage more partners. That did not happen quickly enough for a variety of reasons and concerns immediately emerged.
On July 27, as publisher of this newspaper, alarmed by a then seemingly nascent health crisis on the precipice of exploding virally in the MSM community, I hosted a Town Hall bringing together the LA County Department of Public Health, representatives of the three largest networks of LGBTQ+ healthcare providers, a former Monkeypox patient, researchers and advocates.
One of the objectives of that town hall was to highlight to our government's healthcare leadership the importance of involving the world's most robust networks of LGBTQ+ clinics in the dispensing of monkeypox vaccines.
Cases since that Town Hall have more than doubled in Los Angeles and also nationally.
And frustration has grown exponentially, largely due to the supply's rapid depletion..
While many excellent strategies were deployed by LACDPH to engage other partners, precious little vaccines were ever provided to the community clinics represented at the Town Hall. The LA LGBT Center's clinic received less than 2000 doses; AIDS Health Foundation received approximately 1000 doses and others like APLA also received similar scant inventory.
While the outrage can be answered in part by a lack of available vaccines, it's an issue that can be squarely blamed on President Biden's CDC and FDA- it's simply outrageous that the vaccine rollout has been so badly handled by the Federal government. But on a local level there are indications that even if federal distribution and supply chain issues got fixed, our community clinics would still be underutilized or perhaps unable to be utilized at all.
Michelle Baass, Director of the California Department of Health Care Services (DHCS), appointed by Governor Gavin Newsom to oversee the health of about 14 million Californians on Medi-Cal, the state's Medicaid program, has decided that the LGBTQ+ Clinics do not qualify for reimbursement if they administer Monkeypox vaccine without pass-through funding from the federal government which potentially could take many months to even occur.
You heard that right.
The institutions we built, the conveniently located clinics we are familiar with are being defunded.
You might ask, "how is that defunding?"
Without Medi Cal reimbursement, the financial strain on our clinics is enormous- the Los Angeles LGBT Center has already warned they are experiencing significant financial stress as a and have turned to the community for donations so they can continue inoculations when vaccines become available again.
It's not clear when that will be.
Aaron Fox at the LA LGBT Center put it best when he told the Blade's Brody Levesque "Our community cannot wait for DHCS and CMS to continue talking. We must take action on this yesterday and we are in a Public Health crisis and government bureaucracy and inaction is unacceptable and will only result in increased suffering in our community." 
Fox added that his perception of the government response is that while the Biden-Administration and California have declared a Public Health Emergency, in terms of immediate action taken thus far it is little more than saying, "oh look there's a house on fire," but neglecting to dial 911 and get the fire dept rolling.
It's a sleight we do not deserve, particularly not from administrations like Gavin Newsom and Joe Biden whom we view as reliable allies.
On behalf of the Blade and our LGBTQ+ community, I call on all involved parties to correct this situation immediately.
Major East Coast cities such as New York have had robust and successful vaccination efforts that have reached many times more arms than in Los Angeles. Why should a city the size of Boston or Washington DC have been prioritized over Los Angeles or California?
We need a supply of Monkeypox vaccine TODAY, not next week. We need our community clinics to be covered fully and IMMEDIATELY be reimbursed by Medi-Cal.
Most of our community clinics are also still hyper-stressed financially because the State of California has failed to reimburse them for their work inoculating people against Covid.
Our community needs our allies to prove again why we can trust them: it's very disconcerting to be treated so shodily after 40 years of AIDS and 3 years of Covid.
It's also extremely disconcerting that after our leaders and this newspaper fought so hard to get California's Department of Health to include LGBTQ+ data in healthcare collection around Covid-19 that it came to nothing when a new epidemic emerged.
Get it together, Michelle Baass, or leave.
Monkeypox must be treated as an emergency that DOES requires a great deal of urgency
LGBTQ people under cancerous barrage led by Florida's Ron DeSantis
He is infatuated with the idea of being President, drunk on the potential of his power and, as a result, is willing to do anything…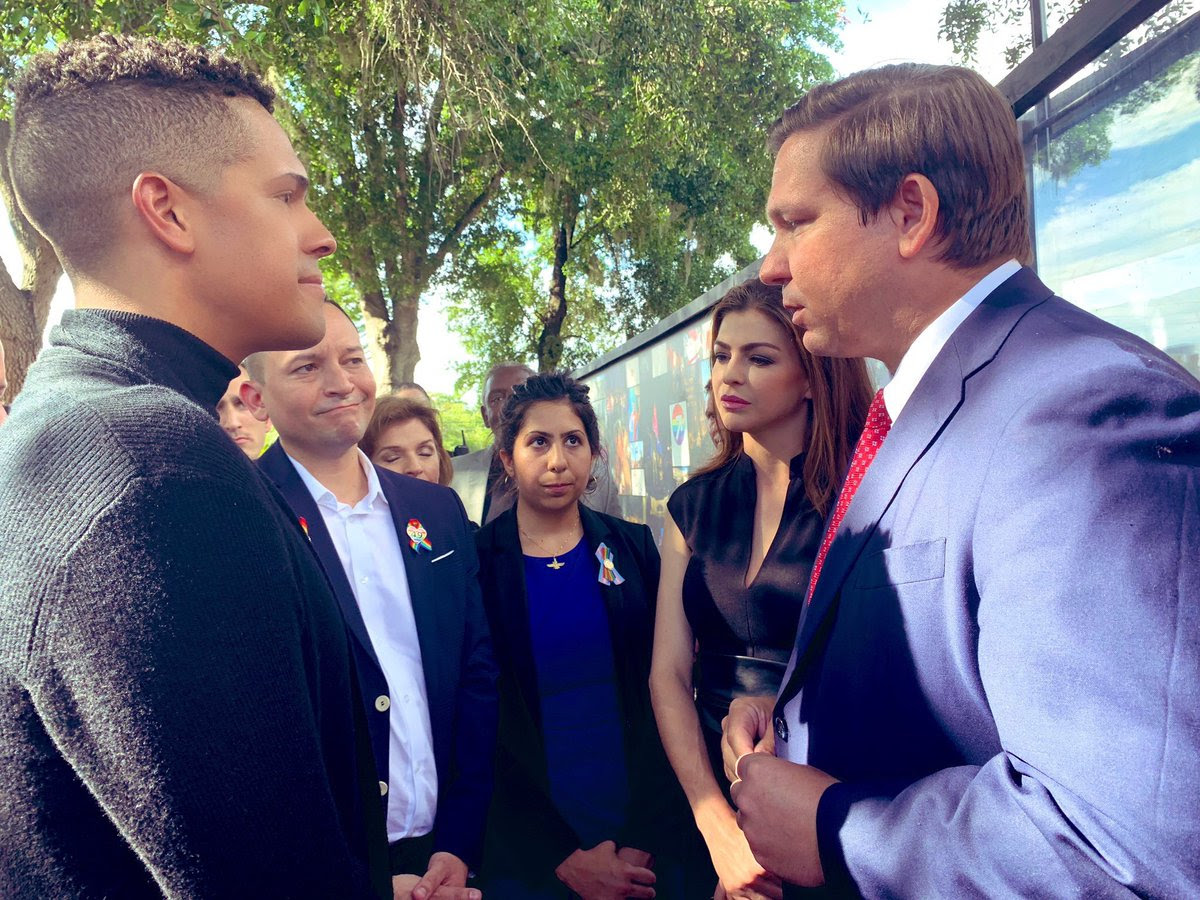 By Brandon J. Wolf | ORLANDO – No, your eyes are not deceiving you. LGBTQ people in America are under assault. Right-wing radicals, in their quest to dismantle democracy and install Christian Nationalist rule, are (once again) breathlessly obsessed with scapegoating LGBTQ people, using our existence as a political lightning rod.
As a result, every day has become more treacherous for the community than the last. Make no mistake, their tactics are not new. Transgender and nonbinary people, as they often have been, are squarely in the crosshairs. Their existence is debated, their humanity called into question. They are told when and where to use the bathroom, when and where their names will be respected, when and where they are safe to walk — when and where society will allow them to be.
And while the onslaught is happening all over the country, many of those desperate to see LGBTQ people relegated to second-class citizenship are looking to Florida, under the reckless leadership of Governor Ron DeSantis, for their cues. It should be said: DeSantis does not care. He does not care about Floridians, the state's economy, or the constitutionality of his extremist policies. And he certainly does not care about the health and wellbeing of the populations he crushes along the way.
Ron DeSantis cares about Ron DeSantis. He is infatuated with the idea of being President, drunk on the potential of his power. And, as a result, is willing to do anything — and step on anyone – to score another Fox News chyron and rake in a few more six figure donations.
The governor's attacks on LGBTQ people are coming from every angle. In dragging his signature Don't Say LGBTQ Law over the finish line, DeSantis twisted his legislative minions in knots, publicly haranguing anyone who dared defy him. He took aim at Disney, one of the globe's most recognizable brands, decimating a local government to drive his point home.
He bullied the Agency for Health Care Administration into withdrawing Medicaid funding for gender-affirming care, plunging tens of thousands of transgender Floridians into uncertainty in the coming weeks. He bludgeoned the Board of Medicine into considering similarly brutal action, potentially putting the licenses of health care providers on the line for providing the best care possible to their patients.
His Department of Education told school districts to ignore Title IX protections for LGBTQ students, warning (falsely) that offering protection from discrimination to those young people could put districts in legal jeopardy. And he used the Department of Business and Professional Regulation to target an LGBTQ-owned small business, threatening to destroy them for daring to host drag brunch on Sundays.
Governor DeSantis is so drunk on ego that he is weaponizing any agency he can get his hands on against a population fighting to keep its head above water. And along the way, he has revived vile anti-LGBTQ rhetoric to rationalize his naked cynicism. His office led a surge in the term "groomer" being hurled across the country, his now former press secretary trafficking in the trope during a desperation Twitter rant.
The strategy is straightforward: disparage and dehumanize LGBTQ people to score polling points with the base and justify cruel policies aimed at erasing us. If you can reduce LGBTQ people to something less than human – an ideology, an agenda – your most ardent supporters will sign away any liberty necessary for you to put a stop to us. Curriculum censorship. Book banning. Government dictating what medical care someone can access, the haircuts they can sport, the clothes they can wear. An end to freedom greenlit in service to the political ambitions of the one man who says he can put a stop to the LGBTQ "contagion".
If that sounds like an authoritarian nightmare, it is. But it's not just a Florida or Texas nightmare, it's a crisis encircling the windpipe of the nation, threatening to suffocate us all. What DeSantis has unlocked in Florida – the weaponization of every government apparatus against his constituents to lock up his grip on power – isn't an end game. It's a trial run.
There is nothing he would relish more than the chance to use the US Department of Education to rip protections from transgender students in every corner of the country. He would salivate at the opportunity to use the full might of the Federal Government to pummel his political adversaries, dismantling any business who dares sport a Pride flag in June. Right wing extremists look to DeSantis for the roadmap to an authoritarian America not just because they want to emulate his policy success; but because they want to see him at the helm.
Your eyes are not deceiving you. And yes, it's heavy and overwhelming. That is by design. The DeSantis Doctrine is one ripped from the teachings of Donald Trump and put on political steroids: create a tempest so chaotic and all-consuming that it feels inevitable. Squash your opposition by making them feel like fighting back is hopeless. But fighting back is our only hope. Apathy is fuel for systems of oppression. Despair is an ally to the status quo. Our best option is our only option: refuse to be erased and demand political accountability for the unbridled cruelty.
Our community is no stranger to attacks like these. For centuries, our presence has been hyper-sexualized, demonized, and used to stoke fear in those around us. We dare to imagine a world where people are celebrated exactly as they are. And for that – we have long been political targets. But that means we are also no stranger to what must come next.
Throughout history, with our backs against the wall, we've won by telling our stories, living our truth, and demanding equality. This moment requires us to find that strength once again. It requires us to stand firmly as accomplices to the trans and nonbinary community, refusing to jettison them in the shortsighted hope of being spared by the right-wing monster. It requires us to mobilize our people – LGBTQ and allied alike – to see our very humanity as reason to wade into the political fight. It requires us to make November's elections a referendum on hate, refusing to let it fester and consume the country.
LGBTQ people are under assault in America, a cancerous barrage being led by Florida's Governor Ron DeSantis. Our job now is to stop its spread.
*******************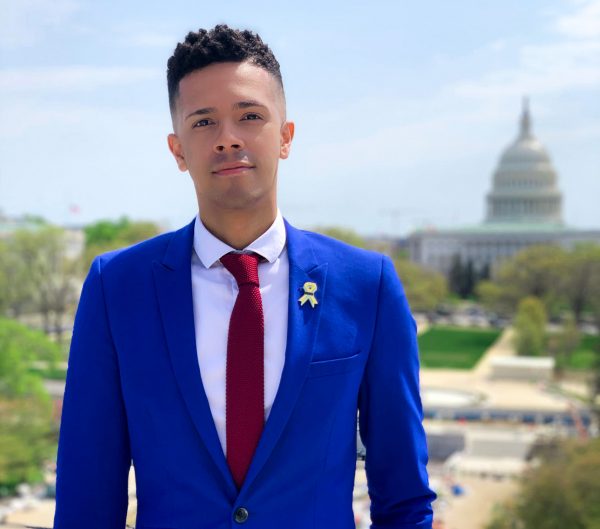 Brandon J. Wolf is Press Secretary for Equality Florida, the largest statewide LGBTQ+ equality rights organization.
Additionally, Wolf is Vice-President and co-founder of the Dru Project, an Orlando-based LGBTQ+ 🌈 advocacy org on a mission to spread love, promote GSAs, and send future leaders to college in honor of his best friend Drew Leinonen, one of the 49 people lost in the 2016 Pulse nightclub mass-shooting of which Wolf is also a survivor.