Sanders, Biden and other Super Tuesday wins in California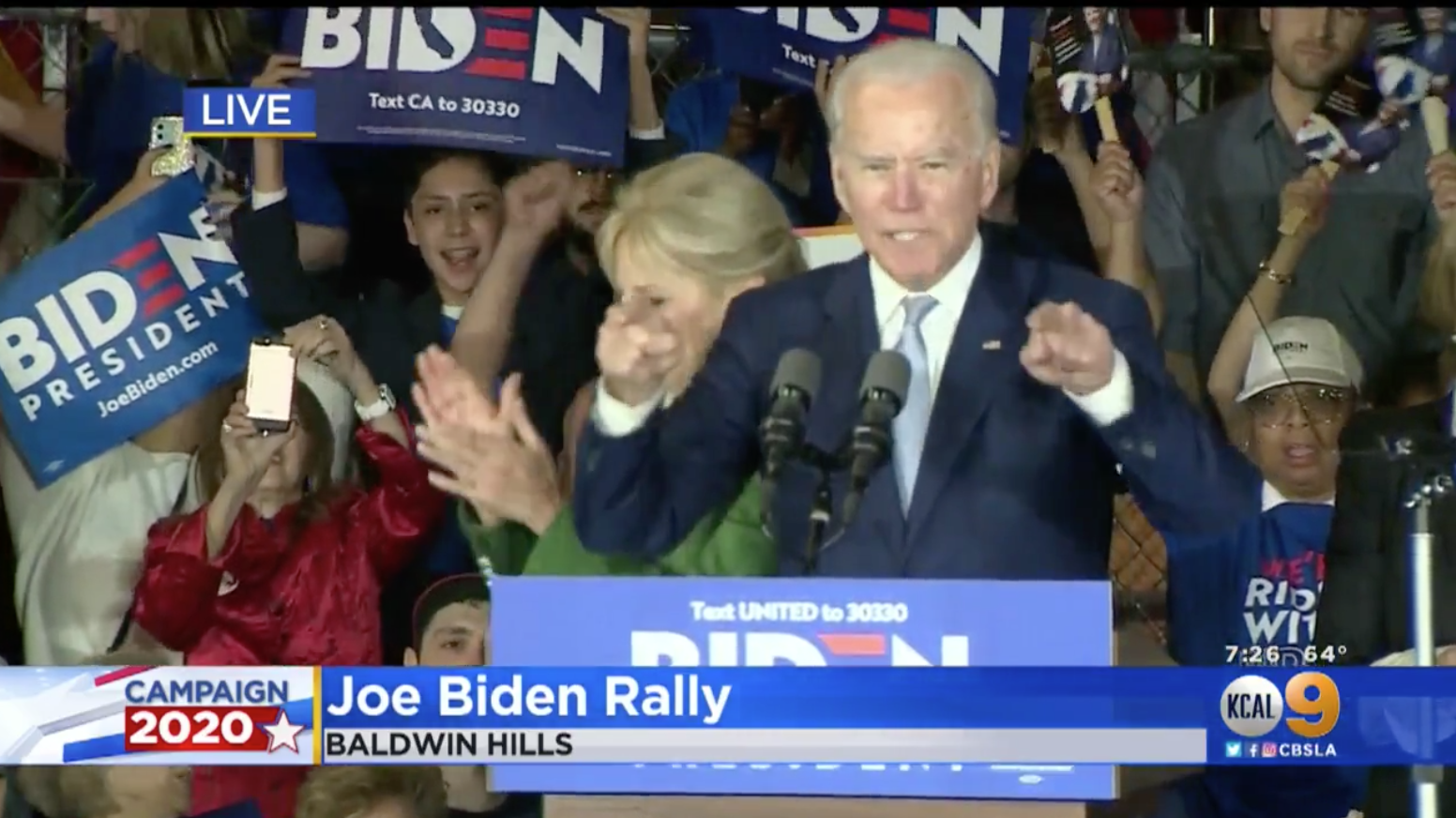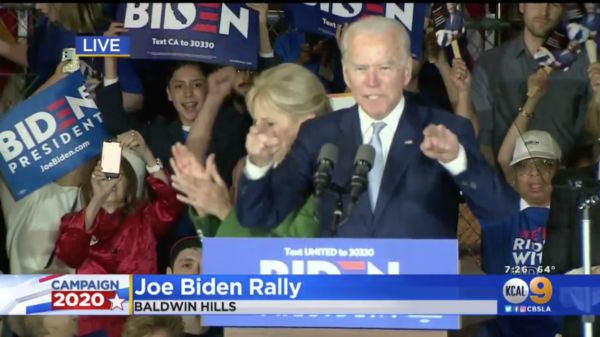 There was something very California about it. Former Vice President Joe Biden was in Baldwin Hills delivering his victory speech live on TV after having won 10 out of 14 Super Tuesday states when a protester dashed onstage with a "Let Dairy Die" sign. Dr. Jill Biden protected her husband and a security guard quickly wrangled her away.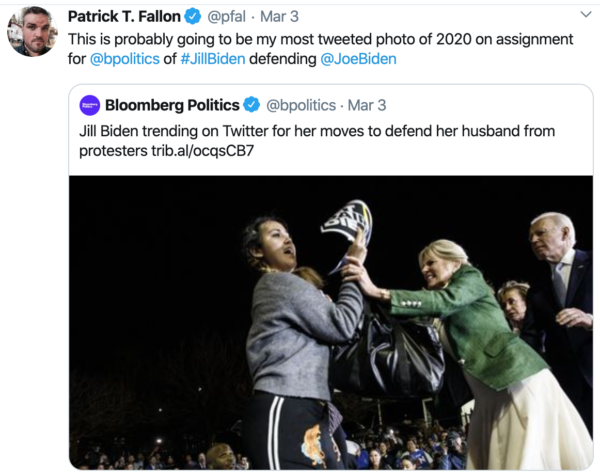 But another young woman jumped onstage, pursued by Biden spokesperson Symone D. Sanders who wrapped an arm around the protester and hauled her off as numerous women, surrounded the candidate.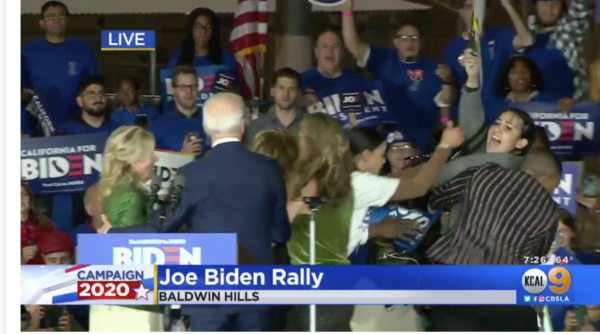 The video of the incident went viral, with tweets nicknaming Sanders after Wakanda warrior General Okoye, among other superlatives. Sanders responded with a kind of snarky Lizzo brush-off moment of her own: "I broke a nail. #SuperTuesday," she tweeted.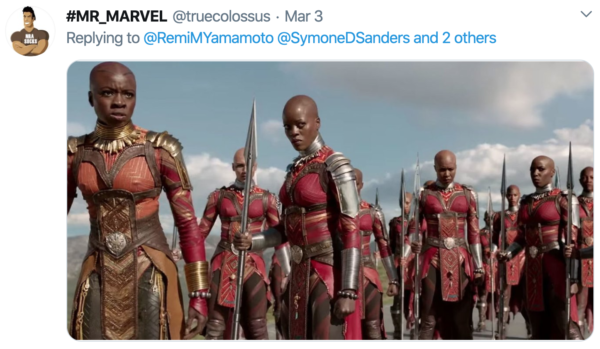 But the moment is an interesting Hollywood-ish metaphor for the turn of events in the race to be the Democratic Party's presidential nominee. The 31-year-old political operative – who was a spokesperson for Sen. Bernie Sanders in 2016 before she abruptly quit – literally took an opponent off the field.
The young black millennial represents politicos and voters willing to set aside ideological purity to beat Trump. "My politics are not tied to Bernie Sanders and they are not tied to Joe Biden," Sanders told Politico for a magazine profile last year.
"I have great respect for Senator Sanders and I have great respect and admiration for Vice President Biden. If I didn't, I would not be working for him right now. But he does not define me."
Sanders added that she has "never agreed 100 percent with anybody I've gone to work for" and she has "obviously" disagreed with Biden and even donated $250 to Pete Buttigieg. But, she told Politico, she believes Biden can win over black voters "and the Rust Belt workers who went for Trump in 2016." She wants to tell her niece and nephew that she was "actively out there working" to get Trump out of office.
Biden's "Joe-Mentum" started in South Carolina where the deflated once-inevitable candidate was resurrected after embarrassing defeats in Iowa, New Hampshire and a Sanders blowout in Nevada. Forty-seven percent of South Carolina voters waited for, then acted upon the Feb. 28 endorsement by House Majority Whip Jim Clyburn, the highest-ranking African American in Congress.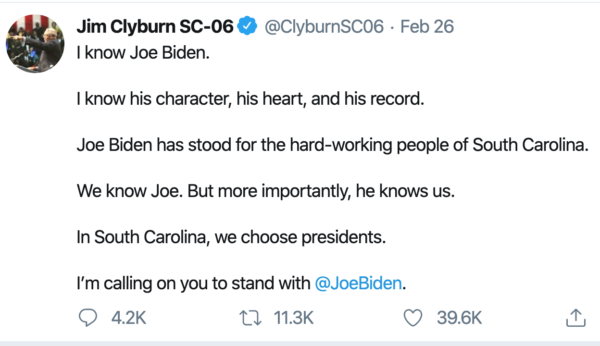 "I know Joe Biden. I know his character, his heart, and his record. Joe Biden has stood for the hard-working people of South Carolina. We know Joe. But more importantly, he knows us," Clyburn tweeted. "In South Carolina, we choose presidents. I'm calling on you to stand with @JoeBiden."
"I know where this country is: We are at an inflection point," Clyburn said at a news conference, saying he was "fearful" for the future of this country. "It is time for us to restore this country's dignity, this country's respect."
"Today people are talking about a revolution," Biden said at that news conference. "What the country's looking for are results. What they're looking for is security. What they're looking for is to be able to sustain and maintain their dignity."
Biden won big in South Carolina but Sanders's win in Nevada frightened many politicos worried about close down-ballot races after democratic socialist Sanders doubled down in praising the late Cuba dictator Fidel Castro, freaking out voters in Florida. Tom Steyer dropped out, as did Pete Buttigieg and Amy Klobuchar who soon endorsed Biden. Joe-Mentum before Super Tuesday was building.
And that seems to be the motivating factor that helped Biden win in Oklahoma, Minnesota, Massachusetts, Maine and Texas where Bernie Sanders was expected to do well. A huge percentage of voters said the late endorsements helped make up their minds. That seemed even more evident when, without money or organization or a grassroots ground game, Biden also swept the South with wins in Virginia, North Carolina, Alabama, Arkansas and Tennessee, thanks in large part to the huge turnout from black and women voters.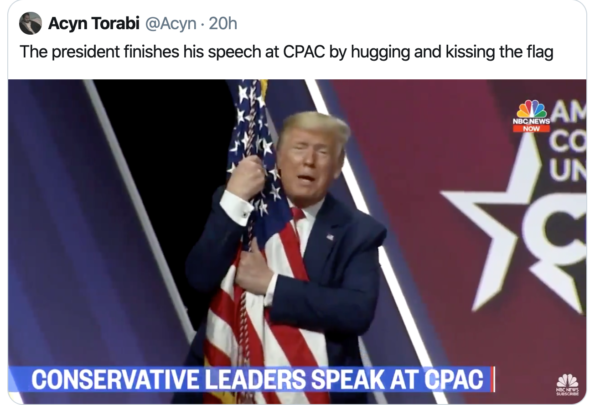 Meanwhile, Trump wasn't waiting on Russian bots to sow discord among Democratic voters. He hugged the American flag after speaking at a CPAC conference, uttering "I love you, baby." And he constantly tweeted about how the Establishment was stealing the nomination from Sanders, as it had in 2016, he asserted. He also tweeted at billionaire Mike Bloomberg who spent $660 million in ubiquitous ads around the country banking on a Super Tuesday strategy – with only a win in American Samoa to show for it.
Billionaires Bloomberg and Styer dropping out proved that money can't buy the Democratic presidential nomination. California has experience with that – in 1998 when relatively moneyless Gray Davis, with strategy by Eric Bauman and the grassroots Stonewall Democratic Club, pulled out a win against millionaires Jane Harmon and Al Checchi in the June 1998 gubernatorial primary.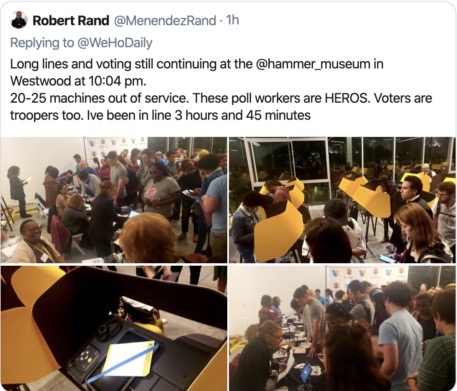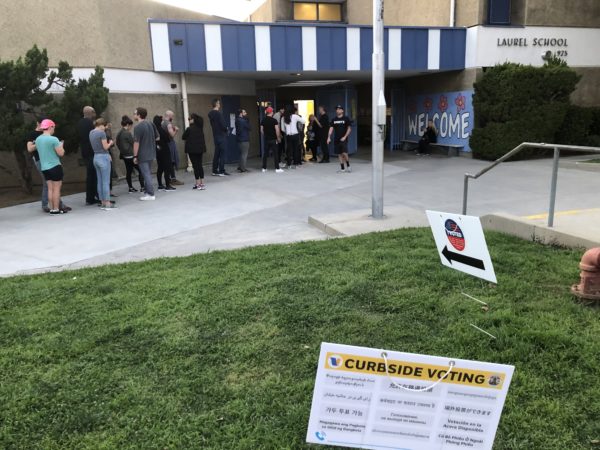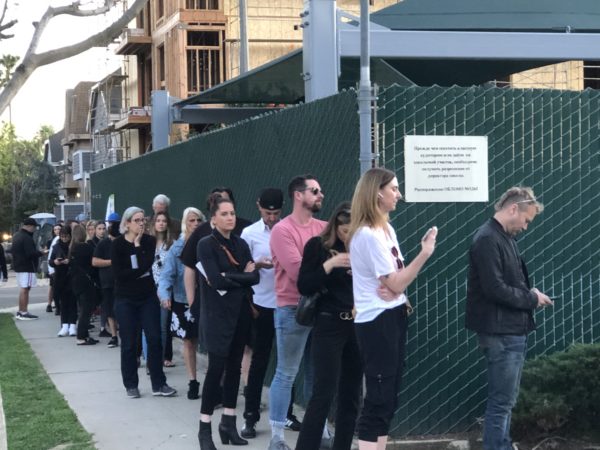 Voters in line at the Laurel Elementary School on Hayworth in West Hollywood (Photo by Karen Ocamb)
More than 1.3 million California voters turned their ballots in early by mail. But like many other regions on Super Tuesday, in-person voters in West Hollywood and around Los Angeles County experienced long lines, long wait-times and major problems with the new $300 million voting machines. When asked how long she'd been standing in line at the Laurel Elementary School on Hayworth in West Hollywood, one woman voter in her mid-30s told the Los Angeles Blade, "Since I was 21." One of two poll workers checking in voters said the turnout had been heavy but operating the new machines was "messy." And while the line of prospective voters snaked around the corner, the auditorium itself was empty and the machines lifeless. LA County Supervisor Janice Hahn has called for an immediate investigation into what happened.
By Thursday morning, the California Sec. of State's office reported that of the 20,660,465 registered voters in California, only 5,521,744 ballots had been cast/counted yielding a statewide turnout of 26%. In Los Angeles, the numbers were 5,546,785 registered voters, with 1,249,137 ballots cast/counted for 22% of the vote.  All the counties have until April 3 to turn in their final vote tallies.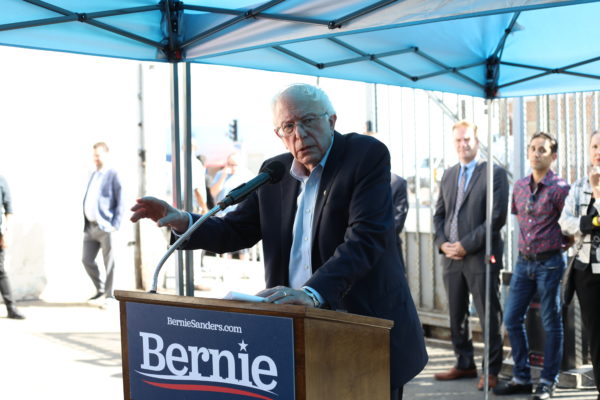 Vermont Sen. Bernie Sanders in Los Angeles. (Photo courtesy AHF)
Sanders, registered as an independent who caucuses with the Democrats, has been campaigning in California since losing the 2016 primary to former Secretary of State Hillary Clinton. He missed the CNN LGBTQ Town Hall in LA while recuperating from his heart attack but he was the first and only presidential candidate to tour LA's Skid Row with AIDS Healthcare Foundation President Michael Weinstein, talking about the homeless and housing crisis at AHF's refurbished Madison Hotel on Aug. 6, 2019. He has also been a big hit with Latinos.
So it was no surprise to LA politicos that the Associated Press and other media outlets called California in Sanders's favor, especially in anticipation of early progressive vote-by-mail results. But after Nevada and South Carolina and the moderate Buttigieg and Klobuchar endorsements – supposedly to halt Sanders from securing an insurmountable delegate count — the question became: How many delegates would the two men split going into the convention?
By mid-day March 4, the day after Super Tuesday, of the 1,991 delegates needed to win nomination, 1,215 delegates have been declared. Biden had 566 delegates; Sanders had 501. Sen. Elizabeth Warren, Bloomberg, Buttigieg, and Klobuchar had an additional 147 delegates among them. Tulsi Gabbard, who is inexplicably still in the race, had one delegate.
But by Thursday morning, March 5, it was apparent there were probably still millions of votes yet to be counted with, as Politico reported, "at least a third of the total in Los Angeles alone, with 573,000 ballots still out there, plus however many mail ballots were submitted on Election Day." And it is still a long way until the July 13-16 Democratic Party Convention in Milwaukee, Wis.
Meanwhile, Super Tuesday in California yielded a number of successful down-ballot primary races. LGBTQ ally Assemblymember Christy Smith left snarky Young Turks sexist homophobe Cenk Uygur in the dust in the CA-25 district race to fill the congressional seat vacated by bisexual Rep. Katie Hill. Longtime anti-LGBTQ former Rep. Steve Knight, who Hill defeated, clawed his way to second place behind GOP Mike Garcia in trying to challenge Smith in both a special May 12 runoff to fill six months left on Hill's time and in the November general election for the seat outright. Former Trump staffer George Papadopoulos barely made a mark.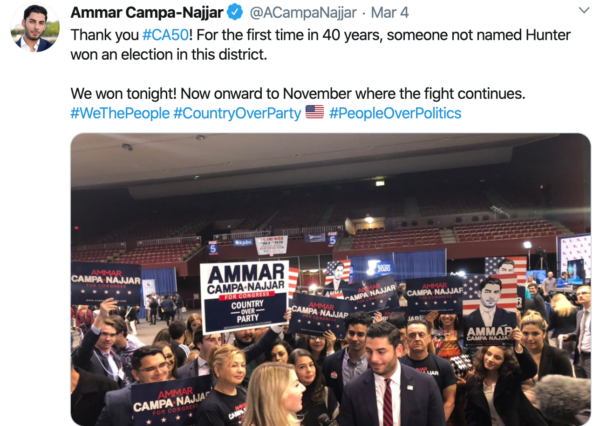 In another much-watched contest in the CA-50 district, Democrat Ammar Campa-Najjar, who was maliciously reviled in his previous race against disgraced (now convicted) Rep. Duncan Hunter, is sitting back watching gay San Diego talk show host Carl DeMaio slug it out with anti-LGBTQ former Rep. Darrel Issa in the who-is-best-for-Trump Republican match.
In a nail-biting state legislative race, with thousands of ballots still to be counted in the highly contested Senate District 5 race, it looks like out Assemblymember Susan Talamantes Eggman (D-Stockton) is in first place ahead of Republican Jim Ridenour and will advance to the November general election. The sweet spin is that the lesbian beat anti-LGBTQ Democrat Mani Grewal.
"If Eggman wins in November, she will make history as the first openly LGBTQ+ woman of color to serve in the California Senate — potentially alongside Abigail Medina, who is running in Senate District 23," says a press release from Equality California.
"Susan Talamantes Eggman is the champion that Central Valley Voters want and deserve fighting for them in Sacramento. We are proud to support Susan's campaign because we know she'll roll up her sleeves and tackle homelessness, veterans' issues and LGBTQ+ civil rights," says Equality California Executive Director Rick Chavez Zbur. "We're confident Susan will win in November, and we'll be with her every step of the way."
In the San Diego area race for the CA-53, it looks like lesbian Georgette Gomez, who could become the first openly LGBTQ Latinx member of Congress, will be in a run-off with longtime LGBTQ ally Sara Jacobs. There is still a 30-day window before all the votes are tallied but the two women are the top vote-getters in a crowded field of 15 candidates.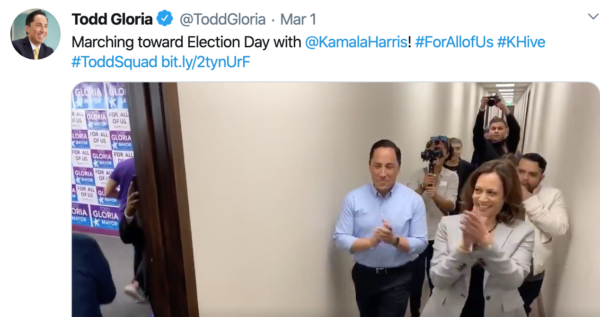 And it looks like out Assemblymember Todd Gloria is likely to become the next Mayor of San Diego.
On the local LA County level, it looks like a run-off between LA City Council President Herb Wesson and State Sen. Holly Mitchell for the 2nd Supervisor seat being vacated by Mark Ridley-Thomas, who appears to have won his City Council race in the 10th district. As did longtime LGBTQ ally Kevin De Leon in the 14th district.  Longtime out LGBTQ and HIV/AIDS activist Eddie Martinez has made the run-off for Huntington Park City Council. 
And incumbent District Attorney Jackie Lacey is just over 50%, which, if it holds, means that she's defeated an intense effort by progressive prosecutors George Gascon and Rachel Rossi to oust her and institute deeper judicial reforms.
Two very special races of note: longtime LGBTQ politico Jackie Goldberg won her reelection bid to the LA Unified School Board, despite vicious attacks by her charter school-supporting opponents. And lesbian Deputy DA Sherry Powell won her totally grassroots contest for Superior Court Judge Office No. 97 outright – beating rich attorney Timothy Reuben 64% to 36%.

The primaries aren't over yet, of course, and there are ample opportunities for Biden to stumble, Sanders to recover and Massachusetts Sen. Elizabeth Warren to play a major role after her withdrawal on Thursday. 
And, as Washington Blade Political Correspondent Chris Johnson described in his report, there is still plenty of room for LGBTQ voters to have an even bigger impact.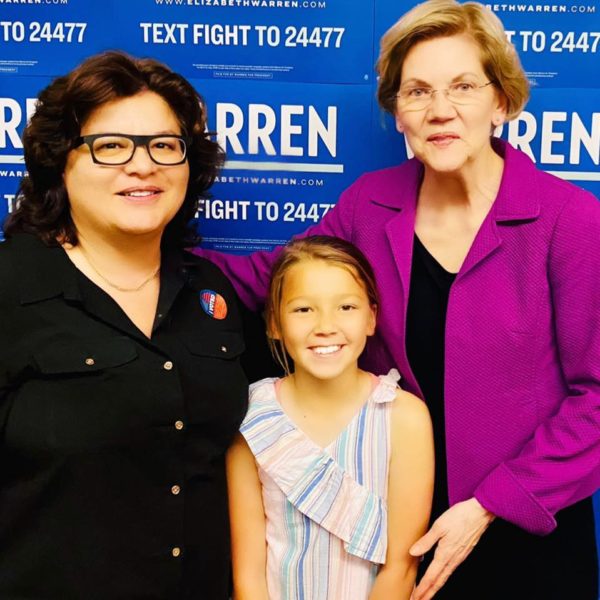 "Hopefully her historic candidacy will get the attention and credibility it deserves," longtime out Latina politico Ari Guttierez tells the Los Angeles Blade after she and her 9-year old daughter Emma Arámbula met Warren in the heart of East Los Angeles.
And what role will former Mayor Pete Buttigieg play after Biden wistfully compared him to his own late son Bo Biden, the former Attorney General for Delaware.
"We sent a message," Buttigieg, 38, said, "to every kid out there wondering if whatever marks them out as different means they are somehow destined to be less than, to see that someone who once felt that exact same way can become a leading American presidential candidate with his husband at his side."
Chad Griffin, former president of the Human Rights Campaign, cast his ballot for Biden, a man he has long known. "America needs a leader in the White House who can help us navigate the tremendous challenges we're facing on all front – someone who has a tested record of success, and an enlightened vision for the future to guide this nation back onto the path of progress," Griffin said in a statement posted to Twitter. "I'm proud to endorse him and will fight like hell to get him elected."
It was Griffin who enlightened Biden about marriage equality.
Anti-gay marriage Prop 8 was on everyone's mind as President Barack Obama faced reelection in 2012. Obama campaign advisors David Axelrod and David Plouffe reached out to gay GOP strategist Ken Mehlman, former chair of the Republican National Committee who engineered President George W. Bush's re-election in 2004, for advice since Mehlman was part a Griffin-created federal challenge to Prop 8. But while almost everyone was on board with Obama coming out in favor of marriage equality before the election, including Michelle Obama, nothing happened.
As Pulitzer Prize-winning New York Times investigative reporter Jo Becker put it in her monumental book on Prop 8, "Forcing the Spring: Inside the Fight for Marriage Equality," Griffin felt bans like Prop 8 "sent a signal that there was something inherently wrong with gay men and lesbians" and permitted state sanctioned bullying and anti-LGBTQ laws. He'd asked Obama if there was anything he could do to help him "evolve" more quickly – especially since the pro-Prop 8 side wanted to use Obama's opposition to their advantage. But the president put him off.
Then, on April 19, 2012, Griffin attended a gay Democratic fundraiser he'd helped put together at Obama's request at the home of Michael Lombardo, an HBO executive, and his husband, Sonny Ward, an architect. He wanted to ask Biden, the guest of honor, directly about marriage equality but he knew the answer.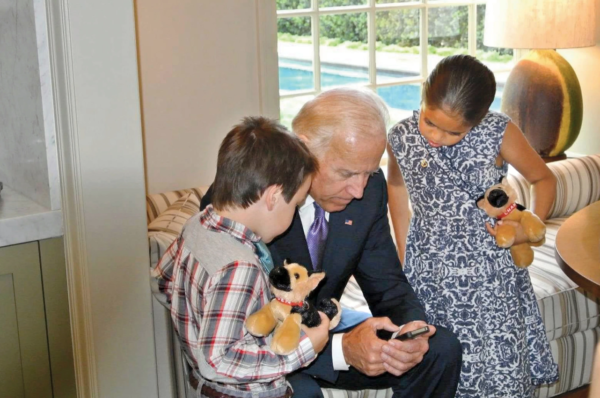 Vice President Joe Biden with Johnny and Josie Ward-Lombardo at a party at the home of their parents, Sonny Ward and Michael Lombardo, in 2012. (Photo courtesy Michael Lombardo)
"But as he watched the hosts' two children, ages 5 and 7, press flowers and a note into Biden's hand, he changed his mind," Becker writes in an excerpt for the New York Times. "They were in the home of two married men and their family. The Obama campaign wanted the support of the gay people in this room. The vice president should have to answer to them. When it was Griffin's turn to speak, he said: 'When you came in tonight, you met Michael and Sonny and their two beautiful kids. And I wonder if you can just sort of talk in a frank, honest way about your own personal views as it relates to equality, but specifically as it relates to marriage equality.'"
Biden was clearly uncomfortable – he had sided with Obama in the issue. But then he totally surprised everyone.
"'I look at those two beautiful kids,' Biden began," Becker reports. "'I wish everybody could see this. All you got to do is look in the eyes of those kids. And no one can wonder, no one can wonder whether or not they are cared for and nurtured and loved and reinforced. And folks, what's happening is, everybody is beginning to see it.
'Things are changing so rapidly, it's going to become a political liability in the near term for an individual to say, 'I oppose gay marriage.' Mark my words.'"
Apparently, a dam had broken because Biden didn't stop, asking aloud, what's the problem?
"'And my job — our job — is to keep this momentum rolling to the inevitable,'" Biden said, stunning everyone in the room.
And he did keep the momentum going, appearing on NBC's "Meet the Press" and answering the question directly and authentically.
"I am absolutely comfortable with the fact that men marrying men, women marrying women and heterosexual men and women marrying one another are entitled to the same exact rights, all the civil rights, all the civil liberties," Biden said, noting that Obama, not Biden, sets policy.
But the cosmos had changed and the Obama camp wasn't happy. "He probably got out a little bit over his skis, but out of generosity of spirit," Obama said, as if it was another Biden-ism. But shortly thereafter, Obama formally, if stiffly, came out in favor of marriage equality.
And in his Inaugural Address on Jan. 21, 2013, Becker reports, "Obama drew a straight line from the civil rights fights based on race and gender to the current struggle for marriage equality.
'Our journey is not complete until our gay brothers and sisters are treated like anyone else under the law,' the president said, 'for if we are truly created equal, then surely the love we commit to one another must be equal as well.'"
On Thursday, Biden released an extensive plan on LGBTQ  rights. "Joe Biden is a man of uncommon decency and integrity and heart," Michael Lombardo tells the Los Angeles Blade.
And perhaps, if Biden becomes the Democratic presidential nominee, he will use that decency as a tool in the 2020 election fight against profoundly indecent Donald Trump, with an assist from Wakanda coalition builder, Symone D. Sanders.
Anti-LGBTQ Kansas lawmaker who assaulted student given probation
In the classroom incident last Spring students recorded videos of the lawmaker talking about suicide, sex, masturbation, God and the Bible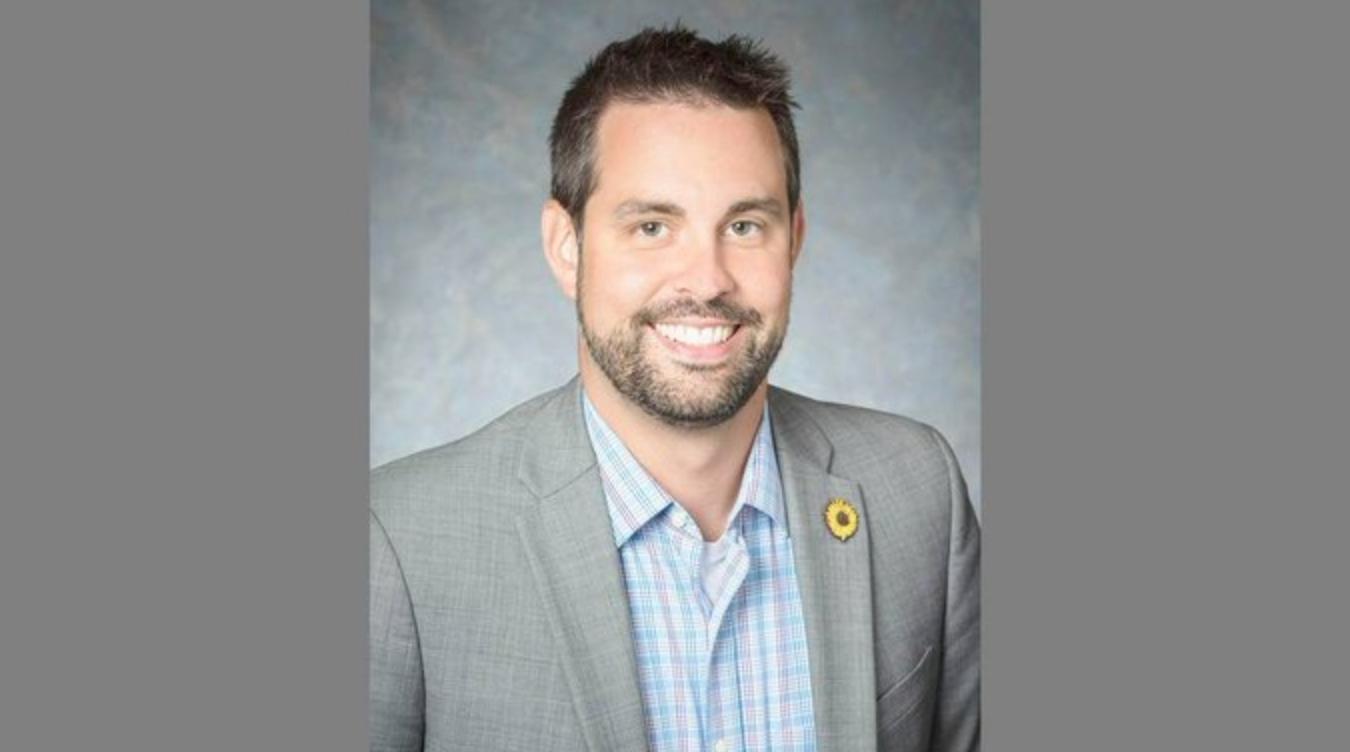 OTTAWA, Ks. – Fourth Judicial Circuit Magistrate Judge Kevin Kimball sentenced Kansas House Representative Mark Samsel, (R- House District 5/Wellsville) to 90 days in jail (suspended) and probation for a year on Monday. Samsel was convicted of assaulting a male student after a physical altercation while he was substitute teaching at the Wellsville High School last April.
Samsel originally faced three misdemeanor battery charges following his arrest in April that involved two male victims, both approximately 16 years old.
The Kansas City reported that during a short hearing conducted over Zoom, Kimball in his ruling ordered that Samsel must apologize to his teenage victims. Samsel is also prohibited from using Twitter, Facebook, Instagram and other social media platforms for personal use. An exception is included to allow social media for political and legislative purposes.
In the classroom incident last Spring that sparked four months of court proceedings according to the Kansas City Star, high school students began recording videos of the lawmaker talking about suicide, sex, masturbation, God and the Bible.
In one video shared with The Star, Samsel tells students about "a sophomore who's tried killing himself three times," adding that it was because "he has two parents and they're both females."
"He's a foster kid. His alternatives in life were having no parents or foster care parents who are gay," Samsel said.
The student videos additionally showed the lawmaker verbally targeting one student and encouraging other students to bully him.
The Star also reported: At one point, Samsel tells the student, "You're about ready to anger me and get the wrath of God. Do you believe me when I tell you that God has been speaking to me?" He then pushes him, and the student runs to the other side of the classroom.
"You should run and scream." In another video, he tells students, "Class, you have permission to kick him in the balls."
Parents told The Star that Samsel "put hands on the student" and allegedly kneed him in the crotch. In a video apparently taken immediately after the incident, the student is shown on the ground. Samsel is standing over him and says, "did it hurt?"
He then asks him why he is about to start crying, pats him on the shoulder and apologizes, and then says he can "go to the nurse, she can check it for you." Samsel addresses another student and says, "do you want to check his nuts for him, please?"
In another video, Samsel is shown telling the student about "distractions from the devil," and then grabs him from behind and lifts him off his feet. In a different clip, he tells the student to go to the office. "You were not following — not my rules — God's rules right now," he tells the student. "You better take a Bible."
"Keep denying God, keep denying God, see how it's going to turn out," he told the student.
NEW: Kansas Rep. Mark Samsel avoids jail time after pleading guilty to reduced charges in case where he was alleged to have kicked a student. He must apologize to victims and can't use social media for personal use#ksleg https://t.co/giVlcJ4YBN

— Jonathan Shorman (@jonshorman) September 13, 2021
Federal appeals court orders Trans professor fired in 2011 reinstated
The Tenth Circuit also rejected Southeastern's cross-appeal in its entirety, citing the Supreme Court's decision in Bostock v. Clayton County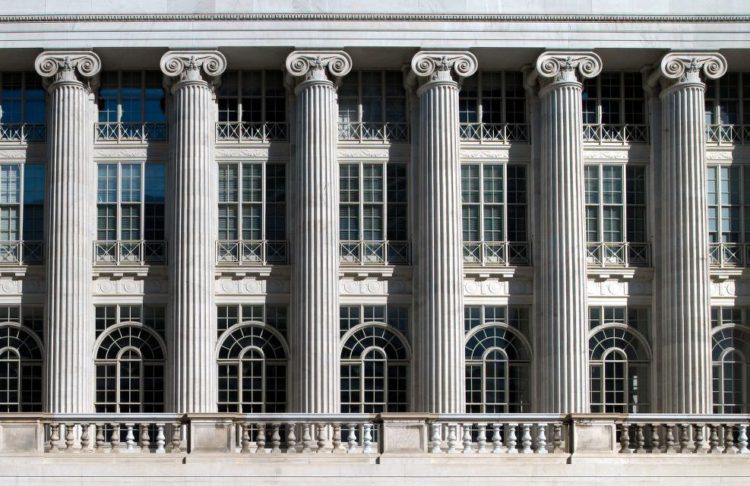 DENVER – The 10th U.S. Circuit Court of Appeals, in a 55-page ruling issued Monday, ordered Southeastern Oklahoma State University located in Durant, Oklahoma to reinstate a Trans professor who was fired over a decade ago.
Douglas N. McMillan, then interim vice president for academic affairs at the university reportedly said that the professor's "lifestyle" offended his Baptist beliefs.
Dr. Rachel Tudor, a 54-year-old Native American member of the Chickasaw Nation, in a statement released after the appellate court's ruling said that [she is] "looking forward to being the first tenured Native American professor in her department in the 100-plus year history of the Native American-serving institution that is Southeastern Oklahoma State University."
The 10th Circuit in its ruling overturned a lower District Court in Oklahoma City that had ruled "reinstatement would not be possible due to alleged hostility between Dr. Tudor and Southeastern."
Tudor worked as a tenure-track professor of English at Southeastern Oklahoma State University between 2004 and 2011. In 2007, she informed Southeastern that she would be transitioning and that her gender identity was female. Following this, she was denied tenure and terminated even though her own students and the English Department supported her tenure application.
In her appeal, Tudor was represented by the Washington D.C. based National Women's Law Center and its private law firm counsel, Erica Lai, who argued for NWLC.
In a recap statement NWLC noted:
The Tenth Circuit also rejected Southeastern's cross-appeal in its entirety, heavily citing the Supreme Court's decision in Bostock v. Clayton County, which overruled previous 10th Circuit precedent and held that discrimination against transgender employees is sex discrimination under Title VII.
After fighting her case in the courts, she won her jury trial on November 20, 2017. Although the jury awarded her $1,165,000, the court both lowered this amount to $300,000 and then awarded her only front-pay wages in an amount of $60,040.77. This front-pay figure was calculated without the court undertaking any meaningful analysis as to her ability to return to a tenure job in English at Southeastern as she wanted, or what amount would make up for her lost future earnings.
[…] Also, courts have made clear that employers may not cite litigation-related hostility as a reason to refuse someone a job. Finally, as the jury found, Dr. Tudor was only denied tenure because of sex discrimination.
Tudor's statement reflected her desire to return to the classroom and press on the Tulsa World reported:
As injurious as the sex discrimination and retaliation were to Dr. Tudor, she did not consider it merely personal. Rather, she was a symbol to those who discriminated against her. They wanted to create an environment where certain views and certain people are punished to create fear and shame instead of self-confidence and opportunity for all.
"They wanted people like Dr. Tudor to be afraid, and to go away. Instead of going away, instead of accepting a settlement — conditioned on never teaching in Oklahoma — she fought for the rights and dignity of her Native and LGBT communities.
"Dr. Tudor would like to thank her allies and colleagues for their support through 10 long years of fighting for justice. She is grateful and honored to be the recipient of their goodwill. She promises to repay their trust by being the best professor she can be."
Anti-LGBTQ extremist Bob Enyart who spread COVID lies- dies from virus
Enyart proudly referred to himself as "America's most popular right-wing, religious fanatic, homophobic, anti-choice talk show host"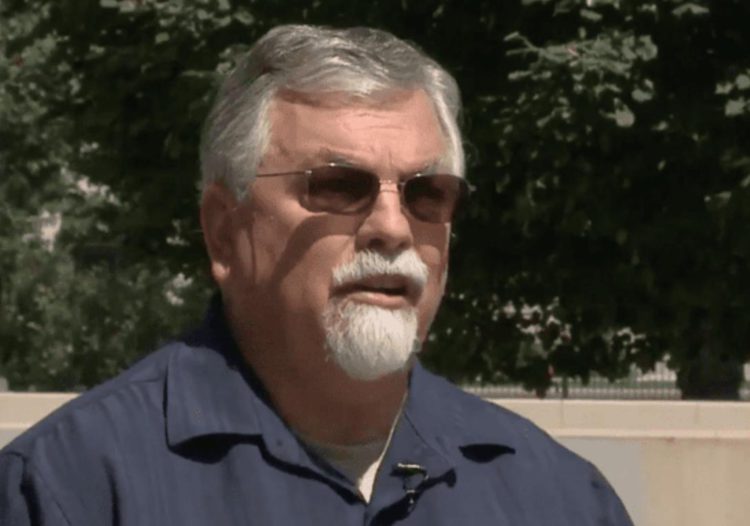 DENVER – The vehemently anti-LGBTQ preacher who made national headlines over his gleefully reading out the obituaries of AIDS victims on his cable television show, while cranking out the song "Another One Bites the Dust" by Queen- whose lead singer, Freddie Mercury, died from that disease, has himself died from complications after contracting COVID-19.
Bob Enyart, 62, who had proudly referred to himself as "America's most popular self-proclaimed right-wing, religious fanatic, homophobic, anti-choice talk show host" and pastor of the Denver Bible Church, died Monday after a short battle with the coronavirus. The news was confirmed by his longtime radio and podcast show co-host Fred Williams in a Facebook post Monday.
Enyart and his second wife Cheryl, had both contracted COVID-19 after refusing to take the vaccine citing pro-life reasons; "Bob and Cheryl Enyart have sworn off taking the Pfizer, Moderna, and Johnson vaccines because, as those firms admit, they tested these three products on the cells of aborted babies," according to a statement in August on Enyart's webpage.
In addition to falsely claiming that the vaccines were developed using fetal tissue, Enyart urged his followers to boycott the vaccines to "further increase social tension and put pressure on the child killers. (Remember, many institutions and celebrities who have been "pro-choice" all along are now also calling to legalize infanticide, what they call after-birth abortion."
In October of 2020, Enyart filed a federal lawsuit in U.S. District Court in Denver asking to overturn the Colorado State Public Health order on facial masks at religious services, as well as rules limiting gatherings to 175 people amid the pandemic.
U.S. District Court Judge Daniel Domenico, who was appointed by President Trump, granted a temporary restraining order against the health order.
Church challenges health department COVID restrictions, echoes Martin Luther's '95 theses' | News | Lifesitenews #covid #fauci https://t.co/817XpHAuiu

— Bob Enyart Live (@BobEnyart) March 3, 2021
A long time radical anti-abortion activists and a spokesperson for the pro-life Colorado Right to Life, Enyart in 2009 along with other antiabortion protesters were jailed over protest at Focus on the Family after the group accused Focus founder James Dobson of not being antiabortion enough.
After attempting to deliver a letter to Focus president James Daly deploring Dobson's endorsement of 2008 Republican presidential nominee John McCain, American Right to Life Action members staged an hour long standoff with ministry security, according to the Colorado Springs Gazette.
In addition to his open hostility towards the LGBTQ community on air, in 2016 protesting the U.S. Supreme Court ruling the previous year that granted same-sex couples the right to marry, the Huffington Post reported that he released a bizarre video as part of the National Organization for Marriage (NOM) boycott of Starbucks, after the coffee-based chain announced its support of same-sex marriage.
As first reported by Good As You blogger Jeremy Hopper, Pastor Bob Enyart of Denver Bible Church purchased a Starbucks coffee before proceeding to dump it down a sewer in protest.
"Jesus Christ said God made us male and female at the beginning of the creation," Enyart proclaims. "Starbucks, in a move that's not wise for eternity and not good for business here and now, has decided to promote homosexual marriage."