March 14, 2020 at 1:04 pm PDT | by Brad Bessey
Project Angel Food urgently needs volunteers, donations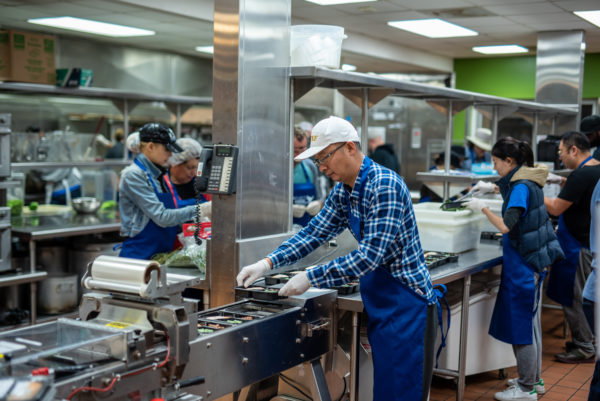 The coronavirus is testing Project Angel Food on multiple levels. There is an urgent need for volunteers, fundraisers are being postponed, and the need for services is soaring as Project Angel Food pours $150,000 into extra frozen meals, canned provisions, and shelf stable meals for 1,600 current clients who are battling life-threating illnesses such as HIV/AIDS, cancer and kidney failure. With suppressed immune systems, contracting the COVID-19 virus might prove fatal.
Volunteers. The phone rings at Project Angel Food's volunteer services' desk. It is another organization, canceling. This is a blow. Twenty-two people are suddenly not coming in to prepare and package 1,600 meals are gone with virtually no notice. Eighty percent of Project Angel Food's workforce in its Hollywood kitchen is made up of volunteers. Almost 5,000 people volunteer at Project Angel Food each year, some are individuals who have been pitching in for decades, and some are new volunteers who are part of 213 corporate "give-back" programs essential to Project Angel Food's operation.
This is the eleventh corporate volunteer group to cancel within 48 hours. It leaves Project Angel Food's skeleton volunteer services department scrambling for replacements. Companies across Los Angeles are shutting their doors, telling employees to cancel meetings, teleconference and work from home. So, team building through giving back is not on the table. Over 227 volunteers, we were committed, are not scrubbing in at Project Angel Food's kitchen.
"This is when we need our community to come through for us like they have over our thirty-year history," says Richard Ayoub, Executive Director of Project Angel Food. "We are grateful for the huge core of volunteers who are stepping up to meet the need. An interruption in service is not an option."
In response to the cancelations, Project Angel Food staff work the phones to call on regular volunteers to add shifts and work longer hours, Ayoub and others post the need on social media, and staff from all areas – human resources, client services, finance, and nutritional services – also fill in. "It's all hands-on deck," says Ayoub.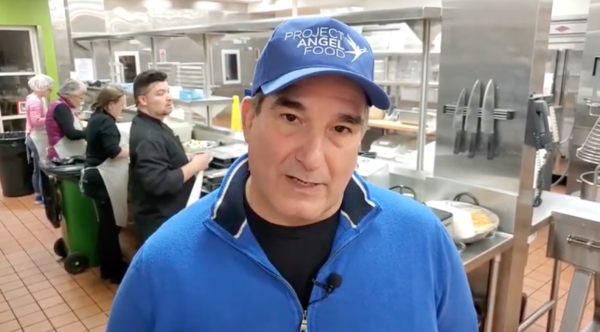 "Project Angel Food is a very safe place to be," Ayoub explains. "Food prep for people with compromised health conditions intrinsically come with strict safety protocols. Washing hands for 20-seconds, hairnets, gloves. None of that is new for us. It's second nature. Anyone who has been to the kitchen remarks how clean and spotless it is."
Increased Production.  In the past week, Project Angel Food has invested $150,000.00 in providing clients with a surplus of frozen meals, canned goods, and freeze-dried, shelf stable ready-to-eat meals that require no cooking or water.
"We ordered 20,000 shelf stable emergency packages for our clients. We are also ramping up our frozen meal production, so that each client has three weeks of additional meals on hand as a backup," says Ayoub.
Fundraisers Postponed. Fundraising projects which were estimated to generate over $250,000 in donations in March have been postponed in light of the COVID-19 concerns. The Oscar de la Renta opening night reception of Love with artist Alexandra Grant on Thursday, March 12, benefitting Project Angel Food was scrapped just hours before. "Bowling with Angels" event, which raises $75,000.00 annually, was cancelled for Sunday, March 15. And, most significantly, The Circle of Angels Garden Party with Taylor Dayne set for Sunday, March 29. was postponed late Thursday night after Los Angeles Mayor Eric Garcetti held a press conference that day recommending the postponement or canceling events with more than 50 people.
"We, of course, are monitoring the situation carefully and following the guidance from the Governor's office and from the Los Angeles County Public Health Department," says Mark McBride, Director of Philanthropy for Project Angel Food. Dayne told Project Angel Food that whatever the new date, she will be there. "I am with you, no matter what," she communicated through her manager Konrad Leh.
"It is a Catch 22," Ayoub says. "Because of the Coronavirus, Project Angel Food clients need more from us than ever before. And, to provide for them, Project Angel Food needs volunteers and donations more than ever before. The Coronavirus is impacting our pipeline to both. But, no matter what, I know people will come through for Project Angel Food. Our love is bigger than any obstacle, even COVID-19."
To become a Project Angel Food volunteer email volunteer@angelfood.org, or call 323 845-1816. For more information about Project Angel Food's Coronavirus efforts or to help visit angelfood.org/covid19.
This is a special contribution to the Los Angeles Blade by producer, consultant and freelance writer Brad Bessey.