LA LGBT Center is open, shares inspiring story from Wuhan, China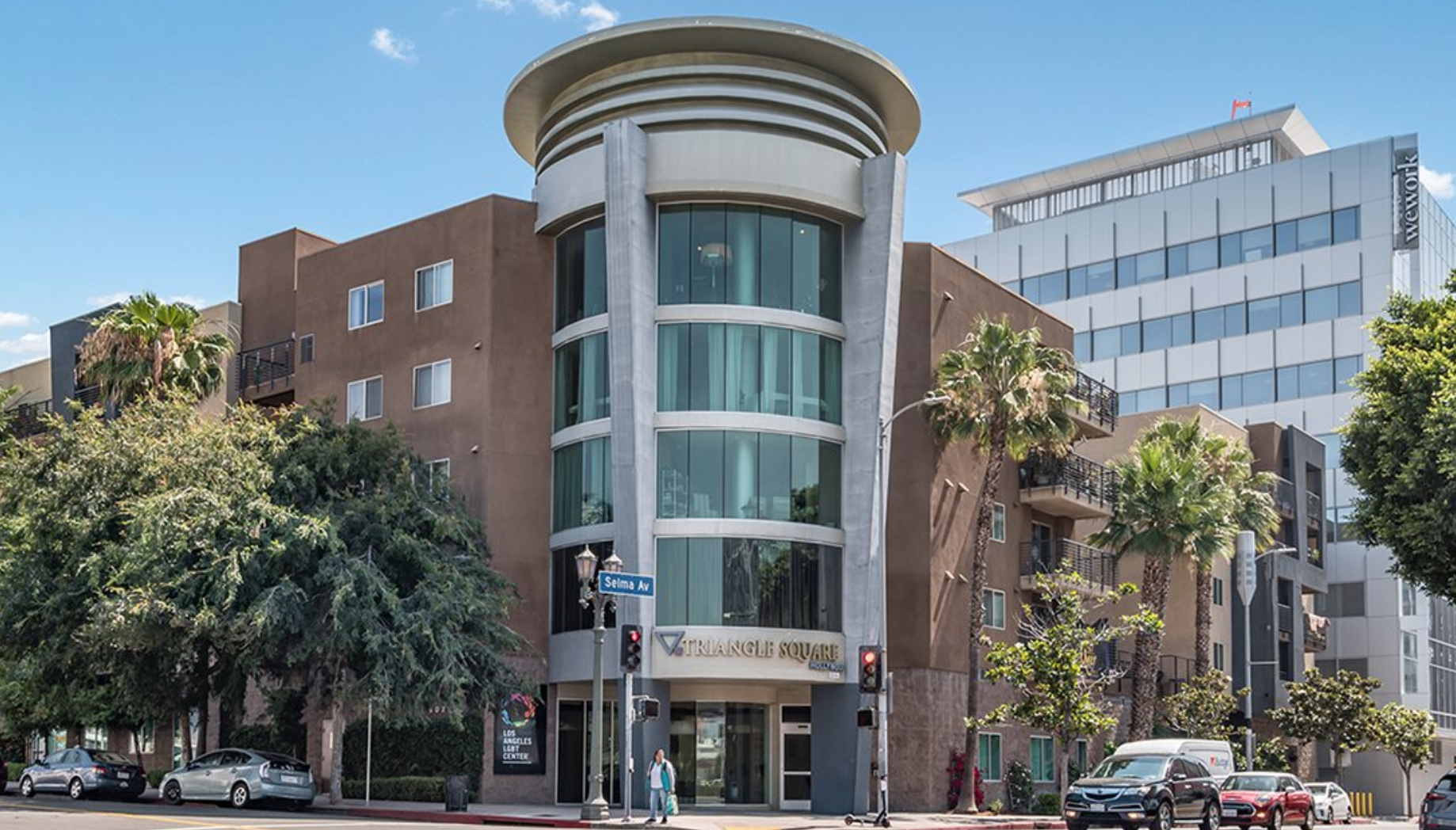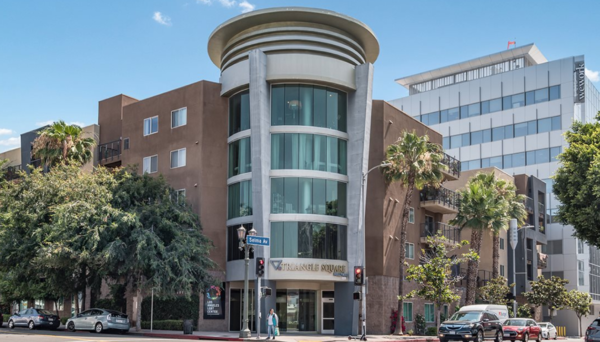 Triangle Square in Hollywood
(UPDATE 3/15) Perhaps it was the confluence of news that The Center in New York City was closing on Friday, March 13 due to the coronavirus, coupled with the announcement by the Los Angeles LGBT Center that it was cancelling its April 18 premier food and wine event, Simply diVine, but somehow the idea wafted up from nowhere that the LA LGBT Center was closing.
Both California Gov. Newsom and LA County have declared states of emergencies following the outbreak of the COVID-19 (coronavirus) pandemic. But the Hollywood-based Center, with more than 42,000 visits a month and 700 employees providing free and low-cost services from cradle to old age, is too vital to shut down.
"We are making preparations for worse case scenarios but no, we simply could not take this kind of action," Los Angeles LGBT Center Chief of Staff Darrel Cummings tells the Los Angeles Blade. "After all, people live here and get vital services from us on a daily basis.  People need food, housing, healthcare, medications and so many other services so closing entirely is out of the question.
"We may find alternative methods of providing some or many of our services and we can implement those changes as the circumstances warrant," says Cummings. "We have cancelled or postponed events like Simply diVine and our production of "HAIR" but, of course, these are not essential services so they can be cancelled without causing harm or hardship."
The annual Simply diVine event, this year scheduled for April 18 at Hollywood Forever, draws more than a thousand guests – but public health guidelines ban all gatherings of over 250 people.
"As this pandemic evolves, we will continue to evaluate and navigate what protocols are needed to ensure the well-being of our clients and community based on state and local public health recommendations," says Cummings, noting – as have other non-profits – that the events bring in revenue that supports programs for which a demand remains.
"We have a responsibility to ensure that our services continue, particularly at a time when the need is so great," he says. "As many of our supporters who have been part of Simply diVine through the years know, the care and well-being of our community is at the forefront of the Center's work and is really the driving force behind the event."
All events are now under scrutiny, driven by science, community response and Newsom's public health directive, Cummings says.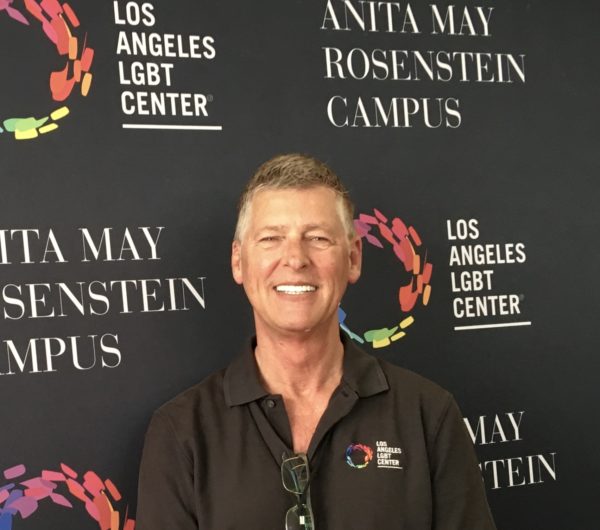 Los Angeles LGBT Center Chief of Staff Darrel Cummings at opening of Anita May Rosenstein Campus in April 2019 (Photo by Karen Ocamb)
And, adds the Chief of Staff at the world's largest LGBT-specific organization, the Center has a commitment to LGBTQ seniors living at Triangle Square and the 100 youth without a home at their Anita May Rosenstein campus – both at risk for the coronavirus.
"For us, the primary client concerns are 1) those who are healthcare patients and who come to our McDonald/Wright building for a variety of healthcare services, 2) our senior services which include residents of Triangle Square but also the many others who come to the Campus for programs, meals, etc. and 3) our programs for youth that includes our drop in center services and housing through our emergency overnight beds and transitional living program," Cummings says.
"The good news is that we now have tests on site and are prepared to administer those both at our clinic site but also off site at our other facilities.  We have been providing, almost on a daily basis, the most up to date information to our staff and clients about the preventative measures they can take to protect themselves and others," he says. "We have been following the guidelines for congregate care and living issued by the department of public health and the CDC and have plans in place for appropriately reacting to any identified case that we may identify in the clinic or at our other facilities, especially those in our seniors and youth programs.  We are prepared, as best we can be, to provide testing and any needed isolation."
(UPDATE from Cummings: "We have been getting lots of calls from the community asking for testing. While we have testing kits on site, the lab has limited capacity so we are unable to provide testing generally at this point. Maybe that will change as capacity, etc. increases, but at the moment, this is the situation and I don't want to mislead people.") 
Center administrators are encouraging people (staff and clients) who are exhibiting symptoms, "not to come to our services and to call us or their medical provider for counsel," says Cummings. "Obviously, we have masks and hand sanitizers throughout although these things can be in short supply so we have lots on back-order.
"We have established a COVID-19 management team that is meeting and talking on a very regular basis so we can act on or react to developments as they happen and are just assuming that the numbers of those identified with the virus will grow dramatically as more and more are tested."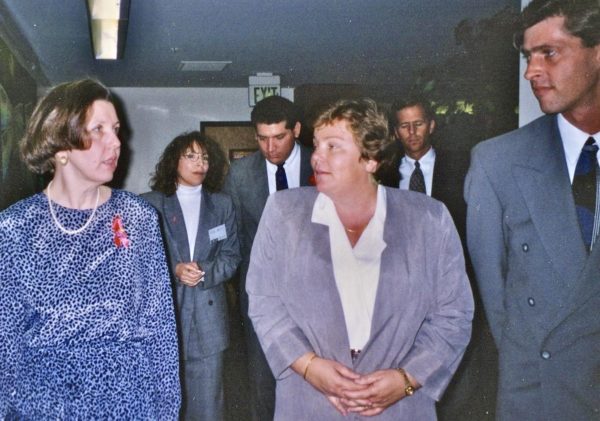 Darrel Cummings has a long history of healthcare activism; he's pictured here, on the right, with LA Gay & Lesbian Center Executive Director Lorri Jean giving a tour to Clinton's first AIDS Czar Kristin Gebbie in 1993. Diane Abbitt and Dr. Scott Hitt in the back. (Photo by Karen Ocamb)
Amidst the concern and developing of precaution plans, Cummings also quietly advised LGBTQ leaders in Wuhan, China, the site of the origin of the coronavirus, extending the impact of one of the Center's least known but apparently highly impactful programs. Cummings says:
"The leader of the Wuhan LGBT Center is a graduate of the LA Center's Chinese Emerging Leaders Program  and has done remarkable work, along with a team of 7 staff and many volunteers in Wuhan China, Hubei Province. When the novel coronavirus hit that City and province of 56 million people, activities of every kind halted and people were confined to their homes with only limited ability to leave for groceries.  Virtually all transportation was halted and no one was allowed to enter or exit the area.  All of this remains true today.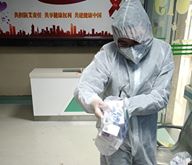 Unfortunately, the entire staff of the Wuhan Center was to arrive in LA in February to participate in a special organizational development program we had created but were obviously unable to leave China.  Instead, and as a result of the relationships they have developed with the local CDC and within the community, they were able to gain permission from health authorities to help make sure that people living with HIV/AIDS who could not leave their homes were able to get their HIV medications.

The Wuhan Center staff and approved volunteers travel each day to the hospital that treats those with HIV and that also now treats people with coronavirus to meet with doctors, get prescriptions written, pick up pharmaceuticals, and mail or deliver them to now 1,500 people.

Throughout this process the Wuhan Center consulted with us and identified barriers to this work as they arose.  The most recent being with the police who were increasingly stopping the staff and volunteers from traveling or entering apartment buildings since they had not been credentialed by police authorities to be moving about publicly.  With a kind of determination that is familiar to many of us, they were able to finally win approval by the police to continue their work.

In the epicenter of what is now a global pandemic that is provoking cancellations and closings of all kinds here in the United States, the Wuhan Center did not close.  They shifted.  They recognized a serious community need and they doggedly worked to make sure that need was met.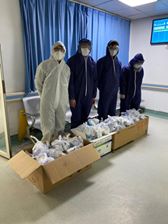 This is what we, as an LGBT community, have always done.  It is why the LA Center will not close.  Our friends in Wuhan who have looked to us for inspiration and learning are now inspiring, teaching, and reminding us of who we are and the value of being out and open."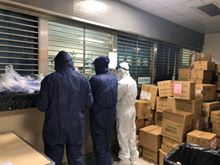 Cummings sent an addendum:
Haojie, our program grad and ED of the Wuhan Center, posted this just now on Facebook.  Remarkable.

 

9 hrs ·

截至2018年10月底,湖北省报告现存活艾滋病病毒感染者和病人19166例,受新冠肺炎疫情影响,湖北省内全部城市均采取了严格的交通管控和小区封闭措施,封城后艾滋感染者无法按时领取抗病毒药物,面临断药风险。

封城后武汉同志中心通过电话和互联网平台为艾滋患者提供咨询服务并收集求助信息,组建爱心车队接送艾滋患者往返医院就医,每天前往武汉市金银潭医院待超过8个小时帮助艾滋病人代领药物,为了尽快把药物送到病人手上志愿者需要连夜甚至是通宵分类和打包药物。

截至2020年3月9日,团队接待了超过4000名艾滋患者的咨询,成功帮助近2200名感染者获取了艾滋病抗病毒药物。

As of the end of October 2018, Hubei province reported 19,166 cases of live HIV infections and patients, affected by the new crown pneumonia epidemic, all cities in Hubei province have taken strict traffic control and district closure measures, HIV infected people are at risk of outage after they are unable to receive antivirus medicines in time.

Wuhan comrades center provides consultation services to aids patients via phone and internet platforms, forming a loving convoy to take aids patients to and from hospital for medical treatment. They go to jinyintan hospital every day. To help aids people get medicines on their behalf, volunteers need to classify and pack drugs overnight or even overnight.

As of March 9, 2020, the team had received more than 4000 AIDS patients who successfully helped nearly 2200 infected people access HIV medication.
Those wishing to support the Center can visit lalgbtcenter.org/donate. Updates on the Center's response to COVID-19 can be found at lalgbtcenter.org/updates.
Local, national events to mark 35th annual World AIDS Day
HIV disproportionately affects certain populations. Men who have sex with men accounted for 70% of 32,100 estimated new HIV infections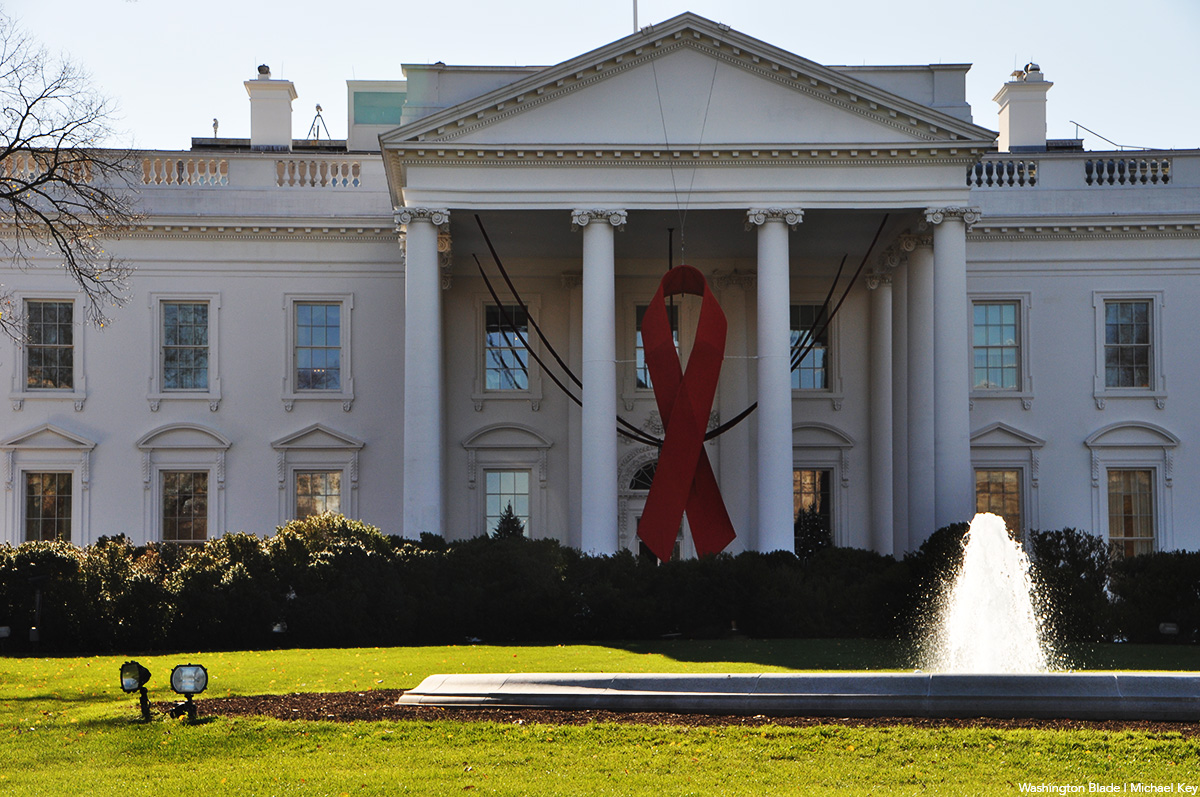 WASHINGTON – UNAIDS dubbed this year's World AIDS Day theme as "Let Communities Lead." This is how conversations around HIV and AIDS should be structured, Duante' Brown said, who manages two programs at NMAC — a nonprofit dedicated to working to end the AIDS epidemic. People living with HIV need to be considered the subject matter experts, he said. 
"Bringing those people into the room, showing them that they have a voice and that there's not just this group of people who are making a decision for them … is definitely the way that you go about this."
Brown manages the ESCALATE program at NMAC, which aims to empower people to address HIV stigma, and the ELEVATE program, which is a training program for people with HIV to be more involved in the planning and delivery of the Ryan White HIV/AIDS Program, which is the largest federal program designed specifically for people with HIV.
In the United States, it's estimated 1.2 million people are living with HIV, according to HIV.gov. About 13% are unaware they have HIV.
HIV also continues to disproportionately affect certain populations. Men who have sex with men accounted for 70% of the 32,100 estimated new HIV infections in 2021. And Black individuals accounted for 40% of the new infections that year, while only comprising 12% of the population of the United States, according to the CDC.
In 2023, stigma is a key inhibitor to ending the epidemic, Brown said. When stigma gets out of the way, there could be a day when there are no new cases of HIV transmissions, he said. To get around that stigma, people need to have meaningful and productive conversations about AIDS.
"Not treating it as taboo, making sure that we are empowering people living with HIV and AIDS to tell their stories and to be empowered to feel that it's OK," Brown said. "And that nothing is wrong with you."
And there are events in the locally and nationally to recognize World AIDS Day, many of them aimed at abolishing the stigma that comes with talking about HIV.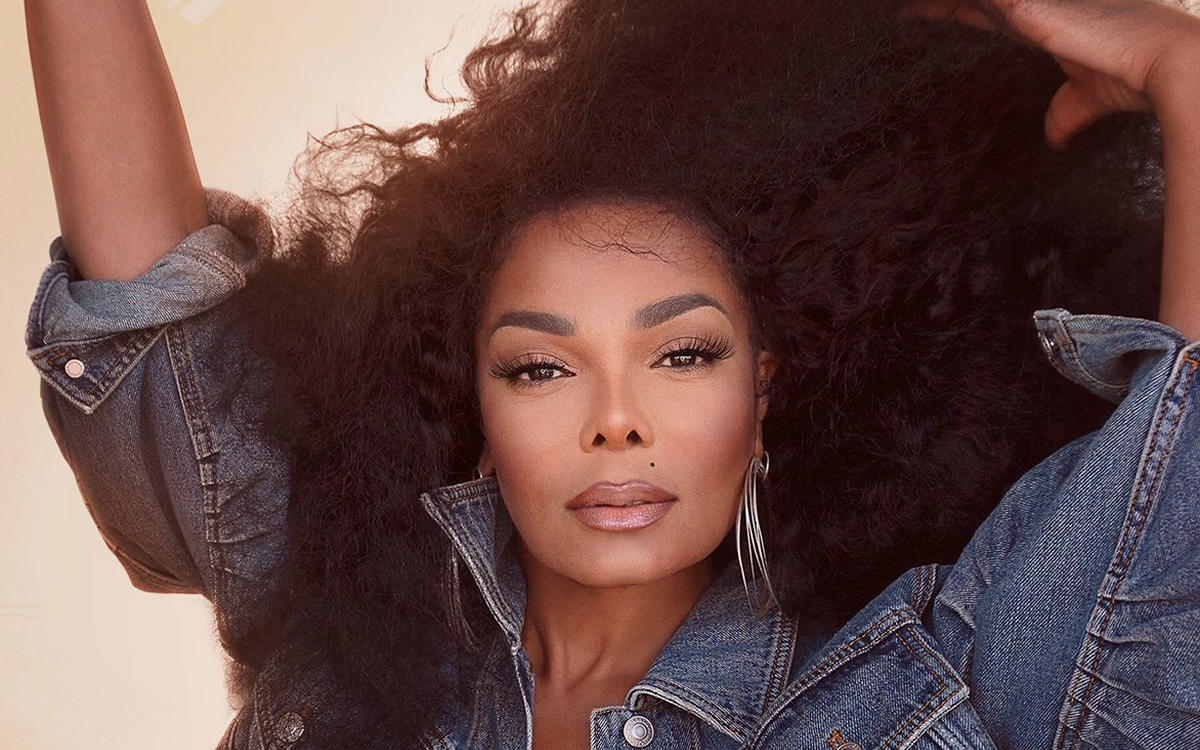 At a national level, Janet Jackson is set to headline the World AIDS Day concert on Dec. 1 — an annual fundraiser sponsored by the AIDS Healthcare Foundation. The concert will be at the NRG Arena in Houston, and will also honor actor and activist Blair Underwood with its lifetime achievement award. 
"[The concert] really is a way to commemorate World AIDS Day in a way that is both remembrance of those that we've lost, recognizing where we're at, but also really celebrating and connecting the work that's yet to be done. And having folks still leaving uplifted and elevated about what the future could hold," said Imara Canady, AHF's national director for communications and community engagement.
Jackson has long been an outspoken advocate for people living with HIV. Her song, "Together Again," is a tribute to a friend she lost to AIDS, as well as a dedication to patients around the world.
The AIDS Healthcare Foundation, the largest nonprofit HIV/AIDS service organization and advocacy group, has several health care centers in the region and many across the nation and world. AHF also has a free HIV test locater online at freehivtest.net.
AIDSWatch, the electronic memorial to people lost to HIV and AIDS, will be viewable on www.AIDSWatch.org and on the City of West Hollywood's WeHoTV broadcast and streaming channels, including Spectrum Channel 10 within West Hollywood, beginning at 12:01 a.m. on Thursday, Dec. 1, for 24 hours.
The City of West Hollywood will join STORIES: The AIDS Monument and APLA Health in a World AIDS Day event on Friday, Dec. 1. The evening will begin at 5:30 p.m. with a reception at the West Hollywood Park Aquatic and Recreation Center (ARC) Respite Deck, located at 8750 El Tovar Place.
After a short program with refreshments, attendees will descend the grand staircase of the ARC at 6:30 p.m. in a candlelight procession through West Hollywood Park and along N. Robertson, Santa Monica, and N. San Vicente Boulevards to the City's Council Chambers/Public Meeting Room, located at 625 N. San Vicente Boulevard. There, the evening will continue with a screening of the award-winning 2023 documentary "Commitment to Life." Doors will open at 7 p.m. and the screening will begin promptly at 7:15 p.m. 
Events are free to attend and open to the public. Limited validated parking will be available at the West Hollywood Park 5-Story structure. 
Advance RSVP is requested by reserving a spot on Eventbrite.