March 26, 2020 at 8:27 pm PDT | by Scott Stiffler
COVID-19 drags queens from clubs to digital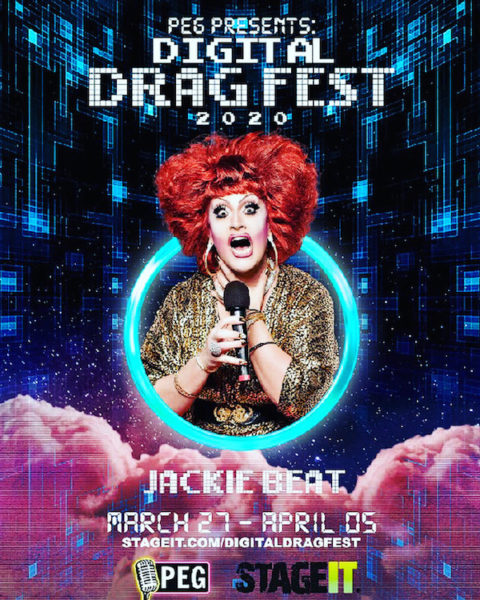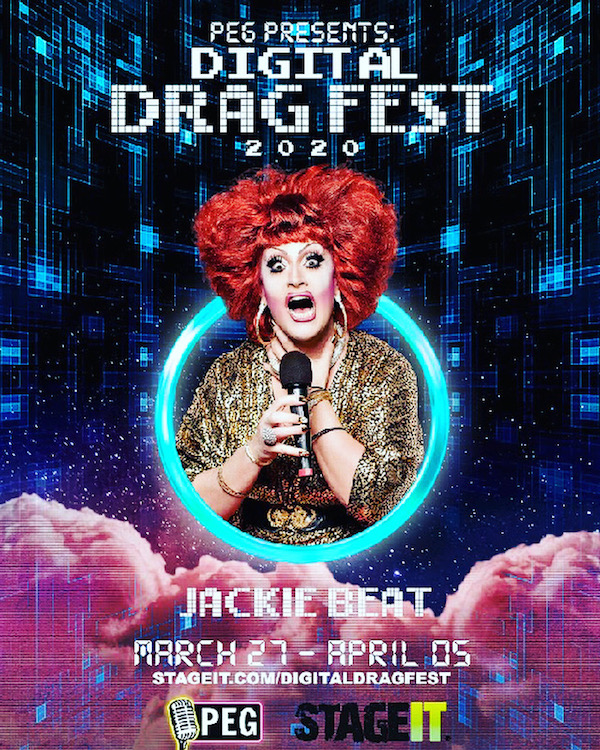 You can't drag a good queen down—not even if she finds herself suddenly bereft of income-generating live performance gigs and, like the rest of us, advised to shelter in place. While clubs and bars and all other public gathering places are closed until COVID-19 concerns crest, our nation's tucked aren't putting their tails between their legs—they're finding new ways to engage with fans, and generate some coin.
In a socially distanced March 22 social media message, Los Angeles-based foulmouthed national treasure Jackie Beat tweeted that she was working on "hilariously horrible new material for my digital drag show, & so far I am doing 'How Do You Solve A Problem Like Corona?' from 'Sound of Music,' Queen's masterpiece 'Killer Queen' as 'Quarantine' & the Bette Midler schmaltz-fest 'From A Distance' as 'Social Distance!' "
Beat's best-laid plans come to fruition when that new show airs as part of the "Digital Drag Fest" series. Visit stageit.com/digitaldragfest for tickets, dates, info (there's a slew of quality queens slated for DDF shows).
Beat is also available for "very reasonably-priced Cameos, either as my clowny self or as everyone's favorite wise and logical Golden Girl, Dorothy Zbornak." At MissJackieBeat.com/store, fashion-forward end times merch includes "cozy T-shirts—just perfect for quarantine, and sleep masks that can also be worn over one's mouth when you venture out. Remember, laughter is the best medicine."
Fast friend and frequent live performance Beat collaborator Sherry Vine, also based in Los Angeles, says she plans "on cranking out a lot of content" while hunkered down for the duration, including " a new solo show, and tons of ideas for parodies. I am writing a series for my new variety show, working on a pilot for a show starring Jackie Beat and me, and Jackie and I are writing a new show for the stage."
As for stirring up some income, Vine notes she is "on Cameo, a platform where people can request a personal video that they pay for. Jackie and I are also going to start one together where we can ask for more money and donate a portion to charity… We are all in this together and have to make the best of it. I'm a show whore so if there's even one person watching I'll perform!" Get more info at thesherryvine.com.
When the dust settles and the pandemic is relegated to herstory, Bob The Drag Queen will be among the most memorable early adopters of quarantine-necessitated digital broadcasting.
The NYC-based producer/performer launched what promises to be an ongoing series last Thursday, when "The Only Quarantine Drag Show" debuted, via Bob's Facebook page. Free to watch, $10 was the suggested donation.
Out of drag, broadcasting from his kitchen, and quite possibly not wearing pants, Bob laid out the premise, then pitched it over to "one of all-time favorite drag queens… the amazing the wonderful and the talented miss Pepper-mint."
Peppermint, "not in full drag, barely in drag," was coming to us from her "quarantine bunker in Har-lem, feeling very very good," and promising "to give you a real New York City drag show… Drag queens have always been on the cutting edge of innovation," proudly noted Peppermint, "and we will not be left out here, honey. We're coming for your digital."
And come they did, in full-on information and entertainment mode, as Peppermint presided over a roster of remote guests including Marti Gould Cummings.
Wearing a muumuu and broadcasting from her Hamilton Heights abode, Cummings—a 2021 candidate for City Council—had just returned from a meeting at Community Board 9.
"Local government," CB9 member Cummings told the Blade, "is so important, especially in times like now… I am calling on Gov. Cuomo to suspend rent for small businesses and home renters."
Asked by Peppermint for sources of information that are reliable, Cummings recommended following, on Twitter, NYC's Council Speaker Corey Johnson, NY Attorney General Tish James, and NYC Councilmember Mark Levine.
"They are all reliable, factual sources," said Cummings. "Don't listen to Trump. He's a moron and an idiot, and we have to stand up to the bigotry that he's turning this into."
As for helping our queens get through this, "Tune into the online shows and support artists that way, and by buying merchandise if you can," advises Cummings. To tip this particular queen, visit martigcummings.com.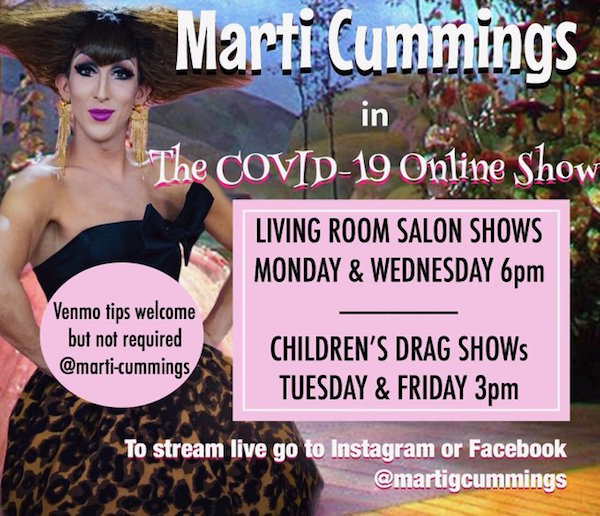 "I think many artists are being inventive with their time, and asking how it is they would like to utilize their art," said Peppermint, of the burgeoning trend toward digital-based pandemic period live performance.
While some artists, she notes, are creating COVID-19/quarantine-influenced work whose fruits we won't see for months or years to come, others "are of the mindset they want to express themselves now. So they are beaming live from their living rooms."
Count Peppermint among them. "I'm working on new music as we speak," she said. "I started just when this hit, and was in the process of recording some stuff."
With social distancing putting the kibosh on sequestering one's self in a studio, alongside a band and technicians, "I'm recording everything at home, and I have much more time to do it. My 'album' has now turned into possibly two or three. A lot of material, I'll be trying out on the fourth."
That's April 4, as in, the date of Peppermint's own one-woman show, broadcast live from her living room—another "Digital Drag Show" presentation.
"It's still a week away," said Peppermint, at the time of our March 24 interview, "which in quarantine speak may as well be two months from now. Things change so drastically from day to day… I don't have a mansion, so I won't have a full band in my room. There's a chance I might play the songs myself or have a fellow musician join me, or if I have a recorded version, I might sing them to track… maybe a combination of all three."
You can get more info by following Peppermint's social media, and purchase merch at peppermintonline.com.
"There might be some artists who are not working," notes Peppermint. "So if there's someone who you like and whose work has made you smile, don't underestimate the power of just reaching out to them, or just anonymously sending them something. Because they depend on their art to make a living."