Five LGBTQ asylum seekers released from ICE custody in Ariz.
Detainees with compromised immune systems at increased risk for coronavirus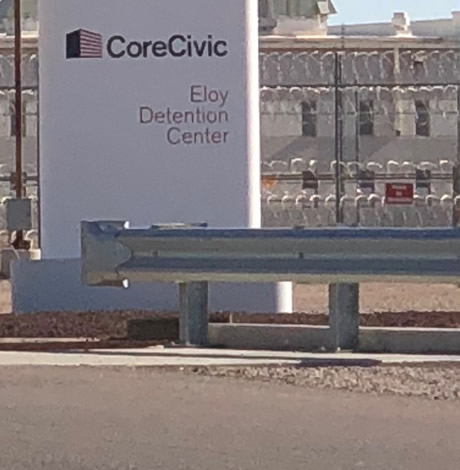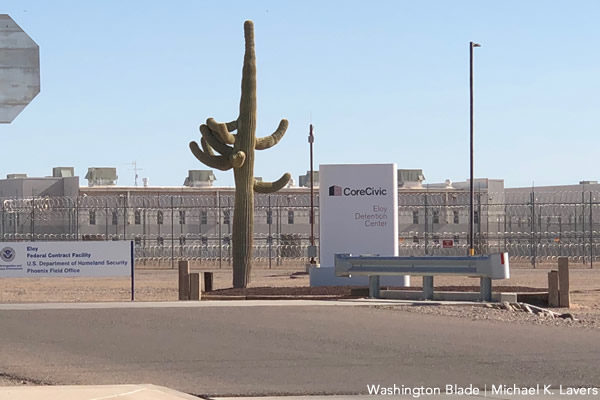 A Phoenix-based advocacy group says U.S. Immigration and Customs Enforcement on Monday released five LGBTQ asylum seekers who had been in ICE custody at two Arizona detention centers.
Trans Queer Pueblo, which advocates on behalf of undocumented LGBTQ immigrants, in a press release said the detainees had been isolated "for medical reasons" at La Palma Correctional Facility and Eloy Detention Center.
CoreCivic, a private company that was once known as the Corrections Corporation of America, operates both detention centers that are roughly an hour southeast of Phoenix.
Trans Queer Pueblo said the five detainees that ICE released on humanitarian parole are transgender women, a lesbian woman and a gay man from El Salvador, Guatemala, Cuba and Venezuela who asked for asylum in the U.S. Trans Queer Pueblo said two of them are living with HIV, and all of those who ICE released have "compromised immune systems."
The press release says ICE brought the asylum seekers to a Greyhound bus station in downtown Phoenix. Trans Queer Pueblo said LGBTQ activists greeted them once they arrived and helped them purchase bus tickets that allowed them to travel to Florida, Iowa, Pennsylvania and Texas and reunite with relatives.
An ICE spokesperson has yet to respond to the Los Angeles Blade's request for comment about the asylum seekers' release.
Immigration Equality earlier this week demanded ICE release detainees with HIV who are at increased risk for coronavirus. Trans Queer Pueblo and the National Center for Transgender Equality are among the myriad other groups that have also called upon ICE to release all detainees as the disease rapidly spreads across the country.
An ICE detainee at the Bergen County Jail in New Jersey has tested positive for coronavirus. An ICE staffer who works at the Elizabeth Contract Detention Facility, which is also in New Jersey, also has coronavirus.
ICE on its website also notes there are 19 confirmed coronavirus cases "among ICE employees not assigned to detention facilities."
An ICE spokesperson with whom the Blade has previously spoken says the agency continues to take precautions to protect detainees and staff from coronavirus. These include the suspension of social visitation at all ICE detention centers and a requirement that lawyers, lawmakers and/or members of their staff wear disposable gloves, masks and eye protection when they enter these facilities.
"The releases show that ICE is panicking," said Trans Queer Pueblo Liberation Coordinator Karla Bautista Chonay in their organization's press release, referring to the five LGBTQ asylum seekers' release. "They've given such negligent medical care to migrants in detention for so long that they literally don't have the infrastructure to keep them safe from COVID-19. But one-by-one releases won't work."
"ICE needs to release all detainees in Arizona, now, starting with folks who are LGBTQ+ and have chronic conditions," they added.
Out Vermont state senator wins Democratic primary in U.S. House race
Tuesday's victory makes her likely to become the first woman and openly LGBTQ+ person to represent the heavily Democratic state in Congress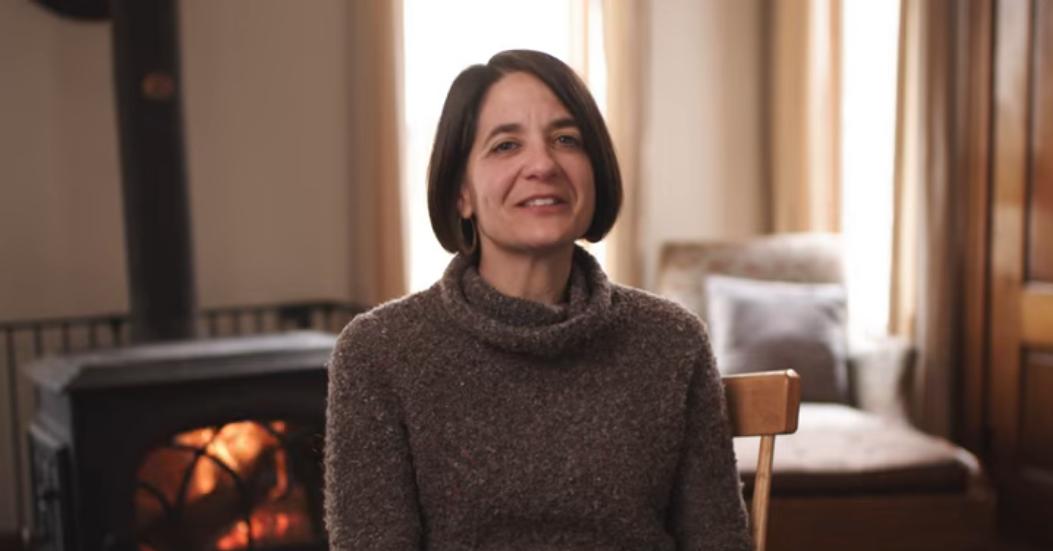 MONTPELIER – The Green Mountain State's state Senate president pro tempore has won the Democratic nomination for the state's at-large congressional seat, the state's lone seat in the U.S. House of Representatives.
Becca Balin is running to succeed U.S. Rep. Peter Welch and Tuesday's victory makes her likely to become the first woman and openly LGBTQ+ person to represent the heavily Democratic state in Congress if elected in November. Vermont is the only state that has never had a female member of its congressional delegation.
The VTDigger, a statewide news website, reported; "Balint, 53, is the first openly gay woman elected to the Vermont Senate and the first woman to serve as its president. The former middle school teacher and stay-at-home mother won her first political contest in a race for her southeastern Vermont Senate seat in 2014.
She rose quickly through the ranks of the Democrat-controlled chamber, becoming majority leader in 2017, at the start of her second term. Four years later, in 2021, she was elected pro tem — the top position in the Senate."
Becca Balint, the president pro tempore of the Vermont Senate, has won the Democratic primary for the state's open congressional seat. She could become the first woman and the first openly gay person to represent the state in Congress. https://t.co/RaAgwmtQJD

— The Associated Press (@AP) August 10, 2022
Gay couple assaulted in D.C. by teens shouting 'monkeypox faggots'
The men were treated and released at Howard University Hospital for head and facial bruises, with one receiving stitches for a deep cut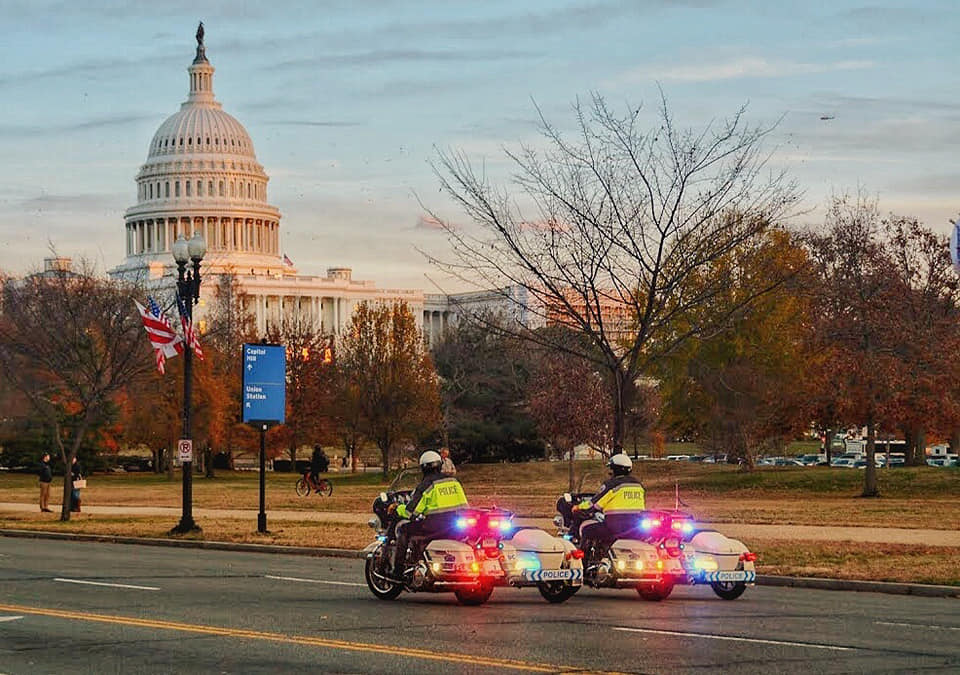 WASHINGTON – Two young men appearing in their late teens shouted the words "monkeypox faggots" at a gay male couple walking along 7th Street, N.W. in the city's Shaw neighborhood on Sunday, Aug. 7, before punching the two men in the face and head in an incident that D.C. police have called a suspected hate crime.
The gay men were treated and released at Howard University Hospital for head and facial bruises, with one of the two receiving stitches for a deep cut on his upper lip, according to one of the victims who spoke to the Washington Blade.
The victim, an Alexandria resident who asked that he and his partner, a D.C. resident, not be identified by name, said the attackers were part of a group of four or five young men appearing to be between 17 and 19 years old and two young women accompanying them. He said the group crossed paths with the gay couple around 5:40 p.m. in front of a store on the 1700 block of 7th Street, N.W., as the couple was walking to a nearby bus stop on Rhode Island Avenue.
The victim who spoke to the Blade said a nearby witness called D.C. police, who arrived within a few minutes as the two attackers and the other young men with them fled the scene. He said although an ambulance arrived on the scene, one of the police officers drove the couple to nearby Howard University Hospital, where they spent about six hours in the emergency room.
The couple had spent part of that 90+ degree day at the city's Banneker Pool and later stopped at the Kiki gay bar on U Street, N.W. before taking what the victim who spoke to the Blade said was a leisurely walk from Kiki via 7th Street on their way to the bus stop, where they planned to take the bus to his boyfriend's Northeast D.C. house.
As the couple walked south on 7th Street about a block from their destination on Rhode Island Avenue they crossed paths with the group of teenagers in front of a store that a D.C. police report says was at 1731 7th St., N.W.
"They were about 17 to 19 years old," the victim who spoke to the Blade said. "And one of them started saying stuff like, hey, look at these monkeypox faggots and some not so nice stuff like that," he said.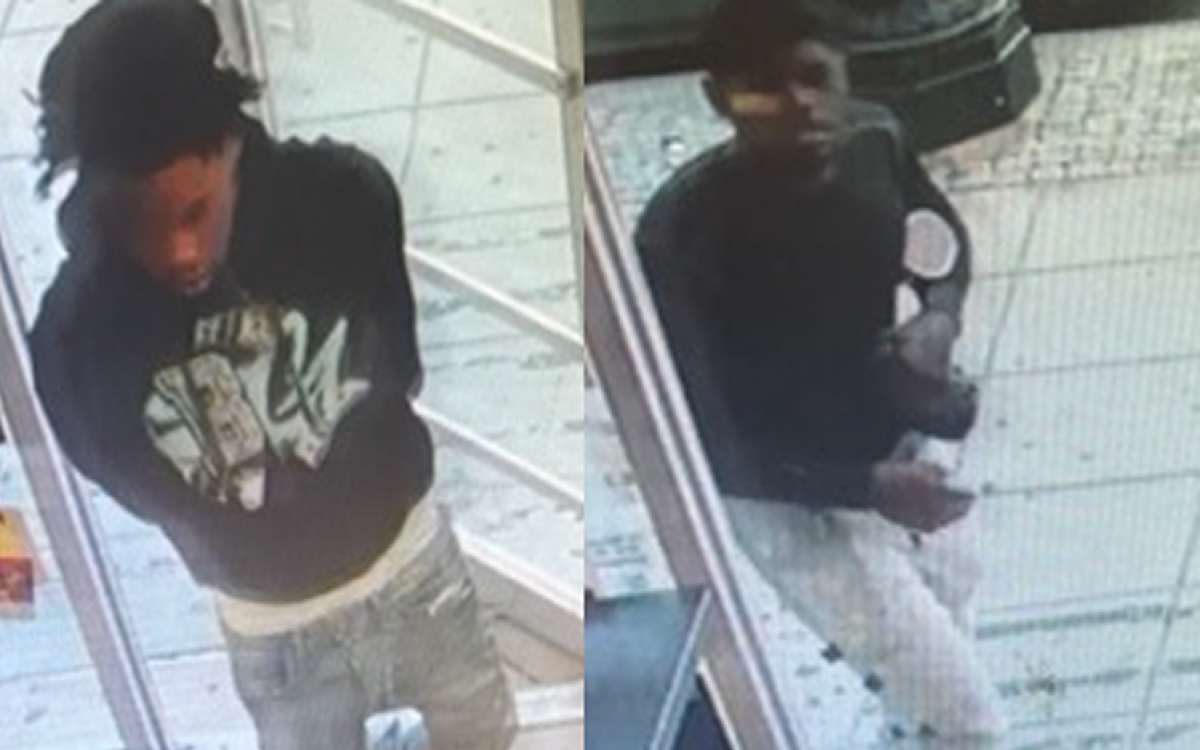 "We turned around to walk away and one of them came up behind me and got my attention and then sucker punched me and then hit me again and then hit my boyfriend in the face," the victim said. "And another person hit him in the face as well," he said. "And then someone across the street called the cops. And then the cops came, and they scattered off."
To the couple's surprise, the two young women remained on the scene and apologized for the actions by the guys they were with.
"So, I said something like thanks for the apology, but this is the kind of people you hang out with," the victim recounted. "And one of them said their dad was gay, and they kind of walked away before the cops got there," he said. "It was nice of them to apologize I guess for the other people."
The D.C. police report lists the incident as having two offenses, a simple assault against the two men and a misdemeanor destruction of property related to the destruction of a pair of sunglasses worn by one of the two men that were damaged in the assault against him.
The report also lists the incident as a suspected "Sexual orientation – Anti-Gay" hate crime.
As in all incidents of violent crime, D.C. police call on members of the public to contact the police with information about an incident like this to call police at 202-727-9099 or text a tip to the department's TEXT TIP LINE at 50411.
Biden administration ends 'Remain In Mexico' policy for asylum seekers
DHS had held off lifting the MPP protocols until after the Supreme Court's ruling and then until the U.S. District Judge lifted his injunction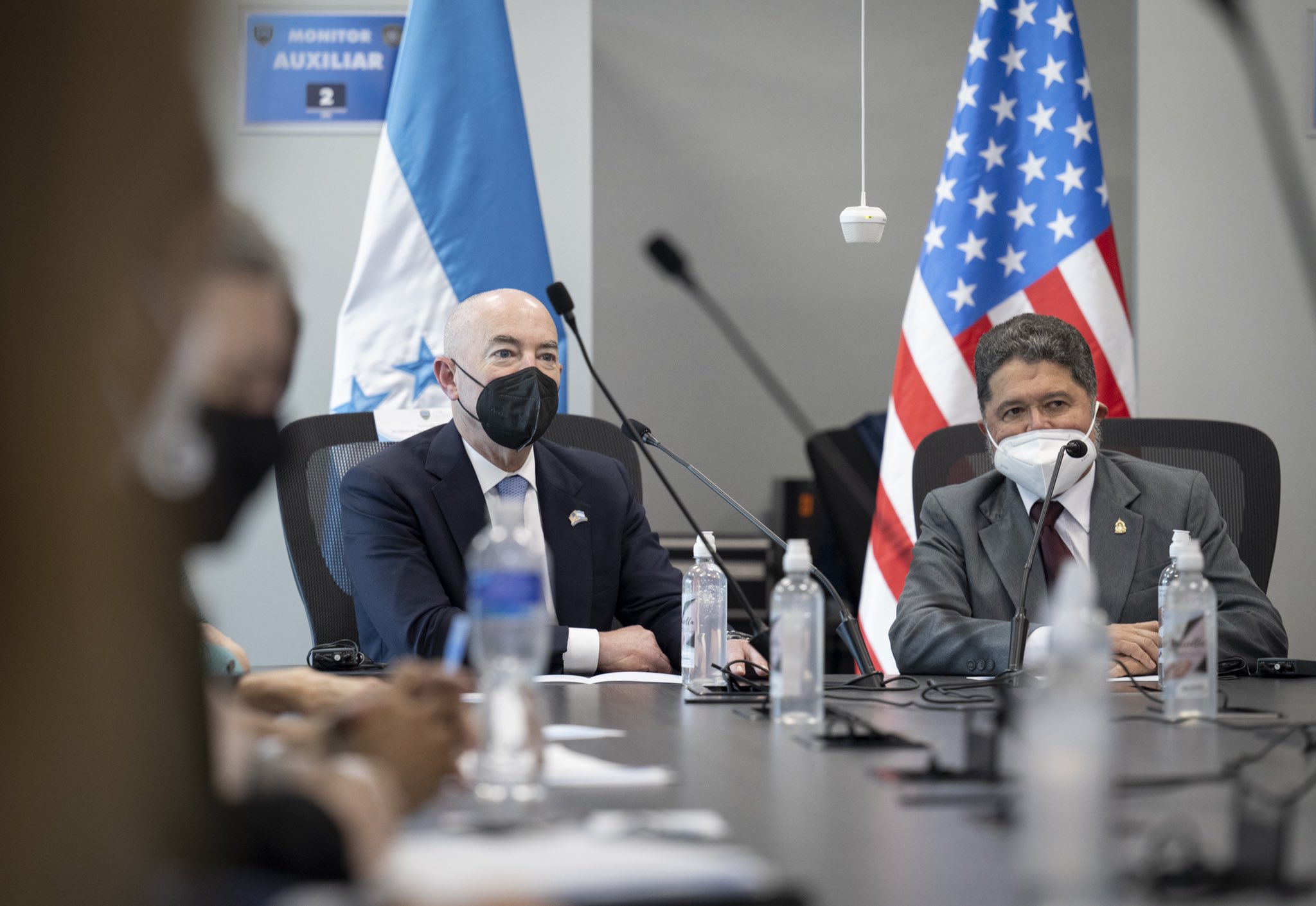 WASHINGTON – The U.S. Department of Homeland Security (DHS) announced Monday that the Migrant Protection Protocols (MPP) colloquially referred to as the 'Remain-in-Mexico' policy for asylum seekers at the nation's Southern border has ended.
In a statement issued yesterday, DHS noted;
"We welcome the U.S. District Court's decision, which follows the U.S. Supreme Court's June 30th decision, to lift the injunction that required DHS to reimplement the Migrant Protection Protocols (MPP) in good faith.
DHS is committed to ending the court-ordered implementation of MPP in a quick, and orderly, manner. Individuals are no longer being newly enrolled into MPP, and individuals currently in MPP in Mexico will be disenrolled when they return for their next scheduled court date.  Individuals disenrolled from MPP will continue their removal proceedings in the United States."
DHS officials had held off lifting the MPP protocols until after the Supreme Court's ruling and then additionally until U.S. District Judge Matthew Kacsmaryk, a Trump appointee in Amarillo, Texas, had lifted his injunction. 
"MPP has endemic flaws, imposes unjustifiable human costs, and pulls resources and personnel away from other priority efforts to secure our border," Secretary of Homeland Security Alejandro N. Mayorkas said as DHS removed the MPP policy.
The DHS statement also noted that the Department will provide additional information in the coming days. "MPP enrollees should follow the directions on their court documents and tear sheets to appear for their scheduled court date as required."
DHS continues to enforce our nation's immigration and public health laws, including the Centers for Disease Control and Prevention's Title 42 public health order as required by court order. Individuals encountered at the Southwest Border who cannot establish a legal basis to remain in the United States will be removed or expelled, the statement added.