March 27, 2020 at 9:26 am PDT | by Michael Kearns
Coronavirus is like an STD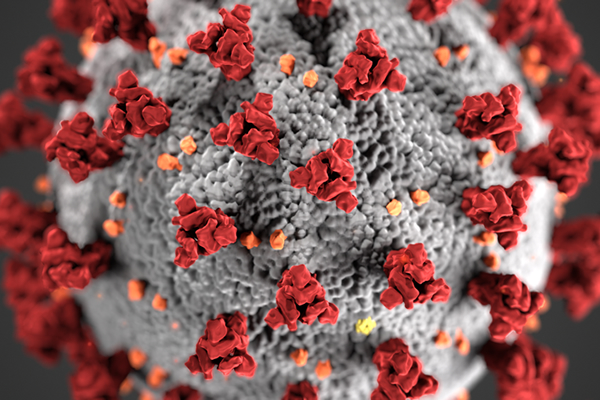 "He hit me up," my friend said on FaceTime to create some semblance of intimacy while social distancing.
"Hit you up? As in hook up? Meaning have sex?" I ask.
"Does he know that the coronavirus is a sexually transmitted disease?" I ask, flummoxed. "He doesn't even have to take his hoodie off. He can catch it before walking into the apartment."
Because the virus is silent for a period of time, the young and the old alike may not be aware they have it or are spreading it – and they apparently don't know they could die from it.
Peter Cashman, a co-founder of ACT UP/LA, sits in his car at Trader Joe's while a friend does his shopping. He is fuming at how the the National LGBTQ Task Force made the "suicidal decision" to green-light its recent "White Party" fundraiser on Miami's South Beach.
"The event allegedly took extra precautions for attendees, handing out 10,000 hand sanitizer bottles and hygiene information guides for festival goers," The Hill reported. "Reports from organizers say that none of the attendees experienced symptoms during the festival."
Executive Director Rea Carey told The Hill that "the real story" was not how many attendees might have been infected but rather "that millions of people across the country would like to get tested, and the government has not done its job to make testing available."
No, the "real story" is that Task Force did not cancel the event, says Cashman. "What people with HIV/AIDS need right now is specific medical/scientific information related to their positive status and COVID-19," which, Cashman says, he has not received from his HIV specialist.
Richard Ayoub, executive director of Project Angel Food, has been delivering facts with food.
"Because people with HIV/AIDS are immune compromised, it makes them more susceptible to the virus that is highly contagious," he tells the Los Angeles Blade. "Project Angel Food continues to serve the 1,600 people living with critical illness who rely on us every day, and we have added three weeks of shelf stable meals for every client, just in case we can't reach them in an emergency. We can't close down—we are a vital service."
The general public doesn't realize how much income from fundraisers sustain the budgets of organizations like Project Angel Food or those who fund others. Broadway Cares/Equity Fights AIDS, for instance, is the single largest financial supporter of The Actors Fund. In February, Project Angel Food received $40,000 from the Actors Fund to "reach out to L.A.'s LGBTQ homeless," says Tom Viola, BCEFA's Executive Director.
But Broadway Cares/Equity Fights AIDS is taking "a huge hit" because of COVID-19. "Last year's campaign raised over $6 million. We'll take a $5 million hit on this one, likely forcing us to suspend the last two grant rounds of our annual National Grants Program," Viola says.
"As you can imagine," says Darrel Cummings, chief of staff at the Los Angeles LGBT Center, "providing the amount of services we do and to such a large number of people has presented lots of challenges that we have been working to resolve.  It has been my goal to maintain the vital services — medical, mental health, pharmacy, housing, etc.— that are most needed while at the same time reducing the numbers of people — clients, staff, and volunteers — in our physical space as much as possible.
The Center deals with a variety of situations from medical and mental health issues to age and homelessness that make them more vulnerable to COVID-19.
"Each day brings a new challenge that we have to learn how to properly manage but we are staying nimble enough to respond as best we can," says Cummings.
Housing Works Executive Director Celina Alvarez is working to maintain their satellite program, Young Burlington Apartments, a 20-unit permanent supportive housing building for 18-24-year-olds who generally distrust adults.
"We are doing what we can to stay in consistent communication with these young people who are scared and unsure about what the future holds," she says. "The onsite support services staff, including myself, have been in contact with the tenants at YB to check on them and assess their needs and any health symptoms they are experiencing at this time.  Our job is to educate, educate, educate them about COVID-19 so that they can make informed decisions as we all learn to walk through this new era."
But testing is scarce. "Unless you come from a certain income/social status bracket, the rest of us don't have a chance at really finding out who amongst us is a carrier," she says. "My biggest concerns are the asymptomatic folks."
Cashman notes that summoning the strength to fight yet another herculean battle like the coronavirus and its spawn will not be easy for LGBTQ community. And this on top of all the other many ancillary battles. Now there will be even more complex emotions to disentangle on a daily basis.
"But overwhelmingly there is a special place in hell for our utterly failed White House leadership whose negligence, greed and criminality is now killing us," Cashman says, adding not so metaphorically: "Bring back the guillotine!"