Advocacy groups demand ICE release LGBTQ detainees from La. detention center
Letter cites coronavirus concerns, rampant mistreatment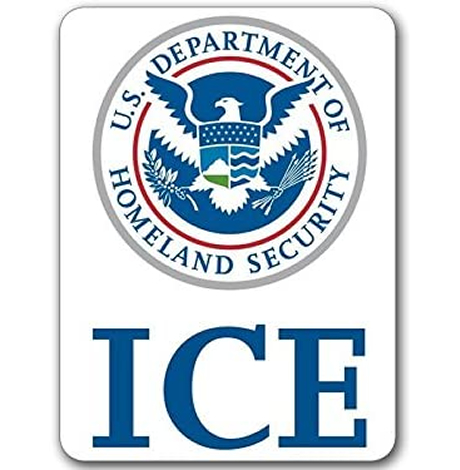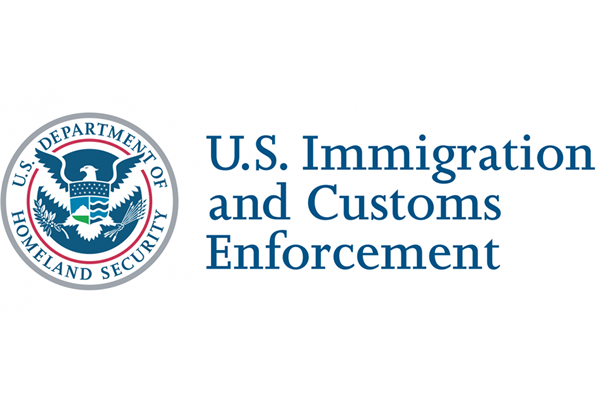 Immigrant advocacy groups on Thursday demanded the release of LGBTQ people who are in U.S. Immigration and Customs Enforcement custody at a privately-run detention center in Louisiana.
Immigration Equality, Trans [email protected] Coalition, Santa Fe Dreamers Project, Familia: Trans Queer Liberation Movement, Gender Justice LA, VisibiliT, Al Otro Lado and the Detained Migrant Solidarity Committee sent a letter to Acting ICE Director Matthew Albence, Acting Secretary of Homeland Security Chad Wolf and other officials on behalf of LGBTQ people and people with HIV who are detained at the Winn Correctional Center.
LaSalle Corrections operates the facility that is roughly 100 miles southeast of Shreveport, La., in the state's Winn Parish.
The letter notes detainees have said Winn Correctional Center staff have not taken the necessary precautions to prevent the spread of coronavirus inside the facility.
"Our LGBTQI/HIV+ clients at Winn are reporting troubling conditions specific to the COVID-19 pandemic," reads the letter. "They include lack of medical attention for a detainee who had a days long fever, a sympton (sic) of COVID-19, crowded conditions, and a lack of sanitation supplies for detainees and staff alike."
The letter notes one detainee has said staff as of March 20 "had not addressed COVID-19 concerns with immigrant detainees, including failing to instruct detainees on handwashing and social distancing." The letter also indicates hand sanitizer is "not available" and ICE last week transferred up to 35 detainees to the facility.
"Some dormitories have 50 people in the same room sharing one sink, one toilet and no meaningful access to medical attention or sanitation," reads the letter.
The letter also documents "widespread abuse and mistreatment of LGBTQI/HIV+ individuals" at the facility.
A transgender woman told the groups that she and another trans detainee were "forced to share a shower and bathroom facilities with nearly 50 cisgender men."
The letter refers to another detainee who said staff last Aug. 19 forced her to play soccer in the yard with a group of cisgender men. The detainee claims one of the male detainees attacked her and broke her leg, but an officer "refused to take a report."
The letter refers to a trans woman who claims she has "been forcefully pushed in the middle of her back by guards at least three times, including when she was merely standing and reading her Bible." It also notes staff "regularly threaten transgender women with solitary confinement for arbitrary reasons, such as interpreting for other detained individuals."
A gay detainee who is cited in the letter claims a guard subjected him to homophobic harassment after he asked him a question in a dining hall. The letter, among other things, also notes an officer threatened a trans detainee "with physical harm, going as far as to say he would beat to death any detained individuals who made him angry."
The letter notes one detainee with HIV said he has "experienced numerous interruptions to his antiretroviral regime" while at the facility. The detainee also claims he has blood in his urine and suffers from "kidney problems" because he does not receive his medications at the same time each day.
The letter also notes ICE officers who oversee the detainees' asylum cases "routinely ignore parole requests submitted by the individuals or their legal counsel."
"The above information reflects the egregious conditions at the Winn Correctional Center and reveals blatant homophobia, transphobia, and a disregard for basic human safety," reads the letter. "The above-mentioned individuals have submitted regular complaints to DHS, all of which remain unaddressed. In essence, these LGBTQI/HIV+ asylum-seekers are indefinitely trapped in a detention center where they are at a heightened risk of medical negligence, sexual harassment and disproportionate systemic violence."
An ICE spokesperson has not returned the Los Angeles Blade's request for comment.
Five LGBTQ detainees released from ICE custody in Ariz.
Immigration Equality earlier this week demanded ICE release detainees with HIV in response to the coronavirus pandemic. The American Civil Liberties Union of Louisiana is among the other groups that have also demanded ICE release detainees who are at heightened risk for the disease.
ICE on Monday released five LGBTQ asylum seekers from two Arizona detention centers. Yariel Valdés González, a Blade contributor from Cuba who received asylum in the U.S., was in ICE custody for a nearly a year until his release from River Correctional Center, a privately-run detention center in Ferriday, La., on March 4.
The Louisiana Department of Health says there are currently 2,746 confirmed coronavirus cases in the state. Statistics indicate 119 people have died from the disease in Louisiana.
There is one confirmed coronavirus case in Winn Parish.
"Social distancing at Winn is virtually impossible," reads the letter. "Winn is primed to have COVID-19 spread through the detained population like wildfire. It will be devastating and deadly. This is especially true for the already vulnerable LGBTQI/HIV+ immigrant population. Medically vulnerable detainees, especially LGBTQI/HIV+ migrants and those who are otherwise immunocompromised, should be released immediately."
ICE on its website notes two detainees in New Jersey have tested positive for coronavirus. There are also five confirmed coronavirus cases among ICE personnel who work at detention centers in Colorado, New Jersey and Texas.
ICE on its website also notes there are 19 confirmed coronavirus cases "among ICE employees not assigned to detention facilities."
An ICE spokesperson with whom the Blade has previously spoken says the agency continues to take precautions to protect detainees and staff from coronavirus. These include the suspension of social visitation at all ICE detention centers and a requirement that lawyers, lawmakers and/or members of their staff wear disposable gloves, masks and eye protection when they enter these facilities.
ICE has also previously defended the treatment of LGBTQ detainees and those with HIV who are in its custody.
A 2015 memorandum then-ICE Executive Associate Director of Enforcement and Removal Operations Thomas Homan signed requires personnel to allow trans detainees to identify themselves based on their gender identity on data forms. The directive, among other things, also contains guidelines for a "respectful, safe and secure environment" for trans detainees and requires detention facilities to provide them with access to hormone therapy and other trans-specific health care.
DeSantis targets Orlando non-profit over holiday drag show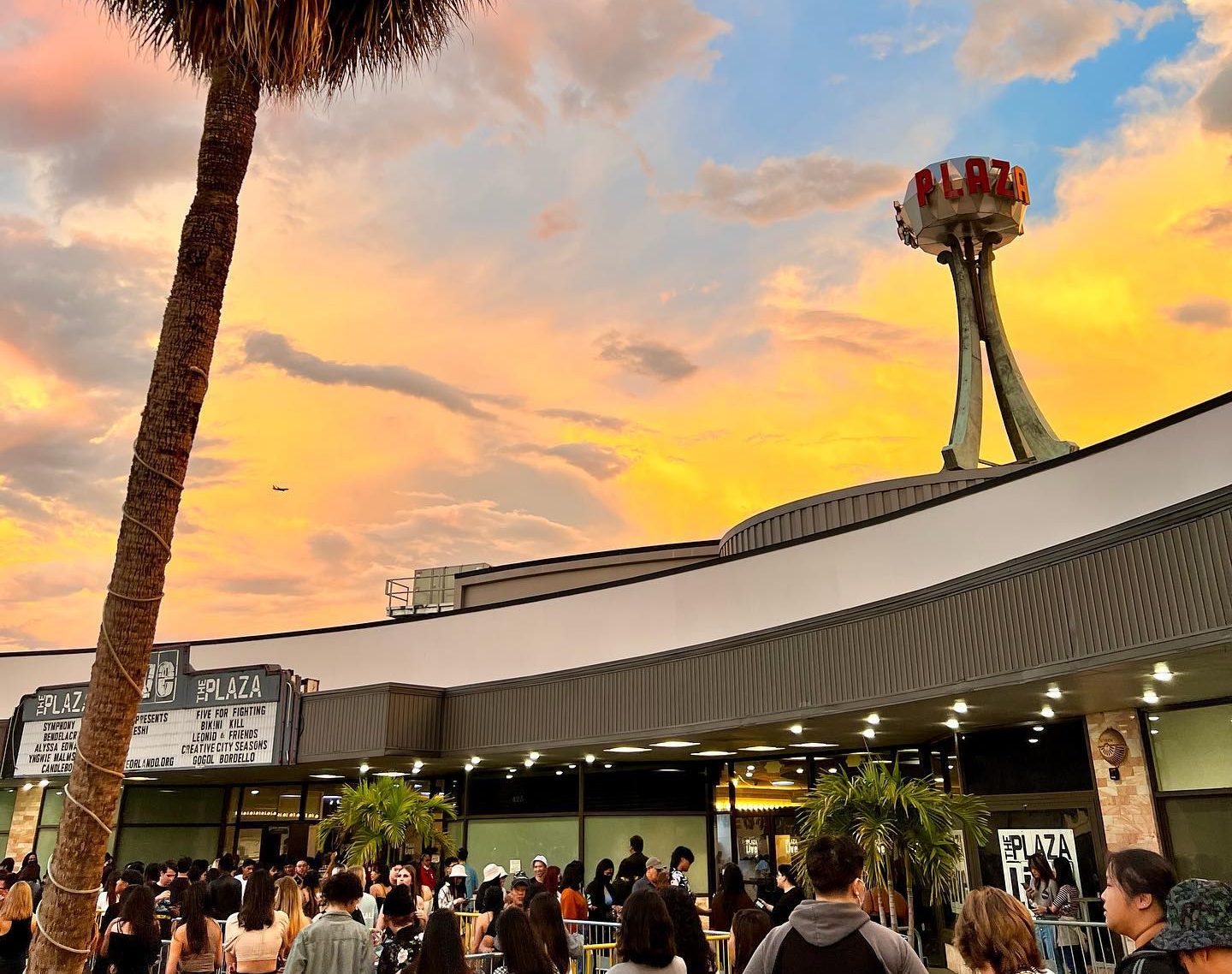 ORLANDO – Florida's Republican Governor Ron DeSantis escalated his war on the state's LGBTQ+ community ordering a state agency to launch a complaint against a Orlando non-profit over a drag holiday event it hosted in which children under age 18 were allowed to attend.
The state's Division of Alcoholic Beverages and Tobacco under the Department of Business and Professional Regulation filed the complaint on Friday against the Orlando Philharmonic Plaza Foundation alleging the foundation violated Florida law in allowing for a person to "commit lewd or lascivious exhibition" in the presence of an individual who is less than 16 years old. 
"A Drag Queen Christmas" was hosted by the foundation on Dec. 28 and during the performance sold alcoholic drinks at its Plaza Live venue. In the complaint, the agency states that the foundation used "Christmas-themed promotional materials" that did not give advance notice of the "sexually explicit nature" of the show's contents.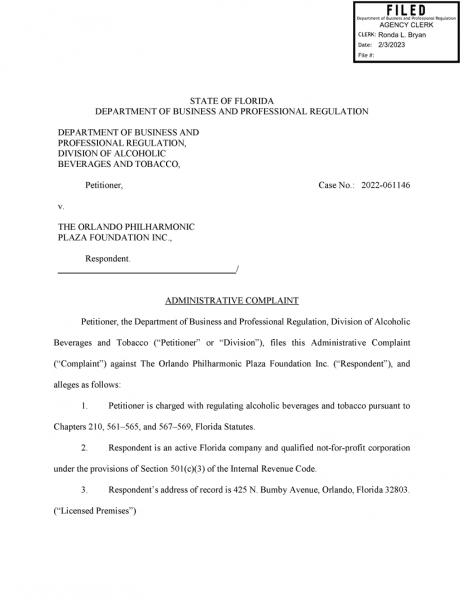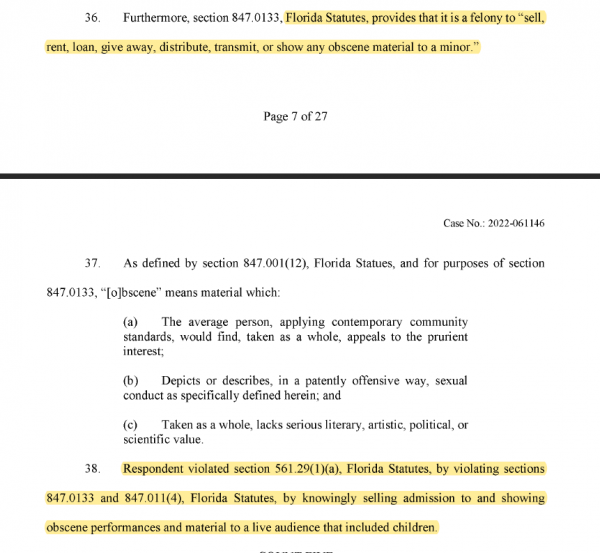 The complaint also states that the division sent the foundation a letter ahead of the show saying "sexually explicit drag show performances constitute public nuisances, lewd activity, and disorderly conduct when minors are in attendance" and the foundation's license could be subject to penalties if it did not ensure minors could not attend the event.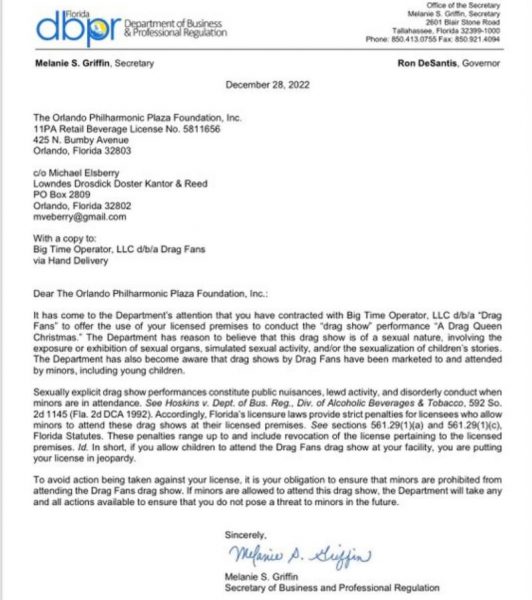 In its capacity as a regulator of alcohol, the division attempting to revoke the foundation's liquor license for six alleged counts of violating Florida statutes. 
When asked about the move by the DeSantis administration targeting the non-profit, Bryan D. Griffin, the spokesman for DeSantis said "Governor DeSantis stands to protect the innocence of children, and the governor always follows through when he says he will do something."
Orlando Weekly writer Matthew Moyer noted that The Plaza Live — besides serving as the performing home base of the Orlando Philharmonic — hosts a robust slate of touring bands, comedians, YouTubers and, yes, drag performers.
State Rep. Anna Eskamani released a statement to Orlando Weekly late Friday afternoon, condemning the state's actions in no uncertain terms. "Governor Ron DeSantis' culture wars are destroying people's jobs and livelihoods. The very notion of shutting down a small business over a drag show is insane and extreme," said Eskamani. "In the United States we do not allow the government to determine what we can read, see or hear or who we can gather with. Targeting drag performances limits everyone's freedom of speech and is all a part of the Governor's sick anti-LGBTQ+ agenda."
This is about dehumanizing LGBTQ people and targeting them for retribution by the state by portraying LGBTQ people as abberant and deviant. It's absolutely disgusting and should not be tolerated.

— Alejandra Caraballo (@Esqueer_) February 3, 2023
DeSantis previously filed a complaint against a popular restaurant and pub in the Miami's Wynwood neighborhood in July, alleging that it violated a public decency law in allowing children to attend a drag show.
The R house, is a unique casual fine dining establishment and lounge with an integrated gallery right in the heart of the vibrant Miami-Wynwood arts district named for Rocco Carulli, the executive chef as well as creator of the restaurant. The R House identifies itself on its Facebook page as "the proud home of South Florida's most popular weekend drag brunches! Make some time to check us out and experience R House."
The complaint was filed by the Department of Business and Professional Regulation on asking that the R House restaurant is a declared a public nuisance and has its liquor license revoked. 
According to the South Florida Sun Sentinel, the complaint was issued after a video of a recent performance at the bar's drag brunch went viral. A topless drag queen wearing lingerie stuffed with money can be seen in the video attempting to dance with a young girl, who the DPBR estimates is "between three and five years old." Twitter account "Libs of Tik Tok" originally found the footage on Tik Tok, posted by a user who wrote, "Children belong at drag shows!!!! Children deserve to see fun & expression & freedom."
The department cited multiple incidents of inappropriate drag performances with kids in the audience, including one in which a child "between the ages of ten and twelve" was "seen recoiling and turning away in her seat as a Brunch performer climbed on the back of the child's bench, squatted, and gyrated a couple of feet above the child's head."