March 28, 2020 at 1:24 pm PDT | by Karen Ocamb
Civil rights icon Rev. Joseph E. Lowery dies at 98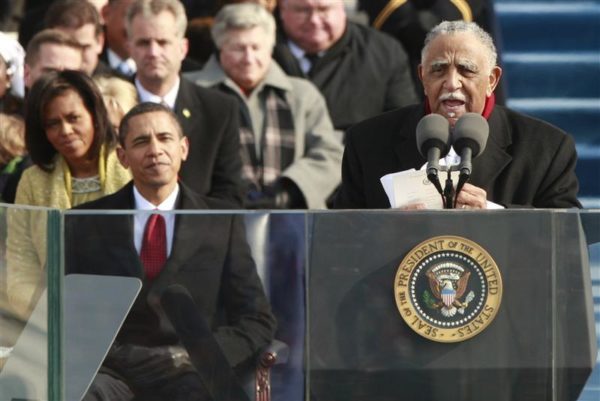 As America grapples with an incompetent president and the fast-spreading, silent malevolent coronavirus, it is imperative to stop for a moment and acknowledge significant milestones as they flash and fade into history.
This is such a moment.
Civil rights icon, the Rev. Joseph E. Lowery, who co-founded the Southern Christian Leadership Conference with the Rev. Martin Luther King Jr., died of natural causes Friday at his Atlanta home. He was 98.
The Martin Luther King Jr. Center for Nonviolent Social Change announced his death on Twitter.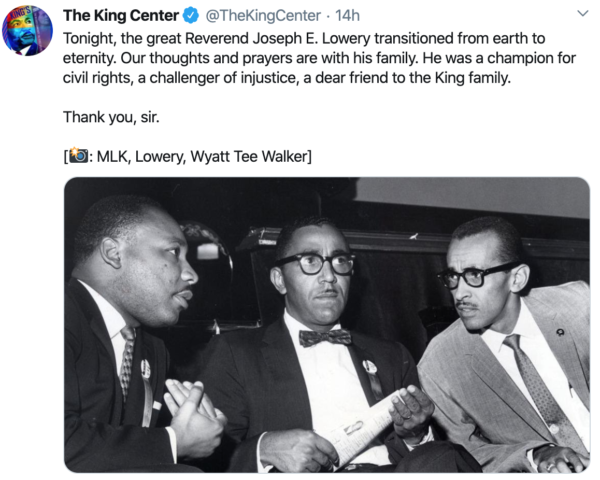 As a young Methodist minister, Lowery "successfully campaigned to integrate buses in Mobile, Ala.," reports the Los Angeles Times, "before Rosa Parks refused to give up her seat on a Montgomery bus on Dec. 1, 1955."
He subsequently worked with King, other civil rights leaders such as openly gay Bayard Rustin "and other Alabama ministers to oversee a 381-day boycott of Montgomery's segregated buses."
Two years later, in 1957, he worked with King, Rustin, Ella Baker, Rev. Fred Shuttlesworth of Birmingham, Rev. Ralph Abernathy of Montgomery, and Rev. CK Steele of Tallahassee in founding the Southern Christian Leadership Conference (SCLC), which led to President Lyndon Johnson helping pass and then sign the Civil Rights Act of 1964.
"We had been through sit-ins and kneel-ins where we had been beat up and locked up and cussed out and locked out," Lowery said in a 1994 interview. "It was a milestone, a watershed. It helped America take off the cloak of official segregation."
Lowery took the reins as president of SCLC in 1977 and led the organization for 20 years, during which time he fought for gay rights and promoted AIDS education.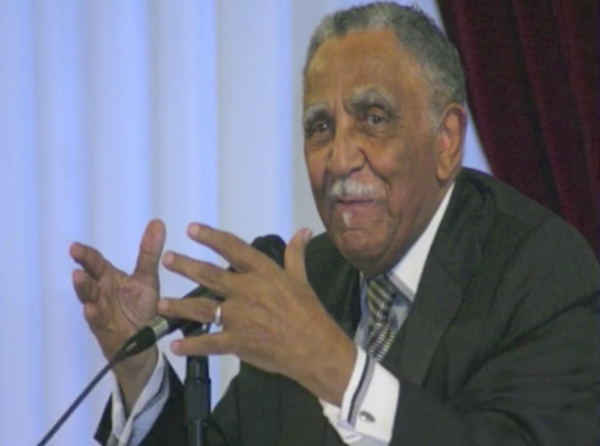 Though he formerly retired in 1992, he could not retire his activism – continuing to stand up for LGBTQ rights, despite controversy. In May 2000, for instance, he stood up for gay inclusion at the United Methodist Church's General Conference in Cleveland. Here's how Gilbert H. Caldwell, leader of the LGBTQ group Affirmation, described the moment:
"Joseph E. Lowery, retired United Methodist minister, former President of the Southern Christian Leadership Conference (SCLC), following Martin Luther King, Jr. and Ralph Abernathy,  electrified the [United Methodist] General Board of Church and Society Dinner with his Biblically-based, social-justice focused message.

Lowery, noted over the years for his ability to not only "talk the talk, " but "walk the walk," addressed a series of justice issues that still challenge us in this first year of the 21st century. Among these issues are -economic imbalances -biblically-based "affirmative action" -one-way racial integration -fear of Cuba, expressed through an embargo, contrasted by a quest for economic relations with China- a racially- biased justice system -the risk the church takes when it restricts, limits and excludes those whose orientation is homosexual. Dr. Lowery wondered out loud, "How could the church, because of a person's sexual orientation, deny ministry to those whom God has called?" He then suggested that he would prefer to err on the side of inclusion rather than exclusion.

His comments on full inclusivity within the body of Christ were made in the late afternoon of a day that began with Bishop Arthur Kulah's morning sermon, "Authority for What?" Bishop Kulah, the distinguished Bishop of the Liberia Annual Conference identified "homosexualism. ..as one of the threatening challenges to our church. …" It is interesting that Bishop Kulah near the end of the sermon, used the words that are so closely identified with Martin Luther King, Jr., "When you obey God. ..you will not judge people on the color of their skin, but by the content of their character!"

Two gifted God-confirmed leaders, Arthur F. Kulah, an African, and Joseph E. Lowery, African American, were both influenced by the courageous insights and life of Dr. Martin Luther King, Jr.

How, we ask Bishop Kulah, do we discover "content of character" in persons, if their very being "challenges" the church and renders them incompatible?

Thank you, Dr. Joseph Lowery, for being a living prophet in and beyond United Methodism. Your name added to our statement is deeply appreciated."
In 2008, the year anti-gay marriage Prop 8 passed and Barack Obama was elected president, Lowery, a supporter of marriage equality, became the de facto champion of LGBTQ rights after Obama picked Prop 8-supporting evangelical Rick Warren to give the invocation at his Inauguration.
GLAAD, among other LGBTQ groups, was furious, issuing a scathing press release on Dec. 18, 2008 that reads, in part:
"Saddleback Church drew global media attention as the venue for a presidential debate on values, which Warren followed up by using his media influence to speak against marriage for same-sex marriage. He was instrumental in building support for the passage of Proposition 8, which banned marriage for gay couples. Today, President-elect Obama responded at a live press conference with carefully crafted talking points by saying that Warren had invited him to Saddleback in spite of their differing views on many topics and now he has invited Warren to be part of America's "noisy conversation" of divergent opinions. Obama pointed to the Rev. Joseph E. Lowery as the minister who will give the benediction and has vastly different view on gay issues."
Unlike Maya Angelou in her Inaugural poem Lowery did not specifically mention gays in his benediction. But he did call for love and inclusion that Jan. 20, 2009:
"And now, Lord, in the complex arena of human relations, help us to make choices on the side of love, not hate; on the side of inclusion, not exclusion; tolerance, not intolerance.

And as we leave this mountain top, help us to hold on to the spirit of fellowship and the oneness of our family. Let us take that power back to our homes, our workplaces, our churches, our temples, our mosques, or wherever we seek your will….

Lord, in the memory of all the saints who from their labors rest, and in the joy of a new beginning, we ask you to help us work for that day when black will not be asked to get in back, when brown can stick around…

(LAUGHTER)

… when yellow will be mellow…

(LAUGHTER)

LOWERY: … when the red man can get ahead, man; and when white will embrace what is right. That all those who do justice and love mercy say Amen.

AUDIENCE: Amen.

LOWERY: Say Amen.

AUDIENCE: Amen.

LOWERY: And Amen.

AUDIENCE: Amen.

(APPLAUSE)
Just some of the response: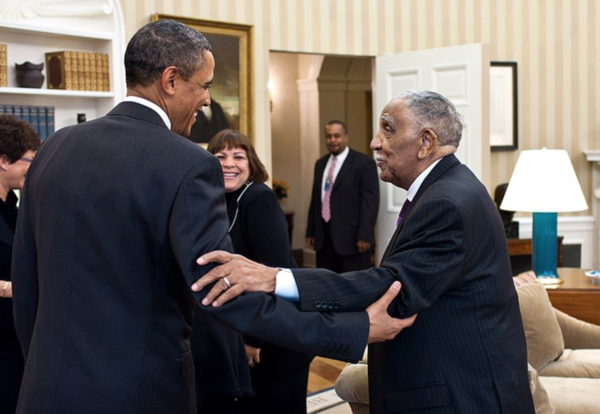 President Barack Obama meets with civil rights movement leader Rev. Dr. Joseph Lowery and his family in the Oval Office, Jan. 18, 2011. (Official White House Photo by Pete Souza)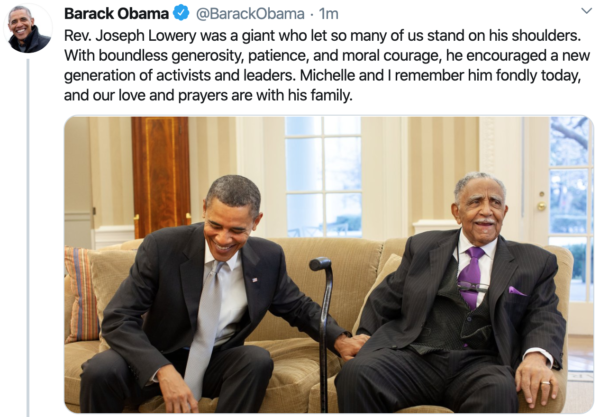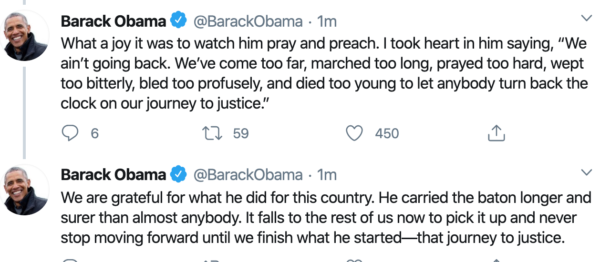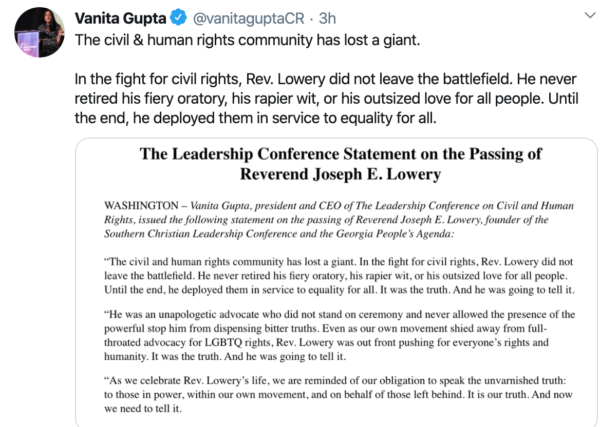 Sign Up for Blade eBlasts