Civil rights icon Rev. Joseph E. Lowery dies at 98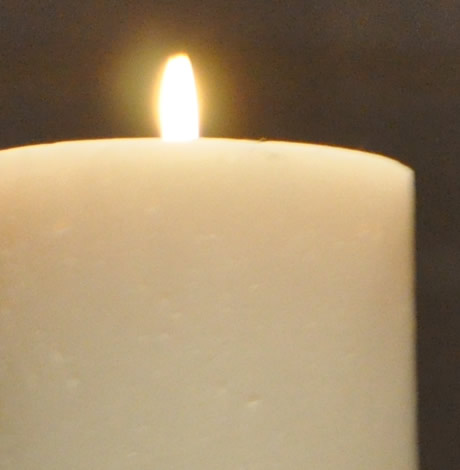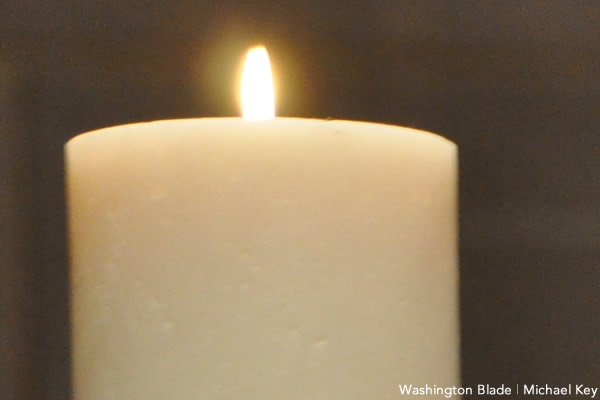 As America grapples with an incompetent president and the fast-spreading, silent malevolent coronavirus, it is imperative to stop for a moment and acknowledge significant milestones as they flash and fade into history.
This is such a moment.
Civil rights icon, the Rev. Joseph E. Lowery, who co-founded the Southern Christian Leadership Conference with the Rev. Martin Luther King Jr., died of natural causes Friday at his Atlanta home. He was 98.
The Martin Luther King Jr. Center for Nonviolent Social Change announced his death on Twitter.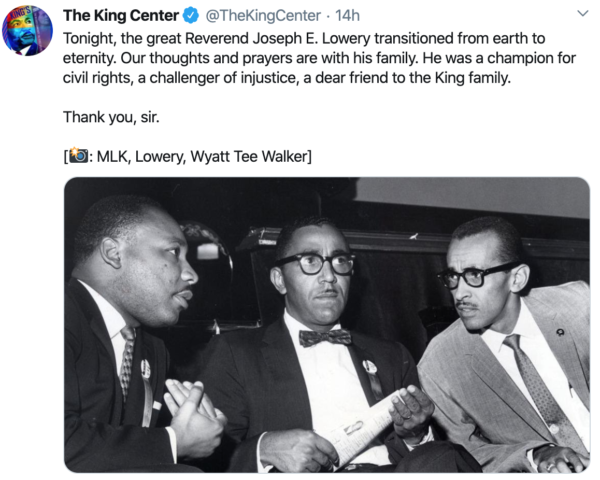 As a young Methodist minister, Lowery "successfully campaigned to integrate buses in Mobile, Ala.," reports the Los Angeles Times, "before Rosa Parks refused to give up her seat on a Montgomery bus on Dec. 1, 1955."
He subsequently worked with King, other civil rights leaders such as openly gay Bayard Rustin "and other Alabama ministers to oversee a 381-day boycott of Montgomery's segregated buses."
Two years later, in 1957, he worked with King, Rustin, Ella Baker, Rev. Fred Shuttlesworth of Birmingham, Rev. Ralph Abernathy of Montgomery, and Rev. CK Steele of Tallahassee in founding the Southern Christian Leadership Conference (SCLC), which led to President Lyndon Johnson helping pass and then sign the Civil Rights Act of 1964.
"We had been through sit-ins and kneel-ins where we had been beat up and locked up and cussed out and locked out," Lowery said in a 1994 interview. "It was a milestone, a watershed. It helped America take off the cloak of official segregation."
Lowery took the reins as president of SCLC in 1977 and led the organization for 20 years, during which time he fought for gay rights and promoted AIDS education.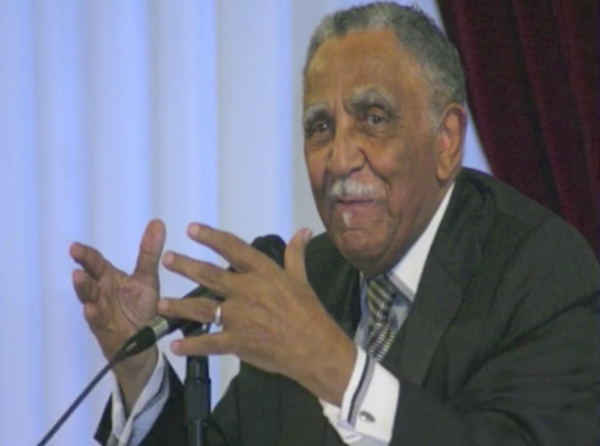 Though he formerly retired in 1992, he could not retire his activism – continuing to stand up for LGBTQ rights, despite controversy. In May 2000, for instance, he stood up for gay inclusion at the United Methodist Church's General Conference in Cleveland. Here's how Gilbert H. Caldwell, leader of the LGBTQ group Affirmation, described the moment:
"Joseph E. Lowery, retired United Methodist minister, former President of the Southern Christian Leadership Conference (SCLC), following Martin Luther King, Jr. and Ralph Abernathy,  electrified the [United Methodist] General Board of Church and Society Dinner with his Biblically-based, social-justice focused message.

Lowery, noted over the years for his ability to not only "talk the talk, " but "walk the walk," addressed a series of justice issues that still challenge us in this first year of the 21st century. Among these issues are -economic imbalances -biblically-based "affirmative action" -one-way racial integration -fear of Cuba, expressed through an embargo, contrasted by a quest for economic relations with China- a racially- biased justice system -the risk the church takes when it restricts, limits and excludes those whose orientation is homosexual. Dr. Lowery wondered out loud, "How could the church, because of a person's sexual orientation, deny ministry to those whom God has called?" He then suggested that he would prefer to err on the side of inclusion rather than exclusion.

His comments on full inclusivity within the body of Christ were made in the late afternoon of a day that began with Bishop Arthur Kulah's morning sermon, "Authority for What?" Bishop Kulah, the distinguished Bishop of the Liberia Annual Conference identified "homosexualism. ..as one of the threatening challenges to our church. …" It is interesting that Bishop Kulah near the end of the sermon, used the words that are so closely identified with Martin Luther King, Jr., "When you obey God. ..you will not judge people on the color of their skin, but by the content of their character!"

Two gifted God-confirmed leaders, Arthur F. Kulah, an African, and Joseph E. Lowery, African American, were both influenced by the courageous insights and life of Dr. Martin Luther King, Jr.

How, we ask Bishop Kulah, do we discover "content of character" in persons, if their very being "challenges" the church and renders them incompatible?

Thank you, Dr. Joseph Lowery, for being a living prophet in and beyond United Methodism. Your name added to our statement is deeply appreciated."
In 2008, the year anti-gay marriage Prop 8 passed and Barack Obama was elected president, Lowery, a supporter of marriage equality, became the de facto champion of LGBTQ rights after Obama picked Prop 8-supporting evangelical Rick Warren to give the invocation at his Inauguration.
GLAAD, among other LGBTQ groups, was furious, issuing a scathing press release on Dec. 18, 2008 that reads, in part:
"Saddleback Church drew global media attention as the venue for a presidential debate on values, which Warren followed up by using his media influence to speak against marriage for same-sex marriage. He was instrumental in building support for the passage of Proposition 8, which banned marriage for gay couples. Today, President-elect Obama responded at a live press conference with carefully crafted talking points by saying that Warren had invited him to Saddleback in spite of their differing views on many topics and now he has invited Warren to be part of America's "noisy conversation" of divergent opinions. Obama pointed to the Rev. Joseph E. Lowery as the minister who will give the benediction and has vastly different view on gay issues."
Unlike Maya Angelou in her Inaugural poem Lowery did not specifically mention gays in his benediction. But he did call for love and inclusion that Jan. 20, 2009:
"And now, Lord, in the complex arena of human relations, help us to make choices on the side of love, not hate; on the side of inclusion, not exclusion; tolerance, not intolerance.

And as we leave this mountain top, help us to hold on to the spirit of fellowship and the oneness of our family. Let us take that power back to our homes, our workplaces, our churches, our temples, our mosques, or wherever we seek your will….

Lord, in the memory of all the saints who from their labors rest, and in the joy of a new beginning, we ask you to help us work for that day when black will not be asked to get in back, when brown can stick around…

(LAUGHTER)

… when yellow will be mellow…

(LAUGHTER)

LOWERY: … when the red man can get ahead, man; and when white will embrace what is right. That all those who do justice and love mercy say Amen.

AUDIENCE: Amen.

LOWERY: Say Amen.

AUDIENCE: Amen.

LOWERY: And Amen.

AUDIENCE: Amen.

(APPLAUSE)
Just some of the response: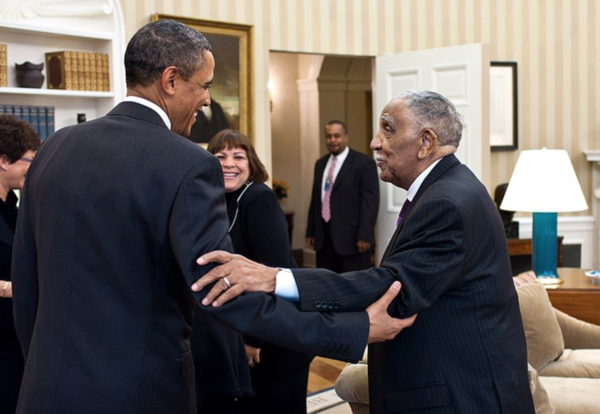 President Barack Obama meets with civil rights movement leader Rev. Dr. Joseph Lowery and his family in the Oval Office, Jan. 18, 2011. (Official White House Photo by Pete Souza)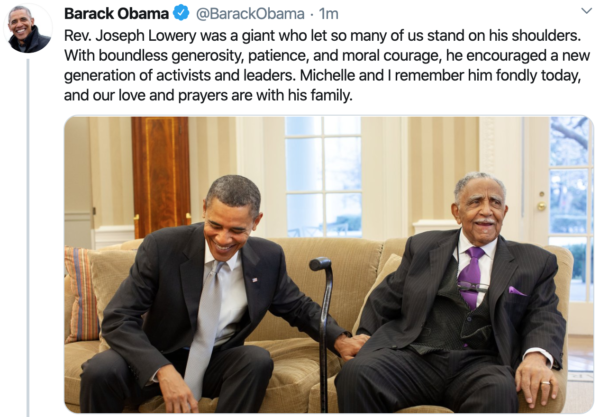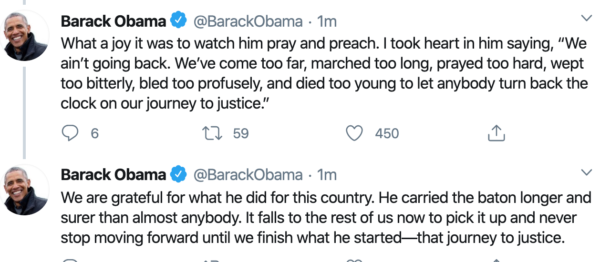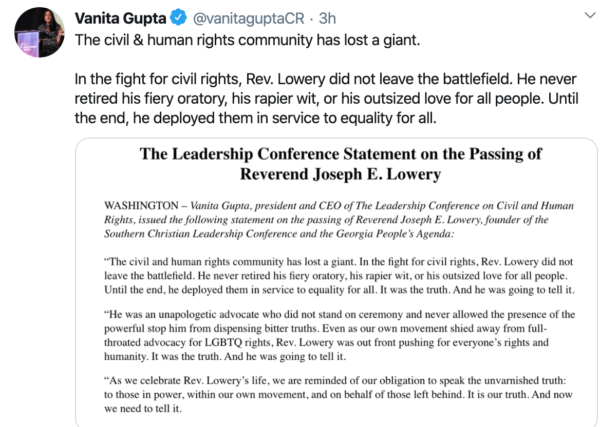 Anti-LGBTQ religious extremist celebrates death at Wilton Manors Pride
Mehta points out this type of rhetoric is quite likely to inspire violence against the LGBTQ community by one of Shelley's followers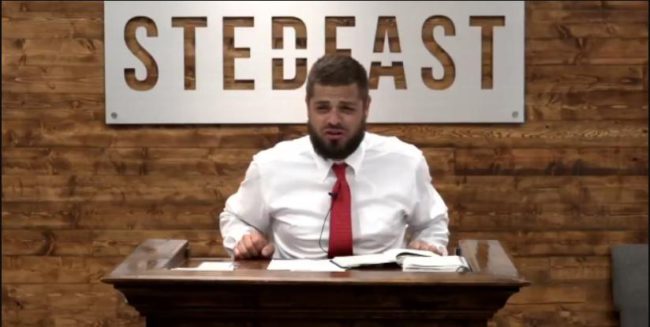 HURST, Tx. – The pastor of a fundamentalist Baptist Church in this suburban Fort Worth, Texas city took to his pulpit to celebrate the death of an attendee at the Wilton Manors, Florida Pride parade this past weekend.
Pastor Jonathan Shelley, whose church is affiliated with infamous "death to gays" Pastor Steven Anderson in Phoenix, Arizona is quoted by Patheos writer and progressive blogger Hemant Mehta saying; […]"I hope they all die! I would love it if every fag would die right now." […]
Mehta, who runs the heavily trafficked The Friendly Atheist, also noted that Shelley told his congregants; "And, you know, it's great when trucks accidentally go through those, you know, parades. I think only one person died. So hopefully we can hope for more in the future."
Mehta noted that the video of Shelley's hate-filled remarks on this and other anti-LGBTQ vitriol is still accessible on Shelley's YouTube Channel. He also points out this type of rhetoric is quite likely to inspire violence against the LGBTQ community by one of Shelley's followers.
The Blade has reached out to YouTube Tuesday for comment but has yet to receive a response.
Editor's note; The language used in the video in the embedded tweet below is uncensored hate speech:
I wrote more about this here: https://t.co/LpUdcXtAoa

That church's videos are still up on YouTube despite the blatant celebrations of violence against LGBTQ people.

— Hemant Mehta (@hemantmehta) June 21, 2021
In a related update from the Daily Beast, Fred Johnson Jr., who was named by Wilton Manors police as the driver of the vehicle that veered out of control killing one person and injuring two others at Saturday's Stonewall Pride Parade has offered his "sincere regrets to all those who were impacted by this tragic event."
Fred Johnson Jr., who has been named by police as the driver of the vehicle that killed one person and injuring two others at Saturday's Pride Parade in Florida, has offered his "sincere regrets to all those who were impacted by this tragic event" https://t.co/w48UXwhse7

— The Daily Beast (@thedailybeast) June 21, 2021
Vigil held after Wilton Manors Pride parade accident
Fort Lauderdale mayor expressed 'regret' over initial terrorism claim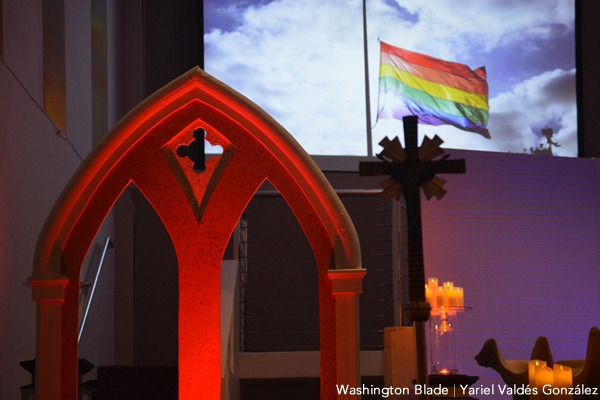 FORT LAUDERDALE, Fla. — More than 100 people on Sunday attended a prayer vigil in the wake of an accident at a Wilton Manors Pride parade that left one person dead and another injured.
The vigil took place at the Sunshine Cathedral in Fort Lauderdale.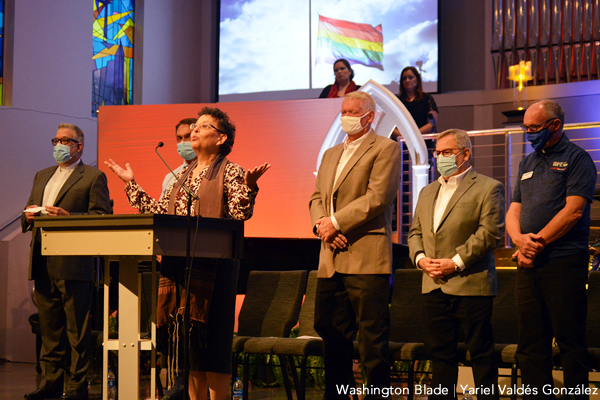 A 77-year-old man who was driving a pickup truck struck two men near the Stonewall Pride Parade's staging area shortly before 7 p.m. on Saturday. One of the victims died a short time later at a Fort Lauderdale hospital.
The pickup truck narrowly missed U.S. Rep. Debbie Wasserman Schultz (D-Fla.), who was in a convertible participating in the parade, and Florida Congressman Ted Deutch.
The driver of the pickup truck and the two men he hit are members of the Fort Lauderdale Gay Men's Chorus. The Fort Lauderdale Police Department on Sunday described the incident as a "fatal traffic crash" and not a terrorism incident as Fort Lauderdale Mayor Dean Trantalis initially claimed.
"As we were about to begin the parade, this pickup truck, this jacked up white pickup truck, dashed across, breaking through the line, hitting people, all of us that were there could not believe our eyes," said Trantalis as he spoke at the vigil.
Trantalis noted the pickup truck nearly hit Wasserman Schultz. He also referenced the arrest of a 20-year-old supporter of former President Trump earlier in the week after he allegedly vandalized a Pride flag mural that had been painted in an intersection in Delray Beach, which is roughly 30 miles north of Fort Lauderdale.
"I immediately knew that something terrible was happening," said Trantalis, referring to the Stonewall Pride Parade accident. "My visceral reaction was that we were being attacked. Why not? Why not feel that way?"
"I guess I should watch to make sure there are no reporters standing by when I have those feelings, but that was my first reaction and I regret the fact that I said it was a terrorist attack because we found out that it was not, but I don't regret my feelings," he added. "But I don't regret that I felt terrorized by someone who plowed through the crowd inches away from the congresswoman and the congressman, myself and others."
Trantalis also told vigil attendees that "I guess we forgive" the pickup truck driver.
"But I regret that his consequences resulted in the death of an individual who was innocent and who was there to have a good time, like the rest of us, and I regret there is a man who is in serious condition … fighting for his life and there," added Trantalis.
Veterans Affairs to provide gender-confirmation surgery reversing 2013 ban
McDonough said that he pledged to overcome a "dark history" of discrimination and expand access to care for transgender veterans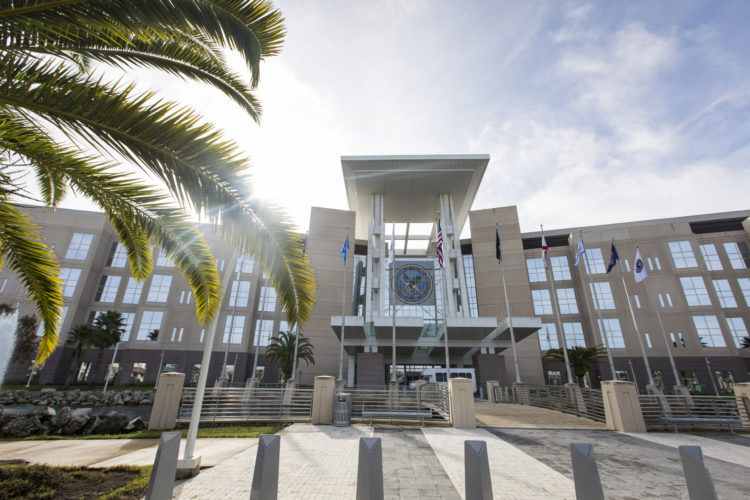 ORLANDO – U.S. Department of Veterans Affairs Secretary Denis McDonough announced his Department is moving to provide gender-confirmation surgery through its health care coverage reversing a 2013 ban on those surgical procedures.
Speaking at a Pride Month event at the Orlando VA Healthcare System Saturday, McDonough said that he pledged to overcome a "dark history" of discrimination and take steps to expand access to care for transgender veterans.
With this commitment McDonough said he seeks to allow "transgender vets to go through the full gender confirmation process with VA by their side," McDonough said. "We're making these changes not only because they are the right thing to do, but because they can save lives," he added.
The process to roll-back the restrictions may take upwards of two years. The federal rulemaking process, expected to begin this summer, will include a period for public comment, spokesman Terrence Hayes told The Washington Post on Saturday.
"This time will allow VA to develop capacity to meet the surgical needs that transgender veterans have called for and deserved for a long time," McDonough said in his remarks. "and I am proud to begin the process of delivering it," he added.
On February 8, 2013, the VA issued a directive that stated that the VA Healthcare System does not provide sex reassignment surgery. This directive sought to clarify a previous VA directive issued June 9, 2011, "Providing Healthcare for Transgender and Intersex Veterans," which established the provision of hormone therapy, gender-related mental health counseling, and other transition-related services through the VA, as well as a mandate that the VA health system provides care "without discrimination and in a manner … consistent with the Veteran's self-identified gender."
"This directive, however, does not include coverage of surgical procedures although the VA does provide transgender veterans with pre- and postoperative care."
The outcome was that the directive(s) effectively prevented transgender veterans from a surgery considered medically necessary by the World Professional Association for Transgender Health.
38 CFR § 17.38 Medical benefits package, is the specific federal code that makes provisions for veterans healthcare, which Section (b) clearly defines as; "Care referred to in the "medical benefits package" will be provided to individuals only if it is determined by appropriate health care professionals that the care is needed to promote, preserve, or restore the health of the individual and is in accord with generally accepted standards of medical practice."
However, 38 CFR § 17.38 does limit care for transgender veteran's stating: "(c) In addition to the care specifically excluded from the "medical benefits package" under paragraphs (a) and (b) of this section, the "medical benefits package" does not include the following: […] '(4) Gender alterations.'"
McDonough noted that changes "will require changing VA's regulations and establishing policy that will ensure the equitable treatment and safety" of all transgender veterans.
"There are several steps to take, which will take time. But we are moving ahead, methodically, because we want this important change in policy to be implemented in a manner that has been thoroughly considered to ensure that the services made available to veterans meet VA's rigorous standards for quality health care."
In a study related to the 2011 and 2013 directives, the VA noted that research showed that the transgender population in general experiences severe physical and mental health disparities, compared to the cisgender population, including high rates of HIV, suicidality, depression, anxiety, and mental health-related hospitalization.
Studies have found that these disparities are even more glaring among transgender veterans. In a survey of transgender veterans and transgender active-duty service members, transgender veterans reported several mental health diagnoses, including depression (65%), anxiety (41%), PTSD (31%), and substance abuse (16%).  In a study examining VHA patient records from 2000 to 2011 (before the 2011 VHA directive), the rate of suicide-related events among veterans with a gender identity disorder (GID) diagnoses was found to be 20 times higher than that of the general VHA patient population.
McDonough acknowledged the VA research pointing out that in addition to psychological distress, trans veterans also may experience prejudice and stigma. About 80 percent of trans veterans have encountered a hurtful or rejecting experience in the military because of their gender identity.
"LGBTQ+ veterans experience mental illness and suicidal thoughts at far higher rates than those outside their community," McDonough said. "But they are significantly less likely to seek routine care, largely because they fear discrimination.
"At VA, we're doing everything in our power to show veterans of all sexual orientations and gender identities that they can talk openly, honestly and comfortably with their health care providers about any issues they may be experiencing," he added.
All VA facilities have had a local LGBTQ Veteran Care Coordinator responsible for helping those veterans connect to available services since 2016.
"We're making these changes not only because they are the right thing to do but because they can save lives," McDonough said. He added that the VA would also change the name of the Veterans Health Administration's LGBT health program to the LGBTQ+ Health Program to reflect greater inclusiveness.
Much of the push for better access to healthcare and for recognition of the trans community is a result of the polices of President Joe Biden, who reversed the ban on Trans military enacted under former President Trump, expanding protections for transgender students and revived anti-bias safeguards in health care for transgender Americans.
U. S. House Veterans' Affairs Committee Chairman Mark Takano, D-CA, who is openly gay, issued a statement applauding McDonough's actions.
"Veterans in need of gender confirmation surgery should not have to seek healthcare outside of the VA health system or navigate complicated processes to get the care they need," Takano said. "VA must be inclusive of all veterans who have served, regardless of their identity."
The Chairman of the Senate Veterans' Affairs Committee, Jon Tester, D-MT also approved of the expansion of health care offerings for trans veterans.
"Every service member and veteran deserves equal access to quality care from VA, and this includes our LGBTQ+ veterans," Tester said in a statement. "We must reaffirm our commitment to making VA a more welcoming place for everyone who fought to protect our freedoms."
Gina Duncan, director of transgender equality for the statewide LGBTQ civil rights organization Equality Florida, told the Orlando Sentinel that her agency was "thrilled to have allies at the highest level of government" and noted the contrast with recent moves by the Florida Legislature and Gov. Ron DeSantis to limit transgender youth participation in school sports.
"In a moment of fierce state and local backlash against the transgender community, this move by the Biden Administration is a reminder that elections matter," Duncan said. "Support for transgender veterans and the lifesaving healthcare they need to live authentically is a critical component to fulfilling our nation's promise of caring for those who've served."