Civil rights icon Rev. Joseph E. Lowery dies at 98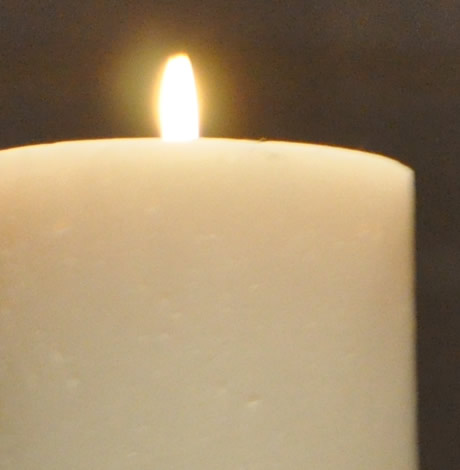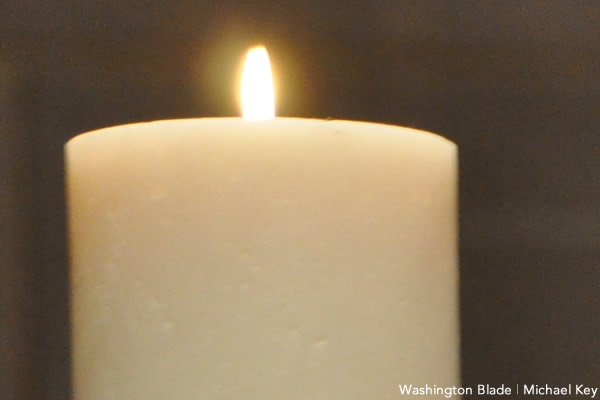 As America grapples with an incompetent president and the fast-spreading, silent malevolent coronavirus, it is imperative to stop for a moment and acknowledge significant milestones as they flash and fade into history.
This is such a moment.
Civil rights icon, the Rev. Joseph E. Lowery, who co-founded the Southern Christian Leadership Conference with the Rev. Martin Luther King Jr., died of natural causes Friday at his Atlanta home. He was 98.
The Martin Luther King Jr. Center for Nonviolent Social Change announced his death on Twitter.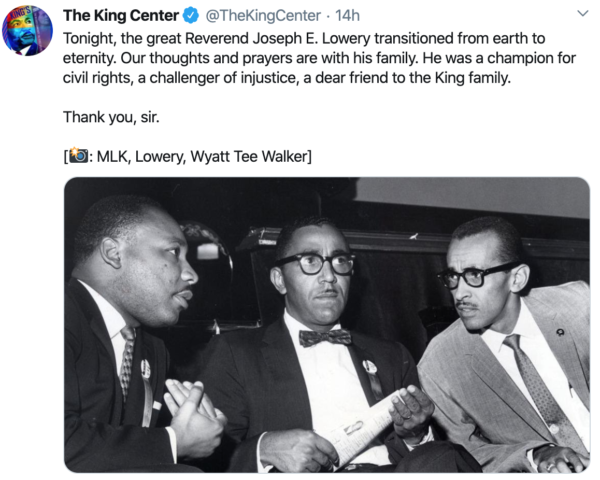 As a young Methodist minister, Lowery "successfully campaigned to integrate buses in Mobile, Ala.," reports the Los Angeles Times, "before Rosa Parks refused to give up her seat on a Montgomery bus on Dec. 1, 1955."
He subsequently worked with King, other civil rights leaders such as openly gay Bayard Rustin "and other Alabama ministers to oversee a 381-day boycott of Montgomery's segregated buses."
Two years later, in 1957, he worked with King, Rustin, Ella Baker, Rev. Fred Shuttlesworth of Birmingham, Rev. Ralph Abernathy of Montgomery, and Rev. CK Steele of Tallahassee in founding the Southern Christian Leadership Conference (SCLC), which led to President Lyndon Johnson helping pass and then sign the Civil Rights Act of 1964.
"We had been through sit-ins and kneel-ins where we had been beat up and locked up and cussed out and locked out," Lowery said in a 1994 interview. "It was a milestone, a watershed. It helped America take off the cloak of official segregation."
Lowery took the reins as president of SCLC in 1977 and led the organization for 20 years, during which time he fought for gay rights and promoted AIDS education.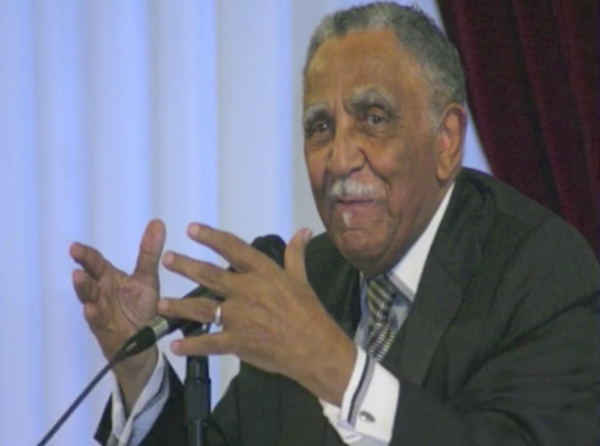 Though he formerly retired in 1992, he could not retire his activism – continuing to stand up for LGBTQ rights, despite controversy. In May 2000, for instance, he stood up for gay inclusion at the United Methodist Church's General Conference in Cleveland. Here's how Gilbert H. Caldwell, leader of the LGBTQ group Affirmation, described the moment:
"Joseph E. Lowery, retired United Methodist minister, former President of the Southern Christian Leadership Conference (SCLC), following Martin Luther King, Jr. and Ralph Abernathy,  electrified the [United Methodist] General Board of Church and Society Dinner with his Biblically-based, social-justice focused message.

Lowery, noted over the years for his ability to not only "talk the talk, " but "walk the walk," addressed a series of justice issues that still challenge us in this first year of the 21st century. Among these issues are -economic imbalances -biblically-based "affirmative action" -one-way racial integration -fear of Cuba, expressed through an embargo, contrasted by a quest for economic relations with China- a racially- biased justice system -the risk the church takes when it restricts, limits and excludes those whose orientation is homosexual. Dr. Lowery wondered out loud, "How could the church, because of a person's sexual orientation, deny ministry to those whom God has called?" He then suggested that he would prefer to err on the side of inclusion rather than exclusion.

His comments on full inclusivity within the body of Christ were made in the late afternoon of a day that began with Bishop Arthur Kulah's morning sermon, "Authority for What?" Bishop Kulah, the distinguished Bishop of the Liberia Annual Conference identified "homosexualism. ..as one of the threatening challenges to our church. …" It is interesting that Bishop Kulah near the end of the sermon, used the words that are so closely identified with Martin Luther King, Jr., "When you obey God. ..you will not judge people on the color of their skin, but by the content of their character!"

Two gifted God-confirmed leaders, Arthur F. Kulah, an African, and Joseph E. Lowery, African American, were both influenced by the courageous insights and life of Dr. Martin Luther King, Jr.

How, we ask Bishop Kulah, do we discover "content of character" in persons, if their very being "challenges" the church and renders them incompatible?

Thank you, Dr. Joseph Lowery, for being a living prophet in and beyond United Methodism. Your name added to our statement is deeply appreciated."
In 2008, the year anti-gay marriage Prop 8 passed and Barack Obama was elected president, Lowery, a supporter of marriage equality, became the de facto champion of LGBTQ rights after Obama picked Prop 8-supporting evangelical Rick Warren to give the invocation at his Inauguration.
GLAAD, among other LGBTQ groups, was furious, issuing a scathing press release on Dec. 18, 2008 that reads, in part:
"Saddleback Church drew global media attention as the venue for a presidential debate on values, which Warren followed up by using his media influence to speak against marriage for same-sex marriage. He was instrumental in building support for the passage of Proposition 8, which banned marriage for gay couples. Today, President-elect Obama responded at a live press conference with carefully crafted talking points by saying that Warren had invited him to Saddleback in spite of their differing views on many topics and now he has invited Warren to be part of America's "noisy conversation" of divergent opinions. Obama pointed to the Rev. Joseph E. Lowery as the minister who will give the benediction and has vastly different view on gay issues."
Unlike Maya Angelou in her Inaugural poem Lowery did not specifically mention gays in his benediction. But he did call for love and inclusion that Jan. 20, 2009:
"And now, Lord, in the complex arena of human relations, help us to make choices on the side of love, not hate; on the side of inclusion, not exclusion; tolerance, not intolerance.

And as we leave this mountain top, help us to hold on to the spirit of fellowship and the oneness of our family. Let us take that power back to our homes, our workplaces, our churches, our temples, our mosques, or wherever we seek your will….

Lord, in the memory of all the saints who from their labors rest, and in the joy of a new beginning, we ask you to help us work for that day when black will not be asked to get in back, when brown can stick around…

(LAUGHTER)

… when yellow will be mellow…

(LAUGHTER)

LOWERY: … when the red man can get ahead, man; and when white will embrace what is right. That all those who do justice and love mercy say Amen.

AUDIENCE: Amen.

LOWERY: Say Amen.

AUDIENCE: Amen.

LOWERY: And Amen.

AUDIENCE: Amen.

(APPLAUSE)
Just some of the response: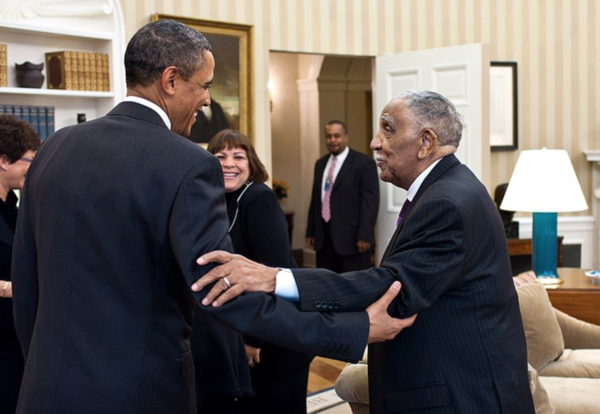 President Barack Obama meets with civil rights movement leader Rev. Dr. Joseph Lowery and his family in the Oval Office, Jan. 18, 2011. (Official White House Photo by Pete Souza)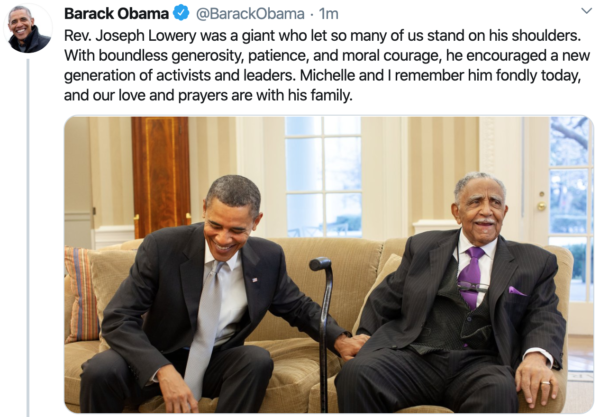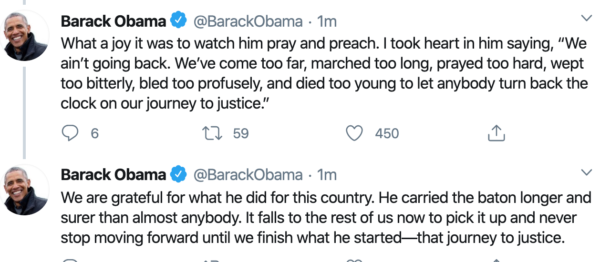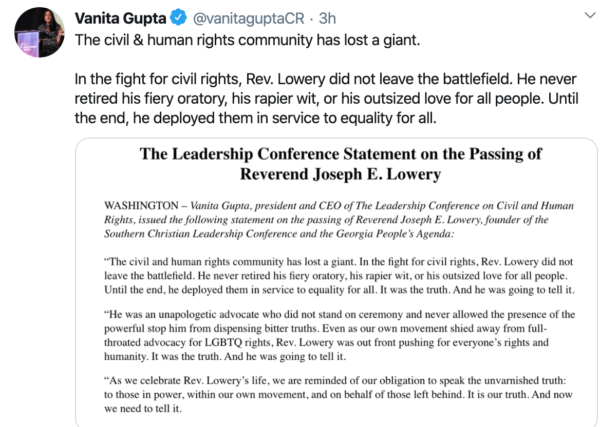 White House condemns Oklahoma ban on abortions starting at fertilization
"Roe has been the law of the land for almost 50 years, and basic fairness and the stability of our law demand that it not be overturned"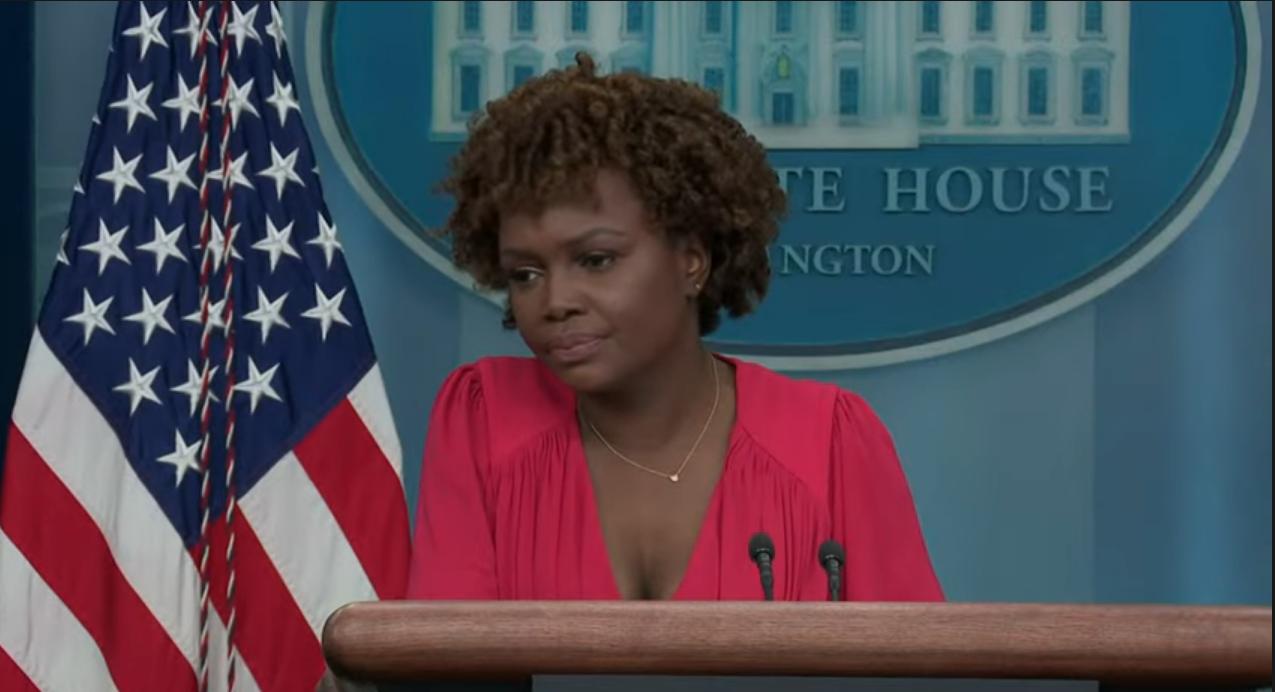 WASHINGTON – White House Press Secretary Karine Jean-Pierre issued a statement Thursday night condemning the Oklahoma Abortion Bill passed earlier in the day banning nearly all abortions starting at fertilization, which would make it the nation's strictest abortion law.
The New York Times noted that the bill is modeled on one that took effect in Texas in September, which has relied on civilian instead of criminal enforcement to work around court challenges. But it goes further than the Texas law, which bans abortions after about six weeks of pregnancy.
"The President believes that women have the fundamental right to make their own reproductive health choices. Roe has been the law of the land for almost 50 years, and basic fairness and the stability of our law demand that it not be overturned.  Today's action by the Oklahoma legislature is the most extreme effort to undo these fundamental rights we have seen to date.  In addition, it adopts Texas' absurd plan to allow private citizens to sue their neighbors for providing reproductive health care and helping women to exercise their constitutional rights," Jean-Pierre said.
"This is part of a growing effort by ultra MAGA officials across the country to roll back the freedoms we should not take for granted in this country.  They are starting with reproductive rights, but the American people need to know that other fundamental rights, including the right to contraception and marriage equality, are at risk.  The President is committed to standing up for these constitutional rights, and for protecting Americans' fundamental freedoms," she added.
The bill subjects abortion providers and anyone who "aids or abets" an abortion to civil suits from private individuals. It would take effect immediately upon signature by Republican Governor Kevin Stitt, who has pledged to make Oklahoma the most anti-abortion in the nation.
Oklahoma One Step Closer To Banning Abortions At Conception:
Cincinnati area high schoolers created 'Jim Crow' signs & are disciplined
"These water fountains were labeled 'blacks only,' 'whites only,' which pushed us back so many generations"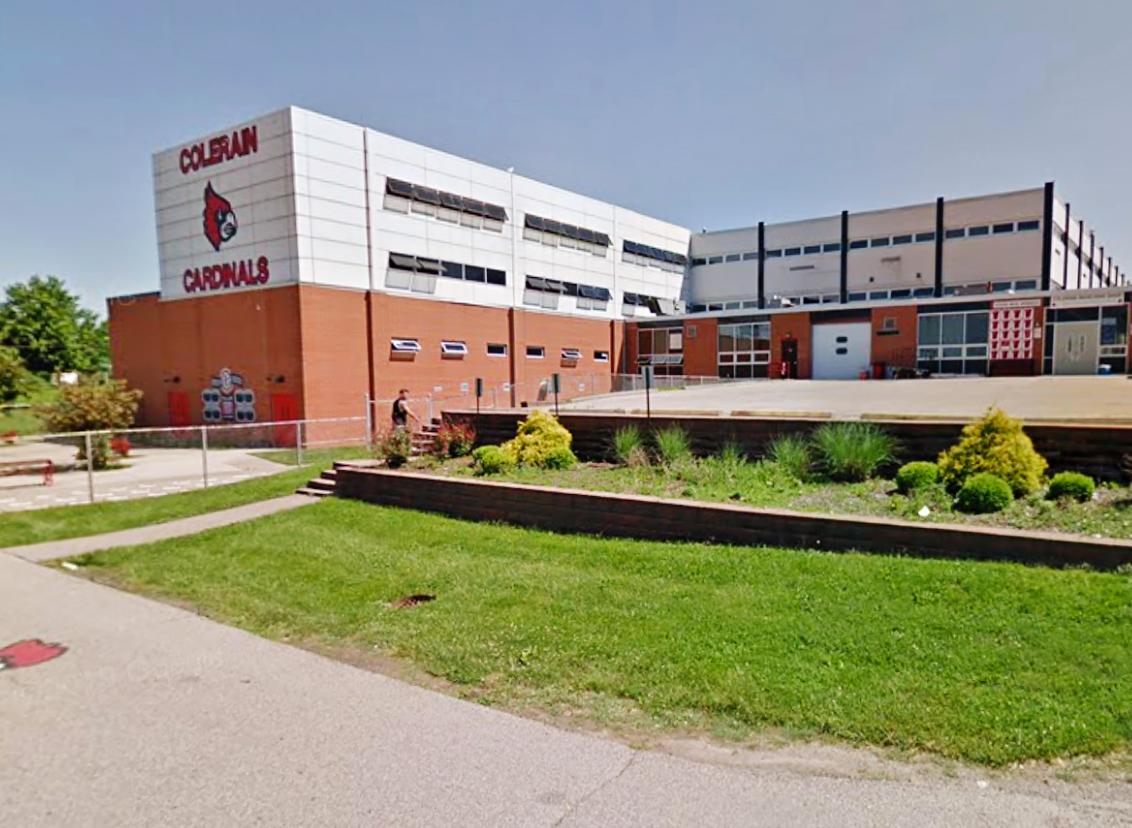 CINCINNATI – A group of students at Colerain High School in suburban Cincinnati, Ohio posted racist notes mimicking 'Jim Crow' segregation-era rules over a pair of drinking fountains then took pictures which were posted to social media earlier this month.
According to officials with the Northwest Local School District, the notes posted over the water fountains were posted for a matter of 30 seconds before being removed by the students. The students involved in the incident posted the signs, took photos and removed the notes before posting the photos online.
"These water fountains were labeled 'blacks only,' 'whites only,' which pushed us back so many generations," said one parent who preferred to remain anonymous told Cincinnati NBC affiliate WLWT 5. "My heart dropped. My heart dropped. I could not believe it. It was so offensive."
A Northwest Local School District spokesperson called the incident "unacceptable on all levels" and a deviation from the district's "culture of inclusivity, respect, kindness and compassion for everyone."
"Upon investigation of the matter, we have learned that the notes posted over the water fountains were posted for a matter of 30 seconds and were never seen by other students or staff members," the spokesperson said. "The three students involved in the incident posted the signs, took photos and removed the notes before posting the photos online."
"We want to make sure our staff, students, families and community understands where we stand on racial intolerance, discrimination, racism and hatred. We take this matter very seriously. Those who participated in this tasteless and hurtful act have been issued significant disciplinary actions. This type of behavior is not and will not be condoned or tolerated," a statement released Wednesday from the Northwest Local School District read. "The actions that were displayed do NOT reflect the values and the culture we've worked so hard to cultivate in all of our schools across the district. NWLSD stands firm in creating a culture of inclusivity, respect, kindness and compassion for everyone. As a school community it's our responsibility to uphold these values and we will not tolerate any action from anyone that compromises or disrupts that culture."
About 30% of the high school's 1,730 students are Black, according to U.S. News and World Report. About 49% is white.
Texas will resume anti-Trans youth abuse investigations
"To be clear the Supreme Court has not directed Commissioner Masters & DFPS to continue investigating parents of trans youth for child abuse"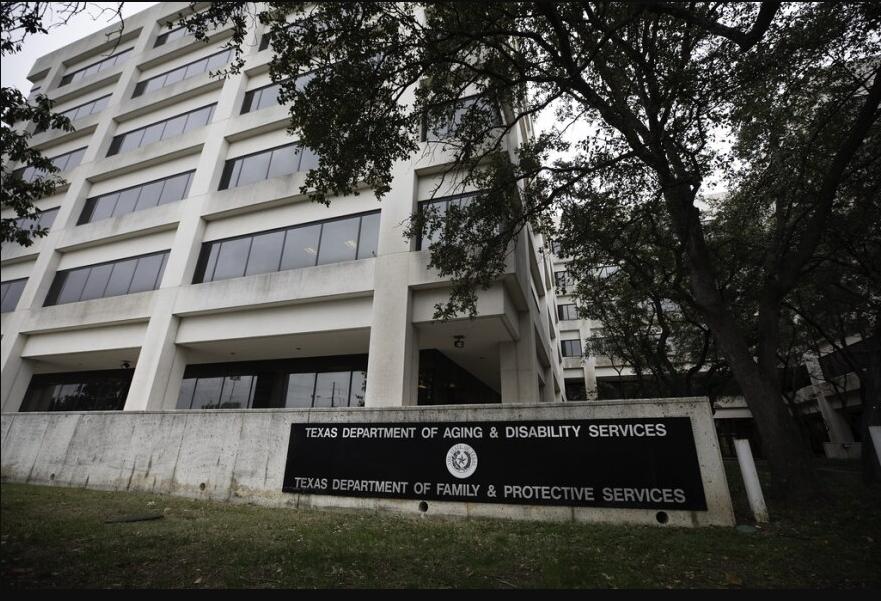 AUSTIN – In a statement issued Thursday, the Texas Department of Family and Protective Services (DFPS) agency announced that it will resume abuse investigations into families with transgender kids.
"DFPS treats all reports of abuse, neglect, and exploitation seriously and will continue to investigate each to the full extent of the law," the statement read.
The Dallas Morning News reported that the DFPS statement, while not addressing the investigations into medical treatments for trans youth, indirectly indicated that these probes will now continue.
Current state law does not explicitly define gender affirming medical treatments, such as puberty blockers and hormone therapy as child abuse. A DFPS spokesman did not comment when asked if the agency plans to continue investigating such treatments as child abuse, the Dallas Morning News noted.
The Texas Supreme Court ruled last week that DFPS can continue to investigate families in the state who provide medically necessary care for their Trans children, excluding the parties in the litigation that brought the matter forward in a lawsuit filed in March.
In its decision, the court emphasized that neither Attorney General Paxton nor Governor Abbott has the power or authority to direct DFPS to investigate the provision of medically necessary lifesaving health care for transgender youth as child abuse. But the court limited the order blocking all investigations to the specific plaintiffs who filed suit.
Trans activist Landon Richie who has been deeply involved in the efforts to mitigate the anti-trans actions by Texas lawmakers and has led protests against the transphobic actions by Texas Governor Greg Abbott and Attorney General Ken Paxton told the Blade:
"To be clear, the Texas Supreme Court has not directed Commissioner Masters and DFPS to continue investigating parents of trans youth for child abuse. While the decision means now only the named plaintiffs in the lawsuit have protection, it reiterates that Attorney General Paxton's opinion and Governor Abbott's letter are not binding and not enforceable, meaning DFPS's actions moving forward are at the discretion of Commissioner Masters only and not the state leadership's directives. The Texas Supreme Court allowing for the district court to provide a temporary injunction is a good sign for people's protection.
It bears reminding families in Texas and around the country that today's decision (and yesterday's regarding gender-affirming care at UT Southwestern and Texas Children's) reaffirms what we already know: opinions are only opinions and the people in power cannot abuse that power to abuse trans people. We know decisions can change at a moment's notice and that this fight will take years, but to our families and communities under attack, please remain strong and take a moment to breathe. We're in this together. "
An employee of DFPS who was a litigant in the lawsuit is represented by the ACLU of Texas.
Brian Klosterboer, an attorney with the ACLU of Texas who is on the team representing that unnamed employee, said the state's decision to reopen the cases is unfortunate and unlawful. He said his team believes that the high court's decision removes any responsibility for Texans to report trans youth getting treatments, the Dallas Morning News reported.
"We are going to be closely monitoring what the agency does. We would encourage families that have any reason to believe that they have an investigation to seek legal help," Klosterboer said.
"Abbott's letter and Paxton's opinion did not change Texas law," he added. "Gender affirming health care is still legal in all 50 states."