Pride organizations announce virtual 'Global Pride' celebration
Events cancelled, postponed because of coronavirus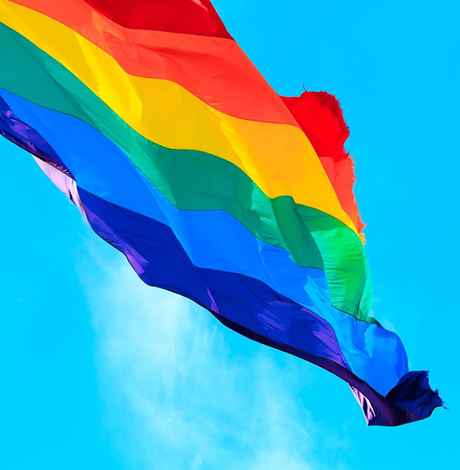 A virtual global Pride celebration is scheduled to take place on June 27.
InterPride and the European Pride Organizers Association in a press release issued on Wednesday said they are working with Pride organizations in Europe, the Americas, Africa, Asia and Oceania "to bring communities and Pride organizations together for this Global Pride event" that "will use online platforms to deliver a Pride in which everyone can participate, wherever they are in the world."
"It will include musical performances, speeches, and key messages from human rights activists," reads the press release.
The press release also notes the event will be live-streamed.
"We need community and connection more than ever," said InterPride Co-President J. Andrew Baker. "This gives us an opportunity to both connect and celebrate the LGBTQIA+ community's resilience in the face of this pandemic and the true spirit of Pride."
The coronavirus pandemic has prompted the cancellation or postponement of hundreds of Pride celebrations around the world.
The Capital Pride Alliance on Monday announced it has postponed all of its Pride-related events that were scheduled to take place in May and June. The Center for Black Equity has also cancelled its annual D.C. Black Pride that takes place over Memorial Day weekend.
LA Pride has also been postponed.
"The unprecedented challenges of COVID-19 mean that most Prides will not take place as planned in 2020, but we're determined that this won't stop us from coming together as a united, strong LGBTQIA+ community to celebrate who we are and what we stand for," said European Pride Organizers Association President Kristine Garina, who chairs Baltic Pride in the Latvian capital of Riga, in a press release.
"Global Pride will show the LGBTQIA+ movement for the very best it can be, showing solidarity at a time when so many of us are mourning and strength when so many of us are feeling isolated and lonely," added Garina. "Above all, we will show our resilience and determination that Pride will be back bigger and stronger than ever before."
Capital Pride Alliance Executive Director Ryan Bos on Wednesday said his organization will participate in the event.
"We will be participating and look forward to us all thinking outside the box as to how we can celebrate and have Pride," Bos told the Los Angeles Blade in an email.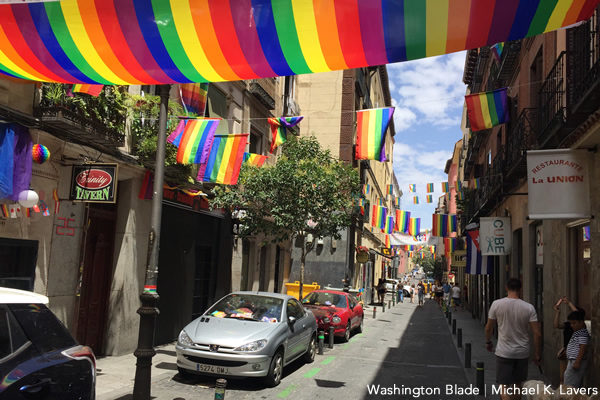 Norwegian suspect in LGBTQ+ bar shooting refuses to cooperate
Large crowds gathered Sunday near the London Pub to lay flowers and other tributes many of those gathered waved Pride flags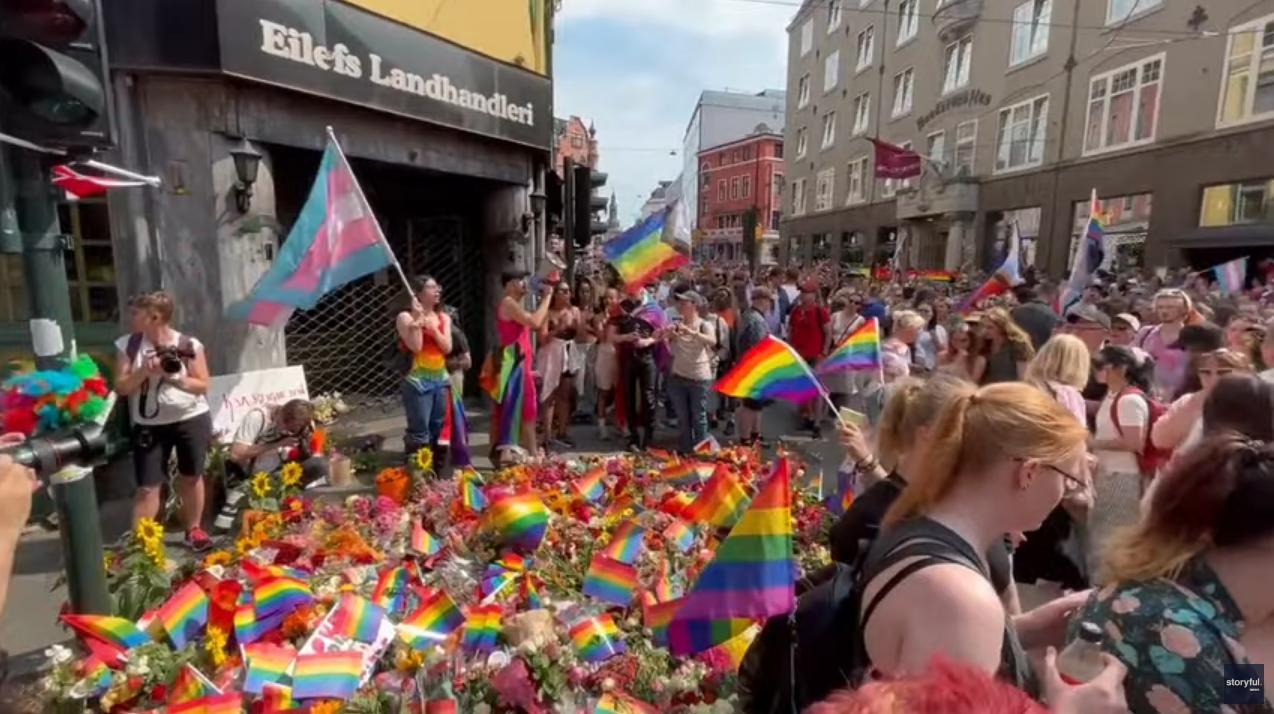 OSLO, Norway – A spokesperson for the Norwegian Police Service  (Politi- og lensmannsetaten) said that the suspect in Saturday's mass shooting at the London pub in Norwegian capital city's night-life district is refusing to cooperate with investigators.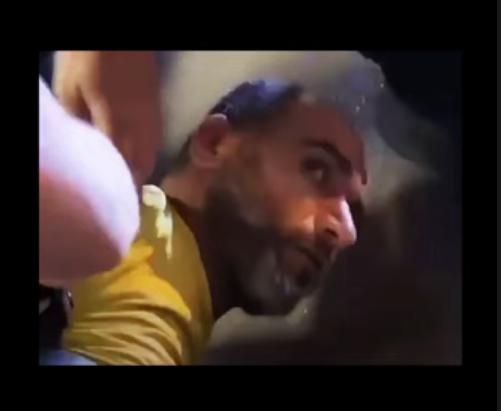 The 42-year-old suspect, identified as Zaniar Matapour, is a Norwegian citizen originally from Iran. Two people were killed and more than 20 were injured in what police officials have labeled as an "Islamist terror act."
Matapour, (left) is shown at the time of his arrest immediately after the shooting on mobile phone video broadcast on Norwegian television.
An official with the Norwegian Police Service told media outlets that investigators tried they tried to question Matapour on Saturday after his arrest and again on Sunday without success.
The Associated Press reported that Matapour's defense lawyer, John Christian Elden, told the AP in an emailed statement that that his client refused to have his statement recorded and videotaped unless police released the entire recording to the public "with no time delay so it won't be censored or manipulated."
Elden previously said to media outlets including the Associated Press his client did not deny being the shooter but had not divulged any motive. The lawyer said Sunday that Matapour did not object to remaining in custody for four weeks so would not appear in court on Monday.
In the Norwegian judicial system pre-trial detention hearings are normally held every four weeks.
Large crowds gathered Sunday near the London Pub to lay flowers and other tributes. Those gathered waved Pride flags as they defiantly commiserated remembering the two victims killed along with the other twenty persons injured in the shooting spree which police say occurred at three locations in the neighborhood around the bar.
The city's Pride parade had been cancelled as a precaution after the shooting.
Norway's Prime Minister Jonas Gahr Stoere and a member of the Royal family, Crown Princess Mette-Marit, joined mourners in a memorial service Sunday at Oslo Cathedral for the victims of the attack.
Speaking in Sunday's memorial service, the Prime Minister pointed out that "the shooting in the night hours put an end to the Pride parade, but it did not stop the fight and the efforts to fight discrimination, prejudice and hatred."
Stoere addressed Norway's Muslim community as well telling them;
"I know how many of you felt when it turned out that the perpetrator belonged to the Islamic community. Many of you experienced fear and unrest. You should know this: We stand together, we are one community and we are responsible for the community together."
Right-wing news anchor delivers obscenity-laden homophobic rant
"Guess what I came home to be greeted with? This fucking bullshit. [points to Rainbow Pride flag] What the hell is that?"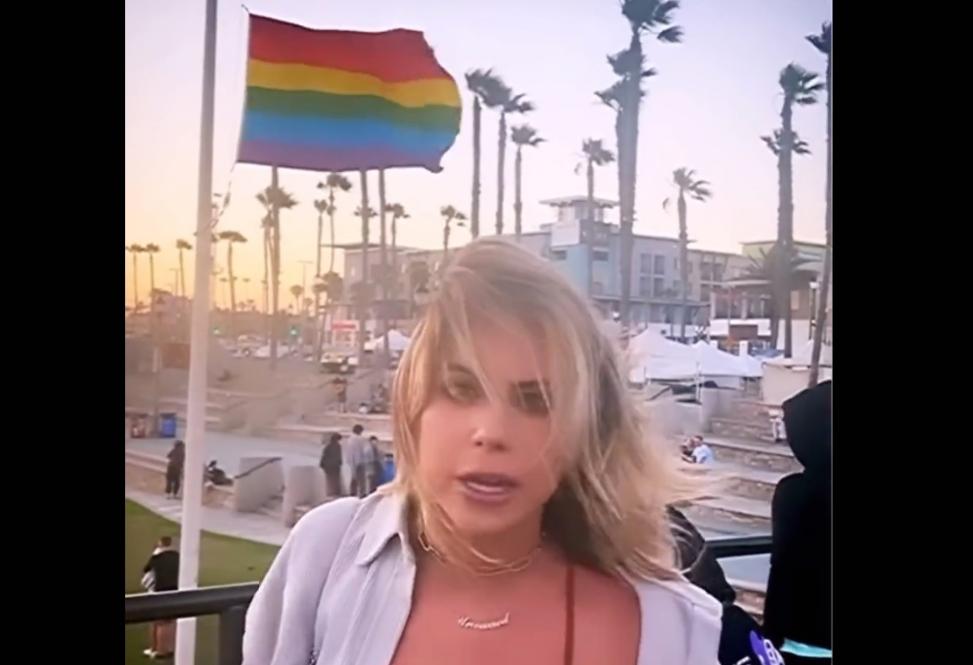 HUNTINGTON BEACH, Ca. – Alison Steinberg, an anchor and contributor for right-wing extremist media outlet One America News, launched into an obscenity-laden rant captured in a now viral video over an LGBTQ+ Pride flag flying in the beachfront business district of Huntington Beach commemorating Pride Month.
Steinberg had originally posted her video to her Instagram account but it was later removed.
In the rant Steinberg is heard saying: "And guess what I came home to be greeted with? This fucking bullshit. [points to Rainbow Pride flag] What the hell is that? Huntington Beach is the town of good old-fashioned hard-working American people, much less human. People who worked all through the COVID lockdown. Yes, that's right. Huntington Beach never shut down through any of the COVID nonsense fuckery. And now we're peddling this garbage?"
"What the hell is this? The only flag that should be up there is that American flag. This is a disgrace to our city and it should be taken down immediately. Whoever the hell is running this town needs to be fired. Make America great again. Make Huntington Beach great."
Ron Filipkowski, a defense lawyer and former Assistant United States Attorney had captured the video and uploaded it to his Twitter account where many of his 402.9K followers retweeted it:
OAN Contributor Alison Steinberg is raging after returning home to Huntington Beach to find the city flying a Pride flag. (Language) pic.twitter.com/fk5rTg88hF

— Ron Filipkowski 🇺🇦 (@RonFilipkowski) June 26, 2022
Criminal case against Russian femactivist Yulia Tsvetkova drags on
The criminal proceedings against Tsvetkova, who faces up to six years in prison, are closed to the press and public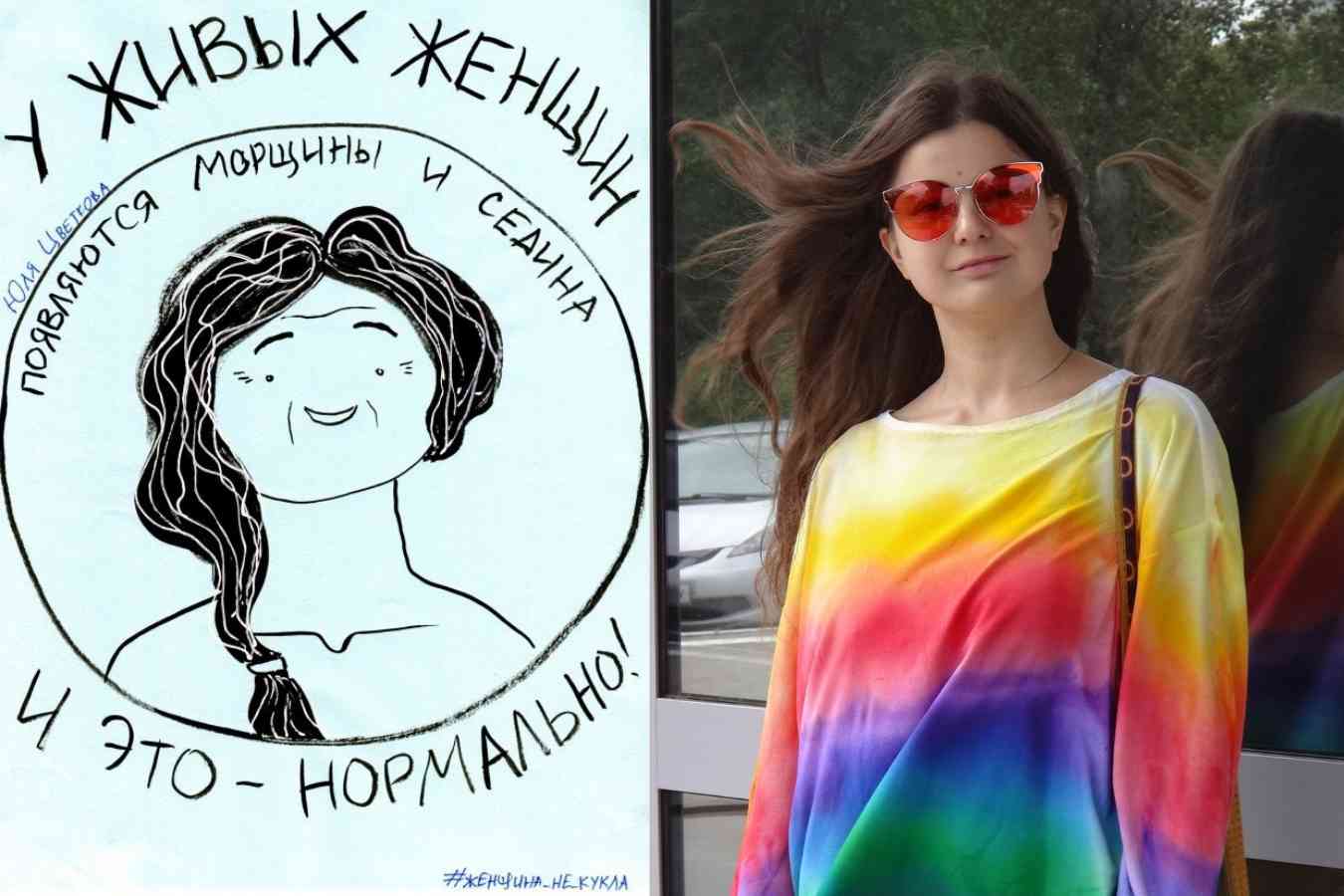 KOMSOMOLSK-ON-AMUR, Khabarovsk Krai, Russia – Facing a potential sentence of six years in a Russian penal facility and just recently categorised as a "foreign media agent" by the Russian government, 29-year-old feminist and artist Yulia Tsvetkova remains undaunted.
Authorities in this medium-sized city in the Russian Far East have been actively investigating and targeting Tsvetkova since 2017 after she posted nude drawings in a social media group of herself and others along with artwork supporting Russian LGBTQ+ people on VKontakte (VK.com) the giant Russian social networking platform.
She is charged with "production and dissemination of pornographic materials" (Article 242 (3b) of the Russian Criminal Code) for her body-positive drawings of vaginas on VK.com.
In addition Russian authorities have also been fined Tsvetkova 50,000 rubles for being the administrator of an LGBTQ+ Facebook page, and 75,000 rubles for a drawing depicting two same-sex couples with children. This month, the Russian Ministry of Justice added her to the register of foreign media agents, in part for her work supporting LGBTQ people.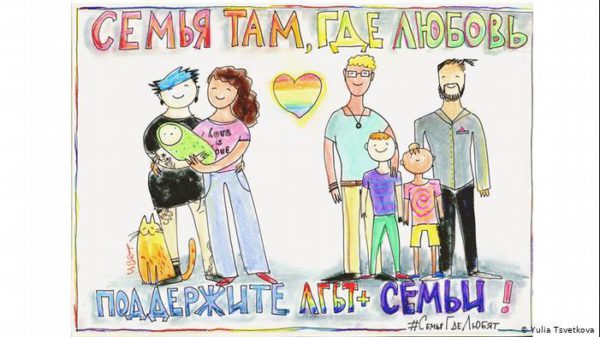 In an interview with journalist Nina Nazarova from the BBC Russian Service, so far, Tsvetkova said she has not received any official notification from the Russian Ministry of Justice regarding her inclusion in the register of foreign media agents.
"I don't plan to take active steps myself to get registered, to make an insane and useless legal entity," Tsvetkova told the BBC. "A lot depends on whether I end up in prison in the next month.
Her mother who she lives with, Anna Khodyreva, who is her unrelenting advocate, posted on her Facebook page about the designation.
"I am the mother of a foreign agent, and am very proud of this," she wrote, using the Russian shorthand inoagent, which has entered the vernacular.
Tsvetkova was first investigated in 2017, but according to the BBC everything has changed since November 2019, when Tsvetkova became a defendant in five trials and, in fact, was locked up in Komsomolsk-on-Amur.
She was arbitrarily first detained on 20 November 2019 and remained under house arrest until 16 March 2020. There were delays in the trial proceedings that were marked by a continuing investigation by the Federal Security Service at the behest of Boris Viktorovich Kononenko,
the Chief Prosecutor of Komsomolsk-on-Amur.
A video released on YouTube on 15 Jun 2020 by author, activist and artist-writer Nicole Garneau details an overview of the case against Tsvetkova:
In August 2020, the Kulturfabrik Moabit in Berlin hosted an exhibition in solidarity with Yulia Tsvetkova. The exhibition was visited by about 300 people.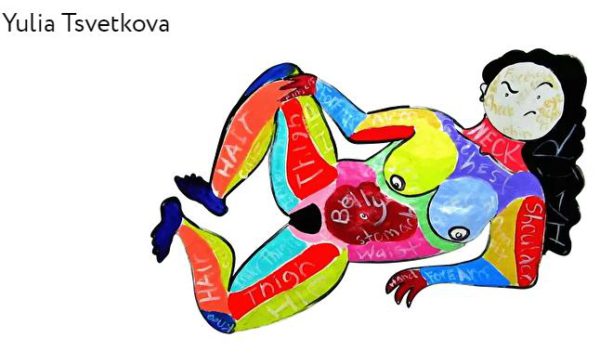 Independent political-journalist Matt Baume, writing for Them magazine reported last April this isn't the first time that Tsvetkova has faced scrutiny under Russia's discriminatory laws, however. In 2019, she directed a play criticizing gender stereotypes entitled Blue and Pink at Color of Saffron festival, an art fair for children in the eastern Russian city of Komsomolsk-on-Amur, and authorities reportedly forced the event to close in its entirety over concerns that organizers were "attempting to illegally hold an LGBT event," according to The Art Newspaper.
Although the play was reportedly held for a small crowd in defiance of Russian authorities, Tsvetkova has been fined under the "propaganda" ban twice. She was forced $780 in 2019 for running an online support group for LGBTQ+ people and $658 last summer for a drawing that depicted loving same-sex families.
Speaking with the BBC Tsvetkova noted that the basis for the criminal charges stemmed from the public posts in the "Vkontakte" group "Vagina Monologues", which was dedicated to feminist art and body positivity: it laid out artistic images of a naked female body.
The pictures of Tsvetkova herself, in particular, depicted women with wrinkles, stretch marks and body hair. Each of the drawings was signed with the phrase "Living women have …" and ended with the words "- and that's fine!"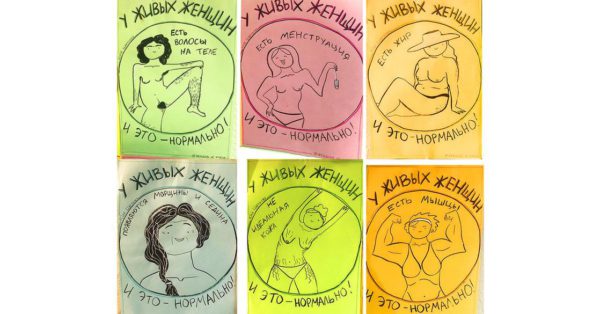 Russian independent media outlet Novaya Gazeta reported that Dmitry Oblasov, the FSB regional head spurred on at the request of the Chief Prosecutor of Komsomolsk-on-Amur. wrote a letter to Victoria Tregubenko, Commissioner for Children's Rights in the Khabarovsk Territory, asking the commissioner to study the content of Tsvetkova's social networks for criminal violations.
The intent was to see that if in addition to the alleged penal code violations for production of pornography, provisions of the federal anti-LGBTQ 'propaganda' law had also been violated because of her advocacy for Russian LGBTQ+ people.
The criminal case by the Central District Court of Komsomolsk-on-Amur began in earnest in the spring of 2021. While criminal case endlessly endured delays and drags on, a civil case against a Russian right-wing extremist media outlet brought by Tsvetkova and her mother over use of video of the initial FSB raid on her house in 2019 that was leaked by FSB officers was lost and the women found themselves being forced to pay 180,000 rubles to that media outlet – allegedly for "defamation."
The criminal proceedings against Tsvetkova, who faces up to six years in prison, are closed to the press and public.
The trial against Tsvetkova is coming to an end. On 14 June, the prosecution requested a jail term of three and a half years for "production and dissemination of pornography" for her VK.com posts.
The final hearing is expected to take place on 12 July according to Amnesty International. Tsvetkova will make her final statement and the sentence will be handed down shortly after.