Rep. Katie Porter and trans actor Angelica Ross talk COVID-19 money in Equality California fundraiser

Equality California has almost an impossible task: rallying LGBTQ voters to help pro-equality Democrats retain the House, win back the Senate and oust the most incompetent, damaging president in U.S. history – while still keeping the organization afloat amidst a global pandemic and financial meltdown.
Several progressive politicos and celebrities understand the grave difficulty existing in the new COVID world and showed up for EQCA's online "Evening for Equality," hosted by WeHo fan favorite Queer Eye Culture guy Jai Rodriguez.  Despite the awkward rigors of physical distancing, Sen. Tammy Baldwin, Reps. Adam Schiff, Katie Porter and Ted Lieu, and activists Chasten Buttigieg, Angelica Ross, Stephanie Miller, Pauley Perette, Margaret Cho, Daniel Franzese, Ariana Madix, Tom Sandoval and Billie Lee showed up in solidarity and Jason Mraz and CeCe Peniston lent support through song.
The show, which was produced with the kind of homey familiarity now common during the novel coronavirus physical distancing crisis, Equality California raised nearly $25,000 in donations ranging from $5 to $5,000, with more donations still coming. That's in addition to the nearly $150,000 raised in the last two weeks.
As a contribution to the community, EQCA is offering to share what they learned about putting on a virtual fundraiser with smaller non-profits facing the same need to raise money in a new way.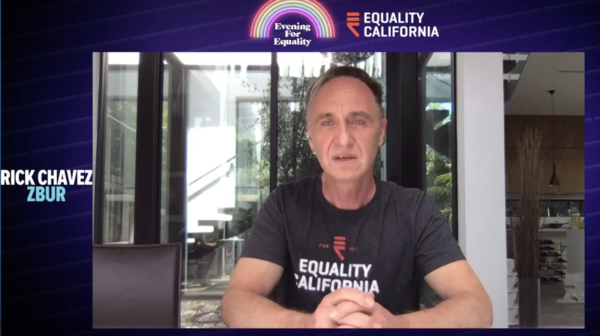 Equality California Executive Director Rick Chavez Zbur during EQCA event
"This is new territory for us — as it is for everyone — and I'm so grateful to the community for joining us and to so many of those who tuned in for stepping up and supporting our work," Equality California Executive Director Rick Chavez Zbur told the Los Angeles Blade. "Like all nonprofits, we're struggling right now, but we're working to adapt to this new environment. Our goal was to provide some uplifting entertainment and engaging discussions, as well as an opportunity to come together virtually as a community. It was a success. We don't necessarily have all the answers about virtual fundraising events, but we are committed to supporting other nonprofits that serve the LGBTQ+ community too, so we look forward to sharing some of the lessons we learned with our colleagues at partner organizations."
Rodriguez opened as if he was engaged in a one-on-one with hundreds of fans and friends on his We Are Channel Q radio show. He laughed off a screwed up introduction that set the easy earnest tone for "live" from everyone's comfortable Zoom-room.
Rodriguez set the tone but the leaders of Equality California and the Equality California Institute Board of Directors set the messaging.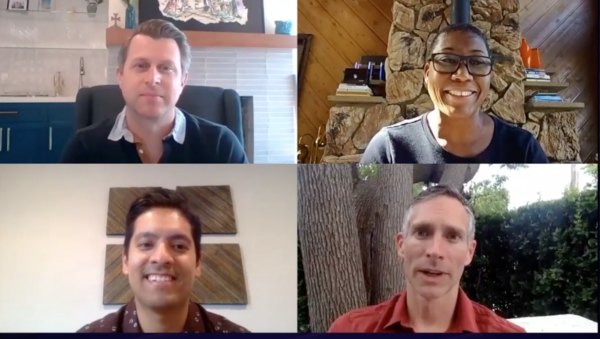 Joe Gregorich, Jackie Thomas, Scott Malzahn, Juan Camacho, Leadership for Equality California and the Equality California Institute Board of Directors.
"Our LGBTQ+ Community has been hit hard financially from this crisis and Equality California is a nonprofit organization that services our community is no exception," said Scott Malzahn. "But tonight we're choosing hope over fear."
Trans actor and influencer Angelica Ross took over, not just introducing Rep. Katie Porter but joking about how Porter has become a viral super star through her sharp questions during congressional hearings.
Their instant connection and respect was moving, informative and illustrative of how to have a smart, engaging conversation that is also funny and entertaining.
"I loved your hilarious takedown on [Housing and Urban Development Sec.] Ben Carson not knowing the difference between an REO ['real estate owned' property] and an Oreo [cookie]. So, we have a question from one of our audience members, Michael from Laguna Beach, wants to know: were you born fierce or did something or someone make you that way?"
Speaking comfortably from her kitchen, Porter said she didn't necessarily think of herself as fierce until the opportunity presented itself. However, family photos show that she was a "fairly strong-willed child."
Porter's also experienced the adversity "that made me realize that there are real harms going on in this society and that we have to look straight on at them, call them out and be willing to commit to fixing them. And so, I grew up during the farm crisis, I watched people lose their farms and their homes and I listened to Californians during the foreclosure crisis, losing their houses. And I was there to help lift up their voices and help them be successful and make ends meet and hang on to their house."
Porter determined to run for elective office to "fix America," she said. "So, I think I'm fierce because I care fiercely about this, about what we're doing, and I want to actually get things done."
Ross noted that unfortunately, other people "seem to be in it for other reasons that aren't for the greater interest" of the people. She shifted not so subtly to Porter's vanquished 2018 far right Republican opponent, Mimi Walters. The GOP wants that seat back in 2020.
"So, this district is still a Republican majority district, although we've made a lot of great progress with the help of Equality California and other groups in reaching out to folks and engaging voters," said Porter. "But it's still 2% more Republicans than Democrats. And virtually, all of my local elected and county elected officials are Republicans. So, I do have to really think about how can I connect with and communicate across party lines?"
Porter explained that she uses her previous position as a law professor at University of California, Irvine specializing in the Uniform Commercial Code to respectfully listen to questions, learn about constituents lives and challenges and then "trying to teach other people why we need to make this change in policy," she said. "I think I love that element. I love that back and forth," giving a shout out "to all the students who didn't do their homework for preparing me to know how to take down witnesses who were 'yahoos.'"

Ross, who exclaimed that she loves the Uniform Commercial Code, pointed out how the COVID-19 crisis has dramatically impacted the LGBTQ community.
"More than one out of five trans adults have at least one or more chronic conditions like HIV, diabetes, arthritis or asthma. I have asthma," Ross said. "Fear of discrimination keeps many of us from going to the doctor and many of us work in the gig economy or other industries impacted by this economic fallout."
Porter said she's trying to address the disparities, having just sent a letter to the FDA "asking them to expedite the approval process that's needed to implement the new rule that they pass the blood donations for men who have sex with men," noting that the pandemic is causing a national blood shortage and science doesn't support the FDA policy.
Porter also noted that May is the 12-month anniversary for the House passage of the  Equality Act, which Senate Majority Leader Mitch McConnell refuses to bring up for a vote.
"It's not enough to just pass these laws and give people symbolic victories. Equality is an abstract ideal, but it's also something that manifests in people's real lives," Porter said. "And so they need these actual protections from unemployment, in public housing and education. And with this widespread labor market disruption with the pandemic and people losing housing, it is going to be more important than ever to have these protections in place as people have to seek new jobs and find different housing and the economic dislocation of this whole situation."
Porter confessed that she got choked up and  "a little teary" during the hearing on "the administration's assault on religious liberty and LGBTQ rights" as a number of people talked about barriers to LGBTQ people adopting children or fostering children.
"One of my Republican colleagues — shortly before it was my turn to question — went on a little bit of a rant and rave about nontraditional families, that two-parent households are a family and these other things are not families," Porter said. "And I don't have any of their real life experiences that LGBTQ, trans people — I don't walk in your shoes every day — but he literally erased my existence as a single parent. And what was he suggesting? That my children and I are not a family? I assure you. We are a family. We live together, we love each other. That is a family.
"And so it was important for me to push back at that moment because I'm so frustrated and exhausted with other people trying to impose their definition of family, their definition of love, their definition of wellbeing onto other people," Porter said. "So, I was grateful for the opportunity to push back on that."
Porter then turned the tables and asked Ross a question.
"A lot of people know you from your role as Candy on "Pose" or Donna Chambers on "American Horror Story," but you're also a very active advocate for trans equality," Porter said. "And you are — I have this right, I'm so awed by this — you are a self-taught coder," which resulted in Porter gushing over Ross as the real "bad ass" between them, asking about her firm helping trans people, TransTech Social Enterpries.

Ross first introduced her dog Hammer, a long-haired Chihuahua, confirming that she's a self-taught coder with the goal of leveling the playing field around access and skills.
"I started with those simple codes of HTML and CSS and I took those skills and then started doing content management systems like WordPress and Drupal and Joomla," Ross said. "And I started charging clients to build these small websites, content management sites. But the coding was a little bit beyond — there was more to learn. And so, what I did was build a business around building websites and hiring other people to do the more advanced coding."
Ross went deeper:
"I wanted to make it clear that when I say tech, yes I mean coding, but I also mean being able to be a beauty influencer and run a YouTube channel, being able to be a photographer or do photo retouching. I have a lot of fans and a lot of people from the community who love the show 'Pose' and who keep thinking, 'Well, how can I get started as an actor and how can I get involved?' And one of the things that I always teach folks is how to make yourself a valuable asset to the industry because you love it.

So, not just wanting to be in front of the camera, but how can you make yourself valuable to the project? Can you run lights? Can you be a grip or a PA, a hairstylist or a makeup artist? So, what we do is we have an online and offline community. We meet in back channels and we help each other prepare for interviews. We share job leads, we help each other find freelance jobs. And then once a year, we have what we call the 'Transect Summit,' which happened two years in a row at the Groupon Headquarters in Chicago.

But since Covid-19, we're taking it all online and we're expanding it to be global. So we'll have over 50 workshops worldwide over two days. And it's going to be all free to … Our sponsors are going to help us make it free, but it's going to be free for everyone to attend."
"This Covid-19, if it hasn't shown us anything else, it showed us all the things that people said were impossible are all of a sudden possible," said Porter. "Look at that, us being innovative on how to connect."

Ross asked Porter to use her famous whiteboard to explain the "absurd" confusion with the $1,200 stimulus check, as explained by Treasury Secretary Steve Mnuchin.
The whiteboard was unavailable so Porter went old school.
"Okay. So $1,200 divided by the 10 weeks that he's estimating — and by the way, we're going to be continuing to suffer for a lot more than 10 weeks, one, because we don't have the virus under control but two, we don't know when we're supposed to get back —

So that works out to $120 additional dollars per week, if you assume this lasts 10 weeks. Then, when you step up California, even with the expansion of an additional $600 a week — which is a lot of extra on top of what California did, somebody in California — the maximum unemployment that you could get is $4,500 a month.

So again, if you go back to doing that a week, that's the 10 weeks, this is over a month, you're going to get two and a half, you're going to come out to about a thousand dollars a week.

All right, so we're being asked to live on about $1,200 a week — this works out to about $4,800 a month."
Porter then explains why $4,800 a month is difficult to live on it California:
"The typical rent is going to easily subsume well more than 50% of that money. And rent is not something that people can do without, it's not an easy expense to change. And so people are going to be spending half that money right off the top in rent.

And then that leaves them with $2,400 a month. And then you start figuring in things like food. And so when I walked [JP Morgan CEO] Jamie Dimon through all of this [in April 2019],  I walked him through a budget for one adult and one child. And so the minimum food budget for that, if you ate Ramen Noodles, would take you down to over $400 a month. And then you start thinking about things like childcare. If you have one child and you'd be down even further.  So, the bottom line is this is not going to be enough money."
And the money mangers haven't really done the math so they don't understand "the challenges that working families face."

The entire event was entertaining and informative, including "radio nerd" Stephanie Miller's interview with House Intelligence Chair Adam Schiff, "congressional rock star who is clearly desperately in need of a drive-by hairdressing from some of the fabulous gay men in the audience tonight. Chairman, I know your daughter gave you your haircut and it does, it looks fine and your neck looks less like a pencil than ever. And I just say, I don't care what the president says."
Miller then asks if it's OK to open with a gay joke for the gay event, to which Schiff responds, "I would welcome that."

"My quarantine crushes, chairman, are currently the prime minister of New Zealand, the prime minister of Finland, and the prime minister of Iceland. It's the first time in my life I've ever liked women with really flat curves. Said it because they flattened the curve. You see, because they believe in facts and science, and that's hot. Is this on? Chairman, isn't that true that we are doing the worst, probably, of any country in the world in flattening this curve?" Miller asked.
"Well, we have the most infections of anywhere in the world and we have, by far, the most deaths of anywhere in the world. And yet somehow the president and Jared Kushner think we're doing just great and they're very proud of our death total, as the president said today. I don't even know what that means, except for those that have lost loved ones, it's just additional salt in very open and painful wounds," Schiff said. "But Stephanie, you're right, the women leaders are doing really well, not a surprise. And we have to follow their example."
Miller talked to Schiff about how his "brilliant speeches during the impeachment have come true," how Trump has "brought us literally a Vietnam and a Great Depression in the space of six weeks, he has brought this country to its knees" and how the LGBTQ community, in particular, is hurting disproportionately without the Equality Act. "Everything under Trump is worse; racism, sexism, homophobia, all marginalized groups are having a harder time," said Miller.
"It's so true. And even now, during the midst of this pandemic, what is the administration doing? It is trying to roll back protections in the healthcare system to prevent discrimination against LGBTQ individuals," said Schiff. "Right now, they are promulgating new regulations to repeal Obama era protections. It's just awful. As it is, about one out of every 12 LGBTQ Americans gets turned away from healthcare because of their orientation or because of their gender identity. And so, the last thing we ought to be doing is going backward.

"But one thing I think this pandemic is revealing," Schiff continued, "is when we get through it, we need to build back better. We need to build a more just more equitable, less discriminatory society than the one we have going into this pandemic.
"But while it goes on, we particularly need to make sure that we meet the healthcare needs of the most vulnerable. Communities of color are being devastated right now. 80% of the casualties in Georgia are African Americans," Schiff said, "and when you take those in the African American community who were also LGBTQ, the potential for discrimination and the most severe of health consequences is even that more profound."
They two reminded viewers about the importance of voting by mail and getting tested for COVID-19. "You know that your patriotism makes me go from gay to questioning every time I interview you, Chairman," Miller said in closing.

Cecilia Cabello, California Chair for former South Bend, Indiana Mayor Pete Buttigieg's presidential campaign, interviewed the former mayor's husband, Chasten. He joked how he was home with the dogs and how he was happy the house was split level so he could "get away" from Mayor Pete if he needs to.
But the thrust of Chasten Buttigieg's interview was about how the coronavirus quarantine is impacting schools, which have been "a safe space for LGBTQ students, something they looked forward to." Chasten said he is "a little worried" about how schools are adapting and how to give them a safe, warm and welcoming environment both digitally and virtually.
"Right now students are facing a community that is going through a lot of change and sometimes that means that schools aren't willing to catch up to the change that we're making as a society, especially with a public schools rolling back a lot of those Obama-era protections," Chasten Buttigieg said. "Kids have to deal with a lot," including hostile teachers and unsafe environments in school and home.
"40% of homeless youth in our country identify as LGBTQIA. So, there are a lot of issues facing young queer people in our country, said Chasten Buttigieg. "It's important in all those spaces we make sure that they are safe and affirming." Unfortunately, he added, "we have a lot of work to do there."
Watch the one hour-forty minute Equality California event online.
Project Angel Food Thanksgiving, a remarkable group of volunteers
Project Angel Food provides daily meals to 2,500 critically ill individuals & 1.5 mil medically tailored meals annually across Los Angeles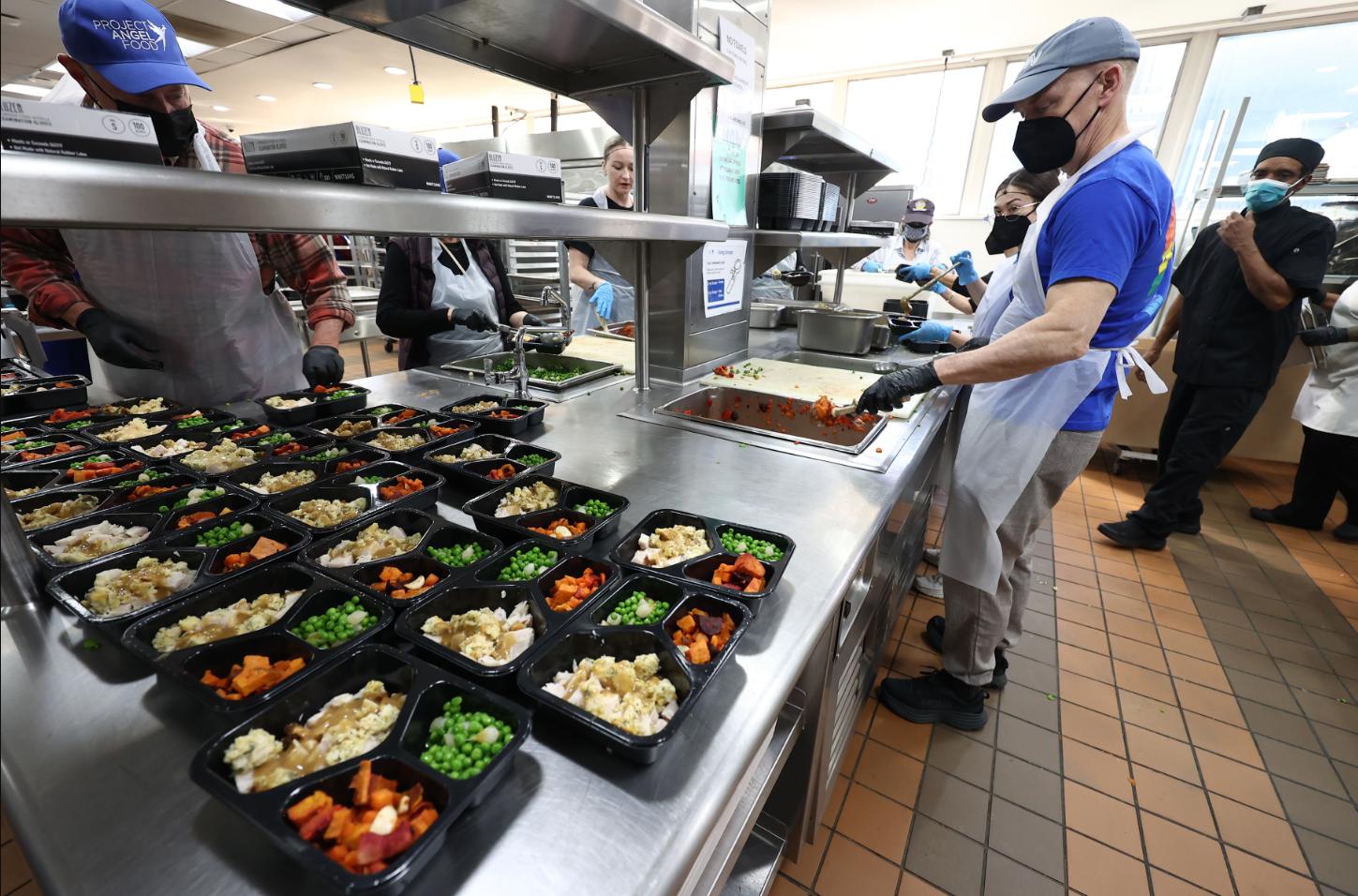 LOS ANGELES — Project Angel Food saw a remarkable gathering of celebrities and 200 dedicated volunteers coming together to prepare and deliver 2,000 traditional turkey meals to critically ill clients on Thanksgiving Day, Thursday, Nov. 23, 2023. The initiative culminated in a total of more than 5,000 meals prepared and delivered throughout Thanksgiving week.
Thanksgiving Day at Project Angel Food was not just about distributing meals but also about the spirit of giving back while cherishing moments with family and friends.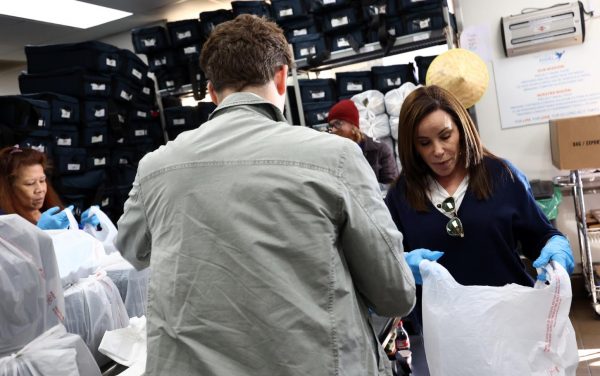 Melissa Rivers, who recently got engaged to lawyer Steve Mitchel on Oct. 13, made a notable appearance — showcasing her stunning 5.6 carat, emerald-cut engagement ring as she volunteered alongside adult son Cooper Endicott. She shared, "Sometime maybe in 2025. It would be my second marriage and his second marriage so if anything, we'll have a party, and a ceremony might break out. But nobody's in any rush."
Amanda Kloots, host of "The Talk", expressed her deep affection for Project Angel Food, stating that she fell in love with the cause while filming a segment for the hit CBS talk show. She returned with Zach Braff and her four-year-old son Elvis, emphasizing, "I think it is so important to show our kids how blessed we are and how we can help one another."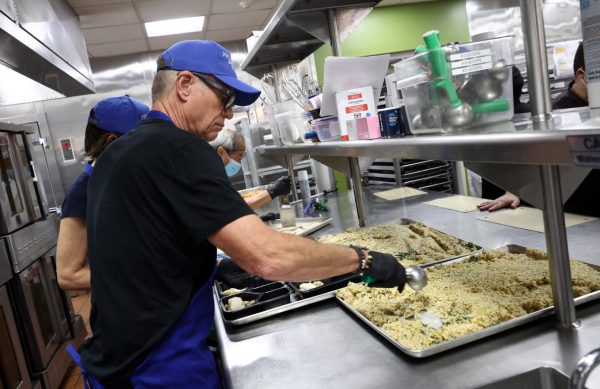 Joining the ranks, Lisa Rinna and her husband Harry Hamlin continued their annual tradition of giving back at Project Angel Food on Thanksgiving. Harry offered, "It goes without saying the people of L.A. need to be fed, and we're here to do it, especially on Thanksgiving." Lisa added, "It makes you feel good to give back, always, and we need to do it more."
Actor and model Sam Asghari, marking his first Thanksgiving after his divorce from Britney Spears, refrained from discussing the split but reflected "I think it is important when you have a platform and a voice, and you have the ability to help others it is important to do."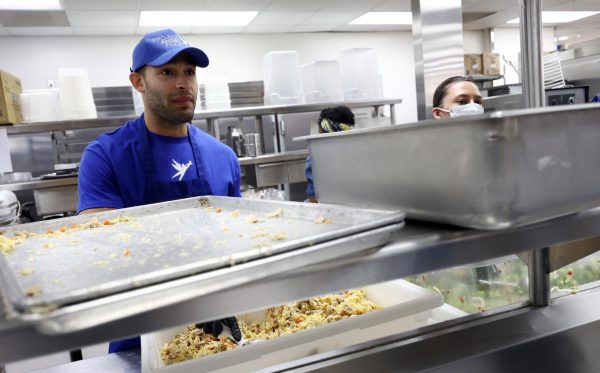 Unlikely friends Charo and Kat Von D were among the initial celebrity arrivals. Von D explained their unique bond, stating, "We're Yin and Yang and complement each other. Since she had heard of Project Angel Food through Charo, she wanted to join." Charo expressed her enthusiasm for volunteering, exclaiming, "I love people. This is my passion!"
The event saw the participation of other notable celebrity volunteers, including Amy Yasbeck, singer Em Beihold, Eve Mauro, Jai Rodriguez, Supervisor Kathryn Barger, Laura Pierson, Lauren Tom, Lawrence Zarian, Lisa Foxx, Loni Love, Mary-Margaret Humes, Michael Hitchcock, Peter Porte, Rachel Lindsay, Sandra Lee, Tamara Brown, and Tim Bagley.
Project Angel Food CEO Richard Ayoub expressed heartfelt gratitude stating, "Every day is like Thanksgiving at Project Angel Food. But on this day, we are especially grateful to our celebrity friends and hundreds of volunteers committed to bringing a little light to the thousands of critically ill men, women and children we serve."
The meals were provided through "drive-by" pick-up for volunteers who then delivered them to Project Angel Food clients. The traditional Thanksgiving dinners included roasted turkey, root vegetables, stuffing, gravy, cranberry sauce, and a slice of pumpkin cheesecake. Additionally, vegetarian meals were also provided. The Thanksgiving Day meals were sponsored by The Stanley & Joyce Black Family Foundation, with additional support from Joybird, which furnished the Joybird VIP Love Lounge, allowing volunteers to take a break during the morning of service.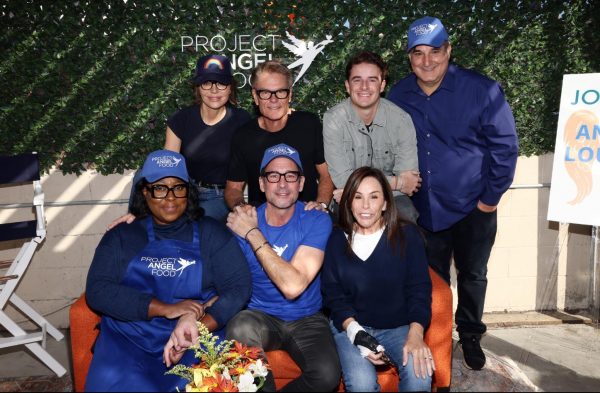 Beyond serving meals to 2,000 critically ill individuals, Project Angel Food extended its support by providing Thanksgiving Day meals for 500 people at PATH. PATH works tirelessly to end homelessness by building affordable housing and offering supportive services. Furthermore, actress and director Joely Fisher sponsored Project Angel Food meals, hosting a SAG/AFTRA "Friendsgiving" at Hollywood United Methodist Church for 200+ union members affected by the 118-day SAG/AFTRA strike on Wednesday, Nov. 22, 2023.
Project Angel Food remains dedicated to providing daily meals to 2,500 critically ill individuals and delivering more than 1.5 million medically tailored meals annually across Los Angeles. Their clients often grapple with serious illnesses compounded by challenges such as poverty, aging, and isolation. Established in 1989 by Marianne Williamson, the organization has prepared and delivered more than 17 million meals in its 34-year history.
Related:
Project Angel Food serves up Thanksgiving meals for Angelenos: