HRC rolls out support for Biden on anniversary of marriage endorsement
Alphonso David says Tara Reade allegations should be 'fully evaluated'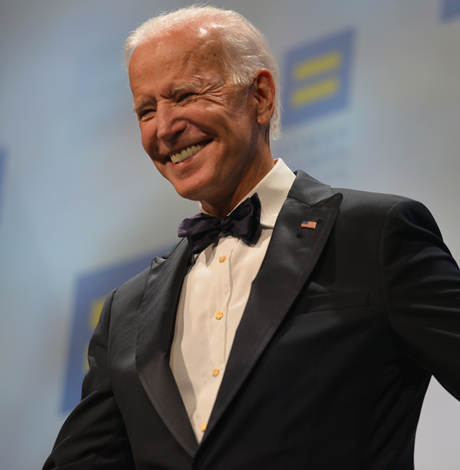 The nation's leading LGBTQ group has officially thrown its support behind Joseph Biden in the presidential election, drawing on the anniversary of his famous words in support of same-sex marriage on "Meet the Press" to make the case the candidate should unseat President Trump.
Alphonso David, president of the Human Rights Campaign, said Tuesday night in an interview with the Washington Blade that the board of directors voted unanimously to endorse Biden after an extensive review, which concluded the candidate had a commitment to LGBTQ people and other minority communities.
"We reviewed his record on marginalized communities," David said. "We reviewed his prior comments on LGBTQ issues as well as issues that affect people who bring intersectional identities to the table. As an example, I'm black, I'm gay, I'm an immigrant. All of those issues are for me and they happen to be for the Human Rights Campaign."
The announcement of the endorsement was timed to coincide with the eighth anniversary of Biden coming out in favor of marriage equality on "Meet the Press," which helped bring a once contentious idea into the mainstream and preceded former President Barack Obama's own endorsement three days later.
https://www.facebook.com/watch/?v=171204870873659
The Human Rights Campaign, unlike in 2016, during this election cycle had stayed out of the Democratic presidential primary. Even before Sen. Bernie Sanders (I-Vt.) dropped out, making Biden the presumptive Democratic nominee, David said the Human Rights Campaign had been reviewing Biden along with other candidates and had planned "a few days and weeks" to make the endorsement announcement on May 6.
"We thought it would be most appropriate — both from a symbolic perspective, but also substantively — to make the endorsement and we made the decision that May 6 was the right date," David said. "It reminds us where we were several years ago, when same-sex couples could not marry in so many states in the country. And Joe Biden stood up, and was very vocal about his support of LGBTQ equality and that really changed the public discourse."
As evidence of Biden's commitment to LGBTQ rights, David pointed out the candidate's promise to sign LGBTQ non-discrimination legislation known as the Equality Act, a plan to end HIV/AIDS by 2025 and a commitment to ensuring the Affordable Care Act is fully implemented.
In contrast, the Trump administration has established a transgender military ban, taken administrative actions in favor of religious freedom at the expense of LGBTQ rights and has refused to include LGBTQ people in the enforcement of civil rights law — going so far as to argue against it before the U.S. Supreme Court. (The Trump administration has, however, set up a plan aimed at ending the HIV/AIDS epidemic by 2030.)
As part of the endorsement, the Human Rights Campaign has unveiled a plan built on its successful strategies from 2016 and 2018 to get LGBTQ people and "equality voters" — voters who prioritize LGBTQ issues — to the polls.
There are an estimated 57 million "equality voters" across the nation and their demographics skew toward suburban women and more toward minority groups than the general population. According to the Human Rights Campaign, 60 percent are women, 48 percent are people of color and 30 percent are under the age of 35.
David said an estimated 3.4 million voters in that category are at risk of not turning out for the election and the Human Rights Campaign plans to work to make sure that doesn't happen.
"We are going to be focused on those folks who may not be inclined to vote to make sure they understand the importance of the election, they're engaged in the process," David said.
To turn out those voters, the Human Rights Campaign is set to focus on seven states considered battlegrounds in the coming election. Six of the states — Arizona, Michigan, Nevada, Ohio, Pennsylvania and Wisconsin — were priorities in previous years, but the seventh is Texas and a new addition.
David said Texas was added because significant infrastructure was built in the state after years of beating back anti-LGBTQ legislation in the state legislature.
"We decided to make Texas one of our major priority states because there are half a dozen competitive U.S. House races on the ballot in 2020," David said. "We also have the state houses in play in 2020, and we anticipate that the presidential campaigns will invest in the states more so than any other presidential election in recent memory because of the number of people in Texas. So for those three reasons we made a decision to include Texas."
Polling shows Texas may be an attainable target for Biden. A University of Texas, Tyler/Dallas Morning News poll of registered voters out this week found Trump and Biden neck-and-neck at 43 percent in the state.
Sen. Jacky Rosen (D-Nev.) told the Blade help from the Human Rights Campaign would be a boon for Biden because the nation's leading LGBTQ group was essential to her U.S. House win in 2016 and the U.S. Senate win in 2018.
"Candidate support for LGBTQ equality is a crucial, a determining factor for over 55 million people across the country — and over 600,000 people in Nevada — they're equality voters, so that's why it matters," Rosen said.
The upcoming election, Rosen said, is important not just for LGBTQ rights but other progressive issues because Biden is "in that fight as well."
"You want somebody who's going to stand up for equality, to stand up for human rights, try to stand up for all the things care about: health care, education, the environment…LGBTQ rights, but everyone has families so they care about all it," Rozen said.
David: Tara Reade allegations should be 'fully evaluated'
The endorsement also comes amid the emergence of sexual misconduct allegations against Biden from Tara Reade, a former staffer who worked for him when he was a senator in the 1990s.
The allegations have been picking up steam in the media and the public. A survey from POLITICO/Morning Consult— conducted in the days after Biden appeared on MSNBC's "Morning Joe" Friday to deny the charges personally for the first time — found 28 percent of Democrats "definitely" or "probably" favor replacing Biden with another nominee to take on Trump.
David struck a middle ground when asked if he believes Biden in his denial, underscoring the importance of listening to survivors who have made their voices heard in the "Me Too" movement.
"It is absolutely critical that we listen to survivors, who for a long time, had to have their voices dismissed," David said. "Survivors should be heard, survivors should be listened to, taken seriously, treated with respect and dignity. And when these allegations came forward and allegations like these come forward, we need to make sure that they're fully evaluated — and I believe that is happening right now."
At the same time, David emphasized the importance of electing a candidate to unseat Trump in the upcoming election.
"We cannot afford for LGBTQ voices to be marginalized in this election. We have six months, we cannot afford for Donald Trump to win this election in November, and every day his administration, as you know, rolls back our rights, and another queer kid contemplates suicide, another black trans woman is killed," David said. "So this election is life or death for us in our community and we chose to fight for our lives."
One distinction between the current presidential election and previous years is the contest is taking place amid the global pandemic of COVID-19, which makes grassroots organizing — traditionally a get-out-the-vote and door-knocking effort — difficult to say the least.
David, however, said the Human Rights Campaign will rise to the challenge with a focus on digital organizing as opposed to traditional methods.
Among other things, David said efforts will include use of the Team app to coordinate via text messages, Facebook Messenger, Instagram and Twitter, which he said is "nine times more effective than traditional door-to-door knocking where you're engaging with strangers." Other efforts, David said, are phone banking and volunteer opportunities at virtual or remote events.
"We are actively and aggressively, doing political organizing virtually because we understand that COVID-19 has changed the way we live, it's changed the way we work, and it's changing political organizing as well," David said.
The Human Rights Campaign also launches its plan to elect Biden one week after confirming it had laid off 22 employees due to the coronavirus.
David, however, said that was the result of adjustments after initial projected growth for the organization and won't impact their work in the presidential election.
"In fact, we're going to be more effective because we have been planning and building a virtual network, which is why we're prepared to launch the Team, app, which is why we have community hub, which is why we're able to do virtual training, because the Human Rights Campaign is actually invested in this virtual infrastructure," David said. "But it's not going to affect our political work."
The election of Biden to the White House, David said, would be a key victory for LGBTQ people hungry for change after four years of Trump.
"In addition to interacting with someone who's sane and rational, and not abusive, and not dismissive of LGBTQ people, I think we would have a president who understands and values LGBTQ people at its very basic level, someone who understands us and values us as human beings, understands the value that we bring to the table provides us with the dignity that we are hiding," David said. "And that is what we would expect of any human being but we would expect this of Joe Biden, and he's shown us time and time again that not only does he respect us, but he's going to make sure he protects and supports LGBTQ people."
The Washington Blade has placed a request with the Biden campaign seeking comment on the Human Rights Campaign endorsement.
New Hampshire's Republican Governor to veto "Don't Say Gay" bill
"This bill is antithetical to all the work we have done to ensure individuals in the LGBT community can live a life free from discrimination"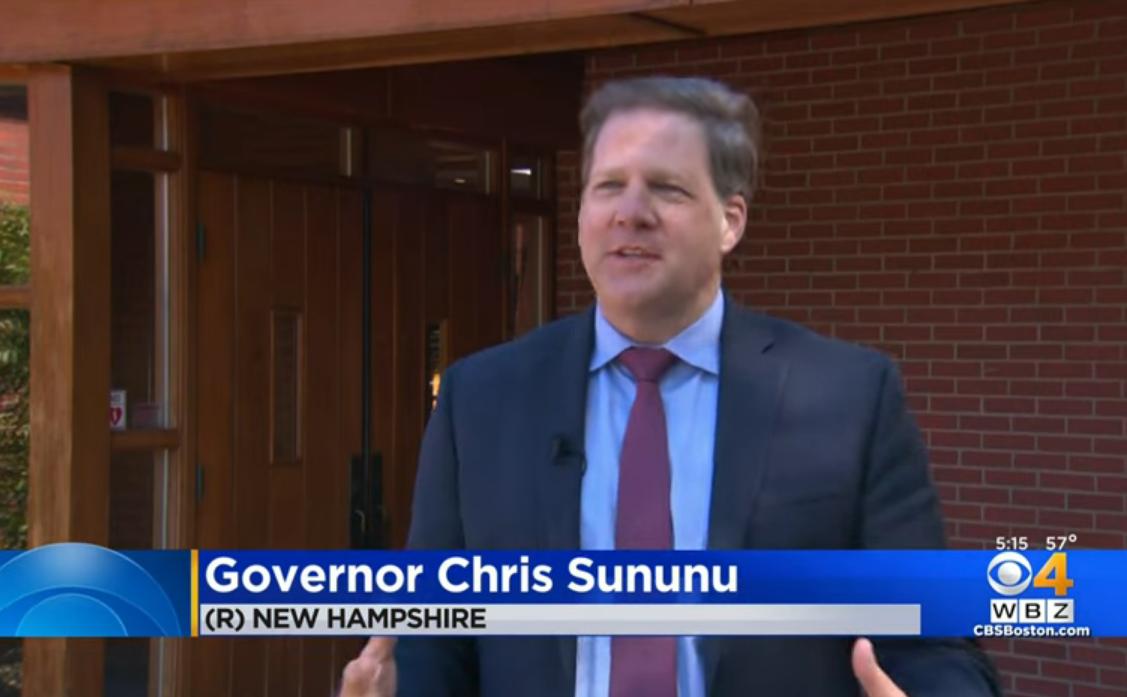 CONCORD – New Hampshire's Republican Governor Chris Sununu announced Thursday that he will veto HB 1431, titled as the "Parental Bill of Rights," legislation that would force school officials and faculty to take on the role of outing students to their families.
"This bill as written creates numerous challenges for kids," the governor said. "I share the concerns of the attorney general and, as such, will veto the bill if it reaches my desk."
The bill had undergone several changes with a final amended version working through both chambers pushed by Republican leadership.
The New Hampshire Bulletin reported Thursday that the bill has been opposed by the New Hampshire Attorney General's Office, LGBTQ+ rights groups, civil rights advocates, and teachers unions, who noted that the legislation would require schools to "out" trans students to their parents. They argued that doing so could be dangerous for some students and might discourage others from seeking help at school.
Sununu says he will veto bill critics say would force schools to out LGBT children https://t.co/iRGeXvFNTr

— WMUR TV (@WMUR9) May 19, 2022
In interviews with Manchester's ABC News affiliate WMUR-TV 9, supporters claimed it would allow parents to be more involved with their children's school lives.
"They don't know my child like I do," said state Sen. Bill Gannon, R-Sandown. "I'm the one responsible for them. The child doesn't have capacity on his own to give up whether or not he's going to get certain medical treatment. I want to know what's going on in my kid's life."
"So, there are a lot of cases where things are going on in a school system, and the parents are never informed, and this will allow for notification to the parents, and there's a long list of things that would be notified – everything from bullying to failing grades," said JR Hoell, treasurer of Rebuild NH, a group that organized around opposing COVID-19 vaccine mandates.
LGBTQ+ advocacy groups and ally lawmakers decry the measure WMUR reported:
Opponents are blasting the bill, saying it would mean that if a student joins a specific club or confides in an adviser or teacher, schools would then inform parents, essentially outing gay, lesbian and transgender students.
"This bill is antithetical to all the work we have done in the state to ensure that individuals in the LGBT community can live a life free from discrimination," said state Sen. Becky Whitley, D-Hopkinton.
"It's totally inappropriate for school officials to take on the role of outing students to their families, and coming out should always be an intimate moment within a family, not a clumsy event," said Chris Erchull, of GLBTQ Legal Advocates & Defenders.
Last December a diverse group of educators, advocacy groups, and law firms filed a federal lawsuit challenging a New Hampshire classroom censorship law, contained within state budget bill HB2, which discourages public school teachers from teaching and talking about race, gender, sexual orientation, disability, and gender identity in the classroom.
"This unconstitutionally vague law disallows students from receiving the inclusive, complete education they deserve, and from having important conversations on race, gender, disability, sexual orientation, and gender identity in the classroom," said Gilles Bissonnette, Legal Director of the ACLU of New Hampshire at the time of the lawsuit. "It is an attack on educators who are simply doing their job. Just four months into the school year, teachers are reporting being afraid to teach under this law for fear of being taken to court. This law, through vagueness and fear, erases the legacy of discrimination and lived experiences of Black and Brown people, women and girls, LGBTQ+ people, and people with disabilities."
Brazil LGBTQ+ activists, HIV/AIDS service providers fear Bolsonaro reelection
Presidential election to take place in October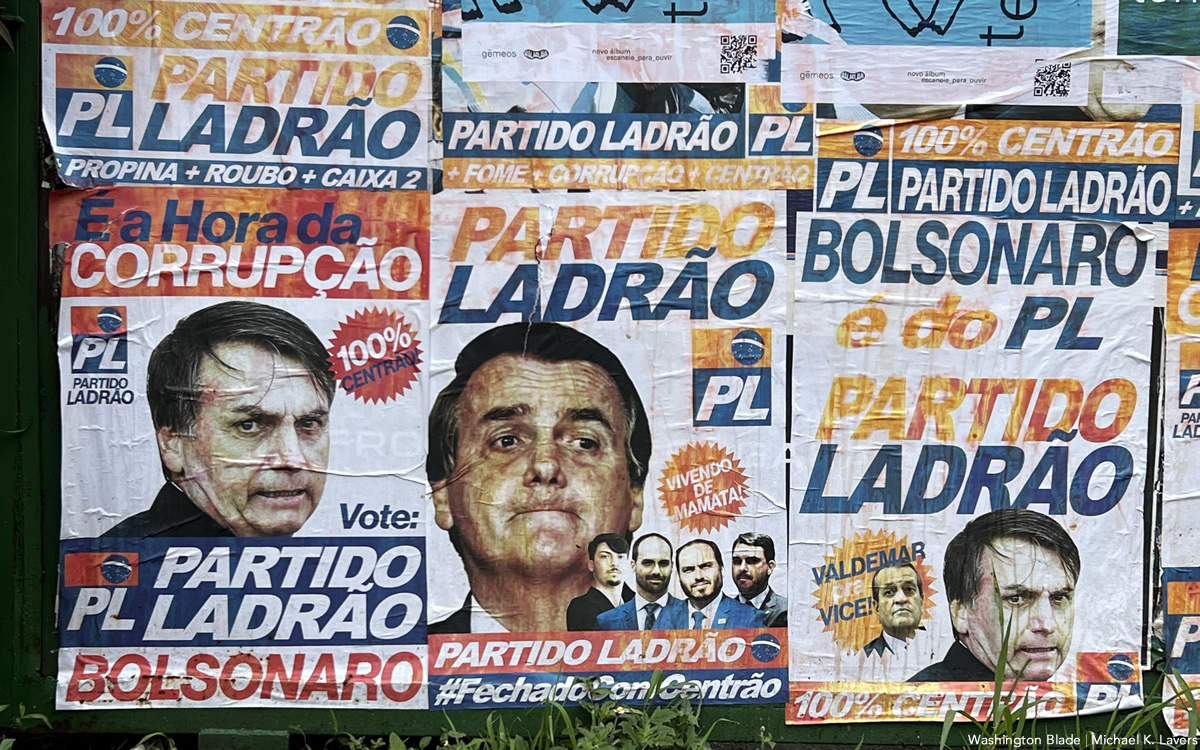 SALVADOR, Brazil — Fernanda Fonseca was the coordinator of the Brazilian Health Ministry's program to prevent mother-to-child transmission of HIV, syphilis and viral hepatitis B in 2019 when she attended the International AIDS Society's Conference on HIV Science in Mexico City.
Fonseca, who attended the conference in her personal capacity, made a presentation that focused on the issue. Her husband, who at the time coordinated the Brazilian Health Ministry's viral hepatitis program, also traveled to Mexico City.
One of Brazilian President Jair Bolsonaro's sons soon posted to Twitter a picture of a doctored presentation "about trans community rights, and LGBT community rights" that an unnamed "couple" had made at the conference. The "couple" who Bolsonaro's son targeted was Fonseca and her husband.
"He was like, this is what the government is standing for," Fonseca told the Washington Blade on March 16 during an interview at a coffee shop in Salvador, a city in northeastern Brazil that is the capital of Bahia state.
Bolsonaro took office as Brazil's president on Jan. 1, 2019, after he defeated then-São Paulo Mayor Fernando Haddad in the second round of the country's presidential election that took place the previous October.
Fonseca noted one of the first things Bolsonaro did as president was to remove HIV from the name of the Health Ministry department that specifically fights HIV/AIDS in Brazil.
It was previously the Department of Vigilance, Prevention and Control of Sexually Transmitted Infections, HIV/AIDS and Viral Hepatitis. It is now called the Department of Chronic Conditions and Sexually Transmitted Infections.
Bolsonaro fired the department's director, Adele Benzaken, after he took office. Fonseca said her position was also eliminated without her knowledge while she was on maternity leave.
Fonseca eventually resigned. She now works for AIDS Healthcare Foundation Brazil as its country medical program director.
"They destroyed my department," she said. "When I came back (from maternity leave), no one was answering my calls."
Fonseca is one of the many HIV/AIDS service providers and LGBTQ+ activists with whom the Blade spoke in Brazil — Salvador, São Paulo and Rio de Janeiro — from March 12-21. They all sharply criticized Bolsonaro and expressed concern over what may happen in Brazil if he wins re-election later this year.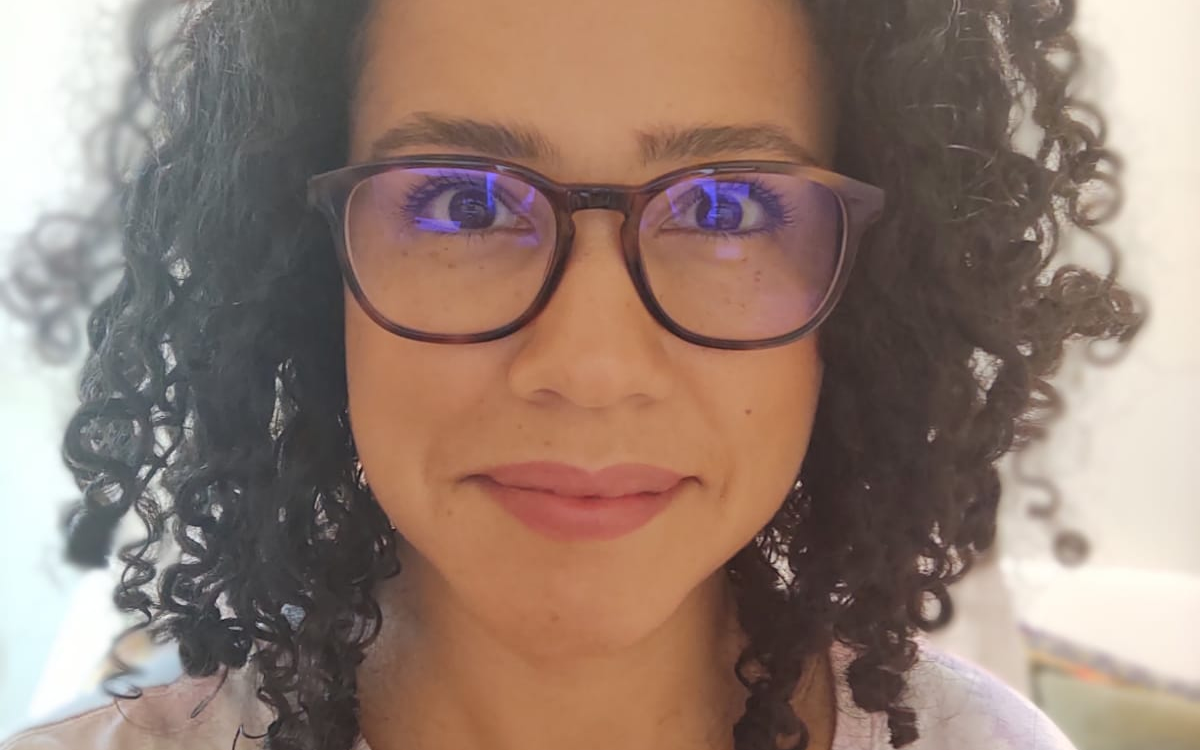 Bolsonaro is a former Brazilian Army captain who represented Rio de Janeiro in the country's Congress from 1991-2018.
Fonseca told the Blade that Bolsonaro has banned the Health Ministry from buying lubricants, while adding he "wanted to shut down everything related to HIV."
"It's very specific. It's very homophobic," she said. "I don't know who informs him."
AIDS Healthcare Foundation Brazil Program Manager Beto de Jesus during a March 14 interview at his office near São Paulo's Praça da Republica noted Bolsonaro has suggested COVID-19 vaccines can cause AIDS.
"To him, the question of AIDS is connected to faggots," said De Jesus.
São Paulo's Municipal Health Secretary distributes free condoms on the city's subway system. The Brazilian Health Ministry has donated to AIDS Healthcare Foundation antitretroviral drugs that it provides to Venezuelan migrants who receive care at their clinics in Colombia.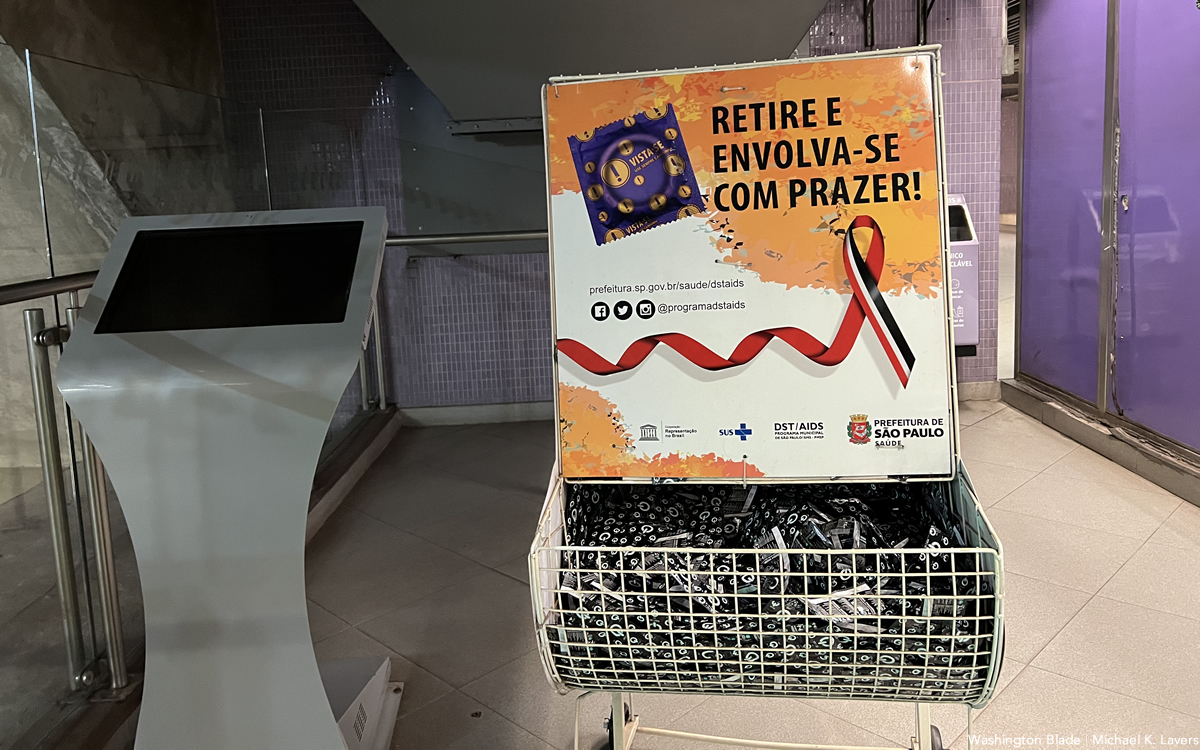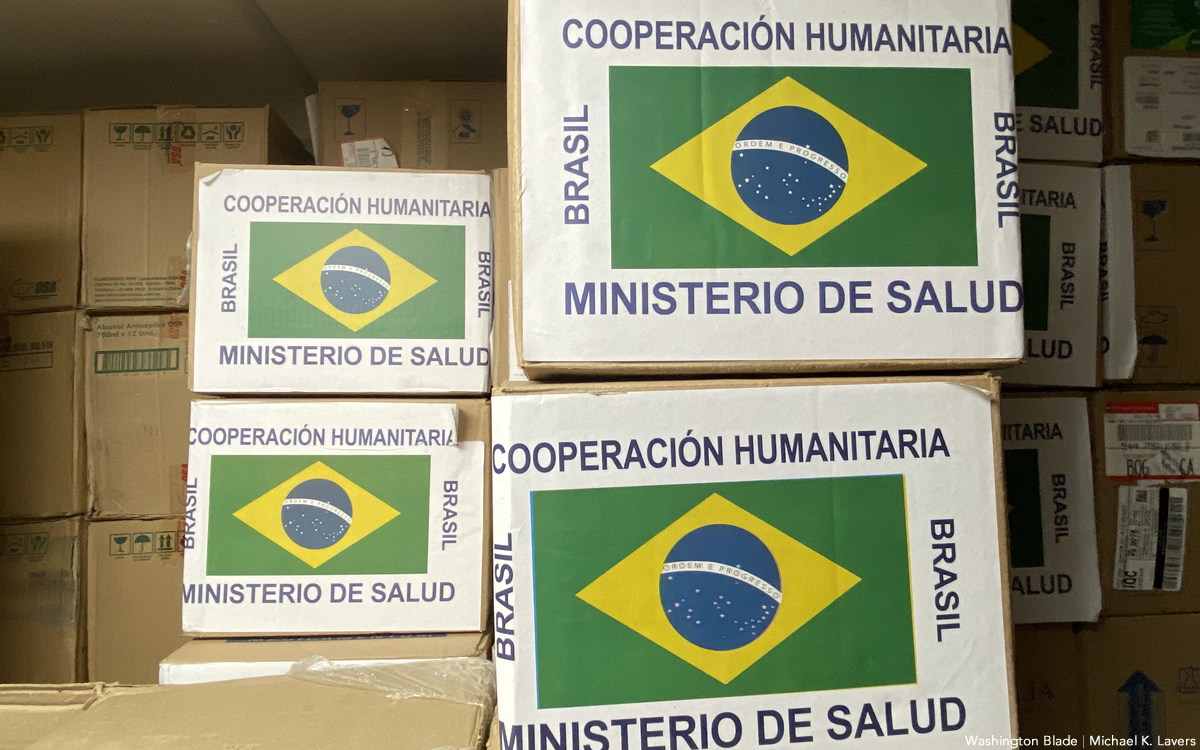 Bolsonaro, among many things, has encouraged fathers to beat their sons if they think they are gay. (His son, Rio Municipal Councilman Carlos Bolsonaro, is reportedly gay.)
Jair Bolsonaro in March 2019 during a press conference with then-President Trump in the White House Rose Garden stressed his "respect of traditional family values" — he's twice divorced and married his third wife, Michelle Bolsonaro, in 2017 — and opposition to "gender ideology."
A report that Human Rights Watch released earlier this month notes Bolsonaro "has a long history of mischaracterizing and vocally opposing gender and sexuality education, including on the grounds that it constitutes 'early sexualization'." Bolsonaro has supported legislation that would limit LGBTQ+-specific curricula in the country's schools, even after the Brazilian Supreme Court struck down local and state laws on the issue.
Jair Bolsonaro was not president when Rio Municipal Councilwoman Marielle Franco, a bisexual woman of African descent, and her driver, Anderson Gomes, were murdered in Rio's Lapa neighborhood on March 14, 2018.
Ronnie Lessa, one of the two former police officers who has been arrested in connection with the murders, lived in the same large condominium in Rio's exclusive Barra da Tijuca neighborhood in which Jair Bolsonaro lives. Franco's widow, Rio Municipal Councilwoman Mônica Benício, on March 19 said this fact is "just a coincidence."
Benício during the interview that took place at a coffee shop in downtown Rio stressed Jair Bolsonaro's rhetoric against LGBTQ+ Brazilians, women and other groups was "known" before he became president. Benício also acknowledged it resonates with a segment of Brazilian society.
"It is an absolutely despicable posture and incompatible with a posture of the president of the republic," said Benício.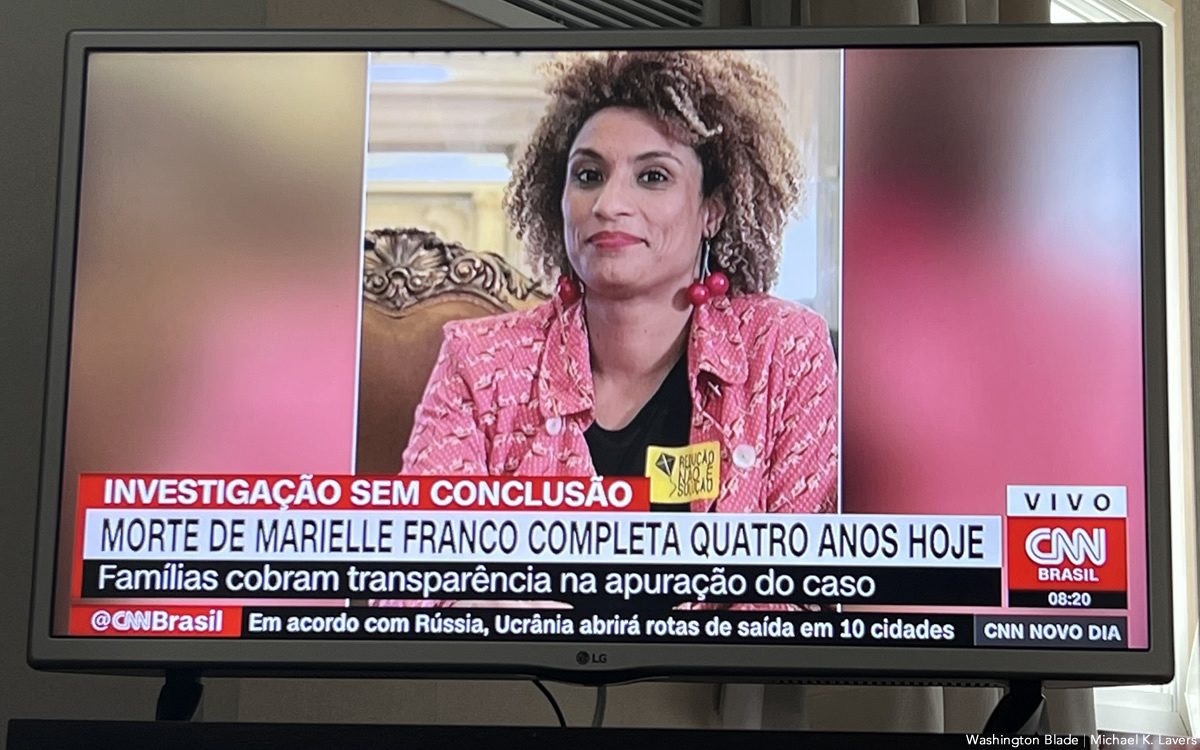 Two Brazilian LGBTQ+ rights groups — Aliança Nacional LGBTI and Grupo Gay da Bahia — in a report they released on May 10 notes 300 LGBTQ+ Brazilians "suffered violent deaths" because they were murdered or died by suicide. The organizations specifically note Salvador is the most dangerous state capital for LGBTQ+ people.
The report notes 28 percent of the murder victims were killed with knives, machetes, scissors, hoes and other weapons. One of them was stabbed 95 times.
"The cruelty of how many of these executions were committed demonstrates the extreme hatred of the criminals, who are not content with killing, disfigure the victim washing their murderous homophobia in the spilled blood," said Aliança Nacional LGBTI President Toni Reis in the report's introduction.
Grupo Gay da Bahia President Marcelo Cerqueira on March 15 told the Blade during an interview in Salvador that race, poverty, class, machismo and family structures all contribute to the area's high rate of violence against LGBTQ+ people.
"There are many relationships with asymmetrical power dynamics," he noted.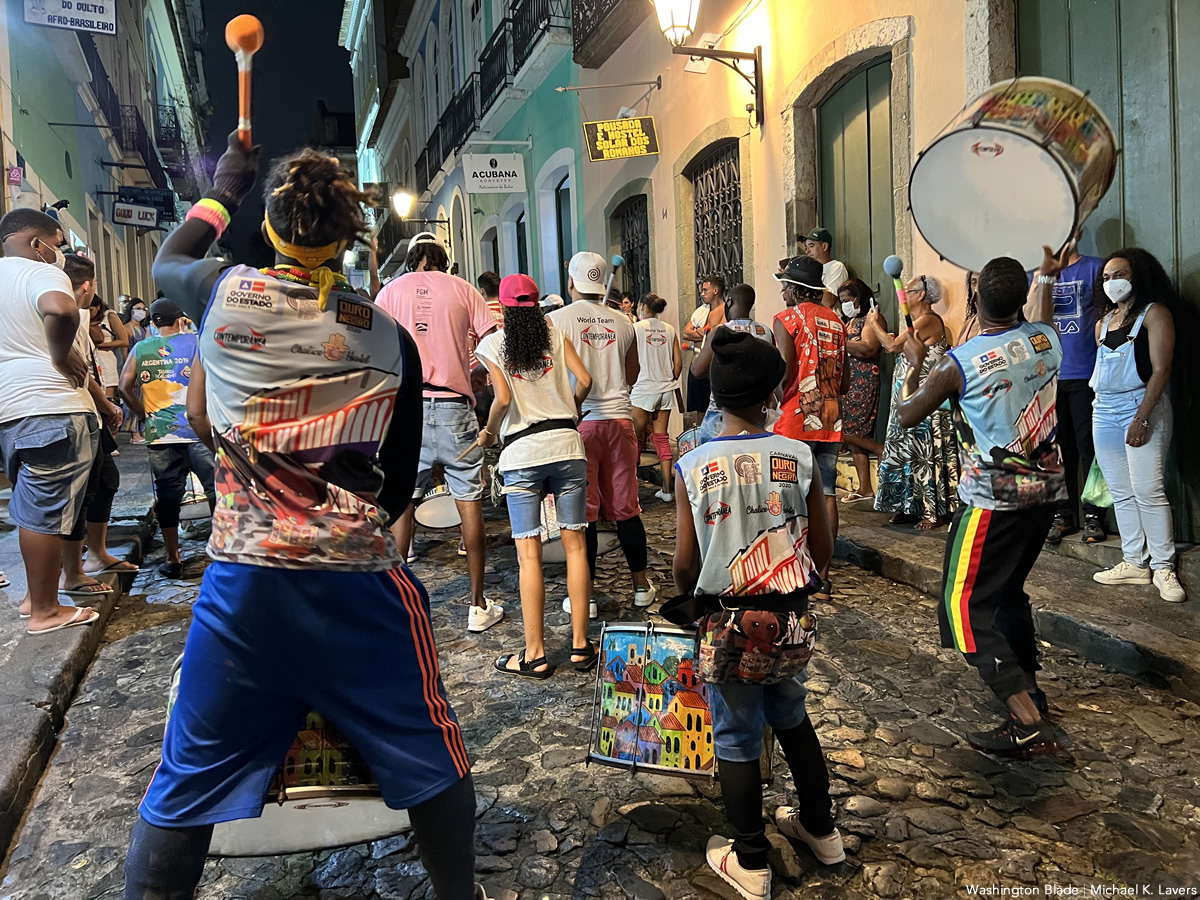 Keila Simpson is the president of Associaçao Nacional de Travestis e Transexuais (National Association of Travestis and Transsexuals), a Brazilian Transgender rights group known by the acronym ANTRA.
She noted to the Blade on March 16 during an interview at her office in Salvador's Pelourinho neighborhood that the Supreme Court in 2018 ruled Trans Brazilians can legally change their name and gender without medical intervention or a judicial order. Simpson said Trans Brazilians nevertheless continue to suffer from discrimination, a lack of formal employment and educational opportunities and police violence because of their gender identity. She also added efforts to combat violence against LGBTQ+ Brazilians have become even more difficult because Bolsonaro is "propagating violence against LGBTQ people every day."
"It increases the possibility of people who are already violent by nature to continue committing violence," said Simpson.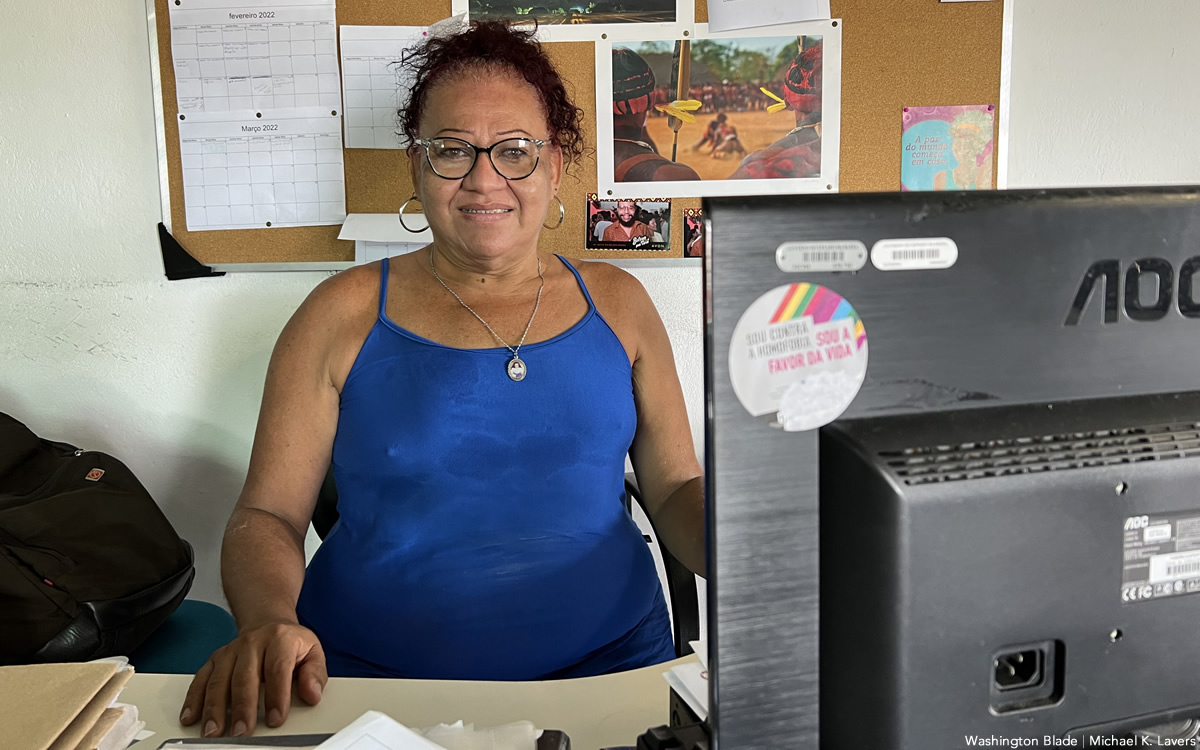 Mariah Rafaela Silva, a Trans woman of indigenous descent who works with the Washington-based International Institute on Race, Equality and Human Rights, agreed when she and her colleague, Isaac Porto, spoke with the Blade at a restaurant in Rio's Ipanema neighborhood on March 21.
"If I would choose a word to define Bolsonaro it would be danger," said Silva. "He represents a danger to the environment. He represents a danger to diversity. He represents a danger to Black people. He represents a danger to indigenous people."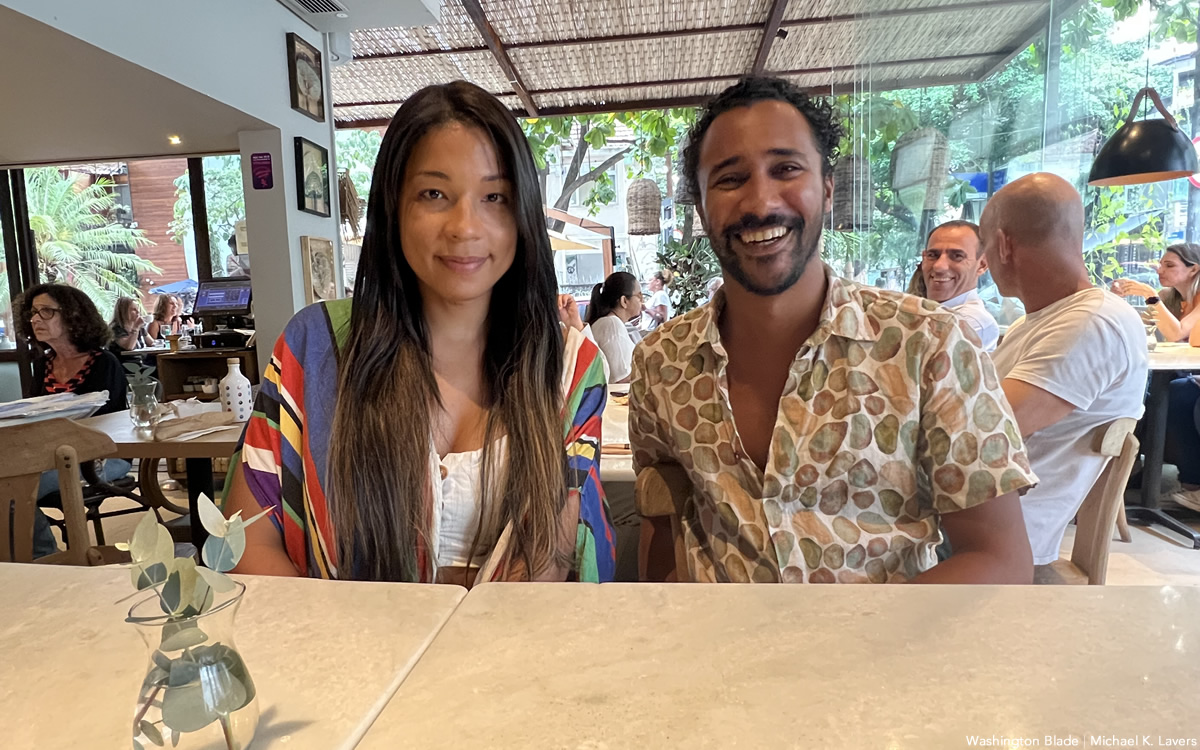 Rio de Janeiro (State) Legislative Assemblywoman Renata Souza is a Black feminist who grew up with Franco in Maré, a favela that is close to Rio's Galeão International Airport, and worked with her for 12 years.
Souza in March traveled to D.C. and met with Serra Sippel, chief global advocacy officer for Fòs Feminista, a global women's rights group, White House Gender Policy Council Senior Advisor Rachel Vogelstein and other officials and women's rights activists. Souza on Tuesday noted to the Blade that she also denounced Franco's murder, the "escalation of police violence and Black genocide in Brazil's peripheries and favelas" and called for international observers in the country for the presidential election when she spoke at the Organization of American States and to members of Congress.
"President Bolsonaro is the expression of a capitalist political project that serves private national and international interests related to the military-industrial complex, religious fundamentalism, agribusiness and the predatory exploitation of natural resources," said Souza. "This project's social base comes from the formation of an ideal of barbarism through the use of violence as language and hate as a fuel that spreads a misogynist, racist and fundamentalist culture, discriminatory customs and policies that predatory to nature and to being human."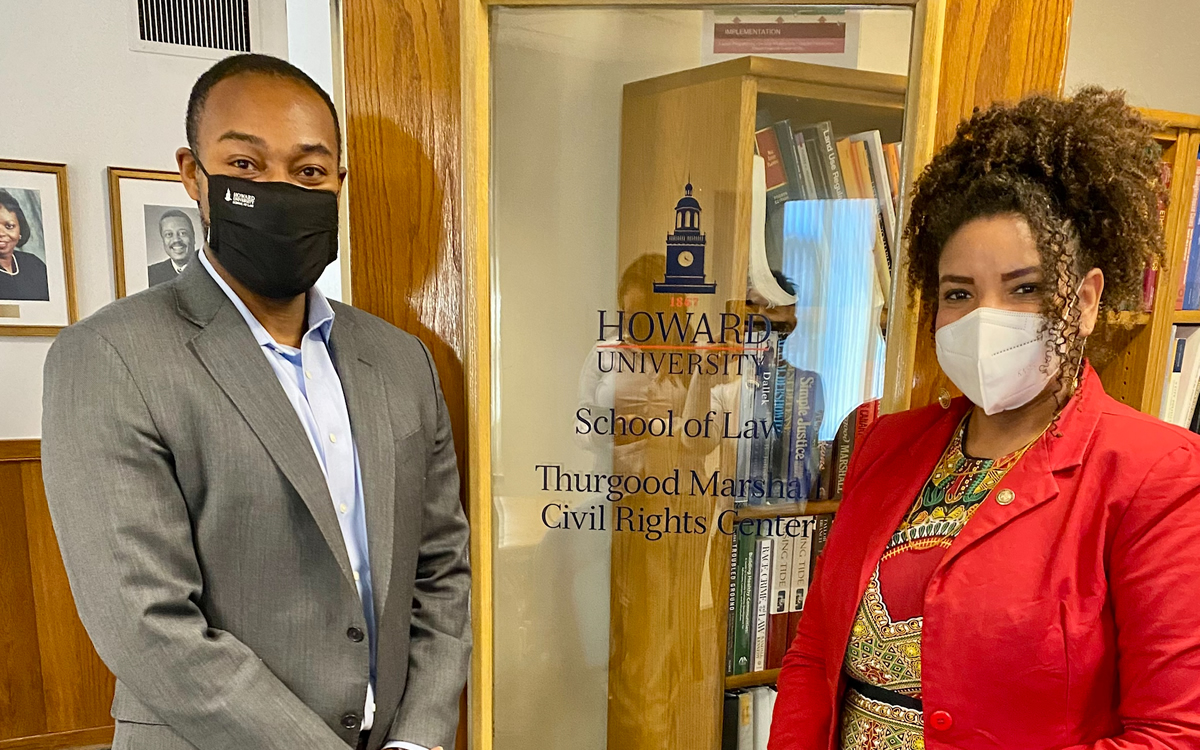 The first round of Brazil's presidential election will take place on Oct. 2.
Polls indicate Bolsonaro is trailing former President Luiz Inácio Lula da Silva. Bolsonaro has already sought to discredit the country's electoral system, even though a group of more than 20 would-be hackers who gathered in the Brazilian capital of Brasília last week failed to infiltrate it.
Da Silva, who was Brazil's president from 2003-2010, is a member of the country's Workers' Party.
Sergio Moro, a judge who Jair Bolsonaro later tapped as his government's Justice and Public Security Minister, in 2017 sentenced Da Silva to 9 1/2 years in prison after his conviction on money laundering and corruption charges that stemmed from Operation Car Wash. The Supreme Court in November 2019 ordered Da Silva's release.
Marina Reidel, a Trans woman who is the director of the country's Women, Family and Human Rights Department, on Monday told the Blade to email a request for comment on Jair Bolsonaro's anti-LGBTQ+ record to a spokesperson. The Blade has yet to receive a response.
Julian Rodrigues, who was the coordinator of the Workers' Party's National Working Group from 2006-2012, on Tuesday from São Paulo noted Da Silva in 2004 created the Health Ministry's "Brazil without Homophobia" campaign that he described as a "pioneering program for LGBT rights." Rodrigues also highlighted Da Silva created the Culture Ministry's Diversity Secretariat that, among other things, funded community centers and sought to make police officers and other law enforcement officials more LGBTQ+-friendly.
Simpson noted the Health Ministry when Da Silva and President Dilma Rousseff were in office funded projects that specifically helped sex workers and other vulnerable groups.
Rousseff was in office in 2013 when the Supreme Court extended marriage rights to same-sex couples across the country. Michel Temer was Brazil's president in 2018 when the Supreme Court issued its Trans rights decision.
The Supreme Court on May 24, 2019, issued a ruling that criminalized homophobia and transphobia. Bolsonaro, who took office less than five months earlier, condemned the decision.
The Supreme Court in May 2020 struck down the country's ban on men who have sex with men from donating blood. Brazil in 1999 became the first country in the world to ban so-called conversion therapy.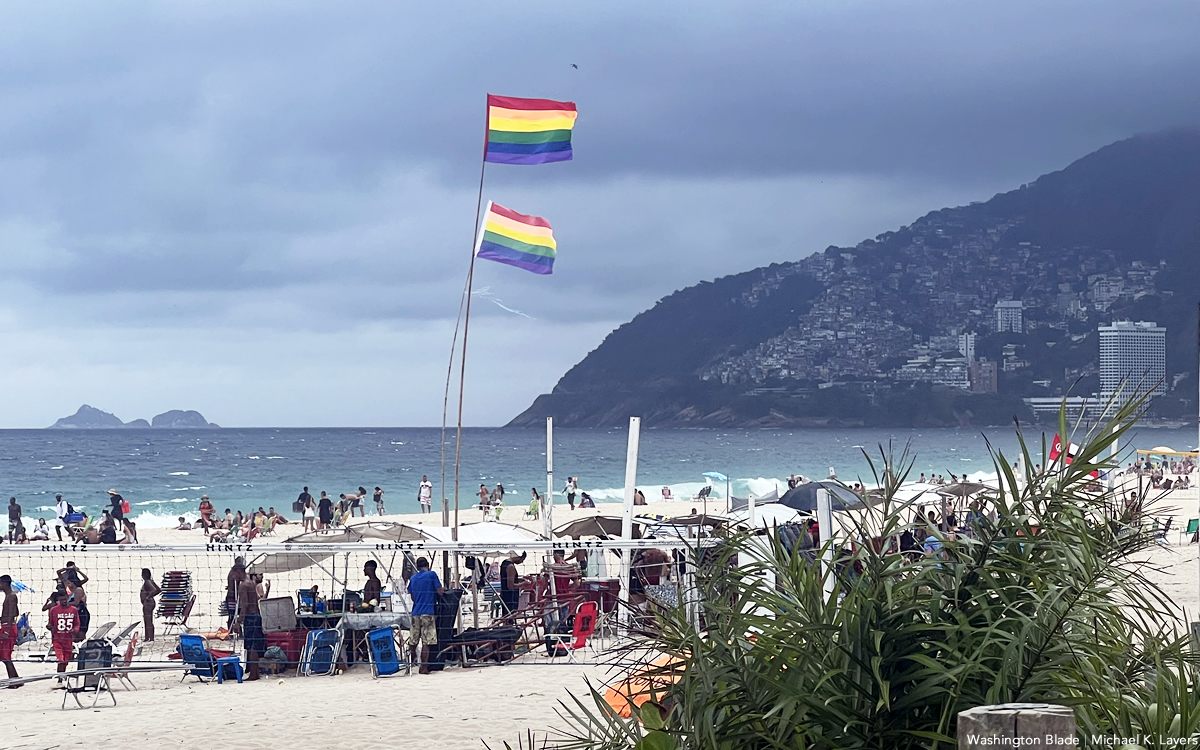 Rodrigues described Bolsonaro and his administration as "an extreme right-wing, authoritarian and fascist government that uses racial prejudice, gender prejudice and prejudice against LGBTs as engines to mobilize its conservative and reactionary social base."
"It is a very dangerous government for Brazil's democratic freedoms," Rodrigues told the Blade. "The entire Brazilian LGBT movement is fighting ardently to defeat the Bolsonaro government and elect Lula, a progressive president who is committed to the rights of LGBTQ people and all Brazilian people."
A gay man who was on Rio's Ipanema Beach with his husband on March 20 told the Blade they support Jair Bolsonaro because they feel he has fought corruption in Brazil. They did, however, add that Jair Bolsonaro "should keep his mouth shut."
Fonseca said her father voted for Bolsonaro in 2018 because he "hated" Da Silva.
"We don't live in a democratic state anymore," said Fonseca, who noted the Supreme Court eventually absolved Da Silva. "We can't trust the police force. We can't trust the legal system."
"People who think like him now they believe they can say that, they have the right to say homophobic things, racist things. They can because our president says them, so it's ok," added Fonseca. "We need to remember that it's not ok. I don't think they are the majority, So I think when we have a leader again that is strong, we are going back on track."
Cerqueira echoed Fonseca.
"(Bolsonaro) managed to energize prejudiced people who were not vocal before," Cerqueira told the Blade on March 15 during an interview in Salvador. "People were afraid to say that I was racist, that I was homophobic, that I was prejudiced. Nowadays everybody wants to be homophobic."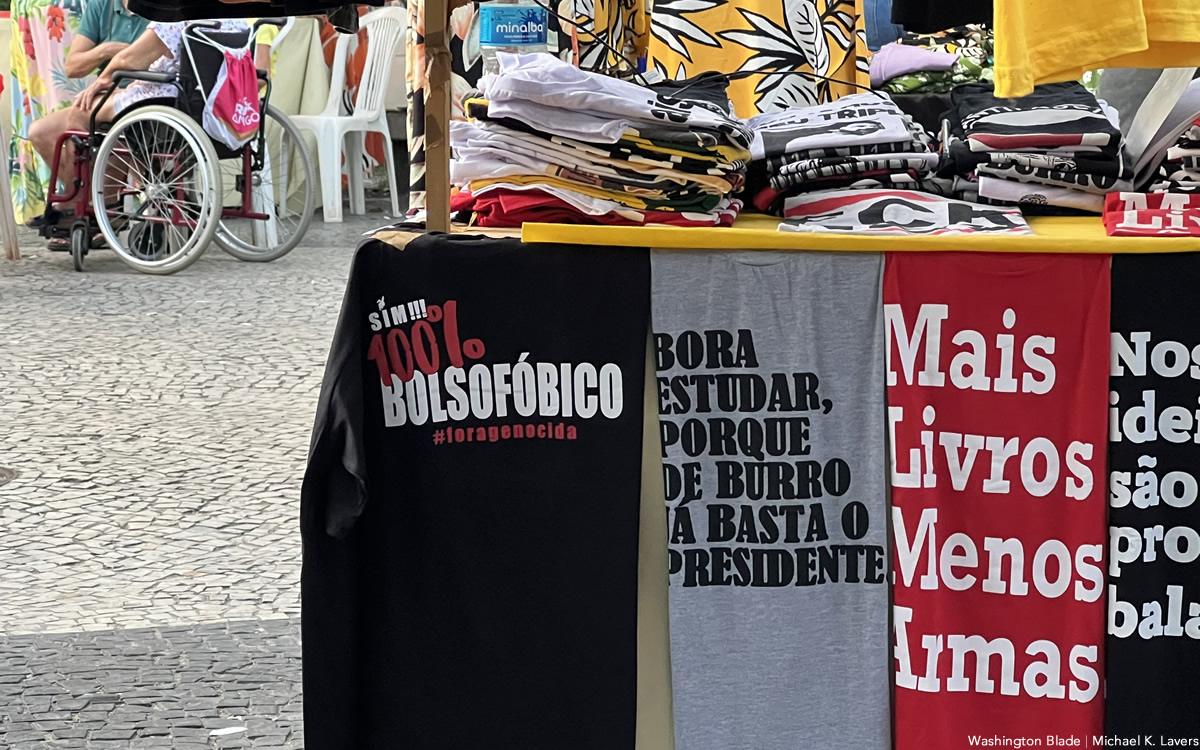 Porto noted conservatives continue to dominate the country's Congress and Brazilians who are Black and/or LGBTQ+ lack political power. He told the Blade the situation in a post-Bolsonaro Brazil is "going to be complicated"
"Brazilian society has not changed," said Porto. "There is a movement of people who are organized and recognize themselves as equal."
"There's a lot of damage that we have to repair," added Silva.
White House condemns Oklahoma ban on abortions starting at fertilization
"Roe has been the law of the land for almost 50 years, and basic fairness and the stability of our law demand that it not be overturned"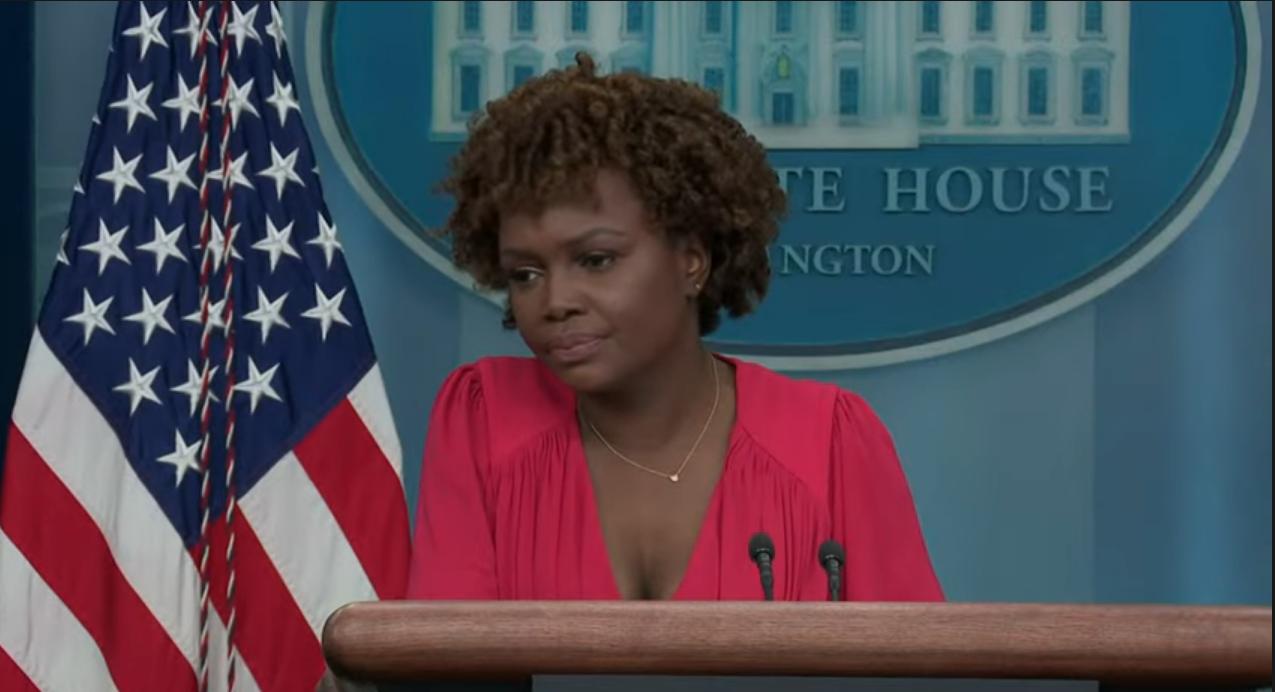 WASHINGTON – White House Press Secretary Karine Jean-Pierre issued a statement Thursday night condemning the Oklahoma Abortion Bill passed earlier in the day banning nearly all abortions starting at fertilization, which would make it the nation's strictest abortion law.
The New York Times noted that the bill is modeled on one that took effect in Texas in September, which has relied on civilian instead of criminal enforcement to work around court challenges. But it goes further than the Texas law, which bans abortions after about six weeks of pregnancy.
"The President believes that women have the fundamental right to make their own reproductive health choices. Roe has been the law of the land for almost 50 years, and basic fairness and the stability of our law demand that it not be overturned.  Today's action by the Oklahoma legislature is the most extreme effort to undo these fundamental rights we have seen to date.  In addition, it adopts Texas' absurd plan to allow private citizens to sue their neighbors for providing reproductive health care and helping women to exercise their constitutional rights," Jean-Pierre said.
"This is part of a growing effort by ultra MAGA officials across the country to roll back the freedoms we should not take for granted in this country.  They are starting with reproductive rights, but the American people need to know that other fundamental rights, including the right to contraception and marriage equality, are at risk.  The President is committed to standing up for these constitutional rights, and for protecting Americans' fundamental freedoms," she added.
The bill subjects abortion providers and anyone who "aids or abets" an abortion to civil suits from private individuals. It would take effect immediately upon signature by Republican Governor Kevin Stitt, who has pledged to make Oklahoma the most anti-abortion in the nation.
Oklahoma One Step Closer To Banning Abortions At Conception: