HRC rolls out support for Biden on anniversary of marriage endorsement
Alphonso David says Tara Reade allegations should be 'fully evaluated'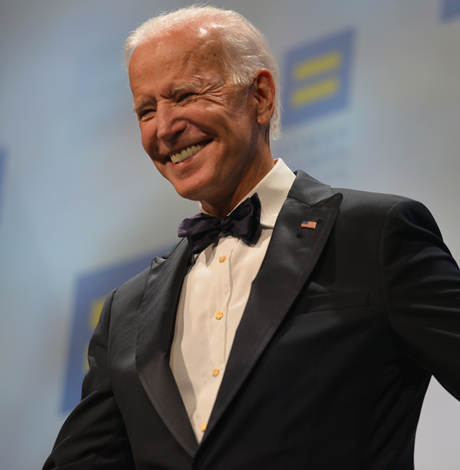 The nation's leading LGBTQ group has officially thrown its support behind Joseph Biden in the presidential election, drawing on the anniversary of his famous words in support of same-sex marriage on "Meet the Press" to make the case the candidate should unseat President Trump.
Alphonso David, president of the Human Rights Campaign, said Tuesday night in an interview with the Washington Blade that the board of directors voted unanimously to endorse Biden after an extensive review, which concluded the candidate had a commitment to LGBTQ people and other minority communities.
"We reviewed his record on marginalized communities," David said. "We reviewed his prior comments on LGBTQ issues as well as issues that affect people who bring intersectional identities to the table. As an example, I'm black, I'm gay, I'm an immigrant. All of those issues are for me and they happen to be for the Human Rights Campaign."
The announcement of the endorsement was timed to coincide with the eighth anniversary of Biden coming out in favor of marriage equality on "Meet the Press," which helped bring a once contentious idea into the mainstream and preceded former President Barack Obama's own endorsement three days later.
https://www.facebook.com/watch/?v=171204870873659
The Human Rights Campaign, unlike in 2016, during this election cycle had stayed out of the Democratic presidential primary. Even before Sen. Bernie Sanders (I-Vt.) dropped out, making Biden the presumptive Democratic nominee, David said the Human Rights Campaign had been reviewing Biden along with other candidates and had planned "a few days and weeks" to make the endorsement announcement on May 6.
"We thought it would be most appropriate — both from a symbolic perspective, but also substantively — to make the endorsement and we made the decision that May 6 was the right date," David said. "It reminds us where we were several years ago, when same-sex couples could not marry in so many states in the country. And Joe Biden stood up, and was very vocal about his support of LGBTQ equality and that really changed the public discourse."
As evidence of Biden's commitment to LGBTQ rights, David pointed out the candidate's promise to sign LGBTQ non-discrimination legislation known as the Equality Act, a plan to end HIV/AIDS by 2025 and a commitment to ensuring the Affordable Care Act is fully implemented.
In contrast, the Trump administration has established a transgender military ban, taken administrative actions in favor of religious freedom at the expense of LGBTQ rights and has refused to include LGBTQ people in the enforcement of civil rights law — going so far as to argue against it before the U.S. Supreme Court. (The Trump administration has, however, set up a plan aimed at ending the HIV/AIDS epidemic by 2030.)
As part of the endorsement, the Human Rights Campaign has unveiled a plan built on its successful strategies from 2016 and 2018 to get LGBTQ people and "equality voters" — voters who prioritize LGBTQ issues — to the polls.
There are an estimated 57 million "equality voters" across the nation and their demographics skew toward suburban women and more toward minority groups than the general population. According to the Human Rights Campaign, 60 percent are women, 48 percent are people of color and 30 percent are under the age of 35.
David said an estimated 3.4 million voters in that category are at risk of not turning out for the election and the Human Rights Campaign plans to work to make sure that doesn't happen.
"We are going to be focused on those folks who may not be inclined to vote to make sure they understand the importance of the election, they're engaged in the process," David said.
To turn out those voters, the Human Rights Campaign is set to focus on seven states considered battlegrounds in the coming election. Six of the states — Arizona, Michigan, Nevada, Ohio, Pennsylvania and Wisconsin — were priorities in previous years, but the seventh is Texas and a new addition.
David said Texas was added because significant infrastructure was built in the state after years of beating back anti-LGBTQ legislation in the state legislature.
"We decided to make Texas one of our major priority states because there are half a dozen competitive U.S. House races on the ballot in 2020," David said. "We also have the state houses in play in 2020, and we anticipate that the presidential campaigns will invest in the states more so than any other presidential election in recent memory because of the number of people in Texas. So for those three reasons we made a decision to include Texas."
Polling shows Texas may be an attainable target for Biden. A University of Texas, Tyler/Dallas Morning News poll of registered voters out this week found Trump and Biden neck-and-neck at 43 percent in the state.
Sen. Jacky Rosen (D-Nev.) told the Blade help from the Human Rights Campaign would be a boon for Biden because the nation's leading LGBTQ group was essential to her U.S. House win in 2016 and the U.S. Senate win in 2018.
"Candidate support for LGBTQ equality is a crucial, a determining factor for over 55 million people across the country — and over 600,000 people in Nevada — they're equality voters, so that's why it matters," Rosen said.
The upcoming election, Rosen said, is important not just for LGBTQ rights but other progressive issues because Biden is "in that fight as well."
"You want somebody who's going to stand up for equality, to stand up for human rights, try to stand up for all the things care about: health care, education, the environment…LGBTQ rights, but everyone has families so they care about all it," Rozen said.
David: Tara Reade allegations should be 'fully evaluated'
The endorsement also comes amid the emergence of sexual misconduct allegations against Biden from Tara Reade, a former staffer who worked for him when he was a senator in the 1990s.
The allegations have been picking up steam in the media and the public. A survey from POLITICO/Morning Consult— conducted in the days after Biden appeared on MSNBC's "Morning Joe" Friday to deny the charges personally for the first time — found 28 percent of Democrats "definitely" or "probably" favor replacing Biden with another nominee to take on Trump.
David struck a middle ground when asked if he believes Biden in his denial, underscoring the importance of listening to survivors who have made their voices heard in the "Me Too" movement.
"It is absolutely critical that we listen to survivors, who for a long time, had to have their voices dismissed," David said. "Survivors should be heard, survivors should be listened to, taken seriously, treated with respect and dignity. And when these allegations came forward and allegations like these come forward, we need to make sure that they're fully evaluated — and I believe that is happening right now."
At the same time, David emphasized the importance of electing a candidate to unseat Trump in the upcoming election.
"We cannot afford for LGBTQ voices to be marginalized in this election. We have six months, we cannot afford for Donald Trump to win this election in November, and every day his administration, as you know, rolls back our rights, and another queer kid contemplates suicide, another black trans woman is killed," David said. "So this election is life or death for us in our community and we chose to fight for our lives."
One distinction between the current presidential election and previous years is the contest is taking place amid the global pandemic of COVID-19, which makes grassroots organizing — traditionally a get-out-the-vote and door-knocking effort — difficult to say the least.
David, however, said the Human Rights Campaign will rise to the challenge with a focus on digital organizing as opposed to traditional methods.
Among other things, David said efforts will include use of the Team app to coordinate via text messages, Facebook Messenger, Instagram and Twitter, which he said is "nine times more effective than traditional door-to-door knocking where you're engaging with strangers." Other efforts, David said, are phone banking and volunteer opportunities at virtual or remote events.
"We are actively and aggressively, doing political organizing virtually because we understand that COVID-19 has changed the way we live, it's changed the way we work, and it's changing political organizing as well," David said.
The Human Rights Campaign also launches its plan to elect Biden one week after confirming it had laid off 22 employees due to the coronavirus.
David, however, said that was the result of adjustments after initial projected growth for the organization and won't impact their work in the presidential election.
"In fact, we're going to be more effective because we have been planning and building a virtual network, which is why we're prepared to launch the Team, app, which is why we have community hub, which is why we're able to do virtual training, because the Human Rights Campaign is actually invested in this virtual infrastructure," David said. "But it's not going to affect our political work."
The election of Biden to the White House, David said, would be a key victory for LGBTQ people hungry for change after four years of Trump.
"In addition to interacting with someone who's sane and rational, and not abusive, and not dismissive of LGBTQ people, I think we would have a president who understands and values LGBTQ people at its very basic level, someone who understands us and values us as human beings, understands the value that we bring to the table provides us with the dignity that we are hiding," David said. "And that is what we would expect of any human being but we would expect this of Joe Biden, and he's shown us time and time again that not only does he respect us, but he's going to make sure he protects and supports LGBTQ people."
The Washington Blade has placed a request with the Biden campaign seeking comment on the Human Rights Campaign endorsement.
LA Mayor Garcetti volunteers at Project Angel Food's Thanksgiving
For many of the celebrities joining Project Angel Food's Thanksgiving Day volunteers the day was about sharing the experience with family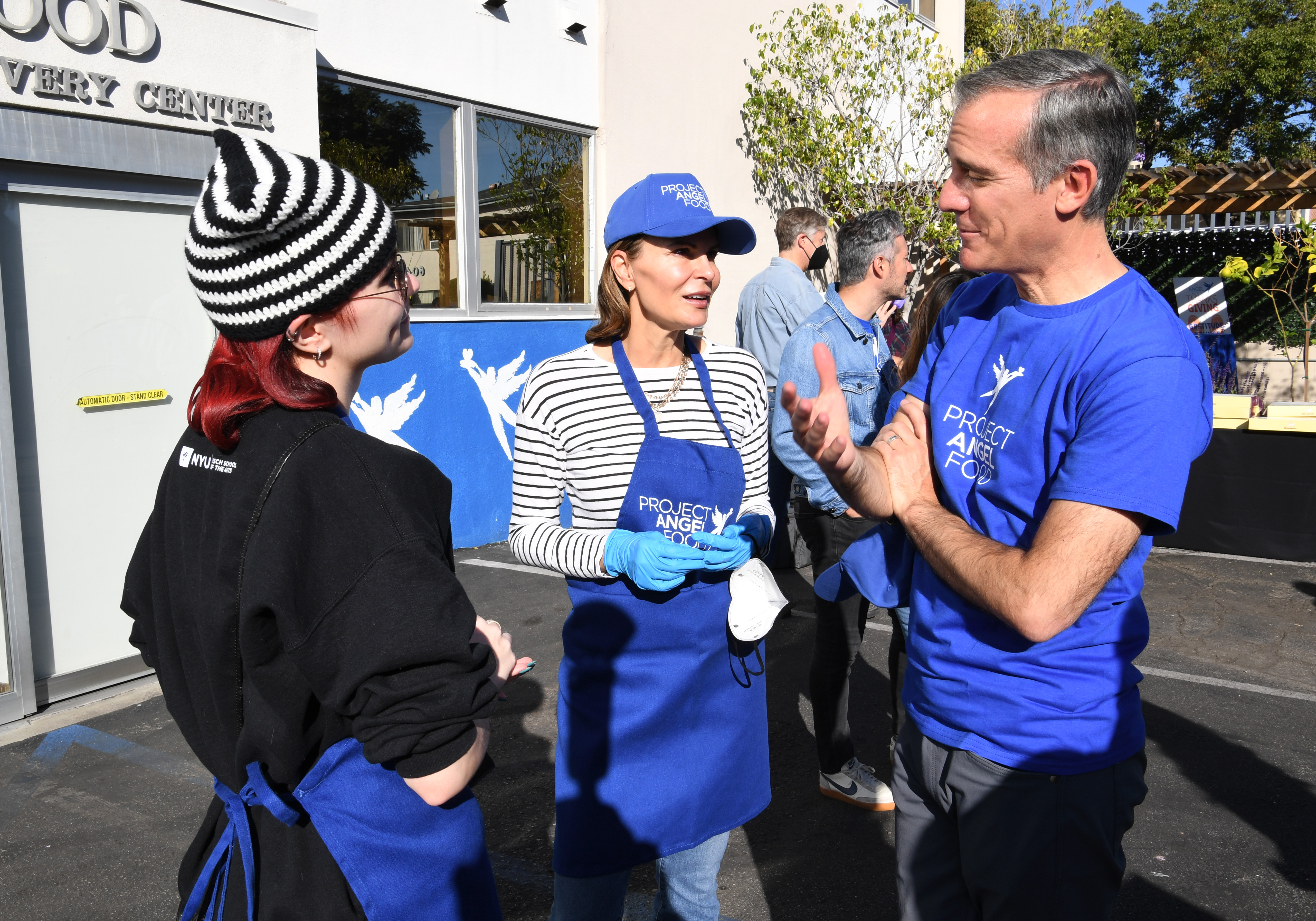 LOS ANGELES – In the early morning hours of Thanksgiving Day, Mayor Eric Garcetti joined Project Angel Food CEO Richard Ayoub, celebrity supporters and 225 volunteers and staff to prepare and deliver 7,400 meals on Thanksgiving Day to seriously ill and housing insecure people throughout 4,700 square miles of L.A. County.
"Mayor Eric Garcetti epitomizes what it is to be part of a community and lift one another through compassion and service. As he rolled up his sleeves and helped plate meals, he brought attention that while this is a day most of us are surrounded by people we love, we need to remember that some people don't have that," Project Angel Food CEO Richard Ayoub said. "He reminded us that no Angeleno should be alone and with a warm smile, a conversation and a meal, our volunteers can change the entire day for our clients, become angels in the City of Angels," Ayoub added.
For many of the celebrities joining Project Angel Food's Thanksgiving Day volunteer pool, the day was about sharing the experience with family. Volunteers included Lisa Rinna and husband Harry Hamlin; "Weird Al" Yankovic with his wife Suzanne and daughter Nina.
Also volunteering was Out actor and singer Cheyenne Jackson and husband Jason Landau with their twins Willow and Ethan. Jackson said the couple brought the children because, "I want to teach my kids to be grateful and thankful for everything that we have, and when you have the capability to give to other people, do it."
He also talked about the death of friend Leslie Jordan, a Project Angel Food supporter who died exactly one month earlier. "He was one of my best friends and it hit me really, really hard like so many people," he said.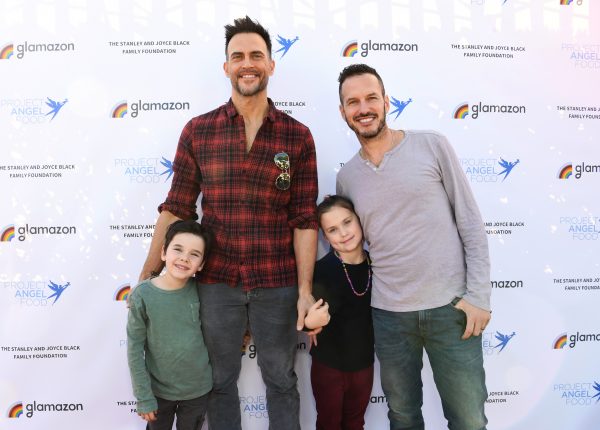 American Idol favorite Ava Maybee with her mother, and Melissa Rivers with son Cooper Endicott, continuing her mother Joan Rivers' legacy of volunteering on Thanksgiving.
Avatar: The Way of Water star Trinity Bliss brought her parents just weeks before the December 16 release of the highly anticipated film. "I'm so honored to work alongside so many people to bring a warm, delicious, tasty meal to people in need."
Of her much-anticipated film, Avatar: Way of Water, Trinity added, "Avatar was amazing, but I think Avatar: The Way of Water is going to be just so much more dramatic and be an experience people are going to need to experience in theaters."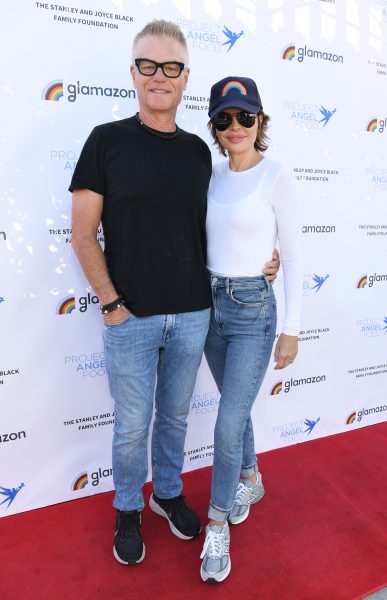 Lisa Rinna reflected on the fact that Project Angel Food is the primary source of food for most of its clients. "It's so important because that is going to be their only meal of the day." her husband Hamlin added, "to have the opportunity to give back is amazing."
Other celebrities included Eileen Davidson (RHOBH, Days of Our Lives), Peter Porte (Days of Our Lives), Juan Pablo Di Pace (DWTS, Fuller House), Olympian Tai Babilonia, Tim Bagley (Gracie & Frankie, Will & Grace), Michael Hitchcock (The Resort, Crazy Ex-Girlfriend), Lawrence Zarian (The Kelly Clarkson Show), Marc Malkin (Variety), James Wallington and Will Jardell (Amazing Race Season 32 winners), Romeo Escobar (Survivor 42 runner-up), and parenting author Donna Tetreault.
The 7,400 meals being delivered on Thanksgiving included 1,600 traditional turkey dinners to critically ill men, women, children and their caregivers, 5,600 Medically Tailored Meals and breakfasts regularly scheduled for Thursday delivery, and another 200 meals were provided to Project Angel Food community partner PATH for residents for two of PATH's Interim Housing and Permanent Supportive Housing sites.
Volunteers provided contactless "drive-by" pick-up of the meals which were then delivered to Project Angel Food clients. Traditional Thanksgiving dinners consisted of roasted turkey, root vegetables, stuffing, gravy, cranberry sauce and a slice of pumpkin cheesecake. Vegetarian meals were also provided.
The meal was sponsored by the Stanley and Joyce Black Family foundation with Glamazon (Amazon's affinity group for the LGBT+ community) sponsoring the volunteer event.
Project Angel Food CEO Richard Ayoub noted that Project Angel Food strives to end food insecurity and improve health outcomes of critically ill men, women and children in Los Angeles with Medically Tailored Meals, delivered with care and compassion.
Over 2,500 clients are fed daily. Project Angel Food delivers 1.3 million meals each year.