HRC rolls out support for Biden on anniversary of marriage endorsement
Alphonso David says Tara Reade allegations should be 'fully evaluated'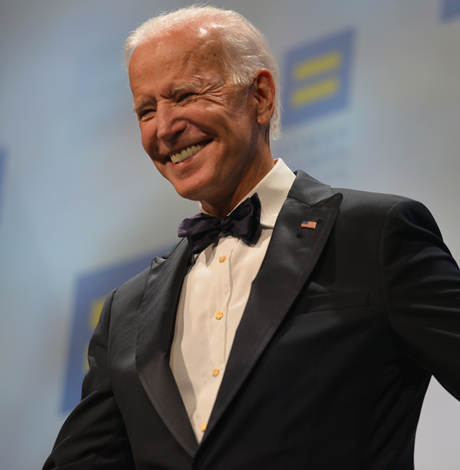 The nation's leading LGBTQ group has officially thrown its support behind Joseph Biden in the presidential election, drawing on the anniversary of his famous words in support of same-sex marriage on "Meet the Press" to make the case the candidate should unseat President Trump.
Alphonso David, president of the Human Rights Campaign, said Tuesday night in an interview with the Washington Blade that the board of directors voted unanimously to endorse Biden after an extensive review, which concluded the candidate had a commitment to LGBTQ people and other minority communities.
"We reviewed his record on marginalized communities," David said. "We reviewed his prior comments on LGBTQ issues as well as issues that affect people who bring intersectional identities to the table. As an example, I'm black, I'm gay, I'm an immigrant. All of those issues are for me and they happen to be for the Human Rights Campaign."
The announcement of the endorsement was timed to coincide with the eighth anniversary of Biden coming out in favor of marriage equality on "Meet the Press," which helped bring a once contentious idea into the mainstream and preceded former President Barack Obama's own endorsement three days later.
https://www.facebook.com/watch/?v=171204870873659
The Human Rights Campaign, unlike in 2016, during this election cycle had stayed out of the Democratic presidential primary. Even before Sen. Bernie Sanders (I-Vt.) dropped out, making Biden the presumptive Democratic nominee, David said the Human Rights Campaign had been reviewing Biden along with other candidates and had planned "a few days and weeks" to make the endorsement announcement on May 6.
"We thought it would be most appropriate — both from a symbolic perspective, but also substantively — to make the endorsement and we made the decision that May 6 was the right date," David said. "It reminds us where we were several years ago, when same-sex couples could not marry in so many states in the country. And Joe Biden stood up, and was very vocal about his support of LGBTQ equality and that really changed the public discourse."
As evidence of Biden's commitment to LGBTQ rights, David pointed out the candidate's promise to sign LGBTQ non-discrimination legislation known as the Equality Act, a plan to end HIV/AIDS by 2025 and a commitment to ensuring the Affordable Care Act is fully implemented.
In contrast, the Trump administration has established a transgender military ban, taken administrative actions in favor of religious freedom at the expense of LGBTQ rights and has refused to include LGBTQ people in the enforcement of civil rights law — going so far as to argue against it before the U.S. Supreme Court. (The Trump administration has, however, set up a plan aimed at ending the HIV/AIDS epidemic by 2030.)
As part of the endorsement, the Human Rights Campaign has unveiled a plan built on its successful strategies from 2016 and 2018 to get LGBTQ people and "equality voters" — voters who prioritize LGBTQ issues — to the polls.
There are an estimated 57 million "equality voters" across the nation and their demographics skew toward suburban women and more toward minority groups than the general population. According to the Human Rights Campaign, 60 percent are women, 48 percent are people of color and 30 percent are under the age of 35.
David said an estimated 3.4 million voters in that category are at risk of not turning out for the election and the Human Rights Campaign plans to work to make sure that doesn't happen.
"We are going to be focused on those folks who may not be inclined to vote to make sure they understand the importance of the election, they're engaged in the process," David said.
To turn out those voters, the Human Rights Campaign is set to focus on seven states considered battlegrounds in the coming election. Six of the states — Arizona, Michigan, Nevada, Ohio, Pennsylvania and Wisconsin — were priorities in previous years, but the seventh is Texas and a new addition.
David said Texas was added because significant infrastructure was built in the state after years of beating back anti-LGBTQ legislation in the state legislature.
"We decided to make Texas one of our major priority states because there are half a dozen competitive U.S. House races on the ballot in 2020," David said. "We also have the state houses in play in 2020, and we anticipate that the presidential campaigns will invest in the states more so than any other presidential election in recent memory because of the number of people in Texas. So for those three reasons we made a decision to include Texas."
Polling shows Texas may be an attainable target for Biden. A University of Texas, Tyler/Dallas Morning News poll of registered voters out this week found Trump and Biden neck-and-neck at 43 percent in the state.
Sen. Jacky Rosen (D-Nev.) told the Blade help from the Human Rights Campaign would be a boon for Biden because the nation's leading LGBTQ group was essential to her U.S. House win in 2016 and the U.S. Senate win in 2018.
"Candidate support for LGBTQ equality is a crucial, a determining factor for over 55 million people across the country — and over 600,000 people in Nevada — they're equality voters, so that's why it matters," Rosen said.
The upcoming election, Rosen said, is important not just for LGBTQ rights but other progressive issues because Biden is "in that fight as well."
"You want somebody who's going to stand up for equality, to stand up for human rights, try to stand up for all the things care about: health care, education, the environment…LGBTQ rights, but everyone has families so they care about all it," Rozen said.
David: Tara Reade allegations should be 'fully evaluated'
The endorsement also comes amid the emergence of sexual misconduct allegations against Biden from Tara Reade, a former staffer who worked for him when he was a senator in the 1990s.
The allegations have been picking up steam in the media and the public. A survey from POLITICO/Morning Consult— conducted in the days after Biden appeared on MSNBC's "Morning Joe" Friday to deny the charges personally for the first time — found 28 percent of Democrats "definitely" or "probably" favor replacing Biden with another nominee to take on Trump.
David struck a middle ground when asked if he believes Biden in his denial, underscoring the importance of listening to survivors who have made their voices heard in the "Me Too" movement.
"It is absolutely critical that we listen to survivors, who for a long time, had to have their voices dismissed," David said. "Survivors should be heard, survivors should be listened to, taken seriously, treated with respect and dignity. And when these allegations came forward and allegations like these come forward, we need to make sure that they're fully evaluated — and I believe that is happening right now."
At the same time, David emphasized the importance of electing a candidate to unseat Trump in the upcoming election.
"We cannot afford for LGBTQ voices to be marginalized in this election. We have six months, we cannot afford for Donald Trump to win this election in November, and every day his administration, as you know, rolls back our rights, and another queer kid contemplates suicide, another black trans woman is killed," David said. "So this election is life or death for us in our community and we chose to fight for our lives."
One distinction between the current presidential election and previous years is the contest is taking place amid the global pandemic of COVID-19, which makes grassroots organizing — traditionally a get-out-the-vote and door-knocking effort — difficult to say the least.
David, however, said the Human Rights Campaign will rise to the challenge with a focus on digital organizing as opposed to traditional methods.
Among other things, David said efforts will include use of the Team app to coordinate via text messages, Facebook Messenger, Instagram and Twitter, which he said is "nine times more effective than traditional door-to-door knocking where you're engaging with strangers." Other efforts, David said, are phone banking and volunteer opportunities at virtual or remote events.
"We are actively and aggressively, doing political organizing virtually because we understand that COVID-19 has changed the way we live, it's changed the way we work, and it's changing political organizing as well," David said.
The Human Rights Campaign also launches its plan to elect Biden one week after confirming it had laid off 22 employees due to the coronavirus.
David, however, said that was the result of adjustments after initial projected growth for the organization and won't impact their work in the presidential election.
"In fact, we're going to be more effective because we have been planning and building a virtual network, which is why we're prepared to launch the Team, app, which is why we have community hub, which is why we're able to do virtual training, because the Human Rights Campaign is actually invested in this virtual infrastructure," David said. "But it's not going to affect our political work."
The election of Biden to the White House, David said, would be a key victory for LGBTQ people hungry for change after four years of Trump.
"In addition to interacting with someone who's sane and rational, and not abusive, and not dismissive of LGBTQ people, I think we would have a president who understands and values LGBTQ people at its very basic level, someone who understands us and values us as human beings, understands the value that we bring to the table provides us with the dignity that we are hiding," David said. "And that is what we would expect of any human being but we would expect this of Joe Biden, and he's shown us time and time again that not only does he respect us, but he's going to make sure he protects and supports LGBTQ people."
The Washington Blade has placed a request with the Biden campaign seeking comment on the Human Rights Campaign endorsement.
Anti-LGBTQ Colorado baker loses Trans birthday cake court case
Phillips violated Colorado's ant-discrimination law citing the fact that at issue was a 'product' not freedom of speech or expression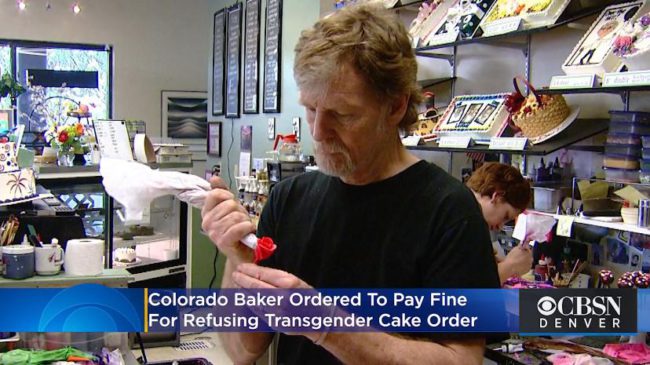 DENVER – A Colorado State District Court Judge ruled against the baker who had previously refused to bake a cake for a same-sex wedding and won at the U.S. Supreme Court a partial narrow victory in that case in 2018.
CBSN Denver reported that Denver District Judge A. Bruce Jones order that Jack Phillips violated Colorado's anti discrimination law Tuesday citing the fact that at issue was a 'product' not freedom of speech or expression.
In court documents, Jones said that Phillips refusal to make the plantiff, Autumn Scardina a cake made with blue icing on the outside and pink on the inside to celebrate her gender transition on her birthday because of her transgender status but without a written message, was in violation of the law. Phillips was ordered to pay a $500 fine.
Jones noted in his ruling that Phillips testified during a trial in March that 'he did not think someone could change their gender' and he would not celebrate "somebody who thinks that they can."
"The anti-discrimination laws are intended to ensure that members of our society who have historically been treated unfairly, who have been deprived of even the every-day right to access businesses to buy products, are no longer treated as 'others,'" the judge wrote.
The Scottsdale, Arizona based Alliance Defending Freedom, an anti-LGBTQ legal group that has been place on the Southern Poverty Law Center's Hate Watch List for spreading propaganda and lies about LGBTQ people, told CBSN that the group would appeal Jones' ruling.
"Radical activists and government officials are targeting artists like Jack because they won't promote messages on marriage and sexuality that violate their core convictions," ADF's general counsel, Kristen Waggoner, said in a media statement.
The maximum fine for each violation of Colorado's Anti-Discrimination Act is $500. But it was not clear from the ruling if the fine was for the two attempts that Scardina made to order the cake or just one.
BREAKING: A court has ruled Jack Phillips should be punished for not designing a cake celebrating a gender transition, an act that would violate his conscience.

Jack has been enduring this harassment for a decade and it must STOP.@AllianceDefends will appeal this decision.

— Kristen Waggoner (@KWaggonerADF) June 16, 2021
Supreme Court rules for religious agency rejecting LGBTQ families
A key portion of the Roberts decision that could limit its reach is language specific to Philadelphia's contract with the city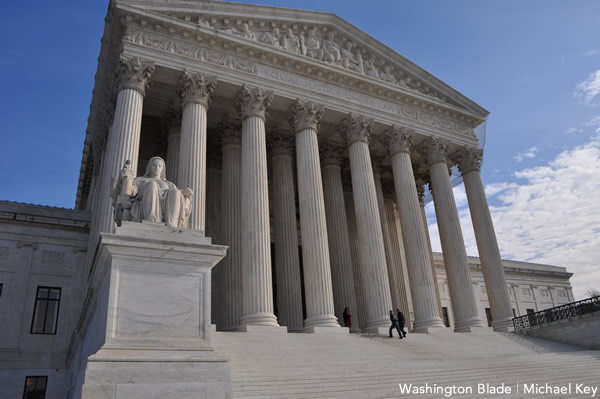 WASHINGTON – In a ruling released Thursday, the U.S. Supreme Court ruled decided in favor of a religious-affiliated foster care agency seeking to refuse child placement into LGBTQ homes, determining the City of Philadelphia's enforcement of a contract with non-discrimination provisions violates freedom of religion under the First Amendment.
In a surprise twist, the ruling was unanimous with nine justices on the court agreeing to the result in favor of Catholic Social Services, with Chief Justice John Roberts writing the opinion. As noted by SCOTUSblog, the court seemed much more divided in oral arguments, although inclined to rule for the foster care agency.
"The refusal of Philadelphia to contract with CSS for the provision of foster care services unless the agency agrees to certify same-sex couples as foster parents cannot survive strict scrutiny and violates the Free Exercise Clause of the First Amendment," Roberts writes.
Although Catholic Social Services had also contended a freedom of speech right under the First Amendment to reject same-sex couples, Roberts adds the court didn't reach a conclusion on that part of the argument.
Marianne Duddy-Burke, executive director of the Catholic LGBTQ group DignityUSA, condemned the decision in a statement immediately after it was handed down.
"Today, the well-being of our country's most vulnerable children has been sacrificed to preserve tax-payer funded discrimination for a powerful group of religious institutions," Duddy-Burke said. "The Supreme Court just decreased the number of homes available to our youth in foster care, making what was already a crisis worse. Same-sex couples are seven times more likely than straight couples to adopt or be foster parents and are more likely to have trans-racial families. This ruling means tens of thousands of children may never have a family to love and support them."
The Supreme Court reversed and remanded decision of the U.S. Third Circuit of Court of Appeals, which had ruled in favor of City of Philadelphia enforcing its contract with Catholic Social Services. Both the appeals courts and the lower trial court had come to the opposite conclusion of the U.S. Supreme Court.
A key portion of the Roberts decision that could limit its reach is language specific to Philadelphia's contract with the city allowing for discretion on enforcement, which he says means the measure isn't generally applicable measure.
"Section 3.21 of the contract requires an agency to provide services defined in the contract to prospective foster parents without regard to their sexual orientation," Roberts writes. "But section 3.21 also permits exceptions to this requirement at the 'sole discretion' of the Commissioner. This inclusion of a mechanism for entirely discretionary exceptions renders the non-discrimination provision not generally applicable."
David Flugman, a lawyer at the New York-based Selendy & Gay PLLC whose practice includes LGBTQ rights, said in a statement the technical nature of the Fulton is "sure to invite even more litigation."
"Today the Supreme Court held, on narrow, technical grounds, that the City of Philadelphia's attempt to ensure that Catholic Charities abide by the same non-discrimination provisions applicable to all other city contractors could not withstand Catholic Charities' religious right to refuse to screen loving same-sex couples to act as foster parents," Flugman writes. "The Court did not take up Catholic Charities' invitation to scuttle the 30 year-old test for free exercise claims that was announced in Smith v. Employment Division, which held that a neutral law of general applicability could survive even if it burdens religious practice."
Notably, although the City of Philadelphia in addition to the contract it struck with Catholic Social Services has in a place LGBTQ non-discrimination ordinance, the Supreme Court determines that measure doesn't apply in the context of foster care services because it's limited to the services "made available to the public."
"Certification is not 'made available to the public' in the usual sense of the words," Roberts writes. "Certification as a foster parent is not readily accessible to the public; the process involves a customized and selective assessment that bears little resemblance to staying in a hotel, eating at a restaurant, or riding a bus."
Fatima Goss Graves, CEO of the National Women's Law Center, said in a statement the decision from the Supreme Court "is a harmful loss to the children in the foster care system in Philadelphia as well as the countless LGBTQ parents."
"Weakening the government's ability to protect their civil rights is hardly in their best interest, and we're committed to ensuring this loophole is not stretched to further justify hatred or prejudice," Graves added. "We must protect the right of every person to live without fear of discrimination because of who they are or who they love, and we must hold that value particularly close when it comes to the best interest of LGBTQ youth and the families who love them."
U.S. Senate to consider apology for past anti-LGBTQ discrimination
Report shows 70-year history of gov't persecution, purges of 'sex deviates'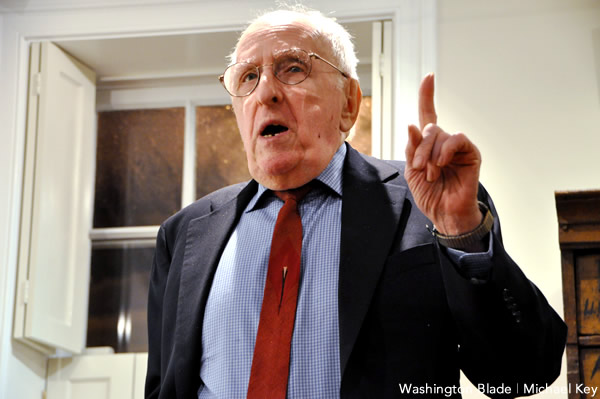 WASHINGTON – U.S. Sens. Tammy Baldwin (D-Wisc.) and Tim Kaine (D-Va.) are preparing to introduce a first-ever resolution calling on the Senate to acknowledge and apologize for the federal government's discrimination against LGBTQ federal workers and members of the military over a period of at least 70 years.
The two senators have agreed to introduce the proposed resolution at the request of the Mattachine Society of Washington, D.C., an LGBTQ group that specializes in archival research into the federal government's decades-long policy of banning LGBTQ people from working in federal jobs and serving in the U.S. military and purging them when found to be in those positions.
The Mattachine Society, in partnership with the international law firm McDermott Will & Emery, prepared a 28-page white paper reporting in extensive detail the U.S. government's history of what it calls discrimination and persecution of LGBTQ federal workers and LGBTQ military service members.
The white paper is entitled, "America's Promise of Reconciliation and Redemption: The Need for an Official Acknowledgement and Apology for the Historic Government Assault on LGBT Federal Employees and Military Personnel."
In a statement, the Mattachine Society says the paper is the product of a two-year research project involving a team of five attorneys with the McDermott Will & Emery firm and Mattachine Society.
"Over many decades, the United States government, led by teams within the Federal Bureau of Investigation (FBI), the Office of Personnel Management (OPM), and nearly every agency and branch of government, began the process of investigating, harassing, interrogating, court-martialing, terminating, hospitalizing, and, in some cases, criminally prosecuting LGBT Americans for no other reason than their sexual orientation or gender expression," the paper says.
"This wholesale purging left tens of thousands in financial ruin, without jobs, with personal lives destroyed, and, in many cases, completely estranged from their own families," the paper states.
"A straightforward acknowledgement of the mistreatment of these military and civilian employees and an official apology is overdue," the paper continues. "Both the Congress and the Executive Branch were complicit in this pervasive mistreatment of LGBT citizens."
The paper points out that over the past 30 years Congress has officially acknowledged and apologized on six different occasions for U.S. mistreatment of other marginalized groups.
Among the subject areas of those apologies were the enslavement of African Americans, the failure to enforce anti-lynching laws to protect African Americans, the internment of Japanese Americans during World War II, the mistreatment of Native Hawaiians, the mistreatment of Native Americans, and government polices of exclusion of Chinese immigrants.
The paper says the time has come for the federal government to issue its own "acknowledgement and apology" to the LGBT community by following the precedent established by Congress with respect to apologies to the other marginalized groups.
Jeff Trammell, a Mattachine Society board member who led the project to prepare the white paper, said Baldwin and Kaine were in the process of lining up other senators to sign on as co-sponsors of the resolution.
Baldwin is the Senate's only out lesbian member. Kaine is a longtime supporter of LGBTQ rights.
Trammell said Mattachine of Washington considers the Senate resolution the first step in an ongoing effort to obtain a similar resolution in the U.S. House of Representatives and a possible similar statement of acknowledgement and apology from the executive branch, including the Biden administration.
He said he and the resolution's supporters were hopeful that most senators, including Republicans, would view it as non-controversial and as a nonpartisan measure because it seeks only the acknowledgement of historical facts. Trammell noted that unlike other resolutions of apology pertaining to other minorities approved by Congress in the past, the LGBT apology resolution does not call for any financial reparations.
The eight-page proposed resolution addresses that question by stating, "Nothing in this resolution…authorizes or supports any claim against the United States or serves as a settlement of any claim against the United States."
Trammell noted that under the Obama administration, John Berry, the director of the U.S. Office of Personnel Management, issued an official government apology for the firing of D.C. gay rights pioneer Frank Kameny from his government job in the late 1950s. But Trammell said the apology to Kameny, which was considered important and groundbreaking, did not extend to the thousands of other LGBTQ employees fired or harassed in the years before and after Kameny's firing.
The white paper also points out that at least seven U.S. allied nations have issued apologies for past mistreatment of their own LGBTQ citizens. Among them are Spain, Canada, United Kingdom, Australia, Germany, Brazil, and The Netherlands.
"We believe the time has come to understand and acknowledge the historical animus that LGBT federal employees and military personnel faced for generations from their own government to ensure it can never happen again," Trammell said.
The white paper can be accessed here.