May 22, 2020 at 8:27 pm PDT | by Brody Levesque
Reporter's Notebook: landing in history, a commemoration on Harvey Milk Day 2020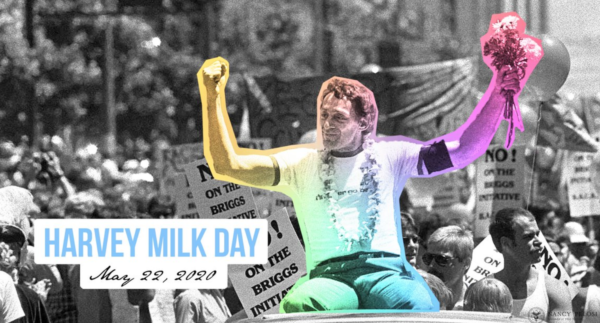 As the onslaught of anti-LGBTQI+ animus continues from the Trump administration, particularly targeting the Trans community, this day in celebration of one of California's early LGBTQI+ pioneers seems almost poignant.
May 22 was designated 'Harvey Milk Day' by a law signed in 2009 by then California Republican Governor Arnold Schwarzenegger, to commemorate annually the life and legacy of the assassinated LGBTQI equality and civil rights leader.
As the first openly gay person to be elected as a Supervisor to the Board of Supervisors for the City & County of San Francisco, Milk not only advocated for the LGBTQ community but for other minorities and the elderly. Years after his death, Time magazine included Milk on a list titled "The 100 Most Important People of the 20th Century."
However, on May 21st, 1979, some forty-one years ago, sitting on a jet which had landed at San Francisco International Airport, Harvey Milk was not a name I recognized nor was I aware of his story and importance- but I was about to be educated on that subject matter and in a pretty dramatic fashion.
I was a young, very closeted 20-year-old gay man leaving my home and my country to travel to the City by the Bay at the invitation of my best friend who I'd grown up with in rural Ontario outside of Toronto, Canada. He had moved to the city in February, two and a half months previously.
As my plane taxied up to the gate at around 10 AM that Monday morning, approximately 12 miles north of the terminal, a jury of seven women and five men were deciding the fate of a former colleague of Milk's, who was on trial for murdering him and then San Francisco Mayor George Moscone. A decision that was to have a significant impact on my life and ultimately my career.
Seven months prior, on November 27, 1978, 32-year-old Dan White crawled through a basement window to avoid the metal detectors located at the entrances to San Francisco's City Hall. White, a former Supervisor, and ex-city police officer made his way to the second-floor office suites of Mayor Moscone.
In the summer of 1978 White had resigned his supervisor's seat and now wanted it back. After several minutes of heated argument as he attempted to persuade Moscone to reappoint him- he pulled out a revolver and shot Moscone to death. He then went in search of Harvey Milk who he had repeatedly clashed with especially over issues of LGBTQ rights and then shot him to death. He fled the building only to surrender to SFPD detectives a couple of hours later.
White's defense team of Douglas Schmidt and Stephen Scherr managed to refocus the trial into an examination of his mental state. Several psychiatrists were called to testy that White had not really meant to commit murder but had been driven to it by stress over finances, loss of the job, and family Then Schmidt highlighted White's considerable intake of junk food and candy—what came to be known as the "Twinkies Defense"—in which White's allegedly abnormally high blood sugar count at the time of the murders was blamed for his rampage.
It turned out to be a rather effective defense.
But it was a defense that rendered a lesser finding by the jury of voluntary manslaughter, from which defendant White was sentenced to seven years and eight months of prison time.
Word spread that late afternoon quickly throughout San Francisco, but had the most negative impact in the principally LGBTQ quarter in a city neighborhood district known simply as 'the Castro.' It was the area that Milk had represented during his time first as an LGBTQ activist and then later as an elected official.
I was at my friend's walk-up flat a block away from the intersection of 18th and Castro streets. The phone rang, my friend answered, the next thing I knew I was swept up in the crowds of LGBTQ people appearing in the streets of the Castro and quite angered by the jury's verdict and the judge's sentence.
What happened in the next few hours became know as the White Night riots as the LGBTQ population of the city rioted against the injustice not only of the unjust verdict over the killing of a beloved community leader, as well as the mayor but the oppressive and ongoing campaign of persecution by the S.F.P.D. against the LGBTQ community. It was the night before what would have been Milk's 49th birthday.
In the weeks and months after that night I was fortunate enough to not only meet people who knew Harvey Milk well but in more than a few cases worked with him as activists or in the city government. It was also the event that cast in stone my decision to become a journalist, in part encouraged by Cleve Jones who had protested alongside Milk for LGBTQ equality and rights.
Today would have been Harvey Milk's 90th birthday, I have long wondered what he would have thought of the transition his beloved LGBTQ community has gone through- marriage equality, the ending of don't ask don't tell, but then too at 90 I can also see him still fighting, and still demanding respect and acknowledgment of the humanity of all LGBTQ people.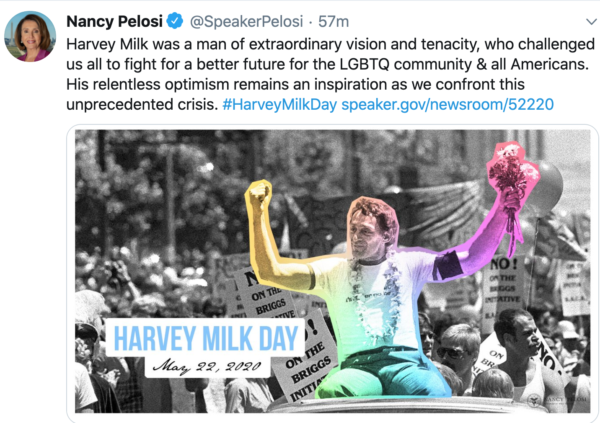 U. S. House Speaker Nancy Pelosi issued this statement Friday saying; "On Harvey Milk Day, people in San Francisco, throughout California and across the country honor a man of extraordinary vision and tenacity, who challenged us all to live with strength, integrity, and courage. As we mark what would have been Harvey's 90th birthday, we renew our commitment to continue his work by ensuring all people, regardless of who they are or whom they love, can be equal participants in our democracy.
"This year, as our nation faces an unprecedented crisis, Harvey's message to 'hope for a better world, hope for a better tomorrow… and hope that all will be alright' remains as vital as ever. But Harvey was more than a messenger of hope, he was also a clarion voice for action, inspiring generations of leaders, advocates, and ordinary Americans to not just hope for change but to work for it. Thanks in part to Harvey's trailblazing efforts, our nation has made great progress toward advancing the rights and dignity of the LGBTQ community and all Americans. From helping pass fully inclusive hate crimes legislation and sending the hateful 'Don't Ask, Don't Tell' policy into the dustbin of history to ensuring the right to marriage equality, our nation now more fully embodies our founding promise of equality and justice for all.
"This Harvey Milk Day, while we continue to combat the coronavirus threat, we must act boldly, with hope in our hearts, to build on Harvey's legacy of progress and opportunity. While we work to ensure that every vulnerable community has the support they need to stay healthy and safe, we must also continue to demand that Leader McConnell and Senate Republicans end their year-long obstruction and bring the House-passed Equality Act up for a vote. By finally and fully ending anti-LGBTQ discrimination once and for all, we can honor the life of Harvey Milk and build a brighter future for all Americans."