Contagion: Life in the Time of the Coronavirus
(Editor's note: The Los Angeles Press Club recently asked journalists to submit stories about their experience covering the coronavirus pandemic. It was a contest and I'm honored to have come in as a runner-up. Here is that essay – Karen Ocamb)
COVID-19 is new, contagious, and fast. Three months ago, the world screamed: "Be afraid of everything — the air, surfaces, people." As of May 1, the W.H.O. reports nearly 240,000 deaths worldwide, deaths that many believe could have been prevented.
I've been here before. In the early 1980s, as an unknown virus killed homosexual men in New York City and California, the Reagan administration expressed no alarm that the HTLV-III virus was a communicable disease. In fact, White House press secretary Larry Speakes repeatedly joked or shrugged off AIDS in briefings, as he did here in 1984:
"Q: An estimated 300,000 people have been exposed to AIDS, which can be transmitted through saliva. Will the President, as Commander-in-Chief, take steps to protect Armed Forces food and medical services from AIDS patients or those who run the risk of spreading AIDS in the same manner that they forbid typhoid fever people from being involved in the health or food services.

SPEAKES: I don't know.

Q: Could you—Is the President concerned about this subject, Larry—

SPEAKES: I haven't heard him express—

Q: —that seems to have evoked so much jocular—

SPEAKES:—concern."
My last job in mainstream journalism was producing coverage of the 1984 Olympics for CBS News affiliates out of TV City. I wanted to be a playwright so I joined an acting class to see what actors would do with my words. I also joined a coalition of renters, gays and seniors in the movement for West Hollywood cityhood.
Suddenly, my gay friends started disappearing at 12 Step meetings or they showed up skinny, with purple liaisons, terrified and humiliated at no longer being hunky or able to control their bodily functions.
Stephen Pender was my first AIDS death in 1986.* He was a popular actor/writer whose family deserted him out of shame. Many friends deserted him, too — he was a mirror of what they'd become. I was freelancing, I liked him and I refused to let him die alone.
But I was afraid. We still didn't definitively know how the disease was spread. Stephen wasn't contagious – but what if the virus in his coma sweat got into the cuts around my cuticles? Could I catch it from holding his hand? It was a choice I had to make. I chose love.
Luckily, Stephen's insurance landed him in the Betty Ford wing of Cedars Sinai where the masked and gloved nurses were much kinder than the VA and L.A. County Hospital nurses were to Johnny Pipken, who starved when food was left outside the room or who used him as a pincushion to train unskilled nursing students.
I was furious. I told him I was going to complain, maybe go to my friends in the press. "NO!" They'd punish him and withhold his pain medication. It had happened before. It wasn't just Stockholm Syndrome. He couldn't bear the pain of AIDS slowly eating him alive.
I had a mini-breakdown, distraught over my powerlessness, at not being Jesus and being able to lay hands on him and cure him.
When New York City ER Dr. Lorna Breen died by suicide after hours and hours and hours of trying but failing to save the lives of so many coronavirus patients, my soul sank. I've known a bit of that abject powerlessness. And I've also reported on the bravery of those courageous frontline doctors and nurses and paramedics whose calling sent them into the unknown world of AIDS.
I got back into journalism because of AIDS. Being a care provider was not enough. I needed to use whatever skills I had to serve my people, who were dying in droves. I reported on grassroots and policy fights, on ACT UP/LA, on the fear, the insistence on ignorance, the confrontations, the miracles and the deaths. I stopped counting in 1990 after 150 friends had died.
By the end of 2018, UNAIDS reports, between 23.6 million–43.8 million people died from AIDS-related illnesses since the start of the epidemic — when the U.S. government laughed and ignored the scientists.
Today, the government encourages free HIV testing because someone could be asymptomatic and spread the disease. Today, Trump lies about COVID-19 testing. What a long, strange trip it's been.
It is through these eyes that I bear witness and share what I discover. Nursing homes, jails and meat packing facilities are the new homosexuals in this highly contagious pandemic. Their risks of infection are noted, but they are expendable, given the cost of prevention.
Today, I'm furloughed from the Los Angeles Blade** but I continue to volunteer as news editor and reporter because LGBTQ people are being erased. The Trump administration is blatantly eviscerating LGBTQ rights and the federal, state, and county governments are benignly not collecting LGBTQ healthcare data, despite numerous pleas from LGBTQ officials and organizations providing information and data about the high risk for infection for this national intersectional LGBTQ minority demographic. Apparently, it's too hard, though, unlike the early 1980s, government officials do express their "concern."
Some mainstream media outlets report on LGBTQ deaths. But for the most part, it's up to the LGBTQ press to "advocate" for attention and action.
Meanwhile there is another contagion spreading across the land – the sharing of love and common humanity.
Clapping for the heroes is a balm to momentarily soothe the trauma of governmental cruelty and incompetence and the trauma for those of us who've been in places like this before. It is a privilege to be an eyewitness reporter during this time.
This is what I also know: as a journalist, I am an "essential" worker. But as an LGBTQ person, after protesting for civil rights and against the Vietnam War, being on the CBS Network News Assignment Desk during Watergate, reporting on AIDS and marriage equality — if I catch COVID-19, I may get a few claps from friends but I will officially die as a second-class citizen in America.
On Tuesday, May 26, I'm participating in a Zoom panel discussion about AIDS and COVID-19 which will be streamed at a later time. The panel was organized by West Hollywood City Councilmember John Duran. Here's how he described the panel on his Facebook page:
On this Tuesday, May 26, 2020 the City of West Hollywood is recording a conversation between sage and seasoned warriors who led during the AIDS epidemic – about the similarities (and differences) between the epidemic in the 80's and COVID19. Who's on the panel?

Dr. Michael Gottlieb – physician and co discoverer of the HIV virus. Diane Abbitt– first co chair of AIDS Project Los Angeles and political leader from MECLA. Rabbi Denise Eger – clergy member and spiritual leader from Temple Kol Ami. Phill Wilson – founder of the Black AIDS Institute, activist and hospice creator. David Kessler – expert on grief, founder of Project Angel Food and founder of Progressive Nursing Services. Karen Ocamb – LGBT journalist who has covered both epidemics. And John Jude Duran – wise guy, politician and co chair of LIFE AIDS Lobby.
*Correcting the date of Stephen Pender's death to 1986. 
**The Los Angeles and Washington Blades luckily received a PPP loan so I'm back on staff for right now.
Photo of "The Plague Year" via the History News Network.
HIV speeds up body's aging within three years after initial infection
Living with HIV infection is associated with early onset of aging-related chronic conditions, sometimes described as accelerated aging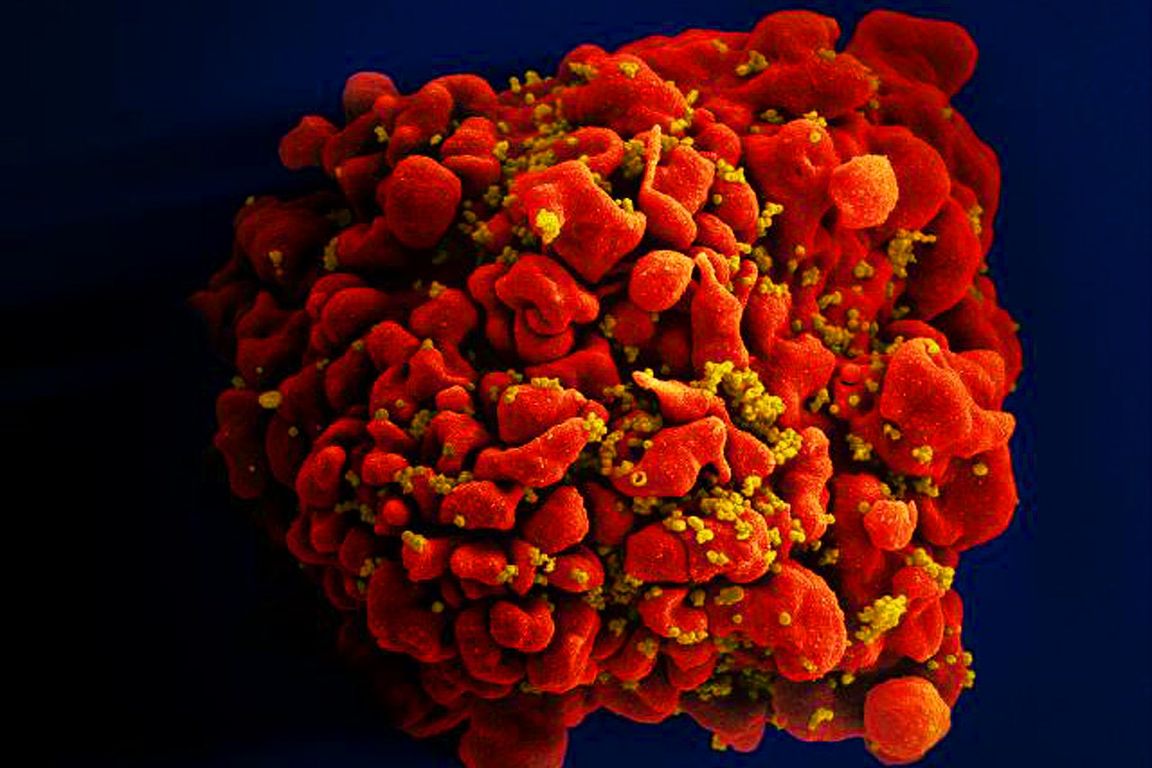 LOS ANGELES – A study published by researchers from the division of hematology and oncology at the David Geffen School of Medicine at UCLA at the end of June revealed that HIV has an "early and substantial" impact on aging in infected people, accelerating biological changes in the body associated with normal aging within just two to three years of infection.
"Our work demonstrates that even in the early months and years of living with HIV, the virus has already set into motion an accelerated aging process at the DNA level," said lead author Elizabeth Crabb Breen, a professor emerita at UCLA's Cousins Center for Psychoneuroimmunology and of psychiatry and biobehavioral sciences at the David Geffen School of Medicine at UCLA. "This emphasizes the critical importance of early HIV diagnosis and an awareness of aging-related problems, as well as the value of preventing HIV infection in the first place."
According to the results of the study published in the Cell Press open source journal iScience, the findings suggest that new HIV infection may rapidly cut nearly five years off an individual's life span relative to an uninfected person.
The study's authors noted that despite a significant increase in life expectancy because of treatment regimes now available to patients, there is mounting evidence that living long-term with Human Immunodeficiency Virus (HIV) and antiretroviral therapy, even when clinically well-controlled, is associated with an earlier than expected onset of chronic conditions such as heart and kidney disease, frailty, and neurocognitive difficulties.
The research team analyzed stored blood samples from 102 men collected six months or less before they became infected with HIV and again two to three years after infection. They compared these with matching samples from 102 non-infected men of the same age taken over the same time period.
The UCLA team said that this study is the first to match infected and non-infected people in this way. All the men were participants in the Multicenter AIDS Cohort Study, an ongoing nationwide study initiated in 1984.
"Our access to rare, well-characterized samples allowed us to design this study in a way that leaves little doubt about the role of HIV in eliciting biological signatures of early aging," said senior author Beth Jamieson, a professor in the division of hematology and oncology at the Geffen School. "Our long-term goal is to determine whether we can use any of these signatures to predict whether an individual is at increased risk for specific aging-related disease outcomes, thus exposing new targets for intervention therapeutics."
The researchers noted some limitations to the study. It included only men, so results may not be applicable to women. In addition, the number of non-white participants was small, and the sample size was insufficient to take into consideration later effects of highly active antiretroviral treatment or to predict clinical outcomes.
There is still no consensus on what constitutes normal aging or how to define it, the researchers wrote.
The full study is available here: (Link)
U.S. announces more funding for HIV/AIDS fight in Latin America
Jill Biden made announcement on Saturday in Panama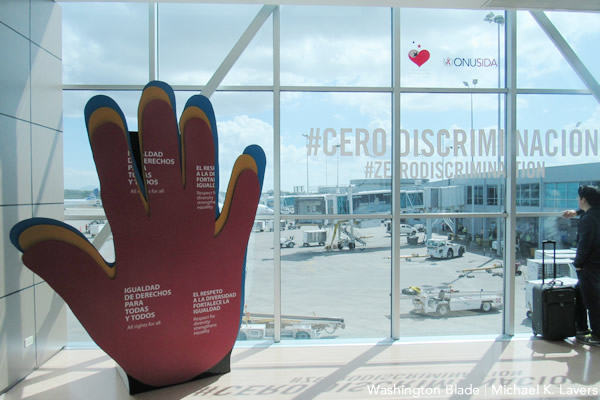 PANAMA CITY — First lady Jill Biden on Saturday announced the U.S. will provide an additional $80.9 million to the fight against HIV/AIDS in Latin America.
Biden during a visit to Casa Hogar el Buen Samaritano, a shelter for people with HIV/AIDS in Panama City, said the State Department will earmark an additional $80.9 million for President's Emergency Plan for AIDS Relief-funded work in Latin America. A Panamanian activist with whom the Washington Blade spoke said LGBTQ+ people were among those who met with the first lady during her visit.
Pope Francis visited the shelter in 2019.
"I'm glad we have the opportunity to talk about how the United States and Panama can work together to combat HIV," said the first lady.
Michael LaRosa, the first lady's spokesperson, noted Panama will receive $12.2 million of the $80.9 million in PEPFAR funding.
"This funding, pending Congressional notification, will support expanded HIV/AIDS services and treatment," said LaRosa.
UNAIDS statistics indicate an estimated 31,000 Panamanians were living with HIV/AIDS in 2020. The first lady's office notes the country in 2020 had the highest number of "newly notificated cases of HIV/AIDS" in Central America.
The first lady visited Panama as part of a trip that included stops in Ecuador and Costa Rica.
The Summit of the Americas will take place next month in Los Angeles. The U.S. Agency for International Development and PEPFAR in April announced they delivered more than 18 million doses of antiretroviral drugs for Ukrainians with HIV/AIDS.
New highly-infectious variant of HIV discovered by Dutch scientists
This new variant of HIV-1 damaged the immune system twice as fast, "placing individuals at risk of developing AIDS much more rapidly"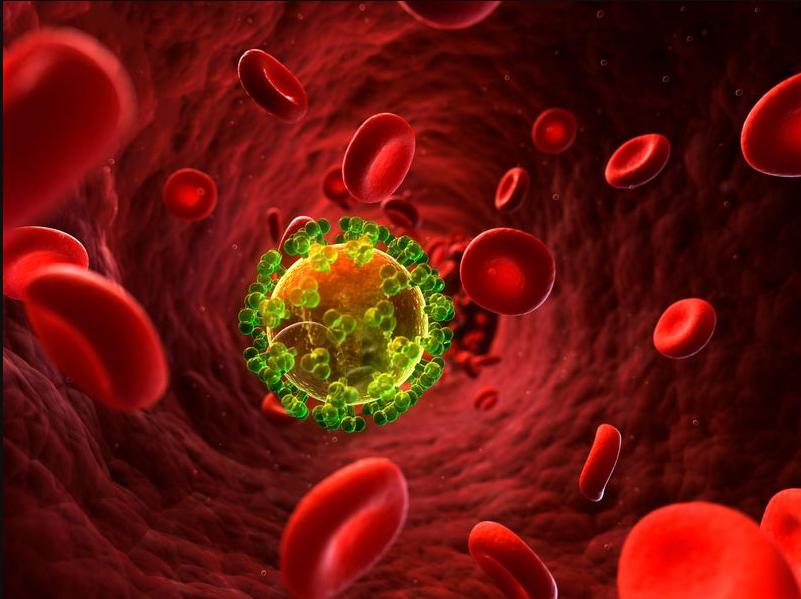 CAMBRIDGE, UK – A study published this week by Science (journal) detailed an alarming discovery by researchers, clinicians and epidemiologists in the Netherlands of a new, highly-infectious mutated variant strain of the human immunodeficiency virus, (HIV), circulating in the country.
The BEEHIVE project – which stands for "bridging the epidemiology and evolution of HIV in Europe and Uganda," detailed the findings which showed that a distinct subtype-B viral variant of HIV-1 damaged the immune system twice as fast, "placing individuals at risk of developing AIDS much more rapidly", and those with this variant were at a higher risk of transmitting the virus to others.
The variant, known as the "VB variant", causes CD4 cell decline to occur twice as fast in infected individuals compared with other viral variants. This is a clinical hallmark, or "signature" of the extent of damage caused by the HIV virus. In addition, those infected with the VB variant also demonstrated an increased risk of transmitting the virus to others, the data suggests.
Individuals infected with the new "VB variant" (for virulent subtype B) showed significant differences before antiretroviral treatment compared with individuals infected with other HIV variants:
Individuals with the VB variant had a viral load (the level of the virus in the blood) between 3.5 and 5.5 times higher.
In addition, the rate of CD4 cell decline (the hallmark of immune system damage by HIV) occurred twice as fast in individuals with the VB variant, placing them at risk of developing AIDS much more rapidly.
Individuals with the VB variant also showed an increased risk of transmitting the virus to others.
The project's researchers, clinicians and epidemiologists did determine however, that those infected with the VB variant had "similar immune system recovery and survival to individuals with other HIV variants."
However, the researchers stress that because the VB variant causes a more rapid decline in immune system strength, this makes it critical that individuals are diagnosed early and start treatment as soon as possible.
BEEHIVE project's lead author Dr Chris Wymant, from the University of Oxford's Big Data Institute and Nuffield Department of Medicine, said: "Before this study, the genetics of the HIV virus were known to be relevant for virulence, implying that the evolution of a new variant could change its impact on health. Discovery of the VB variant demonstrated this, providing a rare example of the risk posed by viral virulence evolution."
"Our findings emphasize the importance of World Health Organization guidance that individuals at risk of acquiring HIV have access to regular testing to allow early diagnosis, followed by immediate treatment. This limits the amount of time HIV can damage an individual's immune system and jeopardise their health. It also ensures that HIV is suppressed as quickly as possible, which prevents transmission to other individuals," Senior author Professor Christophe Fraser from the University of Oxford's Big Data Institute and Nuffield Department of Medicine, added.

In its Global HIV & AIDS statistics — Fact sheet, the UNAIDS Secretariat detailed the statistical data: 
GLOBAL HIV STATISTICS
28.2 million people were accessing antiretroviral therapy as of 30 June 2021.
37.7 million [30.2 million–45.1 million] people globally were living with HIV in 2020.
1.5 million [1.0 million–2.0 million] people became newly infected with HIV in 2020.
680 000 [480 000–1.0 million] people died from AIDS-related illnesses in 2020.
79.3 million [55.9 million–110 million] people have become infected with HIV since the start of the epidemic.
36.3 million [27.2 million–47.8 million] people have died from AIDS-related illnesses since the start of the epidemic.
People living with HIV
In 2020, there were 37.7 million [30.2 million–45.1 million] people living with HIV.

36.0 million [28.9 million–43.2 million] adults.
1.7 million [1.2 million–2.2 million] children (0–14 years).
53% of all people living with HIV were women and girls.

84% [67– >98%] of all people living with HIV knew their HIV status in 2020.
About 6.1 million [4.9 million–7.3 million] people did not know that they were living with HIV in 2020.
People living with HIV accessing antiretroviral therapy
As of 30 June 2021, 28.2 million people were accessing antiretroviral therapy, up from 7.8 million [6.9 million–7.9 million] in 2010.
In 2020, 73% [56–88%] of all people living with HIV were accessing treatment.

74% [57–90%] of adults aged 15 years and older living with HIV had access to treatment, as did 54% [37–69%] of children aged 0–14 years.
79% [61–95%] of female adults aged 15 years and older had access to treatment; however, just 68% [52–83%] of male adults aged 15 years and older had access.

85% [63– >98%] of pregnant women living with HIV had access to antiretroviral medicines to prevent transmission of HIV to their child in 2020.
New HIV infections
New HIV infections have been reduced by 52% since the peak in 1997.

In 2020, around 1.5 million [1.0 million–2.0 million] people were newly infected with HIV, compared to 3.0 million [2.1 million–4.2 million] people in 1997.
Women and girls accounted for 50% of all new infections in 2020.

Since 2010, new HIV infections have declined by 31%, from 2.1 million [1.5 million–2.9 million] to 1.5 million [1.0 million–2.0 million] in 2020.

Since 2010, new HIV infections among children have declined by 53%, from 320 000 [210 000–510 000] in 2010 to 150 000 [100 000–240 000] in 2020.
AIDS-related deaths
AIDS-related deaths have been reduced by 64% since the peak in 2004 and by 47% since 2010.

In 2020, around 680 000 [480 000–1 million] people died from AIDS-related illnesses worldwide, compared to 1.9 million [1.3 million–2.7 million] people in 2004 and 1.3 million [910 000–1.9 million] people in 2010.

AIDS-related mortality has declined by 53% among women and girls and by 41% among men and boys since 2010.