Contagion: Life in the Time of the Coronavirus
(Editor's note: The Los Angeles Press Club recently asked journalists to submit stories about their experience covering the coronavirus pandemic. It was a contest and I'm honored to have come in as a runner-up. Here is that essay – Karen Ocamb)
COVID-19 is new, contagious, and fast. Three months ago, the world screamed: "Be afraid of everything — the air, surfaces, people." As of May 1, the W.H.O. reports nearly 240,000 deaths worldwide, deaths that many believe could have been prevented.
I've been here before. In the early 1980s, as an unknown virus killed homosexual men in New York City and California, the Reagan administration expressed no alarm that the HTLV-III virus was a communicable disease. In fact, White House press secretary Larry Speakes repeatedly joked or shrugged off AIDS in briefings, as he did here in 1984:
"Q: An estimated 300,000 people have been exposed to AIDS, which can be transmitted through saliva. Will the President, as Commander-in-Chief, take steps to protect Armed Forces food and medical services from AIDS patients or those who run the risk of spreading AIDS in the same manner that they forbid typhoid fever people from being involved in the health or food services.

SPEAKES: I don't know.

Q: Could you—Is the President concerned about this subject, Larry—

SPEAKES: I haven't heard him express—

Q: —that seems to have evoked so much jocular—

SPEAKES:—concern."
My last job in mainstream journalism was producing coverage of the 1984 Olympics for CBS News affiliates out of TV City. I wanted to be a playwright so I joined an acting class to see what actors would do with my words. I also joined a coalition of renters, gays and seniors in the movement for West Hollywood cityhood.
Suddenly, my gay friends started disappearing at 12 Step meetings or they showed up skinny, with purple liaisons, terrified and humiliated at no longer being hunky or able to control their bodily functions.
Stephen Pender was my first AIDS death in 1986.* He was a popular actor/writer whose family deserted him out of shame. Many friends deserted him, too — he was a mirror of what they'd become. I was freelancing, I liked him and I refused to let him die alone.
But I was afraid. We still didn't definitively know how the disease was spread. Stephen wasn't contagious – but what if the virus in his coma sweat got into the cuts around my cuticles? Could I catch it from holding his hand? It was a choice I had to make. I chose love.
Luckily, Stephen's insurance landed him in the Betty Ford wing of Cedars Sinai where the masked and gloved nurses were much kinder than the VA and L.A. County Hospital nurses were to Johnny Pipken, who starved when food was left outside the room or who used him as a pincushion to train unskilled nursing students.
I was furious. I told him I was going to complain, maybe go to my friends in the press. "NO!" They'd punish him and withhold his pain medication. It had happened before. It wasn't just Stockholm Syndrome. He couldn't bear the pain of AIDS slowly eating him alive.
I had a mini-breakdown, distraught over my powerlessness, at not being Jesus and being able to lay hands on him and cure him.
When New York City ER Dr. Lorna Breen died by suicide after hours and hours and hours of trying but failing to save the lives of so many coronavirus patients, my soul sank. I've known a bit of that abject powerlessness. And I've also reported on the bravery of those courageous frontline doctors and nurses and paramedics whose calling sent them into the unknown world of AIDS.
I got back into journalism because of AIDS. Being a care provider was not enough. I needed to use whatever skills I had to serve my people, who were dying in droves. I reported on grassroots and policy fights, on ACT UP/LA, on the fear, the insistence on ignorance, the confrontations, the miracles and the deaths. I stopped counting in 1990 after 150 friends had died.
By the end of 2018, UNAIDS reports, between 23.6 million–43.8 million people died from AIDS-related illnesses since the start of the epidemic — when the U.S. government laughed and ignored the scientists.
Today, the government encourages free HIV testing because someone could be asymptomatic and spread the disease. Today, Trump lies about COVID-19 testing. What a long, strange trip it's been.
It is through these eyes that I bear witness and share what I discover. Nursing homes, jails and meat packing facilities are the new homosexuals in this highly contagious pandemic. Their risks of infection are noted, but they are expendable, given the cost of prevention.
Today, I'm furloughed from the Los Angeles Blade** but I continue to volunteer as news editor and reporter because LGBTQ people are being erased. The Trump administration is blatantly eviscerating LGBTQ rights and the federal, state, and county governments are benignly not collecting LGBTQ healthcare data, despite numerous pleas from LGBTQ officials and organizations providing information and data about the high risk for infection for this national intersectional LGBTQ minority demographic. Apparently, it's too hard, though, unlike the early 1980s, government officials do express their "concern."
Some mainstream media outlets report on LGBTQ deaths. But for the most part, it's up to the LGBTQ press to "advocate" for attention and action.
Meanwhile there is another contagion spreading across the land – the sharing of love and common humanity.
Clapping for the heroes is a balm to momentarily soothe the trauma of governmental cruelty and incompetence and the trauma for those of us who've been in places like this before. It is a privilege to be an eyewitness reporter during this time.
This is what I also know: as a journalist, I am an "essential" worker. But as an LGBTQ person, after protesting for civil rights and against the Vietnam War, being on the CBS Network News Assignment Desk during Watergate, reporting on AIDS and marriage equality — if I catch COVID-19, I may get a few claps from friends but I will officially die as a second-class citizen in America.
On Tuesday, May 26, I'm participating in a Zoom panel discussion about AIDS and COVID-19 which will be streamed at a later time. The panel was organized by West Hollywood City Councilmember John Duran. Here's how he described the panel on his Facebook page:
On this Tuesday, May 26, 2020 the City of West Hollywood is recording a conversation between sage and seasoned warriors who led during the AIDS epidemic – about the similarities (and differences) between the epidemic in the 80's and COVID19. Who's on the panel?

Dr. Michael Gottlieb – physician and co discoverer of the HIV virus. Diane Abbitt– first co chair of AIDS Project Los Angeles and political leader from MECLA. Rabbi Denise Eger – clergy member and spiritual leader from Temple Kol Ami. Phill Wilson – founder of the Black AIDS Institute, activist and hospice creator. David Kessler – expert on grief, founder of Project Angel Food and founder of Progressive Nursing Services. Karen Ocamb – LGBT journalist who has covered both epidemics. And John Jude Duran – wise guy, politician and co chair of LIFE AIDS Lobby.
*Correcting the date of Stephen Pender's death to 1986. 
**The Los Angeles and Washington Blades luckily received a PPP loan so I'm back on staff for right now.
Photo of "The Plague Year" via the History News Network.
President's Emergency Plan for AIDS Relief marks year 20
Achievements PEPFAR have been remarkable, well-documented by outside evaluators, and hugely applauded throughout the advocacy community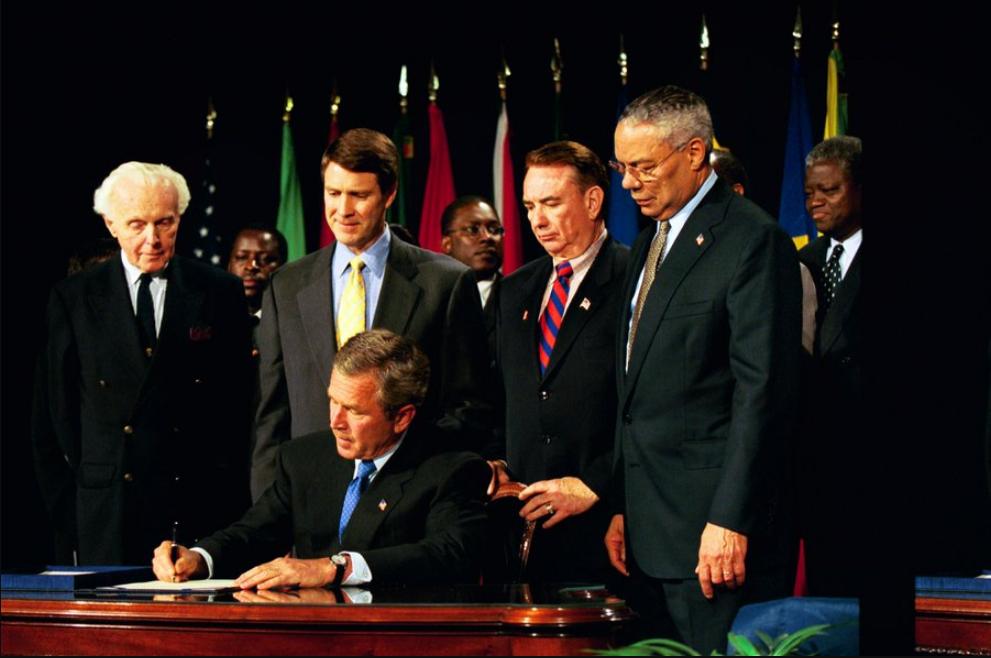 WASHINGTON – The President's Emergency Plan for AIDS Relief (PEPFAR) marks its twenty year anniversary today, marking the largest commitment by any nation to address a single disease in the world.
The initiative which was personally led and launched by former President George W. Bush in 2003, its funding has totaled more than $110 billion to date, including funding for the Global Fund to Fight AIDS, Tuberculosis and Malaria (Global Fund), to which the U.S. government is the largest donor.
PEPFAR is credited with saving millions of lives and helping to change the trajectory of the global HIV epidemic. The White House today released a statement by President Joe Biden marking the 20th Anniversary:
Twenty years ago today, President George W. Bush declared that preventing and treating HIV/AIDS was a foreign policy priority of the United States. At a time when nearly 30 million people were HIV positive, but very few were receiving life-saving medicines, the President's Emergency Plan for AIDS Relief (PEPFAR) transformed the global AIDS response and laid a marker for America's commitment to countries that were impacted the hardest by the AIDS epidemic. Helping lead the bipartisan effort in Congress to authorize PEPFAR is among my proudest achievements from my time in the Senate. To this day, PEPFAR remains a powerful example of America's unmatched ability to drive progress and make life better for people around the world.

Since 2003, PEPFAR has saved more than 25 million lives and dramatically improved health outcomes in more than 55 partner countries. AIDS-related deaths have declined by 68 percent since their peak in 2004, and new HIV infections are down 42 percent. PEPFAR investments have ensured that 5.5 million babies have been born HIV-free. And two decades of investment in partner nations' health systems played a critical role in countries' ability to respond to other health crises such as COVID-19, Mpox, and Ebola.

Today, PEPFAR continues to support 20.1 million people around the world with HIV/AIDS treatment, and my Administration is committed to continuing to lead the global HIV/AIDS response. We will build on our decades of progress to reach the Sustainable Development Goal of ending AIDS by 2030, work to eliminate the stigma and inequities that keep people from accessing care, and keep the voices of people living with HIV/AIDS at the center of our response. I look forward to working with Congress on PEPFAR's reauthorization this year.
PEPFAR is overseen by the U.S. Global AIDS Coordinator, who is appointed by the President, confirmed by the Senate, and reports directly to the Secretary of State, as established through PEPFAR's authorizing legislation.
PEPFAR's original authorization established new structures and authorities, consolidating all U.S. bilateral and multilateral activities and funding for global HIV/AIDS. Several U.S. agencies, host country governments, and other organizations are involved in implementation.
Dr. John Nkengasong, the current coordinator was sworn in on June 13, 2022, and holds the rank of Ambassador leading the Office of the Global AIDS Coordinator (OGAC) at the U.S. Department of State.
Twenty years ago this month, President George W. Bush announced #PEPFAR during his State of the Union address. Since then, the U.S. government has invested $100B+ in the global HIV/AIDS response through PEPFAR, saving 25M lives & bringing us closer to #EndAIDS2030. #PEPFAR20 pic.twitter.com/SMAOHWPZ03

— PEPFAR (@PEPFAR) January 11, 2023
Nobel Prize winning scientist Harold Varmus, who served as Director of the National Institutes of Health (NIH) from 1993 to 1999 and currently the Lewis Thomas University Professor of Medicine at Weill Cornell Medicine in New York City, wrote in an article honoring World Aids Day 2013:
[…] "the PEPFAR story must begin with George W. Bush and his wife, Laura, and their interests in AIDS, Africa, and what Bush termed "compassionate conservatism." According to his 2010 memoir, Decision Points, the two of them developed a serious interest in improving the fate of the people of Africa after reading Alex Haley's Roots and visiting The Gambia in 1990.3 In 1998, while pondering a run for the U.S. presidency, he discussed Africa with Condoleezza Rice, his future secretary of state; she said that, if elected, working more closely with countries on that continent should be a significant part of his foreign policy. She also told him that HIV/AIDS was a central problem in Africa but that the United States was spending only $500 million per year on global AIDS, with the money spread across six federal agencies, without a clear strategy for curbing the epidemic."
Key Facts (As provided by Kaiser Health & Family Foundation)
Although the U.S. has been involved in efforts to address the global AIDS crisis since the mid-1980s, the creation of the President's Emergency Plan for AIDS Relief (PEPFAR) in 2003 marked a significant increase in funding and attention to the epidemic.
PEPFAR is the largest commitment by any nation to address a single disease in the world; to date, its funding has totaled more than $110 billion, including funding for the Global Fund to Fight AIDS, Tuberculosis and Malaria (Global Fund), to which the U.S. government is the largest donor. PEPFAR is credited with saving millions of lives and helping to change the trajectory of the global HIV epidemic.
U.S. funding for PEPFAR grew from $2.2 billion in FY 2004 to $7.0 billion in FY 2022; FY 2022 funding includes $5.4 billion provided for bilateral HIV efforts and $1.6 billion for multilateral efforts ($50 million for UNAIDS and $1.56 billion for the Global Fund).
As the COVID-19 pandemic continues to have profound effects across the world, PEPFAR has acted to respond to COVID-19 in countries that receive support in order to minimize HIV service disruptions and leverage the program's capabilities to address COVID-19 more broadly.
Looking ahead, PEPFAR faces several issues and challenges, including how best to: address the short- and long-term impacts of COVID-19 on PEPFAR and the HIV response; accelerate progress toward epidemic control in the context of flat funding; support and strengthen community-led responses and the sustainability of HIV programs; define its role in global health security and broader health systems strengthening efforts; and continue to coordinate with other key players in the HIV ecosystem, including the Global Fund.
Key Activities and Results (As provided by Kaiser Health & Family Foundation)
PEPFAR activities focus on expanding access to HIV prevention, treatment, and care interventions. These include provision of antiretroviral treatment, pre-exposure prophylaxis, voluntary male circumcision, condoms, and other commodities related to HIV services. In addition, PEPFAR has launched specific initiatives in key strategic areas. For example, in 2015, PEPFAR launched DREAMS, a public-private partnership that aims to reduce HIV infections in adolescent girls and young women.
The latest results reported by PEPFAR indicate that it has:
supported testing services for 63.4 million people in FY 2021;
prevented 2.8 million babies from being born with HIV, who would have otherwise been infected;
provided care for more than 7.1 million orphans and vulnerable children (OVC);
supported training for nearly 300,000 new health care workers; and
supported antiretroviral treatment for 18.96 million people.
In the 15 countries implementing the DREAMS initiative, new diagnoses among adolescent girls and young women have declined with most DREAMS areas (96%) experiencing declines greater than 25% and nearly two-thirds with declines greater than 40%.
The achievements of the PEPFAR program have been remarkable, well-documented by outside evaluators, and hugely applauded throughout the advocacy community and the developing world. In general, milestones have been met, the program has been enlarged (for instance, to include some research on implementation of medical assistance), the roster of PEPFAR countries has grown and spending plans have not been exceeded.