Contagion: Life in the Time of the Coronavirus
(Editor's note: The Los Angeles Press Club recently asked journalists to submit stories about their experience covering the coronavirus pandemic. It was a contest and I'm honored to have come in as a runner-up. Here is that essay – Karen Ocamb)
COVID-19 is new, contagious, and fast. Three months ago, the world screamed: "Be afraid of everything — the air, surfaces, people." As of May 1, the W.H.O. reports nearly 240,000 deaths worldwide, deaths that many believe could have been prevented.
I've been here before. In the early 1980s, as an unknown virus killed homosexual men in New York City and California, the Reagan administration expressed no alarm that the HTLV-III virus was a communicable disease. In fact, White House press secretary Larry Speakes repeatedly joked or shrugged off AIDS in briefings, as he did here in 1984:
"Q: An estimated 300,000 people have been exposed to AIDS, which can be transmitted through saliva. Will the President, as Commander-in-Chief, take steps to protect Armed Forces food and medical services from AIDS patients or those who run the risk of spreading AIDS in the same manner that they forbid typhoid fever people from being involved in the health or food services.

SPEAKES: I don't know.

Q: Could you—Is the President concerned about this subject, Larry—

SPEAKES: I haven't heard him express—

Q: —that seems to have evoked so much jocular—

SPEAKES:—concern."
My last job in mainstream journalism was producing coverage of the 1984 Olympics for CBS News affiliates out of TV City. I wanted to be a playwright so I joined an acting class to see what actors would do with my words. I also joined a coalition of renters, gays and seniors in the movement for West Hollywood cityhood.
Suddenly, my gay friends started disappearing at 12 Step meetings or they showed up skinny, with purple liaisons, terrified and humiliated at no longer being hunky or able to control their bodily functions.
Stephen Pender was my first AIDS death in 1986.* He was a popular actor/writer whose family deserted him out of shame. Many friends deserted him, too — he was a mirror of what they'd become. I was freelancing, I liked him and I refused to let him die alone.
But I was afraid. We still didn't definitively know how the disease was spread. Stephen wasn't contagious – but what if the virus in his coma sweat got into the cuts around my cuticles? Could I catch it from holding his hand? It was a choice I had to make. I chose love.
Luckily, Stephen's insurance landed him in the Betty Ford wing of Cedars Sinai where the masked and gloved nurses were much kinder than the VA and L.A. County Hospital nurses were to Johnny Pipken, who starved when food was left outside the room or who used him as a pincushion to train unskilled nursing students.
I was furious. I told him I was going to complain, maybe go to my friends in the press. "NO!" They'd punish him and withhold his pain medication. It had happened before. It wasn't just Stockholm Syndrome. He couldn't bear the pain of AIDS slowly eating him alive.
I had a mini-breakdown, distraught over my powerlessness, at not being Jesus and being able to lay hands on him and cure him.
When New York City ER Dr. Lorna Breen died by suicide after hours and hours and hours of trying but failing to save the lives of so many coronavirus patients, my soul sank. I've known a bit of that abject powerlessness. And I've also reported on the bravery of those courageous frontline doctors and nurses and paramedics whose calling sent them into the unknown world of AIDS.
I got back into journalism because of AIDS. Being a care provider was not enough. I needed to use whatever skills I had to serve my people, who were dying in droves. I reported on grassroots and policy fights, on ACT UP/LA, on the fear, the insistence on ignorance, the confrontations, the miracles and the deaths. I stopped counting in 1990 after 150 friends had died.
By the end of 2018, UNAIDS reports, between 23.6 million–43.8 million people died from AIDS-related illnesses since the start of the epidemic — when the U.S. government laughed and ignored the scientists.
Today, the government encourages free HIV testing because someone could be asymptomatic and spread the disease. Today, Trump lies about COVID-19 testing. What a long, strange trip it's been.
It is through these eyes that I bear witness and share what I discover. Nursing homes, jails and meat packing facilities are the new homosexuals in this highly contagious pandemic. Their risks of infection are noted, but they are expendable, given the cost of prevention.
Today, I'm furloughed from the Los Angeles Blade** but I continue to volunteer as news editor and reporter because LGBTQ people are being erased. The Trump administration is blatantly eviscerating LGBTQ rights and the federal, state, and county governments are benignly not collecting LGBTQ healthcare data, despite numerous pleas from LGBTQ officials and organizations providing information and data about the high risk for infection for this national intersectional LGBTQ minority demographic. Apparently, it's too hard, though, unlike the early 1980s, government officials do express their "concern."
Some mainstream media outlets report on LGBTQ deaths. But for the most part, it's up to the LGBTQ press to "advocate" for attention and action.
Meanwhile there is another contagion spreading across the land – the sharing of love and common humanity.
Clapping for the heroes is a balm to momentarily soothe the trauma of governmental cruelty and incompetence and the trauma for those of us who've been in places like this before. It is a privilege to be an eyewitness reporter during this time.
This is what I also know: as a journalist, I am an "essential" worker. But as an LGBTQ person, after protesting for civil rights and against the Vietnam War, being on the CBS Network News Assignment Desk during Watergate, reporting on AIDS and marriage equality — if I catch COVID-19, I may get a few claps from friends but I will officially die as a second-class citizen in America.
On Tuesday, May 26, I'm participating in a Zoom panel discussion about AIDS and COVID-19 which will be streamed at a later time. The panel was organized by West Hollywood City Councilmember John Duran. Here's how he described the panel on his Facebook page:
On this Tuesday, May 26, 2020 the City of West Hollywood is recording a conversation between sage and seasoned warriors who led during the AIDS epidemic – about the similarities (and differences) between the epidemic in the 80's and COVID19. Who's on the panel?

Dr. Michael Gottlieb – physician and co discoverer of the HIV virus. Diane Abbitt– first co chair of AIDS Project Los Angeles and political leader from MECLA. Rabbi Denise Eger – clergy member and spiritual leader from Temple Kol Ami. Phill Wilson – founder of the Black AIDS Institute, activist and hospice creator. David Kessler – expert on grief, founder of Project Angel Food and founder of Progressive Nursing Services. Karen Ocamb – LGBT journalist who has covered both epidemics. And John Jude Duran – wise guy, politician and co chair of LIFE AIDS Lobby.
*Correcting the date of Stephen Pender's death to 1986. 
**The Los Angeles and Washington Blades luckily received a PPP loan so I'm back on staff for right now.
Photo of "The Plague Year" via the History News Network.
Peacock will premiere HIV documentary on World AIDS Day
Drew, who was diagnosed with HIV in the late 1980's when he was only 23 years old, was not paid for his participation in the trial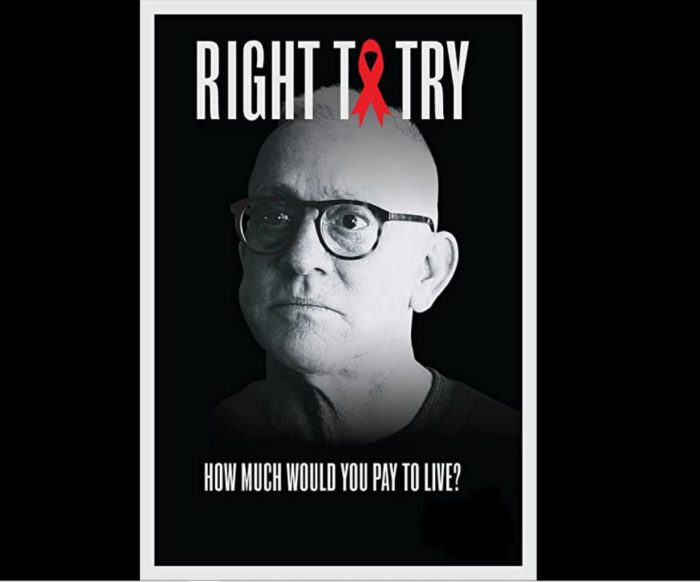 NEW YORK — NBCUniversal's streaming service Peacock will premiere the documentary short "Right to Try," which explores one man's search to cure his HIV, Wednesday on World AIDS Day.
The film, produced by Oscar-winning actress Octavia Spencer and directed by "The Late Late Show With James Corden" producer Zeberiah Newman, follows HIV survivor and activist Jeffrey Drew's participation in an experimental vaccine trial.
"We are thrilled our film 'Right to Try' will be seen on Peacock. Though Jeffrey Drew's heroic journey is singular, his story is universal," Spencer said in a statement, according to Variety. "This is an important film and with Peacock we have a wonderful partner to bring it to our audience."
Val Boreland, EVP of content acquisitions at NBCUniversal Television and Streaming, added: "It is an honor to share Drew's story with Peacock users and raise awareness around the important issue of HIV research. We know the impact of this documentary will be far-reaching."
The documentary shows the side effects that Drew experienced during the early days of the trial. The coronavirus pandemic interrupted the study, as the doctor spearheading the experimental vaccine started working on the COVID-19 vaccine.
Drew, who was diagnosed with HIV in the late 1980's when he was only 23 years old, was not paid for his participation in the trial that a major pharmaceutical company did not fund.
"There are people who are still getting infected and sick and dying," he told Variety in a June interview. "I would love to see a generation that doesn't have to think or worry about this anymore."
"Right to Try" won the Audience Award for Documentary Short last summer at Outfest, an LGBTQ+ film festival in Los Angeles.
Los Angeles observes World AIDS Day with star-studded concert
Gay Men's Chorus of Los Angeles and Juan Pablo di Pace will also be performing at the ceremony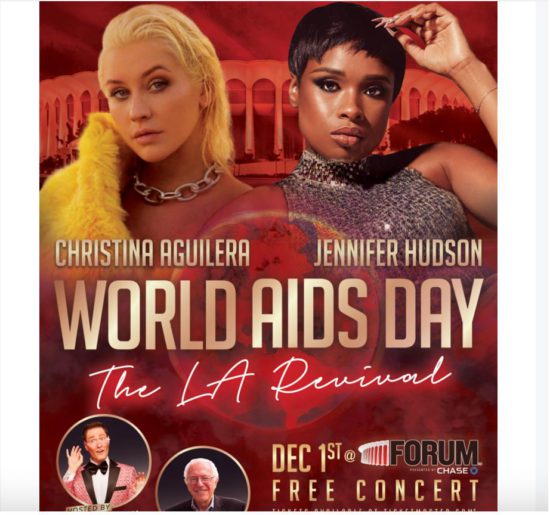 LOS ANGELES — As World AIDS Day is recognized around the globe, Los Angeles will mark the day with a free concert with a star-studded line-up at The Forum hosted by the AIDS Healthcare Foundation (AFA) and a ceremony at The Wall Las Memorias (TWLA) AIDS Monument in Lincoln Park Wednesday.
In a press release, the AFA said Grammy award winners Jennifer Hudson and Christina Aguilera are set to perform in front of a sold-out crowd. Emmy-nominated comedian Randy Rainbow will host the event, which will take place from 8:00 p.m. to 10:00 p.m.
In addition to the entertainment, the AFA will honor Vermont's U.S. Sen. Bernie Sanders with a Lifetime Achievement Award and a special video presentation. The award will be accepted by his wife Jane Sanders.
"This year marks two significant milestones in the decades-long fight against HIV and AIDS: first, for the first recognition by the CDC of the virus that led to what is now known as AIDS (40 years ago, in June 1981), and second, the launch of AHF (35 years ago)," the release reads.
TWLA's ceremony will reveal an expanded footprint of the surrounding landscape of the country's only publicly funded AIDS monument. The monument, created in 2004, will also add over 1,000 names of loved ones lost to AIDS to the 360-plus names already etched into it and unveil new artwork.
TWLM Founder Richard Zaldivar, Los Angeles City Councilman Gil Cedillo and County Board of Supervisors Chair Hilda Solis are all expected to attend the event, which will start at 6:15 p.m. at 3600 N. Mission Road. According to NBC 4 Los Angeles, organizers also hope Los Angeles Mayor Eric Garcetti will be in attendance.
Gay Men's Chorus of Los Angeles and Juan Pablo di Pace will also be performing at the ceremony.
World AIDS Day is observed every December 1 to raise awareness about AIDS and honor the people who have died of the disease. This year's theme is "End inequities. End AIDS and End Pandemics."
National Black Justice Coalition Partners with Twitter for World AIDS Day
Conversations about HIV prevention, treatment, and support on World AIDS Day must center on the Black community.
WASHINGTON n- On December 1, 2021, World AIDS Day, the National Black Justice Coalition is partnering with Twitter's #CampaignsForChange and #TwitterIgnite on a campaign to educate people about HIV/AIDS and the importance of their involvement in the fight to end the epidemic. The campaign will center around a safe space on Twitter that encourages the use of the #MyFirstHIVTweet hashtag and urges people to talk about HIV and sexual wellness. '
World AIDS Day (WAD) is an opportunity to remember those who have passed due to an AIDS-related illness, support those currently living with HIV, and unite in the fight to end HIV/AIDS worldwide.
An estimated 37.7 million people globally were living with HIV at the end of 2020, and since the epidemic began in the 1980s, 36.3 million people have died from an AIDS-related illness.
In the U.S., the Black community is disproportionately impacted by the HIV epidemic, with gay, bisexual, and same-gender loving men and Black women being the most affected. In 2018, Black people comprised 42% (16,002) of the 37,968 new HIV diagnoses, and Black same-gender loving, gay, and bisexual men made up 26% (9,712) of the new diagnoses. In 2016, Black women accounted for 6 in 10 new HIV diagnoses among women.
"Conversations about HIV prevention, treatment, and support on World AIDS Day must center on the Black community. We must reduce stigma in our community, including by having critically important but sometimes challenging conversations about HIV/AIDS," explained David Johns, executive director of the National Black Justice Coalition.
"There are many people who are engaged in activism around the LGBTQ+ community and racial issues but are notably absent from the conversation around HIV. This is because the epidemic is not visible for them and because they lack accurate information on HIV. My hope is this safe space encourages people to send what will not be their last HIV/Tweet and to consider using NBJC to help find a testing location or to request an at-home testing kit. Too many people are still dying as a result of HIV/AIDS and this does not have to be our reality."
NBJC has created this Words Matter HIV Toolkit to support asset-based conversations about holistic health and wellness.
For more information on how HIV/AIDS impacts the Black community and how to engage during World AIDS Day and beyond, view NBJC's World AIDS Day Toolkit. Get tested and know your status. Doctors recommend testing every three to six months.
You can find a testing site near you at https://gettested.cdc.gov/ or if you are 17 years or older and live in the U.S., order a FREE at-home HIV test kit via the Have Good Sex program.