May 25, 2020 at 8:04 pm PDT | by Brody Levesque
COVID-19 Daily; CA issues new rules for churches, retail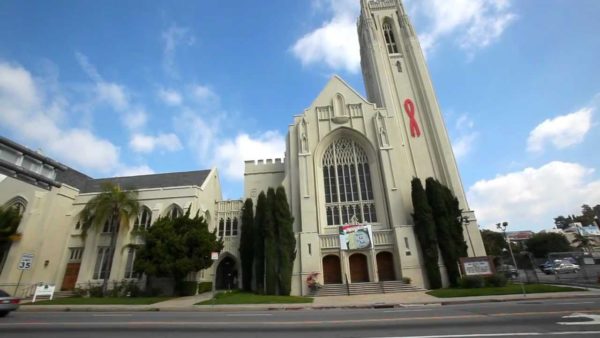 SACRAMENTO – The California Department of Public Health said Monday that its approved statewide reopening of places of worship for religious services and in-store retail shopping subject to certain restrictions.
The state's announcement followed a split 2-1 ruling late Friday by the U. S. Circuit Court of Appeals for the Ninth Circuit in San Francisco which upheld Gov. Gavin Newsom's statewide prohibition of inside religious services as part of his stay-at-home order. Newsom's order was designed to curtail the spread of the COVID-19 coronavirus, especially via large gatherings.
Newsom had been sued by the South Bay United Pentecostal Church in Chula Vista, California, which in its suit claimed that he was violating its First Amendment right to free exercise of its religious beliefs.
"When he (Newsom) did not announce churches in Phase 2, immediately we filed the lawsuit," said Bishop Arthur Hodges, lead pastor of the South Bay United Pentecostal Church said in an interview with KPBS TV San Diego Saturday.
Hodges told KPBS that the people of his church, and members of every religious faith for that matter, "are being discriminated against by the governor's public health orders." He also indicated that the church would appeal to the U.S. Supreme Court.
The ruling also followed a terse announcement by President Trump to reporters Friday afternoon in the White House briefing room that he would take action to overrule governors and states that had issued orders banning churches, synagogues, mosques, and other places of worship from being able to reopen immediately.
"The governors need to do the right thing and allow these very important essential places of faith to open right now, for this weekend. If they don't do it, I will override the governors," Trump said adding. "In America, we need more prayer, not less."
Legal experts have argued that the president does not have the constitutional authority to override the bans issued by the states although Trump indicated he would seek to cut-off federal funding programs
As of Monday the virus has killed 98,034 people and infected 1,657,441 million Americans.
The Los Angeles County Department of Public Health (LACDPH) confirmed 12 new deaths and 1,047 new cases of COVID-19. Two deaths were reported by the City of Long Beach and two deaths by the City of Pasadena. To date, LACDPH has identified 46,018 positive cases of COVID-19 across all areas of LA County, and a total of 2,116 deaths.
"On this Memorial Day, as we join with those mourning the loss of their loved ones to COVID-19, including the families of the 1100 veterans who recently passed away from COVID-19, we want to honor the memory of all the members of the armed forces who courageously gave of themselves to protect our country," said Dr. Barbara Ferrer, Director of Public Health. "We take to heart the lessons of courage and caring that mark this day of remembrance. As we prepare to re-open many places and spaces that are still closed, it will require an extraordinary effort by all of us to prevent outbreaks among workers and residents."
The guidelines issued Monday were detailed via a media release, in which the California Department of Public Health laid out the modifications to the stay-at-home orders statewide.
Subject to approval by county public health departments, all retail stores can reopen for in-store shopping under previously issued guidelines. Under new guidance, places of worship can hold religious services and funerals that limit attendance to 25% of a building's capacity – or up to 100 attendees, whichever is lower – upon approval by the county department of public health.
While the vast majority of large gatherings remain prohibited under the state's stay-at-home order, the Department of Public Health has released guidelines for in-person protests and events designed for political expression. The guidance limits attendance to 25% of an area's maximum occupancy – or up to 100 attendees.
"Together, our actions have helped bend the curve and reduce infections in our state. As sectors continue to open with changes that aim to lower risk, remember that COVID-19 is still present in our communities," said Dr. Sonia Angell, Director of the California Department of Public Health.
The new guidance for religious services and cultural ceremonies encourages organizations to continue online services and activities, including to protect individuals who are most at risk for more severe COVID-19, including older adults and people with specific medical conditions.
To reopen for religious services and funerals, places of worship must:
Establish and implement a COVID-19 prevention plan for every location, train staff on the plan, and regularly evaluate workplaces for compliance.

Train employees and volunteers on COVID-19, including how to prevent it from spreading and which underlying health conditions may make individuals more susceptible to contracting the virus.

Implement cleaning and disinfecting protocols.

Set physical distancing guidelines.

Recommend that staff and guests wear cloth face coverings, and screen staff for temperature and symptoms at the beginning of their shifts.

Set parameters around or consider eliminating singing and group recitations. These activities dramatically increase the risk of COVID-19 transmission. For this reason, congregants engaging in singing, particularly in the choir, and group recitation should wear face coverings at all times and when possible, these activities should be conducted outside with greater than 6-foot distancing.
The existing guidance for retailers, previously allowed for counties approved to advance in the reopening process, now applies statewide. Retail can now open for in-store shopping statewide. The guidelines help reduce the risk for workers and customers. Retail does not include personal services such as hair salons, nail salons, and barbershops.
In 21 days, the Department of Public Health, in consultation with local departments of public health, will review and assess the impact of the religious services guidelines and provide further direction as part of a phased-in restoration of activities. This 21-day interval accounts for seven days for religious communities to prepare and reopen in addition to a 14-day incubation period of COVID-19.