May 26, 2020 at 2:01 pm PDT | by Karen Ocamb
Newsom: no executive order on LGBTQ data collection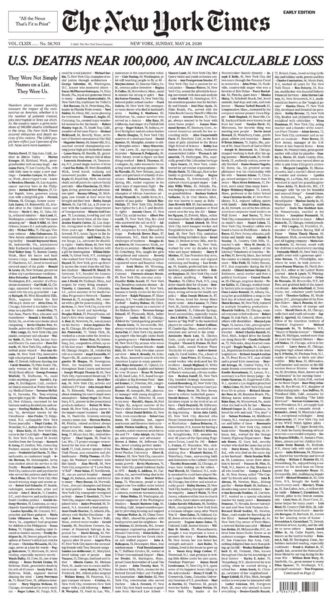 May 24, the Sunday before Memorial Day, the New York Times devoted its customary patriotic-image-filled front page to a stark black and white list of names to mark the "grim milestone" of "incalculable loss" as the death toll from the coronavirus pandemic in the United States approaches 100,000.
Almost all of them within a three-month span, an average of more than 1,100 deaths a day, each with "individual arcs of life, the 100,000 ways of greeting the morning and saying good night."
But, notes The Times, "A number is an imperfect measure when applied to the human condition. One. Hundred. Thousand."
The four-page, 16-column tribute of almost 1,000 names and pithy characteristic was culled from obituaries in more than 100 newspapers to create a "rich tapestry" of those lost, says Simone Landon, assistant editor of The Times Graphics desk.
It may never be known how many of those 100,000 might be LGBTQ since no LGBTQ-specific data is being collected. The Los Angeles Blade scanned the nearly 1,000 names in The Times tribute looking for clues of sexual orientation or gender identity, characteristics presumably central to a person's arc of life and found only five: Terrence McNally, 81, "playwright of gay life;" Bob Barnum, 64, a leader of Florida Pride; Frank Gabrin, 60, a New York City emergency room doctor "who died in his husband's arms;" and NYC's Tarlach Mac-Niallars, 57, a "Belfast-born fighter for L.B.G.T. and disability rights."
Kevin Charles Patz, 64, of Seattle was active in the AIDS Foundation – but that doesn't make him LGBTQ. Ruth E. Shinn, a nationally known advocate for gender, racial and LGBT justice, 97, never married and her obit in the Washington Post gives no indication of her sexual orientation. Nita Pippins, 93, of Manhattan, was a "mother to a generation of AIDS patients," but no indication of her sexual orientation. Others – the founder of a major theater and an Indiana woman who "enjoyed playing euchre with her lifelong girlfriends" were straight.
The Los Angeles Times was one of the newspapers from which obits were culled but none of the LGBTQ individuals cited by the LA Times nor the LA Blade were included in the "rich tapestry" of NYT tribute, such as Scott Blanks and Garry Bowie.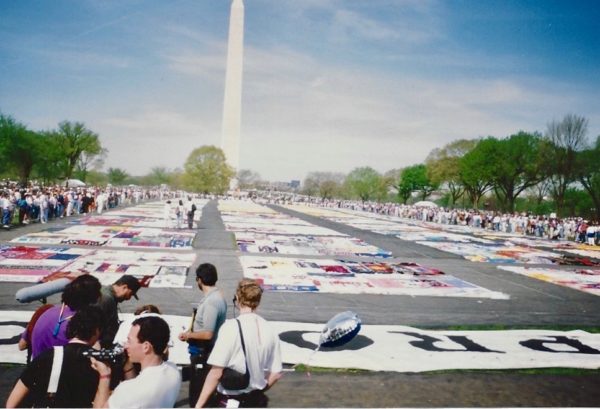 The AIDS Memorial Quilt on display at the 1993 March on Washington (Photo by Karen Ocamb)
Not all the names of those lost to AIDS are included in the AIDS Memorial Quilt, either. In fact, the number of those lost to AIDS might have been smaller if coroners were not required by law to report the deaths from the communicable disease to the CDC, instead of listening to ashamed family members who insisted their heretofore closeted gay son died from cancer, not AIDS.
Three decades later, LGBTQ people are dying and disappearing again, despite existing laws to collect LGBTQ healthcare and death data. As a result, Equality California and other LGBTQ organizations, the non-profits that provide the safety net for the marginalized, are stepping up to provide resources for those in need.

The LGBTQ community, in particular, in caught in a Catch 22 – unable to get government resources without providing data to prove a need – but the government is not collecting the required data.
California Gov. Gavin Newsom has indicated that he is working closely with out State Sen. Scott Wiener to get his SB 932 LGBTQ data collection bill to his desk. SB 932 adds a question about sexual orientation and a question about gender identity on the same COVID-19 questionnaire used by providers asking data questions on race, age, and sex. The providers send that data to the local counties for collection, which is then sent to the state.
Newsom says the state has readied the Department of Public Health to receive the data and Dr. Sonia Angell has been requesting the collection of LGBTQ data from the counties. SB 932 would enable the state to demand such collection.
Wiener and Rick Chavez Zbur, executive director of Equality California, however, want Newsom to issue an executive order to direct the counties to collect LGBTQ data at the same time – on a parallel path with – the legislative process of passing and enacting SB 932. An executive order recognizes the urgency of not losing any more LGBTQ data, not ignoring the erasure of LGBTQ lives in death.
But on May 22, which was incidentally Harvey Milk Day, Newsom appeared peeved by the persistent question and said no to an executive order because he will not circumvent the state Legislature, though he has now issued more than three dozen COVID-19-related executive orders, according to the San Diego Union Tribune.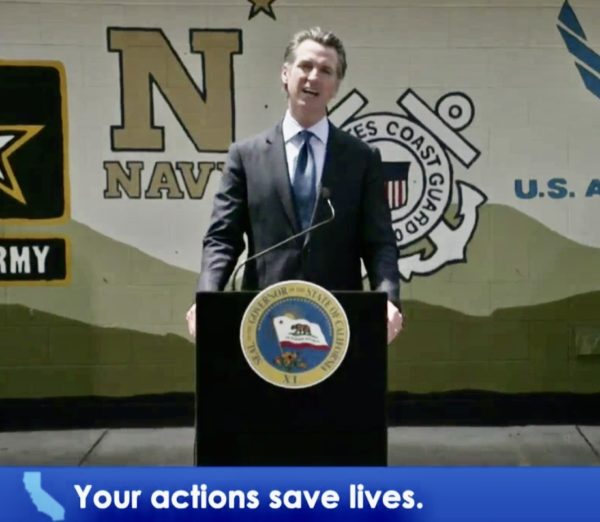 "I look forward to working with the Legislature. I've now on four separate occasions been asked that question, specifically," Newsom said. "On four separate occasions, I expressed a deep desire to reconcile this but also was very specific about how proud I am to work with Scott Wiener, who's got a bill on this and working with Scott and many other members of the Legislature, including the LGBTQ Caucus, of which I had the privilege of spending some time with a week ago, they have a bill. They would like to advance that bill. We are working very collaboratively to do exactly what needs to be done – and that's to reconcile the gap that predates the current pandemic and that is the issue of data collection and the lack thereof in the LGBTQ community."
"We're working diligently to move SB 932 forward and will continue to work collaboratively with the Governor, the Department of Public Health, county health officers, and healthcare providers to ensure we start collecting this important data," Wiener told the LA Blade.
"We are working with state and local officials, including the governor's office, to understand and work through any potential obstacles, and we know and appreciate that the governor supports SB 932 and is committed to accelerating this data collection," Zbur told the LA Blade. "We continue to believe that officials at all levels of state and local government can and must take steps to begin collecting this data as soon as possible. Every day that this data is not collected is another day that the LGBTQ+ community is left out of California's data-driven response."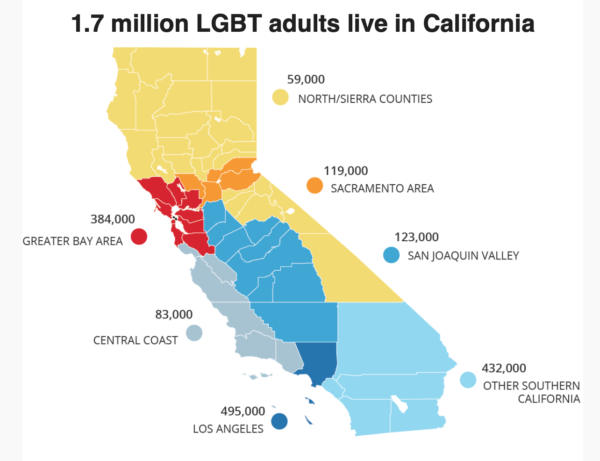 According to the Williams Institute think tank at UCLA School of Law, that's 1.7 million LGBTQ adults, not counting children or youth, almost half-million in Los Angeles alone. The LA Blade has requested an interview with LA County Supervisor Sheila Kuehl since previous outreach to LA County Department of Public Health has gone unanswered.
"An estimated 15% of LGBT adults in the U.S. live in California and many have one or more health conditions that put them at high risk of COVID-19 illness, including asthma, diabetes, heart disease, or HIV. In addition, about 612,000 LGBT Californians were living below 200% of the federal poverty level prior to the pandemic. An estimated 251,000 of them were working in industries facing substantial job losses, such as hospitality, health care, retail, and construction," writes the Williams Institute in two new studies.
And while the LGBTQ community waits, here's some of the LGBTQ data the Williams Institute has collected: