Newsom: no executive order on LGBTQ data collection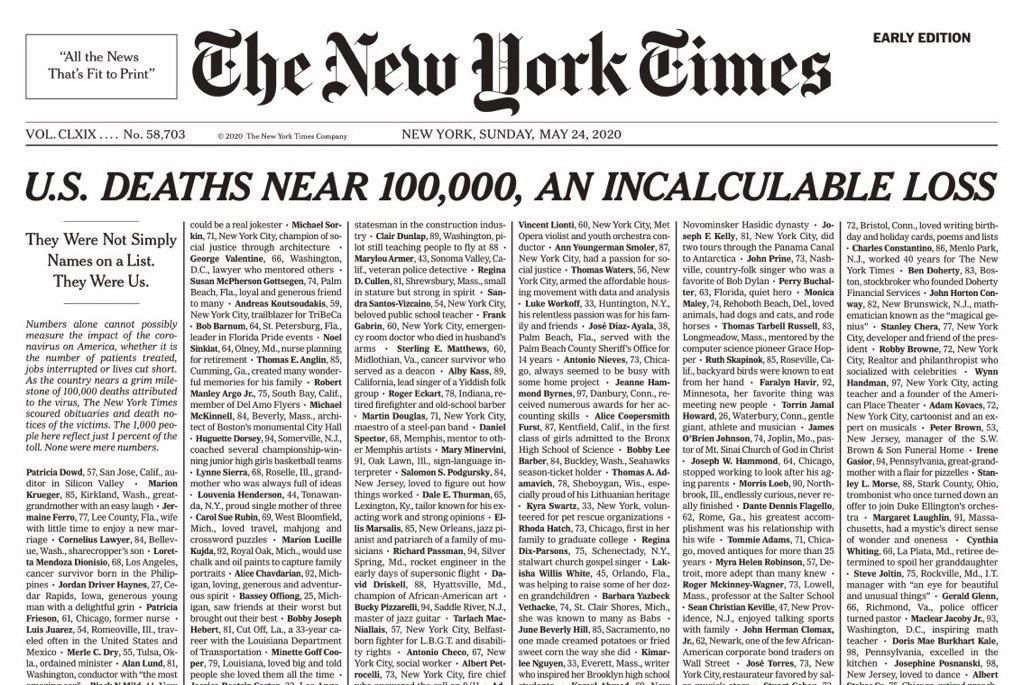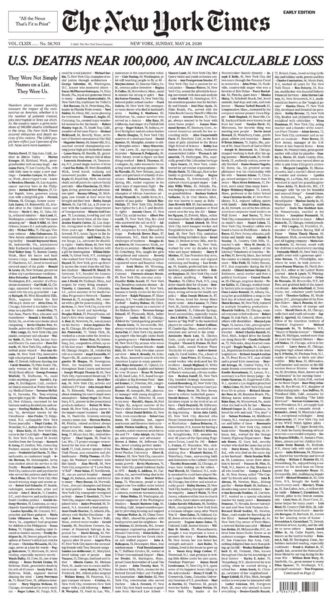 May 24, the Sunday before Memorial Day, the New York Times devoted its customary patriotic-image-filled front page to a stark black and white list of names to mark the "grim milestone" of "incalculable loss" as the death toll from the coronavirus pandemic in the United States approaches 100,000.
Almost all of them within a three-month span, an average of more than 1,100 deaths a day, each with "individual arcs of life, the 100,000 ways of greeting the morning and saying good night."
But, notes The Times, "A number is an imperfect measure when applied to the human condition. One. Hundred. Thousand."
The four-page, 16-column tribute of almost 1,000 names and pithy characteristic was culled from obituaries in more than 100 newspapers to create a "rich tapestry" of those lost, says Simone Landon, assistant editor of The Times Graphics desk.
It may never be known how many of those 100,000 might be LGBTQ since no LGBTQ-specific data is being collected. The Los Angeles Blade scanned the nearly 1,000 names in The Times tribute looking for clues of sexual orientation or gender identity, characteristics presumably central to a person's arc of life and found only five: Terrence McNally, 81, "playwright of gay life;" Bob Barnum, 64, a leader of Florida Pride; Frank Gabrin, 60, a New York City emergency room doctor "who died in his husband's arms;" and NYC's Tarlach Mac-Niallars, 57, a "Belfast-born fighter for L.B.G.T. and disability rights."
Kevin Charles Patz, 64, of Seattle was active in the AIDS Foundation – but that doesn't make him LGBTQ. Ruth E. Shinn, a nationally known advocate for gender, racial and LGBT justice, 97, never married and her obit in the Washington Post gives no indication of her sexual orientation. Nita Pippins, 93, of Manhattan, was a "mother to a generation of AIDS patients," but no indication of her sexual orientation. Others – the founder of a major theater and an Indiana woman who "enjoyed playing euchre with her lifelong girlfriends" were straight.
The Los Angeles Times was one of the newspapers from which obits were culled but none of the LGBTQ individuals cited by the LA Times nor the LA Blade were included in the "rich tapestry" of NYT tribute, such as Scott Blanks and Garry Bowie.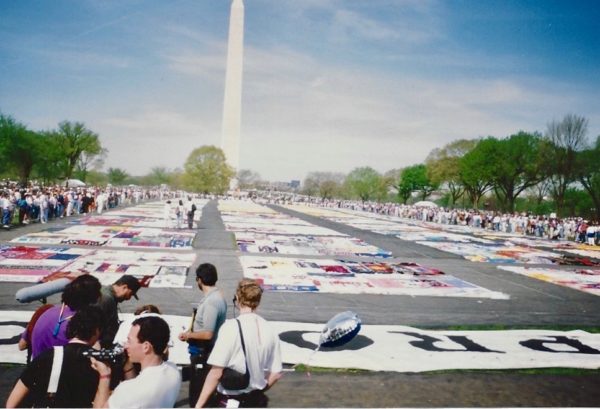 The AIDS Memorial Quilt on display at the 1993 March on Washington (Photo by Karen Ocamb)
Not all the names of those lost to AIDS are included in the AIDS Memorial Quilt, either. In fact, the number of those lost to AIDS might have been smaller if coroners were not required by law to report the deaths from the communicable disease to the CDC, instead of listening to ashamed family members who insisted their heretofore closeted gay son died from cancer, not AIDS.
Three decades later, LGBTQ people are dying and disappearing again, despite existing laws to collect LGBTQ healthcare and death data. As a result, Equality California and other LGBTQ organizations, the non-profits that provide the safety net for the marginalized, are stepping up to provide resources for those in need.

The LGBTQ community, in particular, in caught in a Catch 22 – unable to get government resources without providing data to prove a need – but the government is not collecting the required data.
California Gov. Gavin Newsom has indicated that he is working closely with out State Sen. Scott Wiener to get his SB 932 LGBTQ data collection bill to his desk. SB 932 adds a question about sexual orientation and a question about gender identity on the same COVID-19 questionnaire used by providers asking data questions on race, age, and sex. The providers send that data to the local counties for collection, which is then sent to the state.
Newsom says the state has readied the Department of Public Health to receive the data and Dr. Sonia Angell has been requesting the collection of LGBTQ data from the counties. SB 932 would enable the state to demand such collection.
Wiener and Rick Chavez Zbur, executive director of Equality California, however, want Newsom to issue an executive order to direct the counties to collect LGBTQ data at the same time – on a parallel path with – the legislative process of passing and enacting SB 932. An executive order recognizes the urgency of not losing any more LGBTQ data, not ignoring the erasure of LGBTQ lives in death.
But on May 22, which was incidentally Harvey Milk Day, Newsom appeared peeved by the persistent question and said no to an executive order because he will not circumvent the state Legislature, though he has now issued more than three dozen COVID-19-related executive orders, according to the San Diego Union Tribune.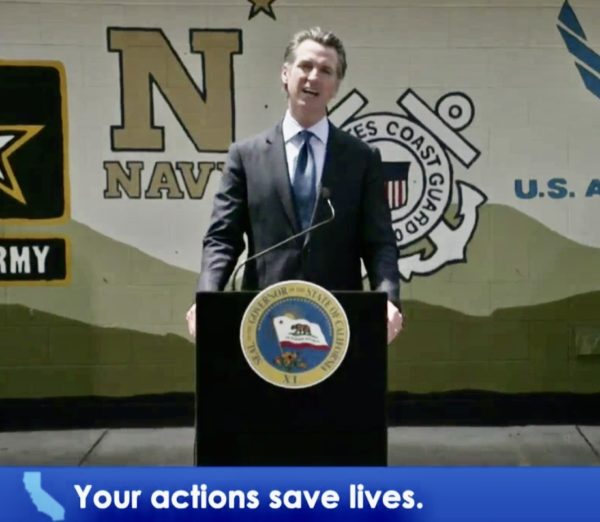 "I look forward to working with the Legislature. I've now on four separate occasions been asked that question, specifically," Newsom said. "On four separate occasions, I expressed a deep desire to reconcile this but also was very specific about how proud I am to work with Scott Wiener, who's got a bill on this and working with Scott and many other members of the Legislature, including the LGBTQ Caucus, of which I had the privilege of spending some time with a week ago, they have a bill. They would like to advance that bill. We are working very collaboratively to do exactly what needs to be done – and that's to reconcile the gap that predates the current pandemic and that is the issue of data collection and the lack thereof in the LGBTQ community."
"We're working diligently to move SB 932 forward and will continue to work collaboratively with the Governor, the Department of Public Health, county health officers, and healthcare providers to ensure we start collecting this important data," Wiener told the LA Blade.
"We are working with state and local officials, including the governor's office, to understand and work through any potential obstacles, and we know and appreciate that the governor supports SB 932 and is committed to accelerating this data collection," Zbur told the LA Blade. "We continue to believe that officials at all levels of state and local government can and must take steps to begin collecting this data as soon as possible. Every day that this data is not collected is another day that the LGBTQ+ community is left out of California's data-driven response."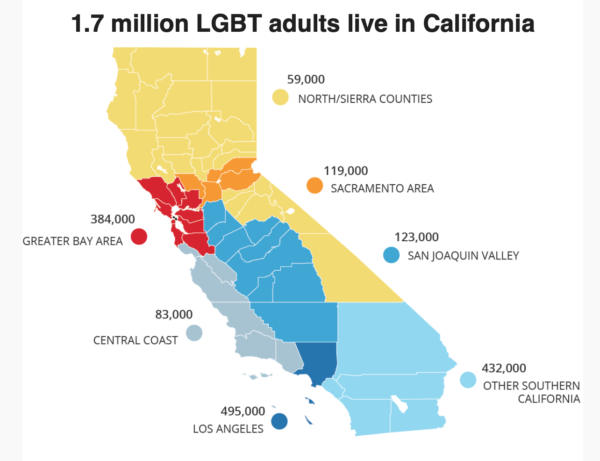 According to the Williams Institute think tank at UCLA School of Law, that's 1.7 million LGBTQ adults, not counting children or youth, almost half-million in Los Angeles alone. The LA Blade has requested an interview with LA County Supervisor Sheila Kuehl since previous outreach to LA County Department of Public Health has gone unanswered.
"An estimated 15% of LGBT adults in the U.S. live in California and many have one or more health conditions that put them at high risk of COVID-19 illness, including asthma, diabetes, heart disease, or HIV. In addition, about 612,000 LGBT Californians were living below 200% of the federal poverty level prior to the pandemic. An estimated 251,000 of them were working in industries facing substantial job losses, such as hospitality, health care, retail, and construction," writes the Williams Institute in two new studies.
And while the LGBTQ community waits, here's some of the LGBTQ data the Williams Institute has collected: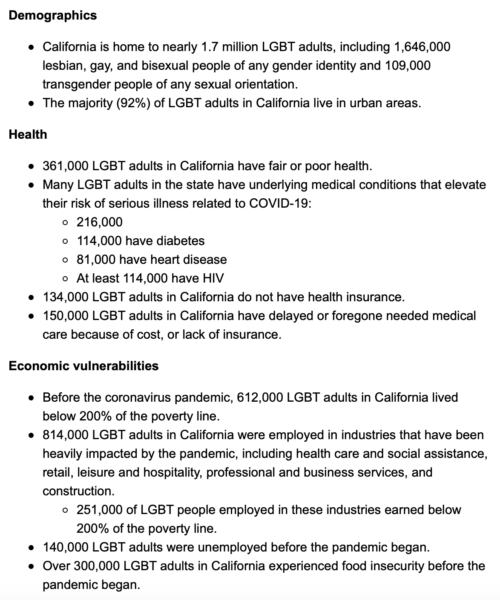 U.S. announces more funding for HIV/AIDS fight in Latin America
Jill Biden made announcement on Saturday in Panama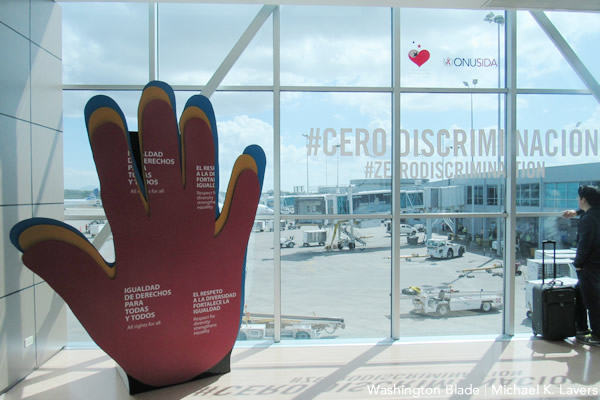 PANAMA CITY — First lady Jill Biden on Saturday announced the U.S. will provide an additional $80.9 million to the fight against HIV/AIDS in Latin America.
Biden during a visit to Casa Hogar el Buen Samaritano, a shelter for people with HIV/AIDS in Panama City, said the State Department will earmark an additional $80.9 million for President's Emergency Plan for AIDS Relief-funded work in Latin America. A Panamanian activist with whom the Washington Blade spoke said LGBTQ+ people were among those who met with the first lady during her visit.
Pope Francis visited the shelter in 2019.
"I'm glad we have the opportunity to talk about how the United States and Panama can work together to combat HIV," said the first lady.
Michael LaRosa, the first lady's spokesperson, noted Panama will receive $12.2 million of the $80.9 million in PEPFAR funding.
"This funding, pending Congressional notification, will support expanded HIV/AIDS services and treatment," said LaRosa.
UNAIDS statistics indicate an estimated 31,000 Panamanians were living with HIV/AIDS in 2020. The first lady's office notes the country in 2020 had the highest number of "newly notificated cases of HIV/AIDS" in Central America.
The first lady visited Panama as part of a trip that included stops in Ecuador and Costa Rica.
The Summit of the Americas will take place next month in Los Angeles. The U.S. Agency for International Development and PEPFAR in April announced they delivered more than 18 million doses of antiretroviral drugs for Ukrainians with HIV/AIDS.
New highly-infectious variant of HIV discovered by Dutch scientists
This new variant of HIV-1 damaged the immune system twice as fast, "placing individuals at risk of developing AIDS much more rapidly"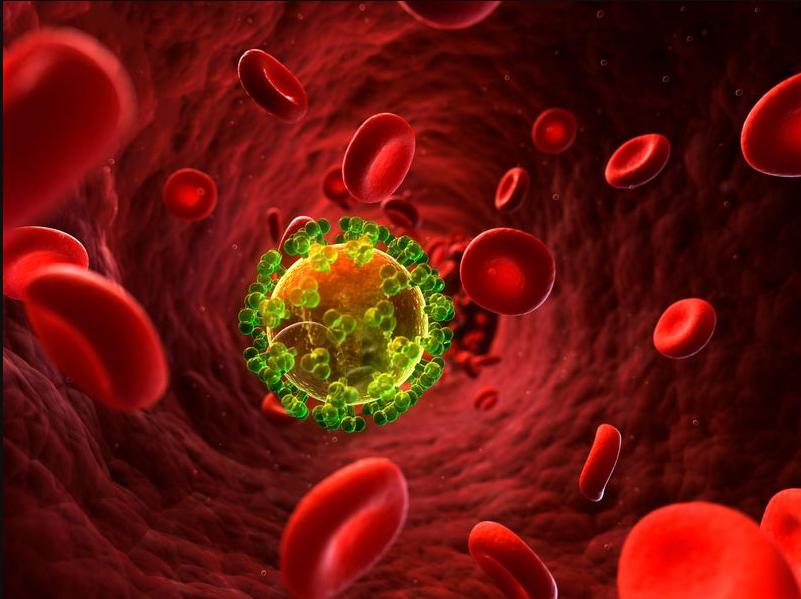 CAMBRIDGE, UK – A study published this week by Science (journal) detailed an alarming discovery by researchers, clinicians and epidemiologists in the Netherlands of a new, highly-infectious mutated variant strain of the human immunodeficiency virus, (HIV), circulating in the country.
The BEEHIVE project – which stands for "bridging the epidemiology and evolution of HIV in Europe and Uganda," detailed the findings which showed that a distinct subtype-B viral variant of HIV-1 damaged the immune system twice as fast, "placing individuals at risk of developing AIDS much more rapidly", and those with this variant were at a higher risk of transmitting the virus to others.
The variant, known as the "VB variant", causes CD4 cell decline to occur twice as fast in infected individuals compared with other viral variants. This is a clinical hallmark, or "signature" of the extent of damage caused by the HIV virus. In addition, those infected with the VB variant also demonstrated an increased risk of transmitting the virus to others, the data suggests.
Individuals infected with the new "VB variant" (for virulent subtype B) showed significant differences before antiretroviral treatment compared with individuals infected with other HIV variants:
Individuals with the VB variant had a viral load (the level of the virus in the blood) between 3.5 and 5.5 times higher.
In addition, the rate of CD4 cell decline (the hallmark of immune system damage by HIV) occurred twice as fast in individuals with the VB variant, placing them at risk of developing AIDS much more rapidly.
Individuals with the VB variant also showed an increased risk of transmitting the virus to others.
The project's researchers, clinicians and epidemiologists did determine however, that those infected with the VB variant had "similar immune system recovery and survival to individuals with other HIV variants."
However, the researchers stress that because the VB variant causes a more rapid decline in immune system strength, this makes it critical that individuals are diagnosed early and start treatment as soon as possible.
BEEHIVE project's lead author Dr Chris Wymant, from the University of Oxford's Big Data Institute and Nuffield Department of Medicine, said: "Before this study, the genetics of the HIV virus were known to be relevant for virulence, implying that the evolution of a new variant could change its impact on health. Discovery of the VB variant demonstrated this, providing a rare example of the risk posed by viral virulence evolution."
"Our findings emphasize the importance of World Health Organization guidance that individuals at risk of acquiring HIV have access to regular testing to allow early diagnosis, followed by immediate treatment. This limits the amount of time HIV can damage an individual's immune system and jeopardise their health. It also ensures that HIV is suppressed as quickly as possible, which prevents transmission to other individuals," Senior author Professor Christophe Fraser from the University of Oxford's Big Data Institute and Nuffield Department of Medicine, added.

In its Global HIV & AIDS statistics — Fact sheet, the UNAIDS Secretariat detailed the statistical data: 
GLOBAL HIV STATISTICS
28.2 million people were accessing antiretroviral therapy as of 30 June 2021.
37.7 million [30.2 million–45.1 million] people globally were living with HIV in 2020.
1.5 million [1.0 million–2.0 million] people became newly infected with HIV in 2020.
680 000 [480 000–1.0 million] people died from AIDS-related illnesses in 2020.
79.3 million [55.9 million–110 million] people have become infected with HIV since the start of the epidemic.
36.3 million [27.2 million–47.8 million] people have died from AIDS-related illnesses since the start of the epidemic.
People living with HIV
In 2020, there were 37.7 million [30.2 million–45.1 million] people living with HIV.

36.0 million [28.9 million–43.2 million] adults.
1.7 million [1.2 million–2.2 million] children (0–14 years).
53% of all people living with HIV were women and girls.

84% [67– >98%] of all people living with HIV knew their HIV status in 2020.
About 6.1 million [4.9 million–7.3 million] people did not know that they were living with HIV in 2020.
People living with HIV accessing antiretroviral therapy
As of 30 June 2021, 28.2 million people were accessing antiretroviral therapy, up from 7.8 million [6.9 million–7.9 million] in 2010.
In 2020, 73% [56–88%] of all people living with HIV were accessing treatment.

74% [57–90%] of adults aged 15 years and older living with HIV had access to treatment, as did 54% [37–69%] of children aged 0–14 years.
79% [61–95%] of female adults aged 15 years and older had access to treatment; however, just 68% [52–83%] of male adults aged 15 years and older had access.

85% [63– >98%] of pregnant women living with HIV had access to antiretroviral medicines to prevent transmission of HIV to their child in 2020.
New HIV infections
New HIV infections have been reduced by 52% since the peak in 1997.

In 2020, around 1.5 million [1.0 million–2.0 million] people were newly infected with HIV, compared to 3.0 million [2.1 million–4.2 million] people in 1997.
Women and girls accounted for 50% of all new infections in 2020.

Since 2010, new HIV infections have declined by 31%, from 2.1 million [1.5 million–2.9 million] to 1.5 million [1.0 million–2.0 million] in 2020.

Since 2010, new HIV infections among children have declined by 53%, from 320 000 [210 000–510 000] in 2010 to 150 000 [100 000–240 000] in 2020.
AIDS-related deaths
AIDS-related deaths have been reduced by 64% since the peak in 2004 and by 47% since 2010.

In 2020, around 680 000 [480 000–1 million] people died from AIDS-related illnesses worldwide, compared to 1.9 million [1.3 million–2.7 million] people in 2004 and 1.3 million [910 000–1.9 million] people in 2010.

AIDS-related mortality has declined by 53% among women and girls and by 41% among men and boys since 2010.
'Promising' HIV vaccine study conducted at George Washington University
"We are tremendously excited to be advancing this new direction in HIV vaccine design with Moderna's mRNA platform"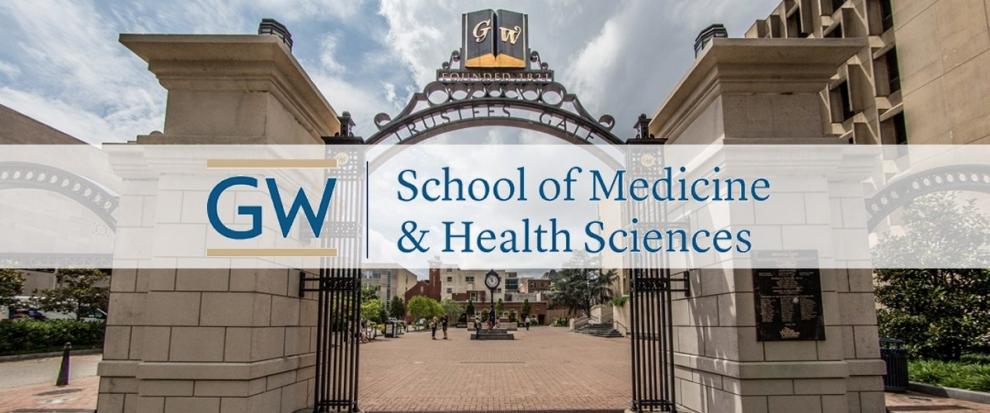 WASHINGTON – D.C.'s George Washington University School of Medicine and Health Sciences is one of four sites across the country in which a preliminary component of an experimental HIV vaccine is being given to volunteer participants in a study aimed at reversing years of failed attempts to develop an effective HIV vaccine by pursuing what study sponsors say is a new, promising approach.
The study, which involves 56 healthy, HIV-negative volunteer participants, is being conducted by the nonprofit scientific research organization known as IAVI and the biotechnology company Moderna, which developed one of the coronavirus vaccines now being used throughout the world.
In a Jan. 27 joint statement, IAVI and Moderna said their study is part of a Phase 1 trial designed to test newly developed experimental HIV vaccine antigens to determine if they will lead to the development of an effective HIV vaccine.
According to scientific literature, antigens are substances such as bacteria, viruses, and chemicals that induce the body to release antibodies that fight off infections. The statement by IAVI and Moderna says a vaccine technology developed by Moderna to use another component of the human body called messenger RNA or mRNA to strengthen a potential vaccine's ability to fight off infection by HIV is also a part of this vaccine study.
"We are tremendously excited to be advancing this new direction in HIV vaccine design with Moderna's mRNA platform," Mark Feinberg, president and CEO of IAVI, says in the statement. "The search for an HIV vaccine has been long and challenging and having new tools in terms of immunogens and platforms could be the key to making rapid progress toward an urgently needed, effective HIV vaccine," he says in the statement.
The statement says that scientific teams at IAVI and the biotechnology firm Scripps Research helped to develop the HIV vaccine antigens being tested in the trials taking place at the GW School of Medicine and Health Sciences and at locations in Atlanta, Ga., Seattle, Wash., and San Antonio, Tex.
It says the trial involving the 56 volunteer participants — who are divided among the four sites — began on Jan. 27 and is being funded by the Bill & Melinda Gates Foundation.
Among those calling the IAVI-Moderna trial an important step in HIV vaccine development is Carl Dieffenbach, director of the Division of AIDS at the National Institute of Allergies and Infectious Diseases (NIAID), which is part of the U.S. National Institutes of Health.
"This is a variation of a theme," Dieffenbach told the Washington Blade. "IAVI in collaboration with NIH did a version of this study already with a protein form of this immunogen," Dieffenbach said. He said that study worked out well and was published in a scientific journal.
"What's unique about this latest study is they're using RNA to deliver the vaccine rather than a protein," said Dieffenbach. "So, this is an important step for us in the vaccine field, that they can now compare the protein to the RNA."
Dieffenbach said the IAVI-Moderna trial is taking place after two other recently completed HIV vaccine studies involving human trials that NIAID was involved in resulted in findings that the two experimental HIV vaccines were ineffective. He said a third HIV vaccine study NIAID is involved in that is taking place in the U.S. and South America is expected to be completed in about a year.
The ongoing study in the Americas involves men who have sex with men and transgender individuals as those participating in that vaccine trial, he said.
Dieffenbach said in addition to the vaccine studies, NIAID is monitoring at least two studies of medication aimed at curing HIV. One of the studies was conducted by HIV researcher Dr. Timothy Schacker, who serves as Vice Dean for research at the University of Minnesota Medical School.
Schacker arranged for human trials of people who are HIV positive and taking standard anti-retroviral HIV medication to be given an experimental HIV cure medication developed by the biotechnology company ImmunityBio called Anktiva, according to a Jan. 31 statement released by ImmunityBio.
The statement says the trials showed promising results in the ability of Anktiva to induce the immune system of HIV-positive patients under standard HIV treatment who participated in the study to "kill" the latent or "hidden" HIV in their body that would otherwise reactivate and cause illness if they stopped taking HIV medication.
The goal of the development of Anktiva is to "rid the body of the virus for good and eliminate the need for antiretroviral therapy," the company's statement says.
Dieffenbach said his office was also monitoring an HIV cure study being conducted by the Rockville, Md., based genetic engineering company called American Gene Technologies. The company is conducting a human trial for a therapeutic treatment it has developed that's intended to enable the immune system of HIV-positive people to permanently eliminate HIV from their bodies. The company has said it was hopeful that early results of the effectiveness of the treatment would become available this year.