May 14, 2020 at 3:06 pm PDT | by Karen Ocamb
Newsom hints he'll sign needed LGBTQ data bill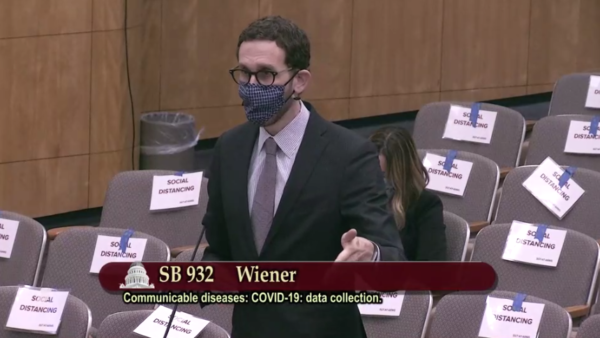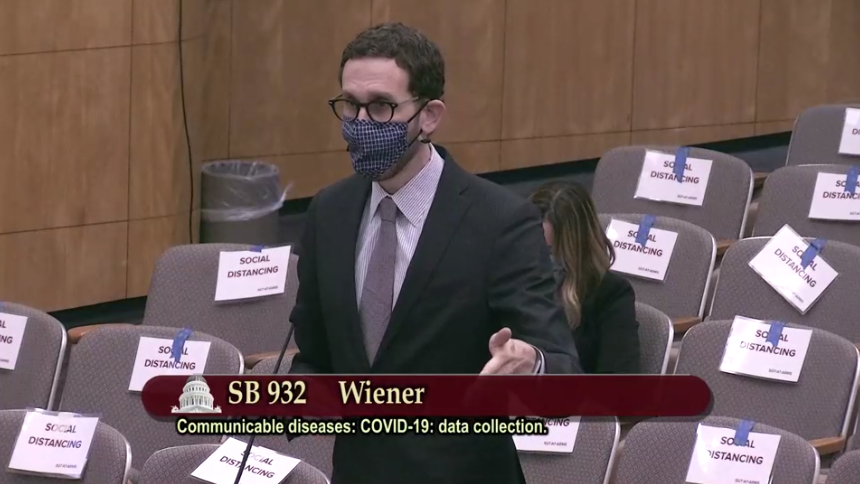 This is California today. "On Thursday, Gov. Gavin Newsom will offer the Legislature his ideas on how to eliminate a deficit that could total $54.3 billion between now and July of next year, fueled by the coronavirus crisis. No economic collapse in modern times has ever happened so fast," reports the Los Angeles Times.
The war against the global novel coronavirus pandemic rages on, with the massive health and economic toll being told in stark class, race, gender and age disparities. What's missing from the demographic information so critical to tracking, helping and preventing COVID-19 outbreaks is data reflecting the virus' impact on LGBTQ populations.
California State Sen. Scott Wiener and Rick Chavez Zbur, executive director of the LGBTQ equality lobbying organization Equality California, have been here before, during the AIDS crisis when deliberate government neglect of the growing epidemic cost a generation of gay men their lives. Decades later, LGBTQ people are still not being counted as a minority, as a unique demographic by local providers and county and state governmental agencies while at the same time the federal government is deliberately erasing LGBTQ visibility — including vulnerable kids.
The Trump-Pence administration's Department of Health and Human Services (HHS) is finalizing a rule that would stop data collection on the sexual orientation of youth in foster care and foster and adoptive parents and guardians in the Adoption and Foster Care Analysis and Reporting System (AFCARS). Advocates say that AFCARS data provides valuable information to ensure the safety and security of these children.
"In the midst of a global pandemic, the Trump-Pence administration chose to target some of the most vulnerable youth in the foster care system," David Stacy, Government Affairs Director for the Human Rights Campaign, said in a statement May 14. "LGBTQ youth are overrepresented in foster care, and this attempt to erase them and important data on adoptive and foster parents undermines efforts to address the marginalization, harassment and discrimination that LGBTQ youth in foster care and families face," as well as LGBTQ youth who age out and can't find homes, safety or jobs during this public health crisis.
Wiener and Zbur are urgently working to save LGBTQ lives in California through data collection. Studies from the Williams Institute and other think tank and healthcare organizations note that high percentages of LGBTQ people have significant underlying medical conditions – higher rates of respiratory issues (from smoking), HIV/AIDS, cancer, and homelessness, for instance — placing them at greater risk for contracting and likely experiencing greater health impacts from COVID-19. Additionally, LGBTQ people are more likely to work in the gig economy, the service, hospitality and entertainment industries and in frontline jobs such as nursing.
On May 13, the California Senate Health Committee heard testimony about the necessity for sexual orientation and gender identity (SOGI) data collection from all COVID-19 patients. The committee then advanced Wiener's SB 932, introduced in early May, sponsored by Equality California, and co-authored by all members of the California LGBTQ Legislative Caucus, as well as Assemblymember David Chiu (D-San Francisco), on a bipartisan vote of 9-0. The bill now heads to the Senate Appropriations Committee.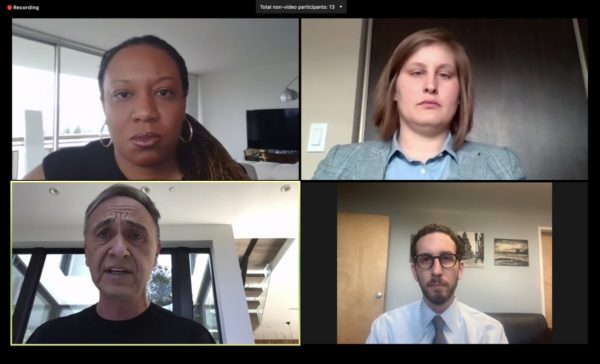 "I'll be honest. I wish I had not been forced to introduce this legislation," Wiener said during a Zoom news conference before heading to the committee. "I usually don't say that. This is frankly an issue that should've been taken care of already. Even though there is some law around LGBTQ data collection, the health context, we've learned that it has some gaps and holes that need to be filled in."
Wiener was referring to AB 959 in 2015 and another bill, AB 677 in 2017 that required the California Department of Public Health and other state agencies to collect SOGI data. Zbur said he's in discussions with LA County officials and with Supervisor Sheila Kuehl's office about the issue. (Kuehl is holding a virtual town hall on her Facebook page on Saturday, May 16, from 11:00a-12:00 with Dr. Barbara Ferrer, the Director of the Department of Public Health.)
Kuehl, who last year introduced an order with LA County Board President Kathyrn Barger to collect LGBTQ death data, is "very concerned about this issue, and really leading the efforts to understand why the County is not gathering this data and what needs to take place in order to quickly begin doing that," said Zbur.
"Frankly, even without the law, or a law, the State of California and our counties, and our healthcare providers should already be collecting this data," said Wiener.
"Collecting demographic data for contagious diseases is not a new concept — it's already happening," he continued. "And we are seeing in California and around the country, very valuable data being collected about COVID-19's disproportionate impact on communities of color, particularly African American and Latinx communities. We're seeing the outrageous disparities with death rates in the African American community, infection and death rates in the Latinx community. And that gender disparity's age differential — and this demographic data is helping to guide our response to the pandemic. It's critically important data."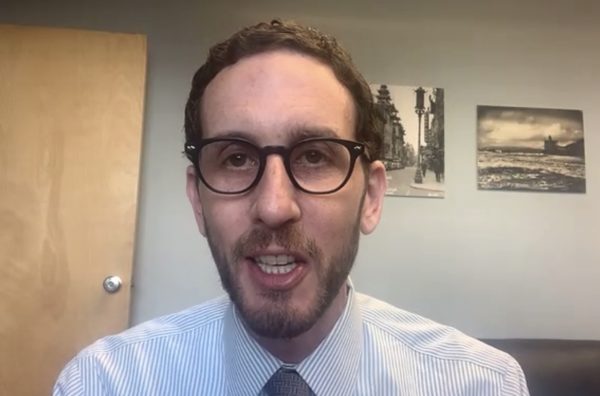 Unfortunately, Wiener said, "essentially no data is being collected in California or elsewhere about COVID-19 impacts on the LGBT community on infection rates, on hospitalization rates, on death rates — that data simply isn't being collected. And that is frankly appalling. It is appalling that we have the ability to collect the data and it's simply — it's an afterthought. And that is unfortunately the history of the LGBTQ community, where we have to fight against invisibility all the time, we have to fight to be counted."
SB 932 adds a question about sexual orientation and a question about gender identity on the same COVID-19 questionnaire used by providers asking data questions on race, age, and sex.  And while the local provider is required to ask these questions, the patient is not required to respond, just as they are not required to answer any other demographic question.
"Today, we took a big step forward in passing an important piece of health legislation for the COVID-19 era," Wiener said in a statement after the unanimous health committee vote. "SB 932 will allow us to understand COVID-19's impact on the LGBTQ community, which has long been forgotten or underserved in the public health world. It will ensure no one gets left behind and set the stage for broader and more equitable access to healthcare for the long term."
"We're grateful to Senator Wiener, President Pro Tem Atkins and Senator Pan for their leadership in advancing this critical legislation," said Zbur, who testified before the committee. "But frankly, I am disappointed that we even need this bill in the first place, and that LGBTQ+ people need to plead to our government to take very basic steps to protect our health. God knows I've been to too many funerals and said too many goodbyes while my government looked the other way during the AIDS crisis. We can't let that happen again. Not now. Not in 2020. Not in the state of California."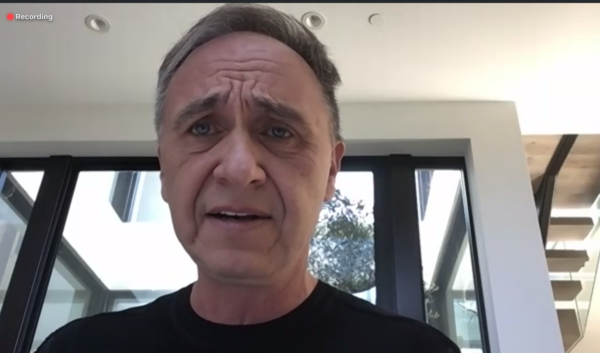 During the Zoom news conference, Zbur spoke passionately about being reminded of the AIDS crisis. "It pains me to say that this issue today and the fight before us just about collecting this data, reminds me more of the 1980s than I want to admit. For our community to once again be erased and ignored, to have our government look the other way as our community dies nearly four decades later, it's just appalling, it's unacceptable," he said. "The difference between the 1980s and now though, is that back then we didn't have openly LGBTQ leaders in the legislature like Senator Wiener and Senator Atkins and the LGBTQ Caucus. And we also didn't have as many allies in our legislature as we do today."
But no one should wait for SB 932 to take effect. "As we sit here today, government agencies and public health officials at every level of government are failing our community," Zbur said. "Every day that passes, we lose critical, valuable information that can save lives. We will never go and get that information back. It's time to start collecting that data. The time to start collecting that data was months ago, and we can't waste another minute."
Imani Rupert-Gordon, executive director of the National Center for Lesbian Rights, also stressed how data collection "informs our access to resources, our health outcomes, and our treatment and systems in institutions." She highlighted the disparities within the disparities. Though "we're weathering the storm together, we are most certainly not in the same boat," she said. "Data collection is the reason we know how to understand that women make 79 cents to the man's dollar, with women of color making far less than that. And how we know that social economic class and zip codes can predict our health outcomes. There are very real social determinants of health, and we need to know exactly how COVID-19 is affecting the LGBTQ community."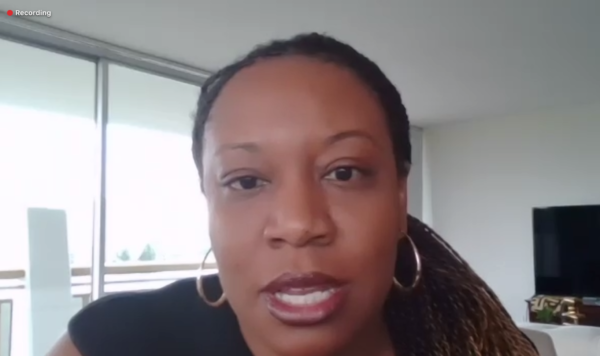 Not collecting specific data has real consequences. "Black women were the largest growing demographic diagnosed with HIV, and between 2005 and 2014, HIV diagnosis for black women dropped 42% because there was data and therefore we could have targeted outreach to this community," Rupert-Gordon said. "Just last week, the CDC released data on HIV diagnosis for transgender people for the very first time. And no surprise, HIV diagnosis for transgender people are higher than any other group. And this is the result when we fail to collect data. By examining data, we've been able to see very real disparities in how communities of color are affected by COVID-19."
The need to collect COVID-19 diagnosis information on someone with an LGBTQ identity is to be better able "to develop evidence-based practices and policies to protect everyone," she said. "Without this data, we'll continue to see disparate outcomes in our communities, just like we have in other pandemics. This is a civil rights issue and a human rights issue. California has an opportunity and a responsibility to do something upstanding," and "show up and really provide some leadership and protect the most vulnerable among us."
Amanda McAllister-Wallner, director of the California LGBTQ Health and Human Services Network, also pointed out that "LGBTQ people are more likely to be uninsured, experience healthcare discrimination, being turned away from providers and denied needed treatment, and are more likely to delay needed healthcare, to not have a regular doctor and to put off filling a prescription when they need it."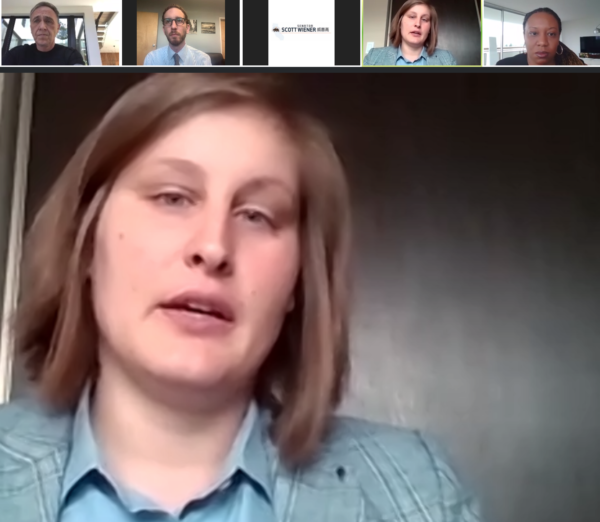 McAllister-Wallner said the network conducted an audit in 2018 of state and county data collection. "We found vast differences in the way that data was being collected from county to county, and from state department to state department. As a result of these experiences of discrimination and the lack of information that we have, we do know that LGBTQ people are at a greater risk during this time due to preexisting health conditions."
SOGI data is important because, she said: "We cannot treat a disease that we can't diagnose, and we can't end health disparities in our communities without this data."
The uncontained spread of COVID-19 makes the issue imperative. Wiener and members of the LGBT Legislative Caucus sent a letter to Newsom asking for an executive order to collect LGBTQ data. Wiener also worked on gaining support for the bill.
"We've been in conversation with the Governor directly and also with Dr. Sonia Angell, the director of Public Health for the State of California, and we are working with them," said Wiener. "Our desire is for an executive order to happen, but we think we need to also put it into law. And that's what Senate Bill 932 will do."
SB 932 mandates that the State CalREDIE (California Reportable Disease Information Exchange) database used to collect data around more than 90 contagious diseases, as well as from any County databases — "that all of these kind of databases must include a field for sexual orientation and gender identity, requiring that as healthcare providers, whether it's a private provider or a County provider, as they are collecting demographic data, they must ask for this information about sexual orientation and gender identity," Wiener said.
The SOGI data would then be made public "so both the public and public health officials can understand the impacts on our community."
Apparently after talks with Wiener and others, Newsom and Angell updated the CalREDIE system on May 8. However, Wiener and Zbur still want an executive order for immediate action while SB 932 runs on a parallel legislative track working to fix holes in the system so testing questionnaires are uniform and local providers asking the questions and collecting the data send the data to the counties, which would then send the data to the Department of Public Health, which then makes the data public.
Asked by the Bay Area Reporter at the Zoom news conference what reasons Newsom has given for not issuing an executive order, Wiener again noted the work with the governor and Angell.
"I don't think that there are any disagreements that this needs to happen," Wiener said. "Obviously, the Governor and current Public Health are drinking water from a fire hose right now, and so we will continue to work with them to make sure that this happens and that it's prioritized. You know, again, ideally you do this kind of work before the pandemic and you have all the systems in place so it's automatic before a tragedy like this hits. So, now they're building the plane as they fly it. And so, we're going to be there to support them and help them do that. But moving this Bill forward will help with that accountability."
However, Wiener said, "I would love for the Governor to issue an executive order immediately," using the language in the bill. "But we'll continue to work with the Governor and with the department."
As the Los Angeles Blade has previously noted, LA County has previously collected data on sexual orientation and New York state passed a SOGI data collection bill in 2016  but apparently no data has been collected. What if SB 932 is passed and signed into law but nothing happens?
"You know, in my past life, I used to file lawsuits to enforce laws as a lawyer," Wiener said with a smile.  "Now I help make the laws, but there are other people who enforce laws. And in the end, if this goes into effect and it doesn't happen, that's why we have the courts to be honest. Like at some point there could need to be litigation, but I hope it doesn't come to that. We just want the counties or everyone to just participate and do the right thing."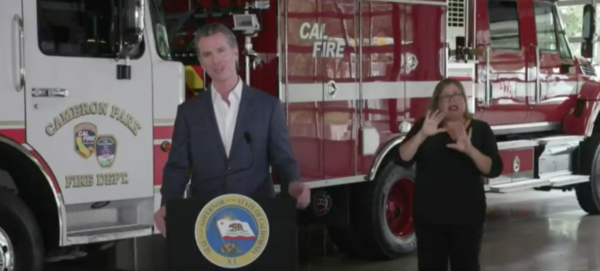 During his regular noon news conference on May 13, Newsom not only expressed support for SB 932 but suggested a future more thorough investigation of how the state has failed the LGBTQ community.
Pressed by the Bay Area Reporter about an executive order, Newsom said he has been "very clear" (in previous responses to questions from the Los Angeles Blade) that "we want this information to be forthcoming. We care deeply about providing and receiving that information or having the benefit of that information being provided at the county level."
Newsom pointed out that he and his office have been "working with Scott Wiener, who's been an outstanding leader in this space. He has a legislative effort to do just that. And we have been in constant contact, including, not only with him but the LGBT Caucus on this issue and so we look forward to working with him and resolving…."
Newsom then intimated that he would sign Wiener's bill. "And the community's absolutely right – that information has not been forthcoming. But let me just make this crystal clear: for decades, we have been under-reporting in the LGBT community space, as it relates to issues that are important to the community. That must change. That pre-dates this pandemic. And working with the Caucus, working with Sen. Wiener, we hope to have a legislative effort very shortly on my desk that will allow us to move forward by going together."
Newsom also suggested that a law passed by the people's representatives would have greater effect in achieving the common goal, allowing them to demand compliance, not just request it as they are doing now.
Instead of citing budget woes and the multiple intricacies of the coronavirus pandemic, Newsom made it clear SB 932 is top of mind.
"I'm very deferential to the work that Sen. Wiener is currently doing and I know that no one wants to see this information more – not only than I, but Dr. Sonia Angell, whose entire cause of life before she became Health Director in this state, was protecting our diverse communities and making sure there was more reporting and transparency. And she's been very clear on multiple occasions very publicly that she is requesting this information and the legislative efforts will help us demand that information with much more scrutiny and much more capacity and transparency."
With such a public commitment, Wiener and Equality California might be able to fast-track SB 932 while simultaneously working with the counties on how to quickly implement the impending mandate.
LGBTQ Californians are counting on that.