Supervisor Kuehl on historic LGBTQ death data collection order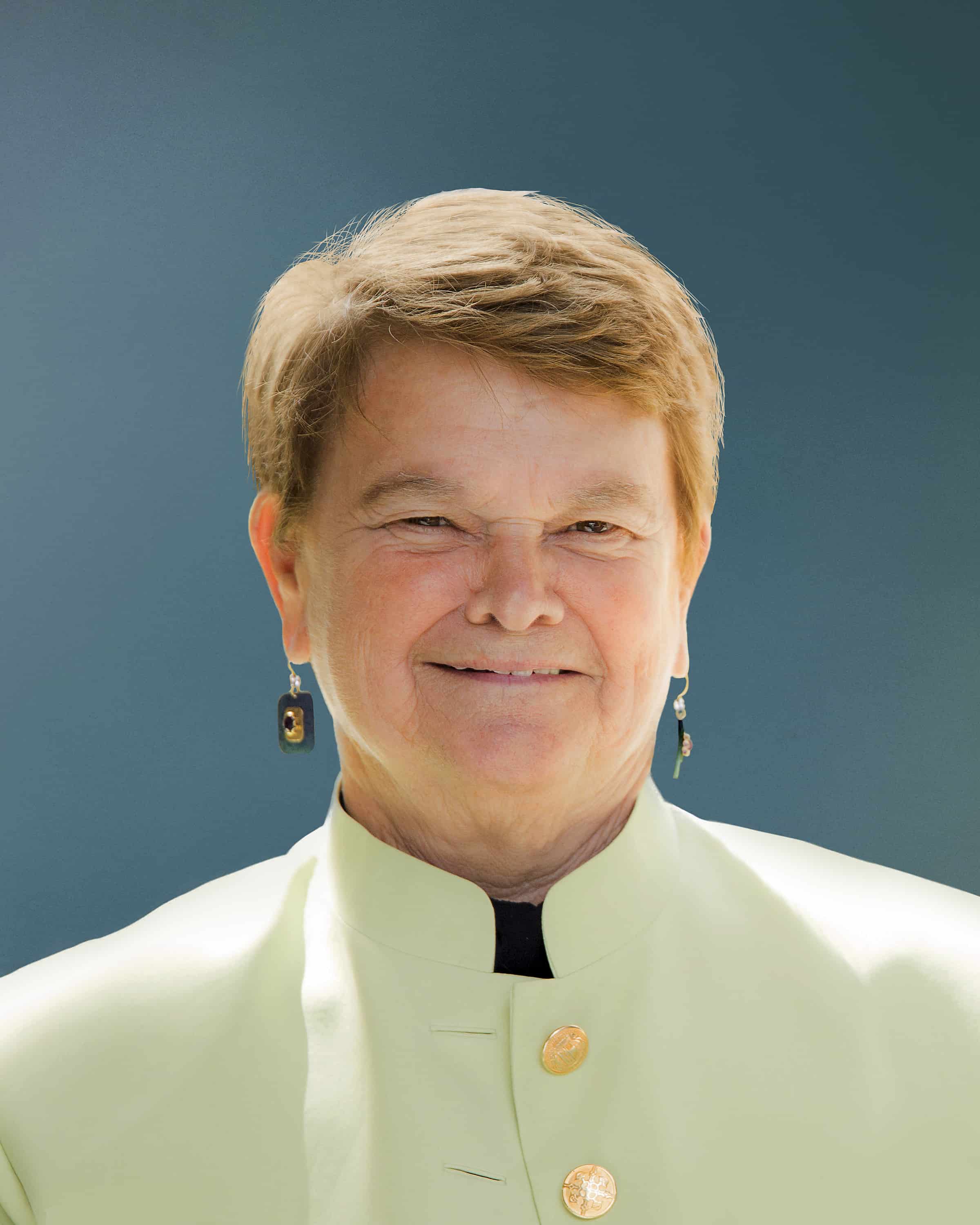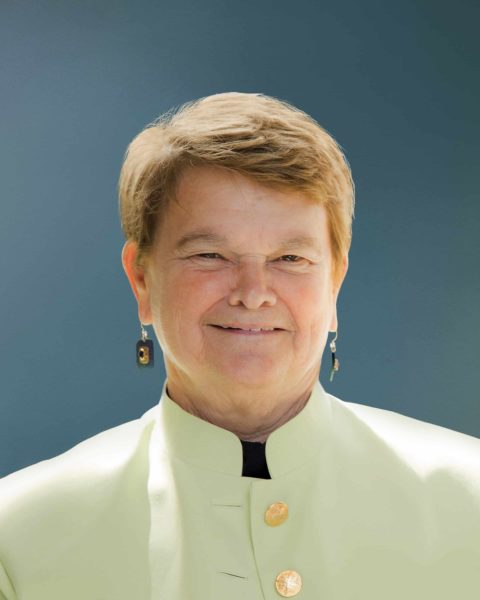 It's an old adage: you don't know what you don't know. To which might be added: you won't find out if you don't care. All of which makes the motion passed Sept. 3 by the Los Angeles County Board of Supervisors historic, moving and possibly precedent-setting.
LA County became the first local government body in the nation to pass a motion requiring culturally competent trained medical examiners and coroners to investigate violent deaths— including suicides, hate crimes, and homicides—to see if they involve the LGBTQ community, to collect data on the victim's sexual orientation or gender identity data, and regularly report back to the Supervisors so they might develop better prevention and safety policies.
"Most of what I know, I get from CSI shows or those kinds of things where medical examiners are quite prominent" in determining if and what kind of crime occurred, out Supervisor Sheila Kuehl tells the Los Angeles Blade.
"This adds another kind of layer to the work that they already do, which is, if possible, to identify that this is a subpopulation group that we want to look at specifically," Kuehl says. "Sometimes, it can help and sometimes, we're not sure what to do about it. But we do want to be able to create greater understanding and protection of, especially, trans women who have been very vulnerable to violence and murder. I think that this is just the beginning."
In fact, the motion says: "The work of the Medical Examiner and Coroner's [Office] is vital, as it often is used to gather evidence and information that can be used in a criminal proceeding. However, this work can also highlight disparities in mortality rates, and provide valuable insight that can be used to guide policies, resources, and law enforcement efforts to protect at-risk communities.
"Many Medical Examiner and Coroner's offices, including our own, do not currently collect and aggregate data pertaining to sexual orientation and gender identity," the motion says. "In the absence of this data, it is impossible to detect the presence of disparities in mortality rates of the LGBTQ community. By tracking this data, it will allow us to better understand these disparities and develop policies that seek to address them at the County level."
Kuehl co-authored the motion with Supervisor Kathryn Barger, who succeeded her former boss, conservative Republican Mike Antonovich. But while Antonovich had a reputation for being anti-LGBTQ, Barger has long appeared to be an LGBTQ ally. Kuehl says she cares "deeply" about the LGBTQ community.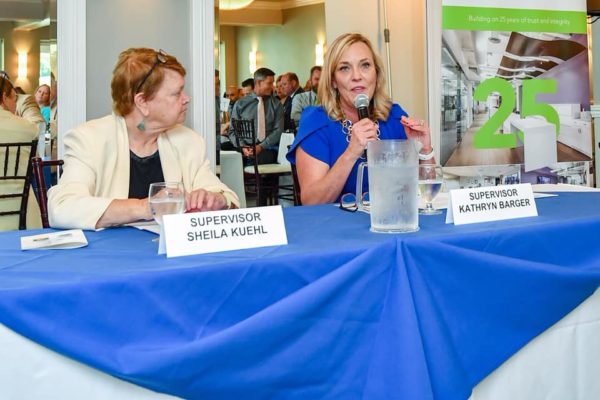 LA County Supervisors Sheila Kuehl and Kathryn Barger (Via Barger's Facebook page)
"Because [Barger's] not part of the community or in a community that's part of the community, I think the data about suicide among our young people in our community, about murder and violence against trans people and the data about how much higher a percentage of our young people are in the foster care system than exist in the general society—it came to her a little bit later than I had seen it," Kuehl says.  "She was very moved by it and just decided that it was something we wanted to know about in the county."
Barger's original motion "asked Dr. Lucas, our coroner, who's also the chief medical examiner, just to develop a plan for collecting the data because it's not always clear what a person's sexual orientation might've been or motive if it's a hate crime, etc. We need to know how we're going to do that," says Kuehl.
Additionally, Barger directed them "to hire a consultant or a subject matter expert to do tightening in the department. If there's any way, in terms of sensitively, to figure out… if there's a way to even help collect this data without asking somebody's parents, which would not always be sensitive. Then, we want a report back every three months on how they're coming along figuring this out. It seemed like a reasonable way to start collecting the data, and a very, very necessary thing because we have no real data in the county to back up our larger understanding of the experience in the community."
One source for the data that so impacted Barger was The Trevor Project, which just updated their statistics in time for the new school year. The Trevor Project's 2019 National Survey on LGBTQ Youth Mental Health reported that of 34,000 LGBTQ youth surveyed, 39% of LGBTQ youth seriously considered attempting suicide in the past 12 months, with more than half of transgender and non-binary youth having seriously considered. "The same study found that 14% of LGB youth had a suicide attempt in the previous 12 months, rising to 29% for transgender and nonbinary youth," the motion reported.
"Lesbian, gay, bisexual, transgender and non-binary youth are more than 4 times more likely to attempt suicide than their peers, so it's imperative for school suicide prevention policies to also be LGBTQ competent. In addition, our research shows that more than half of LGBTQ youth are not out to a single adult in school; these policies show LGBTQ youth, out or not, that their school is a safe place for them to learn, and that school staff are prepared to help them in times of crisis," said Sam Brinton, Head of Advocacy and Government Affairs for The Trevor Project.
The motion also cited the current data for hate crimes. "The Federal Bureau of Investigation's (FBI) statistics show that in 2017, 7,175 hate crimes were reported, 1,130 of which were based on sexual orientation bias and 119 on gender identity bias. According to the National Center for Transgender Equality, one in four transgender people have been assaulted simply because they are transgender. The report went on to say that of these incidents, the majority of deadly attacks against transgender people are against women of color," the motion reported.
Though press stories on the motion tend to emphasize LGBTQ youth, Kuehl says "they're not going to limit themselves here. But we will probably ask them to aggregate the data by age, as well, because it is important when we have so many youth in our foster care and juvenile justice system who identify as LGBTQIA. It's important for us to know because the outreach that we do or the work that we do in the Department of Children and Family Services, in Probation, in the Office of Diversion and Re-entry, which has a juvenile division now—we want to have some sensitivity to the community, as well. So, we're probably going to slice and dice the data, but it won't be limited" to youth.
First, staff needs to be trained to be able to figure out how they can collect the data. "The core for us, actually, is to see if we need additional or different kinds of services that the county can provide to help, particularly, with messages about suicide prevention that could be more targeted, working with outside entities, like Trevor. We already have an LGBTQ youth project in five departments where I ask for a report back every quarter about how they're improving their services and sensitivity about this youth population," says Kuehl.
"It's not like we know what we're going to do with it yet, but we do have these other projects that could incorporate new data," Kuehl continues. "We might also want to make certain that we have some idea about safety in our various areas in the county. No one is ever safe from being attacked and harmed. You just can't watch everybody at every minute, but there may be something. We could see there's a zip code where trans people are more in danger or something.
"There are a lot of touchpoints in the county," Kuehl says, "but I don't think they will analyze the experience of our community in terms of why. What we can only try to do is aggregate data and take it for the truth and try to work with it."
Let that sink in. LA's local governmental body—the most populous county in the country with more that 10 million people—wants to collect LGBTQ data and "take it for the truth" instead of erasing LGBTQ data at the federal level. Perhaps the idea might catch on.
Reminder: September is Suicide Prevention Month. If you, or someone you care about, is in a crisis, call the Suicide Prevention Lifeline at (800) 273-8255 or text "Home" to 741-741 or call The Trevor Project 24/7 at 1-866-488-7386 or text START to 678678.
Federal health officials hold roundtable on opioid overdose crisis
"Deaths caused by opioids like illicit fentanyl are preventable with naloxone," said White House advisor Dr. Rahul Gupta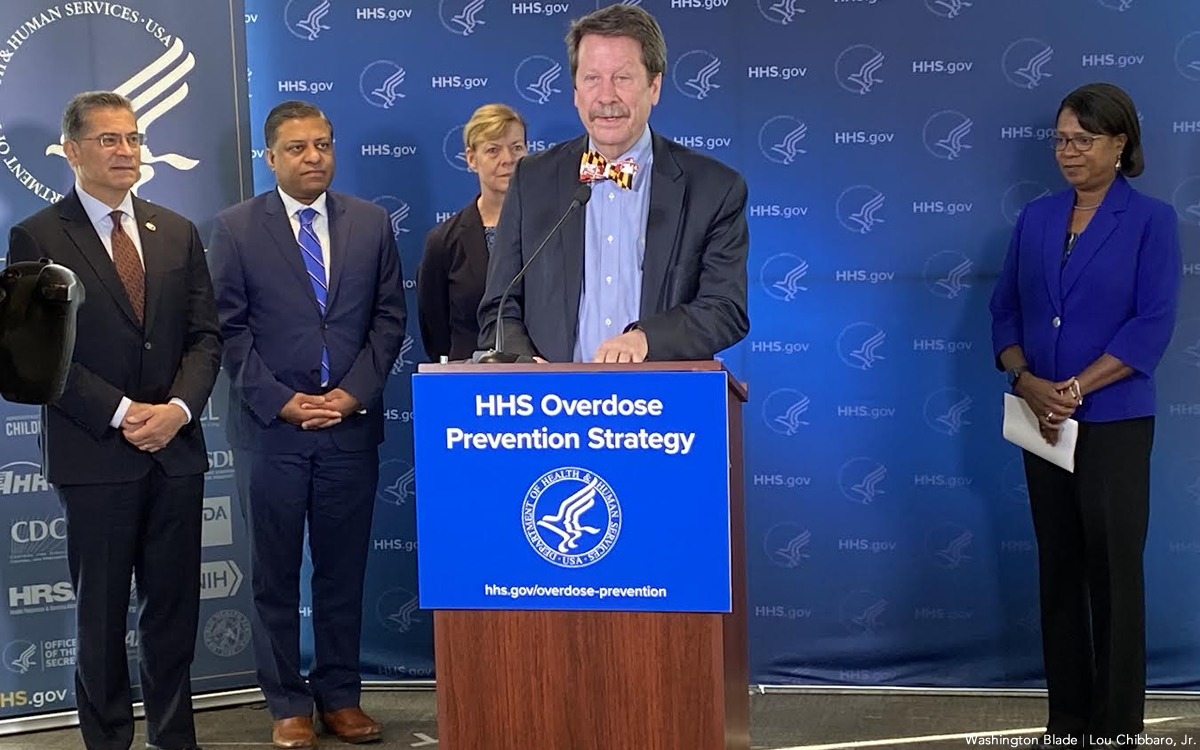 WASHINGTON – U.S. Department of Health and Human Services Secretary Xavier Becerra and four other high level federal health officials held a roundtable community meeting followed by a press conference at D.C.'s Whitman-Walker Health headquarters on Friday to discuss what they said were "groundbreaking" efforts to address and end the nation's epidemic of deaths from the overdose of opioid drugs.
A statement released by HHS says Becerra and the other officials, including Dr. Rahul Gupta, director of the White House Office of National Drug Control Policy, reached out to Whitman-Walker, which, among other things, operates one of the D.C. metro area's preeminent substance abuse treatment programs, to commemorate the one-year anniversary HHS's Overdoes Prevention Strategy program.
"Now, one year after the release of this strategy, our nation is in a much stronger position to treat addiction and save lives," Becerra said. "We didn't get here by accident. Thanks to decades of work by advocates, coupled with an unparalleled people-first strategy and unprecedented investment by the Biden-Harris administration, we have made a great deal of progress," he said.
The officials, including Gupta, pointed out that the Overdose Prevention Strategy over the past year and an updated effort launched this month have focused on greatly expanding availability of the drug overdose antidote medication naloxone.
"Deaths caused by opioids like illicit fentanyl are preventable with naloxone, and today's announcement means more life-saving naloxone will be in communities across the country," Gupta said. "The latest data continue to show a hopeful trend of a decreases in overdose deaths, so we must remain focused on fully implementing President Biden's National Drug Control Strategy that will save tens of thousands of lives by expanding care for substance use disorder, making naloxone more accessible, and dismantling drug trafficking operations," he said.
In addition to Gupta from the White House, Becerra was joined at the community meeting and press conference by Dr. Miriam Delphin-Rittmon, assistant secretary for the Substance Abuse and Mental Health Services Administration (SAMHSA), which is an arm of HHS; Dr. Debra Houry, acting principal deputy director of the U.S. Centers for Disease Control and Prevention and Dr. Robert Califf, commissioner of the U.S. Food and Drug Administration.
Also participating in the roundtable session and press conference was U.S. Sen. Tammy Baldwin (D-Wis.), the nation's first out lesbian member of the Senate.
Becerra said he invited Baldwin to participant in the day's events, among other things, because of her record of advocacy and support for funding of federal substance abuse and overdose prevention programs.
"One area I've championed in Congress is increasing access to overdose reversal medication like naloxone," Baldwin said. "We know that when you increase access to this safe and effective treatment that you save lives," she said. "And I'm thrilled to see the Biden administration and especially the Food and Drug Administration taking steps to increase access to naloxone."
Califf told the gathering one of the FDA's recently launched efforts is to work with drug manufacturers to arrange for naloxone to become an over-the-counter drug that would further expand its availability.
The roundtable discussion session, which included close to 50 participants, including Becerra and the other federal officials, was closed to the press, according to an HHS spokesperson, because among those participating were Whitman-Walker clients and others who receive services and support for what the officials called substance use disorder.
During the press conference that followed, Becerra spoke of how some of those participating in the roundtable discussion were part of Whitman-Walker's success stories in helping people overcome substance use problems
"We're here because a year ago we decided to go in a different direction at the federal level," he said at the press conference. "We decided that we're not moving fast enough, we're not moving close enough to where we need to be to try to help communities and those folks at Whitman-Walker who are trying to not just get folks into treatment but to save lives," Becerra said.
"And that was the great thing about the round table that we just had," he said. "We heard about how people thrive," he said, adding, "And one of the clients, Deborah, spoke about how she's on the verge of getting her degree from college … That's what we want to see … I want to thank the folks at Whitman-Walker for letting us come today to see how people can thrive and be part of that success."
Whitman-Walker Health CEO Naseema Shafi told the Washington Blade after the press conference that Whitman-Walker has a long history of partnering with federal government agencies in addressing health issues, including Whitman-Walker's role as a healthcare facility welcoming the LGBTQ community.