September 16, 2019 at 12:57 pm PDT | by Karen Ocamb
California adds Iowa to state travel ban over repeal of trans protections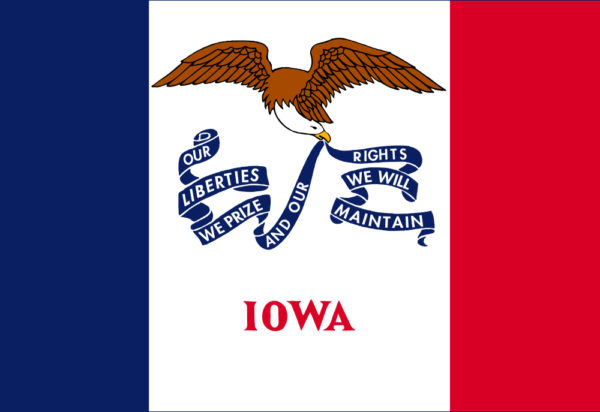 The LGBTQ Presidential Forum in Cedar Rapids, Iowa just got more interesting. The Sept. 20 event featuring 10 Democratic candidates, including California Sen. Kamala Harris, is being sponsored by One Iowa, The Gazette, The Advocate, and GLAAD with trans "Pose" actress Angelica Ross hosting.
Marriage equality advocates may recall that Iowa was the third state in the nation to pass marriage equality in 2009, after California passed the anti-gay marriage Prop 8 initiative that was eventually ruled unconstitutional. But that was then; this is now.
"You know, it wasn't that long ago that there were still Democrats running for president who didn't believe in freedom to marry for all people," GLAAD spokesperson Zeke Stokes told The Gazette. "I think for a long time LGBTQ people, including myself, perhaps believed that progress was a train that only went forward….We have seen that electing the wrong person to the White House can put that train in reverse very, very quickly."
The Gazette did not mention, however, the dramatic shift to the conservative right since 2009, evidenced by the action taken by the Iowa Legislature last April, adding and passing within 24 hours a provision to the state Health and Human Services budget bill—House File 766—that repeals LGBTQ protections. Gov. Kim Reynolds signed and immediately enacted the law on May 3.
After reviewing HF 766, which also targets abortion rights and Planned Parenthood, California Attorney General Xavier on Friday issued a ban against official state tax-payer funded travel to Iowa.
HF 766 is a 109-page bill that covers Medicaid and all other publicly funded insurance services. On page 87, a new subsection amendment reads: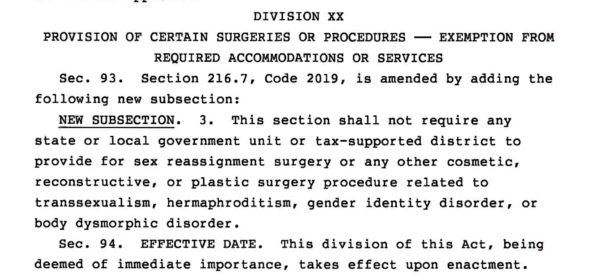 "This section shall not require any state or local government unit or tax-supported district to provide for sex reassignment surgery or any other cosmetic, reconstructive, or plastic surgery procedure related to transsexualism, hermaphroditism, gender identity disorder, or body dysmorphic disorder. This division of this Act, being deemed of immediate importance, takes effect upon enactment."
"Protecting transgender people from discrimination is settled law in Iowa, and has been since 2007," Daniel Hoffman-Zinnel, executive director of One Iowa, in a press release after HF 766 passed the legislature. "The Iowa Supreme Court made clear that the Iowa Civil Rights Act protects transgender Iowans against Medicaid discrimination in their unanimous ruling just over one month ago. In response, a small group of legislators want to pick and choose who deserves protections under the law, and it's clear they think of transgender Iowans as second-class citizens. This amendment is a harmful attempt to deny transgender Iowans medically necessary care."
Becerra concurs, noting that HF 766 legislatively repeals a March 8 ruling by the Iowa Supreme Court that Iowa's HHS administration of Medicaid cannot specifically target and deny transgender people gender-affirming, medically necessary care.
"The Iowa Legislature has reversed course on what was settled law under the Iowa Civil Rights Act, repealing protections for those seeking gender-affirming healthcare," Becerra said in a press release. "California has taken an unambiguous stand against discrimination and government actions that would enable it. That's why my office is adding Iowa to the list of states subject to state-funded or sponsored travel restrictions."
In 2007, Iowa added "gender identity" to its Civil Rights Act, prohibiting "any owner or manager of a public accommodation from refusing or denying service to or discriminating against any person based upon listed protected characteristics," the attorney general's release notes. 'In March 2019, in Good v. Iowa Department of Human Services, the Iowa Supreme Court affirmed that Medicaid coverage for gender-affirming surgery was protected under the Iowa Civil Rights Act."
With Reynolds' signature, "HF 766 makes it clear that coverage for individuals seeking gender-affirming care is no longer required in Iowa. As a result, it has the effect of repealing state protections against discrimination on the basis of sexual orientation and gender identity."
Therefore, under California law (AB 1887) that "prohibits state-funded and state-sponsored travel to states that enact a law after June 26, 2015 that voids or repeals an existing state or local protection against discrimination on the basis of sexual orientation, gender identity, or gender expression. Iowa's new law, HF 766, has triggered the enforcement of California's AB 1887 protections."
The attorney general's office notes that since 1978, California has legally recognized that gender-affirming treatment is "medically reasonable and necessary" and that "transsexual surgery is not cosmetic as defined under Medi-Cal regulations," the attorney general's office notes. Additionally, insurers cannot deny coverage for gender transition care "if similar services are otherwise available to their other members, including, but not limited to, hormone therapy, hysterectomy, mastectomy, and vocal training."
Becerra has been fighting for the rights of transgender Californians, including filing a motion earlier this month for a preliminary injunction to block the Trump administration's "Healthcare Refusal Rule" that would allow healthcare providers to deny care to LGBTQ individuals on religious or moral grounds.
The 11 states currently under the ban are Alabama, Kansas, Kentucky, Mississippi, North Carolina, Oklahoma, South Carolina, South Dakota, Tennessee, Texas and Iowa.
The California travel ban to Iowa goes into effect on Oct. 4, six days before the HRC/CNN LGBTQ Presidential Forum in Los Angeles.