California AG Becerra sues Trump over DACA
The lawsuit alleges an untenable outcome if Trump reneges on promises to DREAMers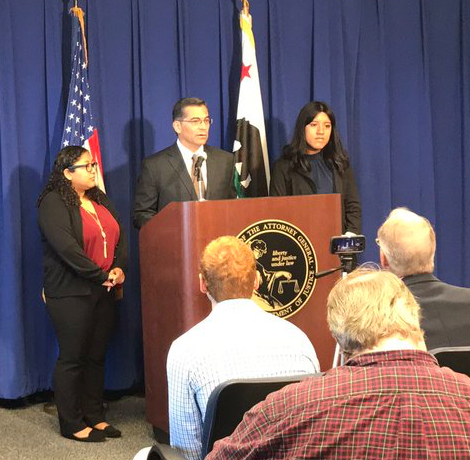 California Attorney General Xavier Becerra filed a lawsuit  on Monday challenged the constitutionality of President Donald Trump's directive to rescind the Deferred Action for Childhood Arrivals program, an Obama-era program that protects from immediate deportation undocumented young immigrants brought to America as children. DACA allows those DREAMers to work and study here, if they meet certain stringent requirements.
On Sept. 5, Trump, through US Attorney General Jeff Sessions, called DACA an "amnesty-first approach" and said the program would begin to phase out the approximately 800,000 DREAmers in March, unless Congress came up with a fix in six months. In a statement, Trump said he was concerned for "the millions of Americans victimized by this unfair system." Sessions said DACA had "denied jobs to hundreds of thousands of Americans by allowing those same illegal aliens to take those jobs."
Becerra's lawsuit, filed in the Northern District of California, intends to "immediately address the president's unlawful and mean spirited actions," the Sacramento Bee reports,  alleging the administration violated DACA applicants' due process protections by putting their requested personal information at risk of being turned over to immigration officials.
"They should not be punished for things that were done by others," Becerra said, with two DREAMers at his side. "We don't bait and switch in this country."
California is home to nearly one quarter of the nation's estimated 800,000 DREAMers. "Donald Trump turned his back on all of these folks," Becerra said. "And he turned his back on the American public."
Last Friday, the University of California filed a lawsuit against the Trump administration alleging the DACA program is being eliminated on "nothing more than unreasoned executive whim." Their suit contends that such a substantial policy change targeting an entire group of people should be first subject to a review and public comment.
At the news conference, Becerra acknowledged the separate lawsuit filed by the state of New York and 14 other attorney generals but said California needed to act independently, given the impact on its immigrant population and economy. "I don't think there's any doubt that California has the most to lose if (Dreamers) don't win," Becerra said.
Becerra was joined in the lawsuit by Maine Attorney General Janet Mills and Minnesota Attorney General Lori Swanson. Late Monday, Maryland Attorney General Brian E. Frosh announced that state had joined in, as well.
"The DACA initiative has allowed more than 800,000 DREAMers to attend school, serve in our armed forces, and contribute to our communities," Frosh said in a press release. "The callous and cavalier action taken by the Trump Administration will destroy the lives of many immigrants who were brought here as infants and toddlers, who love the United States of America, who pay taxes and abide by the law. In Maryland alone, there are nearly 10,000 current DACA recipients working and going to school. Ending the program would constitute a $509.4 million loss to the state's annual GDP. My office will stand with and defend Maryland's DREAMers and the nearly one-million DREAMers across America."
Per the Frosh press release, the complaint alleges:
The Trump Administration's termination of DACA and the associated Department of Homeland Security (DHS) memo and FAQs may lead to the untenable outcome that the Administration will renege on the promise it made to Dreamers and their employers that information they gave to the government for their participation in the program will not be used to deport them or prosecute their employers. The risk DACA grantees face is compounded by DHS's earlier imposition of boundless enforcement "priorities" that sweep in most immigrants. The threatened misuse of sensitive information provided in good faith by DACA grantees to the government is fundamentally unfair, violating the Fifth Amendment's due process guarantee.

The federal Regulatory Flexibility Act also requires the government to analyze the effects of a proposed change on small businesses, many of which are owned by, or employ, Dreamers, and to take comments on the proposed change. The Administration completely ignored these legal requirements.

The termination of DACA directly affects the substantive rights of almost 800,000 people and indirectly affects millions more, as well as small and large businesses, non-profits, and the towns, cities and states that these individuals call home. The federal Administrative Procedure Act requires such a change to be made for sound reasons, and for the public to be able to make formal comments on it before it's made into law. Whether or not the initiative was implemented through notice and comment rulemaking, it cannot be terminated without it.
Meanwhile, the California Legislature is debating a number of bills dealing with DREAMers and other immigration issues, including a bill by out State Sen. Ricardo Lara that would require federal immigration agents to get warrants before they are allowed to enter public sites like courtrooms or schools to do surveillance or make arrests. Both the state and the city of Los Angeles are debating "sanctuary" status to provide "safe zones" for undocumented immigrants.
Caitlyn Jenner: A one percenter gets one percent (actually 1.1%)
"If he doesn't get recalled, I pity the people of California- It's a shame, honestly you kind of get the government you deserve."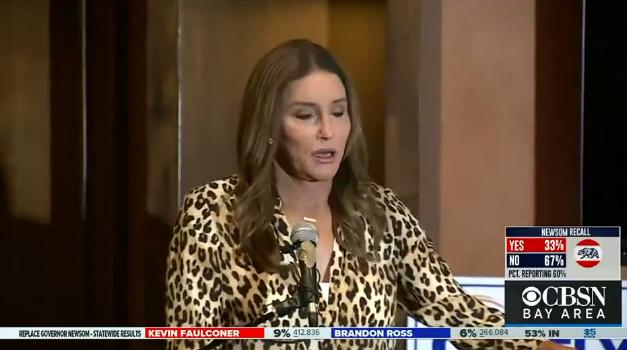 LOS ANGELES – It was not the measured tones of a seasoned politician who had experienced the successes and failures inherent with any campaign for public office. Instead, in a speech given to a small gathering of supporters once it became clear that the recall effort against Democratic California Governor Gavin Newsom had failed, reality television celebrity Caitlyn Jenner took to the microphone and groused.
Sounding bitter Jenner said; "He didn't campaign on not one of his successes, because he doesn't have any," she said. "I can't believe that this many people actually voted to keep him in office. It's a shame, honestly, it's a shame. You kind of get the government you deserve."
Caitlyn Jenner, a GOP candidate in California's recall, speaks after the vote to remove Gov. Newsom failed: "I can't believe that this many people actually voted to keep him in office. It's a shame." https://t.co/cagDpkFQdS pic.twitter.com/2cONQbrtMu

— CBS News (@CBSNews) September 15, 2021
Jenner's 'it's a shame' echoed remarks she had made earlier during the day Tuesday when she told right-wing media outlet Newsmax; "For me, it's just so up in the air [with] what is going to happen," she said. "Number one, we gotta get Gavin Newsom outta there. I think it's going to be difficult doing that, but I'm hoping for the best […] If he doesn't get recalled, I pity the people of California."
In the accumulated vote count tabulations listed Wednesday evening, Jenner had placed 12th in the field of candidates after fellow Republican frontrunner, conservative right-wing radio-talk show host Larry Elder, who had garnered 2,386,710 votes and 46.92% to Jenner's 56,016 votes and 1.1%. (72.65 % Precincts Reporting | 74% expected vote as of Sep. 15, 2021 8:48 pm)
The Newsmax host also asked if she would consider running in 2022 in the regular gubernatorial race or a potential congressional race, Jenner indicated she "would keep her options open."
"One thing I can say is I have thoroughly enjoyed this process," she said. "It has been uplifting, rewarding. I'm a compassionate person. I love the people. The process has been great. Once this is over with, we're gonna evaluate, see where we're at."
Californian voters reject Republican effort to recall Newsom
A Democratic party insider source told the Blade, "Look- this recall turnout means Californians rejected Larry Elder and Trumpism"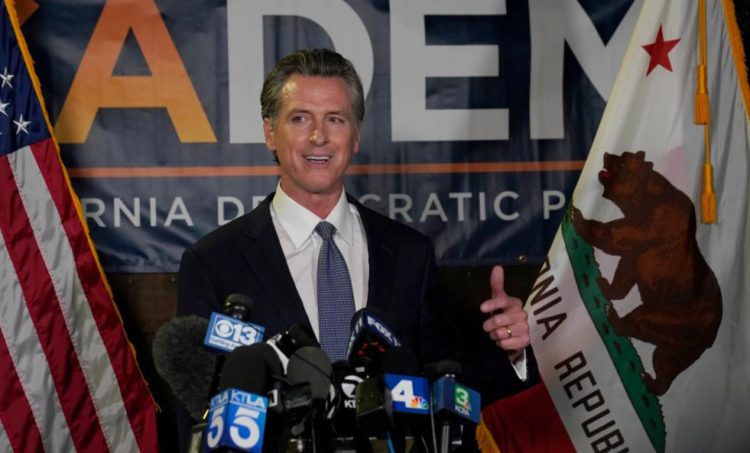 LOS ANGELES – The early results of the special recall election to remove Democratic California Governor Gavin Newsom revealed that a majority of the Golden State's voters were not inclined to oust him. With 62.17 % precincts reporting at 11:00PM Tuesday, the 'No' vote was 65.66% versus the 'Yes' vote at 34.34%.
Speaking to Californians in a broadcast in the hours after polls had closed Newsom thanked his supporters but also cautioned that while the victory retains him in office- "Trumpism is still a threat," the governor said.
"'No' is not the only thing that was expressed tonight," Newsom said. "I want to focus on what we said 'yes' to as a state: We said yes to science, we said yes to vaccines, we said yes to ending this pandemic, we said yes to people's right to vote without fear of fake fraud or voter suppression."
The driving force to the recall had been the underlying conditions brought about by the coronavirus pandemic and anger over crushing job losses from business closures, shuttered schools and restrictions that kept most children out of classrooms. Rising homicides, a homelessness crisis and an unemployment fraud scandal further angered some voters particularly in Republican circles.
"Let's be gracious in defeat. We may have lost the battle, but we are going to win the war," Newsom said, later adding that the recall has forced Democrats to focus on issues such as homelessness and California's high cost of living.
A UC Berkeley Institute of Governmental Studies poll cosponsored by the Los Angeles Times released last Friday, showed that 60.1% of likely voters surveyed oppose recalling Newsom compared with 38.5% in favor of ousting the governor.
The rise of the highly contagious delta variant had also led the governor to frame the race as one of "life or death" consequences. Newsom would point out that measures he had taken versus actions by Governor Greg Abbott in Texas and his fellow Republican Governor Ron DeSantis Florida, which experienced worsening surges as Abbott and DeSantis both rejected mask and vaccine mandates.
Newsom warned that if conservative talk show host Larry Elder were to take the governor's chair, California could become as bad off as Texas and Florida as Elder has expressed his opposition to mandatory mask orders and vaccination mandates for state workers.
Polling from the Public Policy Institute of California showed Newsom's approval rating remaining above 50% throughout the pandemic. With weeks to go, the institute's poll showed 60% of Californians approved of Newsom's handling of the pandemic.
In a phone interview Tuesday evening after the polls had closed and it was apparent Newsom would remain Governor, Assemblymember Evan Low, (D) who represents the 28th California Assembly District and is the Chair of the California Legislative LGBTQ Caucus reflected on the results.
"I think that this shows two things- a resounding victory but also a clear rebuke of the general strategy of the GOP, " Low said. "This is an affirmation- a yes on vaccines, a yes to addressing climate change, a yes on women's rights and a yes to inclusiveness for LGBTQ people from the highest officeholder in the state," he added.
"This shows that voters think the state is headed in the right direction and that they are behind having Newsom as the 'CEO' of the 5th largest economy in the world," Low said.
"There is a mandate- really there's a wide range of reasons but importantly having a pro-LGBTQ governor is critical, especially when you look at the divisiveness of the GOP and their policies," Low told the Blade.
Rick Zbur, the outgoing Executive Director of Equality California, said in an emailed statement;
"Tonight, we have defeated the anti-LGBTQ+, anti-abortion, anti-immigrant, anti-science and anti-worker Republican Recall. We have affirmed our California values and our support for Gavin Newsom, the most pro-equality governor in California history, and his tireless efforts to build a California for all. LGBTQ+ Californians — 12% of registered voters in the Golden State — and our pro-equality allies played a decisive role in this resounding victory.
"To be clear, California has big challenges ahead of us. We need to beat this pandemic, rebuild our economy, safeguard reprodutive freedom, solve our homelessness crisis, save our planet from climate change and create a world that is healthy, just and fully equal for all LGBTQ+ people. Governor Newsom is up for the task, and so are we. Let's get back to work."
A Democratic party insider source told the Blade, "Look- this recall turnout means Californians rejected Larry Elder and Trumpism. This was also a referendum on LGBTQ equality- Gavin is the most pro-LGBTQ politician- hell he ran and continues to run on LGBTQ issues, tonight voters agreed that those matter, that people matter, and that Newsom is their choice to continue to lead the state."
Although Newsom was handed as victory of sorts, the Los Angeles Times pointed out that the conservative right-wing radio host who emerged as the front runner will very much have a say as the Republican party looks to 2022.
"Although the effort to recall California Gov. Gavin Newsom failed, the lightning two-month campaign appears to have had at least one clear beneficiary – Larry Elder.
The outspoken conservative talk show host is now the leader of the California Republican party, and a growing national figure. So what is next for Elder? He now has opportunities but also big challenges to broaden his appeal in a very blue state."
The White House on Wednesday morning released a statement from President Joe Biden who had traveled to Long Beach to campaign for Newsom on Monday:
"Congratulations to Governor Gavin Newsom on defeating the recall vote. This vote is a resounding win for the approach that he and I share to beating the pandemic: strong vaccine requirements, strong steps to reopen schools safely, and strong plans to distribute real medicines—not fake treatments—to help those who get sick. The fact that voters in both traditionally Democratic and traditionally Republican parts of the state rejected the recall shows that Americans are unifying behind taking these steps to get the pandemic behind us."
We did it! The Republican Recall has been DEFEATED!!!

Thank you to everyone who voted, encouraged family and friends to vote and those who put in the work to help beat the anti-LGBTQ+ recall! pic.twitter.com/lFHUM2mqEu

— Equality California (@eqca) September 15, 2021
Poll worker in West Hollywood fired after picture goes viral
Based on his response and reports that other workers had previously counseled him on this, he was released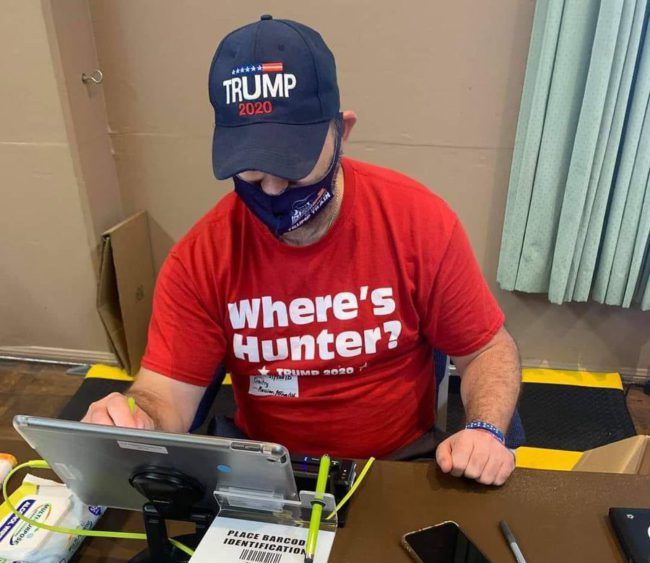 WEST HOLLYWOOD – A picture of an elections poll worker in West Hollywood wearing Trump campaign apparel and a QAnon T-shirt went viral on Twitter and Facebook with hundreds of complaints about the worker's appearance being directed at the office of the Los Angeles County Registrar-Recorder/County Clerk.
In a tweeted response the Los Angeles County Registrar-Recorder/County Clerk stated;
"The election worker was contacted and advised that the attire was inappropriate and unacceptable. Based on his response and reports that other workers had previously counseled him on this, he was released and is no longer working at the vote center."
The election worker was contacted and advised that the attire was inappropriate and unacceptable. Based on his response and reports that other workers had previously counseled him on this, he was released and is no longer working at the vote center.

— Los Angeles County Registrar-Recorder/County Clerk (@LACountyRRCC) September 14, 2021
Mike Sanchez, a spokesperson for the Registrar-Recorder's office, said the poll worker was initially warned against wearing political attire to the voting center on Monday, when he showed up to work wearing Trump campaign regalia, KTLA reported.
Sanchez said the clerk's office and the supervisor at the West Hollywood polling place instructed the poll worker not to wear political attire, but the man came back Tuesday morning wearing Trump apparel.
"He was counseled and told not to wear anything political, but he still came wearing it," Sanchez said. "Because of his response and not complying with the rules, he was released."
California election laws prohibit what's known as "electioneering" within 100 feet of an entrance to a polling place. That includes displaying a candidate's name, likeness or logo, or specific references to ballot measures by number, title, subject or logo. It also includes no audible broadcasting of information about candidates or measures.