Equality California re-imagined and roiling to work
The statewide LGBT lobbying organization has gone national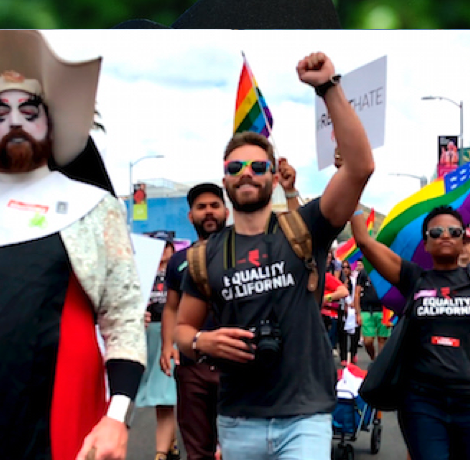 September 2017 in Donald Trump-land is not exactly the kind of post-summer activism Equality California expected 18 months ago when the 32-year-old statewide lobbying organization became the first major LGBT group to endorse Hillary Clinton for president. At the time, Equality California had been so successful securing so many LGBT equality bills and electing so many LGBT and pro-equality candidates, Executive Director Rick Zbur was growing weary of the same tiresome question: What is left for EQCA and the California LGBT rights movement to do?
And then, once again, the old adage proved true: Elections have consequences.
Despite campaign assurances from Trump that he would "protect" LGBTQ people, with daughter Ivanka winking from the sidelines that she had daddy's ear and would intervene to squash anti-LGBT policies, the LGBT movement has seen a dramatic and sanctioned outbreak of racism, sexism, anti-Semitism, homophobia and white supremacy at the White House. It started on Day One with the new administration wiping the White House website of any mention of LGBT equality. Next was the death of the Office of National AIDS Policy and soon after, the mass resignation of six members of Trump's AIDS Advisory Council.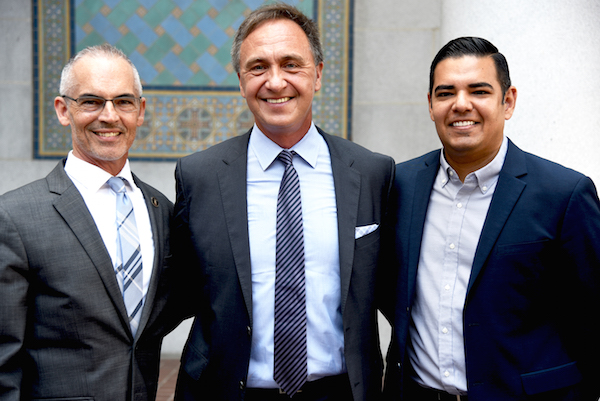 Equality California was suddenly tasked with not only introducing new bills to continue advancing LGBT equality but protecting what was already law, especially those involving transgender students in places like Fresno and encouraging legally correct and compassionate teachers at private Rocklin Academy.
But instead of waiting in the safety of California's big blue state to see what ill winds might blow in from D.C., Zbur picked charging toward the belly of the beast. On Aug. 8, he announced a new logo, a refined mission statement and tagline, and established a national presence in Washington, D.C., to lobby California's massive congressional delegation of 53 House and two Senate seats.
Equality California will shine "as a beacon of LGBTQ civil rights for the rest of the nation," says Zbur.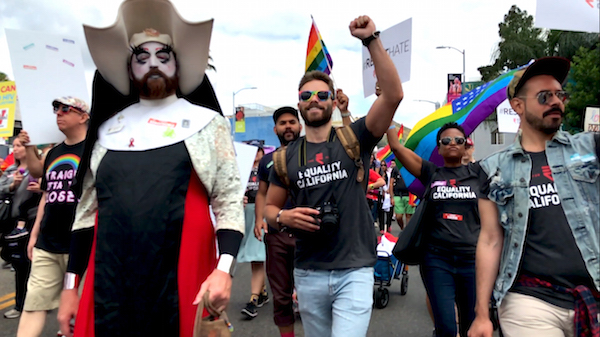 "Help us create a world that is just, healthy and fully equal for all LGBTQ people," he says in a video that explains the new logo: an "E" and a "C" with an "equal" sign embedded in the State of California. Additionally, "for all," a press release notes, "acknowledges that LGBTQ people are a part of every racial, ethnic and religious community and that improving the lives of LGBTQ people requires a focus on social justice for all communities of which LGBTQ people are a part."
In Trump's America, intersectionality is not just an academic discussion. Health disparities, for instance, "are even greater for LGBTQ people who are also people of color, immigrants or transgender." Equality California's new tagline—until the work is done—"reflects our organization's determination to work vigorously on the significant priorities that remain to be accomplished."
And on Sept. 5, two major battles came to the fore simultaneously: Trump ended DACA, the Deferred Action for Childhood Arrivals program and EQCA challenged Trump's directive to reinstitute the transgender open military service ban.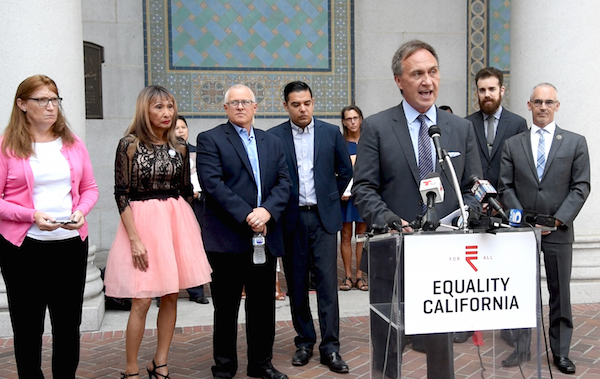 Zbur is both outraged and heartbroken over Trump's order to rescind President Obama's executive order creating DACA. He believes the move is racist, "there's no other explanation for it."
DREAMers have lived here since they were children and "are American in every way except for their immigration status. Many have never traveled to their country of origin and do not speak its language, but—without DACA—they live in fear of deportation and are extremely limited in educational and professional opportunities because of their immigration status," says Zbur, a father of three who is half Latino with family roots in New Mexico. "It's appalling to me."  
There are real-life consequences for LGBT undocumented immigrants. "Transgender or HIV-positive immigrants are especially vulnerable, facing abuse or lack of essential medical treatments in detention centers. They face even worse if deported to countries like Honduras, where violence against LGBTQ people is endemic, or Venezuela, which just publicly announced it has run out of vital drugs to treat HIV," Zbur says.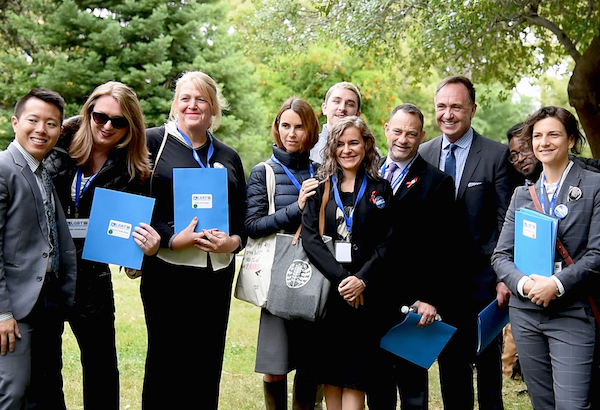 The Equality California staff in D.C. is urging members of the California congressional delegation to quickly pass the BRIDGE Act and other pending pieces of legislation "to protect these young Americans and to prevent them from cruelly being uprooted from their homes, families, careers and lives." Zbur notes that EQCA's 800,000 members include 300,000 from outside California who joined during the Prop 8 battle in 2008 and have remained active.
On Sept. 5, just as much of America was focused on Trump's DACA announcement, Zbur held a news conference in front of LA City Hall announcing the filing of a federal lawsuit challenging Trump's Aug. 25 directive to reinstate the ban on transgender military service. Some questioned why EQCA jumped into the fray since national groups—NCLR/GLAD, Lambda Legal/OutServe-SLDN and the ACLU—are already seeking an immediate injunction against implementation of the disruptive personnel change and challenging the ban's constitutionality.
But the reasoning is clear to Zbur. "California is the state with the largest LGBTQ community. We're also the state with most LGBTQ people serving in the military and obviously, a state in which are members are really harmed by this directive. So we decided we wanted to bring a suit of our [800,000] members that are affected by this ban. We thought it was important that there be a case in California," Zbur told the Los Angeles Blade.
As of May 2016, California has the most military bases and installations in the country, 32, with the most active duty and reserves members of the military, 190,160. That number goes up to more than 360,000 employed by the Department of Defense in California when civilian employees are included.
"The cases seek to block the order," says Zbur. "The order is one that doesn't give the military discretion about whether to allow service of transgender people in the military, despite some of the communications that have come out by (Defense Sec) Gen. James Mattis that appear to indicate that there is some discretion. In fact, the president's directive leaves no discretion to the military and requires that they take action to discharge members of the military currently serving and to also enlistment of people that would want to serve and have taken steps to join the military. And it prohibits medical care that's necessary for transgender service members. So our case raises a number of claims that the order violates the Constitution of the United States and is obviously motivated by animus towards transgender people and on a variety of Constitutional grounds, seeks to block the order."
Some see a loophole in the line in the order that says the old policy should be reinstated "until such time as a sufficient basis exists upon which to conclude that terminating that policy and practice would not have the negative effects discussed above.  The Secretary of Defense, after consulting with the Secretary of Homeland Security, may advise me at any time, in writing, that a change to this policy is warranted." (Emphasis added.) Some LGBT military watchers think that could come as a result of recommendations made by an expert panel Mattis is putting together.
Zbur, an attorney, is not among them. "The directive is very clear and it does not give the military leadership discretion. It gives them a certain amount of time into either February or March to implement it but there is no discretion in the president's order," he says emphatically.
"The period that Gen. Mattis has indicated they will be studying this issue is consistent with the timing in the president's order and the order does not leave discretion for the military to not implement the ban and discharge members of the military or prevent re-enlistment or to allow for necessary medical care."
Zbur notes that training has already happened in the entire military—and it happened without controversy. Additionally, commanding officers have been openly supportive of their trans troops.
"This is disruptive," Zbur says. "It is harmful to military readiness. It is expensive for the military—essentially they will be ripping transgender service members out of key and important roles and will be in a position where they will have to identify people to replace them and train them. So there's no justification for this order. There's no justification in terms of cost or military readiness. In fact, if anything, all arguments go in the other direction. This is harmful."
Equality California is simultaneously tackling issues and working on bills within the state, as well. As the legislative year winds down, they are focused on four bills in particular: SB 239, Modernizing Discriminatory HIV Criminalization Laws (HIV decriminalization); SB 179, Gender Recognition Act of 2017 (appropriate documents); SB 219 – Seniors Long Term Care Bill of Rights; and SB 421 – Tiered System for California Sex Offender Registry (based on crime, not lifetime).
Anti-LGBT California right-wing groups join Steve Bannon's Brietbart and company in targeting the senior rights bill, which essentially calls for cultural competency when placing seniors, especially trans seniors, in roommate situations.  
And, of course, Equality California is preparing for the 2018 midterm elections. If California LGBT politicos can't recoup Hillary Clinton, at least EQCA can help vote the GOP disruptors out while achieving full equality in the state.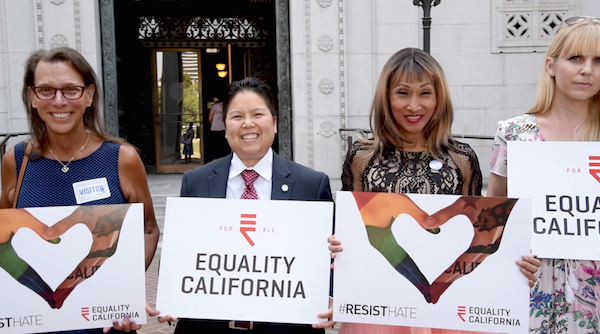 GOP Trans City Councilwoman says she's uniquely positioned
"If we aren't a part of our government, we cannot be a voice of freedom- of reason if & when issues regarding our LGBTQ [identities] come up"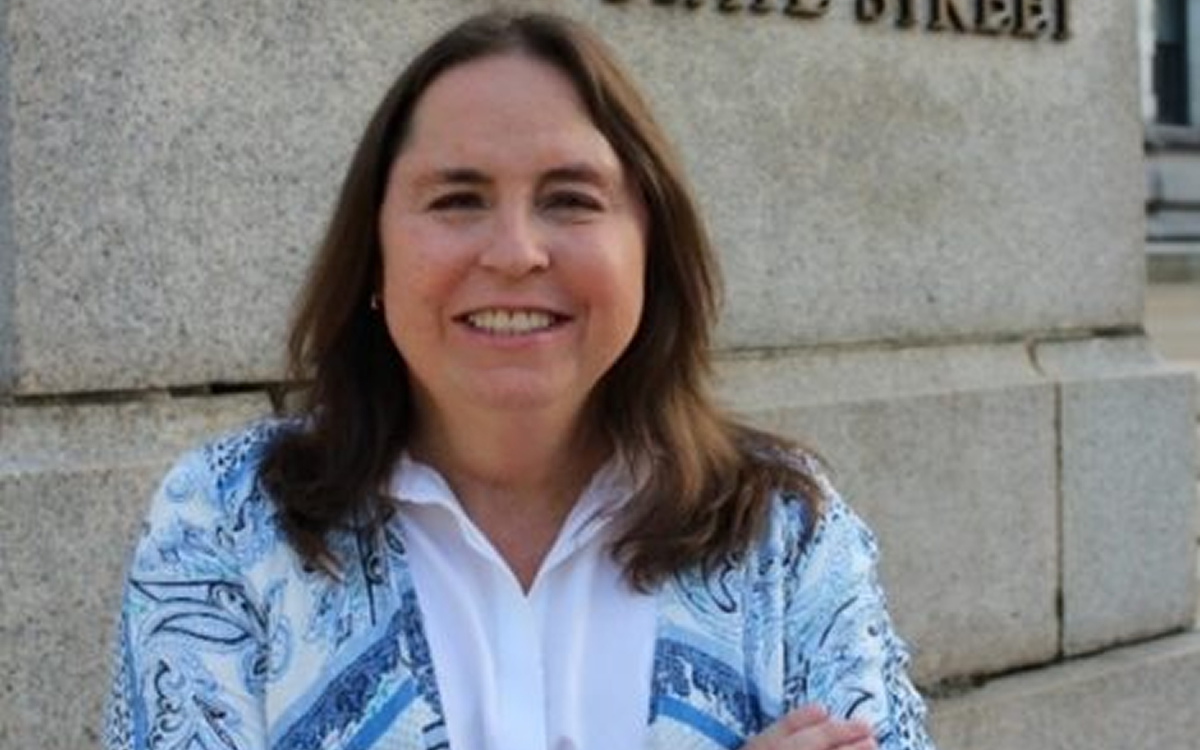 Note: Other portions of Jennifer Williams' interview with The Washington Blade were featured in a previous article alongside interviews with four other LGBTQ officeholders
TRENTON, N.J. – Jennifer Williams, who recently became the first LGBTQ person on the Trenton City Councilmember and the first openly transgender person elected in New Jersey, connected with the Washington Blade last week to discuss topics including how she reconciles her gender identity with her membership in the Republican Party.
While Williams is grateful for her broad base of support, including from progressive Democrats, it perhaps did not come as a surprise considering her record as a longtime LGBTQ advocate and public servant who chaired the municipal Republican Party in Trenton and served on the city's Zoning Board of Adjustment for 14 years.
Plus, Williams said in emailed responses to questions from the Blade that her views on LGBTQ matters are closer to those held by Democrats than by Republicans.
"If I have to put my views on LGBTQ policy issues in one mainstream bucket, I would clearly be more aligned with national and New Jersey Democrats on our rights, equalities and freedoms than the Republican National Committee's platform and what some GOP leaders espouse," Williams said.
"That important difference between the two major parties is why it is integral that I stay and fight against anti-LGBTQ bigotry and discrimination," she added.
Williams sees her position as an elected official who is both trans and a Republican as an opportunity to effectuate positive change from within her own party.
"Other LGBTQ folks may not understand why I try to advocate on the right and in the Republican Party," she said. "But all I know is that until I am no longer the first LGBTQ or transgender person [whom] many Republican leaders meet, we will always have to worry about legislative actions or executive orders against us."
Williams said she is in a unique position, and one that is imbued with a big responsibility:
"If I can be effective in helping some bad Republicans rethink their opinions of who we are," she said. "Maybe we can get some of them to 'tap the brakes' on anti-LGBTQ legislation coming down the pike."
"I have a 'particular set of skills,'" Williams added, "And I feel called to use them to help protect our community."
The Republican Party was founded in the mid-19th century by abolitionists who sought to fight for individual freedoms, liberties, self-determination and happiness, Williams noted, even if some GOP leaders do not demonstrate those values where it concerns LGBTQ people.
LGBTQ Americans "really do need to be in the corridors of power and at the table where decisions are made," Williams said. "Coming from the same home state as Marsha P. Johnson, who did so much for us so long ago, I know how important my being a [member of the] City Council can be."
Of course, Williams said, she is not alone. LGBTQ officeholders across the country are putting into practice the idea that representation is crucially important in the fight for equal rights no matter who they are or where they have been elected, she said.
"If we aren't a part of our government, we cannot be a voice of freedom and of reason if and when issues regarding our LGBTQ [identities] come up," Williams said.
Despite the proliferation of state and local anti-LGBTQ bills, particularly proposals targeting the trans community, Williams sees reason to be hopeful.
"What is exciting is that we have gone from [Virginia state Del.] Danica Roem being the first transgender person to be elected to a state legislature just over five years ago to where now, she is running for [Virginia] Senate and there are at least eight other transgender legislators," Williams said.
The visibility of LGBTQ officeholders tends to encourage other members of the community to run for public office, she said.
"That is wonderful, and I think is what we need to duplicate and triplicate wherever we can," Williams said, adding that the LGBTQ Victory Fund "is working very hard at this."