Sen. Gillibrand files amendment against Trump's trans military ban
A bipartisan effort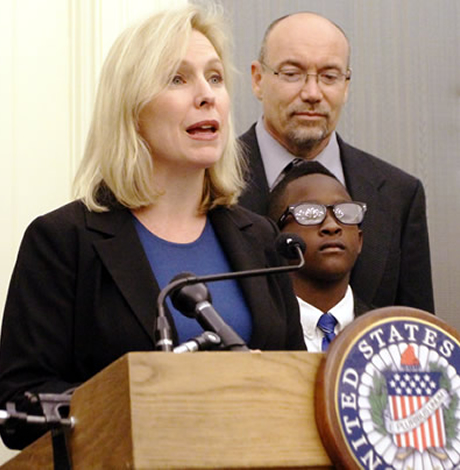 Sen. Kirsten Gillibrand (D-N.Y.) filed an amendment Monday before the U.S. Senate that would undermine President Trump's ban on transgender military service and could see a vote as soon as this week.
The two-page amendment, co-sponsored by Sen. Susan Collins (R-Maine), was filed for consideration as part of the fiscal year 2018 defense authorization bill. The amendment was obtained late Monday by the Washington Blade.
Gillibrand said in a statement the amendment would honor transgender service members currently serving in the armed forces.
"Any individual who wants to join our military and meets the standards should be allowed to serve, period. Gender identity should have nothing to do with it," Gillibrand said. "I am proud to work with Sen. Collins to introduce our bipartisan amendment to protect transgender members of our Armed Forces, and I will always fight for our brave transgender troops who put their lives on the line to protect our country."
Both Gillibrand and Collins championed efforts in 2010 for legislative repeal of "Don't Ask, Don't Tell." They both were among the 45 senators who signed a letter to Defense Secretary James Mattis urging him to resist Trump's plan to bar transgender people from the U.S. military.
Collins, the lead Republican in efforts to repeal "Don't Ask, Don't Tell," also expressed support for transgender troops in a statement.
"Our armed forces should welcome the service of any qualified individual who is willing and capable of serving our country," Collins said. "If individuals are willing to put on the uniform of our country, be deployed in war zones, and risk their lives for our freedoms, then we should be expressing our gratitude to them, not trying to exclude them from military service."
The amendment, which responds to President Trump's memo late last month directing the Pentagon to ban transgender people from the armed forces, consists of three parts.
The first part expresses the sense of Congress, which isn't binding under the law, that "individuals who are qualified and can meet the standards to serve in the military should be eligible to serve."
The second part addresses what will happen to transgender people currently in the military who came out after the Obama administration lifted the ban on transgender service and are now facing potential expulsion after Trump directed the U.S. military to the reinstate the policy.
Under the amendment, a service member "may not be involuntarily separated from the Armed Forces, or denied reenlistment or continuation in service in the Armed Forces, solely on the basis of the member's gender identity."
The third part of the amendment codifies the study announced June 30 by Defense Secretary James Mattis on the impact of new enlistments of transgender people in the armed forces. The amendment sets a deadline for completing that study on Dec. 31 and directs the Pentagon to send Congress a report on that study no later than Feb. 21.
However, the amendment stops short of directing the Pentagon to accept transgender people into the armed forces, putting off the decision on whether that will happen until the completion of the study.
Aaron Belkin, director of the San Francisco-based Palm Center, endorsed the Gillibrand measure in a statement as means to "enhance military readiness."
"Legislative action now would prevent uncertainty and disruption following from a ban and save money that would be wasted recruiting and training replacements," Belkin said. "Many Republican leaders have made statements in support of transgender troops defending our nation, including Sens. McCain, Collins, Murkowski, Hatch, Portman, Ernst, Tillis, Heller, Johnson, Toomey, Gardner, Shelby and Sullivan, and fifty-six retired generals and admirals have said that reinstating the transgender ban would degrade readiness."
Nowhere mentioned in the amendment is U.S. military funding for gender reassignment surgery. It seems that even if the amendment became law, the portion of Trump's ban that would end government funding for that procedure would be allowed to stand.
The absence of that language is likely an attempt to win support from Senate Republicans who objected to Trump's policy, but withheld support for military funds for transition-related health care.
It remains to be seen whether Senate leadership will reach an agreement to allow a vote on the Gillibrand amendment. The Senate was set to vote on proceeding with debate on the defense authorization bill at the time of this posting.
Lawmakers were considering last week language for an amendment against Trump's transgender military ban. Whether or not the amendment will obtain a vote is likely up to Sen. John McCain (R-Ariz.), who as chair of the Senate Armed Services Committee has considerable sway over the defense authorization bill.
GOP Trans City Councilwoman says she's uniquely positioned
"If we aren't a part of our government, we cannot be a voice of freedom- of reason if & when issues regarding our LGBTQ [identities] come up"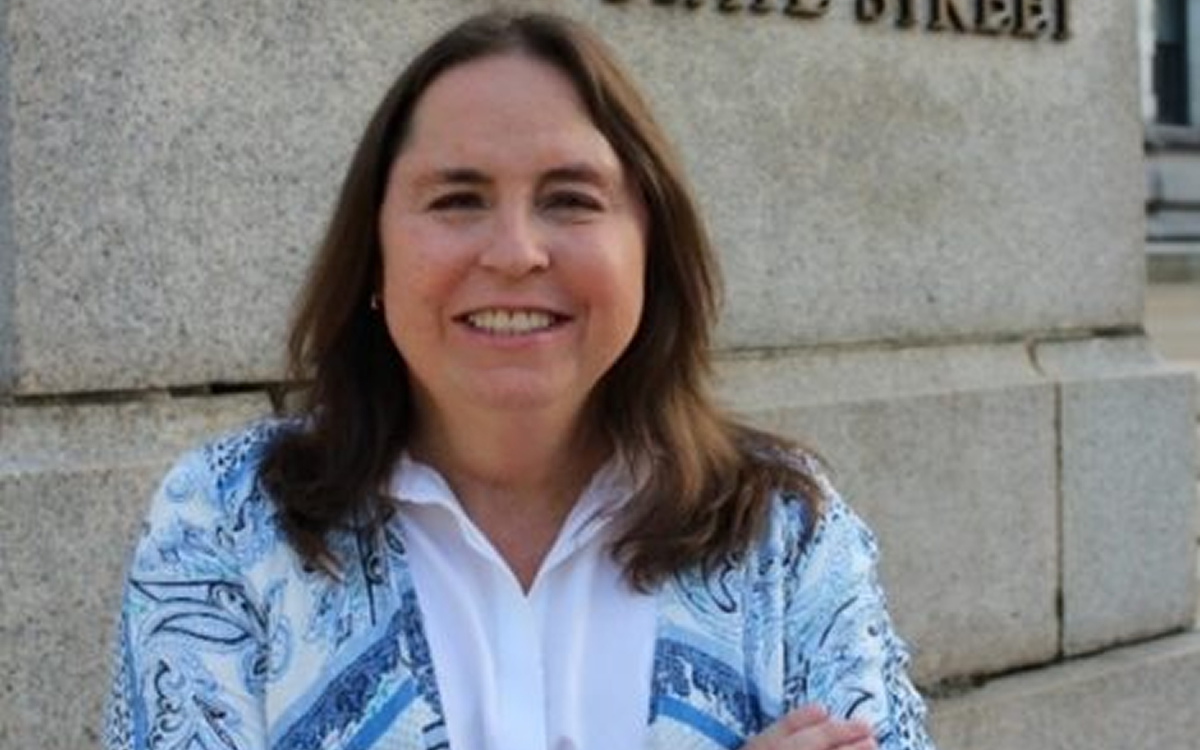 Note: Other portions of Jennifer Williams' interview with The Washington Blade were featured in a previous article alongside interviews with four other LGBTQ officeholders
TRENTON, N.J. – Jennifer Williams, who recently became the first LGBTQ person on the Trenton City Councilmember and the first openly transgender person elected in New Jersey, connected with the Washington Blade last week to discuss topics including how she reconciles her gender identity with her membership in the Republican Party.
While Williams is grateful for her broad base of support, including from progressive Democrats, it perhaps did not come as a surprise considering her record as a longtime LGBTQ advocate and public servant who chaired the municipal Republican Party in Trenton and served on the city's Zoning Board of Adjustment for 14 years.
Plus, Williams said in emailed responses to questions from the Blade that her views on LGBTQ matters are closer to those held by Democrats than by Republicans.
"If I have to put my views on LGBTQ policy issues in one mainstream bucket, I would clearly be more aligned with national and New Jersey Democrats on our rights, equalities and freedoms than the Republican National Committee's platform and what some GOP leaders espouse," Williams said.
"That important difference between the two major parties is why it is integral that I stay and fight against anti-LGBTQ bigotry and discrimination," she added.
Williams sees her position as an elected official who is both trans and a Republican as an opportunity to effectuate positive change from within her own party.
"Other LGBTQ folks may not understand why I try to advocate on the right and in the Republican Party," she said. "But all I know is that until I am no longer the first LGBTQ or transgender person [whom] many Republican leaders meet, we will always have to worry about legislative actions or executive orders against us."
Williams said she is in a unique position, and one that is imbued with a big responsibility:
"If I can be effective in helping some bad Republicans rethink their opinions of who we are," she said. "Maybe we can get some of them to 'tap the brakes' on anti-LGBTQ legislation coming down the pike."
"I have a 'particular set of skills,'" Williams added, "And I feel called to use them to help protect our community."
The Republican Party was founded in the mid-19th century by abolitionists who sought to fight for individual freedoms, liberties, self-determination and happiness, Williams noted, even if some GOP leaders do not demonstrate those values where it concerns LGBTQ people.
LGBTQ Americans "really do need to be in the corridors of power and at the table where decisions are made," Williams said. "Coming from the same home state as Marsha P. Johnson, who did so much for us so long ago, I know how important my being a [member of the] City Council can be."
Of course, Williams said, she is not alone. LGBTQ officeholders across the country are putting into practice the idea that representation is crucially important in the fight for equal rights no matter who they are or where they have been elected, she said.
"If we aren't a part of our government, we cannot be a voice of freedom and of reason if and when issues regarding our LGBTQ [identities] come up," Williams said.
Despite the proliferation of state and local anti-LGBTQ bills, particularly proposals targeting the trans community, Williams sees reason to be hopeful.
"What is exciting is that we have gone from [Virginia state Del.] Danica Roem being the first transgender person to be elected to a state legislature just over five years ago to where now, she is running for [Virginia] Senate and there are at least eight other transgender legislators," Williams said.
The visibility of LGBTQ officeholders tends to encourage other members of the community to run for public office, she said.
"That is wonderful, and I think is what we need to duplicate and triplicate wherever we can," Williams said, adding that the LGBTQ Victory Fund "is working very hard at this."