LGBTQ Asians and Muslims protest as Supreme Court allows some of Trump's travel ban
The Muslim ban gets more complicated each day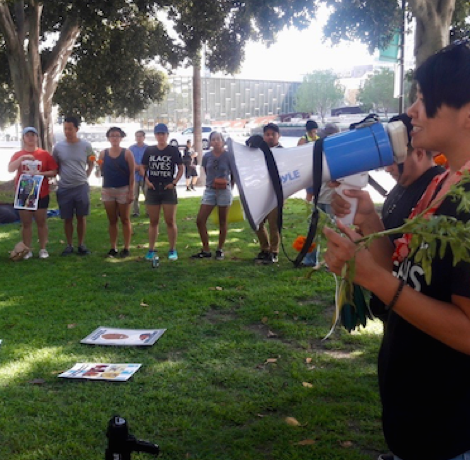 While progressives in Los Angeles have been focused on the potential deportation of 800,000 undocumented DREAMers and President Trump's order to eliminate the Obama-era Deferred Action for Childhood Arrivals (DADA) program in six months—which California Attorney General Xavier Becerra filed suit to stop on Monday – there are thousands of refugees with proper documentation who are being stopped from legally immigrating to America.
In a squirmy irony, the Supreme Court on Monday, Sept. 11, the 16th anniversary of the 9/11 terrorist attacks, agreed with an emergency plea from the Justice Department to continue to refuse entry to refugees with formal assurances from resettlement agencies from entering the United States.
This is the latest back and forth over the Trump administration's insistence on imposing an America-first ideology on immigration. Trump revoked his first Muslim travel ban that specifically targeted refugees and citizens of seven Muslim-majority countries after massive protests. That was replaced with a version that blocked refugees from six countries, a ban the Supreme Court decided to allow with caveats last June. Applicants with a "bona fide" connection to the US—such as having family, a job, a slot in college could proceed. However, Monday's decision raises the question of how to interpret "bona fide" connection: what is the direct connection between the refugee and the resettlement agency granting assurance?
At stake are around 24,000 refugees with assurances who expected to start immigrating to the US soon. No one knows how many of those thousands are LGBT. It is a risk to reveal one's sexual orientation or gender identity in the refugees camps and for many, the asylum process is too complicated and humiliating—lesbian Muslims having to tell strange men about being viciously raped, for instance.
Next month, the Supreme Court is expected to take up the issue of the constitutionality of Trump's travel ban at its core.
"It's inhumane for the Supreme Court to block refugees from entering the U.S., especially when the U.S. has often caused the political instability that forces refugees to flee," Sasha W., Organizing Director at the National Queer Asian Pacific Islander Alliance (NQAPIA), told the Los Angeles Blade. "NQAPIA is filing an amicus brief in anticipation of the Supreme Court's Oct 10th hearing on the Muslim Ban. We will not rest until we have fought every piece of Trump's Muslim Ban tooth and nail – including the ban on refugees."
But in the meantime, there's a ripple effect of hatred felt in the US, much of which goes unreported. Last July, Attorney General Becerra announced an increase of 11 percent in hate crimes statewide from 2015 to 2016, with the greatest increase of 40.7 percent. The LAPD reported a surge in hate crimes in LA, a 12.6 percent increase in the first half of 2017, 161 compared to 143 in the same period last year, according to the LA Times.
"It appears that bigots have become emboldened in the state, not only to commit more violence, but to publicly promote white nationalism," Brian Levin, director of the Cal State San Bernardino's Center for the Study of Hate and Extremism, told The Times after clashes at the white supremacist rally in Charlottesville, Va. Levin said there were 13 significant violent events in 2016; By comparison, he said, there have been 14 violent protests or clashes already this year.
Drawing attention to hate crimes and racial profiling prompted rallies held over the weekend around the country, including in Washington DC's Dupont Circle and in Los Angeles.
"Last year, NQAPIA and KhushDC held an action on 9/11 as part of an ongoing campaign to end legalized profiling by the Department of Homeland Security. Our goal was to put pressure on Jeh Johnson, the then-secretary of DHS. However, it quickly became apparent that the space we were creating was an equally important goal," Sasha W. said. "The queer and trans Muslim, South Asian and Arab people present all shared that we don't typically go outside on 9/11—it's a day when the U.S.' 'patriotism' feels even more violent and terrifying than usual. We worry about becoming the victims of hate crimes or violence from people who see us as terrorists."
Sasha W. was also the #QueerAzaadi organizer for the LA rally on the lawn at LA City Hall, along with Satrang, API Equality LA, #VigilantLove Coalition, and Gender Justice LA.
"Of course, these feelings of fear have only been exacerbated since the election. Hate crimes against trans people, Muslims, South Asians and people perceived to be Muslim, people of color, immigrants have all skyrocketed with Trump's rhetoric and policies," she continued. "Being able to publicly take and hold space on a day that typically creates so much fear was one of the most powerful parts of the action last year. That was the inspiration for the types of healing actions we organized this year—one of our main goals was to create a space where trans and queer Muslims, and people often perceived as Muslim, could be outside and feel safe and powerful."
To stay on top of further actions, please go to: www.nqapia.org
GOP Trans City Councilwoman says she's uniquely positioned
"If we aren't a part of our government, we cannot be a voice of freedom- of reason if & when issues regarding our LGBTQ [identities] come up"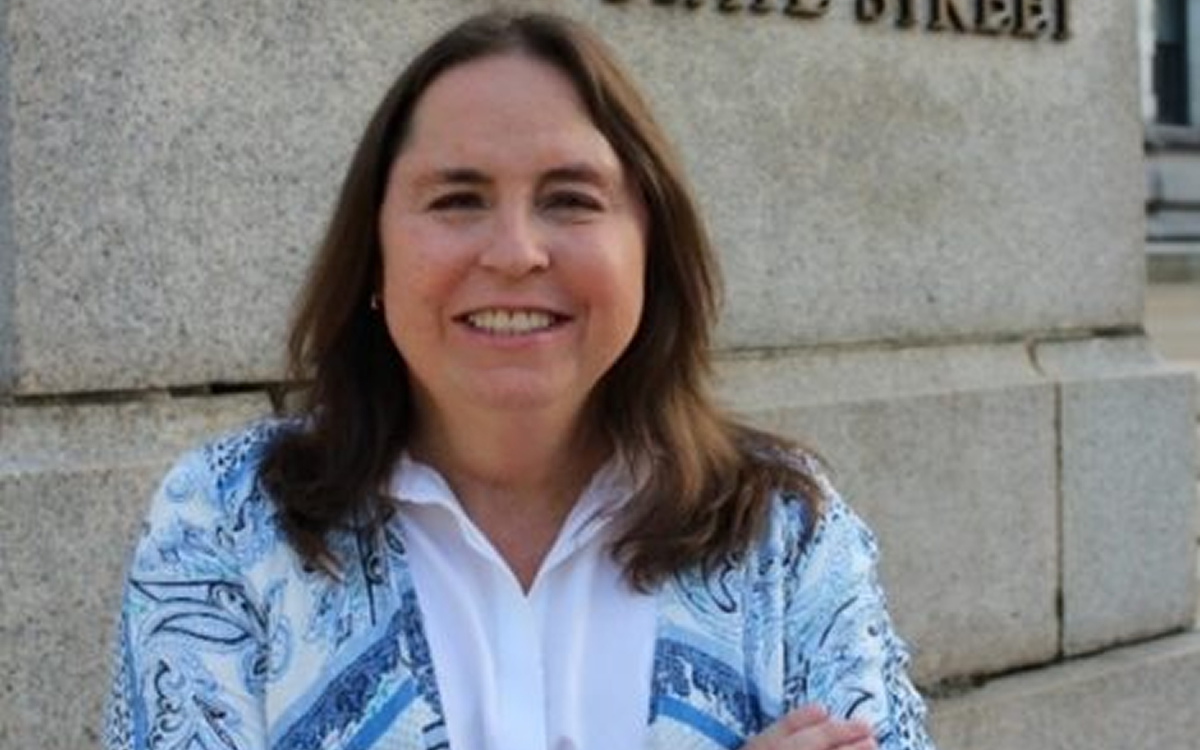 Note: Other portions of Jennifer Williams' interview with The Washington Blade were featured in a previous article alongside interviews with four other LGBTQ officeholders
TRENTON, N.J. – Jennifer Williams, who recently became the first LGBTQ person on the Trenton City Councilmember and the first openly transgender person elected in New Jersey, connected with the Washington Blade last week to discuss topics including how she reconciles her gender identity with her membership in the Republican Party.
While Williams is grateful for her broad base of support, including from progressive Democrats, it perhaps did not come as a surprise considering her record as a longtime LGBTQ advocate and public servant who chaired the municipal Republican Party in Trenton and served on the city's Zoning Board of Adjustment for 14 years.
Plus, Williams said in emailed responses to questions from the Blade that her views on LGBTQ matters are closer to those held by Democrats than by Republicans.
"If I have to put my views on LGBTQ policy issues in one mainstream bucket, I would clearly be more aligned with national and New Jersey Democrats on our rights, equalities and freedoms than the Republican National Committee's platform and what some GOP leaders espouse," Williams said.
"That important difference between the two major parties is why it is integral that I stay and fight against anti-LGBTQ bigotry and discrimination," she added.
Williams sees her position as an elected official who is both trans and a Republican as an opportunity to effectuate positive change from within her own party.
"Other LGBTQ folks may not understand why I try to advocate on the right and in the Republican Party," she said. "But all I know is that until I am no longer the first LGBTQ or transgender person [whom] many Republican leaders meet, we will always have to worry about legislative actions or executive orders against us."
Williams said she is in a unique position, and one that is imbued with a big responsibility:
"If I can be effective in helping some bad Republicans rethink their opinions of who we are," she said. "Maybe we can get some of them to 'tap the brakes' on anti-LGBTQ legislation coming down the pike."
"I have a 'particular set of skills,'" Williams added, "And I feel called to use them to help protect our community."
The Republican Party was founded in the mid-19th century by abolitionists who sought to fight for individual freedoms, liberties, self-determination and happiness, Williams noted, even if some GOP leaders do not demonstrate those values where it concerns LGBTQ people.
LGBTQ Americans "really do need to be in the corridors of power and at the table where decisions are made," Williams said. "Coming from the same home state as Marsha P. Johnson, who did so much for us so long ago, I know how important my being a [member of the] City Council can be."
Of course, Williams said, she is not alone. LGBTQ officeholders across the country are putting into practice the idea that representation is crucially important in the fight for equal rights no matter who they are or where they have been elected, she said.
"If we aren't a part of our government, we cannot be a voice of freedom and of reason if and when issues regarding our LGBTQ [identities] come up," Williams said.
Despite the proliferation of state and local anti-LGBTQ bills, particularly proposals targeting the trans community, Williams sees reason to be hopeful.
"What is exciting is that we have gone from [Virginia state Del.] Danica Roem being the first transgender person to be elected to a state legislature just over five years ago to where now, she is running for [Virginia] Senate and there are at least eight other transgender legislators," Williams said.
The visibility of LGBTQ officeholders tends to encourage other members of the community to run for public office, she said.
"That is wonderful, and I think is what we need to duplicate and triplicate wherever we can," Williams said, adding that the LGBTQ Victory Fund "is working very hard at this."