September 14, 2019 at 11:10 am PDT | by Karen Ocamb
Former Assembly Speaker Pérez endorses Kamala Harris after Democratic debate (Video)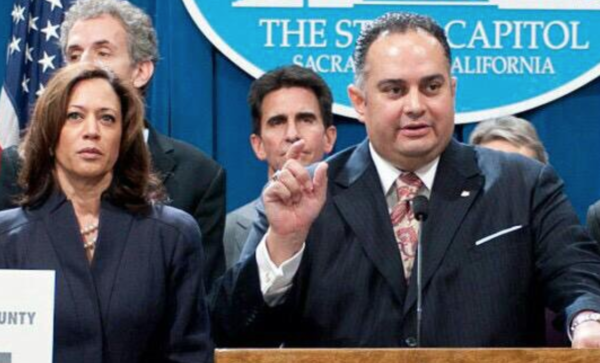 John A. Pérez knows a little something about electoral politics and making history – and on Friday, following the third Democratic presidential debate on Sept. 12, the openly gay Speaker Emeritus of the California Assembly formerly announced his endorsement of California Sen. Kamala Harris in her historic bid to become President of the United States.
"Last night, Kamala once again showed our country what I've known for many years – that she is brilliant, whip-smart, and unassailable," ​ Pérez said in a press release​. "With her plans to give middle class families financial security, safeguard immigrant rights, and combat gun violence, Kamala gets at the very heart at what keeps many Americans up at night. Combine Kamala's policies with her tireless advocacy for the LGBTQ+ community and people of color, and you can see she's our best shot at beating Trump and restoring justice in America."
The Los Angeles Blade reached out to Pérez to see why this Harris' debate performance tipped the scales for him but he was boarding a plane to fly out of state. The endorsement should really come as no surprise since Pérez endorsed Harris in 2015 in her Senate bid and became a campaign co-chair.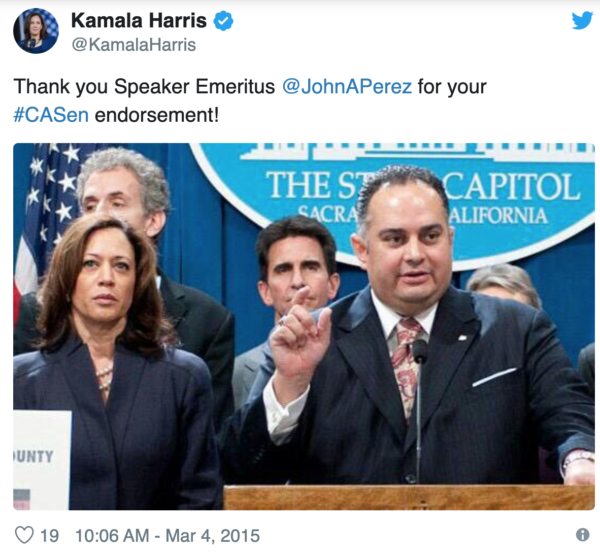 But Pérez holds dear the importance and power of minority representation, especially in the Trump era, so he no doubt also gave intense consideration to out gay Mayor Pete Buttigieg and former HUD Sec. Julian Castro.
Before his 2008 election to the Assembly—the same year Barack Obama was elected President and anti-gay Prop 8 passed in California—Pérez was a behind-the-scenes powerhouse in the Labor Movement, serving as the Political Director for the California Labor Federation and Political Director of Stonewall Democratic Club, helping elect Latinos, LGBT people and pro-labor candidates to elective office. Two years after his election, his peers elected him the state's first openly gay Speaker of the California Assembly, a milestone he marked by having members of the Gay Men's Chorus sing him to the podium. He held the position as the state's third most powerful elected official for four years and helped out San Diego Assemblymember Toni Atkins replace him. Atkins is now Pro Tem of the California Senate.
During all that time, Pérez was keenly aware of Harris as San Francisco district attorney backing Mayor Gavin Newsom in his effort to grant same sex couples the right to marry, as well as many other issues as Attorney General.
Now the elected Chair of the California Board of Regents, the governing board for the University of California with out Regent Cecilia Estolano serving as Vice Chair, Pérez may well have been particularly moved by how Harris talked directly to Trump in her opening remarks and how she spoke about gun violence and education during the debate held at Texas Southern University in Houston, Texas, one of the largest historically black colleges and universities in the country.
Here is a transcript of Harris' responses to those two issues, starting with her opening remarks.
HARRIS: Thank you. It's great to be back at TSU.

So I plan on spending tonight talking with you about my plans to address the problems that keep you up at night. But first, I have a few words for Donald Trump, who we all know is watching.

(LAUGHTER)

So, President Trump, you've spent the last two-and-a-half years full-time trying to sow hate and division among us, and that is why we've gotten nothing done. You have used hate, intimidation, fear, and over 12,000 lies as a way to distract from your failed policies and your broken promises. The only reason you've not been indicted is because there was a memo in the Department of Justice that says a sitting president cannot be charged with a crime.

But here's what you don't get: What you don't get you is that the American people are so much better than this. And we know that the vast majority of us have so much more in common than what separates us, regardless of our race, where we live, or the party with which we're registered to vote. And I plan on focusing on our common issues, our common hopes and desires, and in that way, unifying our country, winning this election, and turning the page for America.

And now, President Trump, you can go back to watching Fox News.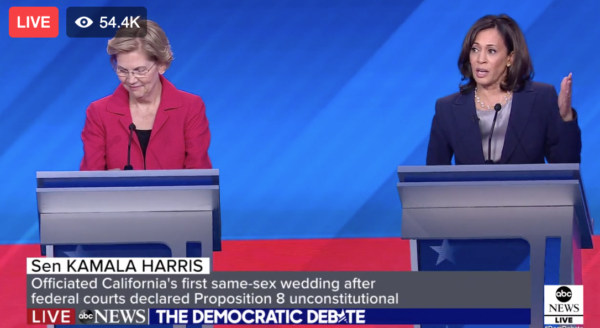 Sen. Elizabeth Warren was amused.
ABC moderator John Muir raised the issue of gun violence. Interestingly, though Harris got a bump in the polls after directly challenging for Vice President Joe Biden, this time she addressed him in a more jovial fashion, while still disagreeing. And she got in some zingers.
MUIR: Senator Harris, you have said that you would take executive action on guns within your first 100 days…

HARRIS: Correct.

MUIR: … including banning imports of AR-15 assault weapons.

HARRIS: That's right.

MUIR: President Obama, after Sandy Hook, more than 23 executive actions, and yet here we all are today.

In recent days former Vice President Biden has said about executive orders, "Some really talented people are seeking the nomination. They said 'I'm going to issue an executive order.'" Biden saying, "There's no constitutional authority to issue that executive order when they say 'I'm going to eliminate assault weapons,'" saying, "you can't do it by executive order any more than Trump can do things when he says he can do it by executive order."

Does the vice president have a point there?

BIDEN: Some things you can. Many things you can't.

MUIR: Let's let the senator answer.

HARRIS: Well, I mean, I would just say, hey, Joe, instead of saying, no, we can't, let's say yes, we can.

(LAUGHTER)

(APPLAUSE)

BIDEN: Let's be constitutional. We've got a Constitution.

HARRIS: And yes, we can, because I'll tell you something. The way that I think about this is, I've seen more autopsy photographs than I care to tell you. I have attended more police officer funerals than I care to tell you. I have hugged more mothers of homicide victims than I care to tell you.

And the idea that we would wait for this Congress, which has just done nothing, to act, is just — it is overlooking the fact that every day in America, our babies are going to school to have drills, elementary, middle and high school students, where they are learning about how they have to hide in a closet or crouch in a corner if there is a mass shooter roaming the hallways of their school.

I was talking about this at one of my town halls, and — and this child who was eight years old, probably, came up to me — it was like it was a secret between the two of us, and he tugged on my jacket and he said, "I had to have one of those drills."

It is traumatizing our children. El Paso — and, Beto, God love you for standing so courageously in the midst of that tragedy. You know, people asked me…

(APPLAUSE)

… in El Paso — they said, you know, because I have a long-standing record on this issue. They said, "Well, do you think Trump is responsible for what happened?"

And I said, "Well, look, I mean, obviously, he didn't pull the trigger, but he's certainly been tweeting out the ammunition."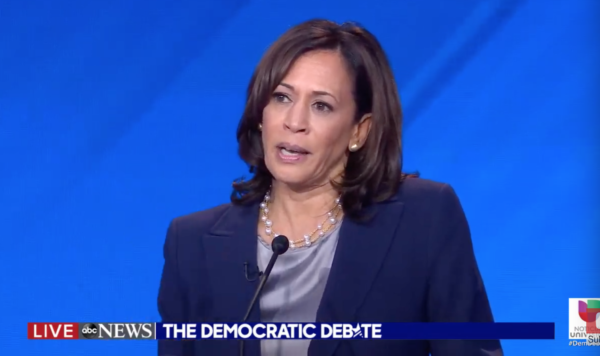 And on education, Harris noted how critical diversity and representation is in not only equal opportunity but the long term health of the country.
HARRIS: My first grade teacher, Mrs. Frances Wilson (ph), God rest her soul, attended my law school graduation. I think most of us would say that we are not where we are without the teachers who believed in us.

I have offered in this campaign a proposal to deal with this, which will be the first in the nation, federal investment, in closing the teacher pay gap, which is $13,500 a year. Because right now, in our public schools, our teachers, 94 percent of them are coming out of their own pocket to help pay for school supplies. And that is wrong.

I also want to talk about where we are here at TSU, and what it means in terms of HBCUs. I have, as part of my proposal that we will put $2 trillion into investing in our HBCUs for teachers, because…

(APPLAUSE)

Because — because, one, as a proud graduate of a historically black college and university, I will say — I will say that it is our HBCUs that disproportionately produce teachers and those who serve in these may professions, but also…

DAVIS: Thank you, Senator.

HARRIS: But this is a critical point, if a black child has a black teacher before the end of third grade, they're 13 percent more likely to go to college.

(APPLAUSE)

If that child has had two black teachers before the end of third grade, they're 32 percent more likely to go to college. So, when we talk about investing in our public education system, it is at the source of so much. When we fix it, that will fix so many other things. We must invest in the potential of our children…

DAVIS: Thank you, Senator.

Senator Sanders, 45 seconds.

HARRIS: … and I strongly believe you can judge a society based on how it treats its children. And we are failing on this issue.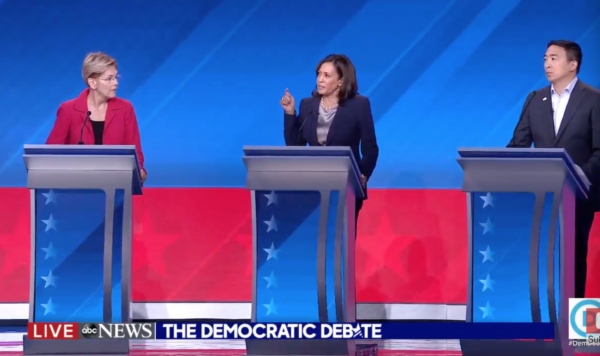 Harris also addressed the struggle to overcome societal odds and to grasp and forge new opportunities.
HARRIS: You know, every office I've run for, whether it be district attorney or attorney general, I was told each time, it can't be done. They said nobody like you has done it before, nobody's ready for you. When I ran for D.A., I won and became the first black woman elected D.A. in a state of 40 million people, in San Francisco.

When I ran for attorney general of California, I was elected — because I didn't listen. And I was the only black elected — woman black elected attorney general in the state — in the country.

And each time, people would say, it's not your time, it's not your turn, it's going to be too difficult, they're not ready for you, and I didn't listen. And a part of it probably comes from the fact that I was raised by a mother who said many things that were life lessons for me, including don't you let anybody ever tell you who you are. You tell them who you are.

(APPLAUSE)

And when I look around the town halls that we do in this race for president of the United States, and I look at the — the meetings that we do and the community meetings, and I see these little girls and boys, sometimes even brought by their fathers, and they bring them to me and I talk to them during these events, and they smile and they're full of joy, and their fathers tell them, see, don't you ever listen and let anybody ever tell you what you can or cannot be. You have to believe in what can be unburdened by what has been.
Overlooked in the swarm of political questions following the debate is the fact that Harris is still a working senator. Politico reports she intends to call for an investigation of the Trump Justice Department's inquiry into four automakers — Ford, Honda, Volkswagen Group of North America, and BMW of North America – who have decided to work with the state of California to reduce auto emissions after the Trump administration announced a roll-back in emission standards.
"In an expression of hostility towards California's regulatory authority, the Trump administration has launched a multi-pronged assault on California's framework with the four automakers," Harris wrote in a letter she sent to Department of Justice Inspector General Michael E. Horowitz on Friday, Politico reported. "Academics and practicing lawyers have described the Justice Department's investigation as 'unusual' and 'unprecedented,' as there is nothing on the face of the framework that suggests any legitimate competitive concern."
Harris' message for Trump: