Buttigieg scores historic LGBTQ moment during third Democratic debate (Video)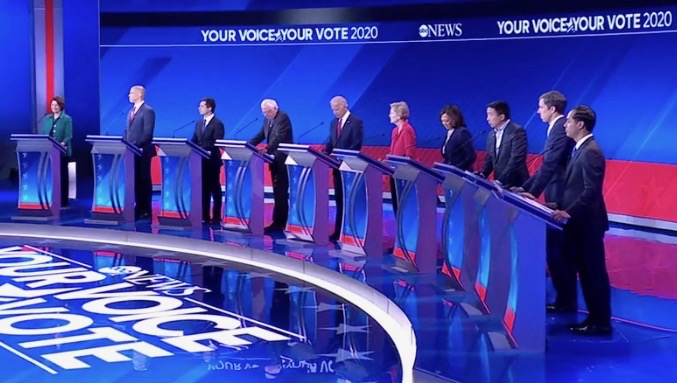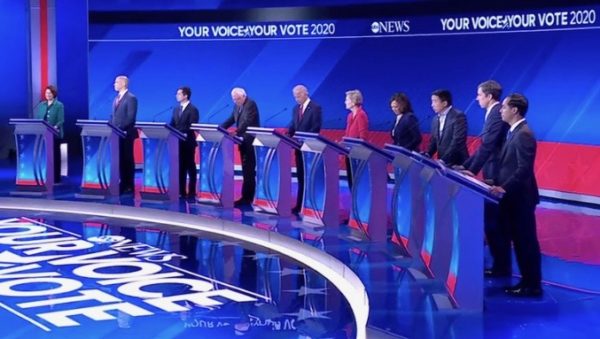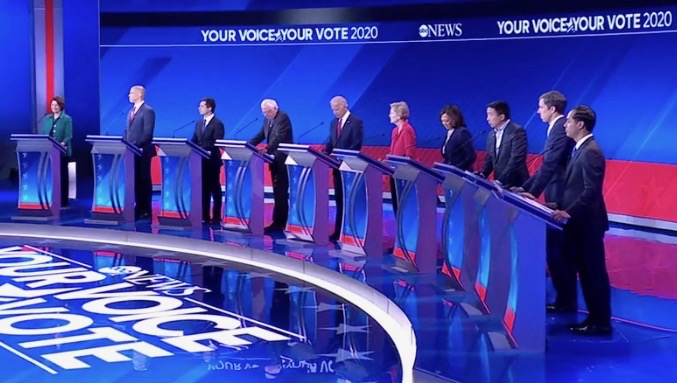 The third Democratic presidential debate in Houston Thursday night was considered make-or-break for candidates not named Joe Biden, Bernie Sanders or Elizabeth Warren. That tension resulted in some jaw-dropping moments, as well as some enlightening personal revelations.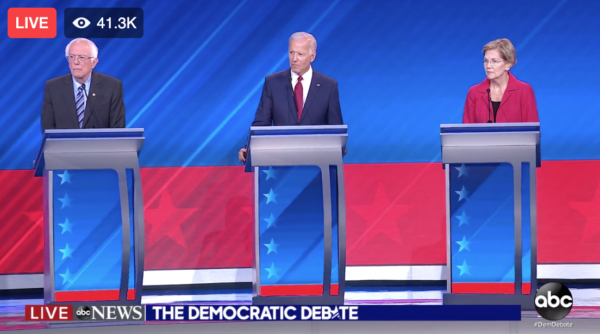 But for the LGBTQ community, so anxious to hear anything about LGBTQ rights, South Bend, Indiana Mayor Pete Buttigieg's coming out story was historic.
Never before has a top tier presidential candidate spoken on a debate stage before millions of viewers about the deeply personal process of coming out as LGBTQ – and why it matters.
The question asked of the ten candidates at the end of the three-hour debate televised live by ABC and Univision was to describe a professional set back and the resilience that enabled the candidate to survive and now run for president. Buttigieg took a beat, then, in a shorthand that denotes the progress the LGBTQ community has made, calmly shared one of the most profound inner decisions the gay mayor had to make returning home from his deployment to Afghanistan.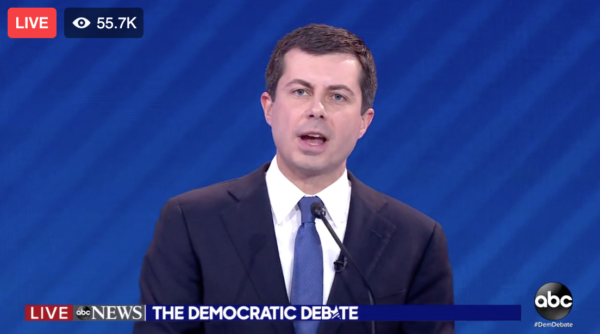 Buttigieg said:
"You know, as a military officer serving under Don't Ask Don't Tell and as an elected official in the state of Indiana when Mike Pence was governor, at a certain point when it came to professional setbacks, I had to wonder whether just acknowledging who I was was gonna be the ultimate career-ending professional setback.

I came back from the deployment and realized that you only get to live one life and I was not interested in not knowing what it was like to be in love any longer. So, I just came out. I had no idea what kind of professional setback it would be, especially because, inconveniently, it was an election year in my socially conservative community.

What happened was that when I trusted voters to judge me based on the job that I did for them, they decided to trust me and reelected me with 80 percent of the vote.

And what I learned was that trust can be reciprocated, and that part of how you can win and deserve to win is to know what's worth more to you than winning. And I think that's what we need in the presidency right now. We have to know what we are about, and this election is not about any of us up here. It is not about this president, even though it's hard to talk of anything else some days.

It's about the people who trust us with their lives — a kid wondering if we're actually going to make their schools safe when they've learned active shooter drills before they've learned to read; a generation wondering whether we will actually get the job done on climate change. And if we hold to that, then it doesn't matter what happens to each of us professionally. Together we will win a better era for our country."
One of the Oxford Rhodes Scholar millennial's key campaign themes is the need for a new generation of leadership, akin to young President John F. Kennedy noting the passing of the torch in 1960. But in his closing, Buttigieg also shared a more subliminal message about his electability: he trusted voters to re-elect him based on merit, what he had done to revitalize South Bend, and on his service-to-others-based values.
Buttigieg said that part of his local success is due to immigration, something Californians and even Republican President George W. Bush recognized in trying to create work visas.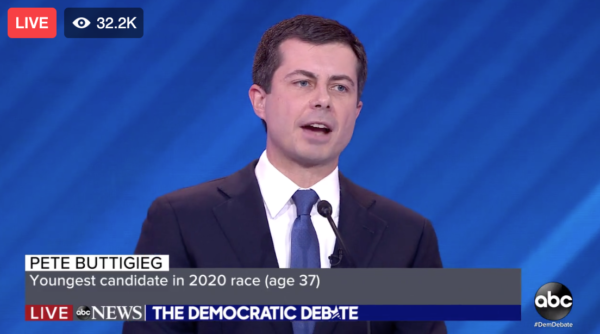 "You know, the only reason that South Bend is growing right now, after years of shrinking, is immigration. It's one of the reasons we acted, not waiting for Washington, to create city-issued municipal IDs so that people regardless of immigration status in our city had the opportunity to have the benefits of identification," Buttigieg said.
"We have an opportunity to actually get something done, but we cannot allow this to continue to be the same debate with the same arguments and the same clever lines often among the same people since the last real reform happened in the 1980s," said Buttigieg, who also touted his Douglas Plan to fight systemic, institutionalized racism.
Buttigieg also demonstrated his focus on unity, as opposed to harmful infighting. The polite and disciplined mayor interrupted and admonished former HUD Sec. Julian Castro during one Castro's attacks on Biden.
"This is why presidential debates are becoming unwatchable," Buttigieg said. "This reminds everybody of what they cannot stand about Washington."
A puffed-up Castro shot back. "Yeah, that's called the Democratic primary election," he said. "That's called an election."
The dustup was part of a very long debate over the particulars of Medicare-for-all and its derivations. Castro almost leaned over his podium at the end of the stage to better see Biden.
"Are you forgetting what you said two minutes ago?" Castro, 44, asked Biden, 76. Repeating, "Are you forgetting already what you said just two minutes ago?"
There was an audible gasp in the auditorium as Castro questioned Biden's age-related mental acuity. Asked about it later in the spin room, Castro doubled down on what many thought was a cheap shot, telling ABC News, "I wasn't taking a shot at his age."
New Jersey Sen. Cory Booker, who came across as the "happy warrior" with a lived experience of systemic racism, backed him up later, saying such questions need to be asked to make sure Biden, if he becomes the nominee, can carry the ball over the goal line to defeat Trump.
On stage, Castro dug in even deeper, telling Biden:  "I'm fulfilling the legacy of Barack Obama and you're not." Biden looked stunned for a moment and shot back: "That would be a surprise to him."
Biden essentially held his own despite the expected incoming attacks aimed at the frontrunner. And there were a few Biden-esque fumbles. Years ago, Biden commented about reparations for slavery saying, "I'll be damned if I feel responsible to pay for what happened 300 years ago." Asked about it at the debate, Biden seemed to space out, talking about playing the radio to help kids expand their vocabulary and to "make sure you have the record player on at night."
Ironically, vinyl records and record players are back in—but it is unlikely Biden would know that.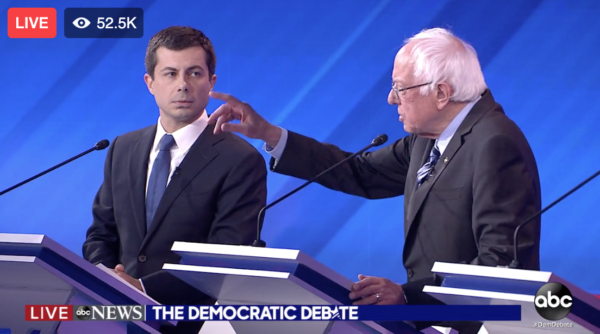 Vermont Sen. Bernie Sanders held his own as well, basically repeating his well-known pitches for Medicare for all. But one point he made, in particular, needs more debate and scrutiny. This country is moving to an oligarchy, he said.
Aside from the Castro implosion, the other major shocker of the night may have thrilled the Democratic base but left some politicos shaking their heads in disbelief at what they worry might be handing Trump an easy campaign ad.
Former Texas Rep. Beto O'Rourke was sincerely praised by his opponents for the way he responded to the mass shooting in his hometown of El Paso that killed 22 people at a Walmart on August 3.  Another mass shooting occurred less than a month later when a gunman killed seven people near Odessa and Midland.
"Beto, God love you for standing so courageously in the midst of that tragedy," said California Sen. Kamala Harris.
O'Rourke has become so passionate about gun violence, he's started swearing, which prompted ABC to issue a warning about their standards and practices for a live broadcast.
ABC moderator David Muir asked O'Rourke if it was true that he would mandate that Americans sell their guns.  "You know, the critics call this confiscation," said Muir. "Are you proposing taking away their guns, and how would this work?"
"I am. If it's a weapon that was designed to kill people on a battlefield—if the high-impact, high-velocity round, when it hits your body, shreds everything inside of your body, because it was designed to do that so you would bleed to death on a battlefield. Not be able to get up and kill one of our soldiers," O'Rourke said.
"When we see that being used against children," he said, his passion growing in intensity. "And in Odessa, I met the mother of a 15-year-old girl who was shot by an AR-15. And that mother watched her bleed to death over the course of an hour, because so many other people were shot by an AR-15 in Odessa and Midland, there weren't enough ambulances to get to them in time. Hell yes. We're going to take your AR-15, your AK-47. We're not going to allow it to be used against fellow Americans anymore."
The audience erupted in cheers. Texas State Rep. Briscoe Cain tweeted, using Beto's given first name: "My AR is ready for you Robert Francis."
To which O'Rourke tweeted: "This is a death threat, Representative. Clearly, you shouldn't own an AR-15—and neither should anyone else."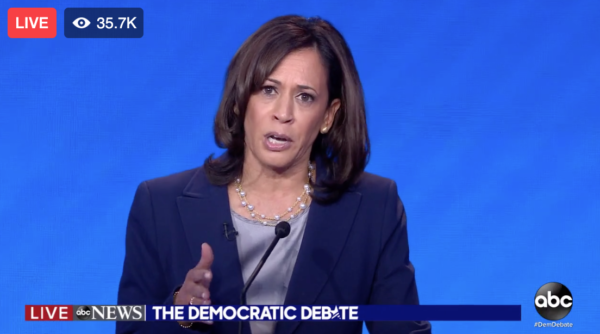 Though none of the candidates mentioned the word of the day—impeachment—Harris did the next best thing, speaking directly to Trump in her opening remarks.
"You have used hate, intimidation, fear and over 12,000 lies as a way to distract from your failed policies," Harris said. "What you don't get is that the American people are so much better than this."
She closed on a no doubt scripted note that brought roars of laughter. "Now, President Trump, you can go back to watching Fox News," Harris said.
Harris had another line that seemed to sum up how many felt after the El Paso shooting, that Trump "didn't pull the trigger, but he's certainly been tweeting out the ammunition."
One of Harris' best lines revealed her humor and a very human reaction when she screwed up. Trump, Harris said glibly, "reminds me of that guy in 'The Wizard of Oz.' When you pull back the curtain, it's a really small dude." As the audience cracked up, ABC moderator George Stephanopoulos, who stands at 5'5" tall, said he wasn't going to take the bait. "Oh, George. It wasn't about you!" Harris exclaimed in laughter, catching the unintended insult.
Harris also defended her record as a prosecutor, which she said has been misconstrued. As San Francisco's district attorney, she "took on the position that allowed me, without asking permission, to create one of the first-in-the-nation initiatives that was a model and became a national model around people who were arrested for drugs and getting them jobs."
Minnesota Sen. Amy Klobuchar had some good one-liners, such as Trump "is treating our farmers and our workers like poker chips in one of his bankrupt casinos." And her personal story of growing up with an alcoholic father was very moving but it did not give her break out recognition.
Entrepreneur Andrew Yang, who has developed a growing young following on social media, announced that he would give 10 families a "freedom dividend" of $1,000 a month for a year selected from those who apply to his website. While clever, it may not be legal, let alone appearing that he is trying to buy votes.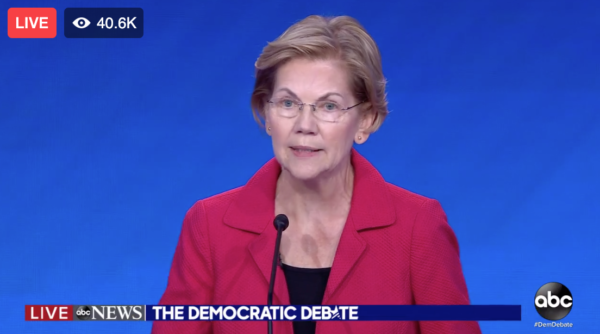 Perhaps the candidate who best succeeded in surviving the night was Massachusetts Sen. Elizabeth Warren, who is consistently in the top three in national polls. She was good with the quick comebacks. For instance, in an exchange with Biden over his incremental approach to fixing and expanding Obamacare to allow people to keep their private insurance versus her "big, structural change" version of "Medicare for all," Warren quipped: "Let's be clear "I've actually never met anybody who likes their health insurance company," they like their individual doctors or providers.
Warren also came off as very approachable, especially in telling her personal story of always wanting to be a teacher.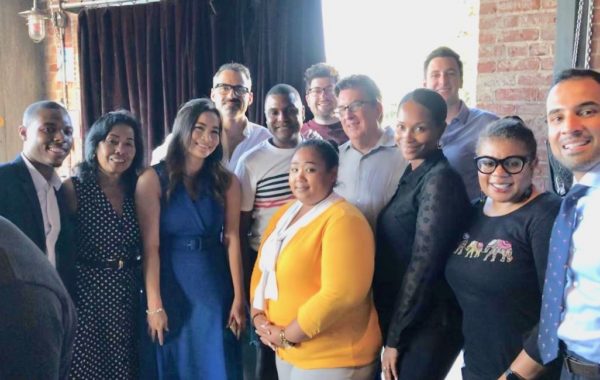 "I believe Elizabeth Warren is able to speak to the political and economic elite in a way that they are able to easily understand," local LA activist Michael Masters told the Los Angeles Blade.
Harris was the choice for Charity Chandler-Cole, President of the Black Los Angeles Young Democrats.
"I wasn't a champion of Kamala at first, but after seeing her performance at the last few debates, I think she deserves a chance to prove to the criminal justice reform community that she can do right by us," she told the Los Angeles Blade.
Chandler-Cole and Masters were part of a Democratic debate watch party in South LA  that included Stonewall Democratic Club.
"The Stonewall Democratic Club is so pleased to be collaborating with multiple local Democratic groups and advocacy organizations as we approach the 2020 presidential election, including tonight at our Democratic Debate watch party where a hundred local activists and concerned citizens joined us at Bandito's to hear the proposals and ideas put forth by the top 10 candidates in the race," Alex Mohajer, Public and Media Relations Director of the Stonewall Democratic Club, told the Los Angeles Blade.
"Our members have diverse opinions about who they prefer to see take on Donald Trump next November," he continued. "But we are energized about rallying around whomever the Democratic Party nominates to remove him from the White House. Even where we sharply disagree, there is a consensus that these conversations about health care, the environment, and corruption in government are good for the country and for the process, and that Donald Trump poses an existential threat to our democracy and must go."
Blinken: PEPFAR shows 'what American diplomacy can do'
Secretary of state spoke at World AIDS Day event in D.C. on Friday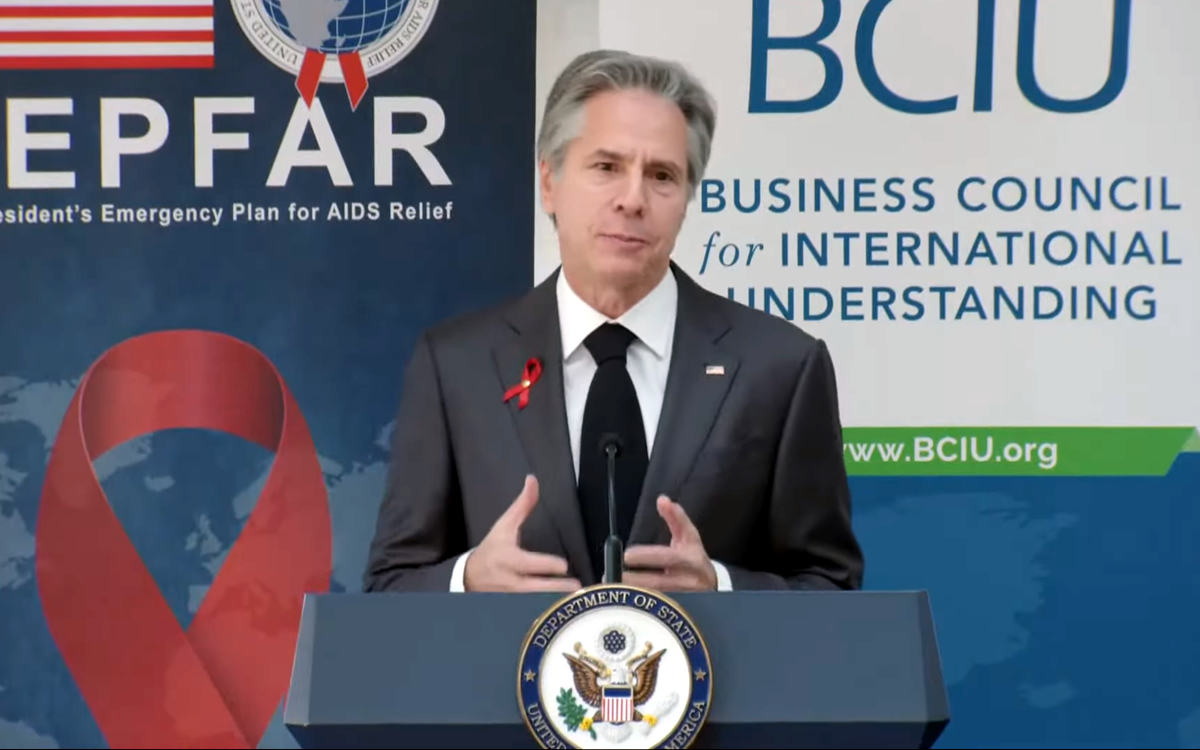 WASHINGTON — Secretary of State Antony Blinken on Friday noted the President's Emergency Plan for AIDS Relief has saved more than 25 million lives since its launch in 2003.
Blinken, who spoke at the Business Council for International Understanding's World AIDS Day event at the Hay-Adams Hotel in D.C., said the more than $100 billion the U.S. has earmarked for PEPFAR over the last two decades has funded 70,000 new community health clinics, 3,000 new laboratories and the hiring of 340,000 health care workers.
"Entire public health systems formed, with over a dozen countries which have either reached their HIV-treatment goals or managed control of the virus altogether," said Blinken.
Then-President George W. Bush in 2003 signed legislation that created PEPFAR. California Democrat Barbara Lee, members of the Congressional Black Caucus and Dr. Anthony Fauci, the director of the National Institute of Allergy and Infectious Diseases and chief White House medical advisor who is retiring at the end of this month, are among those who played a key role in PEPFAR's creation.
"PEPFAR has benefitted from bipartisan support, as we've heard, across four presidencies, across ten Congresses," said Blinken. "It's resulted in an investment of more than $100 billion to the global HIV/AIDS response. This is the largest commitment by one country ever to address a single disease."
Lee and Fauci were among those who attended the event alongside U.S. Global AIDS Coordinator John Nkengasong; Assistant Health Secretary Rachel Levine; Dr. Deborah Birx, the former White House Coronavirus Response Director, and HIV and Hepatitis Policy Institute Executive Director Carl Schmid.
Blinken in his speech noted "the systems put in place by PEPFAR have become an integral part of the health security architecture of countries around the world."
Blinken also said PEPFAR has bolstered responses to COVID-19, Ebola and the avian flu.
"We are continuing to build on PEPFAR's many successes to create a stronger global health security architecture to prevent, to detect, to respond to future health emergencies. Doctor Fauci, you once said that PEPFAR 'shows what the goodwill of a nation can do,' and you were right," said Blinken. "PEPFAR also shows us what American diplomacy can do: Bring together governments, bring together the public and private sectors, communities to tackle challenges that none of us can actually effectively deal with alone and that creates and has created a healthier, safer and ultimately more secure world."
Five-year PEPFAR strategy to target LGBTQ+ people
Blinken acknowledged there is still "very serious work still required for us to end the global HIV health epidemic by 2030," noting HIV/AIDS continues to disproportionately impact LGBTQ+ and intersex people and other marginalized groups.
"Too many countries still have fragile and insufficiently resourced public health systems, which makes it difficult to offer services beyond HIV/AIDS treatments, and that undercuts our capacity to respond to emerging threats," he said.
Blinken noted the U.S. on Thursday announced a new PEPFAR strategy that will help "fill those gaps" over the next five years. It includes the following:
• Targeted programming to help reduce inequalities among LGBTQ+ and intersex people, women and girls and other marginalized groups
• Partnerships with local organizations to help reach "hard-to-reach" communities.
• Economic development and increased access to financial markets to allow countries to manufacture their own antiretroviral drugs, tests and personal protective gear to give them "the capacity to meet their own challenges so that they're not dependent on anyone else."
"This latest PEPFAR strategy will keep making advancements like that possible so that millions more people can live healthy lives and live lives to their full potential," said Blinken.