September 12, 2019 at 3:26 pm PDT | by Karen Ocamb
Biden, Warren, Harris, Buttigieg in Iowa and HRC/CNN LGBT forums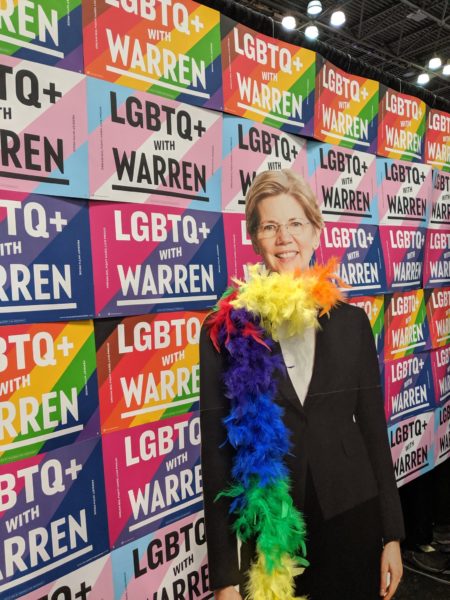 Two days before the third Democratic presidential debate on Thursday, Sept. 12 at Texas Southern University, an historically black university, California Republican House Minority Leader Kevin McCarthy posted a tweet thanking President Trump "for once again leading us to victory" in two North Carolina congressional races. Trump took credit for the wins and tweeted out a "Trump 2024" campaign sign, again suggesting he should get a third term.
Stonewall Democratic Club has joined with other local Democratic organizations to host debate-watch parties Thursday night to see who among the 10 candidates might be the best to challenge the White House reality TV star.
The dangerous absurdity of the Trump presidency will no doubt be one of the questions asked at the Sept. 20 Democratic presidential forum on LGBTQ issues sponsored by The Advocate, GLAAD, One Iowa, and The Gazette at Coe College in Cedar Rapids, Iowa. Coe is a private liberal arts college, historically affiliated with the Presbyterian Church, ranked by Forbes "as one of the best schools in the country" in 2019.
While Iowa voted overwhelmingly for Trump in 2016, it was also the state that gave wings to Sen. Barack Obama's candidacy in 2008; was the third state to recognize marriage equality in 2009; and in 2011, gave America college student Zach Wahls, whose speech before the Judiciary Committee about his lesbian mothers in opposing a constitutional amendment banning gay marriage went viral. Wahls is now a member of the state legislature and an honorary sponsor of the forum.
C-Span hasn't (yet?) scheduled coverage of the 90-minute event, but Zach Stafford, The Advocate's editor-in-chief and a moderator with Gazette columnist Lyz Lenz, and One Iowa Policy Director Keenan Crow, tells the Los Angeles Blade that details about live-streaming will be announced soon. "It should be accessible to all folks who have access to the internet around the world," he says.
The lineup is impressive since most of the candidates seeking the Democratic nomination to challenge Trump's re-election in 2020 have not been seriously asked about LGBTQ issues on the campaign trail, though some have referenced the Equality Act, homophobia and the epidemic of murders of black trans women.
Since the forum was first announced in August, Stafford says the lineup currently features out South Bend, Indiana Mayor Pete Buttigieg, former Vice President Joe Biden, former Secretary of Housing and Urban Development Julian Castro, Senators Elizabeth Warren, Kamala Harris, Cory Booker, Amy Klobuchar, Hawaii Rep. Tulsi Gabbard, former Pennsylvania Rep. Joe Sestak, and self-improvement spiritual leader Marianne Williamson.
"The style will be one candidate with one moderator at a time," says Stafford. They are "not being pitted against each other. It's a time for them to speak to the community."
Some already have. Buttigieg spoke with the Washington Blade before announcing his candidacy and has since addressed the Human Rights Campaign and the Victory Fund, later receiving their endorsement, as well as low-dollar community fundraisers targeting the LGBTQ community at The Abbey in West Hollywood, and elsewhere. Biden, Booker, and Harris have been featured at HRC events, including in Los Angeles, and Harris rode in the San Francisco Pride parade and has spoken with the Los Angeles Blade.
Williamson, well known in LA for co-founding Project Angel Food, has spoken with both the Washington and the LA Blades.
Warren took her presidential campaign outreach to another level, sending a video and setting up a booth at Ru Paul's Drag Con in New York City recently, apparently the only candidate who accepted an invitation to participate.
The Iowa LGBT forum, Stafford says, "will be an opportunity for us to dig deep into specific topics through an LGBTQ lens that aren't being discussed in the other debates. We are interested in knowing more about how these folks are thinking about our community when they are creating health care bills or immigration legislation."
Less than one month later, the candidates will have an opportunity to clarify, expand, or revise their pitches to LGBTQ voters and allies at the Oct. 10 forum sponsored by HRC and broadcast live by forum partner CNN at The Novo at LA Live. According to HRC, LGBTQ voters were 6 percent of the electorate in 2018 and cast more than 7 million ballots.
The HRC/CNN town hall may have an additional element of drama, considering Trump's Twitter hatred of CNN and out anchor Don Lemon.
Unlike the Iowa forum, the event, entitled Power of Our Pride, will abide by CNN standards and practices and Democratic National Committee rules for candidates to qualify for their debates.  So far, six of the 10 candidates who met those qualifications for the Sept. 12 debate have confirmed their participation: Biden, Buttigieg, Castro, Harris, Klobuchar and Warren.
"This town hall comes at a critical time in our fight to achieve equality for (LGBTQ) people in this nation," HRC President Alphonso David said in a statement. "Today, in 30 states, LGBTQ people remain at risk of being fired, evicted or denied services because of who we are. Thirty-five states have yet to ban the dangerous and debunked practice of 'conversion therapy,' which is harming our young people. Hate crimes are rising, and more than 100 transgender people — most of whom are transgender women of color — have been killed in the United States in the last five years. Although the federal government should be protecting all residents, the Trump-Pence Administration is directly attacking our community by banning transgender troops from serving our country openly, undermining health care services for people living with HIV, and seeking to erase LGBTQ people from protections under law."
Who's got a plan for that?
Cardboard image of Sen. Elizabeth Warren at Ru Paul's DragCon (Photo via Xorje Olivares on Twitter)