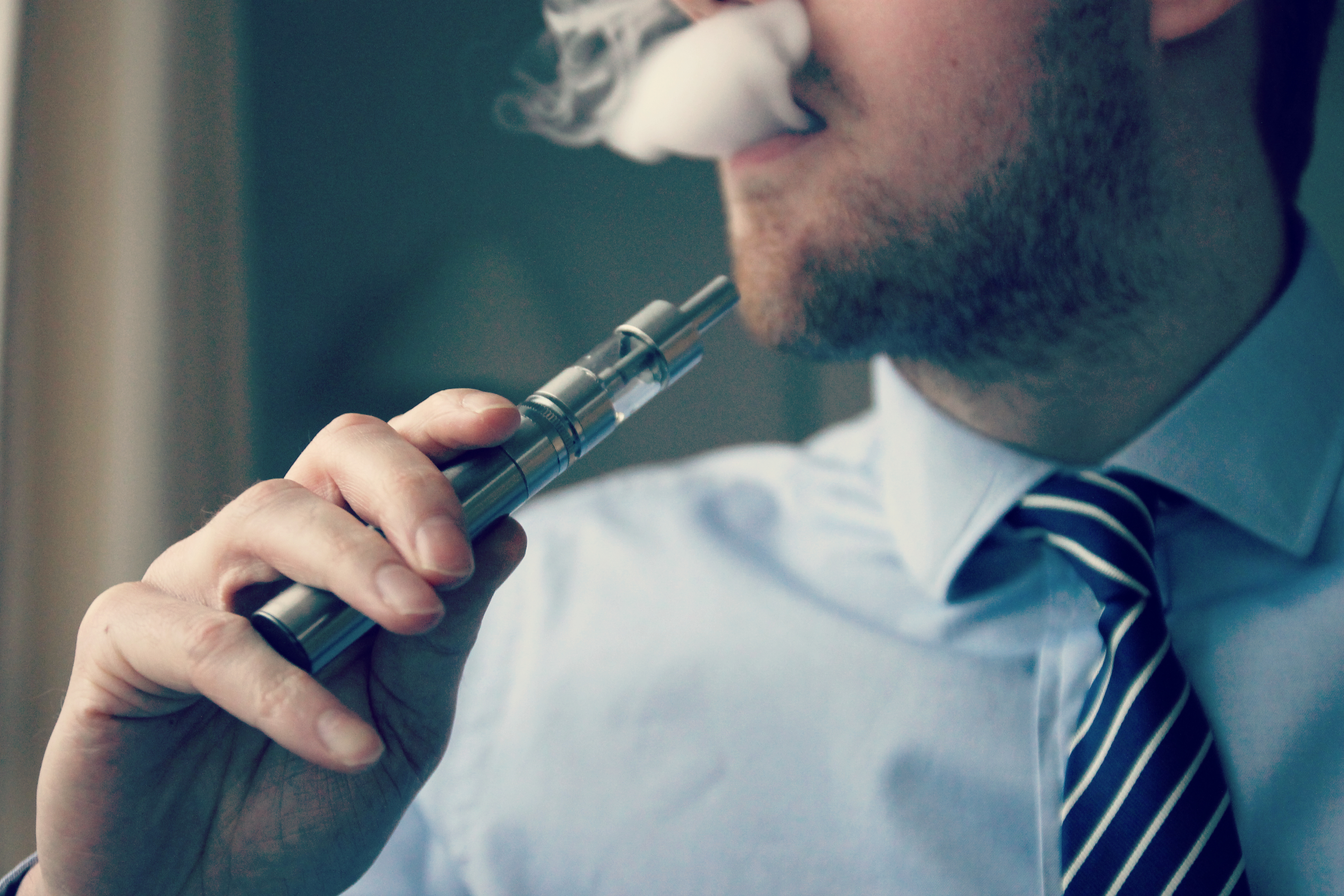 The Centers for Disease Control and Prevention, the Food and Drug Administration, state and local health departments, and other health experts issued a stark warning Sept. 6 for young smokers to stop vaping after over 450 possible cases of severe pulmonary disease associated with the use of e-cigarette products were reported to the CDC in 33 states and 1 U.S. territory, including California.
The outbreak has resulted in six confirmed deaths, the most recent in Kansas on Tuesday, Sept. 10, after which state health departments reported confirmed or suspected cases at 478, a jump of 28 cases in four days.
The CDC notes the "clinical similarities" among the cases is e-cigarette use aligned with the CDC emergency health advisory issued on August 30.
While most patients have been in their 20s and 30s, the Kansas woman was in her 50s with a history of health problems, NBC News reported Tuesday.
"She had some underlying medical illnesses, but nothing that would have foretold the fact that within a week after starting using e-cigarettes for the first time, she developed full-blown acute respiratory distress syndrome and died," Dr. Lee Norman, secretary for the Kansas Department of Health and Environment, told NBC News. "It's a reminder that older people with pre-existing illnesses are probably going to have worse clinical outcomes if they do develop problems with vaping….I'm sure we'll see more."
Meanwhile, On Sept. 9, the FDA warned popular e-cigarette maker Juul to stop marketing their product as much safer than other nicotine/tobacco products without evidence to back up the claim.
This is particularly concerning for the LGBTQ community which is seeing a comeback in smoking, as the Los Angeles Blade reported last July.
The Truth Initiative reports: "Overall, lesbian, gay, bisexual and transgender adults smoke at rates up to 2.5 times higher than straight adults, due in part to targeted marketing by Big Tobacco. For years the tobacco industry has made efforts to appeal to LGBT consumers through things like targeted advertisements in LGBT press, cigarette giveaways and free tobacco industry merchandise. Today, the LGBT community is among the hardest hit by tobacco."
"One thing has always been clear — Big Tobacco only cares about profits, regardless of the deadly consequences. And they'll continue to target the LGBTQ community — and LGBTQ kids in particular — because they don't see us as people; they see us as 'scum.' The products may change, but Big Tobacco will continue profiting off our deaths until we stand up and fight back," Beatriz Valenzuela, spokesperson for Equality California, told the Los Angeles Blade.
The CDC suggests contacting your local poison control center if you're concerned about your health after using an e-cigarette product at 1-800-222-1222.
Health orgs distribute Fentanyl test strips & Narcan in WeHo
Activists and members of health organizations hand out life-saving Fentanyl Test Strips and Naloxone nasal sprays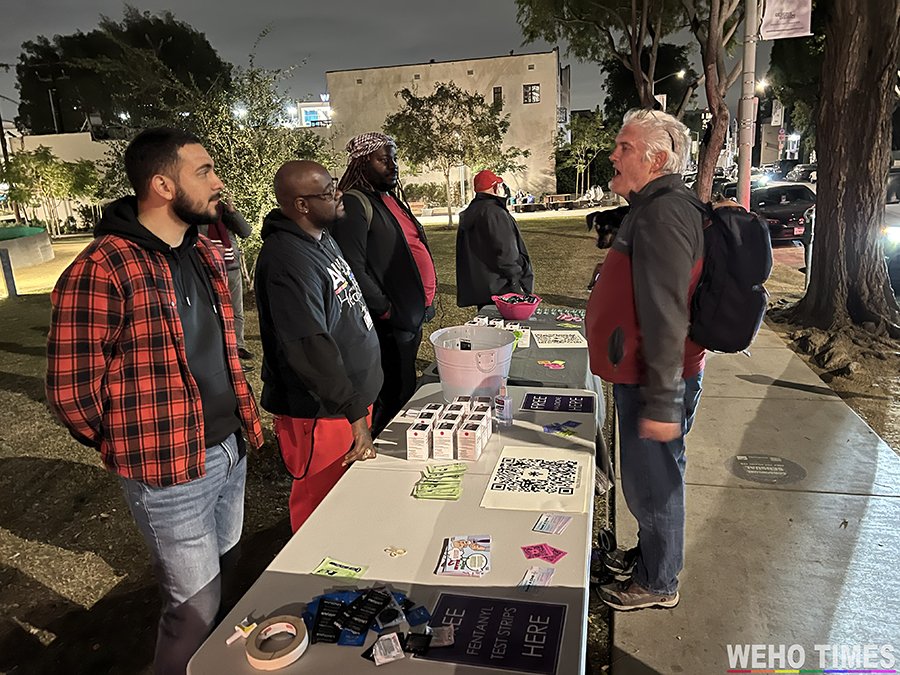 By Paulo Murillo | WEST HOLLYWOOD – The Institute for Public Strategies' West Hollywood Project joined activists and members of health organizations Being Alive Los Angeles, LGBT Center's Trans Wellness Center, AHF, The Wall Las Memories APLA Health, Los Angeles Centers for Alcohol and Drug Abuse (LA CADA), and Los Angeles Department of Public Health to distribute overdose prevention information and resources along with life-saving Fentanyl Test Strips and Naloxone nasal sprays.
The group gathered for an evening of engaging with the public to discuss the dangers of drug use on National Meth Awareness Day, on Wednesday, November 30, 2022, at West Hollywood Park facing Robertson Boulevard (Next to The Abbey Food & Bar).
The West Hollywood Project recognized National Meth Awareness by hosting two events, one in Silverlake (at Akbar, located at 4356 Sunset Blvd), and the other at West Hollywood Park at 647 N. San Vicente Boulevard (picnic area near Robertson Boulevard), beginning at 7:30 p.m. (there is an additional event at Stache WeHo, 8941 Santa Monica Blvd.)
Volunteers set up two tables to and offered resources on drug addiction and provided information on harm reduction, along with tools individuals could use for themselves or offer to a friend.
"We're engaging the community and giving away free fentanyl test strips and Narcan for education and to raise awareness, "said Daniel Ruiz of West Hollywood's Institute of Public Strategies "We are also offering condoms and lube and we also have other organizations here that are part of the coalition."
"I'm out here with APLA Health, and not only are we providing the Narcan and the test strips, but we're also out here as a resource," said Luckie Alexander, "I'm also working with the Trans Wellness Center, so if anyone comes out here and needs other services, especially our trans folks, I'm providing those services and giving them contact information. We just ask them if they want the Narcan or the test strips and a lot of folks are really responding. We know those folks are going to be safe and live another day. This is about harm reduction, having access to these things and knowing what to do with it. Folks really appreciated."
Alexander added that there this was a judgment-free space and that they weren't telling anyone to stop doing drugs, but to help them take better care of themselves.
The West Hollywood Project is an ongoing, centralized effort to help promote Alcohol and Drug (AOD) Free events, activities and civic opportunities in the West Hollywood area. They promote specific events such as #SIZZLE! at LA Pride and #BOOM!, the annual New Year's Eve event in West Hollywood. The West Hollywood Project is a Project of the Institute for Public Strategies and funded by the Los Angeles County Department of Public Health, Substance Abuse Prevention and Control.
A national survey found one out of six young adults has used illicit drugs in the last month. Brain scientists now know why just one use of crystal meth (methamphetamine) can make a person feel hooked.
The National Meth Awareness day is an effort to send a prevention message to potential meth users. It also gets the message out about available programs to current users. In some parts of the country, meth use is increasing while in others it continues to rise.
Part of the reason meth is so addictive is it increases the amount of dopamine in the brain. Dopamine occurs naturally in our brains. It affects our body's reward centers as well as our movement, motivation, and reinforcement. It's the impact on this area of the brain that makes methamphetamine so addictive.
Beyond the short-term effects of alertness, increased physical activity, reduced or no appetite, rapid heart rate and increased blood pressure, continued use of methamphetamine has long-term health effects.
risk of diseases transmitted through needles
addiction
extreme weight loss
dental problems including tooth loss and gum disease
sleeping disorders
memory loss
anxiety
skin issues
hallucinations
paranoia
However, there is help. Visit Substance Abuse and Mental Health Services Administration (SAMSA) to learn about the referral program. It's available 24 hours a day, 7 days a week. The page is full of resources for adults, teens, and family members. There, you can find support for yourself and others who may be facing addiction. There is a way out and a life after addiction. Visit the helpline at: https://www.samhsa.gov/find-help/national-helpline.
In a proclamation signed by President George W. Bush in 2006, November 30th was set forth as National Meth Awareness Day. The observance serves two purposes. First, it aims to reach potential users with prevention methods. Second, the day increases awareness of programs and services available to current users.
*******************************
Paulo Murillo is Editor in Chief and Publisher of WEHO TIMES. He brings over 20 years of experience as a columnist, reporter, and photo journalist.
The preceding article was previously published by WeHo Times and is republished with permission.