Smoking comeback is colorful and 2x deadlier
OUT Against Big Tobacco Coalition exposes targeting of LGBT community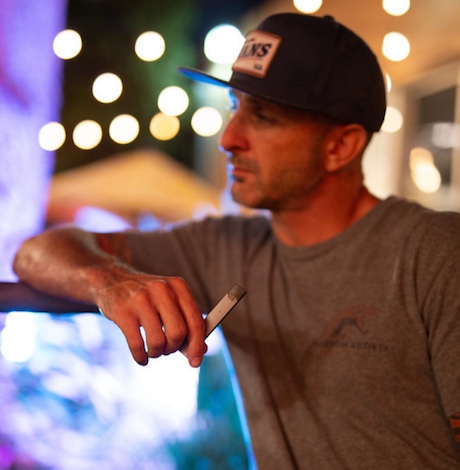 Nothing seemed quite as cool as the way Bette Davis and Humphrey Bogart elegantly manipulated their cigarettes in classic black and white films like "Jezebel" and "Casablanca." In the 1950s, James Dean depicted smoking as rebel cool in "Rebel Without a Cause," as did John Travolta in "Grease" in the 1970s, prompting thousands of young people to pick up the habit, become addicted and inject millions of dollars into the coffers of Big Tobacco.
The industry undermined the 1971 ban on advertising of tobacco products on TV by creating product placement embedded in the shows. And Big Tobacco CEOs brazenly testified before Congress that nicotine was not addictive, knowing their own research showed otherwise, as revealed by the 1998 Master Settlement Agreement with the suing states attorneys general.
But Big Tobacco greed requires a constant supply of new recruits. Confidential Settlement records and research by the American Legacy Foundation revealed Project SCUM (Sub-Culture Urban Marketing), micro-targeting of minorities and gays through direct and indirect advertising, community outreach, and sponsorships, which the LGBT community did not recognize as market manipulation.
The stealth and public campaigns succeeded and tobacco use skyrocketed, contributing to significant health disparities between LGBT smokers and general public smokers. But the gradual shift of cultural attitudes and the municipal restrictions on smoking areas started stripping away the veneer of coolness to posit smoking as a stinky, dirty bad habit.
But greed dies hard and Big Tobacco has been making a comeback, on screen and in the LGBT community. According to the CDC, PG-13 movies targeting youth went 62% without featuring tobacco since 2017. However, a 2018 report of tobacco-related incidents per PG-13 movie went up 34% and "audience tobacco impressions delivered by youth-related films were 10.3 billion, up 103% from 2017.
As Equality California Institute and 17 other LA-based LGBTQ and health service providers point out in a new OUT Against Big Tobacco Coalition campaign, the tobacco industry is now capitalizing on innovative ways to ensnare new users through slick advertisements, sponsorships and coupons for cool new colorful and flavorful e-cigarettes. While consumers might think e-cigarettes are a way to break the cigarette habit or addiction, brands like Juul in fact deliver more nicotine and can be more harmful, according to three lawsuits filed against Juul since April.
"The Juul is a battery-powered device that converts liquid into a vapor, which the user inhales. It comes with prefilled cartridges called "Juulpods," which have candy-like flavors, and a USB charger that pops into a cellphone charging block or laptop," reports Buzzfeed News. "These features, which are supposed to make the Juul a 'satisfying cigarette alternative' for adult smokers, have also made it a hit among young people and nonsmokers. The long-term health effects of e-cigarettes like the Juul are not yet known, but nicotine has been long known as a highly addictive substance that can affect brain chemistry."
"For too long, Big Tobacco has preyed on LGBTQ people, getting us hooked on their toxic products and profiting off our deaths," Equality California Institute Executive Director Rick Zbur says in a press release. "We won't let them take advantage of the most vulnerable members of our LGBTQ communities any longer. We look forward to exposing them for exactly what they're doing to our community and taking every action possible to improve the health and wellbeing of LGBTQ people."
The new campaign notes that "LGBTQ Californians are more than twice as likely to smoke as their non-LGBTQ peers, and nearly 30,000 LGBTQ people across the country die every year of tobacco-related causes." Additionally, "estimates of smoking rates among LGBTQ youth range from 38 to 59 percent, compared to just 28 to 35 percent of youth generally."
This is critical, Samuel Garrett-Pate, communications director of Equality California and the Equality California Institute, tells the Los Angeles Blade that unlike cigarettes, which that visibly burn down with use, a vaper cannot tell from the covered cartridge how much has been inhaled. There is no way to tell, therefore, how much mood-altering vapor is harming the brain and psyche, producing emotional outbursts, anxiety and potentially deadly depression.
The OUT Against Big Tobacco Coalition campaign is trying a kind of harm-reduction approach by not insisting that smokers and vapers stop now. Rather they are reaching out to teachers and GSAs to do trainings about Big Tobacco and building public support for restricting and controlling tobacco-related municipal policies. For instance, they want to restrict flavored tobacco products and ban the redemption of tobacco-related coupons that are often distributed at LGBTQ events such as Pride and Halloween.
"Tobacco companies reported spending $380 million on coupons in 2016 to offset the effects of tobacco tax increases, such as those imposed in the state of California in the aftermath of the passage of Proposition 56 in 2016," increases that encourage smokers to quit, the Coalition says. Several cities, including New York City and Chicago, have passed redemption restriction measures as a result.
The Coalition is starting in West Hollywood and the San Fernando with the intension of expanding the campaign to cities throughout Los Angeles County.
"There is still a lot of room to pass policies and make changes in our communities that will make it less likely that kids, teens and young adults will start smoking and easier for current smokers to quit," Brandon Tate, Chair of the OUT Against Big Tobacco Coalition, said in the press release. "It's really about activating and engaging people to take action and make our communities healthier."
Governor Newsom announces new gun safety legislation
In 2021, Calif. was ranked as the #1 state for gun safety by the Giffords Law Center, seeing a 37% lower gun death rate than national average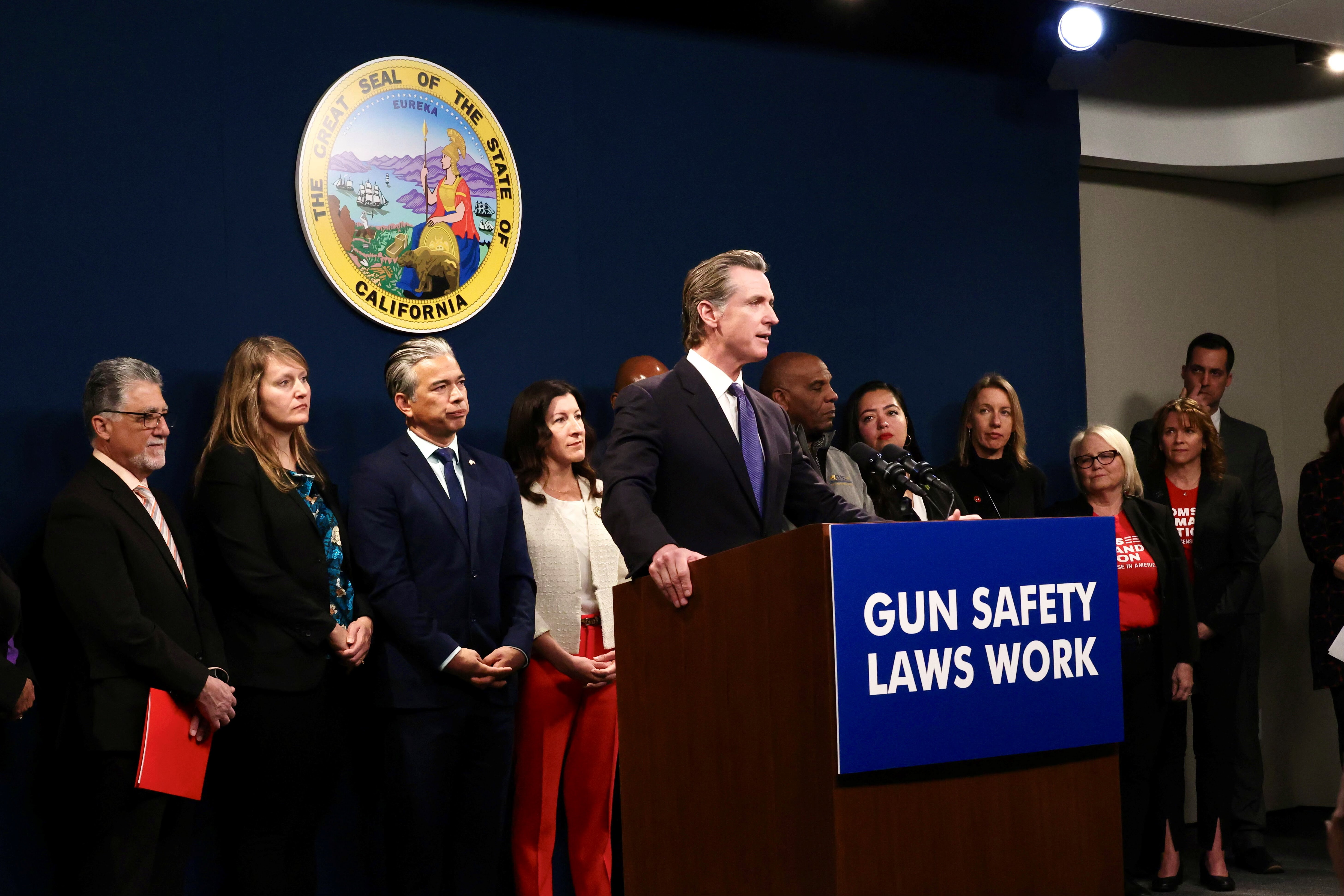 SACRAMENTO – In the wake of multiple mass shootings that took the lives of 19 Californians in just 72 hours last week, Governor Gavin Newsom, Attorney General Rob Bonta, and Senator Anthony Portantino (D-Burbank) announced new gun safety legislation to modernize and strengthen California's public carry laws.
"Only in America do we see the kind of carnage and chaos of gun violence that destroys our communities and our sense of safety and belonging," said Newsom. "America is number 1 in gun ownership and we far surpass every developed nation on Earth in gun deaths – it's not complicated. In California, we've passed common sense gun safety laws and they work: we have a 37% lower gun death rate than the national average. We're doubling down on gun safety and strengthening our public carry law to protect it from radical Republican attacks."
According to the Center for American Progress, efforts to weaken concealed carry laws across the country have increased violent crimes – with studies showing gun homicides increased by 22% in states that passed permitless carry laws and violent crimes with a firearm went up 29%.
Newsom signed a package of gun safety laws last year, making it easier for Californians to sue manufacturers of illegal assault weapons and those spreading them, allowing lawsuits against irresponsible gun industry members, strengthening prohibitions on ghost guns, as well as restricting marketing to minors. 
"The mass shooting incidents we have seen over recent weeks bring to light the need for stronger protections for our communities. The fact is, individuals who are not law-abiding, responsible citizens simply shouldn't possess firearms — and they especially shouldn't be allowed to carry a concealed weapon in public. When a gun is placed in the wrong hands, it is deadly," said California Attorney General Rob Bonta. "The Second Amendment is not a regulatory straightjacket — we must protect our communities. The time for thoughts and prayers has long passed, we need brave and immediate action by our leaders – here in California and beyond. We owe our community stronger protections. I urge our state leaders to quickly adopt SB 2. We can't afford to wait even one minute more."
Last June, the U.S. Supreme Court struck down a New York law, aspects of which mirrored California's public carry laws, and the legislation announced today – Senate Bill 2 by Senator Portantino – would make fixes necessary to update the standards and processes for obtaining a public carry permit in California.
Senate Bill 2 strengthens California's restrictions regarding public carry laws by:
Enhancing the existing licensing system – ensuring those permitted to carry firearms in public are responsible and law-abiding individuals;
Protecting children – setting a minimum age requirement of 21 years of age to obtain a CCW license;
Advancing stronger training requirements – ensuring proper handling, loading, unloading, and storage of firearms; and
Identifying certain sensitive public places – establishing safe community places where people should expect freedom from gun violence.
"In the wake of the recent tragedies in Monterey Park and Half Moon Bay and the continued threat of mass shootings, it's critical that California leads on the issue of gun safety and reform. I am proud to be working with Governor Newsom, Attorney General Bonta and activists on SB 2 to strengthen our existing public carry laws and ensure every Californian is safe from gun violence.  We must be diligent in addressing the gun violence epidemic in our country and public carry laws are a key component of this," said Senator Anthony Portantino.
California launched an 18-month campaign to promote gun violence restraining orders – "red flag laws" – that allow law enforcement, family, coworkers or friends to petition a court to temporarily remove weapons from people deemed dangerous to themselves or others. A study from the Violence Prevention Research Program at the University of California, Davis found that California's red flag law was used to stop 58 threatened mass shootings since 2016.
California's gun safety laws work. In 2021, California was ranked as the #1 state for gun safety by the Giffords Law Center, and the state saw a 37% lower gun death rate than the national average.
According to the CDC, California's gun death rate was the 44th lowest in the nation, with 8.5 gun deaths per 100,000 people – compared to 13.7 deaths per 100,000 nationally, 28.6 in Mississippi, 20.7 in Oklahoma, and 14.2 in Texas.
Moms Demand Action Founder Shannon Watts noted: "The Supreme Court's reckless Bruen decision opened up the floodgates for more guns in more places — but with this bill California once again renewed its commitment to being a national leader in the fight against gun violence. While the gun industry celebrated the ruling that put their profits over our safety, our grassroots army is proud to stand with our Gun Sense Champions in California to pass this critical bill and make our communities safer."
"Following the Supreme Court's egregious decision in the Bruen case, it is vital that the Golden State takes meaningful action to protect all Californians from the threat of gun violence. SB2 would do just this by updating and improving the state's already strong concealed carry license system, and ensure that loaded and concealed weapons are not allowed in certain sensitive places. With SB2, leaders in California are continuing their leadership in prioritizing the public health and safety of all its citizens," said Brady Campaign President Kris Brown, adding "Brady applauds Senator Portantino for introducing this important bill, and thanks Governor Newsom and Attorney General Bonta for their continued leadership on this issue, and urges the California legislature to pass it without delay."
Giffords State Policy Director Ari Freilich stated: "In the face of tragedy, California's leaders act. They've led the nation on gun safety reform and made California a much safer state than most. But today, grieving communities know all too well how much more work there is to do. California achieved an all-time record low gun fatality rate in 2019. But like the rest of the country, we have faced record spikes in gun sales and violence since the start of the pandemic and a flood of new weapons in public spaces as a result of the US Supreme Court's dangerous Second Amendment ruling last year. Passing SB (2) will strengthen communities' ability to respond to these threats by requiring stronger vetting and safety training to carry weapons in public and by designating vital community spaces like parks and playgrounds as off-limits to weapons throughout the state. We thank leaders like Governor Newsom, Attorney General Bonta, and Senator Portantino for their work and commitment to make all Californians safer and freer from violence."