Alejandra is free! Trans asylum seeker out of ICE detention after 20 months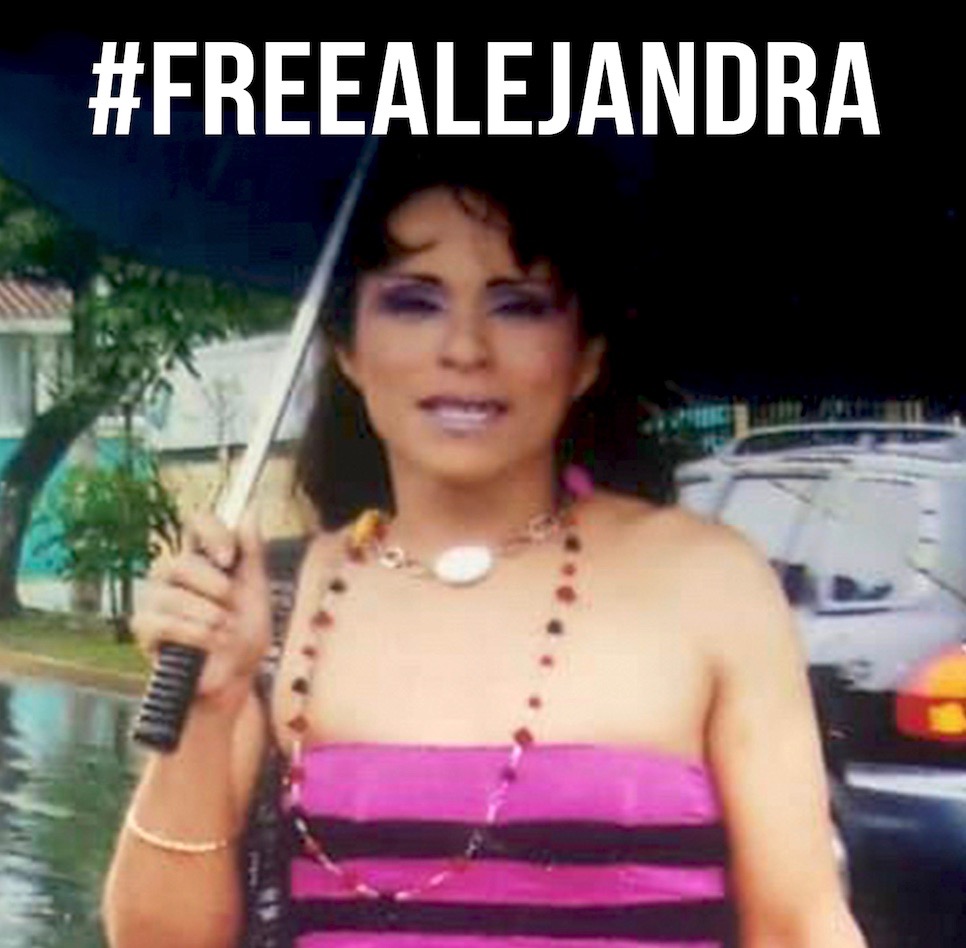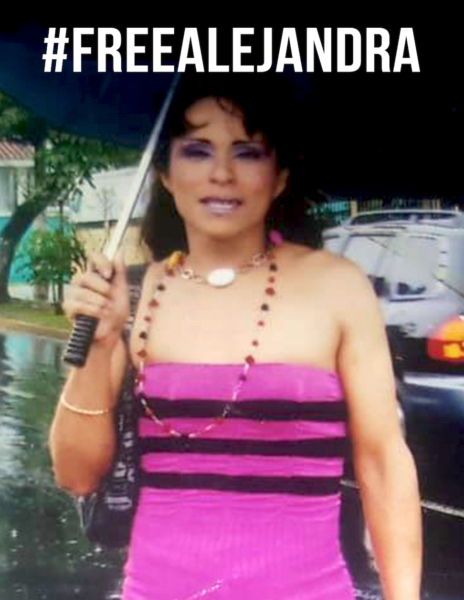 Bamby Salcedo could hardly contain her joy! Alejandra Barrera, who fled violence in El Salvador and faced deportation after 20 months in Cibola County Correctional Center, ICE's for-profit contracted detention center in Milan, New Mexico, was freed on parole late Friday night, Sept. 6. The release in the dark of night came after an intense and sustained campaign by her attorney Rebekah Wolf from Equal Justice Works, Salcedo's [email protected] Coalition and Amnesty International, as well as engaged members of Congress and ordinary citizens to the #FreeAlejandra!
"My heart is so full of joy because it's just amazing that the efforts of so many different people participated in making sure that she come home. There was no reason why she was being denied the opportunity to fight her case on the outside," Salcedo said in a video posted on the [email protected] Coalition Facebook page. Salcedo thanked everyone who participated in the successful but arduous #FreeAlejandra campaign.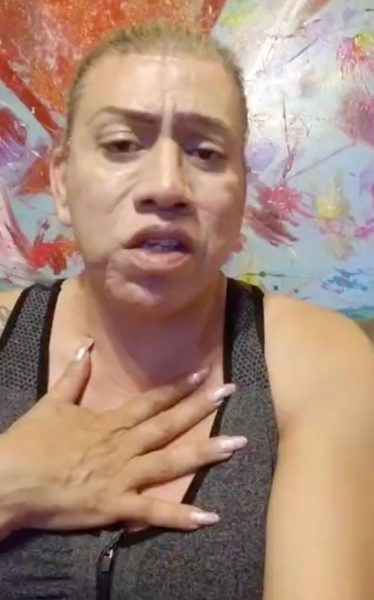 "It was because of all of your calls, because of all of you signing petitions, showing up to the rallies, showing up the press conferences, her lawyers – everyone – all of you who wrote letters to Alejandra, everyone who participated in la campaigna de #FreeAlejandra – should be very proud because this is one more victory and we should be able to celebrate," Salcedo said.
Alejandra was released into the care of her [email protected] Coalition sponsor Alma Rose to fight her asylum case outside of the prison-like facility. Rose put her name and house as a "down payment" to get Alejandra out of detention, says Salcedo.
Just three days earlier, Salcedo was still pleading Alejandra's case via Facebook.
"30,000 signatures, 75+ organizations supporting, letters from Congress sent, and ICE IS STILL HOLDING ALEJANDRA IN DETENTION! But we are not giving up. Alejandra's case represents the mistreatment of all trans women while in ICE custody, it is clear that ICE only intends to harm us! We have filed a habeas corpus for Alejandra, what is a legal process that reports her unlawful detention for almost 2 years, brings her case to the court, and calls for her release on the basis of prolonged detention

Starting tomorrow, we need your help putting Congressional pressure on ICE one more time. And next week we will be targeting ICE directly, the clock is ticking! If you have not taken action at all in the last year, now's your chance! Check our page tomorrow for instructions and call scripts."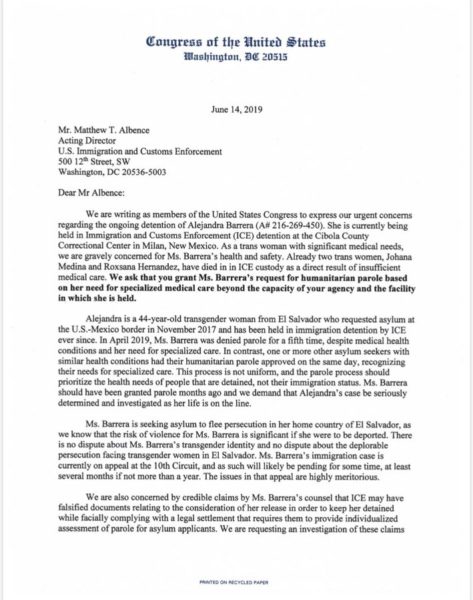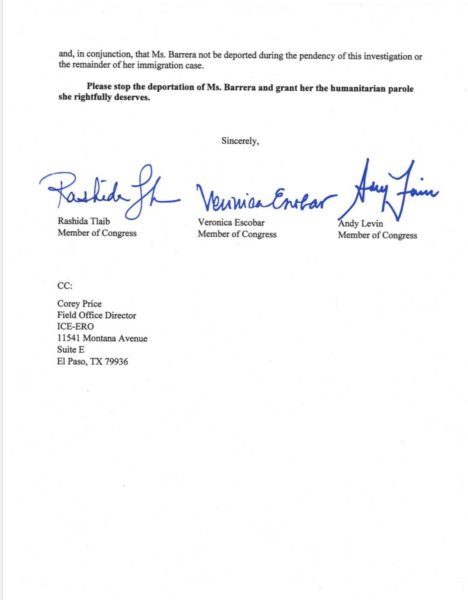 June 14, 2019 Congressional letter to ICE
Last July, The National Immigrant Justice Center (NIJC) filed a petition for writ of habeas corpus saying Alejandra's prolonged detention "violates the Fifth Amendment's due process protections against indefinite detention. Ms. Barrera, an arriving asylum seeker, has requested parole a total of five times since her arrival in the United States in November 2017, but has never had the opportunity to appear before a judge to determine whether her detention is justified," NIJC said in a press release.
"Alejandra's detention for over 19 months highlights the difficulty asylum seekers face in getting released from detention, particularly where their only chance of release rests solely on ICE's discretion," said NIJC Senior Attorney Tania Linares Garcia. "The women of the Cibola transgender ward have written letters attesting to the lack of food, medical care and other basic needs. Alejandra has been held in these conditions without an opportunity to have a judge determine whether her detention is justified."
The power ICE wields is frightening. ICE denied Alejandra's release "even after the government conceded that her asylum case should receive further review by the Board of Immigration Appeals, and after the Tenth Circuit granted a stay of removal in her case finding that she is likely to succeed on the merits of her appeal."
Alejandra's federal lawsuit is supported by numerous members of Congress as organizations and her attorneys challenge ICE's professional conduct handling both her asylum and parole requests.
"Amnesty International has grave concerns about ICE's conduct in its handling of Alejandra's parole requests," said Alli Jarrar, North America campaigner for Amnesty International, as well as ICE failing to address Alejandra's various progressive medical issues.
The National Immigrant Justice Center also noted that some of the trans women in the ICE detention center sent open letters to NIJC and other advocates "decrying inhumane conditions and medical neglect they have suffered."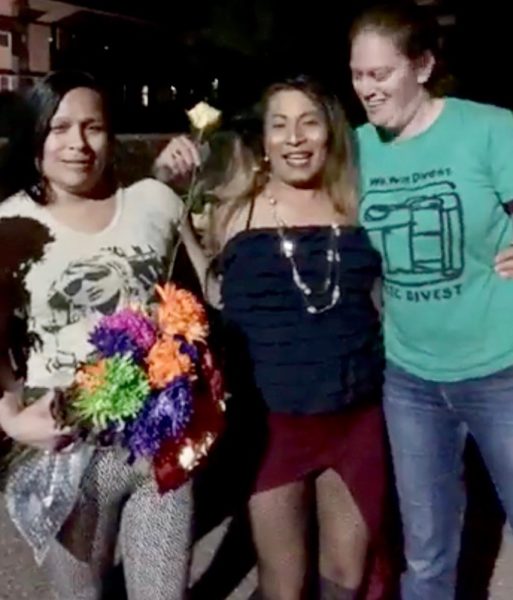 Alejandra, friend and attorney Rebekah Wolf at release Sept. 6, 2019
"ICE is acting with total impunity in this country right now," Wolf told the Los Angeles Blade last April, describing the byzantine, Catch 22 twists and turns Alejandra's case has taken, leading to deep depression. "Even falsified documents — it feels like spitting into the wind. And then I talked her this morning, and she's like, 'One last battle. One last battle.' So that's what we're on."
But Alejandra, 44, was an activist, educator and a campaigner for trans and LGBT communities and for people with HIV in El Salvador, Wolf says. She also lived through the El Salvadoran civil war (1979-1992) and "had been targeted a number of different times by the El Salvadoran military at checkpoints who terribly abused her."
Alejandra escaped with her trans niece, Zulay, fleeing through Mexico, where she endured threats and abuse from gangs, which she attempted to report. They arrived at the U.S. border in November of 2017, entered legally through a Port of Entry, but they were detained immediately and transferred to Cibola, some of the first trans women detained there.
Alejandra should have been released after maximum two months of detention. "She got a positive, credible fear determination," Wolf said. "We requested parole five times. In the beginning they just told her there is no parole. So, she and Zulay both have their hearings and Zulay was granted asylum and has been out now for a year. Alejandra was denied."
And denied and denied. Alejandra's release on parole enables her to gather better evidence and better plan for her next asylum hearing. She heads to the ICE office on Monday to get parole instructions, Salcedo says. But other than ensuring her medical anther basic needs are taken care of, the #FreeAlejandra coalition has yet to strategize about their next steps.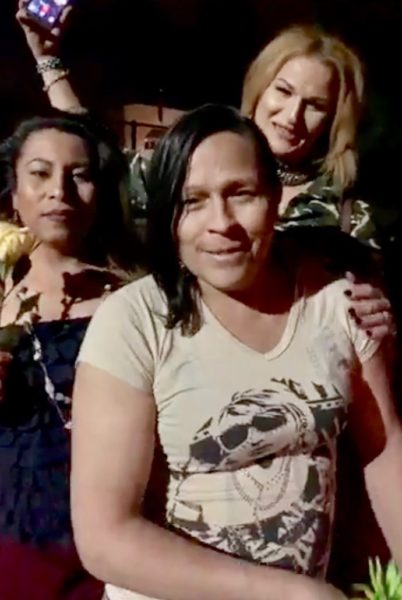 Alejandra and friends
"This is not the last time we're going to hear from Alejandra," her sponsor Alma Rose, the [email protected] Coalition's rapid response coordinator inside immigration detention facilities, says on her Facebook video of Alejandra's release. "She is free tonight – an historic night."
"Alejandra was an organizer and activist in her country. Her life was in danger," Salcedo says. "We know she has so much potential. She's already outspoken for people's rights in the fight for social justice."
Alejandra's release, Salcedo says, "is an example of solidarity work – of when people come together, when people fight for what is right – and the fight for justice wins. This is one example of a victory we can all savor."
U.S. Appellate Court rules against anti-LGBTQ website designer
In the 2-1 ruling, the court said Colorado had a compelling interest in protecting the "dignity interests" of members of marginalized groups.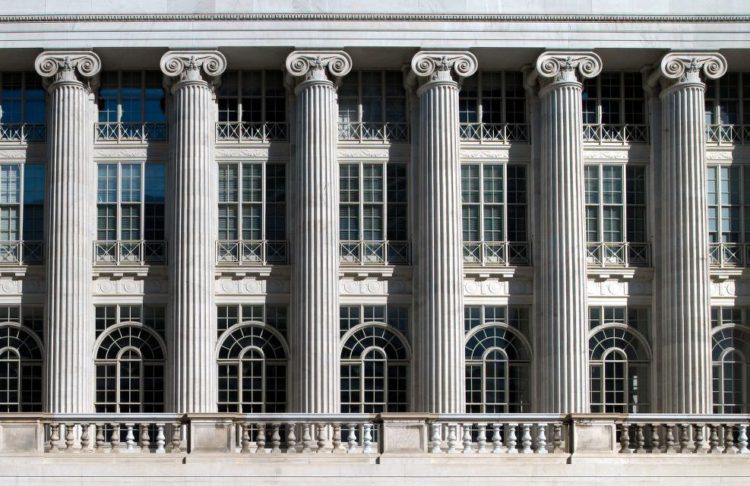 DENVER – A three judge panel of the U.S. 10th Circuit Court of Appeals on Monday ruled against a Lakewood, Colorado based web designer who sued to challenge the state's anti-discrimination law, claiming that it would force her to design wedding websites for same-sex couples which violated her 'Christian' beliefs.
Lorie Smith, represented by anti-LGBTQ legal group, the Alliance Defending Freedom, (ADF)- listed by the Southern Poverty Law Center as an anti-LGBTQ extremist hate group, claimed in court filings that the Colorado law violated Smith's freedom of speech and freedom of religious expression.
In the 2-1 ruling, the panel said Colorado had a compelling interest in protecting the "dignity interests" of members of marginalized groups through its law.
The law that is being challenged by Smith and ADF is the same one that was argued before the U.S. Supreme Court and decided in 2018, Masterpiece Cakeshop, Ltd., et al., Petitioners v. Colorado Civil Rights Commission, et al., in the case of another Lakewood business and individual, Jack Phillips.
The high court in the Masterpiece Bakeshop case narrowly ruled in a 7–2 decision, the Colorado Civil Rights Commission had not acted employing religious neutrality. In the decision Associate Justice Anthony Kennedy, writing for the court majority on Monday, said it is "unexceptional" that Colorado law "can protect gay persons in acquiring products and services on the same terms and conditions that are offered to other members of the public," but at the same time, "the law must be applied in a manner that is neutral toward religion."
The high court however did not rule on the broader intersection of anti-discrimination laws, free exercise of religion, and freedom of speech, and whether a business can invoke religious objections to refuse service to LGBTQ people.
In a statement the ADF's senior counsel, John Bursch noted that the group would appeal Monday's ruling. "The government should never force creative professionals to promote a message or cause with which they disagree. That is quintessential free speech and artistic freedom," Bursch said.
"This really isn't about cake or websites or flowers," Lambda Legal senior counsel Jennifer C. Pizer said in a statement. "It's about protecting LGBTQ people and their families from being subjected to slammed doors, service refusals and public humiliation in countless places – from fertility clinics to funeral homes and everywhere in between."
Lambda Legal, is a legal group that fights for the civil rights of LGBTQ people and had submitted a brief supporting the state's anti-discrimination law in the case.
Colorado Solicitor General Eric Olson questioned whether Smith should even be allowed to challenge the law since she had not started offering wedding websites yet, the Associated Press reported.
But if she did, Olson said, her argument would mean she would refuse to create a website for a hypothetical same-sex couple named Alex and Taylor but agree to make the same one for an opposite-sex couple with the same names. He said that would be discrimination under the Colorado Anti-Discrimination Act, which prohibits discrimination on the basis of sexual orientation.
Judge Mark Beck Briscoe wrote in Monday's majority opinion (303 Creative, et al. v. Elenis, et al.) that "we must also consider the grave harms caused when public accommodations discriminate on the basis of race, religion, sex, or sexual orientation. Combatting such discrimination is, like individual autonomy, `essential' to our democratic ideals."
In his dissent, Chief Judge Timothy Tymkovich wrote that "this case illustrates exactly why we have a First Amendment. Properly applied, the Constitution protects Ms. Smith from the government telling her what to say or do."
More Americans personally know someone who's transgender, non-binary
Half of Americans say they would be either very or somewhat comfortable using a gender-neutral pronoun to refer to someone if asked to do so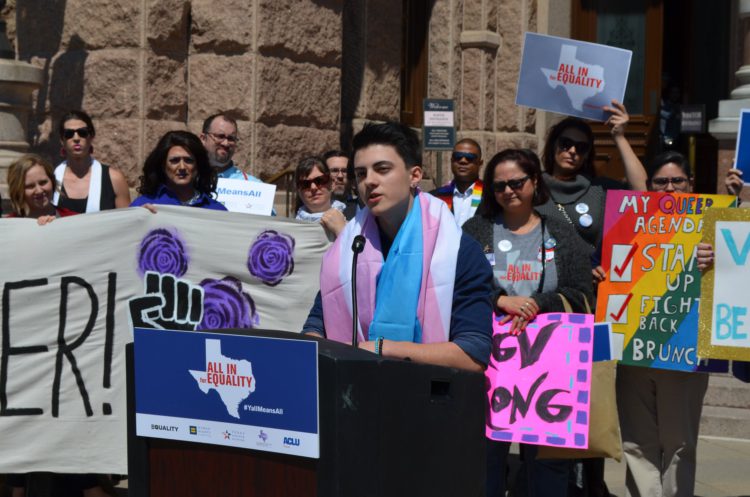 WASHINGTON – More Americans personally know a transgender person or someone who goes by gender-neutral pronouns, according to new data from the non-partisan Pew Research Center.
A survey found 42 percent of Americans know someone who's transgender, who is up from 37 percent who said so in 2017. Although most Americans, 57 percent, still say they don't know anyone who's transgender, that's down from 63 percent five years ago.
Similarly, 26 percent of Americans say they know someone who uses non-binary gender pronouns compared to the 18 percent in 2018 who said they knew someone uses pronouns such as "they" as opposed to "he" or "she."
At the same time, comfort levels with using gender-neutral pronouns – as well as their opinions on whether someone's gender can differ from the sex they were assigned at birth – has remained about the same. Half of Americans say they would be either very or somewhat comfortable using a gender-neutral pronoun to refer to someone if asked to do so, compared to 48 percent who say they would not be comfortable. The numbers, according to Pew Research, are basically unchanged since 2018.
The survey found profound differences by age, party, and education in knowing a transgender person or someone who goes by gender-neutral pronouns, although in both parties growing shares of Americans report knowing a person who's transgender.
For Americans under age 30, some 53 percent say they know a transgender person, which is up from 44 percent in 2017. In the same age group, 46 percent of younger U.S. adults know someone who goes by gender-neutral pronouns, compared to 32 percent in 2018.
The Pew Research Center conducted the survey of 10,606 U.S. adults between June 14 and June 17. The survey is weighted to reflect the U.S. adult population in terms of gender, race, ethnicity, partisan affiliation, education, and other categories, according to Pew Research.
Louisiana lawmakers fail to overturn Edwards veto of Trans sports bill
Edwards further said that the bill was "mean" because it targets "the most emotionally fragile children in the state of Louisiana."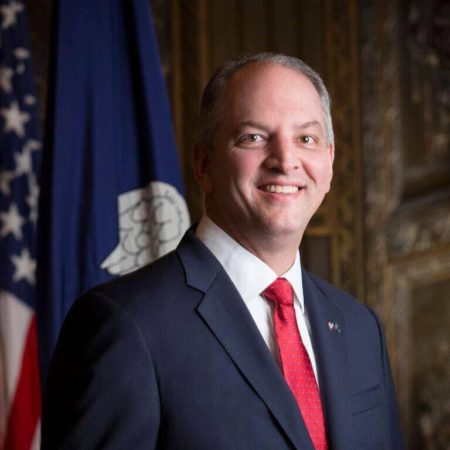 BATON ROUGE – Louisiana lawmakers failed to override Gov. John Bel Edwards' (D) veto last month of a bill that would have barred trans girls and women from participating on athletic teams or in sporting events designated for girls or women at elementary, secondary and postsecondary schools.
The measure, Senate Bill 156 authored by Sen. Beth Mizell titled the 'the Fairness in Women's Sports Act,' in the Governor's eyes, "was a solution in search of a problem that simply does not exist in Louisiana," Edwards said in his veto statement;
"As I have said repeatedly when asked about this bill, discrimination is not a Louisiana value, and this bill was a solution in search of a problem that simply does not exist in Louisiana. Even the author of the bill acknowledged throughout the legislative session that there wasn't a single case where this was an issue. 
The Republican majority state House chamber failed to override the Governor's veto after voting 68-30 to override it, according to the state legislature's website.
The vote narrowly missed the 70-vote threshold needed in the lower chamber to override the veto.
Two-thirds of both the House and Senate must vote to override a governor's veto, according to the local Baton Rouge newspaper The Advocate.
The Governor reacted to the news that his veto withstood Republican efforts to overturn it in a press conference Wednesday.
Edwards noted that in his view he had "rejected a play" that had no place in Louisiana. 
"I would rather the headlines going out from today be that Louisiana did what was right and best. We rejected a play out of a national playbook that just had no place in Louisiana. That bill wasn't crafted for our state, I mean go read it and look at the arguments that were made. None of that applies here," Edwards said.
He further said that the bill was "mean" because it targets "the most emotionally fragile children in the state of Louisiana."
"We have to be better than that," Edwards said. "We have to be better than that."