September 7, 2019 at 3:30 pm PDT | by Karen Ocamb
Alejandra is free! Trans asylum seeker out of ICE detention after 20 months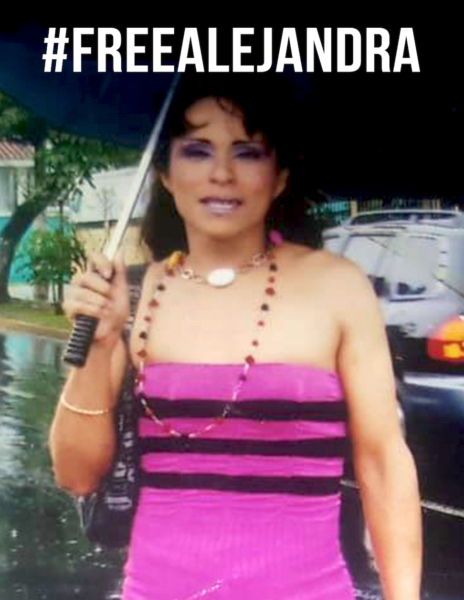 Bamby Salcedo could hardly contain her joy! Alejandra Barrera, who fled violence in El Salvador and faced deportation after 20 months in Cibola County Correctional Center, ICE's for-profit contracted detention center in Milan, New Mexico, was freed on parole late Friday night, Sept. 6. The release in the dark of night came after an intense and sustained campaign by her attorney Rebekah Wolf from Equal Justice Works, Salcedo's TransLatin@ Coalition and Amnesty International, as well as engaged members of Congress and ordinary citizens to the #FreeAlejandra!
"My heart is so full of joy because it's just amazing that the efforts of so many different people participated in making sure that she come home. There was no reason why she was being denied the opportunity to fight her case on the outside," Salcedo said in a video posted on the TransLatin@ Coalition Facebook page. Salcedo thanked everyone who participated in the successful but arduous #FreeAlejandra campaign.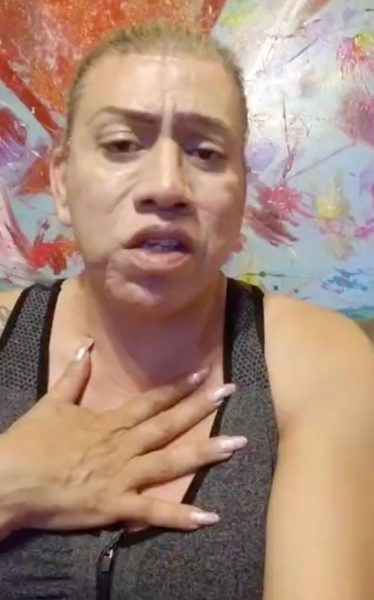 "It was because of all of your calls, because of all of you signing petitions, showing up to the rallies, showing up the press conferences, her lawyers – everyone – all of you who wrote letters to Alejandra, everyone who participated in la campaigna de #FreeAlejandra – should be very proud because this is one more victory and we should be able to celebrate," Salcedo said.
Alejandra was released into the care of her TransLatin@ Coalition sponsor Alma Rose to fight her asylum case outside of the prison-like facility. Rose put her name and house as a "down payment" to get Alejandra out of detention, says Salcedo.
Just three days earlier, Salcedo was still pleading Alejandra's case via Facebook.
"30,000 signatures, 75+ organizations supporting, letters from Congress sent, and ICE IS STILL HOLDING ALEJANDRA IN DETENTION! But we are not giving up. Alejandra's case represents the mistreatment of all trans women while in ICE custody, it is clear that ICE only intends to harm us! We have filed a habeas corpus for Alejandra, what is a legal process that reports her unlawful detention for almost 2 years, brings her case to the court, and calls for her release on the basis of prolonged detention

Starting tomorrow, we need your help putting Congressional pressure on ICE one more time. And next week we will be targeting ICE directly, the clock is ticking! If you have not taken action at all in the last year, now's your chance! Check our page tomorrow for instructions and call scripts."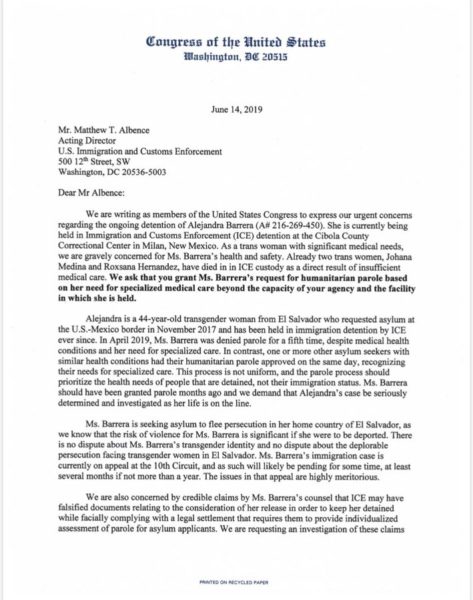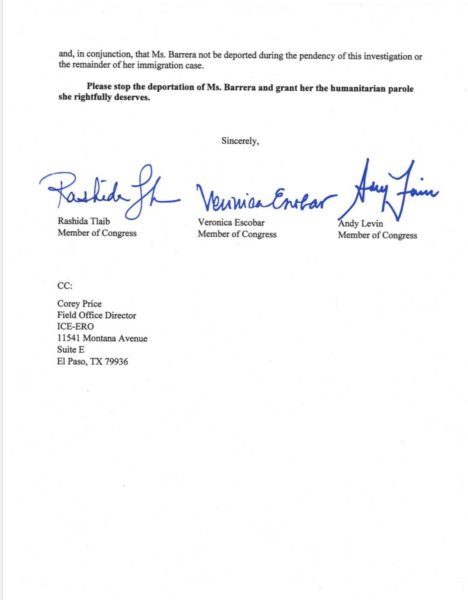 June 14, 2019 Congressional letter to ICE
Last July, The National Immigrant Justice Center (NIJC) filed a petition for writ of habeas corpus saying Alejandra's prolonged detention "violates the Fifth Amendment's due process protections against indefinite detention. Ms. Barrera, an arriving asylum seeker, has requested parole a total of five times since her arrival in the United States in November 2017, but has never had the opportunity to appear before a judge to determine whether her detention is justified," NIJC said in a press release.
"Alejandra's detention for over 19 months highlights the difficulty asylum seekers face in getting released from detention, particularly where their only chance of release rests solely on ICE's discretion," said NIJC Senior Attorney Tania Linares Garcia. "The women of the Cibola transgender ward have written letters attesting to the lack of food, medical care and other basic needs. Alejandra has been held in these conditions without an opportunity to have a judge determine whether her detention is justified."
The power ICE wields is frightening. ICE denied Alejandra's release "even after the government conceded that her asylum case should receive further review by the Board of Immigration Appeals, and after the Tenth Circuit granted a stay of removal in her case finding that she is likely to succeed on the merits of her appeal."
Alejandra's federal lawsuit is supported by numerous members of Congress as organizations and her attorneys challenge ICE's professional conduct handling both her asylum and parole requests.
"Amnesty International has grave concerns about ICE's conduct in its handling of Alejandra's parole requests," said Alli Jarrar, North America campaigner for Amnesty International, as well as ICE failing to address Alejandra's various progressive medical issues.
The National Immigrant Justice Center also noted that some of the trans women in the ICE detention center sent open letters to NIJC and other advocates "decrying inhumane conditions and medical neglect they have suffered."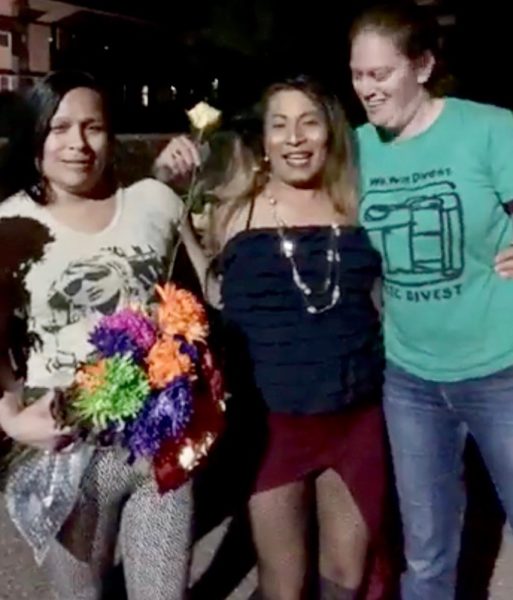 Alejandra, friend and attorney Rebekah Wolf at release Sept. 6, 2019
"ICE is acting with total impunity in this country right now," Wolf told the Los Angeles Blade last April, describing the byzantine, Catch 22 twists and turns Alejandra's case has taken, leading to deep depression. "Even falsified documents — it feels like spitting into the wind. And then I talked her this morning, and she's like, 'One last battle. One last battle.' So that's what we're on."
But Alejandra, 44, was an activist, educator and a campaigner for trans and LGBT communities and for people with HIV in El Salvador, Wolf says. She also lived through the El Salvadoran civil war (1979-1992) and "had been targeted a number of different times by the El Salvadoran military at checkpoints who terribly abused her."
Alejandra escaped with her trans niece, Zulay, fleeing through Mexico, where she endured threats and abuse from gangs, which she attempted to report. They arrived at the U.S. border in November of 2017, entered legally through a Port of Entry, but they were detained immediately and transferred to Cibola, some of the first trans women detained there.
Alejandra should have been released after maximum two months of detention. "She got a positive, credible fear determination," Wolf said. "We requested parole five times. In the beginning they just told her there is no parole. So, she and Zulay both have their hearings and Zulay was granted asylum and has been out now for a year. Alejandra was denied."
And denied and denied. Alejandra's release on parole enables her to gather better evidence and better plan for her next asylum hearing. She heads to the ICE office on Monday to get parole instructions, Salcedo says. But other than ensuring her medical anther basic needs are taken care of, the #FreeAlejandra coalition has yet to strategize about their next steps.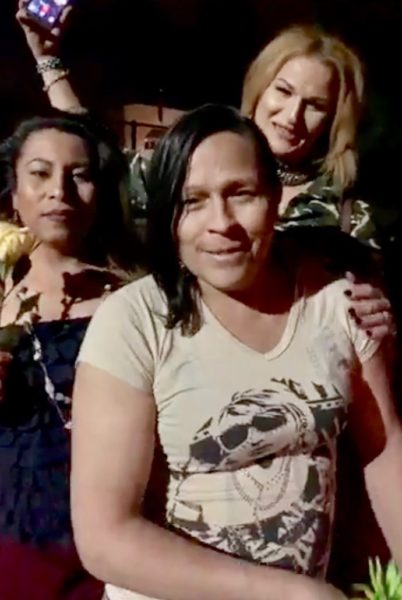 Alejandra and friends
"This is not the last time we're going to hear from Alejandra," her sponsor Alma Rose, the TransLatin@ Coalition's rapid response coordinator inside immigration detention facilities, says on her Facebook video of Alejandra's release. "She is free tonight – an historic night."
"Alejandra was an organizer and activist in her country. Her life was in danger," Salcedo says. "We know she has so much potential. She's already outspoken for people's rights in the fight for social justice."
Alejandra's release, Salcedo says, "is an example of solidarity work – of when people come together, when people fight for what is right – and the fight for justice wins. This is one example of a victory we can all savor."