Alejandra is free! Trans asylum seeker out of ICE detention after 20 months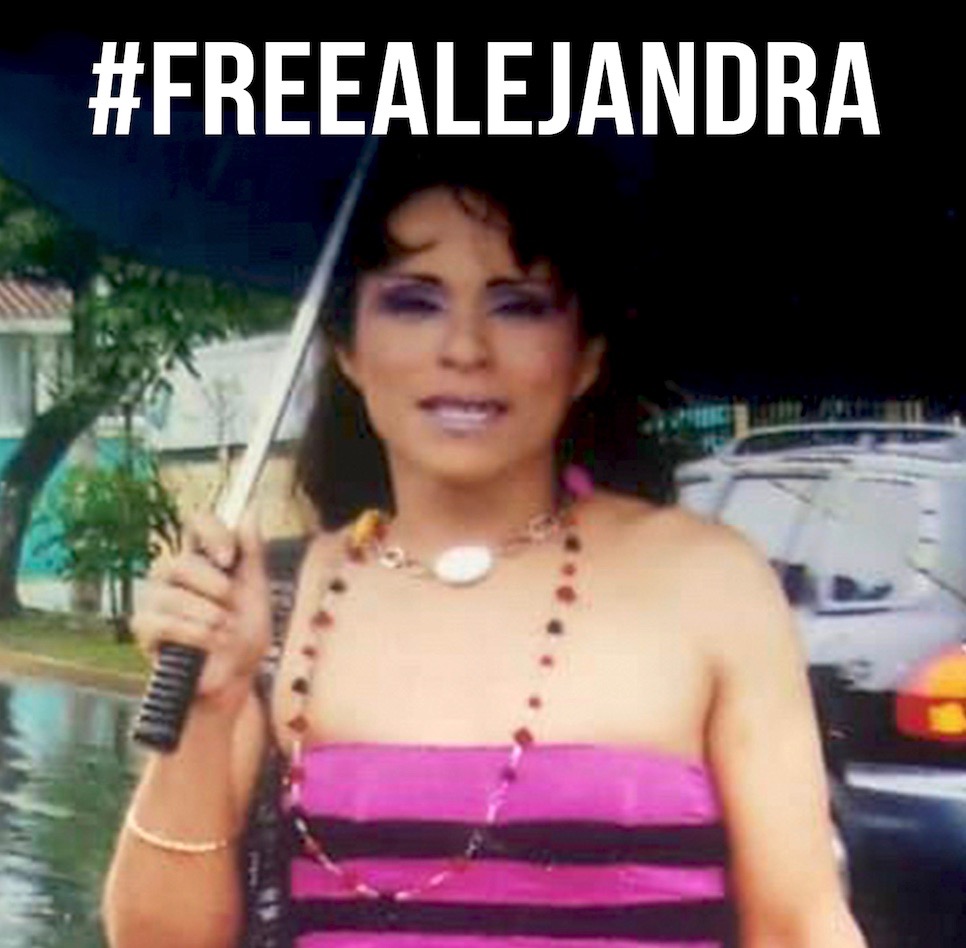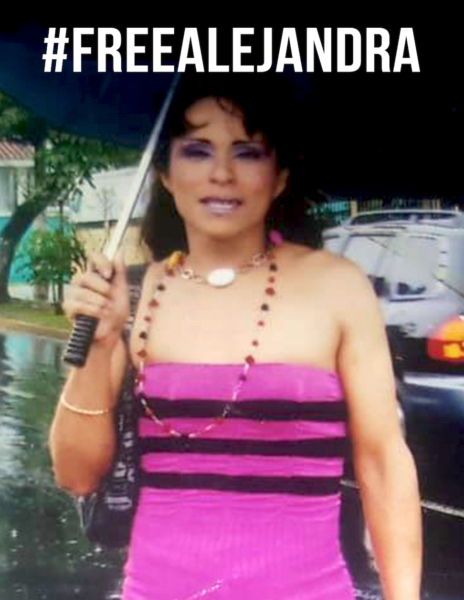 Bamby Salcedo could hardly contain her joy! Alejandra Barrera, who fled violence in El Salvador and faced deportation after 20 months in Cibola County Correctional Center, ICE's for-profit contracted detention center in Milan, New Mexico, was freed on parole late Friday night, Sept. 6. The release in the dark of night came after an intense and sustained campaign by her attorney Rebekah Wolf from Equal Justice Works, Salcedo's [email protected] Coalition and Amnesty International, as well as engaged members of Congress and ordinary citizens to the #FreeAlejandra!
"My heart is so full of joy because it's just amazing that the efforts of so many different people participated in making sure that she come home. There was no reason why she was being denied the opportunity to fight her case on the outside," Salcedo said in a video posted on the [email protected] Coalition Facebook page. Salcedo thanked everyone who participated in the successful but arduous #FreeAlejandra campaign.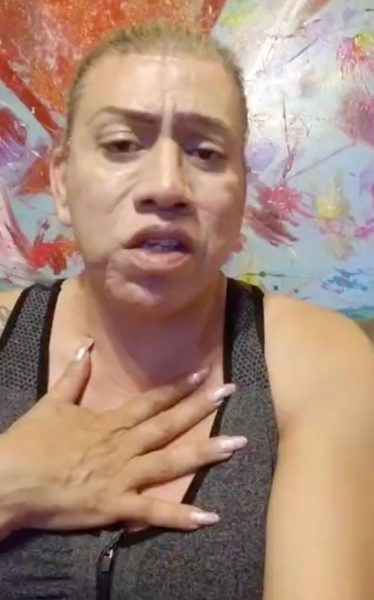 "It was because of all of your calls, because of all of you signing petitions, showing up to the rallies, showing up the press conferences, her lawyers – everyone – all of you who wrote letters to Alejandra, everyone who participated in la campaigna de #FreeAlejandra – should be very proud because this is one more victory and we should be able to celebrate," Salcedo said.
Alejandra was released into the care of her [email protected] Coalition sponsor Alma Rose to fight her asylum case outside of the prison-like facility. Rose put her name and house as a "down payment" to get Alejandra out of detention, says Salcedo.
Just three days earlier, Salcedo was still pleading Alejandra's case via Facebook.
"30,000 signatures, 75+ organizations supporting, letters from Congress sent, and ICE IS STILL HOLDING ALEJANDRA IN DETENTION! But we are not giving up. Alejandra's case represents the mistreatment of all trans women while in ICE custody, it is clear that ICE only intends to harm us! We have filed a habeas corpus for Alejandra, what is a legal process that reports her unlawful detention for almost 2 years, brings her case to the court, and calls for her release on the basis of prolonged detention

Starting tomorrow, we need your help putting Congressional pressure on ICE one more time. And next week we will be targeting ICE directly, the clock is ticking! If you have not taken action at all in the last year, now's your chance! Check our page tomorrow for instructions and call scripts."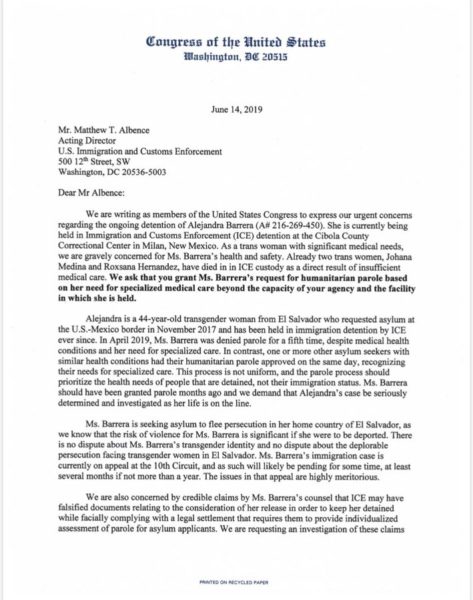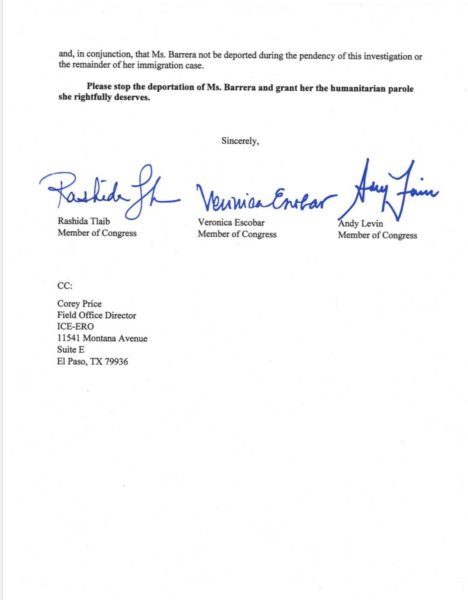 June 14, 2019 Congressional letter to ICE
Last July, The National Immigrant Justice Center (NIJC) filed a petition for writ of habeas corpus saying Alejandra's prolonged detention "violates the Fifth Amendment's due process protections against indefinite detention. Ms. Barrera, an arriving asylum seeker, has requested parole a total of five times since her arrival in the United States in November 2017, but has never had the opportunity to appear before a judge to determine whether her detention is justified," NIJC said in a press release.
"Alejandra's detention for over 19 months highlights the difficulty asylum seekers face in getting released from detention, particularly where their only chance of release rests solely on ICE's discretion," said NIJC Senior Attorney Tania Linares Garcia. "The women of the Cibola transgender ward have written letters attesting to the lack of food, medical care and other basic needs. Alejandra has been held in these conditions without an opportunity to have a judge determine whether her detention is justified."
The power ICE wields is frightening. ICE denied Alejandra's release "even after the government conceded that her asylum case should receive further review by the Board of Immigration Appeals, and after the Tenth Circuit granted a stay of removal in her case finding that she is likely to succeed on the merits of her appeal."
Alejandra's federal lawsuit is supported by numerous members of Congress as organizations and her attorneys challenge ICE's professional conduct handling both her asylum and parole requests.
"Amnesty International has grave concerns about ICE's conduct in its handling of Alejandra's parole requests," said Alli Jarrar, North America campaigner for Amnesty International, as well as ICE failing to address Alejandra's various progressive medical issues.
The National Immigrant Justice Center also noted that some of the trans women in the ICE detention center sent open letters to NIJC and other advocates "decrying inhumane conditions and medical neglect they have suffered."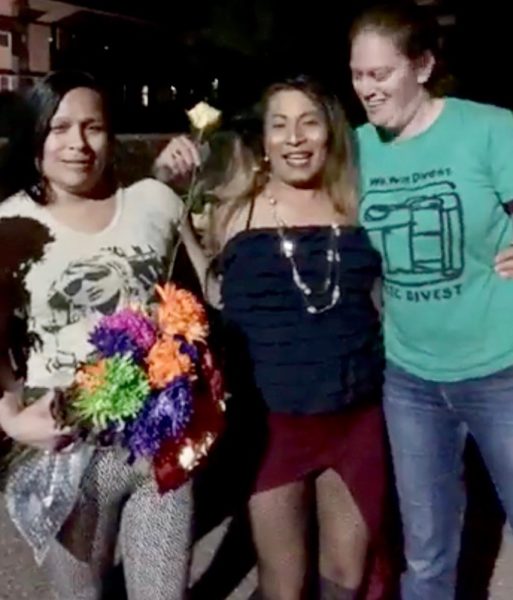 Alejandra, friend and attorney Rebekah Wolf at release Sept. 6, 2019
"ICE is acting with total impunity in this country right now," Wolf told the Los Angeles Blade last April, describing the byzantine, Catch 22 twists and turns Alejandra's case has taken, leading to deep depression. "Even falsified documents — it feels like spitting into the wind. And then I talked her this morning, and she's like, 'One last battle. One last battle.' So that's what we're on."
But Alejandra, 44, was an activist, educator and a campaigner for trans and LGBT communities and for people with HIV in El Salvador, Wolf says. She also lived through the El Salvadoran civil war (1979-1992) and "had been targeted a number of different times by the El Salvadoran military at checkpoints who terribly abused her."
Alejandra escaped with her trans niece, Zulay, fleeing through Mexico, where she endured threats and abuse from gangs, which she attempted to report. They arrived at the U.S. border in November of 2017, entered legally through a Port of Entry, but they were detained immediately and transferred to Cibola, some of the first trans women detained there.
Alejandra should have been released after maximum two months of detention. "She got a positive, credible fear determination," Wolf said. "We requested parole five times. In the beginning they just told her there is no parole. So, she and Zulay both have their hearings and Zulay was granted asylum and has been out now for a year. Alejandra was denied."
And denied and denied. Alejandra's release on parole enables her to gather better evidence and better plan for her next asylum hearing. She heads to the ICE office on Monday to get parole instructions, Salcedo says. But other than ensuring her medical anther basic needs are taken care of, the #FreeAlejandra coalition has yet to strategize about their next steps.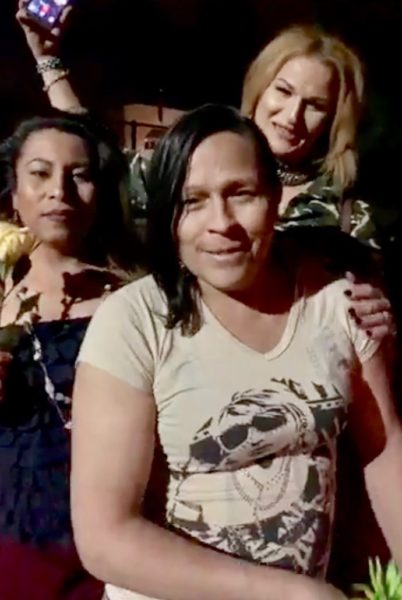 Alejandra and friends
"This is not the last time we're going to hear from Alejandra," her sponsor Alma Rose, the [email protected] Coalition's rapid response coordinator inside immigration detention facilities, says on her Facebook video of Alejandra's release. "She is free tonight – an historic night."
"Alejandra was an organizer and activist in her country. Her life was in danger," Salcedo says. "We know she has so much potential. She's already outspoken for people's rights in the fight for social justice."
Alejandra's release, Salcedo says, "is an example of solidarity work – of when people come together, when people fight for what is right – and the fight for justice wins. This is one example of a victory we can all savor."
U.S. Federal Judge tosses Florida "Don't Say Gay" lawsuit
The judge also ruled the law should not be used to treat LGBTQ students differently or to fail to step in when they face bullying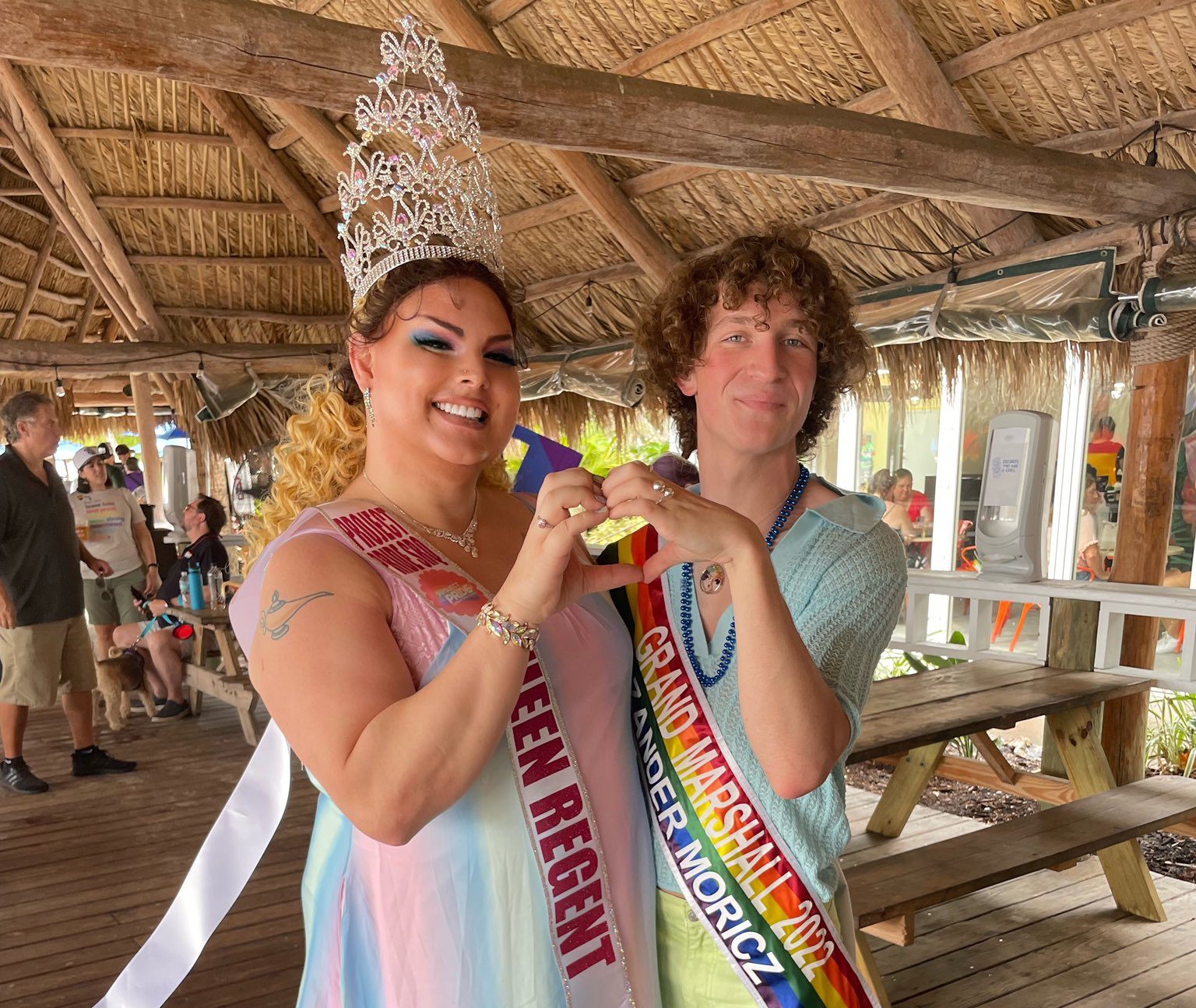 GAINESVILLE, Fl. – U.S. District Court Judge Allen Cothrel Winsor dismissed a lawsuit Monday against Florida's infamous "Don't Say Gay law," on the grounds that the plaintiffs lacked legal standing to challenge the law.
Winsor, a judge on the United States District Court for the Northern District of Florida nominated by former President Donald Trump, issued a 25-page order dismissing the case brought by students, families, educators, Family Equality, and Equality Florida, against the "Parental Rights in Education" bill passed in March of this year by the Republican-controlled Legislature and signed into law by Gov. Ron DeSantis.
The lawsuit alleged, in part, that the law violated First Amendment and due-process rights. It reads, "Classroom instruction by school personnel or third parties on sexual orientation or gender identity may not occur in kindergarten through grade 3 or in a manner that is not age-appropriate or developmentally appropriate for students in accordance with state standards."
In his ruling, Winsor left open the question on the constitutionality instead focusing on whether the plaintiffs showed they had standing to pursue the case — and concluded that they had not met that requirement.
"The principal problem is that most of plaintiffs' alleged harm is not plausibly tied to the law's enforcement so much as the law's very existence," Winsor wrote. "Plaintiffs contend the law's passage, the sentiment behind it, the legislators' motivation, and the message the law conveys all cause them harm. But no injunction can unwind any of that."
The judge also pointed out that violations of the law would be enforced against school districts, not individual teachers.
"With or without the law, school districts direct teachers as to what they may and may not teach," he noted. "Plaintiffs do not allege otherwise; they do not assert, for example, that Florida's public-school teachers may teach whatever lessons they wish. So to the extent plaintiffs allege that some teachers or others wish to provide 'classroom instruction . . . on sexual orientation or gender identity' to students 'in kindergarten through grade 3,' they would have to show (at a minimum) that without the law their individual school district would allow it. Yet plaintiffs offer no specific allegation that any teacher would be providing such classroom instruction absent HB 1577."
Winsor gave the plaintiffs 14 days to file a revised lawsuit but also took the state to task. He stated that "nothing in the law—much less in its conceivable enforcement—could 'empower' other students to do anything they could not otherwise do with respect to treating LGBTQ students differently."
The judge also spelled out that the law should not be used to silence students from talking about their LGBTQ parents, to silence LGBTQ teachers from acknowledging their partners, or to exclude LGBTQ parents from school events. And that it should not be used to treat LGBTQ students differently, to fail to step in when they face bullying, or to remove signs of support like rainbow flags from classrooms.
In a June motion to dismiss the case, the state's lawyers argued that the plaintiffs did not have standing. But they also wrote that the plaintiffs "have not come close to showing that the Legislature acted out of animus against LGBTQ individuals."
"The bill reflects no governmental preference about what students should learn about sexual orientation and gender identity," the state's lawyers wrote. "Those subjects must be taught appropriately and, for the youngest children, they may be taught by parents, not in public-school classroom settings. That is a legitimate (state) interest."
In a statement released after the ruling from Winsor, Equality Florida wrote:
"Judge Winsor acknowledges what has been clear from the beginning: that in DeSantis's Florida, the political climate is so toxic for LGBTQ people that school districts are actively abdicating their responsibilities, choosing instead to capitulate to extremists and the toxic anti-LGBTQ brew they have created rather than adhere to the letter of the law.
This fight is not done. We will continue to expose the harm that Florida's Don't Say LGBTQ law is inflicting on children and families. A court decision doesn't negate that harm. This ruling focuses on whether the parents, students or organization were the right plaintiffs to bring it forward. Equality Florida made a commitment to fight to ensure every student is protected and every family is respected, and that's exactly what we intend to do through any means necessary."
The lead attorney for the plaintiffs who are represented by Kaplan Hecker & Fink, LLP; the National Center for Lesbian Rights; and Elizabeth F. Schwartz said in an emailed statement:
"While we are currently assessing our options, one thing we can promise for sure is that we will not give up this fight on behalf of all the Florida LGBTQ+ kids, parents, and teachers who this law literally seeks to erase from their schools and communities," said Roberta "Robbie" Kaplan.
ACLU sent letters rejecting lawsuit threats by anti-LGBTQ group
Awake Illinois has repeatedly used hostile epithets against those they disagree with, labeling them "groomers," "hateful," and "perverts"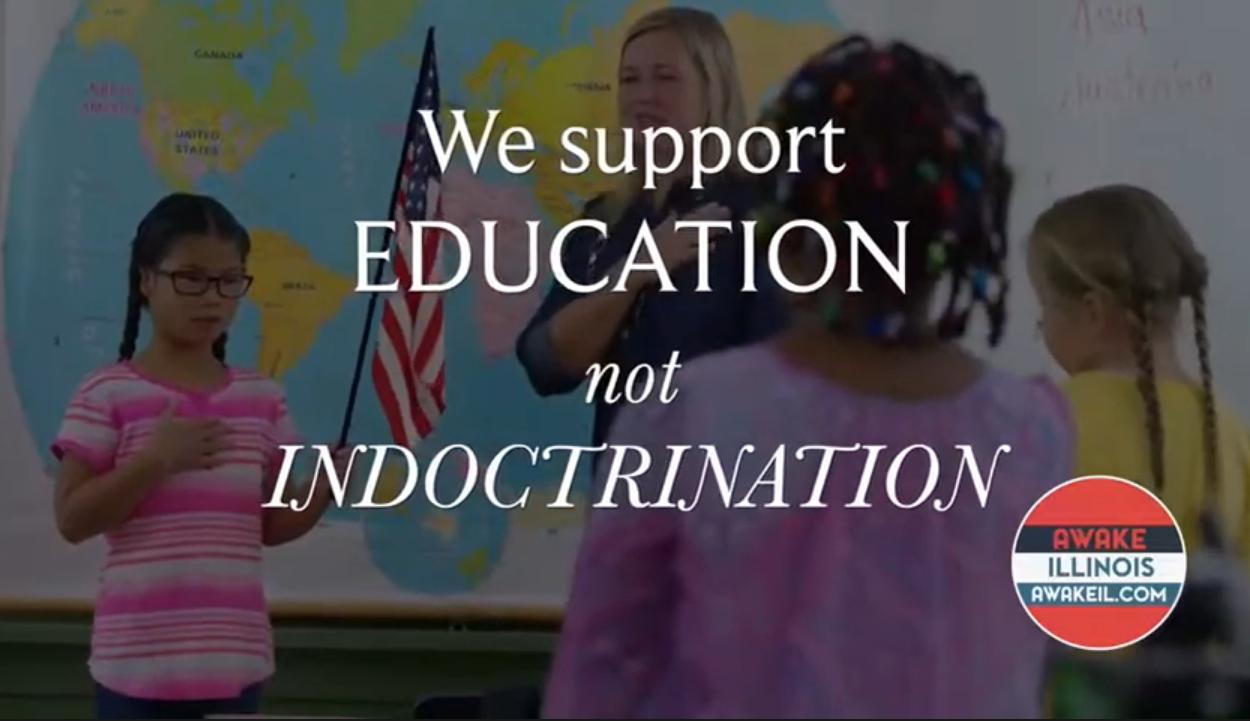 CHICAGO – The ACLU of Illinois has authored letters to a homophobic and transphobic group that threatened two residents, who have posted online their opposition to the organization and its anti-LGBTQ+ agenda, with defamation lawsuits.
Maggie Romanovich of Wheaton and Kylie Spahn of Downers Grove received letters from leaders of Awake Illinois in early September suggesting that Awake would file a defamation lawsuit against them if they did not "cease and desist" from such criticism and remove existing online posts. 
The anti-LGBTQ+ far-right extremist group has urged removal of LGBTQ inclusive books and cancellation of drag events in the suburbs. The group and it's members consistently use harsh and offensive language against others to advance their interests, and now are trying to suppress their critics.
Awake Illinois officials have repeatedly used hostile epithets against those they disagree with, labeling them "groomers," "hateful," and "perverts." Yet in the instance of the letters to Romanovich and Spahn, the ACLU of Illinois says Awake seeks to curb the speech of others. 
The ACLU of Illinois letters to Awake Illinois on behalf of Romanovich and Spahn reject the threatened lawsuits as groundless, noting that all of the material cited by Awake Illinois is protected by the First Amendment of the United States Constitution.
"These letters from Awake Illinois are empty threats with zero legal basis," said Rebecca Glenberg, senior supervising attorney at the ACLU of Illinois who signed the letters. "Awake Illinois and its members consistently use harsh and often offensive language directed against others to advance their interests, but now feign injury when our clients express strong feelings against them."
"If they think these letters will stop our clients or others from speaking out against what they see as a dangerous agenda, they are wrong." 
Awake Illinois' letter to Romanovich referred to her letter to the editor printed in the Daily Herald, which criticized a congressional candidate for his connection to Awake Illinois, opining that the group is appalling, extremist, homophobic, racially insensitive and otherwise objectionable. Such opinions are constitutionally protected and cannot be the basis of a defamation lawsuit, the ACLU of Illinois wrote.
The action comes shortly after a Member of Congress revealed that he had received a similar "cease and desist" letter from Awake Illinois. In mid-September, the Chicago Tribune reported that Awake Illinois sent the letter to Representative Sean Casten, a vocal critic of the group. Like Romanovich and Spahn, Casten rejected the group's threats of a lawsuit.
"Our Constitution allows groups like Awake Illinois to express their views in the public square like anyone else. But they may not use the courts to suppress the views of others," Glenberg noted.
You can read the letters to Awake Illinois on behalf of Romanovich and Spahn here and here.
Health care orgs ask Feds investigate trans healthcare threats
The groups also call on Twitter, TikTok and Meta-Facebook and Instagram, to do more to prevent coordinated campaigns of disinformation
CHICAGO – In a letter sent Monday to U.S. Attorney General Merrick Garland, the American Medical Association joined with the American Academy of Pediatrics (AAP), and Children's Hospital Association asking the Department of Justice investigate [the] increasing "threats of violence against physicians, hospitals and families of children for providing and seeking evidence-based gender-affirming care."
The AAP and AMA collectively represent more than 270,000 physicians and medical students and CHA represents more than 220 children's hospitals across the country. The groups wrote to Garland urging "swift action to investigate and prosecute all organizations, individuals, and entities responsible."
The AMA letter highlighted one instance where a mother was prevented from seeing her newborn premature infant because the NICU was locked down due to a bomb threat. These attacks on children's hospitals have effects on so many people who aren't even involved in gender affirming care.
Attacks on American hospitals providing trans healthcare, especially those with clinics treating trans youth have been targeted by anti-Trans extremists led by the Daily Wire's Matt Walsh and Brooklyn, New York-based Chaya Raichik, a former real estate agent whose 'Libs of Tik-Tok' have spread misinformation and lies about gender-affirming surgery which has fostered attacks on those healthcare facilities by far-right extremist elements.
"Whether it's newborns receiving intensive care, children getting cancer treatments or families accessing compassionate care for their transgender adolescents, all patients seeking treatment deserve to get the care they need without fear for their personal safety," wrote AAP President Moira Szilagyi, MD, PhD, FAAP. "We cannot stand by as threats of violence against our members and their patients proliferate with little consequence. We call on the Department of Justice to investigate these attacks and social media platforms to reduce the spread of the misinformation enabling them."
In addition to the letter to the Department of Justice, the groups call on Twitter, TikTok and Meta, which owns Facebook and Instagram, to do more to prevent coordinated campaigns of disinformation. The organizations ask the platforms to take bolder action when false information is shared about specific institutions and physicians. They also urge social media companies to enforce safety and hateful conduct policies to stop the endangerment of patients, families, physicians and health care staff.
Raichik who has been suspended from Facebook and also Twitter for inflammatory lies and propaganda about Trans youth healthcare, pledged to redouble her attacks on hospitals providing trans people with health care, she wrote in a rant on her Substack in which she called gender-affirming care "mutilating the body."
Libs of TikTok has reportedly been suspended multiple times on multiple platforms, including Instagram, Facebook, and Twitter. Raichik's last Twitter suspension came for accusing LGBTQ people of "grooming" children, which Twitter confirmed violates its policies against hateful conduct.
Today as her latest suspension was lifted by Twitter, Raichik attacked the Barbara Bush Children's Hospital in Maine as documented on Twitter by Alejandra Caraballo, Clinical Instructor at Harvard Law School's Cyberlaw Clinic.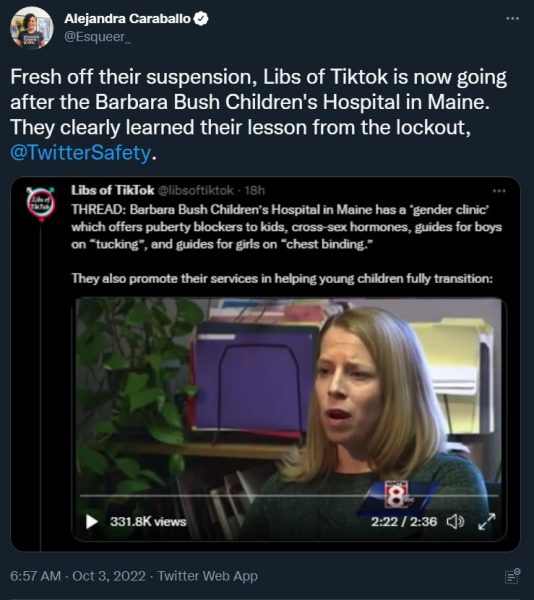 Just this past week, inspired by the Daily Wire's Walsh, Tennessee lawmakers and Governor Bill Lee who provided Walsh with a statement, sent a letter Vanderbilt University Medical Center's Pediatric Transgender Clinic demanding gender-affirming surgeries cease.
"We are committed to providing safe, supportive and inclusive health care environments for each and every child and family, and the clinicians and staff who are dedicated to caring for children," said CHA President Amy Wimpey Knight. "Threats and acts of violence are not a solution, nor a substitute, for civil dialogue about issues of a child or teen's health and wellbeing. At CHA, we are committed to working across sectors to prevent misleading and inflammatory comments that result in threats to those caring for patients."
The groups wrote in their letter to Attorney General Garland, "Our organizations are dedicated to the health and well-being of all children and adolescents. We are committed to the full spectrum of patient care—from prevention to critical care. We stand with the physicians, nurses, mental health specialists, and other health care professionals who provide evidence-based health care, including gender-affirming care, to children and adolescents."
Two months ago anti-LGBTQ+ far right extremists targeted Boston Children's Hospital, threatening its employees and medical staff after falsehoods and disinformation was spread online about the healthcare facility's treatment of transgender youth by Libs of Tik-Tok, Walsh, and conservative journalist and anti-LGBTQ+ activist Christopher Rufo.
The United States Department of Justice launched an investigation into the Boston Children's threats according to an announcement by the United States Attorney for the District of Massachusetts, Rachael Rollins.
Last month D.C.'s Children's National Hospital became the target of threatening phone calls, email messages and social media postings after Libs of Tiktok posted an incorrect report claiming the hospital routinely performs hysterectomies on transgender patients under the age of 18.