Kamala Harris shows courage enjoying the San Francisco Pride parade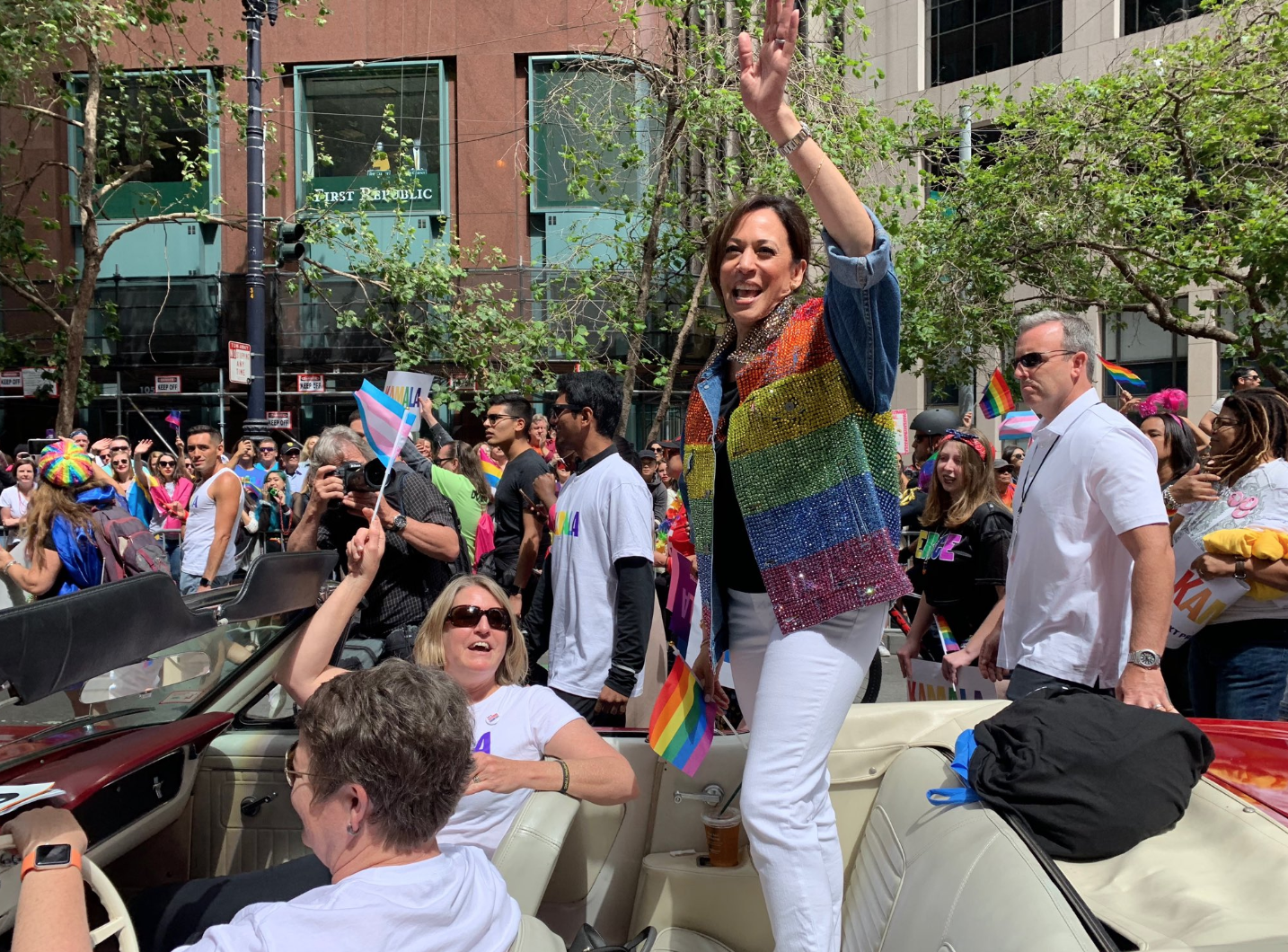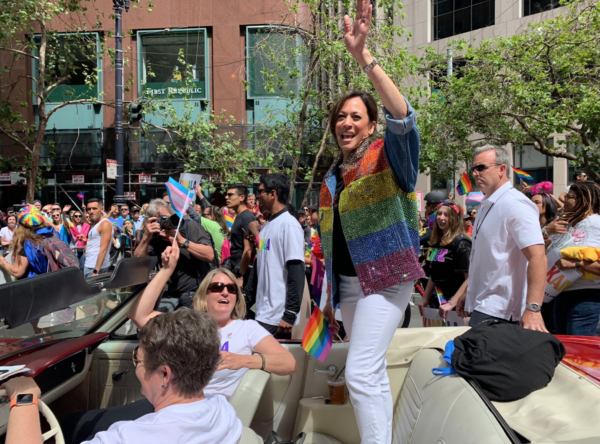 While the eyes of the nation might be focused on #WorldPride in New York City commemorating the 50th anniversary of the Stonewall Rebellion, lots of political eyes were on San Francisco where newly surging Democratic presidential candidate Kamala Harris rode in the Pride parade. The junior senator from California, who has regularly participated in Pride since she was district attorney, was decked out in a shiny rainbow-colored jacket, an abrupt welcomed departure from her black pantsuit uniform.
Before the parade she —and Speaker Nancy Pelosi—attended the Alice B. Toklas LGBT Democratic Club breakfast. "We need to prosecute the case against four more years of Donald Trump!" San Francisco Examiner Joe Fitz Rodriguez reported on Twitter.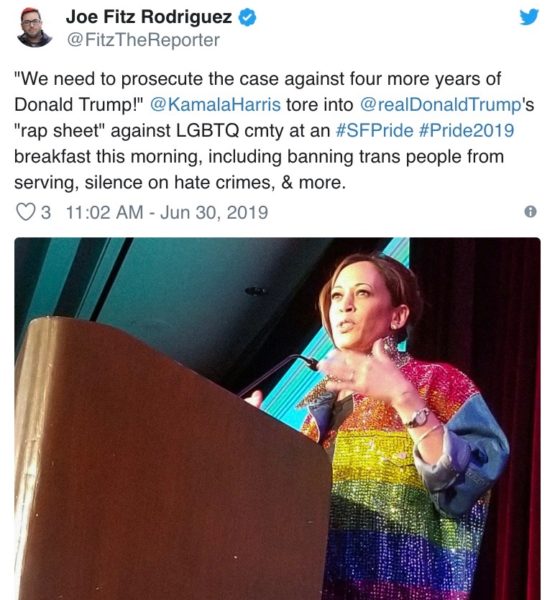 "@KamalaHarris tore into @realDonaldTrump's "rap sheet" against LGBTQ cmty at an #SFPride #Pride2019 breakfast this morning, including banning trans people from serving, silence on hate crimes, & more," he reported.
What's the significance of Pride to you?" MSNBC reporter Vaughn Hillyard asked Harris as he walked alongside her moving car along the parade route, a car driven by married former Prop 8 plaintiffs Kris Perry and Sandy Stier.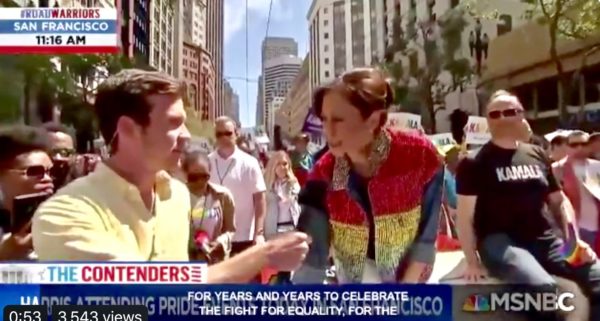 "For years and years—to celebrate the fight for equality, for the diversity, for inclusion. This is about fighting for civil rights. It's about celebrating the accomplishments we've achieved but also knowing we have work ahead," Harris said.
And, Hillyard continued, compared to Donald Trump, who could be your Republican rival, what is the significance of your presence?
"Well, this is a town that gave birth in many ways to the movement for LGBTQ equality," Harris said. "And we have a current occupant of the White House who has been silent on so many issues that have included an increase in hate crime, a policy that has been about excluding and kicking out transgender men and women from the military who have dedicated a life of service to fight for our and defend our democracy. You could go on and on. And so I think this is a moment where everyone knows we want to have champions for equality in our country and we don't currently have that in the White House." Harris concluded by wishing Hillyard: "Happy Pride! Happy Pride!"
Harris said "Happy Pride" directly to camera to post on Twitter: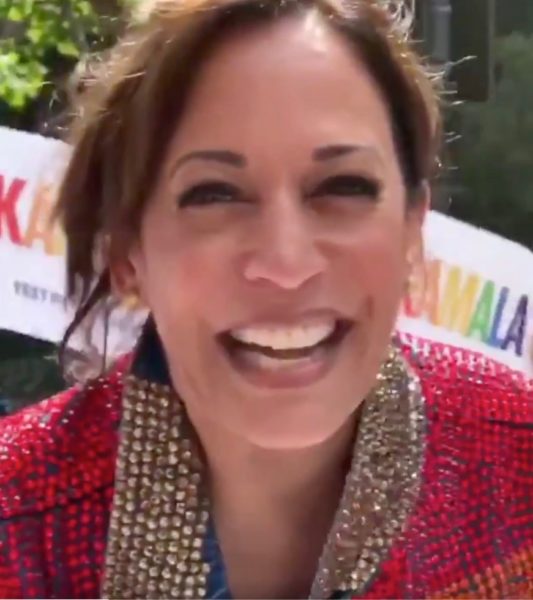 Politico's ace reporter Carla Marinucci reported that "hundreds" marched with Harris in the parade.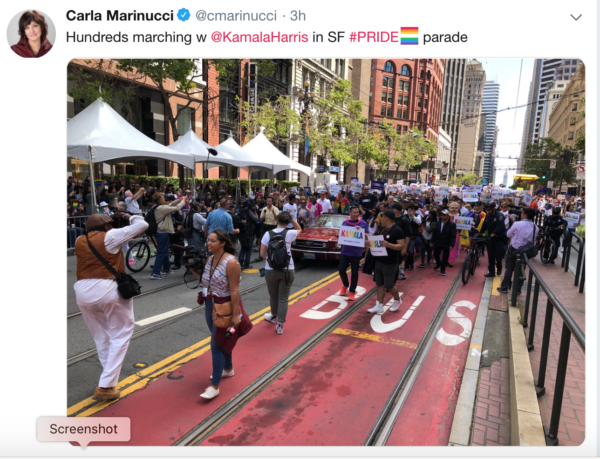 But consider the story not told here. Harris is not yet the Democratic presidential nominee so while she appears to have a body guard nearby, she does not have Secret Service protection. And while she was riding in the parade, cable news was filled with chatter about Donald Trump Jr. re-tweeting an alt right troll's suggestion that Harris is not "really" a black American and certainly "not black enough."
"Kamala Harris is implying she is descended from American Black Slaves," Ali Alexander, a member of a right-wing constellation of media personalities, tweeted on the night of Harris' Democratic debate. "She's not. She comes from Jamaican Slave Owners. That's fine. She's not an American Black. Period."
Trump campaign surrogate Don Jr tweeted: "Is this true? Wow." He eventually deleted the tweet after it had been widely shared. A spokesperson called it a misunderstanding.
"Don's tweet was simply him asking if it was true that Kamala Harris was half-Indian because it's not something he had ever heard before," spokesman Andy Surabian told the New York Times, "and once he saw that folks were misconstruing the intent of his tweet, he quickly deleted it."
If Donald Trump Jr. had not heard about Harris' Indian and Jamaican heritage, he's not been paying attention since it is integral to her story and her education about civil rights. Several pundits and political observers suggested that Trump junior's dirty trick re-tweeting Alexander—who The Times notes has also gone by the name Ali Akbar—may be a sign of how concerned his father is about having Harris as an opponent after her breakout debate performance challenging former Vice President Joe Biden over his relationship with segregationist colleagues when he was in the Senate.
But it also signaled Trump's Trolls to mount an attack, disinformation researcher Caroline Orr suggested on Twitter. "A lot of suspect accounts are pushing the 'Kamala Harris is not Black' narrative tonight," she wrote on Twitter. "It's everywhere and it has all the signs of being a coordinated/artificial operation."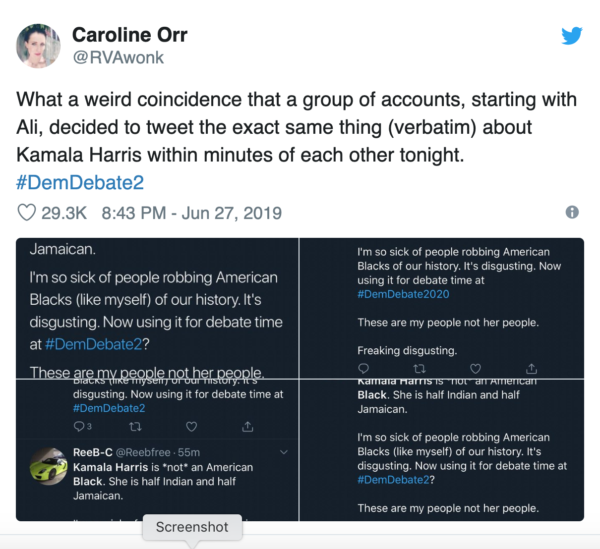 Harris press secretary Lily Adams was succinct, saying this was a revival of the told birtherism: "This is the same type of racist attack his father used to attack Barack Obama," she said. "It didn't work then and it won't work now."
Harris's Democratic primary opponents were quick to react to the attacks. "Donald Trump Jr. is a racist too. Shocker," said Vermont Sen. Bernie Sanders.
"The presidential competitive field is stronger because Kamala Harris has been powerfully voicing her Black American experience. Her first-generation story embodies the American dream. It's long past time to end these racist, birther-style attacks," said out gay South Bend, Indiana, Mayor Pete Buttigieg.
The birther attacks, some pundits suggest, are an attempt to have the black community turn against her, questioning her authenticity over whether she is "black enough." But Harris has had to deal with that question throughout her career.
Last February, for example, Harris appeared on "The Breakfast Club" radio show with DJ Envy and Charlamagne Tha God.
"I'm black, and I'm proud of being black. I was born black. I will die black," Harris said. "I'm not going to make excuses for anybody because they don't understand." And, she added. "I'm not going to spend my time trying to educate people about who black people are."
Washington Post identity politics reporter Eugene Scott, who is also black, noted that when he was a presidential candidate, Barack Obama went through the same thing.
Scott wrote: "Columnist Stanley Crouch wrote in the New York Daily News: "When black Americans refer to Obama as 'one of us,' I do not know what they are talking about. In his new book, 'The Audacity of Hope,' Obama makes it clear that, while he has experienced some light versions of typical racial stereotypes, he cannot claim those problems as his own — nor has he lived the life of a black American."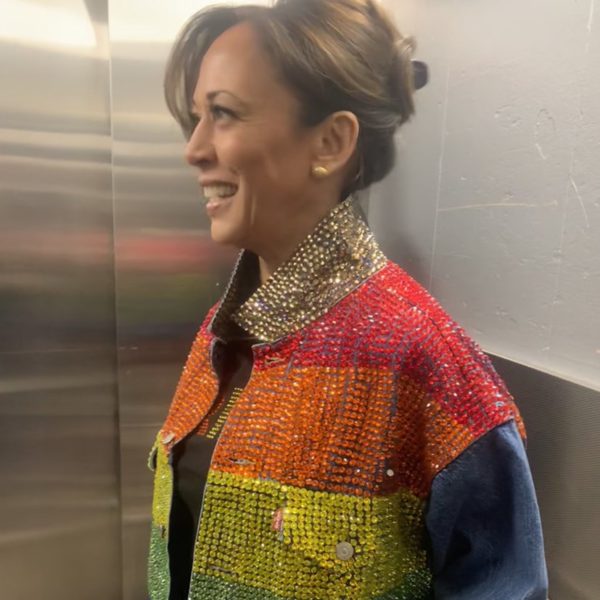 Kamala Harris photo on Twitter by Kate Waters, press secretary. 
In her interview with the Los Angeles Blade, Harris noted that she grew up knowing all sorts of people, including gay people.
"I grew up exposed to many cultures, and it certainly did teach me from birth about the fact that people have so much more in common than what separates them," Harris said. "I didn't have to learn it from reading about it. I didn't know the word 'intersectionality' but I've always known the commonality between people. A mother's love for her child, a parent's desire for their family to be healthy and safe. These are universal truths, regardless of the last name and how you spell it, or what your grandmother's language is, or the God you pray to. That's how I've always lived my life, which is knowing the commonality between people."
Unlike the racial purity version of the "birthers" in the black community who think about Harris as Stanley Crouch did about Obama—the alt right/white supremacist Trump Trolls are prone to often use violence to back up their Twitter hate.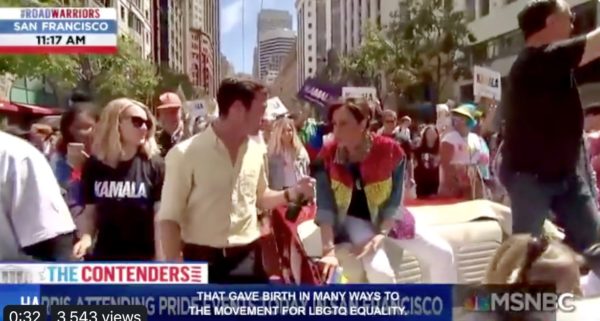 Take that in as you visualize Kamala Harris riding in an open car down the crowded streets of San Francisco, reaching out and talking to the scores of bystanders who approached to gushingly wish her well in her presidential campaign. Surely some campaign staffer expressed concerns about her security. That she decided to show up for the Pride parade and show solidarity with the LGBT community is a quiet display of real courage and a kind of toughness Trump will never comprehend, no matter how many dictators he courts.
Obama rallies for Warnock as Walker goes transphobic in latest ad
"Tomorrow is the last day for early voting and then we need to get people out to the polls on Tuesday, which means we still got work to do"
ATLANTA – Former President Barack Obama held a rally with Sen. Raphael Warnock (D-GA) tonight in Atlanta as the Georgia election runoff for the U.S. Senate seat currently held by Warnock enters its final week.
Speaking to the enthusiastic crowd in the historic Pullman Yard, Obama urged supporters to continue pressing to secure Warnock's chances as early voting ends Friday ahead of next Tuesday's election.
"Now I know a lot of folks have been voting early over the last few days, that is a good thing. That is an encouraging thing. But — you knew there was a but —plenty of folks haven't voted yet. Tomorrow is the last day for early voting and then we need to get people out to the polls on Tuesday, which means we still got work to do," Obama said.
A spokesperson for the the Georgia secretary of state's office told the Blade that more than 1.1 million votes have been cast so far.
Warnock's Republican challenger meanwhile focused on his opposition to transgender rights. In a recent campaign ad, Herschel Walker is featured alongside cisgender former University of Kentucky swimmer Riley Gaines, who tied with University of Pennsylvania trans female swimmer Lia Thomas.
In the ad Gaines says she "worked so hard" at competitive swimming but she was "forced to compete against a biological male."  The ad also goes on to attack Warnock in the Chyron onscreen stating: "Raphael Warnock voted to allow biological men to compete in women's sports." That particular charge by Walker's campaign is factually incorrect as the U.S. Senate has not held any votes on the subject of transgender women in sports.
Politico's National political reporter Natalie Allison tweeted:
Herschel Walker is up with a new runoff ad about transgender athletes, featuring a swimmer who tied with Lia Thomas.

"My senior year, I was forced to compete against a biological male," Riley Gaines says in the ad for Walker's Senate campaign. pic.twitter.com/MlVxnJwkgB

— Natalie Allison (@natalie_allison) November 21, 2022
During the rally in Atlanta this evening Politico reported Warnock received roaring applause when he poked fun at Walker, something Obama also did, referencing a series of outlandish comments the retired football star has made over the course of his candidacy.
"We all know some folks in our lives who, we don't wish them ill will, they say crazy stuff … but you don't give them serious responsibility," Obama said.
"He was an amazing running back," Warnock said of Walker. "And come next Tuesday, we're going to send him running back to Texas."
Walker, who was raised in the Peach State and was a star player at the University of Georgia, lived the majority of his adult life in Texas before returning to run for Senate in 2021.
Politico also noted that Warnock, the pastor of the Atlanta church that Martin Luther King Jr. attended, tied the election to the long struggle of African Americans for equal rights, noting the crowd had gathered on the 67th anniversary of Rosa Parks refusing to get up from a bus seat in Montgomery, Alabama. Walker is also African American.