September 17, 2019 at 9:32 am PDT | by Karen Ocamb
Becerra opposes Trump anti-LGBTQ religious exemption in federal contracts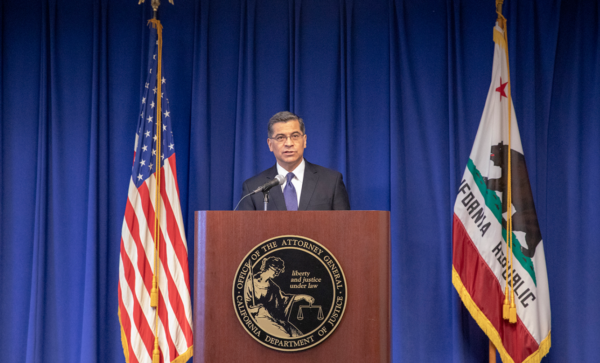 President Donald Trump's core political base is anchored by power-hungry, hypocritical  Christian evangelicals. But despite being called out, even by Democratic Christians on the campaign trail,Trump-whispers such as Vice President Mike Pence, the recently exposed "self-dealing" Jerry Falwell, Jr., Focus on the Family and the hate group Family Research Council have been given carte blanche to dictate anti-LGBTQ positions to roll back the equal rights progress made under former President Barack Obama.
One of the latest pushes is to call religious bigotry a "civil right" that requires an exemption to existing civil rights laws with LGBTQ protections in the workplace. Last August, the Trump administration proposed a rule change to the Labor Department's Office of Federal Contract Compliance Programs that would better shield self-proclaimed "religion-exercising organizations" and "closely held" companies from discrimination claims in hiring and areas where actions were taken ostensibly motivated by religious beliefs.
"The proposed rule is intended to clarify the longstanding civil rights protections afforded to religious organizations that contract with the federal government," one official told Bloomberg Law. The proposal would ensure the "religious protections are given the same federal recognition as all other civil rights."
LGBTQ and other civil rights groups said the proposal would essentially weaponize religious freedom. "Once again, the Trump administration is shamefully working to license taxpayer-funded discrimination in the name of religion. Nearly one-quarter of the employees in the U.S. work for an employer that has a contract with the federal government," Ian Thompson, American Civil Liberties Union senior legislative counsel, said in a statement. "We will work to stop this rule that seeks to undermine our civil rights protections and encourages discrimination in the workplace."
On Monday, Sept. 16, the final day of the public comment period, the Trump proposal opponents gained some major allies. California Attorney General Xavier Becerra and Pennsylvania Attorney General Josh Shapiro led a coalition of attorneys general in submitting a comment letter urging the Department of Labor (DOL) to rescind the proposal that they say needlessly conflicts with protections afforded under Title VII of the Civil Rights Act of 1964.
"This is 2019, not 1920. No one should fear losing their job because of whom they love," Becerra said. "The Trump Administration is paving the way for federal contractors to openly discriminate against the LGBTQ community and anyone else who might not conform to their personal beliefs. Here in California we're standing up for workers and refuse to roll back the clock on the civil rights of all Americans."
Becerra and the coalition note that the re-interpretation of the religious exemption contained in Executive Order 11246, which mandates equal employment opportunity in federal government contracting and prohibits all federal contractors from discriminating on the basis of race, color, religion, sex, sexual orientation, gender identity, or national origin, would "loosen the standards regarding the types of organizations that can self-identify as religious."
As a result, Becerra says in a press release, "DOL is opening the door for a broad range of employers, including for-profit corporations, to claim the exemption and discriminate against their employees based on any worker's non-adherence to specific religious beliefs or practices as understood by the contractor. For example, as a result of the proposal, a gay or transgender employee could potentially be required to adhere to the religious tenets of a for-profit corporation's owners or board or face the possibility of termination."
That directly conflicts with existing protections afforded under Title VII of the Civil Rights Act and inflict harm on states' residents.
As most Californians know, longtime LGBTQ ally Becerra has been leading the challenge to Trump's civil rights rollbacks. In fact, last May, Becerra filed his 50th lawsuit against the Trump administration, including against a rule that would allow care providers to deny basic healthcare on the basis of religious or moral objections. Two months later, in July, Becerra joined a coalition of attorneys general in defending Title VII's prohibition against workplace discrimination on the basis of sexual orientation before the U.S. Supreme Court.
The comment letter is signed by Becerra and the Attorneys General of Pennsylvania, Connecticut, Delaware, Hawai'i, Illinois, Maryland, Massachusetts, Michigan, Minnesota, Nevada, New Jersey, New York, North Carolina, Vermont, Washington, and the District of Columbia.