May 13, 2020 at 10:04 pm PDT | by Brody Levesque
COVID-19 Daily; Garcetti says face masks are mandatory outside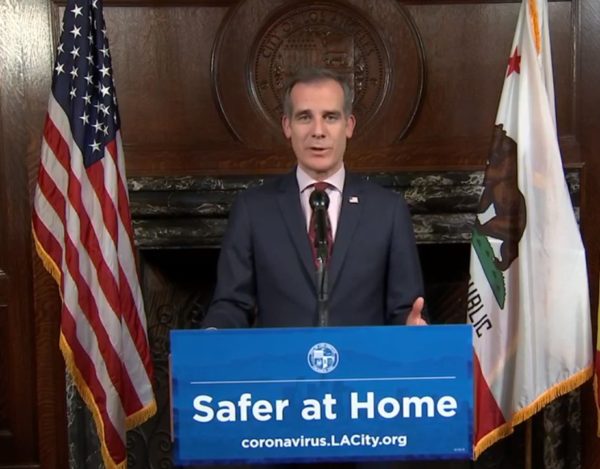 LOS ANGELES, Calif. – Los Angeles Mayor Eric Garcetti announced Wednesday evening that all residents, except for small children and those with certain disabilities, would be required to wear face masks outside. The mayor's order comes as the 'Safer-At-Home' order restrictions are slowly being relaxed.
"Bring your mask with you whenever you leave your home," Garcetti said. "That will help us get more freedoms."
Garcetti had previously ordered Angelenos to wear face masks in public spaces such as grocery stores, businesses, or at LAX as well as public transportation including taxis, ride-share vehicles, and buses.
The mayor also announced that all retail locations in the LA can now open for curbside and door-side pickup or delivery. While businesses are not mandated to open, he added, and if they need more time, they should take it. Businesses that reopen must have completed a retail establishment physical distancing checklist.
Garcetti said that restaurants and businesses can apply to get a permit (here) from the city to open up parking spots in front of their stores to allow people to have convenient pick-ups.
The signs will be supplied and installed free of charge within 3 days, he added.
Wednesday also marks the limited opening of public recreational places in both the County and the City including trails, tennis courts, equestrian facilities, model airplane fields and golf courses. Beaches will be open but activities are restricted to walking, running, swimming and surfing. Sitting or lying on the beach and sunbathing remain prohibited.
Another program for city residents which involves limited closures of some roads in neighborhoods across the city, termed the "slow streets initiative" is slated to start this weekend. Garcetti didn't specify which streets but he noted there will be an application process to propose streets that will be up and running this week.
Los Angeles County officials on Wednesday continued easing restrictions in the County while allowing the limited reopening of thousands more retail shops and manufacturing companies while extending the county's stay-at-home order.
The Los Angeles County Department of Public Health (LACDPH) confirmed 47 new deaths and 1,264 new cases of COVID-19. Three deaths were reported by the City of Long Beach and one death by the City of Pasadena. To date, LACDPH has identified 34,428 positive cases of COVID-19 across all areas of LA County, and a total of 1,659 deaths.
"In less than a month, we have lost 1,300 more residents to COVID-19 causing heartache throughout the County. We keep all who are grieving in our thoughts and prayers each day, and wish you healing," said Dr. Barbara Ferrer, Director of Public Health. "We are mindful that as we begin our recovery journey, we need to be sure to take care not to have a large increase in deaths and hospitalizations. And while today, more businesses and outdoor spaces are reopening, our recovery journey will be slow. All of us will need to continue to keep each other as safe as possible."
A  new Health Officer Order is being issued today that replaces the previous Health Officer Order and allows for lower-risk businesses and select recreational facilities and beaches to reopen. All retailers that are not located in an indoor mall or shopping center are able to reopen for curbside, door-side, outside pickup, or delivery only. The public is not allowed to go inside.
Manufacturing and logistic businesses that supply retail businesses may also reopen. Before retail businesses, manufacturing and logistic businesses reopen, they are required to prepare, implement and post their plan for adhering to directives including distancing and infection control practices that protect both employees and customers.
Beaches can reopen for active recreation including running, walking, swimming and surfing. However, group sports and activities like picnicking and sunbathing are not permitted, and parking lots, bike paths, piers, and boardwalks, remain closed.
Select recreational facilities including golf courses, tennis courts, shooting and archery ranges, equestrian centers and community gardens can also reopen.
Everyone must continue to practice physical distancing of at least six feet apart and wear a clean cloth face covering that securely covers both your nose and mouth when around people outside of your household.
This Order continues to require that specific higher-risk businesses remain closed and prohibits public and private gatherings of any number of people occurring outside a single household or living unit.
During his daily noon press conference, Governor Gavin Newsom noted that while there was a sense of stability in the overall numbers, there still needed to be a greater push to continue efforts by Californians to remain alert and cautious.
In the previous twenty-four hour period, another 87 lives were lost Newsom said, but he added that an additional thirty-two thousand residents had been tested, with 1,759 testing positive. He noted that the hospitalization rate had modestly up ticked by 0.5 percent while the ICU rate had fallen by 0.3 percent. These numbers he credited to the efforts of Californians to mitigate the effects of COVID-19 by practicing social distancing and abiding by the stay-at-home order.
In California as of Wednesday there have been 73,022 COVID-19 cases with 2,970 deaths while in the United States there are 1,390,406 cases and 84,119 Americans who have died.
Sixteen more counties have received the go-ahead from Newsom's administration to reopen their local economies more quickly than the state as a whole the San Francisco Chronicle reported.
As of late Wednesday, counties that received the go-ahead were San Benito, Amador, Butte, Colusa, El Dorado, Glenn, Lassen, Nevada, Placer, Plumas, Shasta, Sierra, Tehama, Tuolumne, Yuba, and Sutter. Local public health officers reported they have met testing targets, are able to handle a hospital surge, and have had no coronavirus deaths for 14 days, as Newsom's rules require the paper noted.