Activists, Orlando officials mark four years since Pulse nightclub massacre
Gunman killed 49 people on June 12, 2016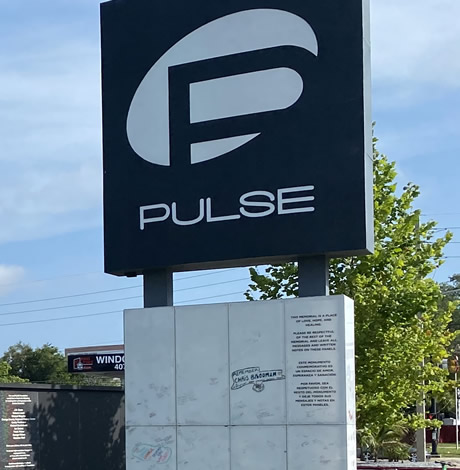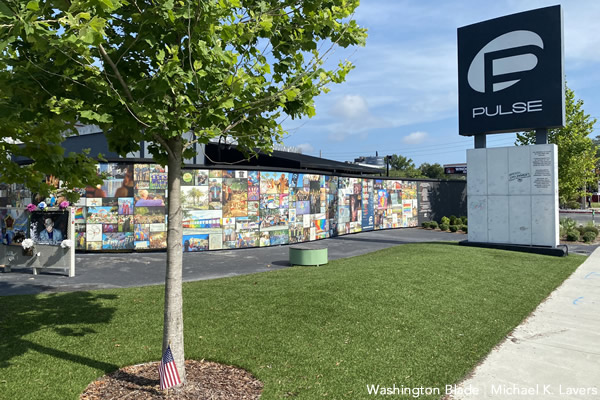 Friday marks four years since a gunman killed 49 people inside the Pulse nightclub in Orlando, Fla.
"Four years have now passed, but our community's commitment to honoring the 49 angels and supporting the survivors, families of the victims and first responders remains strong," tweeted Orlando Mayor Buddy Dyer, who was in office on June 12, 2016, when the massacre took place.
Four years have now passed, but our community's commitment to honoring the 49 angels and supporting the survivors, families of the victims and first responders remains strong. https://t.co/gQPkfjRmHR

— Mayor Buddy Dyer (@orlandomayor) June 12, 2020
The onePULSE Foundation, a group founded by Pulse owner Barbara Poma that is planning to build a permanent memorial, on Friday will hold a virtual ceremony to honor the massacre's victims. The coronavirus pandemic prompted organizers not to hold an in-person commemoration this year.
"We are grateful for the tremendous support of the community and would love nothing more than to have our community members join us in remembering our 49 Angels, and honoring our survivors and first responders, but we must prioritize the health and safety of the public, the Pulse community, and our employees," said Poma in a statement. "We ask the community to join together again, in a different way this year, as a symbol of strength and solidarity in the face of tragedy, forever proving: We will not let hate win."
Nearly half of the massacre's victims were LGBTQ Puerto Ricans.
San Juan Mayor Carmen Yulín Cruz has ordered flags in her city to be lowered to half-mast. Pedro Julio Serrano, founder of Puerto Rico Para [email protected], a Puerto Rican LGBTQ advocacy group, on Friday visited a memorial in a San Juan park that honors the victims.
"Love always wins — always," said Serrano in a tweet that shows him visiting the memorial.
Visitando el primer monumento LGBTTIQ+ de Puerto Rico que el Municipio de San Juan erigió en honor a las vidas de 49 seres humanos —24 boricuas— que murieron a causa del odio en la tragedia de Pulse en Orlando.

El amor siempre vence —siempre. ?️??? #NoMásOdio ❤️????? pic.twitter.com/r5E5fHUbc3

— Pedro Julio Serrano (@PedroJulio) June 12, 2020
An interim memorial has opened at the nightclub, which is less than two miles from downtown Orlando.
Scott Bowman of the onePulse Foundation on Thursday said $19 million has been raised for the permanent memorial that will have three components: The National Pulse Memorial, the Museum and Education Center and the Orlando Health Survivors Walk. Bowman told the Los Angeles Blade the Orlando Health Survivors Walk's groundbreaking will take place next April.
The Orlando Sentinel on Friday reported U.S. Rep. Darren Soto (D-Fla.), who represents portions of Orlando, has introduced a bill that would designate Pulse as a national memorial. Republican Florida Gov. Ron DeSantis designated Friday as "Pulse Remembrance Day" and ordered flags in the state lowered to half-staff.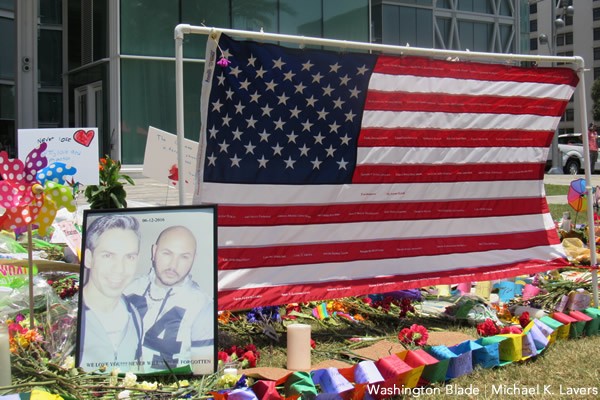 The massacre at the time was the deadliest mass shooting in modern U.S. history, and it renewed calls for gun control in this country.
Equality Florida — along with the Human Rights Campaign, Everytown for Gun Safety Support Fund and Giffords Law Center — on Friday issued a report that documents gun violence's impact on LGBTQ people. The report, among other things, notes nearly 80 percent of Black transgender women who have been killed since 2013 were shot to death.
"Gun safety is an LGBTQ issue, plain and simple," said HRC President Alphonso David in a statement.
This year's commemorations of the massacre are taking place amid continued protests against police brutality in the wake of George Floyd's death in Minneapolis. President Trump is also running for re-election.
Equality Florida has announced it plans to target 500,000 "pro-equality voters in the state of Florida with the goal of ensuring they have updated registrations, resources to educate themselves on where candidates stand on equality, and sign up to receive their ballots by mail."
"When we set out on this journey four years ago, Equality Florida promised to do the work of uprooting hate and violence," said Equality Florida Senior Political Director Joe Saunders in a press release. "Dismantling systems of racism and homophobia requires that pro-equality voters make our voices heard and ensure our votes shape who represents us and what policies they champion."
"We live in the most important political real estate in the country and pro-equality voters are positioned to make the difference between a state that will be won or lost by 100,000 votes," he added. "In 2020 we're going to leave it all on the field."
Democratic National Committee Chair Tom Pérez and Earl Fowlkes, who chairs the DNC's LGBTQ Caucus, on Friday issued a statement that acknowledged the massacre's fourth anniversary.
Four years ago, 49 people were murdered in the single deadliest attack on the LGBTQ+ and Latino communities in U.S. history. What should have been a night of celebration was overtaken by hatred and bigotry.

— Tom Perez (@TomPerez) June 12, 2020
Trump in the days after the massacre reiterated his calls that the U.S. should temporarily ban Muslims from entering the country. Pérez and Fowlkes in their statement said Trump "took advantage of the tragedy at Pulse to attack immigrants and Muslims, as he has continued to throughout his presidency."
"Instead of advocating for commonsense gun reform or equal rights, he sought to divide Americans during a crisis — as he has during today's twin public health crises of coronavirus and systemic racism," added Pérez and Fowlkes. "Throughout his presidency, Trump has uprooted LGBTQ+ rights, attacked our access to health care, separated families, and fanned the flames of bigotry and hate. We need Joe Biden as president to unite Americans and continue our long march toward a more equal country."
White House Deputy Press Secretary Judd Deere in a statement to the Blade acknowledged the massacre's anniversary.
"The horrible attack on the LGBT community at the Pulse nightclub four years ago is just one of many reasons why President Trump has made it a top priority to root out radical Islamic extremists wherever they hide," said Deere. "As the president has said, we will never forget the 49 individuals who were senselessly murdered that night." 
Montana Republicans support anti-Trans medical conscience bill
HB 303, which allows medical providers to decline services based on moral or religious beliefs, cleared a key House vote Monday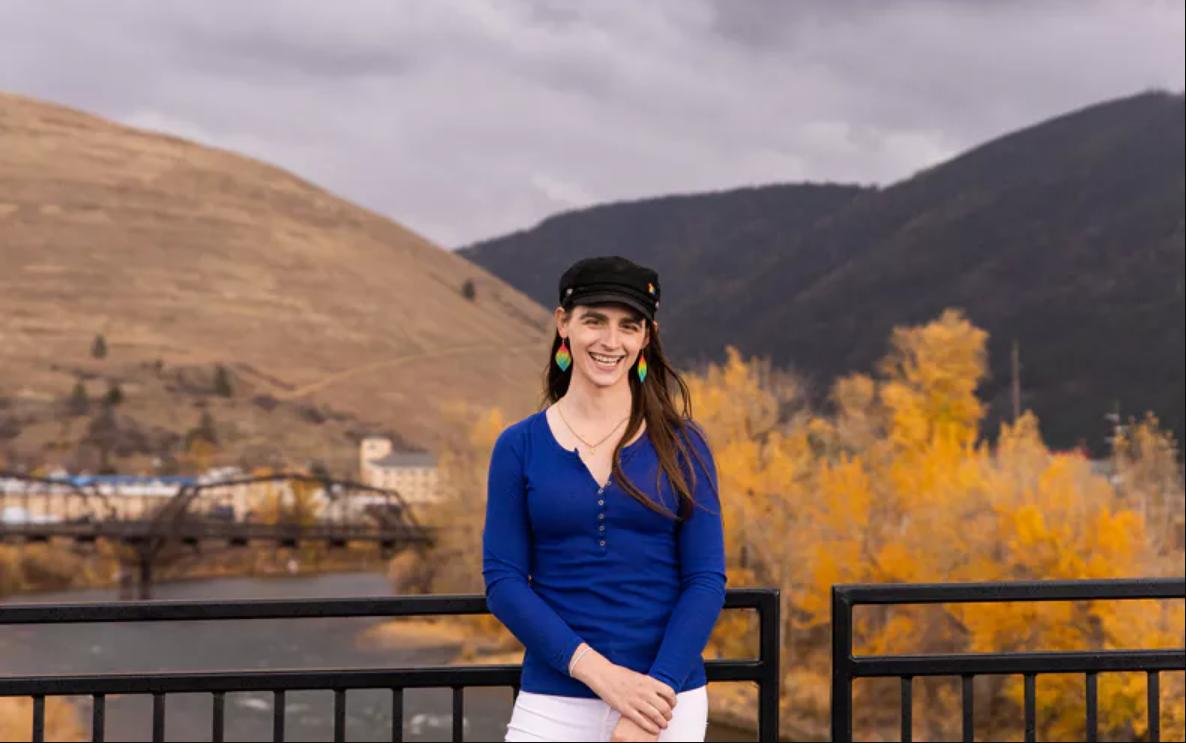 By Mara Silvers | HELENA – State lawmakers in the House of Representatives gave broad approval Monday to a bill that would allow medical providers, health care facilities and insurers to deny services based on "ethical, moral, or religious beliefs or principles," signaling the bill's likely advancement to the Senate this week. 
House Bill 303, sponsored by Rep. Amy Regier, R-Kalispell, passed the Republican-majority chamber largely along party lines, with 65 votes in favor and 35 against, after roughly 20 minutes of debate.
Regier portrayed the bill as a "preservation and protection for medical conscience" in the state for practitioners and health care institutions that object to specific "lifestyle and elective procedures" such as physician aid in dying, prescribing marijuana or opioids, abortion procedures and gender-affirming medical care for transgender people.
"To be clear, this bill would not give the right to refuse to serve a person. It would only apply to the narrow circumstances where a nurse or physician cannot conscientiously perform a specific procedure," Regier said.
A subsection of the bill says it is not meant to conflict with the federal emergency health care access law known as EMTALA as it applies to health care institutions, such as hospitals. But the bill does not provide a holistic exemption for emergency departments and emergency health care providers. When it comes to abortion, for example, the bill would require providers to opt-in to participating in those procedures in writing beforehand.
Similar legislation has had recent success in other states. For instance, a Medical Ethics and Diversity Act was signed into law in South Carolina last spring. The legislation in that state saw support from the Alliance Defending Freedom, a conservative religious advocacy group that is also backing the Montana proposal.
The opposition to South Carolina's legislation, including from transgender patients and LGBTQ advocacy groups, echoes concerns now surfacing in Montana over HB 303. Medical associations and groups, including the Montana Hospital Association, Montana Primary Care Association, Montana Nurses Association and the Montana Medical Association, testified against the bill during a January committee hearing, saying it would put patients' care at risk.
During Monday's debate on the House floor, Democrats reiterated that the bill includes no discrimination protection for patients, and does not guarantee that a patient has a right to access health care even if a specific provider declines to participate in those services. 
Rep. Zooey Zephyr, D-Missoula, told fellow lawmakers the bill would mean transgender people like herself could be turned away from medical services they need.
"What is actually going to happen is it will be a denial based on diagnosis. Something like, I am diagnosed with gender dysphoria," Zephyr said. "And the thing is, that is inherently discriminatory because you cannot pass my diagnosis from who I am. To deny me based on my diagnosis of gender dysphoria is to deny me based on my being a trans woman."
Republican moderates appeared to try and derail the bill by proposing a strategic amendment during Monday's floor session. 
As written, HB 303 does not apply to a "health care institution or health care payer owned or operated by the state or a political subdivision of the state." Some Republican representatives showed interest in striking that provision from the bill, an amendment that would have triggered a higher threshold for the bill to pass because of a specific provision of the state constitution. That amendment, proposed by Rep. Tom Welch, R-Dillon, failed in a 39-61 vote.
Republicans who spoke in support of the bill on the floor said they hoped the bill would protect freedom of expression for medical providers, even those they disagree with.
"I think in this increasingly lack of traditional values and conscience world, and oftentimes profit-driven world, that protection needs to be provided for providers and health care workers that do have those values and do have that conscience," said Rep. Jerry Schilling, R-Circle.
Other Democrats who considered the bill as part of the House Judiciary Committee urged lawmakers to consider the unintended consequences of the bill. Rep. Laura Smith, D-Helena, said she'd heard stories from parents of young children faced with challenging medical circumstances who feared that, had HB 303 been in place, their desires for care would have been trumped by the prerogative or ideology of their providers.
"This is just one of many examples that I receive where medical teams have tried to deny parents' rights to choose procedures for their children," Smith said. "If the bill passes, it will take away parental rights, and your constituents' parental rights, to make these life-and-death procedural and medical decisions for our own children."
The bill ultimately passed with widespread Republican support and one affirmative vote from Rep. Frank Smith, D-Poplar. Four Republican lawmakers joined Democrats in opposition.
If the bill passes a third, non-debatable vote this week, it will then be transmitted to the Senate and assigned to a committee for a second hearing.
Speaking to Montana Free Press Monday afternoon, Regier said she was pleased by the vote margin.
"It's what we all hope for," she said. 
*************************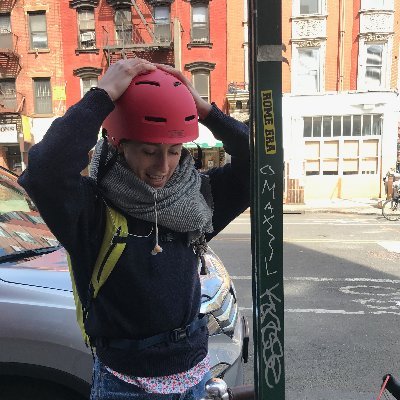 Mara Silvers writes about health and human services stories happening in local communities, the Montana statehouse and the court system. She also produces the Shared State podcast in collaboration with MTPR and YPR. Before joining Montana Free Press, Mara worked in podcast and radio production at Slate and WNYC. She was born and raised in Helena, MT and graduated from Seattle University in 2016.
**********************
The preceding piece was previously published by Montana Free Press and is republished with permission.
SUPPORT A FREE AND INDEPENDENT PRESS
Unbiased, unflinching journalism is critical to our democracy. When you donate to Montana Free Press, you are helping build a newsroom that serves the people of Montana, not advertisers or special interests. (Link)