Activists around the country back protests against police brutality
Andrea Jenkins represents neighborhood where George Floyd was killed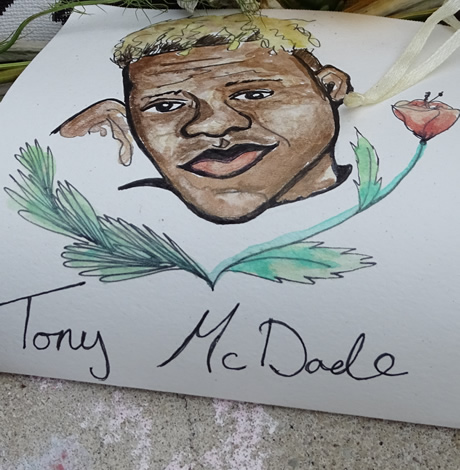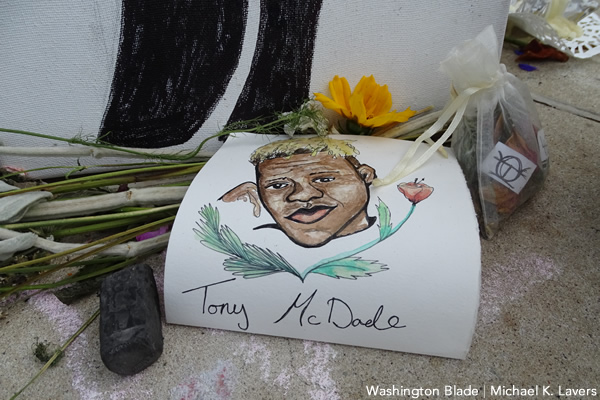 Activists around the country continue to stand in solidarity with those who are protesting against police brutality in the wake of George Floyd's death.
Tremaine Jones is the project director of the Freedom Fund, an organization based in Fort Lauderdale, Fla., that helps LGBTQ inmates and detained immigrants post bail. Jones also identifies as a Black queer man.
Jones on June 1 told the Los Angeles Blade during a telephone interview he supports those who have taken to the streets to protest Floyd's death, noting "people are tired of Black bodies and Black lives being exploited and killed." Jones added technology has also allowed passersby to document incidents of police brutality as they happen.
"As a Black queer man I have to navigate thinking about this everyday," said Jones.
"We see everyday how Black people, LGBTQ people, queer people … are being exploited," added Jones.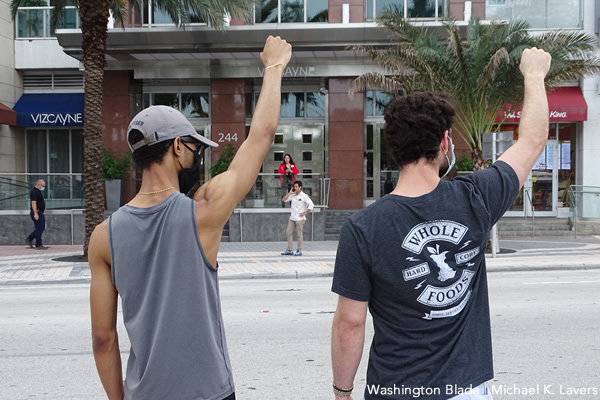 Jones spoke with the Blade a week after Floyd died when then-Minneapolis police officer Derek Chauvin kneeled on Floyd's neck for nearly nine minutes.
Minnesota prosecutors have charged Chauvin with second-degree murder in connection with Floyd's death. Three other now former police officers who were with Chauvin face charges of second-degree manslaughter and aiding and abetting second-degree murder.
Minneapolis City Council Vice President Andrea Jenkins — the first openly transgender woman of color elected to public office in the U.S. — represents the area in which Floyd was killed.
Jenkins acknowledged during a June 3 virtual town hall moderated by Equality Florida CEO Nadine Smith that the area of Minneapolis she represents is "a community in pain." Jenkins added, however, the outrage over Floyd's death has already brought about change.
"Last Monday George Floyd was murdered; (the next day) four officers were fired; three days later the murder was charged and arrested," said Jenkins. "(Chauvin)'s still in jail. He's not out on bail. He's still in custody."
Jenkins during the town hall also noted the Minnesota Department of Human Rights has filed a civil rights complaint against the Minneapolis Police Department that "really allows us" an "opportunity to undo some of the structural themes that are holding up this racism in our society." Jenkins is one of the nine Minneapolis City Council members who support "dismantling" the department in the wake of Floyd's death.
Floyd was killed roughly three months after Travis McMichael, who is white, fatally shot Ahmaud Arbery, an unarmed 25-year-old Black man, in Brunswick, Ga.
Georgia authorities in May charged McMichael and his father, Gregory McMichael, with felony murder and aggravated assault after a video of the Feb. 23 shooting in the city's Satilla Shores neighborhood became public. William "Roddie" Bryan Jr., the white man who recorded the shooting on his cell phone, faces charges of felony murder and criminal attempt to commit false imprisonment.
Reports indicate Travis McMichael used a racial slur to describe Arbery after he killed him.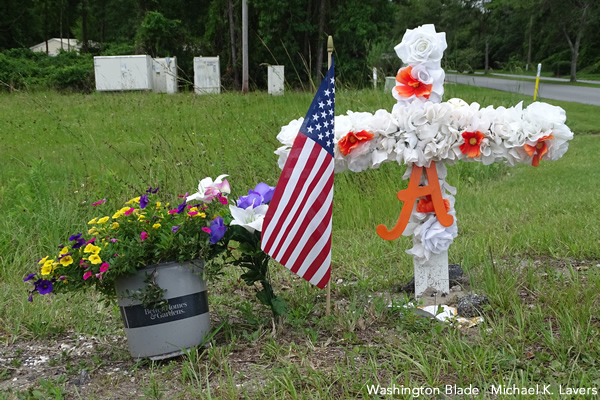 A white police officer in Tallahassee, Fla., on May 27 shot and killed Tony McDade, who was a Black trans man.
Local media reports indicate the shooting took place shortly after McDade fatally stabbed a 21-year-old man. The Tallahassee Police Department has said McDade pointed a handgun at the officer, who has not been publicly identified, but an eyewitness to the shooting has questioned this account.
Black Lives Matter protesters in Asheville, N.C., honored McDade with a makeshift memorial they placed near a monument to Zebulon Vance, a former Confederate Army officer who became North Carolina's governor and a U.S. senator after the Civil War.
Protesters who gathered outside the South Carolina State House on Sunday chanted "Black trans lives matter."
Then-South Carolina Gov. Nikki Haley in 2015 ordered the removal of the Confederate flag from the state house's grounds after a gunman killed nine people inside the Emanuel African Methodist Church in Charleston. A statue of former U.S. Sen. Strom Thurmond (R-S.C.), who opposed efforts to end racial segregation, remains in place.
Janel Diaz, a Black trans woman who is a member of the Tallahassee Mayor's LGBTQ+ Advisory Council, on Tuesday told the Blade during a telephone interview that LGBTQ people in her city remain divided over McDade, in part, because he allegedly stabbed someone to death before he was killed. Diaz nevertheless acknowledged McDade's death has become part of the broader protest movement against police brutality.
"We don't know what took place," Diaz told the Blade. "He's not here to speak for himself … what I can take away from all of this is it's bringing about hopefully some sort of change within our community and hopefully this can bring the divide that we have amongst communities together."
Smith acknowledged McDade and Arbery in the virtual town hall she moderated.
"When we began to envision this panel weeks ago, George Floyd was alive in Minneapolis, Tony McDade had not been shot by police in Tallahassee," said Smith in her opening remarks. "We began the planning in the aftermath of Ahmaud Arbery's killing by white vigilantes just two hours over the Florida border."
Smith said she and others who organized the town hall "wanted to draw attention and outrage to the epidemic of Black transgender women being murdered." Smith later acknowledged June is Pride month.
Diaz also acknowledged Pride month when she spoke with the Blade.
"Right now, it's time for us to come together as a community," she said. "For my community who is not Black, it's ok not to understand how we feel as being Black and being transgender. We face different things. We face different obstacles."
The town hall that Smith moderated took place two days after a group of men at a convenience store in St. Paul, Minn., punched and kicked Iyanna Dior, a 21-year-old trans woman in an attack that was recorded and posted to social media.
OutFront Minnesota, a statewide LGBTQ advocacy group, in a statement that condemned the attack noted LGBTQ people "face higher rates of violence than their straight and cisgender peers" and added these rates "drastically increase for BIPOC (Black, indigenous, people of color) LGBTQ+ communities."
The organization noted "the vast majority" of the 26 trans people who were reported killed in the U.S. in 2019 were Black trans women. OutFront Minnesota in its statement also referenced McDade.
"Black trans women are attacked far too often across Minnesota," said the organization. "It is an epidemic and it must be stopped. No one should have to live in fear of violence because of who they are."
On June 1, Iyanna Dior, a black transgender woman, was attacked in the Twin Cities. Black trans women are attacked far too often across Minnesota. It is an epidemic and it must be stopped. No one should have to live in fear of violence because of who they are.

— OutFront Minnesota (@outfrontmn) June 3, 2020
Jenkins also acknowledged Dior, noting she was "brutally beaten in this community by Black cis men."
"Our work, our struggle is real," she said during the Equality Florida town hall. "It's very real and being at these intersections … this is one space where maybe this is a recognized reality."
Monica Roberts, a Black trans woman and activist who lives in Houston, sought to highlight these intersections when she spoke with the Blade on Tuesday. Roberts in her statement also acknowledged McDade.
"It's disgustingly sad that it took another murder of a Black man to wake the rest of America to the fact that police departments across the nation are murdering us," said Roberts. "Those murders by cop include Tony McDade, a trans man in Tallahassee, Fla. They are also a reminder that when my human rights aren't secure, your human rights aren't either."
Roberts spoke with the Blade shortly before Floyd was buried next to his mother at a Houston cemetery.
Tennessee 7th grader kills himself after anti-LGBTQ+ bullying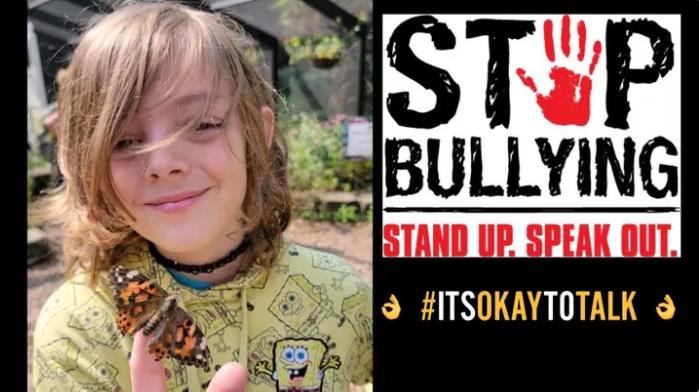 SHELBYVILLE, Tn. –  A 12-year-old boy took his own life after enduring apparent months of what his family and others labeled ugly vitriolic anti-LGBTQ bullying and abuse.
Eli Fritchley, a seventh-grader at Cascades Middle school located in Wartrace in Bedford County, was found on Sunday night, November 28th, 2021, by his mother who walked into her son's bedroom and discovered his lifeless body.
In an emotional interview with Nashville ABC news affiliate WKRN 2's reporter Stephanie Langston, Fritchley's parents described him "as a peaceful soul who wasn't afraid to be himself."
"He didn't care, or at least we thought he didn't care, and that's what's really difficult for us because we thought he didn't care," his parents said as they teared up.
Eli painted his nails, loved the color pink and wore the same SpongeBob sweatshirt nearly every day.
"I think probably because he was in the same clothes every single day that they used that as a weapon," his mom Debbey explained, saying he loved doing the laundry and cleaning his clothes every day.
His parents told Langston that their son was not accepted by his peer group at the school.
"He was told because he didn't necessarily have a religion and that he said he was gay that he was going to go to Hell. They told him that quite often," said Debbey.
His parents heard his cries but didn't realize the extent of the pain that the youth was experiencing adding that their son never blamed anyone.
"It was really abusive. I don't think it was ever physical. I think it was just words, but words hurt. They really hurt," said his father Steve.
"This has just blindsided us. This is something we would have never, ever expected," his mother added. "That's been really hard. That image was terrible until we got to hold him yesterday. Now that image is gone, because the only thing we could think of yesterday when we were kissing and loving on him was how angelic he looked. He absolutely looked angelic. He's just an angel," she cried adding, "We all failed him. We all failed him. It's as simple as that."
The parents told Langston that they are determined to stop bullying adding that they hope raising awareness will ensure that other kids or their parents goes through the heartache they are experiencing.
"I honestly think education, education, education for everyone where bullying is concerned because it is a problem, not just in Bedford County. It's a problem everywhere," they said.
According to WKRN 2, "the Fritchleys were regulars at Penalties Sports Bar & Grill in Shelbyville. The owners of the restaurant, Rob and Shondelle Lewis, say they are like family and they are heartbroken over the loss of Eli. In an effort to help, they created a Gofundme as the Fritchleys are looking to start a foundation to bring awareness and help educate people about bullying and suicide awareness."
"I hope and pray, this unfortunate event we are going to make something of it. We've got to. We are going to come up with some sort of antibullying program through this Gofundme page where I pray to God this will not happen again," said Rob."
The Trevor Project's 2021 National Survey on LGBTQ Youth Mental Health examined depression and suicide risk among LGBTQ youth from rural areas and small towns compared to urban and suburban areas.
The Key Finding was that nearly half of LGBTQ youth in rural areas and small towns reported that their community was somewhat or very unaccepting of LGBTQ people compared to just over a quarter of those in urban and suburban areas. The data also shows that LGBTQ youth living in rural areas and small towns had slightly greater odds of depression and attempting suicide.
********************
Bedford County parents grieve son bullied before suicide
New York man arrested for threatening mass shootings of LGBTQ+ people
Defendant allegedly threatened bombings and mass shooting that would make the 2016 Orlando Pulse Nightclub Attack "Look Like a Cakewalk"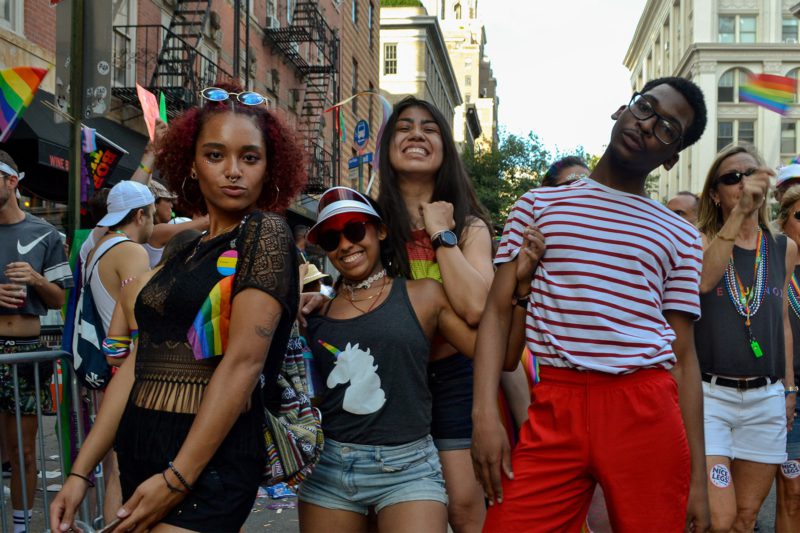 CENTRAL ISLIP, Ny. – Agents from the New York Field Office of the Federal Bureau of Investigation (FBI) arrested and charged on Monday a Long Island man on a warrant issued by United States Magistrate Judge Steven I. Locke for mailing letters threatening to assault, shoot, and bomb LGBTQ+ affiliated individuals, organizations, and businesses.
According to Breon Peace, United States Attorney for the Eastern District of New York, and Michael J. Driscoll, Assistant Director-in-Charge, of the FBI New York Field Office, who announced the arrest, Robert Fehring, 74, a resident of Bayport, New York on Long Island, since at least 2013, had been sending individuals associated with the LGBTQ+ community letters in which he threatened violence, including threatening the use of firearms and explosives.
In the criminal complaint and affidavit for arrest, federal prosecutors allege that one letter threatened that there would "be radio-cont[r]olled devices placed at numerous strategic places" at the 2021 New York City Pride March with "firepower" that would "make the 2016 Orlando Pulse Nightclub shooting look like a cakewalk," referencing the 2016 attack in which 49 persons were killed and dozens wounded at Pulse, a gay nightclub in Orlando, Florida.
"As alleged, the defendant's hate-filled invective and threats of violence directed at members of the LGBTQ+ community have no place in our society and will be prosecuted to the fullest extent of the law," stated Peace. "This Office is firmly committed to protecting the civil rights of all members of every community in this district, including the LGBTQ+ community and other minority communities."
Fehring is also alleged to have a sent a letter threatening the organizer of a June 2021 Pride event in East Meadow, New York, which stated:
"[W]e were right there you…FREAK!!! They couldn't get a shot off at you, slithering around the back stage area like a snake. Too many cops. Very disappointed. But your time has come. . .. They are out to KILL you….and your boyfriend. You are being watched. No matter how long it takes, you will be taken out…. high-powered bullet…. bomb….knife…. whatever it takes."
On November 18, 2021, members of the FBI's Civil Rights Squad and the New York Joint Terrorism Task Force executed a search warrant at Fehring's home in Bayport, New York, and recovered photographs from a June 2021 Pride event in East Meadow, New York, two loaded shotguns, hundreds of rounds of ammunition, two stun guns, and a stamped envelope addressed to an LGBTQ+ affiliated attorney containing the remains of a dead bird.
"Fehring's alleged threats to members of the LGBTQ+ community were not only appalling, but dangerous, despite the fact he hadn't yet acted on his purported intentions," stated Driscoll. "As the primary federal agency responsible for investigating civil rights violations, the FBI takes all threats of this nature seriously."
The New York Executive Director of NYC PRIDE Sandra Pérez told the Blade in an emailed statement; "We take any and all violent threats seriously and report them to the appropriate authorities. We received threatening letters earlier this year and reported them. We appreciate the work of the Justice Department in investigating this situation. We are cooperating in any way we can, and we remain committed to the safety and well-being of the LGBTQIA+ community."
Gay City News editor  Matt Tracy reported that Fehring appeared in court on December 6 before Magistrate Judge Steven I. Locke and was released on $100,000 bond. He is restricted to home detention with location monitoring, according to prosecutors. He is not allowed to have any firearms or "destructive devices," is barred from contacting any of his alleged victims, and cannot go to the places he is said to have targeted.
Another Trans person confirmed murdered this year- USAF vet & Mother
Her friends will always remember her infectious personality & her unmistakable laugh. She loved others passionately and fiercely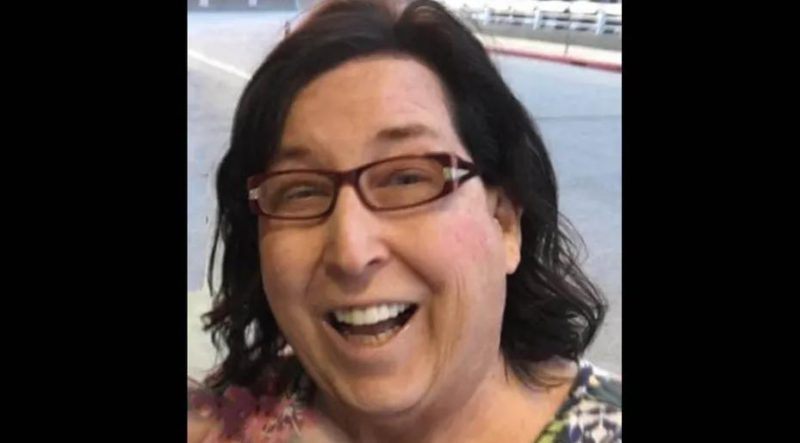 MEADE COUNTY, Ky. – Another Trans person has been confirmed murdered this year bringing the deadly total to 49 deaths of transgender and gender non-conforming people in 2021 according to a tally kept by the Human Rights Campaign.
Cris Blehar, a 65-year-old white transgender woman, mother, and U.S. Air Force veteran, was discovered stabbed and shot to death by Meade County sheriff's deputies who had responded to her rural home on Woodland Road in the Flaherty area. Deputies had been dispatched to perform a welfare check from an unidentified person concerned about Blehar.
The Elizabethtown, Kentucky, News-Enterprise newspaper reported that the Kentucky State Police had made an arrest in the case only a few hours after Blehar's body was found of Vine Grove resident Tyler J. Petty, 18.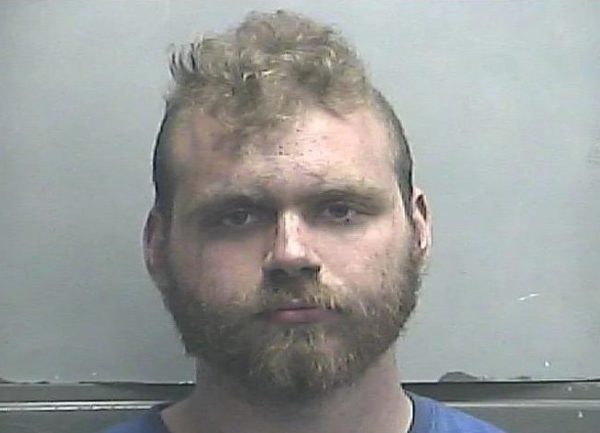 "There was no relationship between the victim and the suspect. We believe he worked for her," said Kentucky State Police Trooper Nicholas Hale in an email to the News-Enterprise. Petty was arrested and brought to KSP Post 4 and was interviewed about the case. Police say he admitted to killing Blehar. A trial date has been set for June 2022.
The murder in this rural area about an hour Southwest of Louisville on May 19, 2021, was brought to the attention of the Human Rights Campaign this week when Blehar's cousin Mark Stephens contacted HRC to ensure that she was "remembered, honored, and counted" as a member of the transgender community. 
In a statement to HRC, Mark Stephens said;
"If there is one thing to know about Cris, it was that she fought fiercely to define her life as SHE wanted. Whether it was her military service, her 20+ year career in the airline industry, or her post retirement decision to buy a farm & start a family of her own. She lived life to the fullest and wanted everyone around her to live their best life as well. Growing up 'different' in Kentucky is certainly no easy task, something we shared in addition to being cousins, and she tackled it with the passion and zeal that only she could have. Her friends will always remember her infectious personality & her unmistakable laugh. She loved others passionately and fiercely, none more than her own son, Maverick."
Blehar's son Maverick Thompson paid tribute to her, writing:
"Cris was an amazing mother and a wonderful person. She had so much love and brought a smile to many. She had a hilarious sense of humor that will live on through those that knew her. She will be sorely missed!"
According to her obituary, Blehar was a former law enforcement officer in the U.S. Air Force and retired from United/Continental Airlines. She also worked as an Uber driver and loved animals and bowling.
HRC has officially recorded 49 deaths of transgender and gender non-conforming people in 2021, more than in any year since we began tracking this violence in 2013.