June 10, 2020 at 1:03 pm PDT | by Karen Ocamb
LGBTQ Black history with LA Pride discussed on Zoom tonight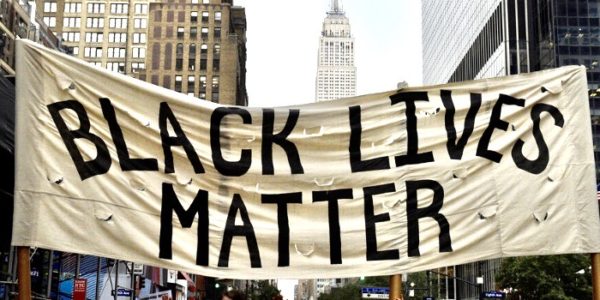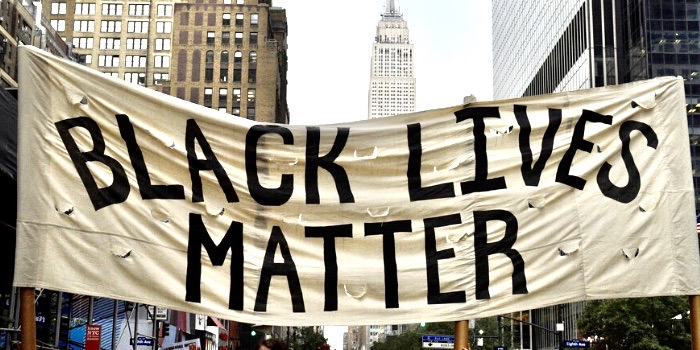 A number of Los Angeles LGBTQ Black leaders are holding a public discussion at 7:00pm on Zoom Wednesday night to discuss "the anti-Black history of Christopher Street West (CSW), the 501(c)3 nonprofit that produces the annual L.A. Pride Parade and Festival, that dates back to 80s to the present day," according to a press release issued by moderator Jasmyne Cannick, Out Magazine's 2019 Journalist of the Year.
This month marks the 50th anniversary of the first CSW marches in New York and LA to commemorate the Stonewall Riots of 1969.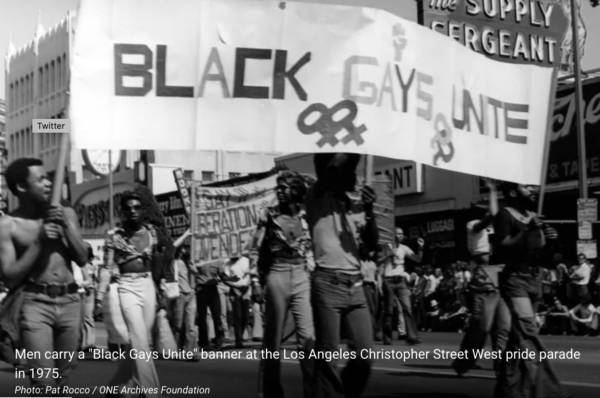 The need for a public discussion was prompted by "CSW's initial announcement that it would organize a Black Lives Matter solidarity march to protest racial injustice, systemic racism, and all forms of oppression–except for their own," Cannick says.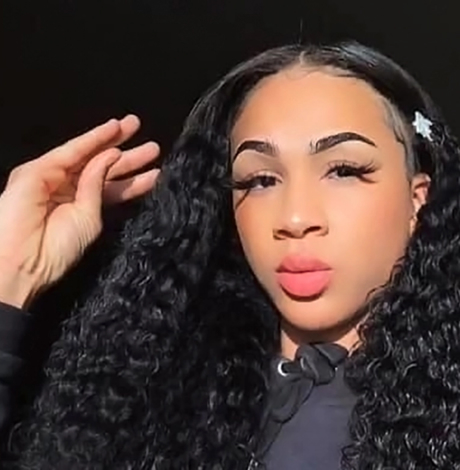 Not everyone is on board with the outrage over the new All Black Lives Matter solidarity protest – especially in light of the June 1 videotaped homophobic/transphobic beating of 21-year old Black trans woman, Iyanna Dior, by more than a dozen Black men at a St. Paul convenience store. They emphasize that all Black lives matter, not just straight Black men, and protests should underscore the lack of Black LGBTQ rights, too.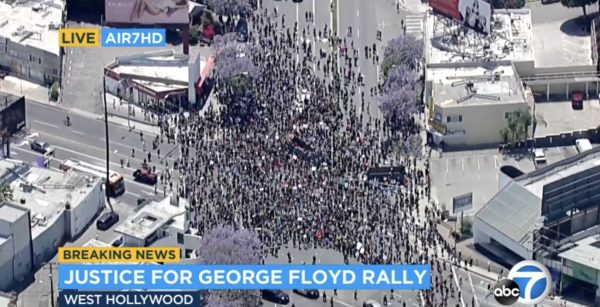 Additionally, several local Black activists want to be supportive of CSW Board Treasurer Gerald Garth and Brandon Anthony, the two young Black gay men who came up with the idea for the solidarity march, noting that the recent protest marches are organized and led by a new generation of activists.
The role of youth in the movement for both Black pride and LGBTQ equality – as well as the health and economic toll taken by COVID-19 on the Black community, was the subject of In The Meantime Men's regular Tuesday night #ItsOurRevolution Zoom chats, moderated by In The Meantime Men Executive Director Jeffrey King. The June 10 event featured panelists Charity Chandler-Cole, President of BLAYD, Malcolm Harris, Community Organizer, and Nijeul Porter, Community Activist.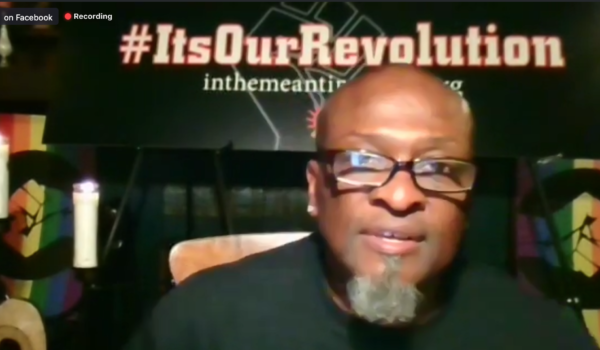 The #ItsOurRevolution conversation opened with a reading of The Ten Point Program of the Black Panther Party – including the quote by Black Panther Party co-founder Huey Newton: "The revolution has always been in the hands of the young. The young always inherit the revolution."
The controversy over the solidarity march to show CSW/LGBTQ support for Black Lives Matter and the end to racism after the police murder of George Floyd in Minneapolis has so roiled and confused the LA LGBTQ community there is a real question of whether CSW/LA Pride will survive.
Because of the coronavirus pandemic, CSW/LA Pride has been struggling to find sponsors and get city permits (the City of West Hollywood canceled in-person events through December 31, 2020) for any event approximating the "normal" Pride parade and festival.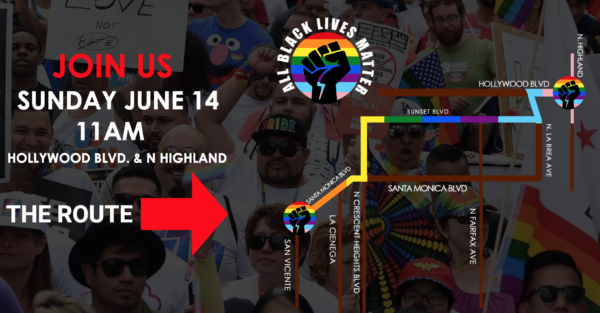 Apparently, while the CSW Board was supportive of Garth and Anthony's idea – voting June 1 "to peacefully assemble a protest in solidarity with the Black community at Hollywood Blvd. and Highland Ave. in Los Angeles, near the site where the first-ever permitted Pride Parade took place," their June 3 announcement (now deleted) intimated that they had a sign-on from BLM, though no official discussion had occurred.* That irritated a number of LGBTQ Black leaders.
In an attempt to air grievances and come up with a resolution, CSW/LA Pride held a June 4 Zoom conference call with about 20 Black LGBTQ leaders from different organizations and perspectives. The conference devolved into a "shit show," as one person described it, with Cannick and former LA Pride board member Marquita Thomas harshly criticizing CSW Board President Estevan Montemayor and Executive Director Madonna Cacciatore.
The Los Angeles Blade spoke to activist Mackenzie MacDade, who was on the conference call. She asked if the parade was a "Rainbow Co-Dependency Parade" designed to bolster CSW/LA Pride's corporate sponsors and donors. MacDade also indicated that CSW/LA Pride promised direct engagement with the activist community, including having activists included in polling over the weekend of June 6 to garner support and feedback about moving forward with the march. She told the LA Blade that the poll never happened.
Thomas told the Los Angeles Blade that she and others on the call insisted on greater transparency from CSW/LA Pride. However, she felt as though concerns about the structure and execution of the protest march were not being adequately addressed. Thomas indicated that she received no follow up on the poll nor had CSW/LA Pride reached out again since the Thursday call.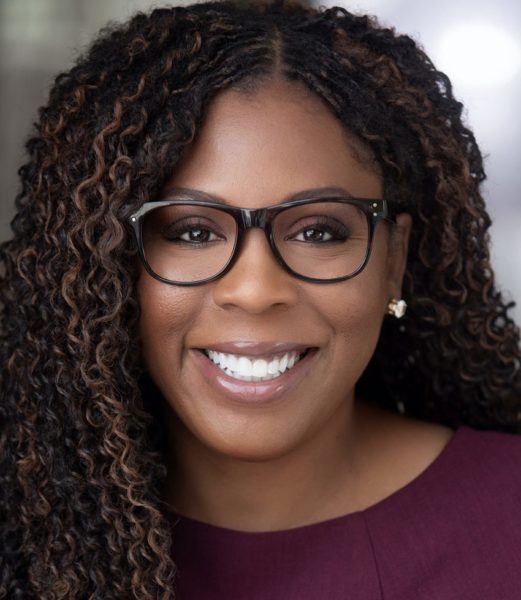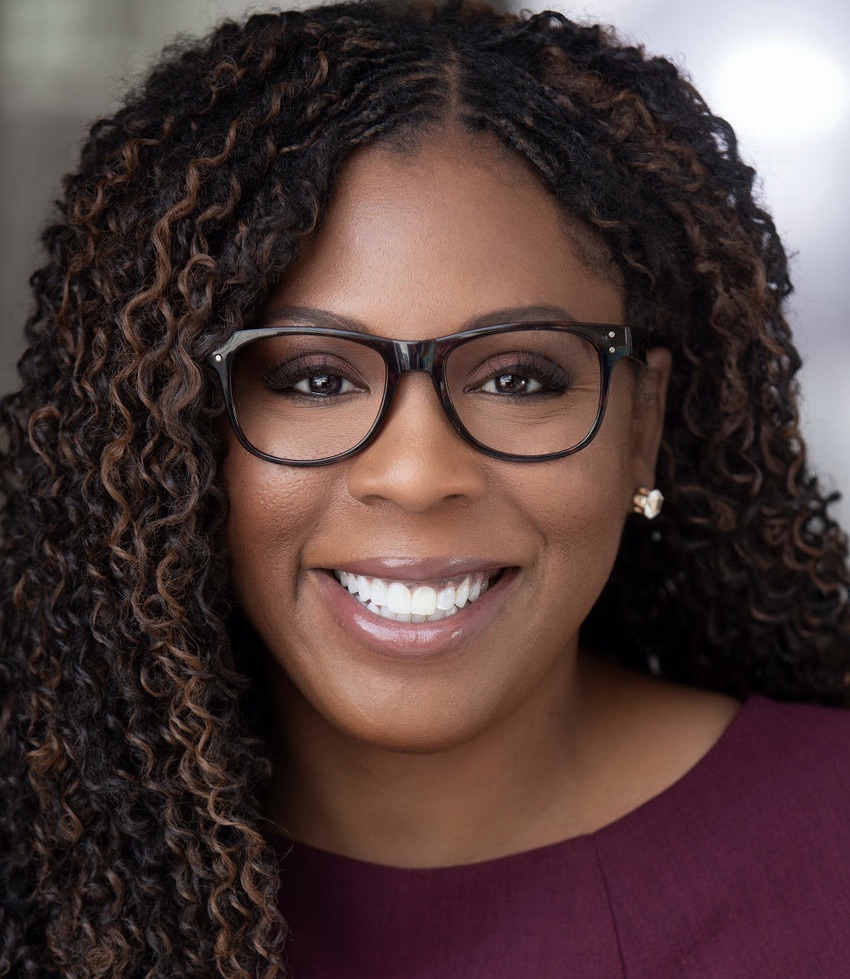 "LAPride wants to show solidarity w/Black folk—and Black folks want that—they can come to where Black folks live. Don't invite Black folks into anti Black spaces. Y'all had a well known and loved serial killer of Black men in #WeHo for years," Cannick tweeted on June 5.
That day CSW/LA Pride released a statement on their website apologizing for what the organization characterized as a "misstep" and announced that the organization was "reevaluating" its decision to move forward with the planned protest march.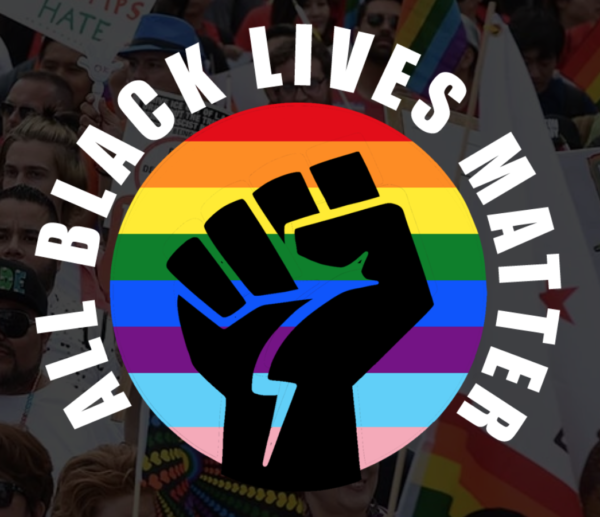 On Monday, June 8, CSW/LA Pride apologized directly to BLM organizers and announced that it was in the process of turning over direct control of the protest march to the Black LGBTQI+ advisory board.
The public letter to the community reads:
"On June 7, 2020, an Advisory Board, made up of all Black LGBTQ+ leaders was formed to move forward in organizing the All Black Lives Matter solidarity march on Sunday, June 14, 2020 at 11:00am PT in Los Angeles. The protest is in direct response to racial injustice, systemic racism, and all forms of oppression.

Marsha P. Johnson and Sylvia Rivera bravely started a movement at the Stonewall Inn in 1969. They stood up to systemic racism and bigotry. We must acknowledge and recognize the many tireless years of service and action by Black LGBTQ+ people. The LGBTQ+ community must extend its support to unite against oppression, police brutality, racism, transphobia, and the many other disparities disproportionately impacting the Black community.

We are here to amplify Black Queer voices and come together in solidarity. Endorsed by BLM and B.L.A.C (Black LGBTQIA Advisory Board Council), the All Black Lives Matter solidarity march aims to bring the community together to peacefully exercise our First Amendment rights and heal together.

Out of recognition and respect to the years of work and action of Black LGBTQ+ leadership and community organizers, Christopher Street West and LA Pride will no longer co-organize the All Black Lives Matter march. However, they are in full support and stand unapologetically in solidarity with efforts to dismantle racial justice, systemic oppression, institutional barriers, police brutality and discrimination of all kinds.

The Advisory Board is not working with CSW on the pre-march rally program, but will serve as an independent body creating a program aimed at amplifying the voices of the Black community and allies. Additionally, in tandem, we will engage Black-owned businesses to help support and put this peaceful march together.

The Advisory Board will neither engage corporate sponsors from or through CSW nor official police involvement in organizing the All Black Lives Matter march. For the All Black Lives Matter solidarity march on Sunday, June 14, 2020, we recognize the safety concerns around COVID-19 and the pandemic currently plaguing the nation, and disproportionately the Black and LGBTQ+ communities, and ask protesters to take protective measures, including wearing face coverings and avoiding large crowds if you are at high risk or displaying symptoms of COVID-19. California Department of Public Health recommendations can be found here. 

For press inquiries or more information, contact blacpressandmedia@gmail.com

Respectfully,

b

B.L.A.C (Black LGBTQIA Advisory Board Council)​

Gerald Garth, Garth Management Group, LLC

Brandon Anthony, B.A.S.H LA

Pastor Sammie Haynes, Vision Church Los Angeles

Paul Scott. LA Black LGBTQ Movement

Princess Murray, Compton Pride

Stacy Alford, MPH

Yuriel "Miss. Shalae" Young, The Glasswing Group Blossom Brown"
For Wednesday night's Zoom call, Cannick has lined up a number of Black LGBTQ trailblazers "explaining why L.A. Pride needs to apologize for their actions and make amends to the Black community before moving forward in any semblance of 'solidarity' with them."
"This moment and movement for Black lives will not exclude the white LGBTQ community's decades of anti-Black actions and culture of white supremacy—especially here in Los Angeles," Cannick says in the press release. "They do not get a pass. They will not co-opt this movement."
Cannick — whose recent op-ed in the LA Blade talks about the dire need for police reform and accountability — will moderate the panel that includes:
Cabrini Schnyder, Cabrini Presents, Ivan Daniel, Ivan Daniel Presents , Jewel Thais-Williams, Jewel's Catch One, actress and activist Jazzmun Crayton, Marquita Thomas, Out & About, Roz Renfro, Michelle's XXX / HerNation, Thea Williams, L.A. Black Pride, and Tyesse Jackson, Ms. Tyesse Presents "Divas Review."
The conversation is open to the public and the media. Please register online here: https://bit.ly/lablacklgbt.  Or https://us02web.zoom.us/meeting/register/tZAscuCvrj4jGdXgPntTexyS2IE2F_r3NIBg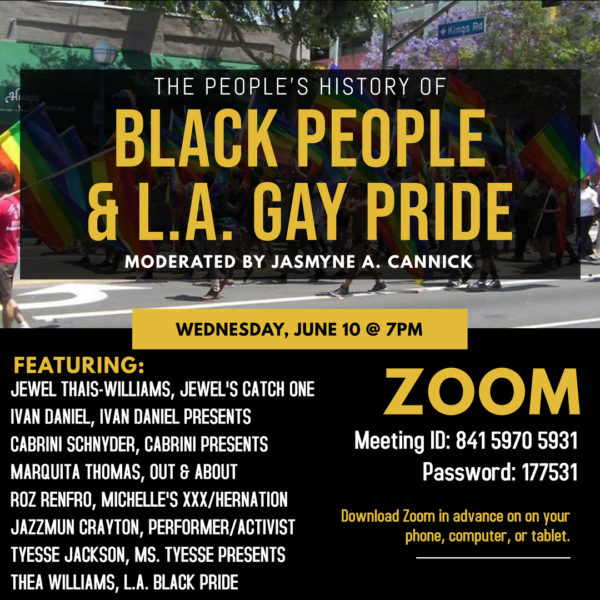 Black Lives Matter photo courtesy Jasmyne Cannick
* Correction: Though CSW members did reach out to Black Lives Matter, no connection was made and the original June 3 CSW press release does not mention Black Lives Matter:
CHRISTOPHER STREET WEST (CSW) ANNOUNCES SOLIDARITY PROTEST MARCH ON SUNDAY, JUNE 14, 2020

Los Angeles, CA – June 3, 2020 – Today, Christopher Street West (CSW), the 501(c)3 nonprofit that produces the annual LA Pride Parade and Festival, announces a solidarity protest march in response to racial injustice, systemic racism, and all forms of oppression.

CSW had previously cancelled all in-person events due to COVID-19, but the CSW Board of Directors voted on the evening of June 1, 2020 to peacefully assemble a protest in solidarity with the Black community at Hollywood Blvd. and Highland Ave. in Los Angeles, near the site where the first ever permitted Pride Parade took place.  The protesters will march to West Hollywood and end at the intersection of San Vicente and Santa Monica Blvds.

WHEN: Sunday, June 14, 2020 at 10am PT

WHERE: Hollywood Blvd. and Highland Ave.

                  Hollywood, CA 90028

"Fifty years ago Christopher Street West took to the streets of Hollywood Blvd in order to peacefully protest against police brutality and oppression," said Estevan Montemayor, President of CSW Board of Directors. "It is our moral imperative to honor the legacy of Marsha P. Johnson and Sylvia Rivera, who bravely led the Stonewall uprising, by standing in solidarity with the Black community against systemic racism and joining the fight for meaningful and long-lasting reform."

The California Department of Public Health recommends that participants engaging in the march should wear face coverings at all times.

About Christopher Street West (CSW) & LA Pride

Christopher Street West (CSW), a 501(c)3 non-profit, organized the world's first permitted parade advocating for gay rights on June 28, 1970, as a response to and in commemoration of the Stonewall Rebellion on Christopher Street in New York City the year prior. Since then, we have built a rich history as an active voice for the LGBTQ+ community across the Greater Los Angeles metropolitan area. Today, we continue to produce the globally-recognized LA Pride Parade and Festival every June in the City of West Hollywood. We also organize a number of events throughout the year with our non-profit, philanthropic, community, and corporate partners. Visit lapride.org for more information.