CSW/LA Pride turns over solidarity march to new All Black Lives Matter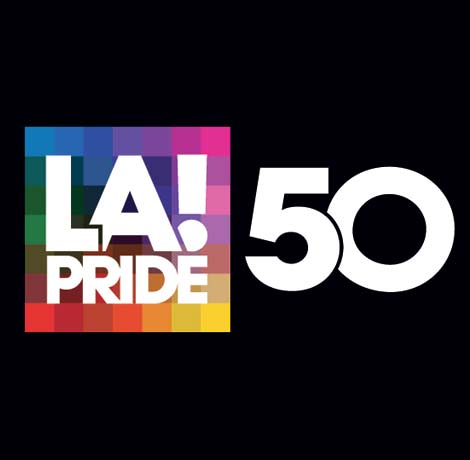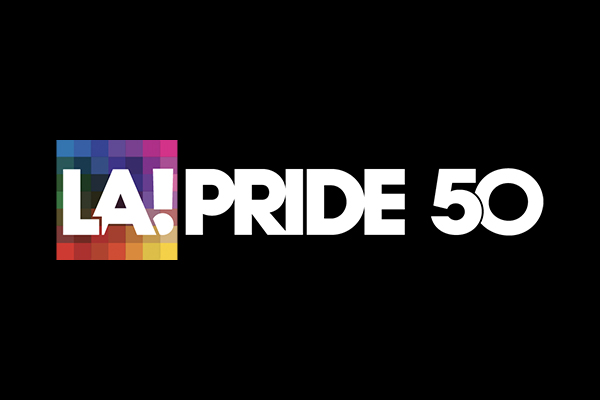 After nearly two weeks of controversy, the Christopher Street West/LA Pride Board of Directors announced they are turning over their proposed June 14 solidarity march to All Black Lives Matter, an advisory board of Black LGBTQI+ activists and community leaders. 
The initial announcement by CSW/LA Pride on June 3, "to peacefully assemble a protest in solidarity with the Black community […]" rankled Black activists and allies who labeled it insensitive and tone-deaf, disrespecting the Black community, especially LGBTQI+ people of color. The now deleted press release suggested that CSW/LAPride had conferred with Black Lives Matter, which it had not. 
Several activists took to Twitter blasting the CSW/LAPride announcement. This included community organizer and prominent blogger Jasmyne Cannick, a former board member of LA Black Pride, who had led numerous protests against the City of West Hollywood and Los Angeles County District Attorney Jackie Lacey over their handling of the Ed Buck case. Buck is currently on trial for contributing to the drug-related overdose deaths of two Black men.
"LAPride wants to show solidarity w/Black folk—and Black folks want that—they can come to where Black folks live. Don't invite Black folks into anti Black spaces. Y'all had a well known and loved serial killer of Black men in #WeHo for years," Cannick tweeted.
On Friday, June 5, CSW/LA Pride released a statement on their website apologizing for what the organization characterized as a "misstep" and announced that the organization was "reevaluating" its decision to move forward with the planned protest march.
On Monday, June 8, CSW/LA Pride apologized directly to BLM organizers and announced that it was in the process of turning over direct control of the protest march to the Black LGBTQI+ advisory board, which released a public letter that reads in part;
"[…] The Advisory Board is not working with CSW on pre-march rally programming but will serve as an independent body creating a program aimed at amplifying the voices of the Black community and allies. Additionally, in tandem, we will engage Black-owned businesses to help support and put this peaceful march together

We recognize systemic racism, implicit bias, and privilege permeates this country, and this includes the history of our organization. We hope to see progress and start with change from within. With that, CSW/LA Pride will no longer be involved in organizing what will not be known as the All Black Lives Matter march on Sunday, June 14, 202, but we are in full support. We will be there and hope the LGBTQ+ community will as well.

The CSW Board members who conceived the idea for the march began speaking with Black LGBTQ+ leaders and organizations in advance of the announcement, however, they had not been able to align directly with BLM leaders prior to the announcement. For that, we apologize to the BLM organizers. Conversations did continue and grew to later include leaders from BLM LA, and, subsequently, an Advisory Board of Black LGBTQ+ leaders has formed to lead the upcoming All Black Lives Matter LA and solidarity march."
The Los Angeles Blade spoke via phone to two of the community activists who had direct knowledge of the events that transpired prior to Monday's announcement. They participated in a Thursday, June 4 telephone conference call regarding the previous day's announcement by CSW/LA Pride.
According to activist Mackenzie MacDade, she asked if the parade was a "Rainbow Co-Dependency Parade" designed to bolster CSW/LA Pride's corporate sponsors and donors. MacDade also indicated that CSW/LA Pride promised direct engagement with the activist community, including having activists included in polling over the weekend of June 6 to garner support and feedback about moving forward with the march. She told the LA Blade that the poll never happened.
Marquita Thomas told the LA Blade that she and others on the call insisted on greater transparency from CSW/LA Pride. However, she felt as though concerns about the structure and execution of the protest march were not being adequately addressed. Thomas indicated that she received no followup on the poll nor had CSW/LA Pride reached out again since the Thursday call.
The Board of Directors of CSW/LA Pride posted the following statement regarding plans for the protest march going forward:
June 7, 2020, an Advisory Board, made up of all Black LGBTQ+ leaders was formed to move forward in organizing the All Black Lives Matter solidarity march on Sunday, June 14, 2020 at 10:00am PT in Los Angeles. The protest is in direct response to racial injustice, systemic racism, and all forms of oppression.

Marsha P. Johnson and Sylvia Rivera bravely started a movement at the Stonewall Inn in 1969. They stood up to systemic racism and bigotry. We must acknowledge and recognize the many tireless years of service and action by Black LGBTQ+ people. The LGBTQ+ community must extend its support to unite against oppression, police brutality, racism, transphobia, and the many other disparities disproportionately impacting the Black community.

We are here to amplify Black Queer voices and come together in solidarity. Endorsed by BLM-LA and the Black Advisory Board, the All Black Lives Matter solidarity march aims to bring the community together to peacefully exercise our First Amendment rights and heal together.

Out of recognition and respect to the years of work and action of Black LGBTQ+ leadership and community organizers, Christopher Street West and LA Pride will no longer co-organize the All Black Lives Matter march. However, they are in full support and stand unapologetically in solidarity with efforts to dismantle racial justice, systemic oppression, institutional barriers, police brutality and discrimination of all kinds.

The Advisory Board will neither engage corporate sponsors from or through CSW nor official police involvement in organizing the All Black Lives Matter march. For the All Black Lives Matter solidarity march on Sunday, June 14, 2020, we recognize the safety concerns around COVID-19 and the pandemic currently plaguing the nation, and disproportionately the Black and LGBTQ+ communities, and ask protesters to take protective measures, including wearing face coverings and avoiding large crowds if you are at high risk or displaying symptoms of COVID-19. California Department of Public Health recommendations can be found here.

For press inquiries or more information, contact: [email protected]

Respectfully,

Black Advisory Board

Gerald Garth, Garth Management Group,

LLC Brandon Anthony, B.A.S.H LA

Pastor Sammie Haynes, Vision Church Los Angeles

Paul Scott. LA Black LGBTQ Movement

Princess Murray, Compton Pride

Dr. Christopher Jackon, Black Lives Matter Los Angeles

Stacy Alford, MPH

Yuriel "Miss. Shalae" Young, The Glasswing Group

Blossom Brown
LA Pride Parade and Village Details
Pride Village is the place to be after the parade with festivities taking place from 12:00 p.m. to 8:00 p.m., just steps from the parade route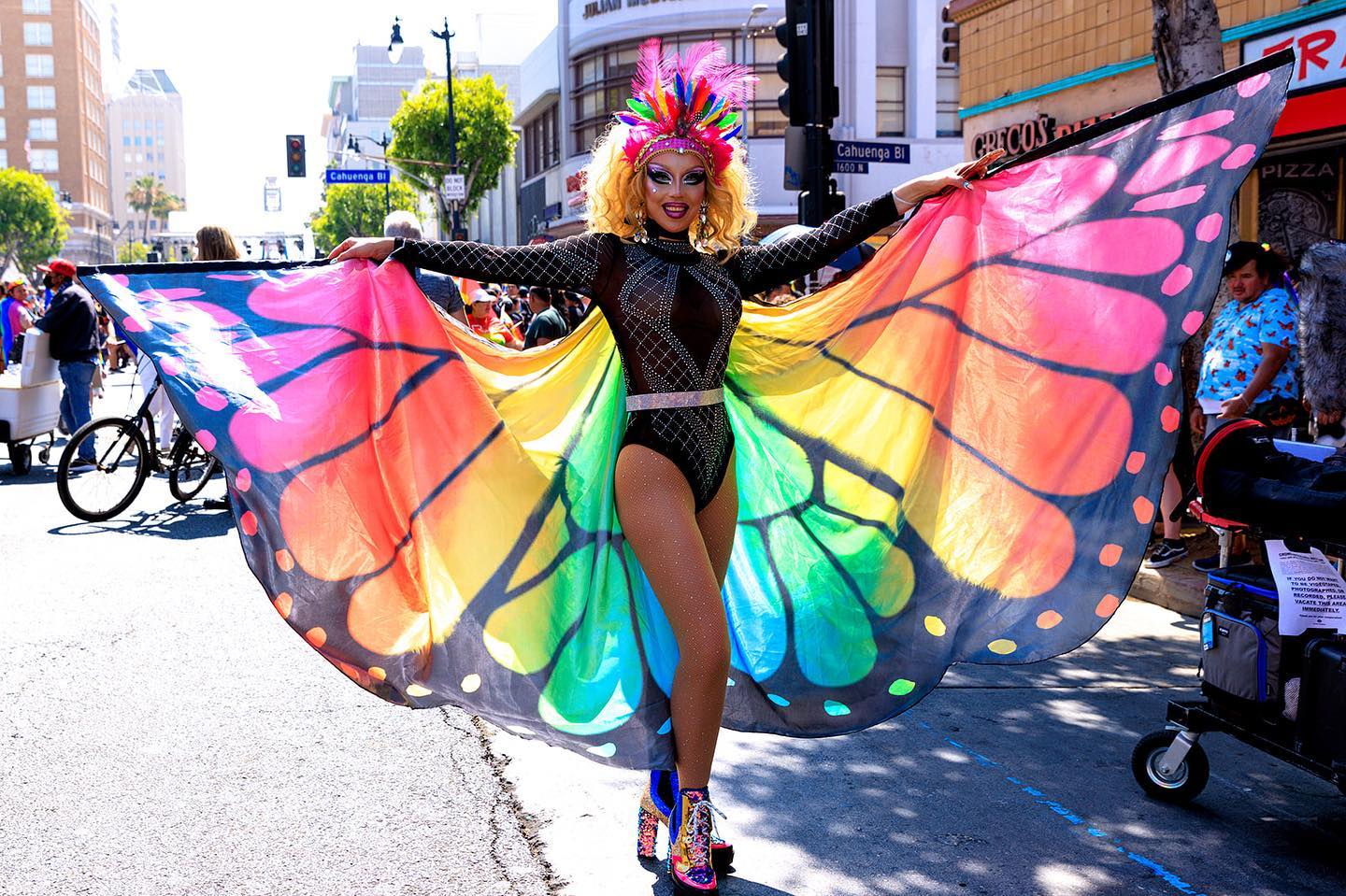 HOLLYWOOD – The second annual LA Pride Village on Hollywood Boulevard will bring the free, all-day street festival to a new location between Vine Street and Gower Street just steps away from the official LA Pride Parade route on June 11.
At 9:00 AM on June 11, The Hollywood Partnership CEO & President Kathleen Rawson will deliver a welcome note in front of Pantages Theatre, and at 2:00 PM elected officials – including Senator Ben Allen, Senator Maria Elena Durazo, Board Supervisor Lindsey Horvath, Council Member Hugo Soto-Martinez and Assemblymember Rick Chavez Zbur – will welcome festival goers at the Celebration Stage on Gower St. and Hollywood Blvd.
Christopher Street West Association (CSW) announced its trio of grand marshals to be celebrated at the LA Pride Parade on Sunday, June 11 taking place at its original historic location in Hollywood.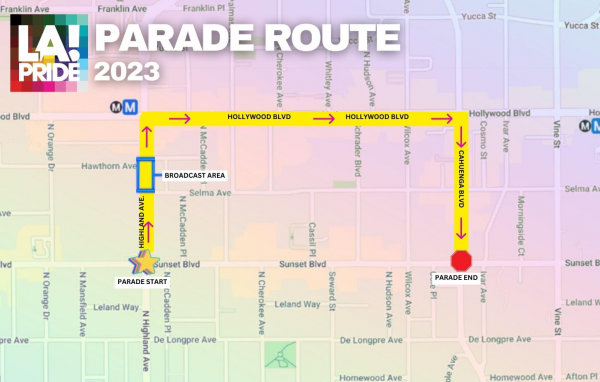 The parade, which will feature a special drag performance presented by the ACLU SoCal and staged by Morgan McMichaels to music by 14-time Oscar nominee Diane Warren, will air LIVE on long-time LA Pride broadcasting partner KABC/ABC7 on Sunday, June 11 beginning at 11:00 a.m. PDT.
This year's LA Pride Parade grand marshals include comedian, actor and activist Margaret Cho as the Icon Grand Marshal, an individual who needs no introduction and achieved major milestones within their career and industry; a posthumous tribute to Emmy-winner Leslie Jordan as the Legacy Grand Marshal, a new title this year in honor of Jordan for his everlasting impact on the community; and the ACLU of Southern California, that helped CSW obtain the permit for the first LA Pride parade, as the Community Grand Marshal, which celebrates a group or individual who has had a powerful influence through their work and dedication to and for the LGBTQ community.
"I'm thrilled and incredibly honored to be the Icon Grand Marshal," said Cho. "We need this Pride more than ever. I have been attending Pride celebrations since 1978 and this time around the need to celebrate as well as unite is more urgent than it has ever been. Our love is greater than their hate.
"On behalf of Leslie Jordan, we are overjoyed by Christopher Street West's heartfelt recognition to name Leslie as LA Pride's Legacy Grand Marshal," said Jana "Cricket" Jordan. "This honor further solidifies the positive impact he made in the world, but more importantly for the LGBTQ+ community. His spirit continues to bring love and light."
"For a century, we've been on the front lines fighting for people to be their true, authentic selves," said Hector Villagra, executive director of the ACLU SoCal. "We're honored to be the Community Grand Marshal and proud to love, live among, and protect LGBTQ Californians."
"Christopher Street West is honored and humbled by this year's three grand marshals," said Gerald Garth, president of CSW. "Each have contributed to the LGBTQ+ community in their own unique ways, furthering our fight for acceptance, equality, and justice."
It will also air nationally on ABC News Live and Hulu, and wherever viewers stream ABC7 including abc7.com and the ABC7LA mobile app.
Anchor Ellen Leyva and reporter Christiane Cordero from ABC7 Eyewitness News will co-host the ABC7 broadcast. The parade route will begin at Sunset Blvd and Highland Ave heading north, then east onto Hollywood Blvd, then south onto Cahuenga Blvd, ending at Sunset Blvd and Cahuenga Blvd.
Additionally, The Hollywood Partnership, the non-profit organization that oversees the public realm in the Hollywood Business Improvement District (BID), has once again partnered with LA Pride to bring the LA Pride Village back to Hollywood Blvd.
LA Pride Village is the official place to be after the LA Pride Parade, with festivities taking place from 12:00 p.m. to 8:00 p.m., just steps from the official parade route.
When the iconic LA Pride Parade returned home to Hollywood Blvd last year after more than four decades, it prompted the start of new traditions and celebrations in Hollywood, including LA Pride Village, a free and open to the public street festival.
The second annual LA Pride Village celebration promises to be even bigger and better, with a new location on Hollywood Blvd, between Vine St. and Gower St., to make room for more booths featuring local vendors and non-profits, an expanded beer garden, delicious food trucks, two performance stages for twice the entertainment, and more comfortable crowd space for dancing.
All details can be found here: https://lapridevillage.com/do/la-pride-2023.
Sponsors of LA Pride Village include Princess Cruises and Royal-bud.com.
Public transit and ride share services to LA Pride Parade and Village are strongly encouraged. For the Parade, connect to the L.A. Metro B (Red) Line and exit Hollywood/Highland or Hollywood/Vine Station. Metro has many Park & Ride lots servicing the county – parking is just $3.00 per day, payable onsite.
If self-driving to LA Pride Parade and Village, vehicles can access parking and the event site via Vine Street or Gower Street.
WHAT:
LA Pride Village is the ultimate free community street festival happening on Sunday, June 11, in honor of the LGBTQIA+ community. Hosted by The Hollywood Partnership and LA Pride, it's the perfect complement to the LA Pride Parade, as it is located just steps away from the iconic procession on Hollywood Boulevard, between Vine Street and Gower Street. Festivities include:
90 local vendor booths
Two entertainment stages featuring 14 performances
An expanded bar garden
11 Food trucks
1 LGBTQ+ Cinema Film Festival by NewFilmmakers LA @ The Montalbán Theatre
More comfortable crowd space for dancing and celebrating Pride on Hollywood Boulevard
WHEN:
Sunday, June 11, 2023
12 PM to 8 PM (all day)

KEY TIMES: 
12 PM: LA Pride Village OPENS

12-8 PM: 14 Performances across two stages by Pride notables like Mariachi Arcoiris, Bob Baker Marionette Theatre, the Gay Freedom Band LA, Secret Circus, Dance Church, and LA's favorite queer AAPI drag party, Send Noodz

2 PM: Elected officials welcome Pride festival goers to LA Pride Village

Senator Ben Allen, Senator Maria Elena Durazo, Assemblymember Rick Zbur, LA County Supervisor Lindsey Horvath, LA City Councilmember Hugo Soto-Martinez

2:15 PM-2:45 PM: Interviews available with elected officials
3:00 PM-10:30 PM: NewFilmmakers LA Presents LGBTQ+ Cinema with The Montalbán @ 2023 LA PRIDE: This special event at Hollywood's famed Montalbán Theatre features LGBTQ+ films spotlighting emerging filmmakers telling stories from across the spectrum of queer identities by artists from diverse backgrounds, including a strong representation of BIPOC storytellers. The event also hosts a full bar with reception space for mingling throughout the day, and Q&A sessions with filmmakers from each program.
8 PM: LA Pride Village CLOSES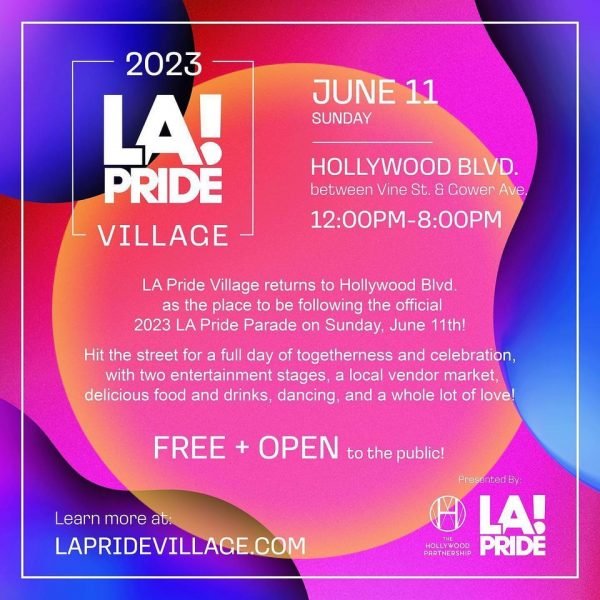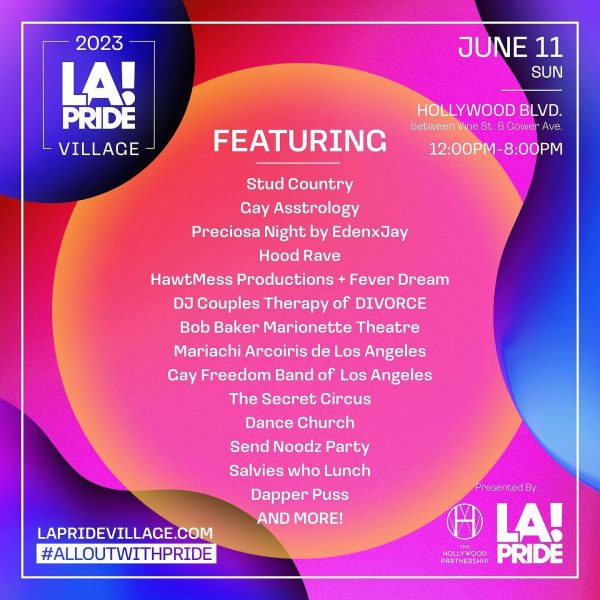 LA Pride in the Park: 6/9-6/10
It's going down with Mariah Carey + Megan Thee Stallion! Don't miss out — tickets at lapride.org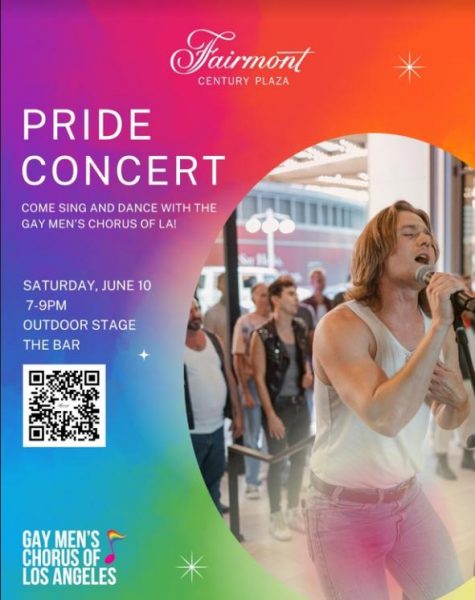 This June in honor of PRIDE, Century City's Fairmont Century Plaza invites guests to an extraordinary two-hour live concert performance from the Gay Men's Chorus of Los Angeles. Returning this year, the non-profit organization will be performing at the hotel with a mission to change hearts and minds through the power of music.
The event will feature a vibrant approach to an array of iconic songs from Queen, Motown, Sondheim, and more, taking place at the hotel on Saturday June 10th from 7:00 pm to 9:00 pm. This will be their main West Los Angeles PRIDE performance. VIP tickets will be $55 and will include two cocktails. Free General Admission is also available and the performance will be open to the public.
Live music has been a prominent component of the Fairmont Century Plaza experience since its beginning and the hotel is looking forward to honoring PRIDE this year with this monumental performance.