May 29, 2020 at 2:15 pm PDT | by Karen Ocamb
LA protests; trans Minneapolis City Council VP Andrea Jenkins on George Floyd's alleged murder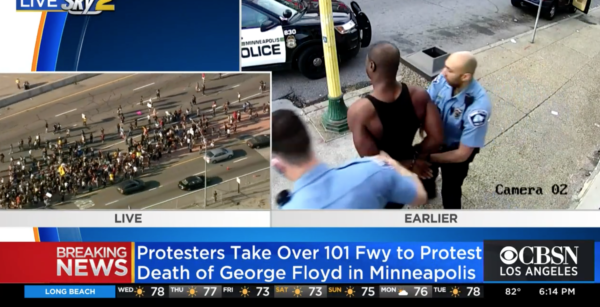 As the coronavirus pandemic surges through poor neighborhoods in Los Angeles, disproportionally impacting people of color, the Black community has been hit even harder by the persistent disease of racism. The reports that brought masked and unmasked protesters out on the streets of LA were images of yet another the death in police custody of a Black man who repeatedly told the arresting officer kneeling on his neck: "I can't breathe."
That officer was fired relatively quickly but prosecutors only decided to arrest him Friday morning, charging him with third degree murder and manslaughter. What might happen to the other officers standing around as bystanders pleaded for Floyd's life is up in the air. The LA Times has continuous live coverage.
The more than 8 minute death of handcuffed George Floyd was caught on tape May 27 in Minneapolis, Minnesota generated sharp reminders of Eric Gardner in 2014 saying "I can't breathe" 11 times as a New York police officer slowly strangled him in a chokehold. Like Floyd, Gardner's death was also caught on tape but apparently the tape didn't matter. A grand jury decided not to take action against NYPD Officer Daniel Pantaleo in Garner's death.
And 28 years ago, on April 29, 1992, four LAPD officers were acquitted of the March 14, 1991 videotaped beating of black motorist Rodney King, leading to riots in LA, national attention and the subsequent Christopher Commission Report.
"Rodney King is the symbol that links unleashed police racism in Los Angeles to the crisis of black life everywhere, LA historian Mike Davis wrote in a June 1, 1992 essay in The Nation. "Indeed, it is becoming clear that the King case may be almost as much of a watershed in American history as Dred Scott, a test of the very meaning of the citizenship for which African-Americans have struggled for 400 years. But on the grass-roots level, especially among gang youth, Rodney King may not have quite the same profound resonance. As one of the Inglewood Bloods told me: "Rodney King? Shit, my homies be beat like dogs by the police every day. This riot is about all the homeboys murdered by the police, about the little sister killed by the Koreans, about twenty-seven years of oppression. Rodney King just the trigger."
But, as Human Rights Campaign President Alphonso David and leaders of 75 other LGBTQ organizations (including Equality California's Rick Chavez Zbur) just noted in a public letter, Floyd's death was casually carried out in the context of the killing of Ahmaud Arbery in Georgia; the death of Breonna Taylor in a shooting with police in Louisville; a white woman in New York City calling the police on Christian Cooper a black gay man who told her to obey the rules in Central Park and leash her dog; and the killings of at least 12 transgender people so far in this year alone, the Washington Blade reported.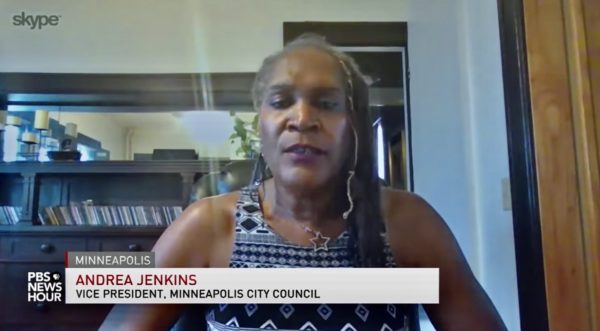 One critical voice who has elevated that discussion is Andrea Jenkins, the trans Vice President of the Minneapolis City Council, who represents the district where Floyd was killed. "It was not only a crime against George Floyd, although he suffered the most deep injustice. But in my mind, it felt like it was a symbol for a knee on the neck of Black America," she said in an interview with PBS NewsHour.
"Not only do I see these images on social media of Black and Brown men and women being killed by state violence, but also have to see trans identified – mostly Black women – who have been brutalized and murdered by the state, if not by the state," Jenkins said in an interview with out CNN anchor Don Lemon. "It has been sanctioned by the state. So, the trauma that is in our communities is devastating. And it's brought on by this really horrible disease that is racism."