LA protests; trans Minneapolis City Council VP Andrea Jenkins on George Floyd's alleged murder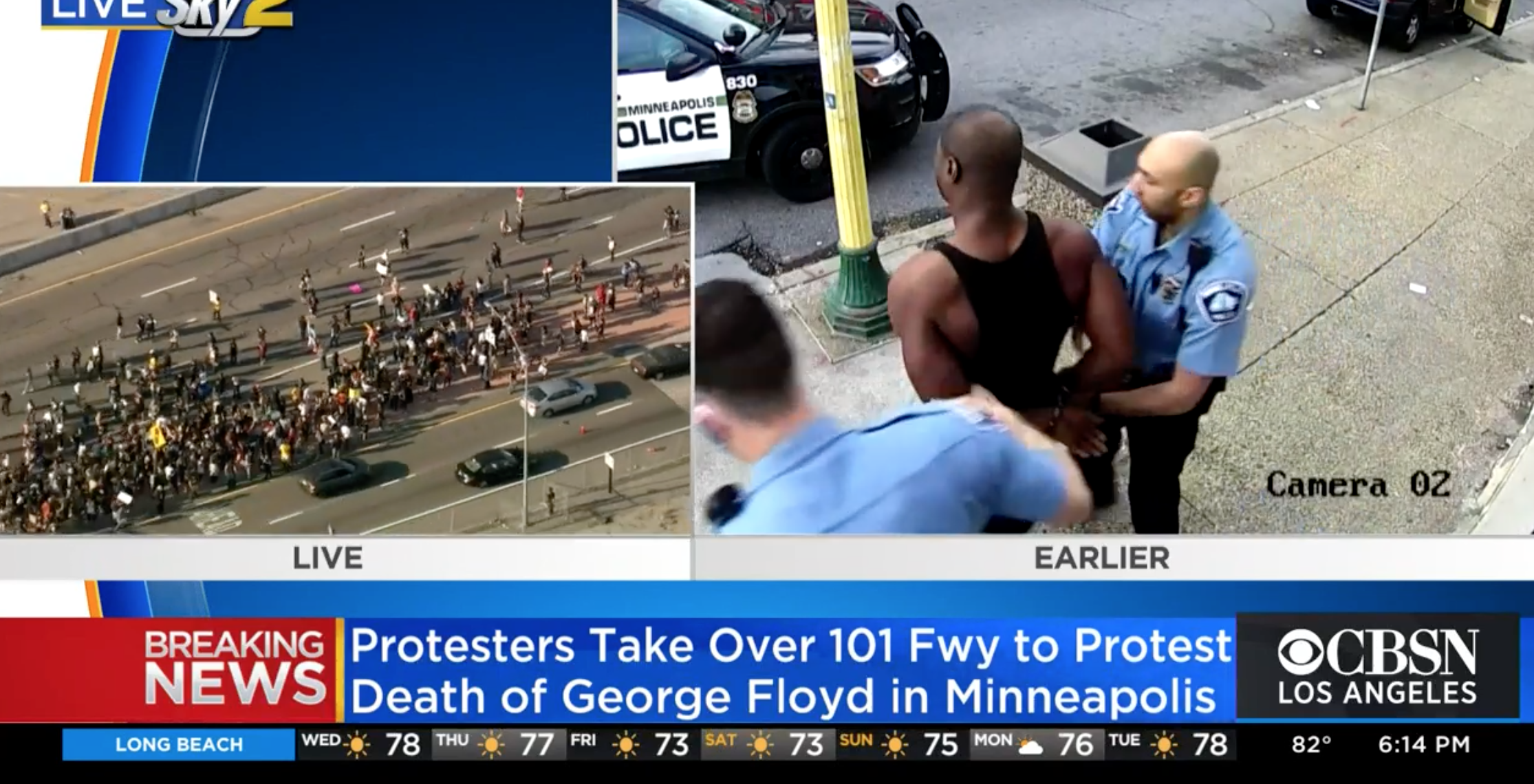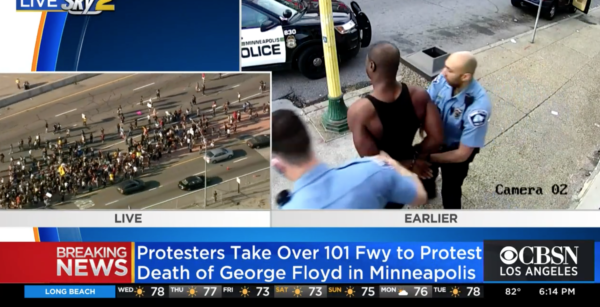 As the coronavirus pandemic surges through poor neighborhoods in Los Angeles, disproportionally impacting people of color, the Black community has been hit even harder by the persistent disease of racism. The reports that brought masked and unmasked protesters out on the streets of LA were images of yet another the death in police custody of a Black man who repeatedly told the arresting officer kneeling on his neck: "I can't breathe."
That officer was fired relatively quickly but prosecutors only decided to arrest him Friday morning, charging him with third degree murder and manslaughter. What might happen to the other officers standing around as bystanders pleaded for Floyd's life is up in the air. The LA Times has continuous live coverage.
The more than 8 minute death of handcuffed George Floyd was caught on tape May 27 in Minneapolis, Minnesota generated sharp reminders of Eric Gardner in 2014 saying "I can't breathe" 11 times as a New York police officer slowly strangled him in a chokehold. Like Floyd, Gardner's death was also caught on tape but apparently the tape didn't matter. A grand jury decided not to take action against NYPD Officer Daniel Pantaleo in Garner's death.
And 28 years ago, on April 29, 1992, four LAPD officers were acquitted of the March 14, 1991 videotaped beating of black motorist Rodney King, leading to riots in LA, national attention and the subsequent Christopher Commission Report.
"Rodney King is the symbol that links unleashed police racism in Los Angeles to the crisis of black life everywhere, LA historian Mike Davis wrote in a June 1, 1992 essay in The Nation. "Indeed, it is becoming clear that the King case may be almost as much of a watershed in American history as Dred Scott, a test of the very meaning of the citizenship for which African-Americans have struggled for 400 years. But on the grass-roots level, especially among gang youth, Rodney King may not have quite the same profound resonance. As one of the Inglewood Bloods told me: "Rodney King? Shit, my homies be beat like dogs by the police every day. This riot is about all the homeboys murdered by the police, about the little sister killed by the Koreans, about twenty-seven years of oppression. Rodney King just the trigger."
But, as Human Rights Campaign President Alphonso David and leaders of 75 other LGBTQ organizations (including Equality California's Rick Chavez Zbur) just noted in a public letter, Floyd's death was casually carried out in the context of the killing of Ahmaud Arbery in Georgia; the death of Breonna Taylor in a shooting with police in Louisville; a white woman in New York City calling the police on Christian Cooper a black gay man who told her to obey the rules in Central Park and leash her dog; and the killings of at least 12 transgender people so far in this year alone, the Washington Blade reported.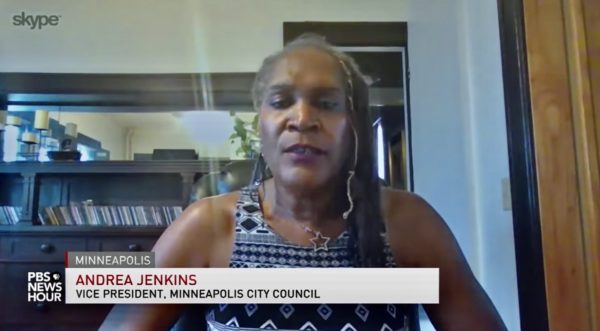 One critical voice who has elevated that discussion is Andrea Jenkins, the trans Vice President of the Minneapolis City Council, who represents the district where Floyd was killed. "It was not only a crime against George Floyd, although he suffered the most deep injustice. But in my mind, it felt like it was a symbol for a knee on the neck of Black America," she said in an interview with PBS NewsHour.
"Not only do I see these images on social media of Black and Brown men and women being killed by state violence, but also have to see trans identified – mostly Black women – who have been brutalized and murdered by the state, if not by the state," Jenkins said in an interview with out CNN anchor Don Lemon. "It has been sanctioned by the state. So, the trauma that is in our communities is devastating. And it's brought on by this really horrible disease that is racism."
https://youtu.be/CAdE8_nP2ag
21 years in prison for gunman who shot gay dogwalker
"You shot me and left me to die, and both of our lives have changed forever. […] but I do forgive you and everyone involved with the attack"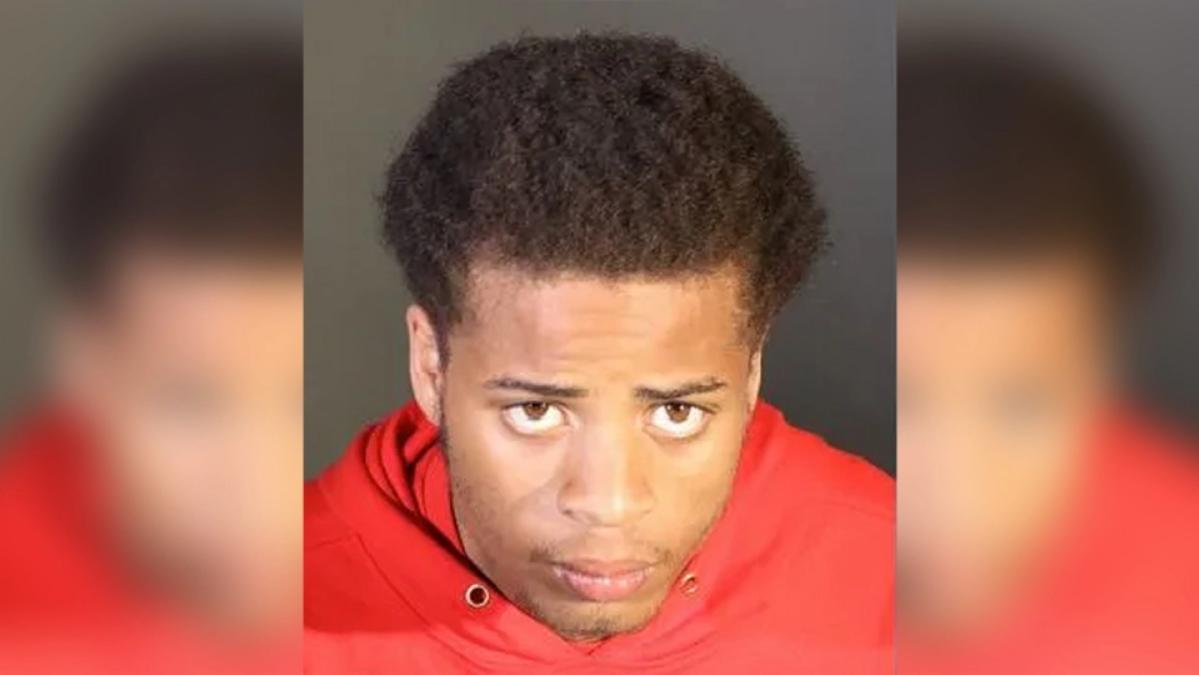 LOS ANGELES – A Los Angeles County Superior Court judge handed down a sentence of 21 years in a California prison to James Howard Jackson, who had shot then thirty-year-old Ryan Fischer, a gay professional dog walker in Hollywood on Feb. 24, 2021.
The robbery/dognapping made global headlines after it was revealed that the two French Bulldogs taken were owned by Oscar and Grammy award winning singer Stefani Germanotta, known as Lady Gaga.
Fischer was walking three of the singer's dogs when Jackson shot him during a struggle and then along with an accomplice grabbed two of the dogs in the 1500 block of N. Sierra Bonita Avenue just off Sunset Blvd, taking off in a late-model white Nissan Altima 4-door sedan.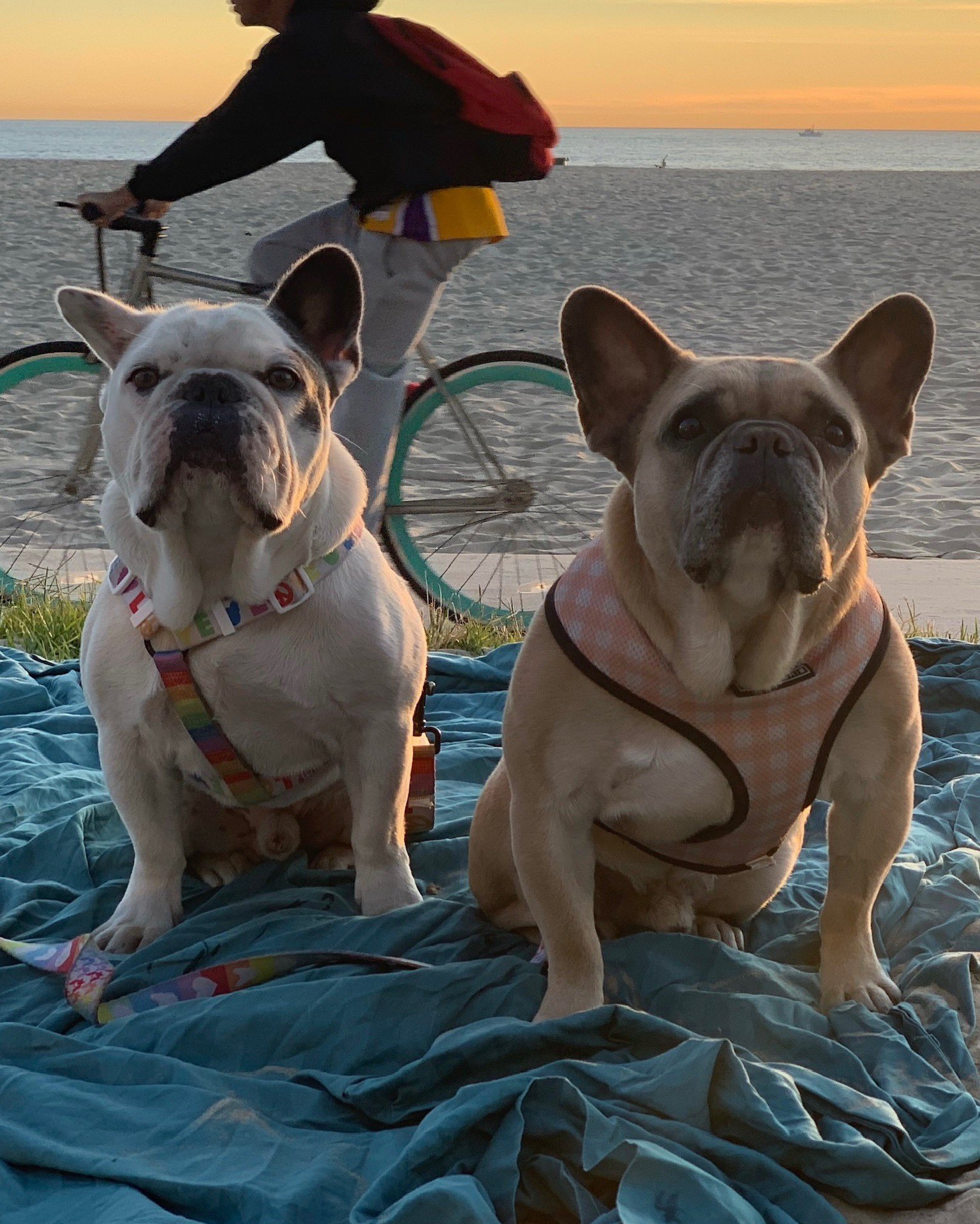 The Lady Gaga connection was a coincidence, authorities told KTLA/Associated Press. The motive was the value of the French bulldogs, a breed that can run into the thousands of dollars, and detectives do not believe the thieves knew the dogs belonged to the musician.
According to the Los Angeles County District Attorney's Office, the sentence handed down was part of a plea deal.
"The plea agreement holds Mr. Jackson accountable for perpetrating a coldhearted violent act and provides justice for our victim," the office said in a statement. Howard had been charged with attempted murder, conspiracy to commit a robbery and assault with a semiautomatic firearm.
In a victim's impact statement made prior to Jackson's sentencing, Fischer said:
"Your honor, thank you for the opportunity to give my impact statement here in court, and for everything you, Michele Hanisee [Deputy LA District Attorney] and the DA's office, and detectives and law enforcement have done to bring these cases to completion. It's hard to believe that it's nearing 2 years since I was taking Asia, Koji and Gustav out for an evening stroll when – in an instant – I suddenly found myself fighting with everything I had to protect those dogs from being stolen. But it wasn't enough: I was beaten, strangled, shot and left to die bleeding out on a sidewalk and gasping for my life. And Koji and Gustav were gone.
In some ways that night and everything that followed: from hospital stays, lung collapse after lung collapse and eventual surgery and partial removal- physical therapy that I'm still in to get mobility and sensation fully restored in my shoulder, chest and hand, the media storm that made me terrified to even go back to my home or walk on the street, the loss of a career, friendships, sense of self and savings and then aimlessly traveling this country for over a year as I went into debt, contemplated suicide, and struggled – and continue to struggle – with my identity and how to move past such a life-changing, earth-shattering event…
Sometimes it feels like all that happened to someone else, and other times it feels like I never left that sidewalk. A part of me is still trying desperately to save those dogs knowing you were going to shoot me. I'm sure it feels the same for you, Mr. Jackson. I imagine you're on that sidewalk sometimes too. You shot me and left me to die, and both of our lives have changed forever. A limbo neither of us asked to be in.
In my darkest hours, when I feel lost and abandoned and mourn a life and those dogs I sacrificed myself for, a life I've accepted – through a lot of therapy – I've accepted I'll never see again, I try to focus on what I've gained:
A deeper love for friends and family that have shown up and continue to show up even when I'm still such a mess. I love you and thank you.
That, despite everything and the trauma I still work through in regards to them, I love dogs so so much and look forward to continue bringing them back into my life.
Gratitude for strangers that became family and have supported me in countless ways.
And that I finally feel healthy enough to stop running from my problems.
Forgiving myself for not being able to save those dogs that night and falling down again and again these last two years.
Forgiving friends who didn't and don't know how to be there for me in the lengthy recovery process this continues to be.
And forgiveness for you. It's something I'm still working on but I do forgive you and everyone involved with the attack. You completely altered my life, and I know I can't fully move forward from the night you shot me until I said those words to you.
My hope for you is the same for me: to live a life of purpose and grow from what happened that night. Moving forward, it's going to be a hard road for both of us, and I know from prison it won't be easy. But I do hope you find a calling there as I continue to search for my own and live life contributing to others. It's the only way to heal from this experience.
I also wanted to give gratitude, to thank you for not killing – for not harming – the dogs after everything and the media storm. They were returned and returned to their mom. I don't think I could have lived with myself if they died.
And, in general, I just wanted to say how guns have impacted my life and countless others and continue to harm our society. I look forward to contributing to a future that doesn't destroy so many lives and so many people in this country. It doesn't make sense to fear for your life at school, places of worship, clubs, or when you're taking dogs out for an evening stroll.
Thank you all for your time today."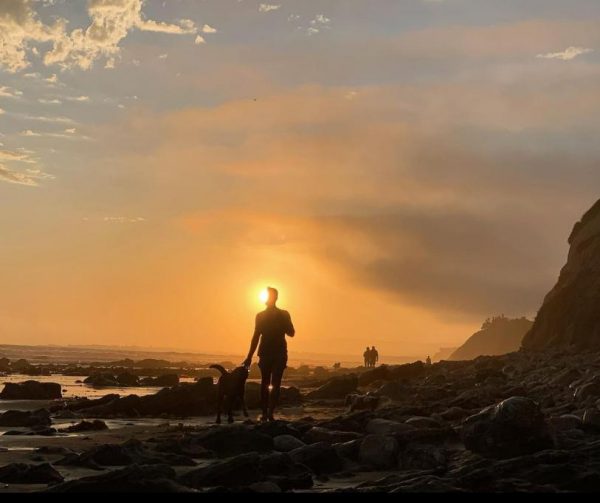 KTLA/AP also reported that another accomplice, Harold White, pleaded no contest Monday to a count of ex-convict in possession of a gun. White, who was in a relationship with McBride at the time, will be sentenced next year.
The couple had allegedly tried to help White's son, Jaylin White, avoid arrest in the aftermath of the shooting.
Jaylin White and Lafayette Whaley earlier this year pleaded no contest to robbery.