Trump attacks expansion of vote-by-mail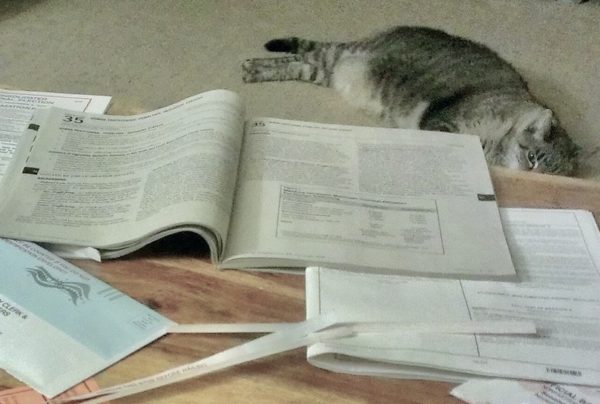 (UPDATED) #TrumpMeltdown trended on Twitter most of May 27, in part because the president of the United States whined about a wide range of topics, including how the "Radical Left Lamestream Media" and the "Do Nothing Democrats" are spreading misinformation about how fast he reacted to COVID-19. He countered by crowing that "We pass 15,000,000 Tests Today, by far the most in the World." But Donald Trump tweeted not one word of compassion about the victims of the virus on the day the coronavirus death toll in America surpassed 100,000 souls.
But what really sparked Trump's ire was the audacity of Twitter, his darling social media platform, to attach a fact check alert to two of his unsubstantiated tweets – one saying that mail-in ballots in the 2020 election would be fraudulent.
"There is NO WAY (ZERO!) that Mail-In Ballots will be anything less than substantially fraudulent. Mail boxes will be robbed, ballots will be forged & even illegally printed out & fraudulently signed. The Governor of California is sending Ballots to millions of people, anyone…..living in the state, no matter who they are or how they got there, will get one. That will be followed up with professionals telling all of these people, many of whom have never even thought of voting before, how, and for whom, to vote. This will be a Rigged Election. No way!," Trump tweeted on May 26, receiving 77.9 thousand "likes."
Seeing absolutely no contradiction, Trump also threatened to "strongly regulate" social media platforms "or close them down" since Republicans allege the platforms "silence conservative voices," denying them freedom of speech. Trump has 80.3 million Twitter followers.
"Get the facts about mail-in ballots" Twitter posted as an alert link leading to a fact check page saying "Trump makes unsubstantial claim that mail-in ballots will lead to voter fraud."
For that, Trump is expected to sign an executive order Thursday that would turn the Federal Communications Commission into "the President's speech police," former FCC commissioner Jennifer Rosenworcel said in a statement. While legal challenges are sure to follow since Congress regulates the FCC, Trump has been packing the federal court system so a once logical legal outcome about government censorship of the First Amendment is not necessarily a given result. Meanwhile, Trump and troll-driven Black Lists akin to the Red Scare days of McCarthyism may flood social media zones before the November elections.
(UPDATE: Trump signed the executive order. "We're here today to defend free speech from one of the greatest dangers," Trump said before signing the document, the Washington Post reported.)
California Gov. Gavin Newsom and Sec. of State Alex Padilla defended Newsom's executive order issued in the face of the COVID-19 crisis that requires mail ballots be sent to California voters as an option to in-person voting in November.
"The foundation of democracy is built on freedom and the right to vote," a right for which many Americans have died, Newsom said. "In a pandemic, I don't want to deny you that right. … It's a noble cause. I think it's an appropriate cause."
Padilla tweeted  that fact-checking "is a small step in the right direction. But we can all do our part to call out the lies. The president is intentionally spreading false information about vote by mail and blatantly trying to suppress the vote."
Though Trump sent his vote-by-mail ballot to Florida for the 2018 elections, three Republican groups have sued Newsom over his executive order. They apparently choose to ignore the fact that at least 52 people who worked the polls or stood in long lines to vote in the April 7 Wisconsin primary contracted COVID-19.
"The Republican playbook has been the same for years, and frankly voters are finally starting to see it for what it is – voter suppression," says out Los Angeles County Democratic Party Chair Mark J. Gonzalez. "The RNC and the CAGOP's latest attempt to use the courts to gaslight supporters is another charade to confuse and deflect from their inaction on putting forth policies designed to help working class voters. California joins South Carolina, Utah, and 26 other states who allow vote-by-mail – are they suing Republican-led states, too? If you don't want voters to vote, then don't run to represent them. No one should have to choose between their health and their right to vote."
"Since 1962, California has offered its citizens the opportunity to vote by mail.  Over the years, the ability to vote by mail has been expanded and more Californians vote by mail today than go to their polling places on Election Day," Lester F. Aponte, President of the Stonewall Democratic Club and Co-Chair of LGBT Caucus of the California Democratic Party, tells the Los Angeles Blade.
"California is one of 29 states who allow vote-by-mail. Five states currently conduct all elections entirely by mail. It is an option that makes it easier for people who have difficulty traveling, be it for economic or physical reasons or just because they have to be out of state on the day of the election, to exercise their right to vote. It is vitally important now that we are facing a pandemic of unprecedented proportions," Aponte says.
"Recognizing the value of making it easier for more people to vote," he says, "Stonewall pioneered campaigns to encourage vote by mail. For many years, our 'Vote Naked' campaign educated voters on the availability of vote by mail and encouraged voters to exercise their right to vote no matter where they are on Election Day.
"There is no evidence that vote by mail is more susceptible to fraud than in person voting," he continues. "There is ample evidence that the more people vote the more Republicans lose. Trump's cynical attack on vote by mail in California and other states is part of the Republican strategy to suppress the vote, especially among communities of color and other traditionally Democratic voters, including the LGBTQ community. And if they have to force voters into a choice between risking their lives or voting Republicans out of office, that is what they will do.  We do not intend to let them get away with it."
"We continue to call voters to encourage them to change to Vote-by-Mail status," adds ally Jane Wishon, Stonewall Democratic Club Political Vice President, who also runs their live phonebank campaign in Arizona, in collaboration with Westside Democratic Headquarters.
Trump, the one-time consummate marketer, probably couldn't help himself as his Twitter whines against Vote-by-Mail prompted a trend of awareness about the very method that may well unseat him in November.
(Photo by Sean Freese via Flickr)
'Leave Our Kids Alone' group protest, LAPD make arrests
A separate group gathered to rally in support of LGBTQ+ youth, ultimately leading to an unlawful assembly declaration & at least two arrests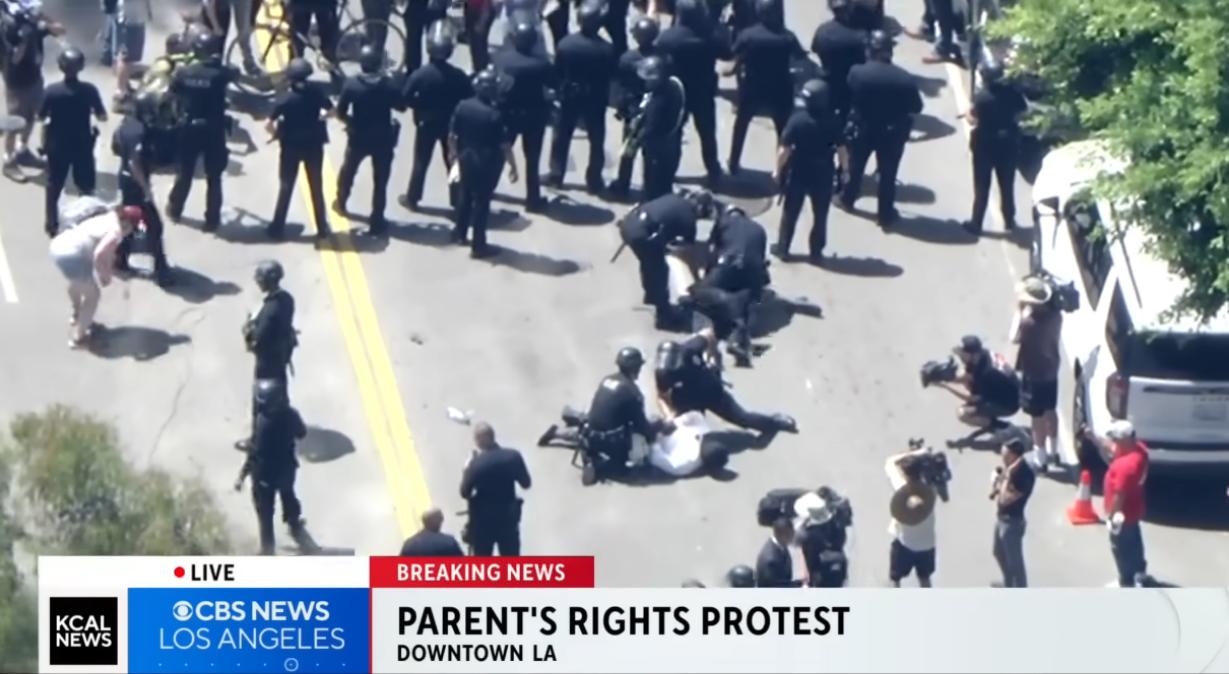 LOS ANGELES – Approximately 200 people from the loosely organized social media based group 'Leave Our Kids Alone' (LOKA) marched through downtown Los Angeles today in support of parental rights and notification policies in schools.
A separate group gathered to rally in support of LGBTQ+ youth, ultimately leading to an unlawful assembly declaration and at least two arrests as the Los Angeles Police Department deployed about 40 officers and supervisors to keep the groups apart.
On the LOKA group Instagram and Facebook posts, organizers called for the Tuesday rally at 10:00 AM writing: "Calling all California parents to stand United and rally for our kids. Whether it's the school boards or Sacramento in their attempts to indoctrinate kids and separate them from families – parents have had enough."
The group on its social media posts claim they are supporting parental rights and opposing "indoctrination," "sexualization" or "grooming" of children in schools.
KCAL CBS-Los Angeles reported the LOKA group assembled outside Los Angeles City Hall, then marched to Los Angeles Unified School District headquarters, where some participants sat in the intersection. Some people in the Leave Our Kids Alone group waved American flags while others carried signs with slogans such as "Parental Rights Matter" and "Parental rights are non-negotiable," and many wore shirts saying "Leave our kids alone." One held a sign reading "Teach the Bible, not porn."
The protest was in support of forcing the LAUSD Board to adopt policies that would 'Out' trans children and also minimize the so-called influences regarding LGBTQ+ students.
On X/Twitter members of the group live-streamed the march and protest:
Los Angeles CA – Leave Our Kids Alone #saveourkids #leaveourkidsalone

We are live on YouTube and rumble. pic.twitter.com/ytOtQ20kOM

— Oreo Express Normal/Not Mentally Ill (@OreoExpress) August 22, 2023
The counter-rally was organized by Ground Game LA and Queer Nation Los Angeles, plus another Queer affirming group which are opposed to parental-notification policies, noting such policy requirements can put LGBTQ+ students at risk if their families are not accepting of their gender identity.
KCAL also reported that members of the smaller counter protest, some of whom waved Pride flags, prompting LAPD officers to set up skirmish lines to keep the groups separated. According to reports from the scene, police attempted to push the counter-protesters back, but two people allegedly resisted and were taken into custody.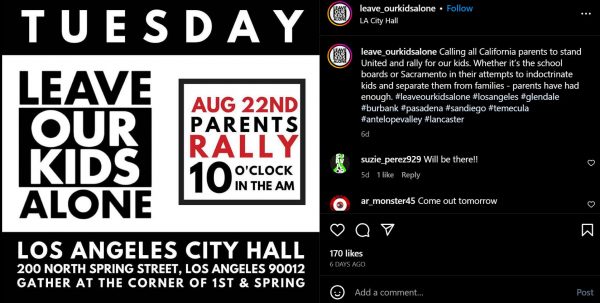 The LOKA group first rose to prominence after a group of parents took to social media and distributed flyers to protest a scheduled June 2 LGBTQ+ Pride event at Saticoy Elementary School on 7850 Ethel Avenue in North Hollywood.
Then on June 6, the group and others clashed with Glendale Police and LGBTQ+ supporters outside a meeting of the Glendale Unified School Board over LGBTQ+ studies and the GUSD polices on addressing LGBTQ+ related issues.
News footage from CBS Los Angeles KCAL showed approximately fifty Glendale police officers attempting to keep the two groups separated and then fists were thrown as both sides engaged in physical assaults. A Glendale police spokesperson confirmed that some arrests had been made but wouldn't comment further.
The group has also been present at school board meetings in Temecula, Murietta Valley, Orange County and Chino protesting for polices that would forcibly 'Out' LGBTQ+ kids and also remove LGBTQ+ materials, books, and Pride flags from classrooms.
California Attorney General Rob Bonta announced  earlier this month that his office is opening a civil rights investigation into potential legal violations by the Chino Valley Unified School District (CVUSD), which adopted a policy that forces schools to "out" students whose gender identities may be changing.
The Murrieta Valley Unified School District Board (MVUSD), had approved a policy mirroring one recently adopted by the Chino Valley Unified School District (CVUSD), that forces school faculty and staff to "out" students to parents whose gender identities may be changing.
Bonta in an emailed statement to the Blade said: "I am deeply disturbed to learn another school district has put at risk the safety and privacy of transgender and gender nonconforming students by adopting a forced outing policy. My office remains committed to ensuring school policies do not target or seek to discriminate against California's most vulnerable communities. California will not stand for violations of our students' civil rights."
Related:
Parent's rights group and counter protesters clash Downtown LA: