Anthony Fauci reflects on death of Larry Kramer: 'He was truly an icon'
NIH director's relationship with AIDS activist both friendly, antagonistic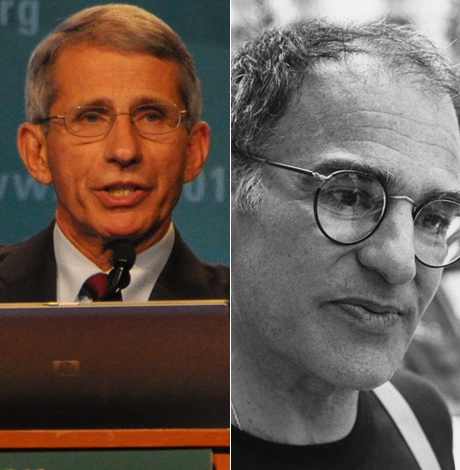 Dr. Anthony Fauci often had a combative relationship with Larry Kramer, but that didn't stop the longtime director of the National Institute of Allergy and Infectious Diseases from fondly remembering on Wednesday the gay rights pioneer and AIDS activist upon news of his death.
"It's a very sad day, not only for me, but for so many who have had the opportunity to interact with Larry since the very beginning of the HIV/AIDS era," Fauci told the Washington Blade in an exclusive interview.
Although the two had a relationship that was at times friendly, other times antagonistic, Fauci said he and Kramer had conversations right up until his death, including at dinners, via email and "a lot of telephone calls, a lot of calls."
It was in one of those phone calls a couple of weeks ago Fauci said he began to suspect Kramer's passing would come soon. At the time, Fauci said he was calling Kramer to congratulate him on a new honor, calling it a "personal friendly thing."
They had such a contentious relationship – that turned into a true and meaningful friendship. Here Dr Anthony Fauci @NIAIDNews speaks heartwarmingly to @JudyWoodruff about his friend, the late Larry Kramer. https://t.co/sf7EcVbI58

— Sara Just (@sarajust) May 27, 2020

"He sounded extremely halting on the phone, barely able to get the words out," Fauci said. "I said to myself when I hung up, 'Gee, this is not good news. He's getting very weak and frail.'"
Fauci acknowledged he was aware Kramer "was getting very fragile over the last several months" based on recent pictures of the HIV activist and previous phone conversations.
News of Kramer's passing Wednesday, Fauci said, came to him via a text message earlier in the day from HIV activist Peter Staley, who urged Fauci to call him.
"It was very sad; we both were in tears on the phone," Fauci said, becoming choked-up in his interview with the Blade.
Crediting Kramer with having an "amazing life, a full life," Fauci recalled the late activist's efforts in helping found ACT UP and the New York City-based Gay Men's Health Crisis.
"He was truly an icon," Fauci said. "He kind of forged the area, the role of the activist community and participating in the serious aspects of how you respond to a particular disease that afflicts individuals who are at risk, and actually already afflicted. And that's Larry. I mean, that's what Larry did."
As a founder of ACT UP in the 1980s, Kramer helped lead protests against NIH to encourage the development of a cure to combat HIV/AIDS and distribute it to thousands of gay men dying from the disease across the United States.
One such protest was held at NIH on April 20, 1990. More than 1,000 demonstrators hoisted placards and shouted in bullhorns as they accused Fauci of taking insufficient action.
"I've had an interesting, unusual — and in some respects, wonderful — journey with Larry over the years," Fauci conceded. "Since I was in his mind a representative of the government that he felt wasn't moving quickly or well enough with HIV, we started off in somewhat of an adversarial role where he was attacking me for any number of reasons, and then as we got to know each other and realized that we both had a common goal that we shared, we became acquaintances, then friends, then really, really close friends."
In the early days of the HIV/AIDS epidemic, there was no treatment. Fauci took a lead role in the development in 1987 of AZT, or zidovudine, the first antiretroviral approved for the treatment of HIV, but that drug was limited in effectiveness and carried side effects.
It wasn't until many years later in the 1990s — and many, many more protests from HIV activists — that more effective treatments became available against HIV/AIDS, which led to the availability today of Truvada as a prophylactic to prevent infection. Fauci has credited the gay community with having "incredible courage" in lifting stigma during the HIV/AIDS crisis to help the push forward for drugs available today.
Although Kramer had a reputation for being cantankerous and personally abrasive, Fauci said that was exactly what made him effective.
"He was very iconoclastic," Fauci said. "He was theatrical. He was sometimes — not sometimes, but often times — rubs people very much the wrong way, but he got the attention that he needed to make the points that he wanted to make. So, you know, every once in a while, a giant among us passes, and I think this is one of those times when somebody who truly was a giant and an icon and a legend passes."
Kramer wasn't shy about antagonizing Fauci in recent years, publicly criticizing him for failing to develop a cure for HIV/AIDS. Nonetheless, Fauci said the two continued to be friends, although it was "a complicated relationship."
"We gradually grew into a very deep and lasting friendship, and a friendship that he wasn't afraid, even when we were at our very best and closest of still criticizing things that he didn't think were the way he wanted to see me do things," Fauci said. "So he wasn't afraid to push back even at a time when we were close friends."
Asked by the Blade what was Kramer's most singularly important act in combatting HIV/AIDS, Fauci identified the late activist's ability to "organize a group of young people."
"He was outrageous in some respects, but he brought into his wing a group of young activists who took a very different approach, who took a very analytical approach, a very intellectual approach, a very academic approach," Fauci said.
Fauci identified Staley, Mark Harrington, Gregg Gonsalves and David Barr as among the HIV activists who were associated with Kramer and "came under his wing."
"He would shake the cages and they would go and get things done in their interaction," Fauci said. "So, I think it was a combination of him breaking down the barriers between governments and the activist community but also adding a degree of impact…by training and mentoring young activists."
Asked what he thinks epidemiologists can learn from Kramer, Fauci said the HIV activist's teachings are more applicable to others.
"I'm not so sure epidemiologists can learn something," Fauci said. "But I think people who are involved in response to outbreaks and then you have a disenfranchised community that's unfortunately…the major target of a particular outbreak that you got to learn from Larry that people speak up and make their voice known even if they're in some respects disenfranchised. That's the lesson that Larry learned."
CORRECTION: An earlier version of this misspelled the name of Gregg Gonsalves. The Blade regrets the error.
President's Emergency Plan for AIDS Relief marks year 20
Achievements PEPFAR have been remarkable, well-documented by outside evaluators, and hugely applauded throughout the advocacy community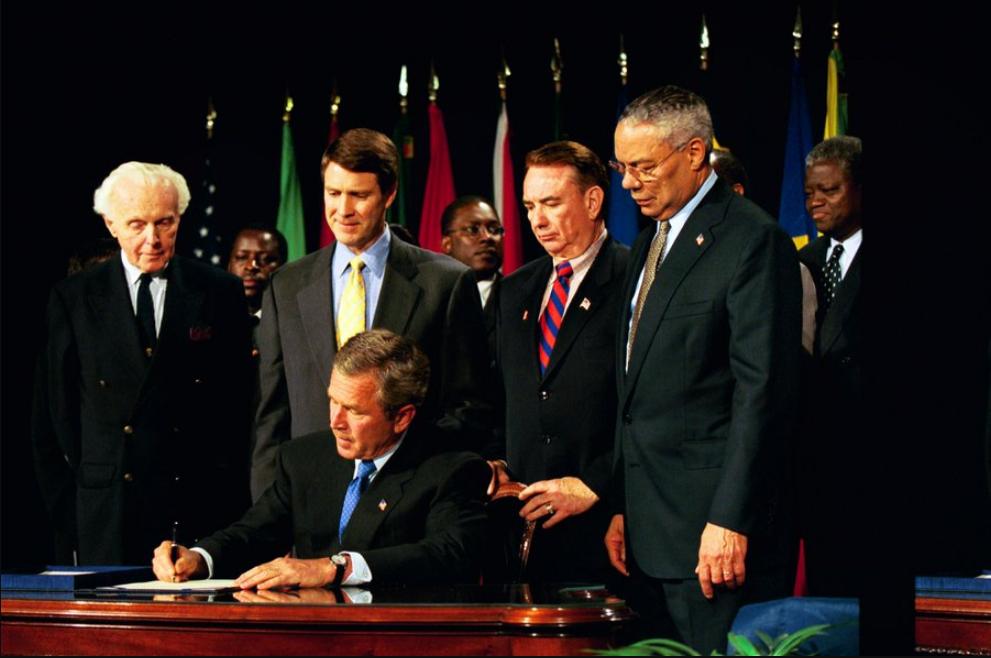 WASHINGTON – The President's Emergency Plan for AIDS Relief (PEPFAR) marks its twenty year anniversary today, marking the largest commitment by any nation to address a single disease in the world.
The initiative which was personally led and launched by former President George W. Bush in 2003, its funding has totaled more than $110 billion to date, including funding for the Global Fund to Fight AIDS, Tuberculosis and Malaria (Global Fund), to which the U.S. government is the largest donor.
PEPFAR is credited with saving millions of lives and helping to change the trajectory of the global HIV epidemic. The White House today released a statement by President Joe Biden marking the 20th Anniversary:
Twenty years ago today, President George W. Bush declared that preventing and treating HIV/AIDS was a foreign policy priority of the United States. At a time when nearly 30 million people were HIV positive, but very few were receiving life-saving medicines, the President's Emergency Plan for AIDS Relief (PEPFAR) transformed the global AIDS response and laid a marker for America's commitment to countries that were impacted the hardest by the AIDS epidemic. Helping lead the bipartisan effort in Congress to authorize PEPFAR is among my proudest achievements from my time in the Senate. To this day, PEPFAR remains a powerful example of America's unmatched ability to drive progress and make life better for people around the world.

Since 2003, PEPFAR has saved more than 25 million lives and dramatically improved health outcomes in more than 55 partner countries. AIDS-related deaths have declined by 68 percent since their peak in 2004, and new HIV infections are down 42 percent. PEPFAR investments have ensured that 5.5 million babies have been born HIV-free. And two decades of investment in partner nations' health systems played a critical role in countries' ability to respond to other health crises such as COVID-19, Mpox, and Ebola.

Today, PEPFAR continues to support 20.1 million people around the world with HIV/AIDS treatment, and my Administration is committed to continuing to lead the global HIV/AIDS response. We will build on our decades of progress to reach the Sustainable Development Goal of ending AIDS by 2030, work to eliminate the stigma and inequities that keep people from accessing care, and keep the voices of people living with HIV/AIDS at the center of our response. I look forward to working with Congress on PEPFAR's reauthorization this year.
PEPFAR is overseen by the U.S. Global AIDS Coordinator, who is appointed by the President, confirmed by the Senate, and reports directly to the Secretary of State, as established through PEPFAR's authorizing legislation.
PEPFAR's original authorization established new structures and authorities, consolidating all U.S. bilateral and multilateral activities and funding for global HIV/AIDS. Several U.S. agencies, host country governments, and other organizations are involved in implementation.
Dr. John Nkengasong, the current coordinator was sworn in on June 13, 2022, and holds the rank of Ambassador leading the Office of the Global AIDS Coordinator (OGAC) at the U.S. Department of State.
Twenty years ago this month, President George W. Bush announced #PEPFAR during his State of the Union address. Since then, the U.S. government has invested $100B+ in the global HIV/AIDS response through PEPFAR, saving 25M lives & bringing us closer to #EndAIDS2030. #PEPFAR20 pic.twitter.com/SMAOHWPZ03

— PEPFAR (@PEPFAR) January 11, 2023
Nobel Prize winning scientist Harold Varmus, who served as Director of the National Institutes of Health (NIH) from 1993 to 1999 and currently the Lewis Thomas University Professor of Medicine at Weill Cornell Medicine in New York City, wrote in an article honoring World Aids Day 2013:
[…] "the PEPFAR story must begin with George W. Bush and his wife, Laura, and their interests in AIDS, Africa, and what Bush termed "compassionate conservatism." According to his 2010 memoir, Decision Points, the two of them developed a serious interest in improving the fate of the people of Africa after reading Alex Haley's Roots and visiting The Gambia in 1990.3 In 1998, while pondering a run for the U.S. presidency, he discussed Africa with Condoleezza Rice, his future secretary of state; she said that, if elected, working more closely with countries on that continent should be a significant part of his foreign policy. She also told him that HIV/AIDS was a central problem in Africa but that the United States was spending only $500 million per year on global AIDS, with the money spread across six federal agencies, without a clear strategy for curbing the epidemic."
Key Facts (As provided by Kaiser Health & Family Foundation)
Although the U.S. has been involved in efforts to address the global AIDS crisis since the mid-1980s, the creation of the President's Emergency Plan for AIDS Relief (PEPFAR) in 2003 marked a significant increase in funding and attention to the epidemic.
PEPFAR is the largest commitment by any nation to address a single disease in the world; to date, its funding has totaled more than $110 billion, including funding for the Global Fund to Fight AIDS, Tuberculosis and Malaria (Global Fund), to which the U.S. government is the largest donor. PEPFAR is credited with saving millions of lives and helping to change the trajectory of the global HIV epidemic.
U.S. funding for PEPFAR grew from $2.2 billion in FY 2004 to $7.0 billion in FY 2022; FY 2022 funding includes $5.4 billion provided for bilateral HIV efforts and $1.6 billion for multilateral efforts ($50 million for UNAIDS and $1.56 billion for the Global Fund).
As the COVID-19 pandemic continues to have profound effects across the world, PEPFAR has acted to respond to COVID-19 in countries that receive support in order to minimize HIV service disruptions and leverage the program's capabilities to address COVID-19 more broadly.
Looking ahead, PEPFAR faces several issues and challenges, including how best to: address the short- and long-term impacts of COVID-19 on PEPFAR and the HIV response; accelerate progress toward epidemic control in the context of flat funding; support and strengthen community-led responses and the sustainability of HIV programs; define its role in global health security and broader health systems strengthening efforts; and continue to coordinate with other key players in the HIV ecosystem, including the Global Fund.
Key Activities and Results (As provided by Kaiser Health & Family Foundation)
PEPFAR activities focus on expanding access to HIV prevention, treatment, and care interventions. These include provision of antiretroviral treatment, pre-exposure prophylaxis, voluntary male circumcision, condoms, and other commodities related to HIV services. In addition, PEPFAR has launched specific initiatives in key strategic areas. For example, in 2015, PEPFAR launched DREAMS, a public-private partnership that aims to reduce HIV infections in adolescent girls and young women.
The latest results reported by PEPFAR indicate that it has:
supported testing services for 63.4 million people in FY 2021;
prevented 2.8 million babies from being born with HIV, who would have otherwise been infected;
provided care for more than 7.1 million orphans and vulnerable children (OVC);
supported training for nearly 300,000 new health care workers; and
supported antiretroviral treatment for 18.96 million people.
In the 15 countries implementing the DREAMS initiative, new diagnoses among adolescent girls and young women have declined with most DREAMS areas (96%) experiencing declines greater than 25% and nearly two-thirds with declines greater than 40%.
The achievements of the PEPFAR program have been remarkable, well-documented by outside evaluators, and hugely applauded throughout the advocacy community and the developing world. In general, milestones have been met, the program has been enlarged (for instance, to include some research on implementation of medical assistance), the roster of PEPFAR countries has grown and spending plans have not been exceeded.