HISTORIC: Supreme Court rules firing workers for being LGBTQ is illegal
Gorsuch extends nationwide protections to LGBTQ workers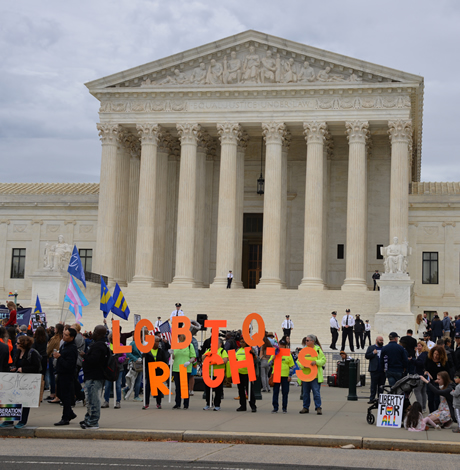 In a historic development, the U.S. Supreme Court ruled on Monday federal law bars discrimination against workers for being LGBTQ, affirming long-sought federal protections for LGBTQ people in the workplace.
The 6-3 decision, written by U.S. Associate Justice Neil Gorsuch, determines anti-LGBTQ discrimination is a form of sex discrimination, thus prohibited under Title VII of the Civil Rights Act of 1964.
"An employer who fires an individual for being homosexual or transgender fires that person for traits or actions it would not have questioned in members of a different sex," Gorsuch writes. "Sex plays a necessary and undisguisable role in the decision, exactly what Title VII forbids."
Joining Gorsuch in the majority was U.S Chief Justice John Roberts, U.S. Associate Justice Ruth Bader Ginsburg, U.S. Associate Justice Elena Kagan, U.S. Associate Justice Sonia Sotomayor and U.S. Associate Justice Stephen Breyer.
Dissenting were U.S. Associate Justices Brett Kavanaugh, Samuel Alito and Clarence Thomas.
The decision was issued in three consolidated cases, Bostock v. Clayton County and Zarda v. Altitude Express, which sought to clarify whether anti-gay discrimination is a form of sex discrimination, and Harris Funeral Homes v. EEOC, which sought to clarify whether anti-trans discrimination was sex discrimination.
The transgender worker in the Harris case, Aimee Stephens, a funeral home director, passed away last month before she could learn of the decision to come from the Supreme Court. The gay worker in the Zarda case, Donald Zarda, a skydiver, had passed away before his case reached the Supreme Court. The gay worker in the Bostock case, Gerald Bostock, is still living.
In each of these cases, LGBTQ workers argued they were unlawfully filed because of their sexual orientation, but the employers that was perfectly legal because no federal law explicitly bans anti-LGBTQ discrimination.
Although employers argued before the Supreme Court Congress didn't to include LGBTQ people when it enacted the Civil Rights Act of 1964, Gorsuch throws cold water on that argument.
"The employers assert 'no one' in 1964 or for some time after would have anticipated today's result," Gorsuch writes. "But is that really true? Not long after the law's passage, gay and transgender employees began filing Title VII complaints, so at least some people foresaw this potential application."
The ruling doesn't merely uphold the status quo, despite the widespread misconception anti-LGBTQ discrimination is already illegal. For the 29 states that lack state laws banning anti-LGBTQ discrimination in the workforce, the ruling affirms discrimination based on sexual orientation and gender identity in the workplace is now illegal in those places and nationwide.
In terms of federal law, the decision dramatically expands civil rights protections by assuring Title VII prohibits discrimination against LGBTQ people.
Only two federal judicial circuits — the Second and the Seventh — had previously determined anti-gay discrimination is sex discrimination. The idea anti-trans discrimination is a form a sex discrimination is more established in the U.S. jurisprudence, but the Supreme Court ruling now guarantees those protections nationwide.
LGBTQ rights advocates, many of whom had been fighting for decades to win LGBTQ non-discrimination protections at the federal level, hailed the Supreme Court ruling as a historic milestone.
Tico Almeida, an attorney at WilmerHale who represented more than 200 businesses – including Apple, Facebook, Google, Univision, and Warner Media – in an amicus brief supporting the LGBTQ workers, said the decision "affirms the legal protections that give LGBTQ Americans the freedom to work without discrimination."
"The major businesses that signed our pro-LGBTQ amicus brief to the Supreme Court employ millions of workers, comprise over $5 trillion in revenue, and share a common interest in equality because they know that ending discrimination in the workplace is good for the U.S. economy as a whole," Almeida said.
Shanon Minter, a transgender civil rights attorney and legal director for the National Center for Lesbian Rights, said the ruling comes at an appropriate time for the nation.
"This is a huge victory not just for LGBTQ people, but for our country, which benefits enormously when LGBTQ people are permitted to participate and contribute on equal terms," Minter said. "Today's decision will be remembered as a watershed in the history of LGBTQ rights, even as our country continues to grapple with the brutal legacy of racism."
The Trump administration, through U.S. Solicitor General Noel Francisco, argued before justices firing workers for being LGBTQ is permitted under Title VII.
It remains be to seen how the Trump administration will implement the decision now that the court has ruled the other way. The White House and Justice Department didn't immediately respond to the Washington Blade's request to comment.
More to come…
DeSantis targets Orlando non-profit over holiday drag show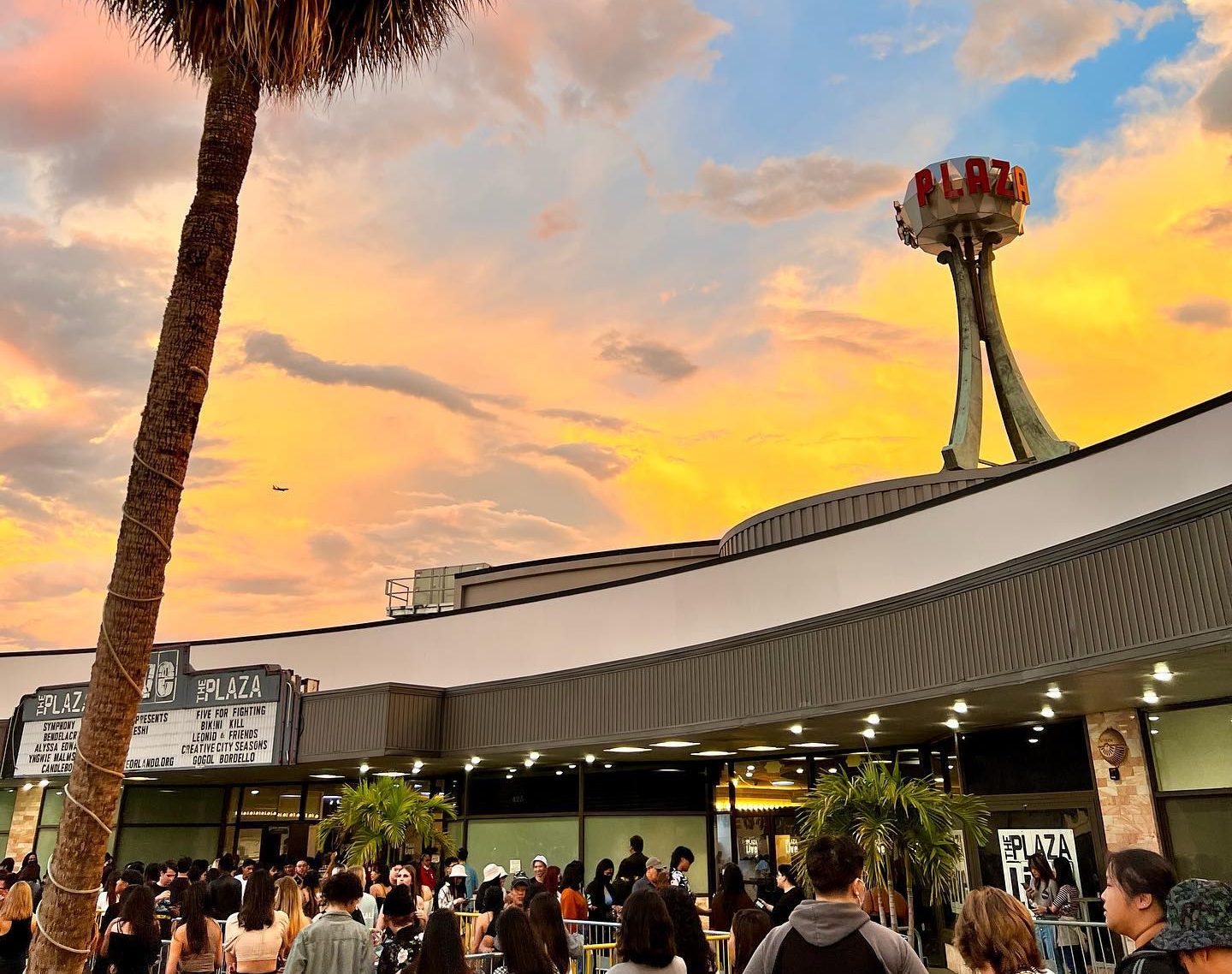 ORLANDO – Florida's Republican Governor Ron DeSantis escalated his war on the state's LGBTQ+ community ordering a state agency to launch a complaint against a Orlando non-profit over a drag holiday event it hosted in which children under age 18 were allowed to attend.
The state's Division of Alcoholic Beverages and Tobacco under the Department of Business and Professional Regulation filed the complaint on Friday against the Orlando Philharmonic Plaza Foundation alleging the foundation violated Florida law in allowing for a person to "commit lewd or lascivious exhibition" in the presence of an individual who is less than 16 years old. 
"A Drag Queen Christmas" was hosted by the foundation on Dec. 28 and during the performance sold alcoholic drinks at its Plaza Live venue. In the complaint, the agency states that the foundation used "Christmas-themed promotional materials" that did not give advance notice of the "sexually explicit nature" of the show's contents.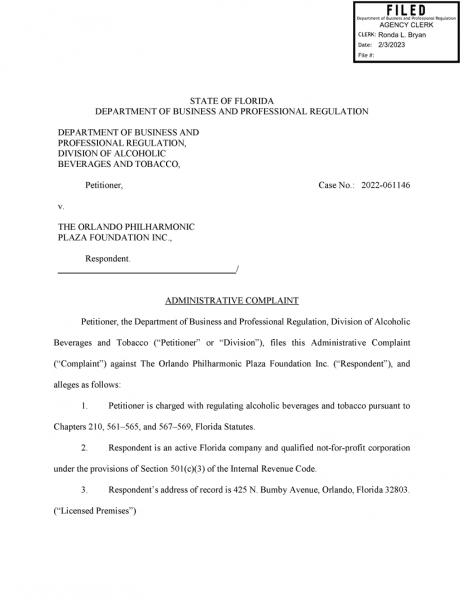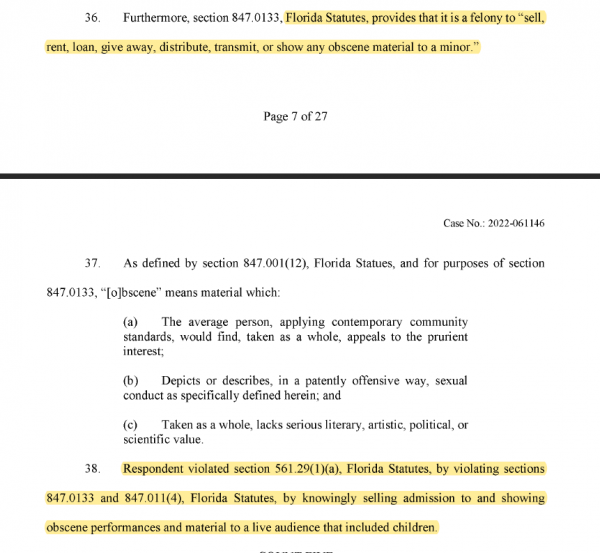 The complaint also states that the division sent the foundation a letter ahead of the show saying "sexually explicit drag show performances constitute public nuisances, lewd activity, and disorderly conduct when minors are in attendance" and the foundation's license could be subject to penalties if it did not ensure minors could not attend the event.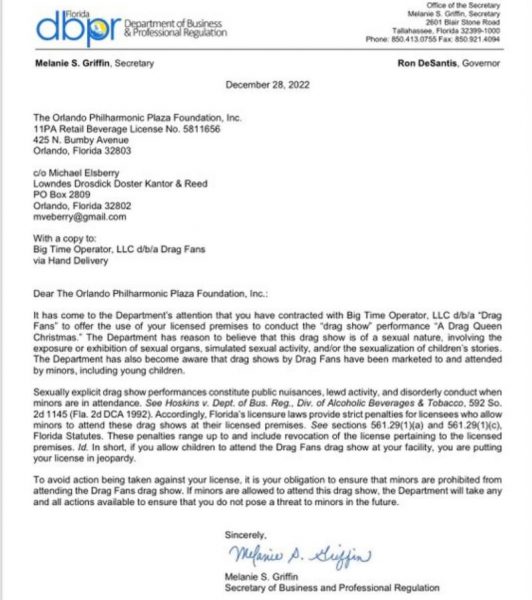 In its capacity as a regulator of alcohol, the division attempting to revoke the foundation's liquor license for six alleged counts of violating Florida statutes. 
When asked about the move by the DeSantis administration targeting the non-profit, Bryan D. Griffin, the spokesman for DeSantis said "Governor DeSantis stands to protect the innocence of children, and the governor always follows through when he says he will do something."
Orlando Weekly writer Matthew Moyer noted that The Plaza Live — besides serving as the performing home base of the Orlando Philharmonic — hosts a robust slate of touring bands, comedians, YouTubers and, yes, drag performers.
State Rep. Anna Eskamani released a statement to Orlando Weekly late Friday afternoon, condemning the state's actions in no uncertain terms. "Governor Ron DeSantis' culture wars are destroying people's jobs and livelihoods. The very notion of shutting down a small business over a drag show is insane and extreme," said Eskamani. "In the United States we do not allow the government to determine what we can read, see or hear or who we can gather with. Targeting drag performances limits everyone's freedom of speech and is all a part of the Governor's sick anti-LGBTQ+ agenda."
This is about dehumanizing LGBTQ people and targeting them for retribution by the state by portraying LGBTQ people as abberant and deviant. It's absolutely disgusting and should not be tolerated.

— Alejandra Caraballo (@Esqueer_) February 3, 2023
DeSantis previously filed a complaint against a popular restaurant and pub in the Miami's Wynwood neighborhood in July, alleging that it violated a public decency law in allowing children to attend a drag show.
The R house, is a unique casual fine dining establishment and lounge with an integrated gallery right in the heart of the vibrant Miami-Wynwood arts district named for Rocco Carulli, the executive chef as well as creator of the restaurant. The R House identifies itself on its Facebook page as "the proud home of South Florida's most popular weekend drag brunches! Make some time to check us out and experience R House."
The complaint was filed by the Department of Business and Professional Regulation on asking that the R House restaurant is a declared a public nuisance and has its liquor license revoked. 
According to the South Florida Sun Sentinel, the complaint was issued after a video of a recent performance at the bar's drag brunch went viral. A topless drag queen wearing lingerie stuffed with money can be seen in the video attempting to dance with a young girl, who the DPBR estimates is "between three and five years old." Twitter account "Libs of Tik Tok" originally found the footage on Tik Tok, posted by a user who wrote, "Children belong at drag shows!!!! Children deserve to see fun & expression & freedom."
The department cited multiple incidents of inappropriate drag performances with kids in the audience, including one in which a child "between the ages of ten and twelve" was "seen recoiling and turning away in her seat as a Brunch performer climbed on the back of the child's bench, squatted, and gyrated a couple of feet above the child's head."