HISTORIC: Supreme Court rules firing workers for being LGBTQ is illegal
Gorsuch extends nationwide protections to LGBTQ workers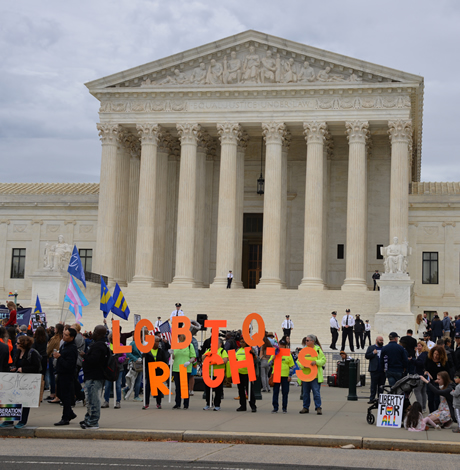 In a historic development, the U.S. Supreme Court ruled on Monday federal law bars discrimination against workers for being LGBTQ, affirming long-sought federal protections for LGBTQ people in the workplace.
The 6-3 decision, written by U.S. Associate Justice Neil Gorsuch, determines anti-LGBTQ discrimination is a form of sex discrimination, thus prohibited under Title VII of the Civil Rights Act of 1964.
"An employer who fires an individual for being homosexual or transgender fires that person for traits or actions it would not have questioned in members of a different sex," Gorsuch writes. "Sex plays a necessary and undisguisable role in the decision, exactly what Title VII forbids."
Joining Gorsuch in the majority was U.S Chief Justice John Roberts, U.S. Associate Justice Ruth Bader Ginsburg, U.S. Associate Justice Elena Kagan, U.S. Associate Justice Sonia Sotomayor and U.S. Associate Justice Stephen Breyer.
Dissenting were U.S. Associate Justices Brett Kavanaugh, Samuel Alito and Clarence Thomas.
The decision was issued in three consolidated cases, Bostock v. Clayton County and Zarda v. Altitude Express, which sought to clarify whether anti-gay discrimination is a form of sex discrimination, and Harris Funeral Homes v. EEOC, which sought to clarify whether anti-trans discrimination was sex discrimination.
The transgender worker in the Harris case, Aimee Stephens, a funeral home director, passed away last month before she could learn of the decision to come from the Supreme Court. The gay worker in the Zarda case, Donald Zarda, a skydiver, had passed away before his case reached the Supreme Court. The gay worker in the Bostock case, Gerald Bostock, is still living.
In each of these cases, LGBTQ workers argued they were unlawfully filed because of their sexual orientation, but the employers that was perfectly legal because no federal law explicitly bans anti-LGBTQ discrimination.
Although employers argued before the Supreme Court Congress didn't to include LGBTQ people when it enacted the Civil Rights Act of 1964, Gorsuch throws cold water on that argument.
"The employers assert 'no one' in 1964 or for some time after would have anticipated today's result," Gorsuch writes. "But is that really true? Not long after the law's passage, gay and transgender employees began filing Title VII complaints, so at least some people foresaw this potential application."
The ruling doesn't merely uphold the status quo, despite the widespread misconception anti-LGBTQ discrimination is already illegal. For the 29 states that lack state laws banning anti-LGBTQ discrimination in the workforce, the ruling affirms discrimination based on sexual orientation and gender identity in the workplace is now illegal in those places and nationwide.
In terms of federal law, the decision dramatically expands civil rights protections by assuring Title VII prohibits discrimination against LGBTQ people.
Only two federal judicial circuits — the Second and the Seventh — had previously determined anti-gay discrimination is sex discrimination. The idea anti-trans discrimination is a form a sex discrimination is more established in the U.S. jurisprudence, but the Supreme Court ruling now guarantees those protections nationwide.
LGBTQ rights advocates, many of whom had been fighting for decades to win LGBTQ non-discrimination protections at the federal level, hailed the Supreme Court ruling as a historic milestone.
Tico Almeida, an attorney at WilmerHale who represented more than 200 businesses – including Apple, Facebook, Google, Univision, and Warner Media – in an amicus brief supporting the LGBTQ workers, said the decision "affirms the legal protections that give LGBTQ Americans the freedom to work without discrimination."
"The major businesses that signed our pro-LGBTQ amicus brief to the Supreme Court employ millions of workers, comprise over $5 trillion in revenue, and share a common interest in equality because they know that ending discrimination in the workplace is good for the U.S. economy as a whole," Almeida said.
Shanon Minter, a transgender civil rights attorney and legal director for the National Center for Lesbian Rights, said the ruling comes at an appropriate time for the nation.
"This is a huge victory not just for LGBTQ people, but for our country, which benefits enormously when LGBTQ people are permitted to participate and contribute on equal terms," Minter said. "Today's decision will be remembered as a watershed in the history of LGBTQ rights, even as our country continues to grapple with the brutal legacy of racism."
The Trump administration, through U.S. Solicitor General Noel Francisco, argued before justices firing workers for being LGBTQ is permitted under Title VII.
It remains be to seen how the Trump administration will implement the decision now that the court has ruled the other way. The White House and Justice Department didn't immediately respond to the Washington Blade's request to comment.
More to come…
House passes resolution demanding Brittney Griner's immediate release
Detained WNBA star's trial to begin on July 1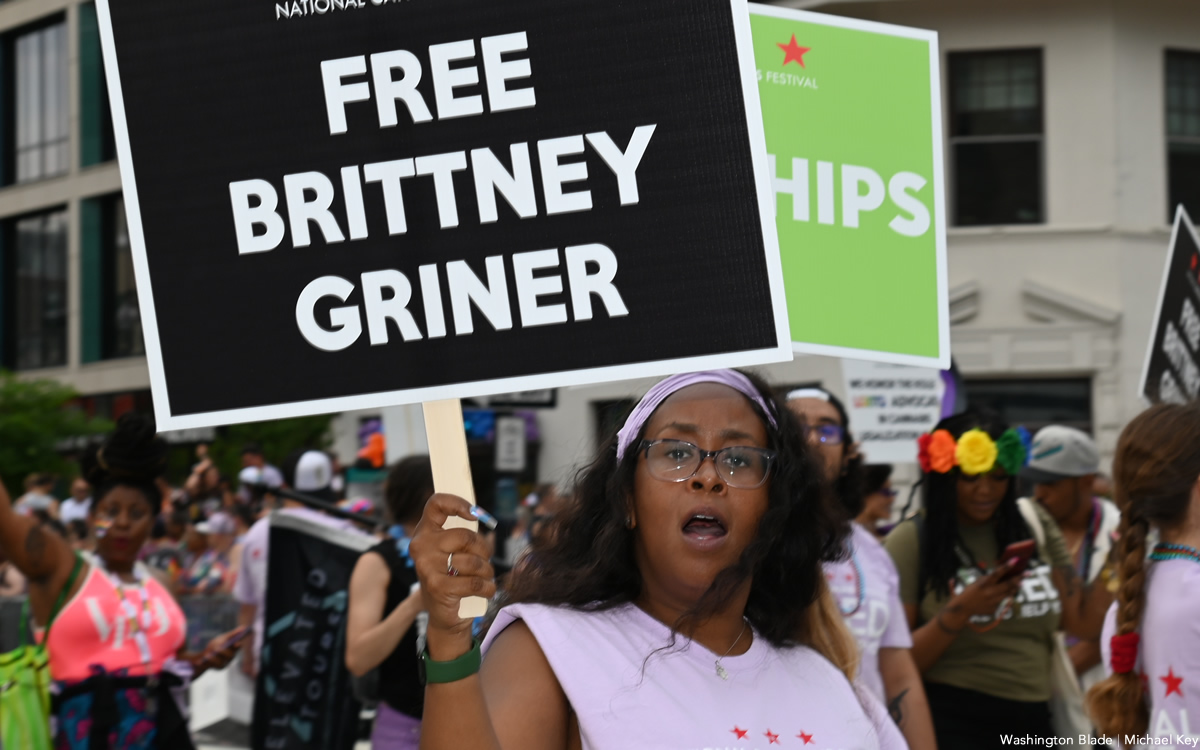 WASHINGTON — In a resolution passed on June 24 by the U.S. House of Representatives, lawmakers called on Russia to immediately release detained WNBA star Brittney Griner. 
Griner was first arrested in Russia in the days leading up to its invasion in Ukraine. Authorities have charged her with drug trafficking after claiming that she attempted to pass through Moscow's Sheremetyevo Airport while in possession of cannabis oil.
The House's resolution, introduced in May by U.S. Reps. Greg Stanton (D-Ariz.), Sheila Jackson Lee (D-Tex.) and Colin Allred (D-Texas), made multiple demands of Russia, including that the country "immediately release Brittney Griner," provide her with consular access and humane treatment and that the U.S. "raise the case of Brittney Griner and to press for her release" in all its dealings with the Russian government.
"This legislation insists on our embassy personnel having access to Ms. Griner and restates our commitment to freeing her now," Lee said in a statement after introducing the resolution. "We continue to pray for her family and we will continue to work together as three members of Congress, along with others, to spread the message that she is held wrongfully and must be freed now."
The resolution also expressed support for both Griner's family and for "all prisoners unjustly imprisoned in the Russian Federation."
Allred, a member of the House Foreign Affairs Committee, took to Twitter following the passage of the resolution.
"I'm proud the House has spoken in passing our resolution and calling for Brittney Griner's swift release," Allred wrote. "Every day an American is held abroad is a lifetime, and I will keep working with @POTUS to do all we can to bring home every American detained abroad."
Griner's WNBA team, the Phoenix Mercury, welcomed the House's passage of the resolution this past weekend.
"[Rep.] Stanton and many others are continuing to work with the White House, State Department and Brittney's family to secure her safe return home," the team wrote on Twitter.
The resolution comes after reporting revealed missteps on the part of the U.S. government in handling communication related to Griner's detention.
According to past reporting, the U.S. Embassy in Moscow failed to connect Griner with outside phone calls permitted by the Russian government when Griner's wife, Cherelle Griner, attempted to call her. Cherelle Griner reportedly called 11 times on June 18 on the couple's fourth anniversary but was unable to reach her wife due to what the State Department claimed to be a "logistical error."
While the resolution is being heralded by its supporters, it contains no provisions intended to enforce the House's demands for the release and humane treatment of Griner and others held by Russia. With less than one percent of criminal defendants in Russia being acquitted, it is unclear whether the resolution will do anything to persuade the country's courts to permit Griner's release.
Griner appeared in Russian court on Monday for a preliminary hearing prior to her trial that has now been scheduled to begin on July 1. It was also confirmed by Griner's attorney on Monday that her detention had been extended for six months pending her trial.
If convicted, she could face up to 10 years in prison.
"We must keep Brittney's case on the forefront and make clear to the White House that her release should be one of the highest priorities for our government," Cherelle Griner said in May.
Sparks, Nevada drag queen story hour disrupted by armed Proud Boy
A Proud Boy approached the library while carrying a gun, causing everyone, including children, to run into the library for safety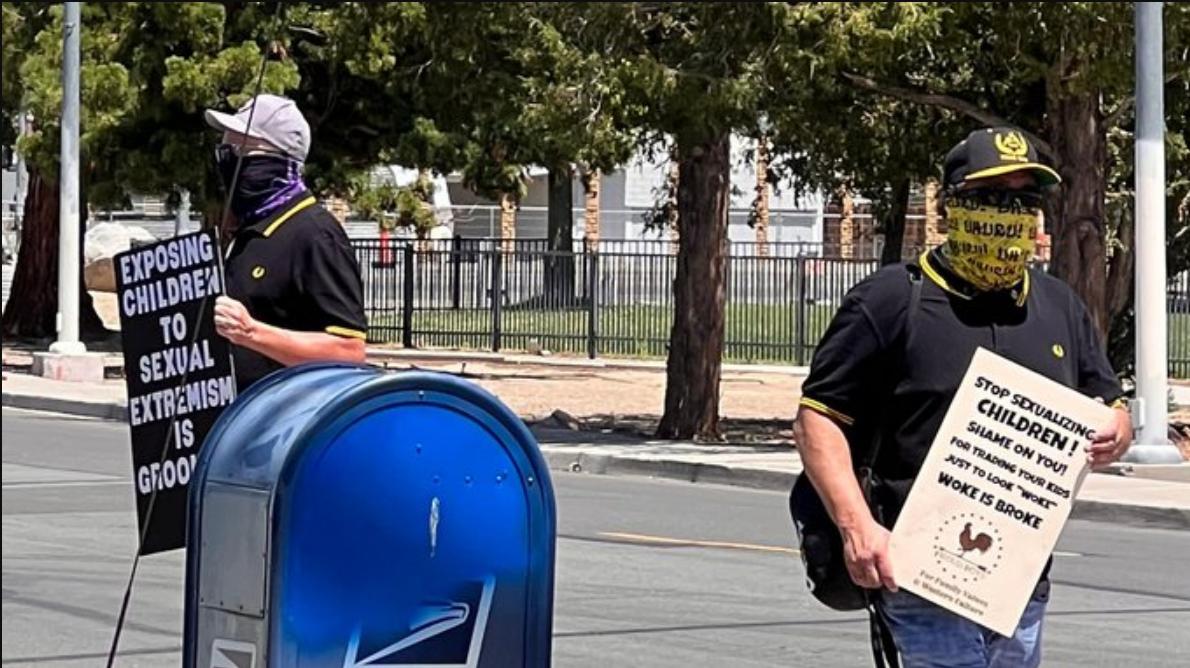 SPARKS, Nv. – An armed man later identified as part of a group of Proud Boys disrupted a drag queen story hour at the Sparks Library Sunday afternoon Reno media outlet KRNV (NBC News 4 and Fox 11) reported.
According to KRNV's account during the event, a group of Proud Boys protested against LGBTQ+ rights outside of the Sparks Library.
The KRNV crew covering the reading event said when the protest came to an end, a man wearing Proud Boys clothing approached the library while carrying a gun, causing everyone, including children, to run into the library for safety.
The Sparks Police Department monitored the protest from a distance, but left soon after. There were no police present when the man approached the building.
Nevada is an open-carry state and according to the Nevada State Police unless a sign is posted or the person is accused of brandishing a weapon, technically for appearances sake, no law was broken or regulation violated Sunday.
Felony arrest in vandalism of Pride Merch at Knoxville Target store
Jonathan Burns was arrested after he was identified by investigators as the suspect in spray-painting a section of LGBTQ+ Pride merchandise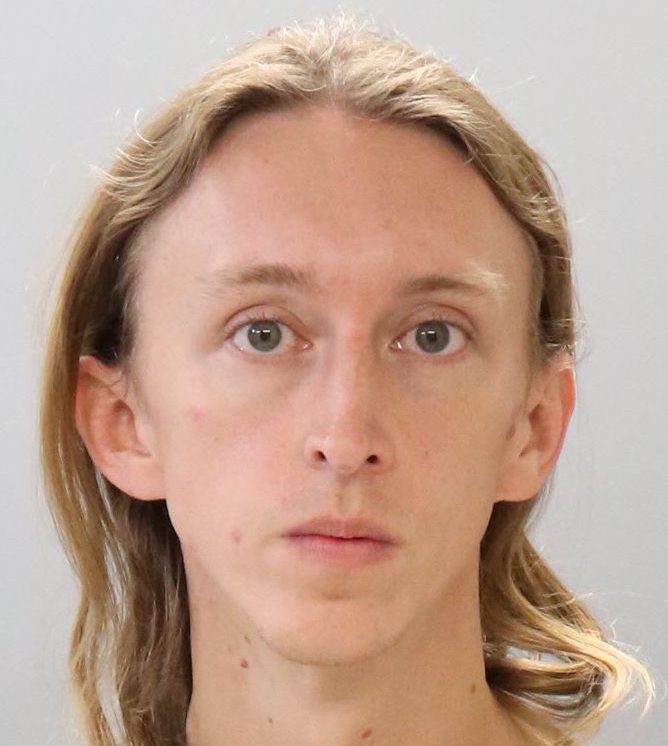 KNOXVILLE – A thirty-one-year-old West Knox resident was arrested last week by the Knoxville Police Department, with the help of the Knox County Sheriff's Office, and charged with felony vandalism at a local Target store.
Jonathan Burns was arrested after he was identified by investigators as the suspect in spray-painting a section of LGBTQ+ Pride clothing & merchandise.
Knoxville NBC News affiliate WBIR-TV, Channel 10 reported:
On June 13 at 2:49 p.m., Burns entered the Target on Parkside Drive and spray-painted an entire section of merchandise placed out for Pride Month, KPD said.
Burns damaged $3,884 worth of clothing, according to KPD. They also said he used red spray paint to destroy the entire section of items as well as a sign in the section, and it was the only section that was vandalized. The sign cost an additional $16 in damages.
An employee had approached Burns and asked him to leave, according to a KPD report.
When Burns left the Target, he dropped the spray paint can on the ground. Fingerprints on the can confirmed Burns' identity. Evidence of him purchasing the spray paint and a bucket hat from local retail prior to the incident was secured. Video from Target and the retailer where the paint and hat were purchased depicted Burns wearing the same clothing, the report said.
With @knoxsheriff's help, Jonathan Burns, 31, was arrested on a felony vandalism charge last night at his West Knox home after he was identified by investigators as the suspect from this incident. He is accused of spray-painting a section of LGBTQ+ Pride clothing & merchandise. https://t.co/tjc507iSaQ pic.twitter.com/jZaBvGKCU4

— Knoxville Police TN (@Knoxville_PD) June 23, 2022