Ring out Pride Month with a virtual bang, from 'Pose,' Revry, and more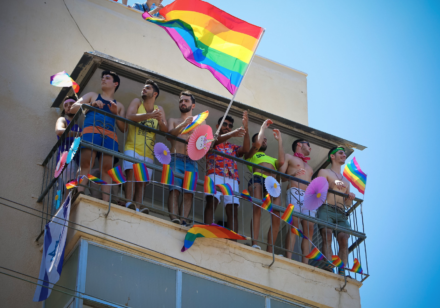 Let's face it: Pride Month without the ability to celebrate in our traditional ways doesn't feel very much like Pride.
For many of us, the festivals, concerts, parades and parties, where we gather with our friends to proudly proclaim our queerness to the world, are an annual rite of passage; being cheated of it by the ongoing Covid-19 pandemic is an undeniable disappointment.
Even so, Pride is more than just a party (even if it's a really fabulous one), and while the usual festivities may be cancelled, the spirit behind them is not. The LGBTQ+ community has risen to the challenge of 2020 with inventive ways to re-channel the Pride Experience for the physically-distanced needs of our time, and although a virtual event can never deliver quite the same visceral thrills as an in-person celebration, it's worth noting that this year's proliferation of internet and broadcast events has made Pride accessible to millions of people who might otherwise never have had the opportunity to participate, or to hear the messages of hope and acceptance that queer people in oppressive social environments around the world need to be able to hear.
Chances are good you've already experienced one or more of these livestreamed or broadcasted extravaganzas, but if you are still looking to get your Pride on before the month slips away next week, there are still some big ones coming your way.
One of the biggest is sure to be "Live, Work, Pose-A-Thon!" As a part of Pride month, Disney Television Studios and FX  are presenting a commercial-free one-hour virtual event, showcasing the cast and producers of "Pose" to raise awareness for GLSEN, Hetrick-Martin Institute, and Transgender Legal Defense & Education Fund, three notable organizations that work to support LGBTQ+ education, social change for sexual and gender minority people of color, and transgender equality through legal services and policy efforts.
The special will be emceed by Emmy, Grammy, and Tony-award winning actor and activist Billy Porter along with co-star Mj Rodriguez, and unites the voices behind the critically-acclaimed drama series "Pose." Featured will be music and anecdotes from Porter, Rodriguez, Angel Bismark Curiel, Sandra Bernhard, Dyllón Burnside, Steven Canals, Dominique Jackson, Jeremy McClain, Janet Mock, Indya Moore, Our Lady J, Jason Rodriguez, Angelica Ross, Hailie Sahar, Ryan Jamaal Swain, Charlayne Woodard, and Patti LuPone.  "Pose" supervising producer Tanase Popa serves as producer of the special.
"I'm so proud of our cast and producers for coming together to present an uplifting hour of song and stories," said co-creator, executive producer, writer, and director Steven Canals.  "In the spirit of 'Pose,' our goal is to celebrate joy, love and, of course, pride, from our family to yours."
Executive producer, writer, and director Janet Mock added, "Since we've been unable to shoot the show we love, we jumped at the chance to reunite our 'Pose' family and partner with the studio and network to raise spirits and awareness about the plight of LGBTQ+ people of color during such a turbulent time.  This Pride month special is a commemoration of our forebears' efforts, a memorial for trans lives lost, and a celebration of the life-saving work of LGBTQ+ organizations."
"Pose-a-Thon!" will air Friday, June 26 at 10:00 p.m. ET/PT on FX and Freeform.  Viewers can also tune-in same day starting at 7:00 p.m. PT at www.poseathon.com.
If you're someone who likes to make Pride an excuse for world travel, it goes without saying that this is not a good year for that – but you can at least grab a taste. Tel Aviv Pride takes place every year in June, with a surge of gay-friendly events taking place across the city and a Pride Parade that has become the largest one among all in the Middle East. In light of the Corona pandemic, that parade has been cancelled (or at least postponed), along with the rest of the four largest pride parades in Israel – Haifa, Jerusalem, Be'er Sheva and Tel Aviv-Yafo – but that doesn't mean the whole celebration is shut down.
According to Ron Huldai, Mayor of Tel Aviv-Yafo, "Even if we cannot hold the traditional pride parade this year, we will mark pride month with alternative events. Tel Aviv, which has already been acknowledged as the world's most gay-friendly city, will continue to be a lighthouse city – spreading the values of freedom, tolerance and democracy to the world."
Those "alternative events" taking place live in the city will involve over 100 drag queens and queer artists taking over the city's streets in honor of pride month. Throughout the day on June 25, live shows will surprise passersby in central locations around the city, including open spaces, restaurants, local businesses and rooftops.
While it may not be possible for you to experience these pop-up Pride events in person, you can still experience Tel Aviv Pride vicariously through its Pride Month Virtual Tour, which will visit some of the city's queerest landmarks and explore its queer history and culture, engaging with some of the local divas and discussing some of the open questions around LGBTQA life in Tel Aviv.
The tour takes place on Thursday June 25th at 8pm, and you can join it through this Zoom Link.
Finally, for an even more expansive experience of Pride around the world, you can join the festivities for Global Pride 2020, produced by Interpride and available through several streaming partners – including Revry, the first LGBTQ+ virtual cable network, which has teamed up with Littlstar (the livestreaming platform for PlayStation 4, PlayStation VR, and Android TV) to launch the first VR streaming channel for the queer community just in time for this season of Pride.You can join this spectacular worldwide event on June 27th and 28th, when Revry will livestream it for 24 hours on the Revry Now channel (available on the Revry apps) as well as on the Littlstar platform – creating a first-of-its-kind VR Pride Festival experience!
"Littlstar is excited to partner with Revry to redefine how LGBTQ+ audiences view content. Viewers can now interact with each other remotely in virtual reality, or if there is no VR headset available they can live stream it directly to their TV via PlayStation 4 which currently reaches over 100M homes," said Tony Mugavero, CEO & Co-Founder of Littlstar.
"We're thrilled to have Revry as one of our official streaming partners," says Julian Sanjivan, Co-President of Interpride. "Partnering with Revry gives Global Pride 2020 an opportunity to access audiences and community members who may not otherwise be able to participate in the programming, especially where our other platforms are not accessible or allowed. Revry's new live VR Channel on the Littlstar app brings our event live on PlayStations across the globe and universally available to anyone with an internet connection."
More than 500 Pride organizations around the world have submitted more than 1,000 pieces of content for Global Pride which will include messages from former US Vice-President Joe Biden, Speaker of the US House of Representatives Nancy Pelosi, Canadian Prime Minister Justin Trudeau, Irish Prime Minister Leo Varadkar and artists Laverne Cox, Adam Lambert, Kesha and Todrick Hall amongst many more. You can see the full line-up here.
Viewers with a PlayStation VR will be able to watch the stream in a custom virtual world, and viewers without VR headsets can view the stream on billions of mobile device at live.littlstar.com. If you'd rather opt for a "normal" 2D livestream broadcast, you can do it on the Revry Now channel on the Revry network available online (watch.revry.tv) and in all major app stores.
Quinn destined to be 1st Trans Nonbinary Olympic medalist
"I'm so proud of my team," Quinn told the CBC. "They're my best friends. I'm so glad we're bringing back a better medal than bronze."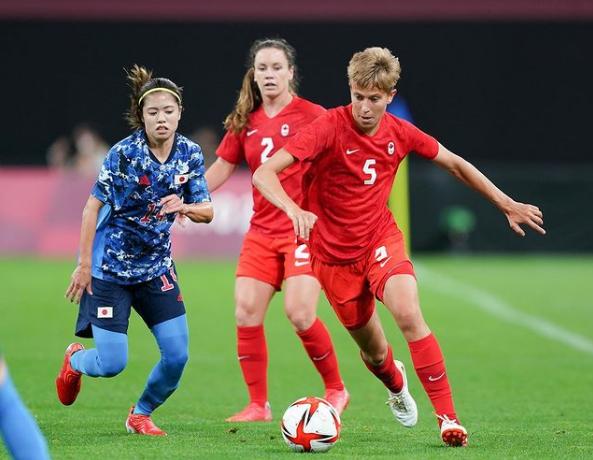 KASHIMA-SHI, JAPAN – Before this week ends, the world will know the name Quinn: They will be the first-ever trans nonbinary athlete to win an Olympic medal. 
Quinn already made history as the world's first trans nonbinary athlete to compete in any Olympic games. Now they and their teammates are on their way to winning either silver or gold. All Team Canada has to do is defeat Sweden on Thursday as handily as it did the number one-ranked USWNT in a 1-0 shutout Monday. Lose, and they get the silver; Win, and Quinn and Team Canada take home gold.
"I'm so proud of my team," Quinn told the CBC. "They're my best friends. I'm so glad we're bringing back a better medal than bronze."
Reporters asked Quinn about the historic nature of their participation, but they were focused on supporting their teammates who have waited almost a decade for this moment.
"I'm doing this for the people I grew up looking up to. Like Sincy," they said.
"We finally won," said Captain Christine "Sincy" Sinclair. "For those of us who were part of the 2012 game, it was nice to get a little revenge in an Olympic semifinal."
On the other side of the pitch, out USWNT legend Megan Rapinoe talked with NBC Sports about how it felt to lose to Canada: "It sucks," she said. "It's a bitter one to swallow. Obviously we never want to lose to Canada. I don't think I've ever lost to Canada. So it's a bitter one."
Rapinoe is engaged to marry Team USA co-flag bearer and Seattle Storm sensation Sue Bird, the longest tenured player in the WNBA. She's in Tokyo chasing her fifth gold medal, in what she said would be her last Olympics. Rapinoe has one, from London in 2012, where Team Canada suffered defeat and heartbreak.
Until Monday, the American women hadn't lost to Canada in two decades. They traveled to Tokyo as back-to-back defending World Cup champions, having not lost a single match in 44 tries. They hadn't been shutout in four years.
Then Canada's Jessie Fleming of London, Ontario converted a penalty kick in the 74th minute to score the only goal of Monday's match, sending the ball past out American goalkeeper, Adrianna Franch.
So, for Team USA to have lost twice and get shutout three times, with bronze as their best hope? It's a stunner for the iconic team with at least four out women: Rapinoe, Franch Tierna Davidson and Kelly O'Hara.
For Quinn, this is also about showing the next generation what they can get from playing sports.
"Athletics is the most exciting part of my life and it brings me the most joy," Quinn told CBC Sports on Monday. "If I can allow kids to play the sports they love, that's my legacy and that's what I'm here for."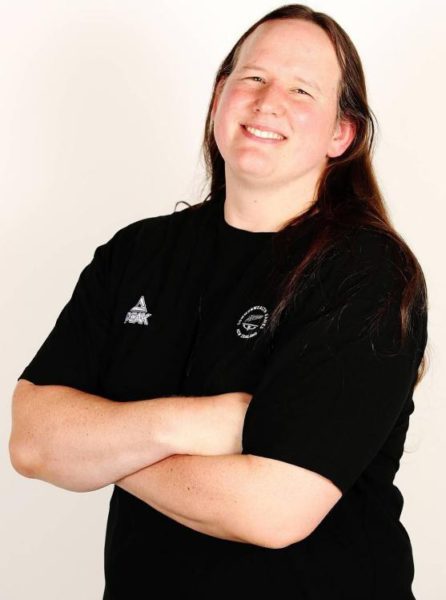 Also Monday, weightlifter Laurel Hubbard of New Zealand became the first out transgender woman to compete in any Olympic Games. Unfortunately, her history-making appearance was short.
Hubbard, 43, had three chances to advance in "the snatch" first round of the Women's Super Heavyweight Division competition in Tokyo Monday, but failed to complete a lift that counted. She was the only one of the 13 finalists to not complete at least one lift in the competition that was ultimately won by China's Li Wenwen.
Before leaving the stage, Hubbard pounded her chest and made a heart gesture with her hands, sending a message of gratitude to the judges, the audience and everyone watching online and on television around the world. 
Photo courtesy New Zealand Olympic Team
Later, Hubbard told reporters she was grateful to the International Olympic Committee, which supported her entry and last week declared, "Trans women are women." 
"Of course, I'm not entirely unaware of the controversy which surrounds my participation in these Games," Hubbard said after leaving the competition. "And, as such, I'd particularly like to thank the IOC, for, I think, really affirming their commitment to the principles of Olympism, and establishing that sport is something for all people. It is inclusive. It is accessible."
The International Weightlifting Federation also earned Hubbard's thanks, she said, because "they too have shown that weightlifting is an activity that's open to all of the people in the world."
Out Olympian Kenworthy & Paralympian Dunkin on Tokyo & LGBTQ Sports
"The fact that LGBTQ youth drop out of sports at twice the rate of their heterosexual & gender counterparts, it doesn't have to be that way."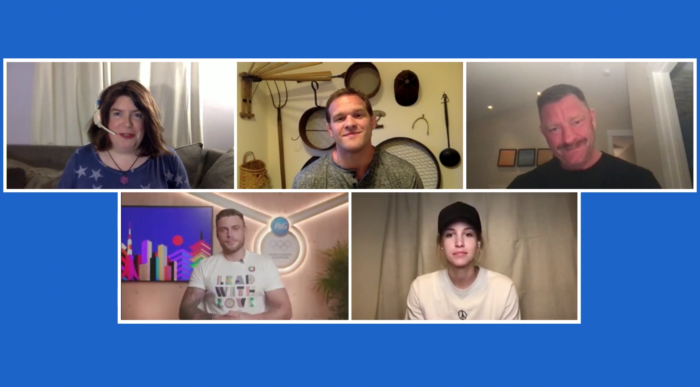 TOKYO – Gus Kenworthy is in Tokyo for the Summer Games, but not to compete. The  Olympic Gold Medalist recently joined Paralympian Gold Medalist Abby Dunkin in a Zoom conversation with Athlete Ally founder and executive director Hudson Taylor and the head of LGBTQ+ equality and inclusion for Procter & Gamble, Brent Miller. 
"I felt like I knew that if I came out, there must be someone else," Kenworthy said. "I was like, there's someone else in skiing or an action sports or another kid who is going to resonate with my story. And if I can even help one person, then it will be worth it."
This group of athletes and allies tackled the difficult issues of coming out in sports, fears of rejection, suicide attempts and competing authentically as well as the controversy over transgender inclusion in sports, both at the Olympics and in high schools and colleges across the U.S.
"Only 24% of LGBTQ youth participate in sports," noted Taylor. "The fact that LGBTQ youth drop out of sports at twice the rate of their heterosexual and gender counterparts, it doesn't have to be that way."
Dunkin credited Paralympian gold medalist Stephanie Wheeler as an inspiration both on the court and in everyday life as an out lesbian. 
"Stephanie really creates such a great environment for me and other athletes and also our staff, too, that were out at the time," said Dunkin. "And that really impacted me to come out and be myself." Wheeler is also head coach of the Univ. of Illinois women's wheelchair basketball team.
As the Los Angeles Blade has reported, there are more than 142 out LGBTQ athletes competing in Tokyo, a record for any Olympic Games. And with trans nonbinary soccer player Quinn on their way to a potential gold medal, making history with out trans woman Laurel Hubbard and out trans BMX competitor Chelsea Wolfe in Tokyo, Miller says their first steps are inspiring to people all around the world, no matter what their gender identity or sexual orientation is. 
"It's about bringing people together, supporting people, creating mutual understanding, and really celebrating all of humanity," Miller said. "And now for us, bringing those LGBTQ+ stories forward is critically important because we see the value of what sport can bring."
Watch their conversation with sports editor Dawn Ennis by clicking here.
Equal Representation in Sports: Why LGBTQ+ Visibility Matters
Rapper DaBaby pulled by Lollapalooza over homophobic comments
"Lollapalooza was founded on diversity, inclusivity, respect, and love. With that in mind, DaBaby will no longer be performing."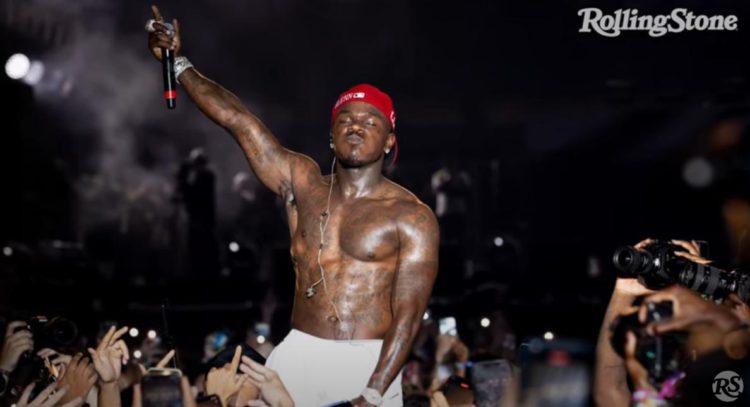 CHICAGO – In an announcement Sunday morning, the organizers of Chicago's Lollapalooza Music Festival said they had pulled artist DaBaby from tonight's closing show after a series of public homophobic remarks by the rapper last weekend in Miami at the Rolling Loud music festival.
On Twitter Lollapalooza officials wrote; "Lollapalooza was founded on diversity, inclusivity, respect, and love. With that in mind, DaBaby will no longer be performing at Grant Park tonight. Young Thug will now perform at 9:00pm on the Bud Light Seltzer Stage, and G Herbo will perform at 4:00pm on the T-Mobile Stage."
Lollapalooza was founded on diversity, inclusivity, respect, and love. With that in mind, DaBaby will no longer be performing at Grant Park tonight. Young Thug will now perform at 9:00pm on the Bud Light Seltzer Stage, and G Herbo will perform at 4:00pm on the T-Mobile Stage. pic.twitter.com/Mx4UiAi4FW

— Lollapalooza (@lollapalooza) August 1, 2021
The Grammy-nominated rapper's comments onstage at the Miami festival last weekend brought swift condemnation from other artists in the music industry including British Rockstar Elton John and Madonna among many others.
In the middle of his set last weekend in Miami the rapper told the crowd, "If you didn't show up today with HIV/AIDS, or any of them deadly sexually transmitted diseases, that'll make you die in two to three weeks, then put your cellphone lighter up! Ladies, if your pussy smell like water, put your cellphone lighter up! Fellas, if you ain't sucking dick in the parking lot, put your cellphone lighter up!"
DaBaby later issued an apology via Twitter that read, "Anybody who done ever been effected by AIDS/HIV y'all got the right to be upset, what I said was insensitive even though I have no intentions on offending anybody. So my apologies" However, the addendum in the same tweet of; "But the LGBT community… I ain't trippin on y'all, do you. y'all business is y'all business." was immediately decried as further proof of the rapper's intolerance of the LGBTQ community.
Anybody who done ever been effected by AIDS/HIV y'all got the right to be upset, what I said was insensitive even though I have no intentions on offending anybody. So my apologies 🙏🏾

But the LGBT community… I ain't trippin on y'all, do you. y'all business is y'all business.

— DaBaby (@DaBabyDaBaby) July 27, 2021
Michael J. Stern, a Los Angeles attorney and a former federal prosecutor who is now a noted featured columnist for USA Today blasted DaBaby's 'apology;'
Yeah, we've got the right to be upset.

We've also got the right to refuse to accept an apology that was prompted by public outcry and not a genuine understanding of, and remorse for, the horrific things you said.

— Michael J. Stern (@MichaelJStern1) July 28, 2021
In his response to Dababy's remarks Elton John, who founded the Elton John AIDS Foundation in 1992, a nonprofit organization which funds frontline partners to prevent infections, fight stigma and provide care for the most vulnerable groups affected by HIV, responded in a lengthy series of tweets:
(2/5)

👉 HIV has affected over 70 million people globally: men, women, children and the most vulnerable people in our communities.

— Elton John (@eltonofficial) July 28, 2021
(4/5)

👉 You can live a long and healthy life with HIV. Treatment is so advanced that with one pill a day, HIV can become undetectable in your body so you can't pass it onto other people.

— Elton John (@eltonofficial) July 28, 2021
(5/5)

👉 Homophobic and HIV mistruths have no place in our society and industry and as musicians, we must spread compassion and love for the most marginalised people in our communities.

A musician's job is to bring people together.

— Elton John (@eltonofficial) July 28, 2021
Madonna took to her Instagram telling the rapper to "know your facts," before spreading misinformation.
"AIDs is not transmitted by standing next to someone in a crowd," she wrote on Instagram. "I want to put my cellphone lighter up and pray for your ignorance, No one dies of AIDS in 2 or 3 weeks anymore. Thank God."
This year's Lollapalooza festival, which is one of the first major festivals to return in full force since the start of the coronavirus pandemic in the United States, concludes Sunday with headlining performances by musical acts Brockhampton, the Foo Fighters, and Modest Mouse.
Dua Lipa 'Horrified' at DaBaby's Homophobic Remarks at Rolling Loud | RS News 7/28/21