Global Pride amplifies Black voices during 24-hour virtual event
Laverne Cox, Alicia Garza among participants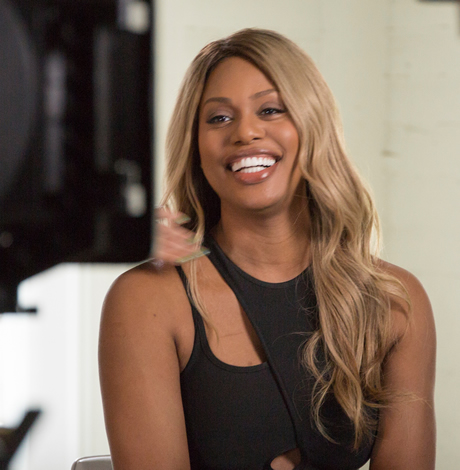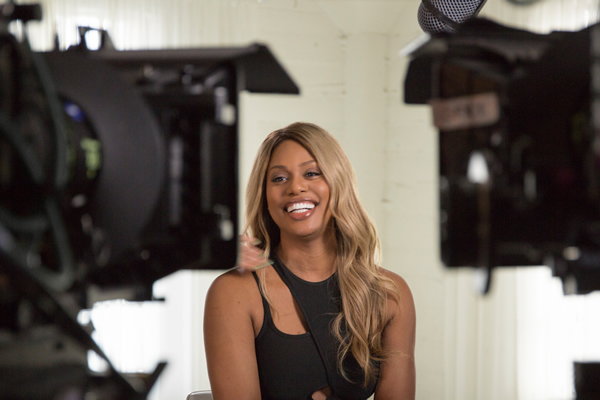 Celebrities, politicians and activists on Saturday united with Global Pride 2020, a 24-hour virtual event created in light of widespread cancellations of Pride events and festivals due to the coronavirus pandemic.
The event celebrated LGBTQ progress thus far and drew attention to the violence and oppression that Black LGBTQ and transgender individuals endure around the world. Global Pride organizers also collaborated with the founders of Black Lives Matter to amplify Black LGBTQ voices.
Musical acts, dance routines and speeches by drag queens, LGBTQ artists and allies filled the 24-hour special, as well as history lessons on past Pride festivals around the world and the foundations of the LGBTQ rights movement. Testimonials, performances and speeches were submitted by individuals and organizations from 91 countries, with 1,500 entries in total.
Laverne Cox, Olivia Newton-John, Kesha, Adam Lambert, Pabllo Vittar, Deborah Cox, Pussy Riot, the Village People and Ahmed Umar and many other celebrities were featured at the event as performers, speakers and educators. Todrick Hall, an LGBTQ singer, songwriter, producer and YouTube star hosted the event.
"For many of us in the world, Pride is the only time we can visible," said Hall. "Its the only time we can celebrate as one big glorious LGBTQIA+ family. For all of you, this is your Pride, this is your moment."
Former Vice President Joe Biden, House Speaker Nancy Pelosi (D-Calif.), Canadian Prime Minister Justin Trudeau and Luxembourgish Prime Minister Xavier Bettel were some of the event's featured politicians and global leaders.
Happy Pride! ?️? Even though we can't march together this year, we can still celebrate together online. After all, Pride has always been about more than a parade – it's about celebrating our differences and supporting one another no matter who we are or whom we love. #GlobalPride pic.twitter.com/nHKW99J0Ff

— Justin Trudeau (@JustinTrudeau) June 27, 2020
Many headliners referenced worldwide protests against the death of George Floyd, Breonna Taylor and countless other victims of police brutality in the U.S. This event took place about month after Floyd, an unarmed Black man, died in police custody when a then-Minneapolis police officer kneeled on his neck for nearly nine minutes.
Alicia Garza, the co-founder of Black Lives Matter, said "it is more important than ever to fight for all Black lives." Although there have been countless protests and marches, there is still work to be done, she said.
"We don't want Black lives to only matter when we die," added Garza. "We want Black lives to matter when we are alive. Black trans lives matter now, not just when Black trans people are murdered"
Many global leaders acknowledged these sentiments: That Pride should act as a platform to continue the fight against systemic oppression and racism, in addition to being a time of celebration.
"This year's Pride looks different than the Prides of yesteryear," said Cox. "Let's not forget the main reason we commemorate Pride. We fight oppression, violence and discrimination … We stand united on a global stage. We make space to advocate, educate and celebrate."
Biden said this event is a chance to "return to the true roots of Pride."
"The fight for LGBTQ equality is all our fight," he said. "We have a responsibility to create a world where who you are or who you love is celebrated, not denigrated. Embraced, not delegitimized."
Michigan Gov. Gretchen Whitmer spoke on how Pride began as a protest for silenced voices to be heard. Whitmer added at least 172 trans and gender non-conforming individuals have been killed in the U.S. since 2013, with 73 percent of them Black.  
Pelosi added Black trans women disproportionately endure higher rates of homelessness, violence and murder.
"It is an annual reminder of the struggle and violence that the LGBTQ+ community has endured for years," Whitmer said. "That struggle is undoubtedly, disproportionately impacted Black and Brown people in the LGBTQ+ community."
U.S. Rep. Sharice Davids (D-Kan.), the first openly LGBTQ person elected to Congress from Kansas, also noted how the "fight for equality is far from over," with many LGBTQ individuals of color and Black trans women still being subject to violence on a daily basis.
Bettel, who is Luxembourg's first openly gay prime minister, spoke on the need to eradicate hate speech against LGBTQ people and other marginalized communities. Bettel in September 2019 spoke about LGBTQ- specific issues at a U.N. General Assembly, the first person to do so.
"We cannot accept that being a member of a community means to be condemned," Bettel said.
Virginia Gov. Ralph Northam in his Global Pride video noted he signed the Virginia Values Act, which adds sexual orientation and gender identity to his state's nondiscrimination law. The law takes effect on July 1.
"This victory shows the world that with grit, determination, heart and purpose, we can achieve the civil rights that LGBTQ people need and deserve," Northam said.
Global Pride headliners and organizers encouraged users to donate to the COVID-19 Pride Relief Fund, which will be used to provide immediate relief to Pride organizations in financial distress due to the coronavirus, assist global Pride organizations with specific work that addresses inequities and systemic oppression, and help fund Pride events in underserved regions. Global Pride also provided resources and tips for watching the program safely for those who face dangers of entrapment or discrimination based on their identities, like using ad blocker software and private browsing tools.
Virginia Governor silent on parents reporting teaching of LGBTQ+ topics
First executive order issued ended "use of" "critical race theory" which is not taught in VA public schools & other "divisive concepts"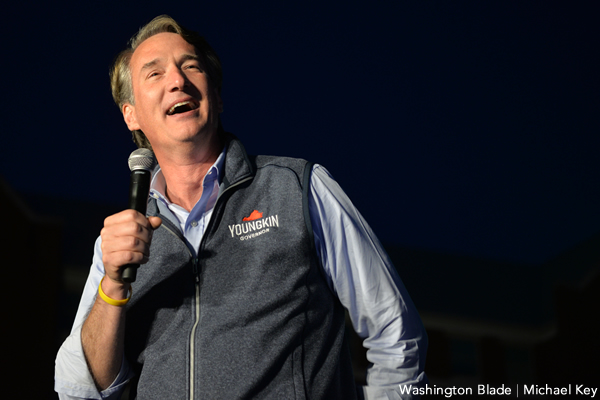 RICHMOND – A spokesperson for Virginia Gov. Glenn Youngkin has yet to clarify whether the governor is encouraging parents to report educators who are teaching LGBTQ+-specific topics.
The Washington Post reported Youngkin on Monday during an interview with John Fredericks on "Outside the Beltway with John Fredericks" referenced a tip line that parents can use to report the teaching of "divisive" subjects.
"We're asking for folks to send us reports and observations [to] help us be aware … of their child being denied their rights that parents have in Virginia, and we're going to make sure we catalogue it all," Youngkin told Fredericks, according to the Post.
Fredericks co-chaired former President Trump's 2016 campaign in Virginia.
Youngkin spokesperson Macaulay Porter on Tuesday did not respond to the Washington Blade's request for comment on the tip line.
The first executive order that Youngkin, who is a Republican, issued after he took office on Jan. 15 ended "the use of" so-called "critical race theory" (which is not taught in Virginia public schools) and other "divisive concepts" in the state's classrooms.
Youngkin during his campaign against Terry McAuliffe expressed support for Tanner Cross, a gym teacher at a Leesburg elementary school who was suspended from his job after he spoke out against Virginia Department of Education guidelines that are designed to protect transgender and non-binary students. Youngkin has also said he does not support allowing trans children to play on sports teams that are consistent with their gender identity.
Youngkin has named Elizabeth Schultz, an anti-LGBTQ+ former member of the Fairfax County School Board, to his administration.
Republicans control the House of Delegates by a 52-48 vote margin. Democrats have a 21-19 majority in the state Senate.
State Sen. Travis Hackworth (R-Tazewell County) has introduced Senate Bill 20, which would eliminate the requirement that school districts must implement the Department of Education's trans and non-binary student guidelines.
State Sen. Jennifer Kiggans (R-Virginia Beach) has put forth Senate Bill 766, which would ban Trans students from school sports teams that are consistent with their gender identity.
State Del. John Avoli (R-Stanton) has sponsored House Bill 1126, which would restrict the ability of transgender students and school board employees to use bathrooms and other facilities in public schools.
Democrats have vowed to block any anti- LGBTQ+ bill in the General Assembly.
LA County Youth Commission, Centering voices in mental health panel
Panel will be Youth Commissioners, mental health experts- DMH & UCLA Public Partnership for Wellbeing & community mental health advocates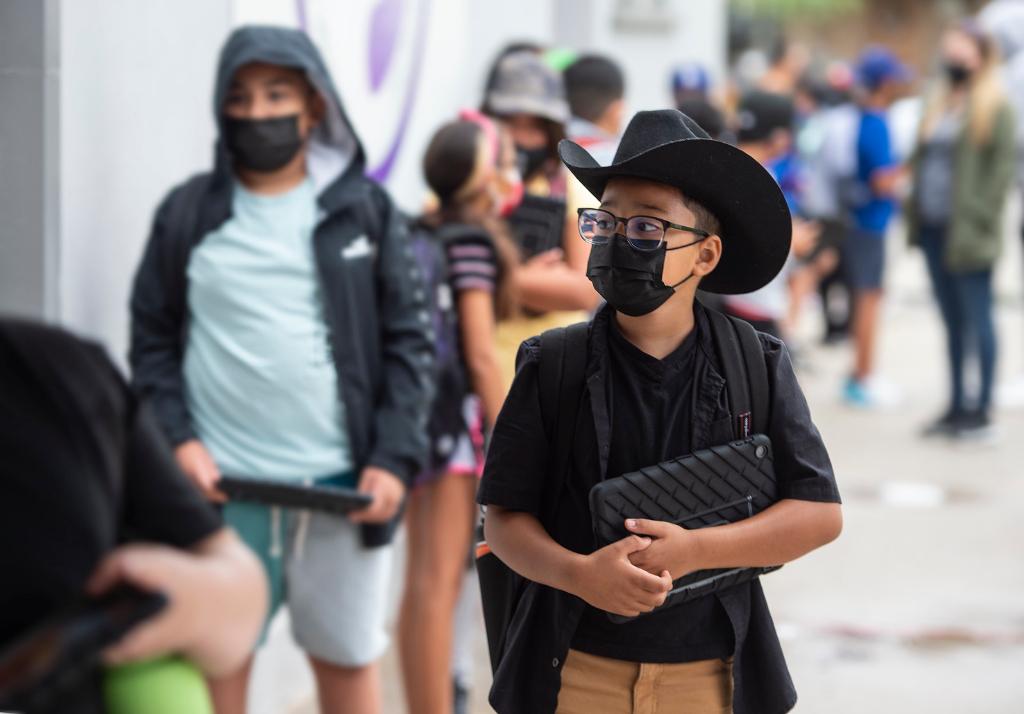 LOS ANGELES – Symptoms of depression and anxiety have doubled during the pandemic for youth across the country, according to the United States Surgeon General. During the past two years, 25 percent of youth experienced depressive symptoms and 20 percent experienced increased anxiety.
To help center youth voices in mental health reform and programming in Los Angeles County, The Youth Commission is hosting a "Centering Youth Voice in Mental Health" panel event, in partnership with the Board of Supervisors and the Los Angeles County Department of Mental Health.
The panel will consist of Youth Commissioners, mental health experts from the DMH + UCLA Public Partnership for Wellbeing, and community mental health advocates.
"Young people in LA County are resilient and strong. By seeking their feedback for improving mental health and wellbeing services across the County, we can help youth-serving organizations meet their needs and prevent future mental health crises," said Commissioner and panelist La'Toya Cooper who represents the Second District.
Youth, community members, agency partners, community-based organizations, philanthropy, and media partners are invited to join and learn more about how to center lived experience and youth voices while responding to the mental health crisis impacting youth in LA County.
Co-Sponsored by Fourth District Supervisor Janice Hahn's office, this event is in response to a 2004 Board Motion and is designed to center the voices of young people with lived experience, who are all too often left out of the design of programs meant to support them.
"It is imperative that when we consider a path forward in helping LA County's youth recover from the pandemic, we include them in building solutions. By convening mental health leaders and advocates, the Youth Commission is helping return authority to LA County's youth in healing their communities." said Hahn.
"The Department of Mental Health is deeply committed to the wellbeing of youth in LA County" said DMH Director Dr. Jonathan Sherin, M.D., Ph.D. "We are thrilled to partner with the Youth Commission, which is positioned to help amplify the voices of young people who have never had a proper platform for providing input to County systems. It is our belief that the Youth Commission will inspire new and more effective models of mental health care for young people in LA County."
"The issues facing youth are more complex than ever before. School closures, our ongoing reckoning with racial injustice present in our systems, and the negative impacts of social media, all represent challenges to youth wellbeing. We must collaborate on solutions that work for the youth we serve," said Dr. Tyrone Howard, an education expert and panelist from the DMH + UCLA Public Partnership for Wellbeing.
The Youth Commission welcomes suggestions for panelist questions from community members. If you would like to submit a question to the panel, please submit it to the Youth Commission Instagram page @lacounty_youthcommission by February 4.
When: Thursday, February 10th from 6 p.m. to 7:30 p.m. PST
View the event flyer and toolkit
How To Register and Join the Session:
Registration Link: https://www.surveymonkey.com/r/Y3LL3G3
Meeting Link: https://us02web.zoom.us/j/89214673705?pwd=WGlud3pZ NThkY2lXalkyb1VibFF4UT09
You can also RSVP by emailing [email protected] or calling 213-633-5599
Justice Breyer announces his retirement from high court sets up new battle
President Joe Biden told reporters that he would have "more to say later" about Justice Breyer's retirement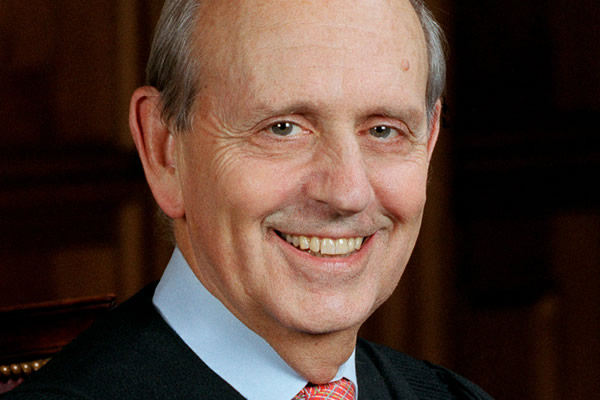 WASHINGTON – U.S. Supreme Court Associate Justice Stephen Breyer, who had joined landmark decisions from the Court in support of LGBTQ rights, announced on Wednesday he'd retire, opening up a new battle over the judiciary and the potential for President Biden to add his first nominee to the high court.
First reported by NBC News, the retirement of Breyer, appointed by former Bill Clinton and confirmed in 1994, fulfills a wish among progressives for him to step down for him to step down to ensure a replacement would be named with Biden in the White House and Democrats in control of the U.S. Senate.
President Joe Biden told reporters that he would have "more to say later" about Justice Breyer's retirement, but said that he was waiting for the justice's own statement.
"There has been no announcement from Justice Breyer — let him make whatever statement he wants to make, and I'm happy to talk about it later," the president remarked.