July 1, 2020 at 5:28 pm PDT | by John Paul King
LA Pride broadcast honors history, stresses unity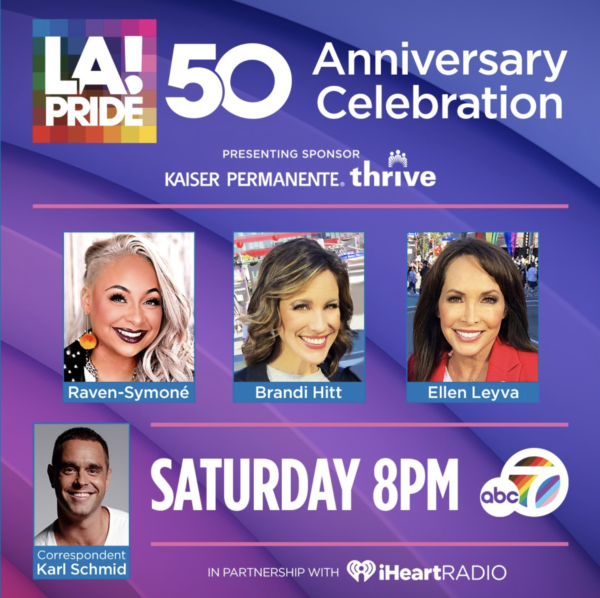 REVIEW:  "Everybody was still frightened – but it was amazing."
That's how Rev. Troy Perry describes the first Los Angeles Pride Parade (which he co-founded), in an introductory segment shown at the beginning of the "LA Pride 50th Anniversary Celebration," which aired on ABC7 on Saturday, June 27 and can still be streamed from the LA Pride website.
The short introduction, charting the five-decade history of LA Pride (through footage taken of the event across the years, along with commentary from Perry and others) was more than nostalgia. It also served as a reminder that the first Pride Parade was an act of political activism, a march for equality that took place in an American environment still very much in the grip of oppressively conservative power – the first in what quickly became an oft-repeated refrain of such reminders throughout the broadcast.
The presentation, which LA Pride put together in partnership with ABC7 and iHeart Media, was much anticipated, not in small part due to the success of last year's festival and parade – the first produced under the new leadership at Christopher Street West – but undoubtedly also in the light of what can only be called a series of unfortunate events leading into this year's milestone 50th event.
While it's becoming harder for many of us, nearly four months into the pandemic, to get excited over another virtual party, the organization's good will shone through to help its official on-air celebration meet the needs of a community yearning for the sense of connection that feels so essential in making our Pride month so much more than just an excuse to party.
Hosted by ABC7 personalities Brandi Hitt and Ellen Leyva, with Special Guest Host Raven-Symoné and additional assistance from correspondent Karl Schmid, the three-hour broadcast/streaming extravaganza was conceived as a sort of virtual parade, in lieu of the physical real world gathering taken from us this year by the coronavirus, and although at times the format gave it the inescapable feel of a "news and infotainment" broadcast, the overall structure did succeed in capturing the same sort of flow one might get from a live procession – even kicking things off with the traditional revving of bikes, provided via remote video feed by the Motorcycle Contingent for Equality.
From there, the anniversary celebration marched forward with an ongoing series of greetings from celebrity guests, civic and political leaders, community businesses and organizations, and sponsors showing their support for the LGBTQ community, mixed with music, entertainment, and messages of support – just like any other Pride parade.
Among the luminaries offering their Pride salutations were an array of famous names, representing every living generation of LGBTQ cultural experience; among them were such varied stars as Cheyenne Jackson, Carson Kressley, August Getty, Melissa Manchester, Leslie Jordan, Brian Michael Smith, Rome Flynn, Michael Feinstein, Fran Drescher, Jane Fonda, Hayley Kiyoko, Jake Borelli, Jake Choi, Lucie Arnaz, Joan Van Ark, Billy Porter, Gigi Gorgeous, Barbara Eden, Judy Tenuta, Jaclyn Smith, Donna Mills, Stefanie Powers, Dee Wallace, Donna Pescow, Elvira (Mistress of the Dark), and WeHo Mayor Lindsay Horvath, along with literally dozens of others.
There were also the messages from LA Mayor Eric Garcetti and other LA public servants, offering "Happy Pride" wishes that felt sincere, if somewhat obligatory, as well as one from former Presidential Candidate Pete Buttigieg, who stressed solidarity throughout a pre-recorded greeting in which he invoked the AIDS epidemic of the 80s and 90s as "a story that has much to teach us in this moment" and called on the community to honor the contributions of trans people of color in the history of our struggle for LGBTQ rights; later in the broadcast, Dr. Jill Biden offered a message from herself and her husband Joe, acknowledging the work that still needs to be accomplished in the fight for true equality.
There were also presentations by organizations and businesses serving the queer community, like PFLAG, AIDS Walk LA, The Los Angeles Rams, The LA Dodgers, The LA Kings, The Abbey, The Sisters of Perpetual Indulgence, and the all-LGBTQ+ chorus, the West Coast Singers.
The evening also included segments paying tribute to noteworthy queer culture on our TV screens, an entertaining look at "Gay Slang" from Trixie Mattel and other drag stars, and a host of musical performances from the likes of GMCLA, Trans Chorus of Los Angeles, Broadway performers Brian Gallagher and Megan Hilty, and singer Joely Fisher.
The musical highlight was undoubtedly the performance from trans artist Shea Diamond and Justin Tranter, who joined socially distanced forces with several familiar (and not-so-familiar) faces to deliver an inventive video rendition of "I Am America," the theme from HBO's much-lauded new series, "We're Here." An inspirational power anthem for a new, inclusive and diverse queer generation, the number lifted the broadcast, for several thrilling minutes, above the constraints necessitated by its format and made it feel like we were celebrating in a crowd.
The broadcast offered any number of other entertaining and informative diversions throughout the evening, including a tantalizing brief taste of dance moves by the Iconic House of Ninja. a profile on the ladies of "Pose," and a segment about the growing visibility of LGBTQ athletes in the world of professional sports.
It was, however, when things were allowed to get serious that this Pride celebration rose to its true greatness – such as a segment dedicated to elevating the voices of black members of the LGBTQ community, including local hero Phill Wilson, and one profiling queer elder Dan Guerrero, who turned his memories of being a gay Latino in the 1950s into the acclaimed one-man theatrical performance, "Gaytino."
Perhaps the most powerful moment of the broadcast came with a message from Laverne Cox, calling for unity in the struggle for justice. "Pride started as a fight back against injustices, and this year, we need to talk about injustice," said Cox, who spoke if the importance of elevating and embracing the voices of every segment within the LGBTQI+ community while, on the screen next to her, a list of names scrolled by to honor the 28 transgender and gender non-conforming people who were murdered in the US in 2019 and the 16 killed so far in 2020.
As for the evening's finale, the double-header of musical offerings from Pride perennials Erasure and Katy Perry – essentially a pair of music videos – was inevitably a let-down for those to whom Pride means high-octane dancing all night long. Still, the stars preceded each entry with a personal greeting and "Happy Pride" wishes for LA, and even if their musical performances were not created fresh, in the moment, as we watched them, they were nothing short of stellar.
It's undeniable that watching a Pride celebration from your socially distant living room will never compare to being in the thick of it yourself. Still, for better or for worse, that's what Pride 2020 was fated to be, and in the end, this 50th anniversary celebration rose to the challenge of our time to remind us that Pride can never truly be cancelled – not even by Covid.