Global Pride poised to make history
Virtual event to highlight Black Lives Matter movement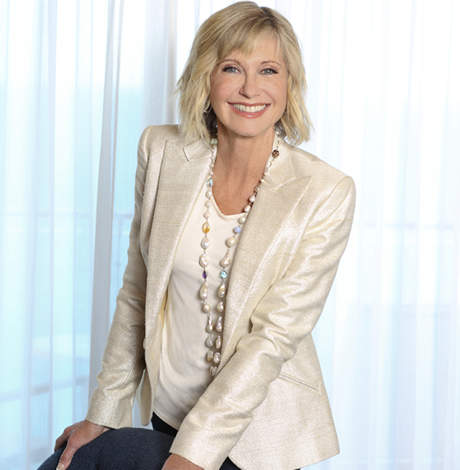 Celebrities, activists and politicians from around the world will participate in the world's largest virtual global Pride celebration on Saturday.
Laverne Cox, Olivia Newton John, Kesha, Adam Lambert, Deborah Cox, Pussy Riot, Mary Lambert, The Village People, Tom Goss, Martha Wash, Steve Grand, Leslie Jordan, Sophia Jiménez, Conchita Wurst, Denise Ho, Ahmed Alaa and Ahmed Umar are among those who will take part in Global Pride 2020.
Former Vice President Joe Biden, House Speaker Nancy Pelosi (D-Calif.), New York City Mayor Bill de Blasio, Canadian Prime Minister Justin Trudeau, Irish Prime Minister Leo Varadkar, Costa Rican President Carlos Alvarado Quesada, Luxembourg Prime Minister Xavier Bettel, Icelandic President Guðni Jóhannesson, Norwegian Prime Minister Erna Solberg, Swedish Foreign Minister Ann Linde; London Mayor Sadiq Kahn, former Italian MP Vladimir Luxuria, U.N. LGBTQ rights watchdog Victor Madrigal-Borloz and other officials will also participate.
A press release describes Global Pride as a "24-hour stream of music, performances, speeches and messages of support" that former "American Idol" contestant Todrick Hall will host on his YouTube channel. Global Pride will also be streamed on its website and iHeartRadio's YouTube channel.
More than 500 Pride organizations around the world submitted videos and other content for Global Pride.
"We need community and connection more than ever," said J. Andrew Baker, co-president of InterPride, in an April 1 press release that announced Global Pride. "This gives us an opportunity to both connect and celebrate the LGBTQIA+ community's resilience in the face of this pandemic and the true spirit of Pride."
Natalie Thompson, a member of the Capital Pride Alliance's board of directors who co-chairs the Global Pride organizing committee, said Capital Pride submitted an "inspirational video" with "really notable people from the D.C. area" who are connected to Capital Pride.
"The idea was to highlight that we really are diverse, we really are large and we all bring our perspectives to what the Pride movement looks like, but also how we address LGBTQIA+ issues," Thompson said. "This is not just a one-sided community. We are really looking at a multi-faceted nature and intersectionalities in our space in D.C."
Pandemic cancelled, postponed global Pride events
Capital Pride is among the hundreds of Pride celebrations in the U.S. and around the world that have been postponed or cancelled because of the coronavirus pandemic.
Thompson said LGBTQ activists in March began to discuss "how COVID-19 was affecting the Pride movement." She said Global Pride came out of these conversations.
"It was really in response to what can we do to still celebrate Pride and highlight the joys and also remember from our past how we got to the space that we're in and to also address some of the work that needs to be done," she said.
Global Pride Executive Producer Michelle Meow is former president of the San Francisco Pride board of directors.
Meow on Monday said in a Zoom interview that Global Pride "seemed like the perfect project for me." Ron deHarte, co-president of the United States Association of Prides, added there has been "a tremendous amount of support from people around the world" who wanted to participate in the event.
"COVID has changed the way that people can function and that has slowed things down," deHarte said. "Your performers don't have access to studios. They don't have access to staffing and teams who would normally help facilitate participation in something like this."
DeHarte told the Blade a Brazilian artist could not record a video for Global Pride because a coronavirus lockdown prevented them from leaving their home to go to their studio. Meow added the pandemic has raised additional questions for other participants.
"When people understood what we are trying to do here and understood the magnitude of the opportunity — which is bringing the entire world together for LGBTQ rights during a pandemic — the quick answer is how do I get involved and I want to help as much as possible," Meow said.
"In some situations, its a matter of volunteering for your community or taking a gig that's going to give you a paid opportunity during a pandemic," she said. "If you're someone who is high up there or you've got a specific role, you're stretched thin, you're stressed in terms of your time … it's more about people surviving during a pandemic, but when an idea is proposed, everyone understands the importance of what we're trying to do."
'A microcosm of the larger world'
Global Pride will take place roughly a month after George Floyd, an unarmed Black man, died when a then-Minneapolis police officer kneeled on his neck for nearly nine minutes.
Floyd's death has sparked a worldwide protest movement against police brutality and racism. Activists and advocacy groups who support the Black Lives Matter movement have also sought to highlight the case of Tony McDade, a Black trans man who a white police officer in Tallahassee, Fla., shot to death on May 27.
Global Pride organizers earlier this month announced Global Pride "will be centered" around the Black Lives Matter movement.
"The LGBTQIA+ community is a microcosm of the larger world, so issues that happen outside the community are also happening inside the community as it pertains to Black lives, people of color, trans identities, non-binary identities," Thompson said.
Thompson, a Black woman, said Pride, "is about all of our identities" and "about all of our differences and all of our similarities."
"It would be incredibly irresponsible of us to not highlight what's happening in the world," she said. "People are paying attention to the fact that historically people of color have been pushed out to the margins, people of color have traditionally been underrepresented, underserved and discriminated against and that systemic racism not only plays a part in our policies, but systemic racism plays a part in everything that happens around the world."
Dana Marsh, president of Fierté Canada Pride, a group that represents Pride organizations in Canada, made a similar point in the April 1 press release that announced Global Pride.
"Pride is not just a celebration, but a homage to our origins; the defiance and resistance against all systems of oppression," Marsh said. "We acknowledge the intersections that join us in the global fight against homophobia, biphobia, transphobia, gender discrimination, racism, sexism, classism and colonialism."
Meow said Alicia Garza, co-founder of Black Lives Matter who identifies as queer, is among those who are participating in Global Pride. Meow also referred to Hall.
"It had always been a part of our programming," said Meow, referring to Global Pride's decision to highlight the Black Lives Matter movement. "But with a lot of news coming out with regards to racial injustice we definitely did feel that we should absolutely let people know this is a part of our programming."
DeHarte agreed, noting the Black Lives Matter announcement, "was just another opportunity of what we see come from the platform of what Pride is."
"It gave us the opportunities to really focus attention and raise awareness on a particular issue," deHarte said. "The content that is coming … is centered on advancing the political, human rights, social, racial justice issues, to bring equality for all people. That is what we're about. This gave us an opportunity to really advocate against violence focused on particular persons of color."
The ultimate guide to queer gift giving
Perfect presents for everyone from roommates to soulmates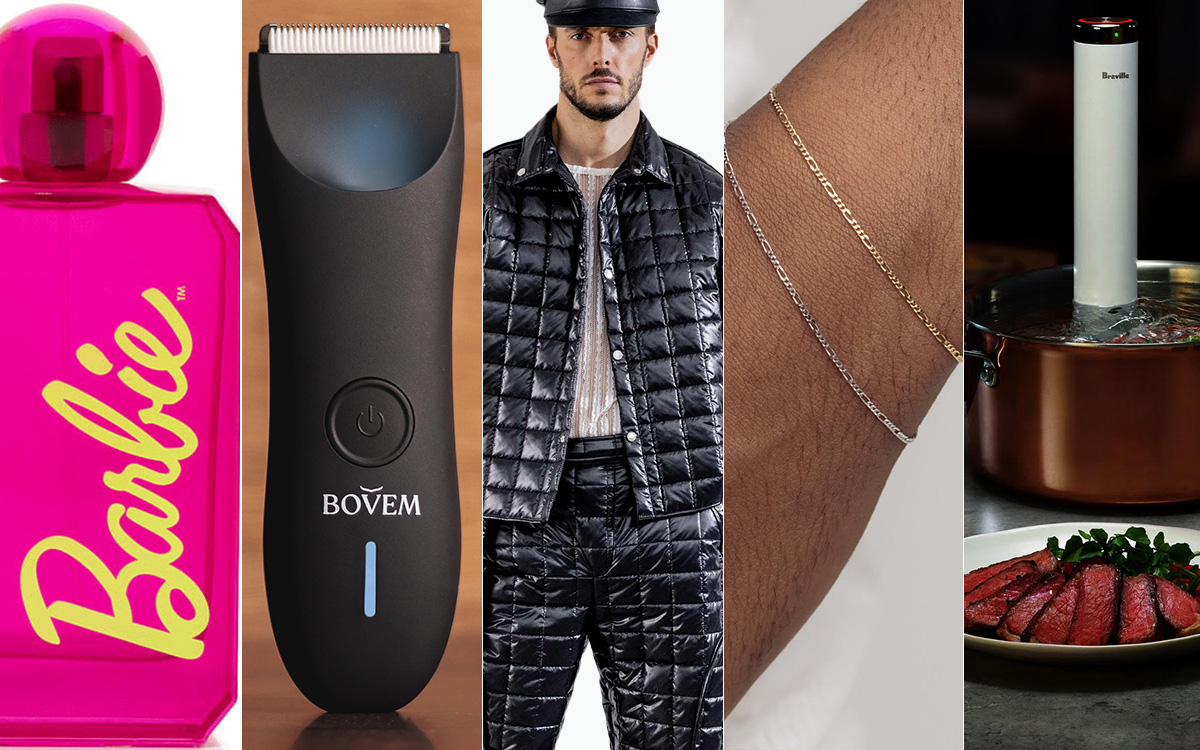 Searching for special deliveries for that special someone? Consider these elf-approved, consciously curated presents perfect for everyone from roommates to soulmates.
---
Star Wars Home Collection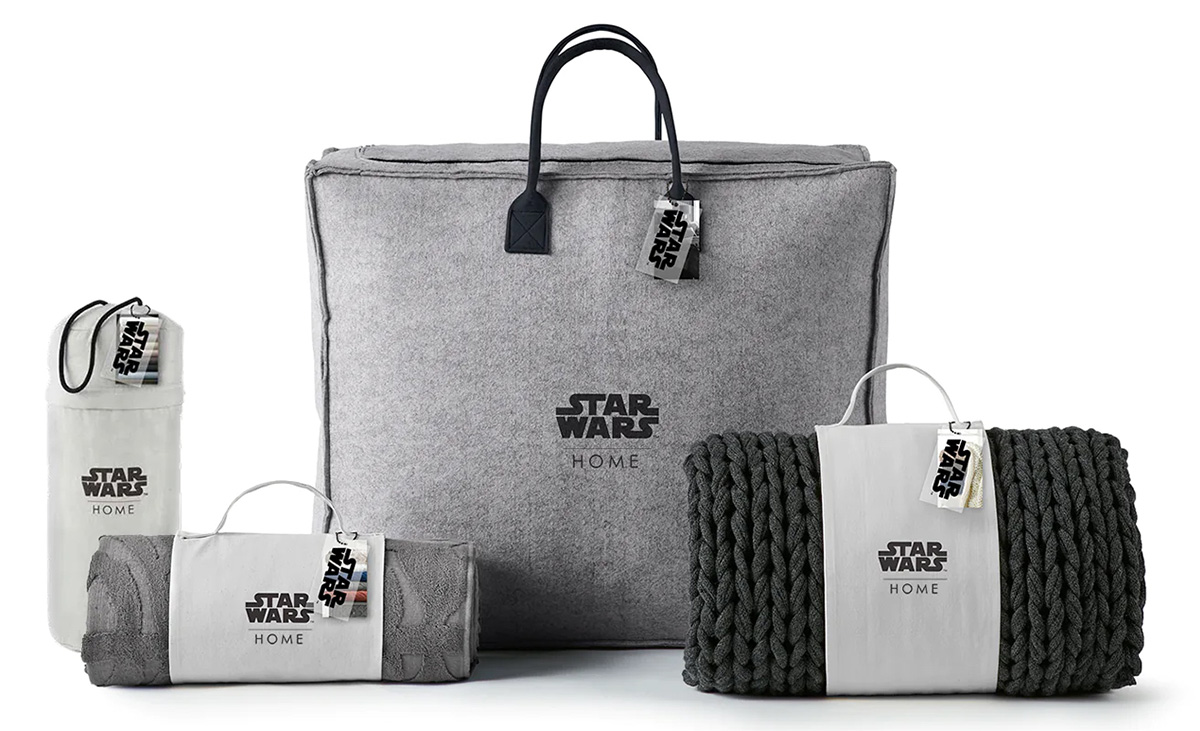 Movie nights in bed get a comfort upgrade from the Force – for those who uphold Jedi code in the streets but embrace the Dark Side in the sheets – with Sobel Westex's Star Wars Home Collection, five- to seven-piece twin, queen and king sets suitable for either alliance. Cop a bootleg of the infamous "Star Wars Holiday Special" (legal copies don't exist, nor has it been rebroadcast since its one-and-only airing in 1978) and settle in for a snacky screening with premade Johnson's Popcorn (a Jersey Shore staple) or Pop 'N Dulge's DIY gourmet kits. SobelAtHome.com, $350-$390; JohnsonsPopcorn.com, $27+; PopNDulge.com, $23
---
Bird Buddy Smart Feeder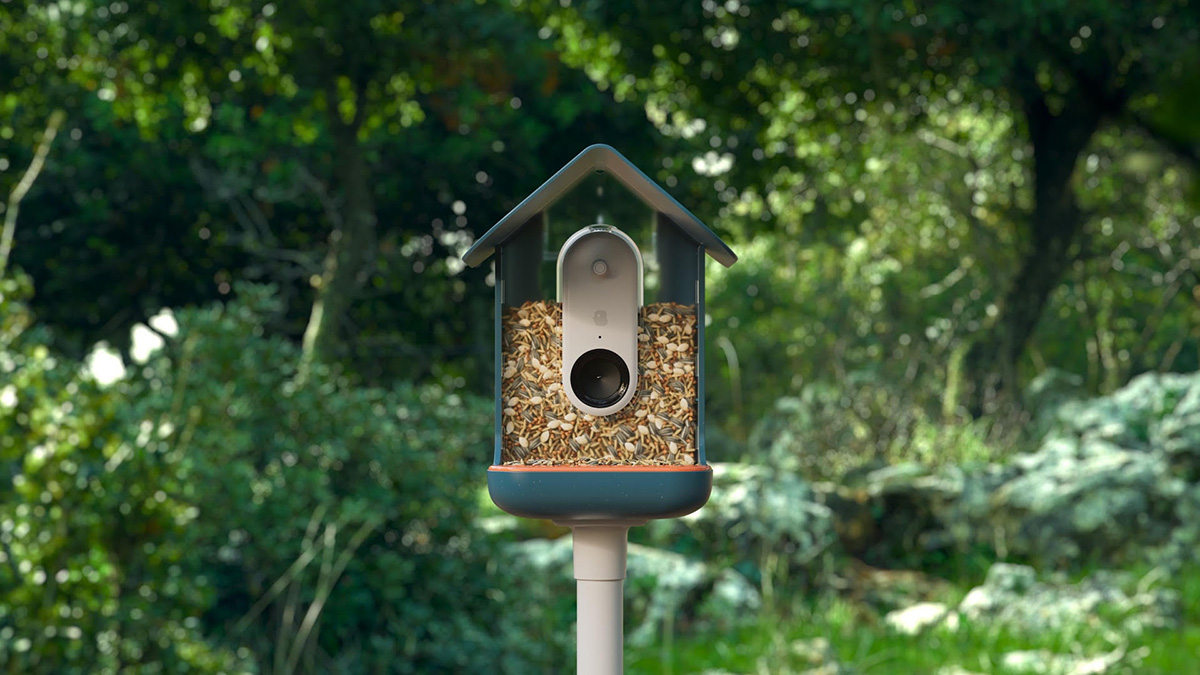 Avian enthusiasts get up close and semi-personal with feathered friends thanks to the Bird Buddy smart feeder that allows safe viewing via a solar-powered, app-enabled camera, along with adorable add-ons like a suet ball holder and three-in-one nutrition set to keep the neighborhood's population happy and healthy. MyBirdBuddy.com, $299-$415
---
Link x Lou Permanent Jewelry Pop-Ups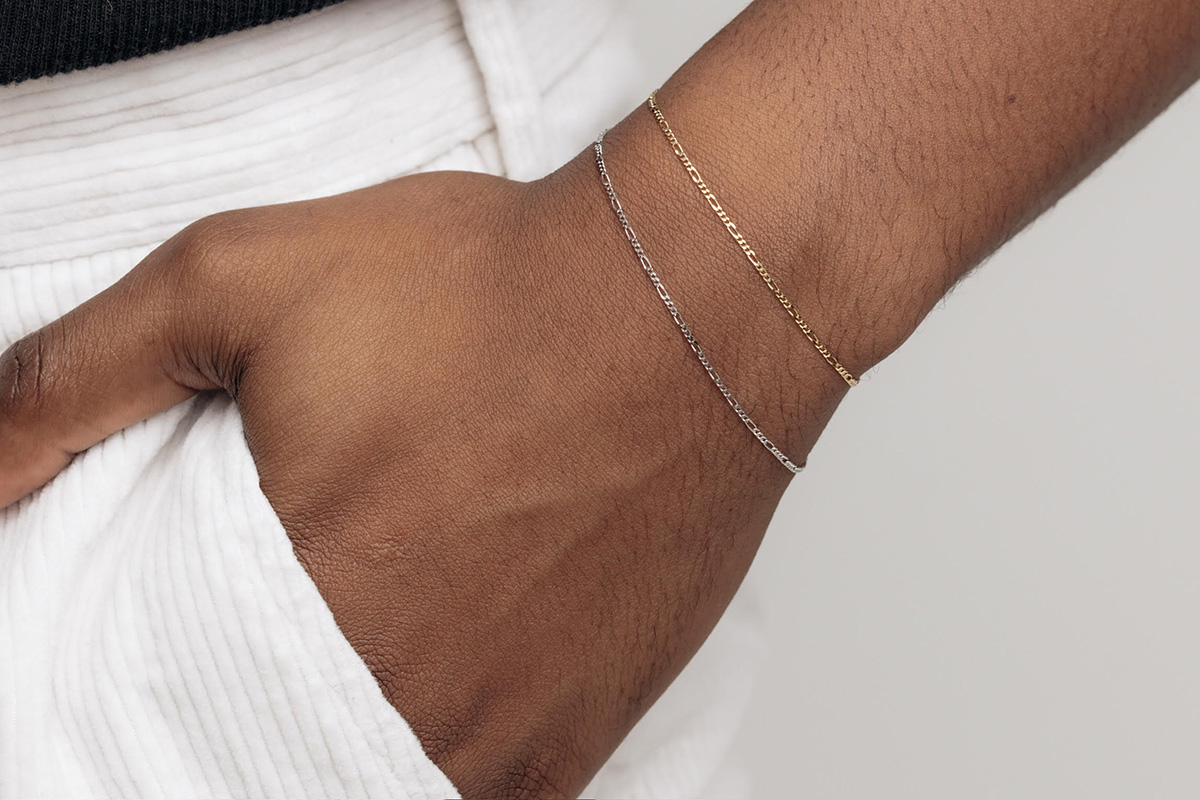 Jewelry – but make it an experience. That's the premise behind Link x Lou, a quick-fitting accessory service providing recipients with in-person appointments for custom-linked, clasp-less 14-karat white- and yellow-gold necklaces, bracelets, anklets, and rings that wear until they're worn out. Money's on 'em lasting longer than the situationship you've got goin', but may the odds be ever in your favor. LinkxLou.com, $55-$500
---
Orttu Shelton Puffer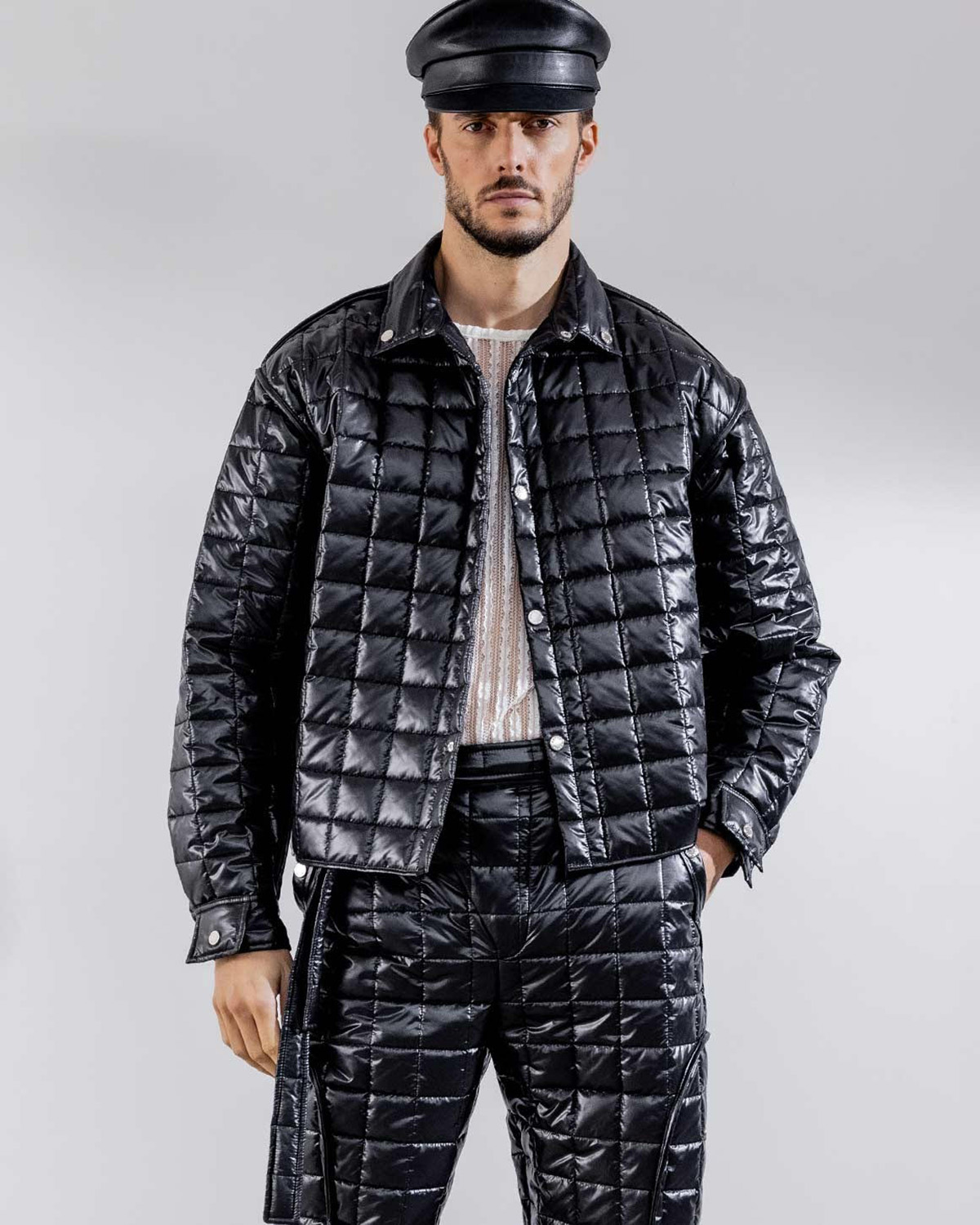 Guess who's coming to dinner? It's you as an alt-timeline Tom of Finland in Orttu's fully quilted, oversized Shelton Puffer comprised of double-layered high-sheen fabric and press-stud fastening that results in a slick style statement vers-er than you are. Orttu.com, $203
---
Winter Discovery Mini Scented Candle Set

Apotheke takes the guesswork out of choosing just the right ambiance-inducing aroma with its Winter Discovery Mini Scented Candle Set, featuring six fragrant two-ounce tins in seasonal smells that include birchwood apple, black cypress, blackberry honey, cardamon chestnut, charred fig, and firewood (with a combined 90-hour burn time), and packaged in a nostalgically illustrated gift box accentuated by festive gold detailing. ApothekeCo.com, $64
---
Polaris General 1000 Sport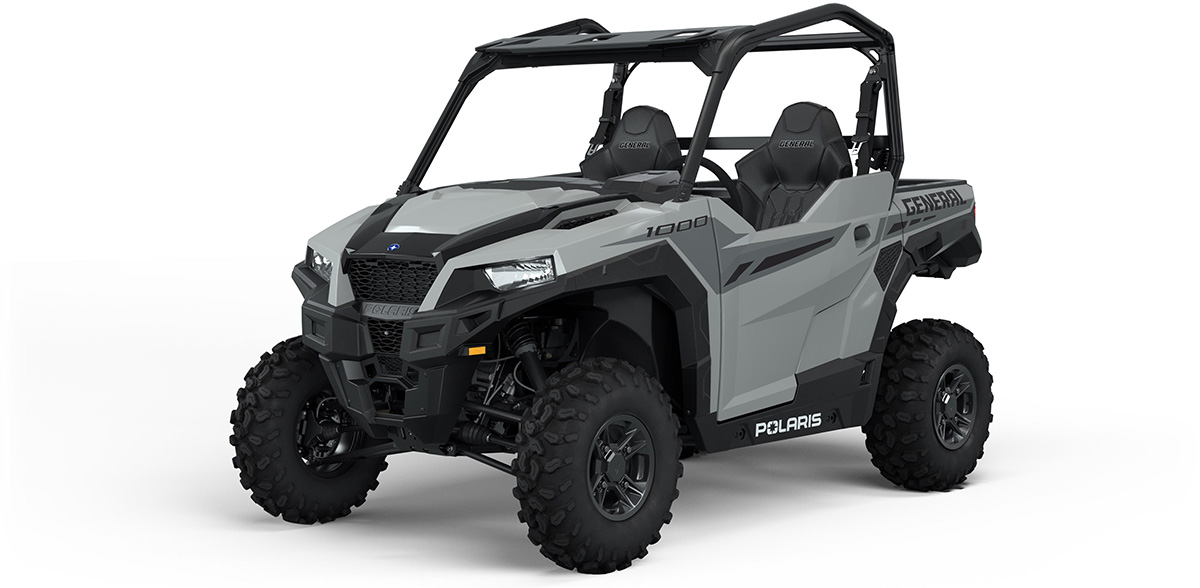 Resort communities across the country have adopted golf carts as a preferred mode of transportation, and you can establish yourself as a local baddie in Polaris' General 1000 Sport – in ethereal colorways like ghost gray – equipped with a four-stroke DOHC twin-cylinder engine, 100 horsepower, 1,500-pound hitch-towing capacity, and enough street cred for Boomers to shake their fists at. Polaris.com, $17,500+
---
'Arquivistas' Crystal Book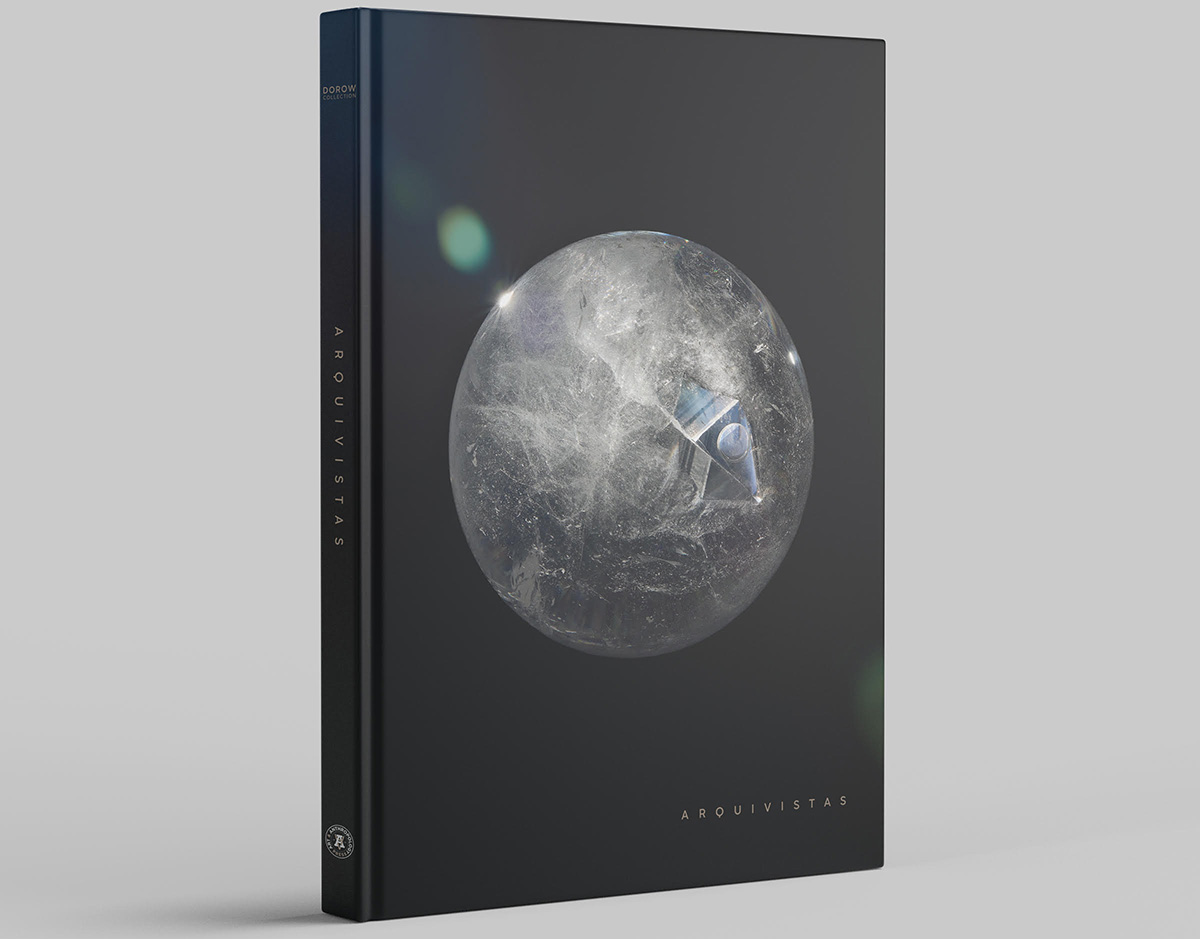 Brazilian crystal devotee Tatiana Dorow has curated an impressive collection of more than 1,000 rare and exquisite minerals – ranging from one ounce to over 5,000 pounds – the comprehensive record of which is now compiled in the sizable coffee-table tome "Arquivistas" (Portuguese for archivist) that's sure to satisfy, delight, and provide endless holiday-party talking points to the New Agers in your life. (You know they will.) ArtAndAnthropologyPress.com, $350
---
Bovem Globe Trimmer 2.0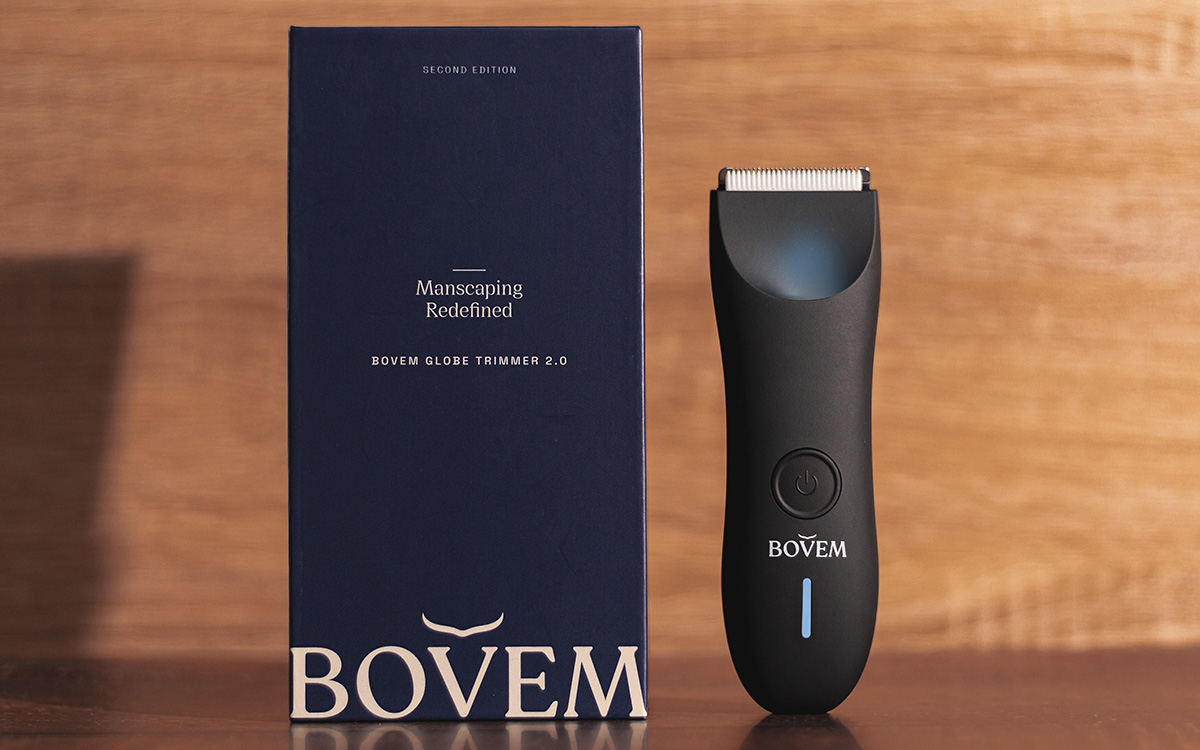 There are plenty of manscaping tools on the market, but perhaps none are designed with your delicate bits in mind like the handsome second-gen Bovem Globe body and groin trimmer with its ergonomic textured grip, powerful 6500 RPM with low vibration, varying guards, and replaceable TrimSafe blades that tidy you up without cutting skin or pulling rough hair. Deck the halls! – no more bloody Christmas balls. Bovem.co, $60-$87
---
Lexington Glassworks Decanter Set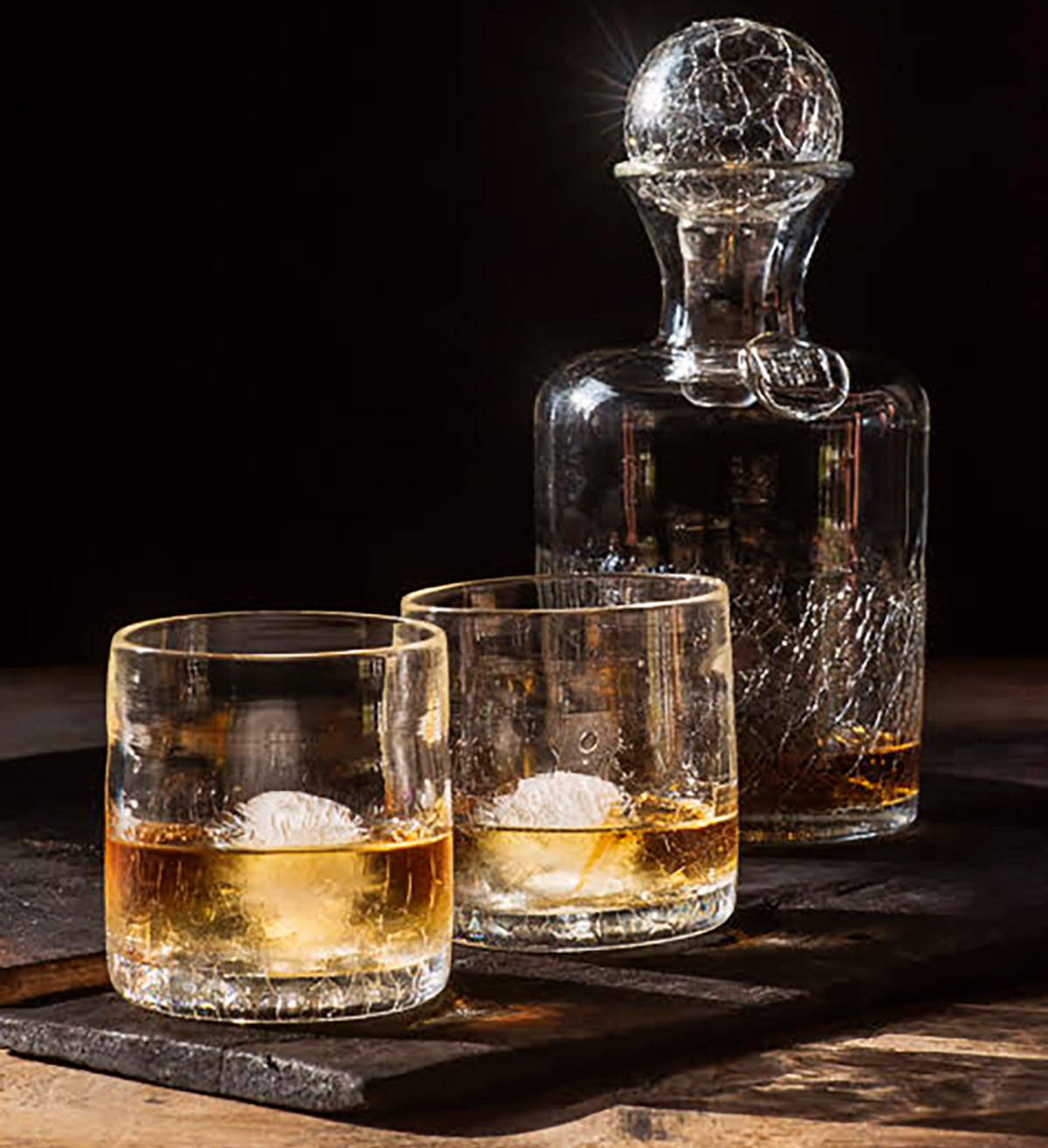 Pour one out from Lexington Glassworks' hand-blown whiskey decanter, each one individually crafted in the company's Asheville, N.C., studio and detailed with an elegant crackle finish that lends an air of sophistication to any home bar cart. Pair with a set of LG's complementary rocks glasses, in the same distinguished style, for a cherished gift. LexingtonGlassworks.com, $280
---
Joule Turbo Sous Vide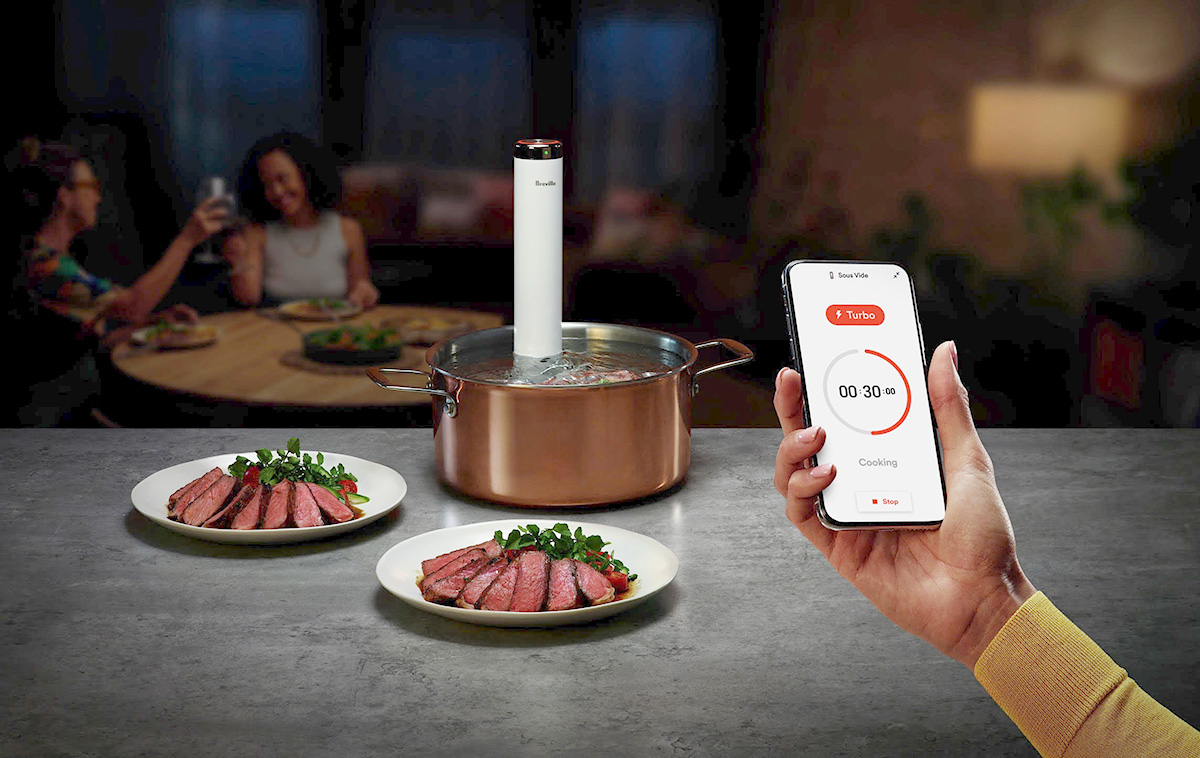 Your fave chefs' autopilot cooking technique hits home countertops in Breville's sleek Joule Turbo Sous Vide stick, which cooks seasoned-and-bagged meats and veggies to a faster-than-ever optimal internal temperature (unattended, no less) before a lickety-split sear and serve results in restaurant-quality dishes deserving of at least a couple Michelin stars for your minimal-mess kitchen. Breville.com, $250
---
Outlines Shower Liner System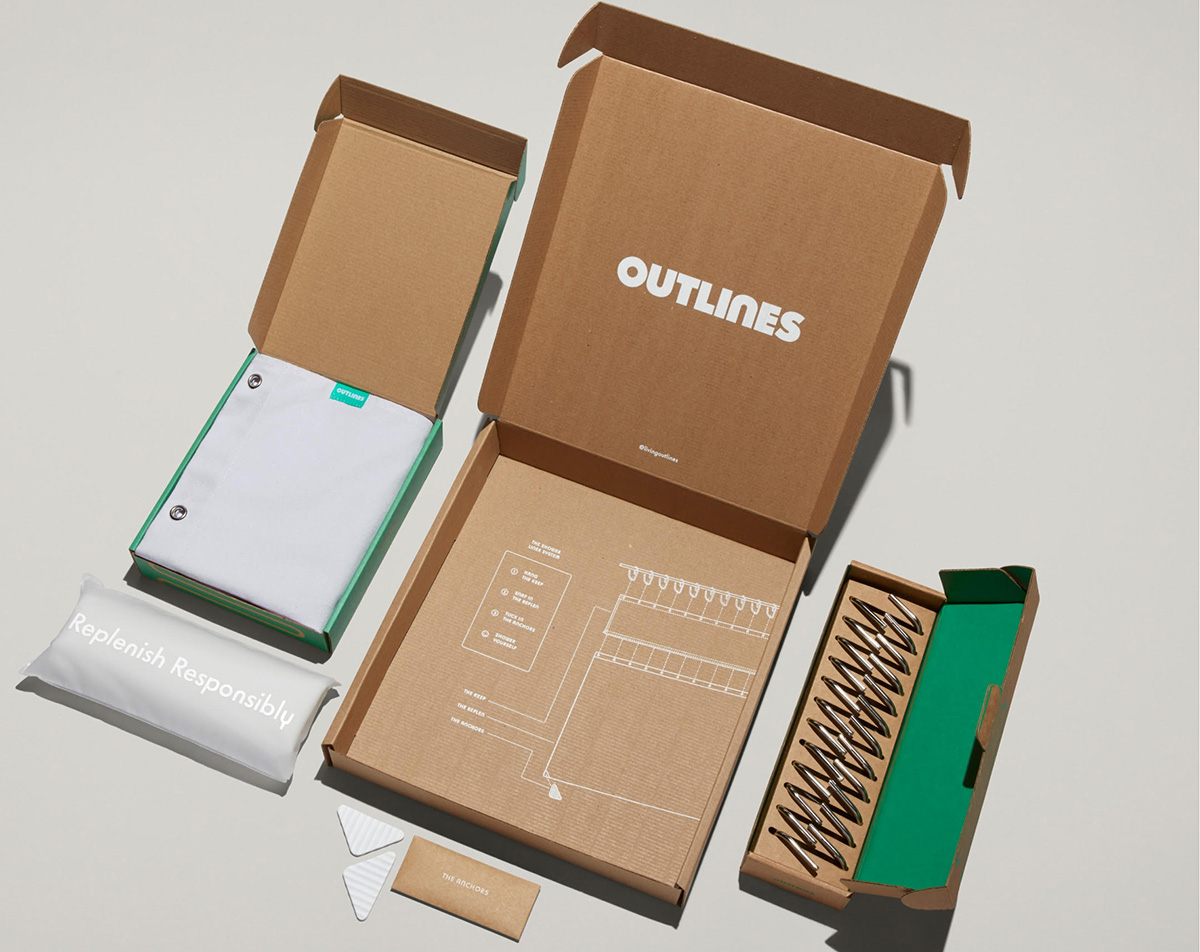 Holiday hosts can practice responsible replenishment amid our planetary plastic-waste crisis when you gift Outlines' thoughtfully designed Shower Liner System that provides users with a machine-washable cotton top piece and fully recyclable bottom to replace when it's time to ditch the grime. Set it and forget it with three-, six- or nine-month auto-deliveries. LivingOutlines.com, $50
---
Barbie Perfume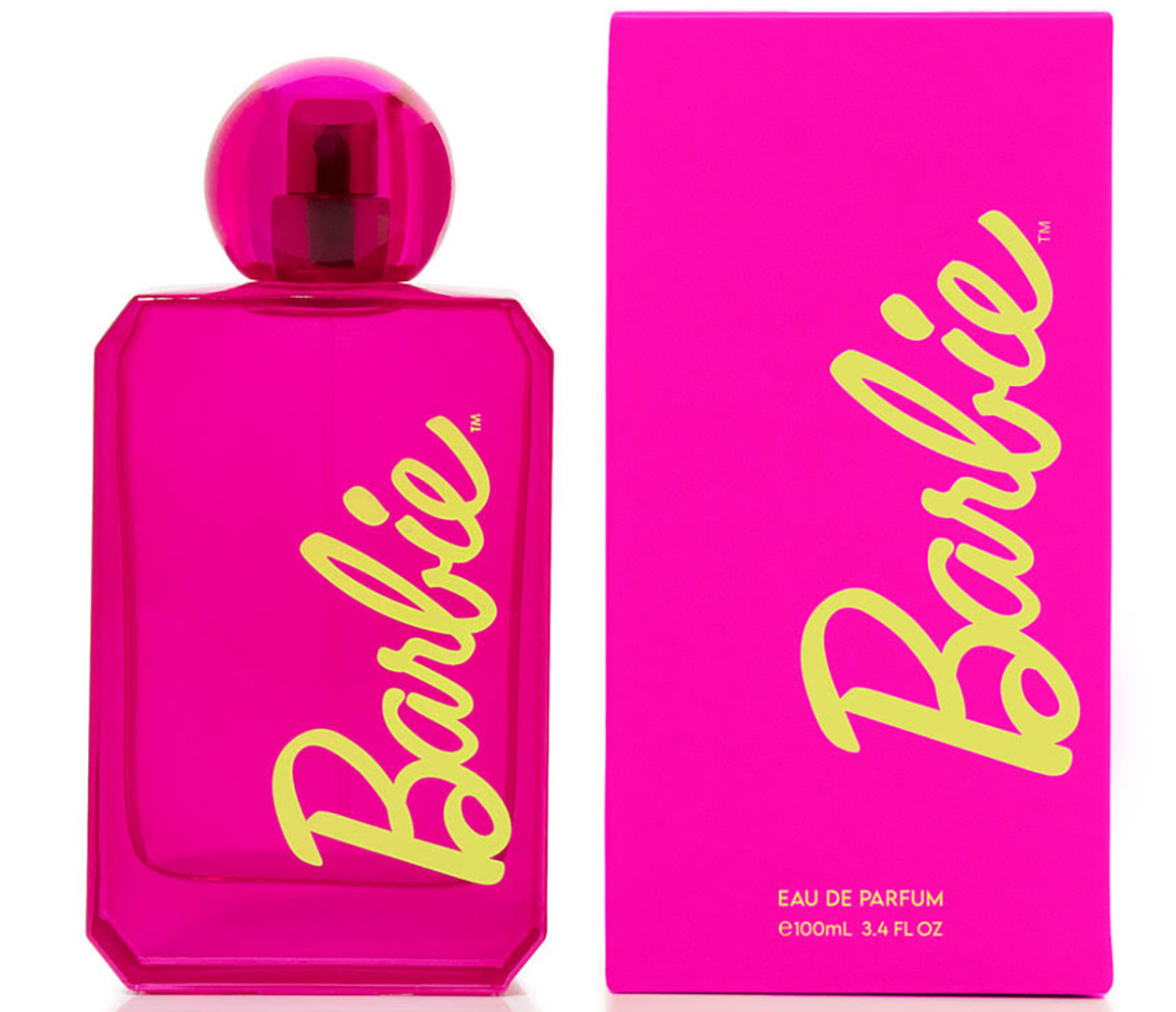 Fight the patriarchy doused in Barbie's sweet-and-fresh fragrance that, from top to bottom, features notes of strawberry nectar and red cherry, peony and pink magnolia, and sandalwood and soft musk for an extraordinary scent that's more than Kenough. DefineMeCreativeStudio.com, $65
---
AiRROBO Pet Grooming Vacuum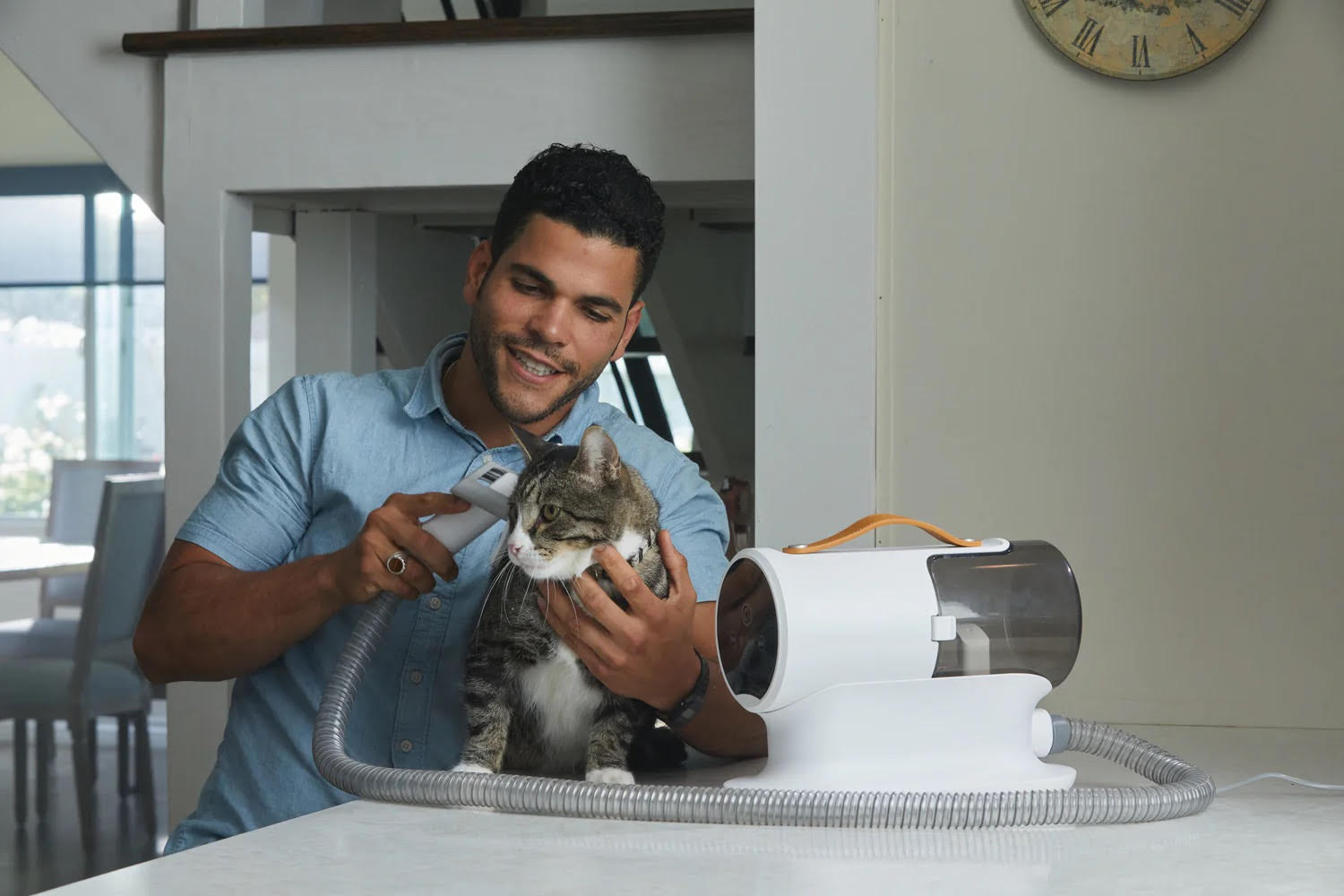 Posh pets enjoy salon-style luxury in the comfort of their homes when treated to a grooming session by the AiRROBO vacuum (think Flowbee for cats and dogs), a five-tool, one-stop solution for keeping furbabies' hair, dander, allergens and mites to a minimum. The portable pamperer includes an electric clipper, crevice and de-shedding tools, and grooming and cleaning brushes housed in a space-saving, HEPA-filtered capsule. US.Air-Robo.com, $110
---
Aura Smart Sleep Mask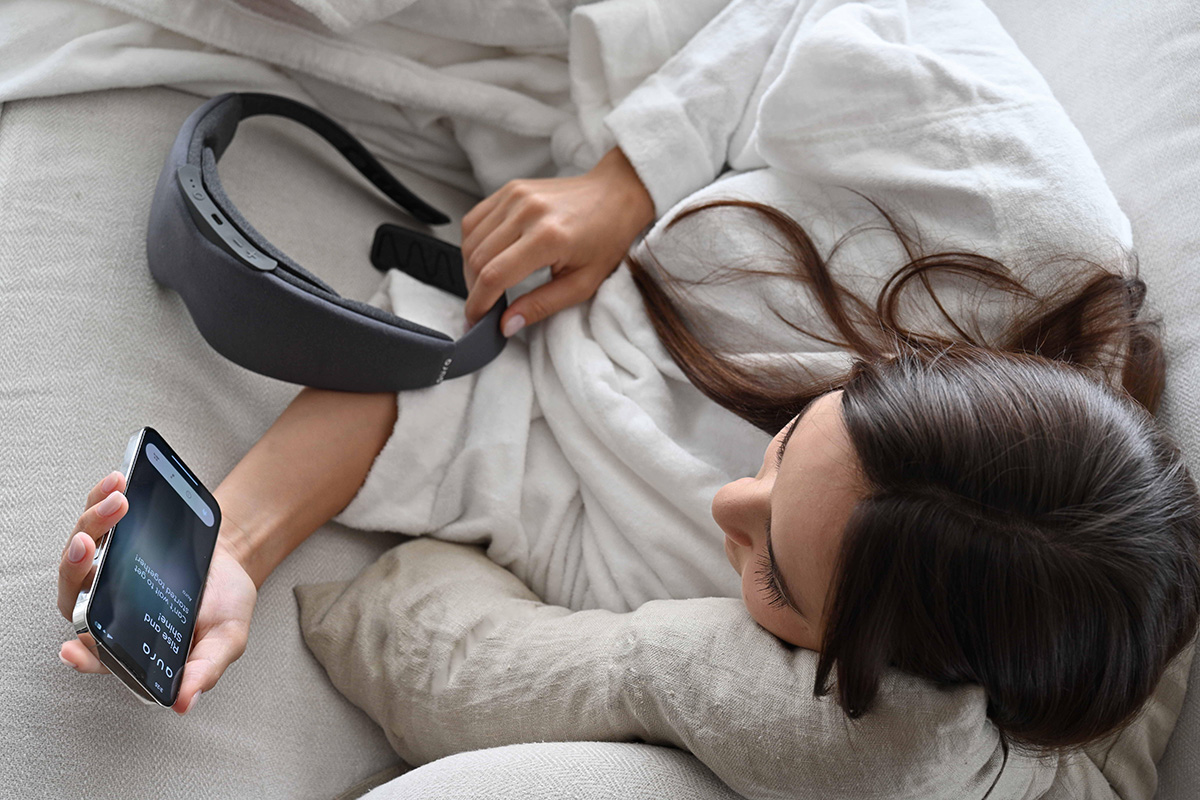 What does the future of total relaxation and deep sleep look like? Blackout darkness and complete serenity in a dream-state sanctuary when you spend your nights in the Aura Smart Sleep Mask with built-in speakers for guided meditation and snooze-inducing ASMR, zero-pressure eye cushioning, and light and sunrise therapy to help you wake rested and refreshed at home and (especially) away. Indiegogo.com, $190
---
Mikey Rox is an award-winning journalist and LGBTQ lifestyle expert whose work has been published in more than 100 outlets across the world. Connect with Mikey on Instagram @mikeyroxtravels.